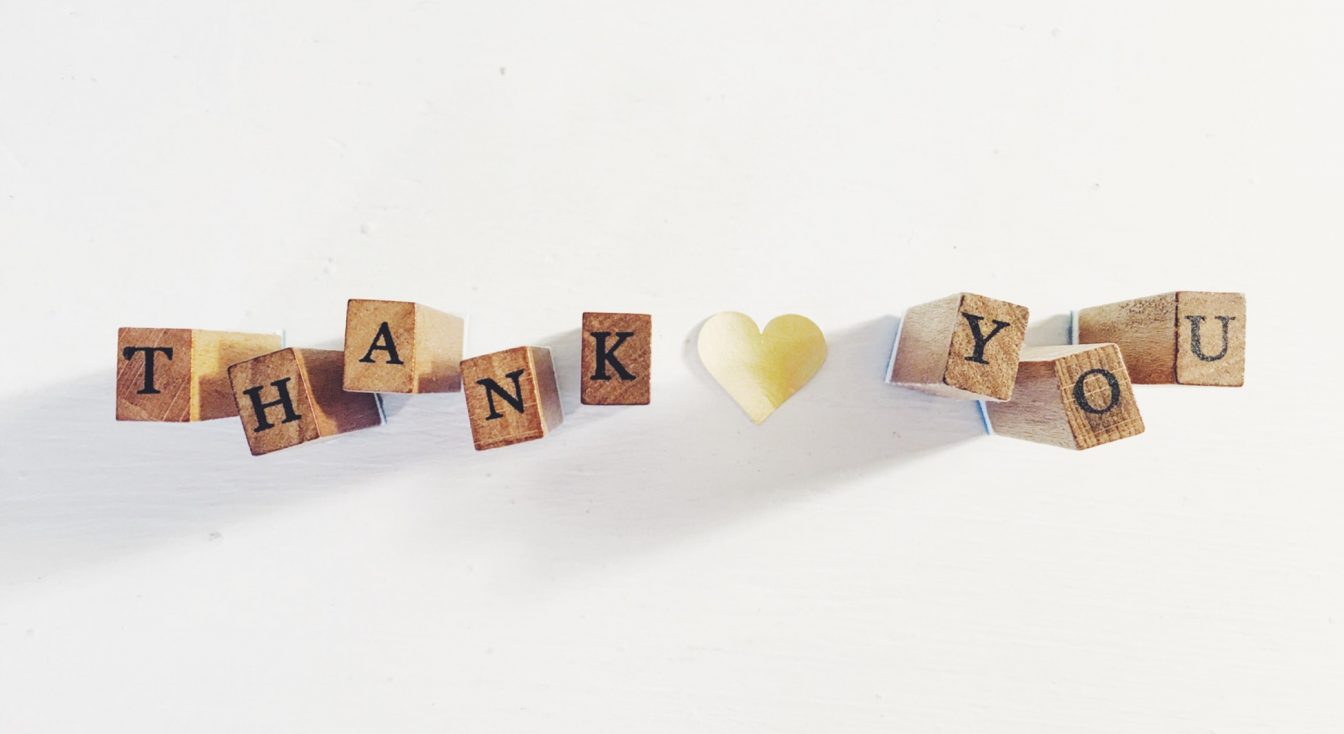 6 Thank You Page Examples for Your Inspiration
A thank you page is the site page that someone is redirected to after doing a target action on your website or landing page – filling out the form, making a purchase, subscribing to the newsletter, etc.
Why do you need a thank you page?
What usually happens when you fill out a form or place an order on the site? At best, you see something like a "Thank you for your order, our manager will contact you soon!" message. Let's try to imagine a similar situation in an electronics store: you want to buy a new laptop with cash in your hands, and the manager says: "Wait, I'll contact you soon!"
Would you shout at him to shut up and take your money, or just go to his next-door competitor?
Digital marketers thus miss a great opportunity for increasing inbound marketing ROI and conversion rate optimization.
An awesome thank you page design will encourage visitors to do something useful for you. Right after filling out the lead form, the person is courteous with you, relaxed, and interested. A convincing thank you page design and is the only thing left to engage him or her further into your sales funnel.
Essential Elements of a High-Converting Thank You Page
Actually, «Thanks.»
First, we should thank the person for the efforts. This is a must, and this is the very first and main component of the page.
Affirmation
Explain the visitor he did everything right and tell him what happens next.
Call to action
What do you want from your customer? To sign up for the newsletter, to put his address into the address book, maybe, to order something more? Make a competent call to action and push him forward.
Instructions on what to do next
Don't leave your client in the dark. Explain to him what to do next. Teach him to check his email and read your letters. Ask him to download a free book, to enter a promotional code – lead the client in the right direction.
Social media buttons
Invite the user to become your friend on Facebook and follow you on Twitter. One extra subscriber for your pages, plus another paying customer in the future.
It is not necessary to use all these elements in your thank you page design. The "gentleman set" is gratitude, a clear call to action and instruction on what to do next. But as with any hypothesis, there's nothing we can be sure about without testing. Something different can work in each case, for each business.
A good thank you page text, an interesting picture, and a nice design will always play into your hands.
Amazon – upsell, thank you page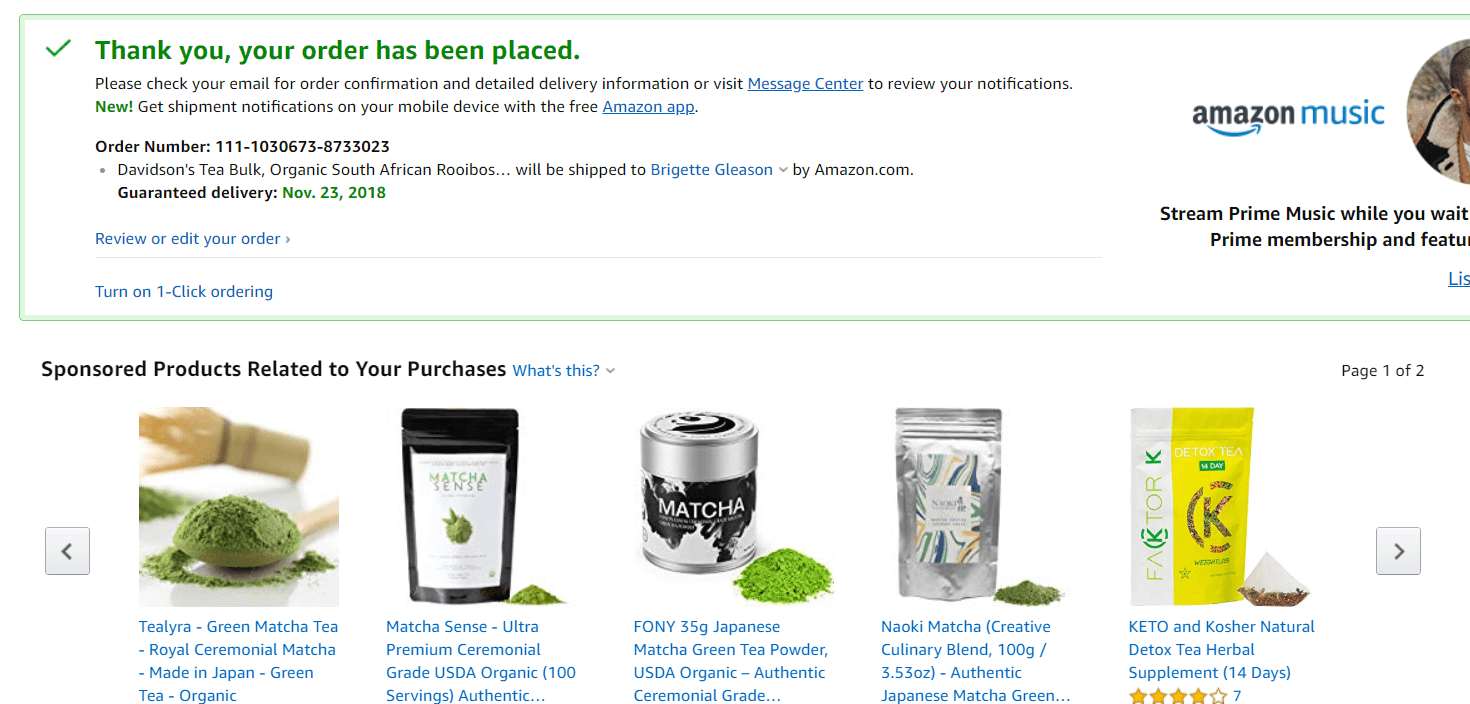 Gratitude

Affirmation

Call to action

Instruction
A user bought an item from you? Of course, you should thank him. But the best thank you pages can also offer him something more – like additional products or accessories that he could miss in your store.
Charity: Water thank you page-

Increasing the time spent on the website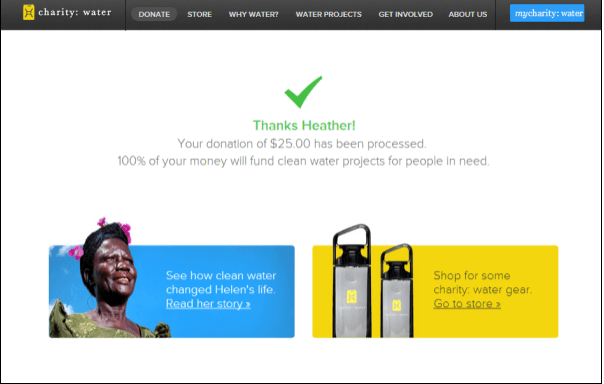 Gratitude

Affirmation

Call to action
As you know, the longer the visitor stays on your site the better it is for search engine optimization.
If a person has subscribed to your updates, invite him to read your most interesting and successful blog post. Or give him a link to some useful material, instructions on how to use your product. Or suggest him reading the FAQ section etc.
Book Depository – value proposition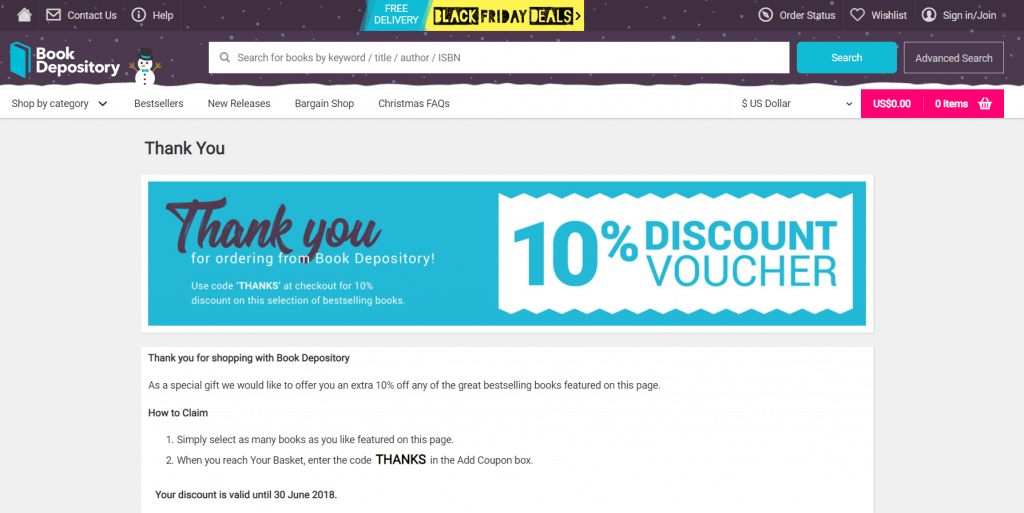 Gratitude

Call to action

Instruction
Provide even the better user experience – offer him to download a free book, a checklist, to watch the record of the webinar, etc. Here you can also give a promotional code or a discount on his next purchase. Such a gift will not only be pleasant – it increases the chances he will return next time.
Wishpond website – testimonials on thank you page
Testimonials (like Wishpond's below) are very effective in satisfying and comforting visitors.

Nothing prevents you from inserting social proofs about your company into your thank you page text. For example, if you offer a webinar recording, you can post some feedback from those who attended it.
Orbit Media – subscription forms thank you page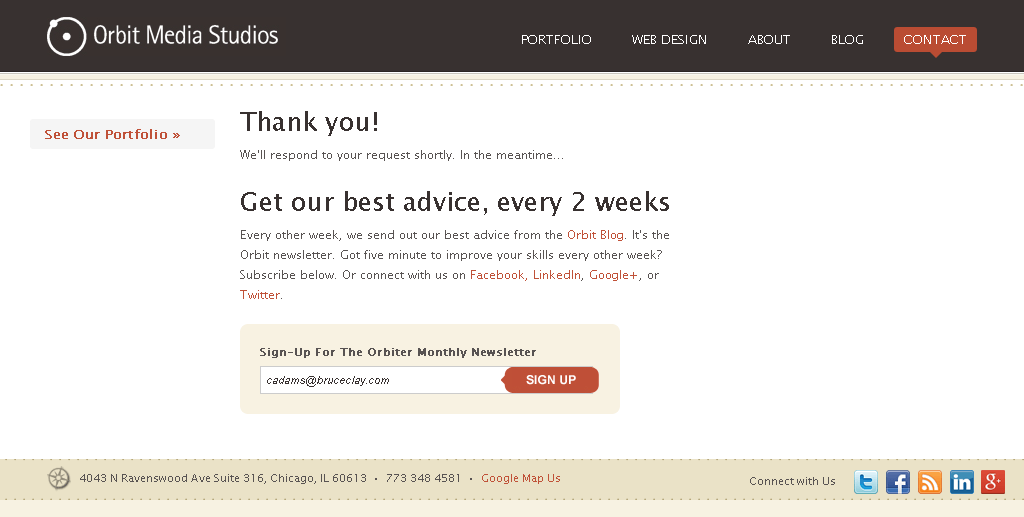 Gratitude

Affirmation

CTA

Instructions

Social media buttons
If a potential customer left a request, for example, to participate in the event you can offer him to subscribe to your updates or newsletter right on the spot.
Money Journal – surveys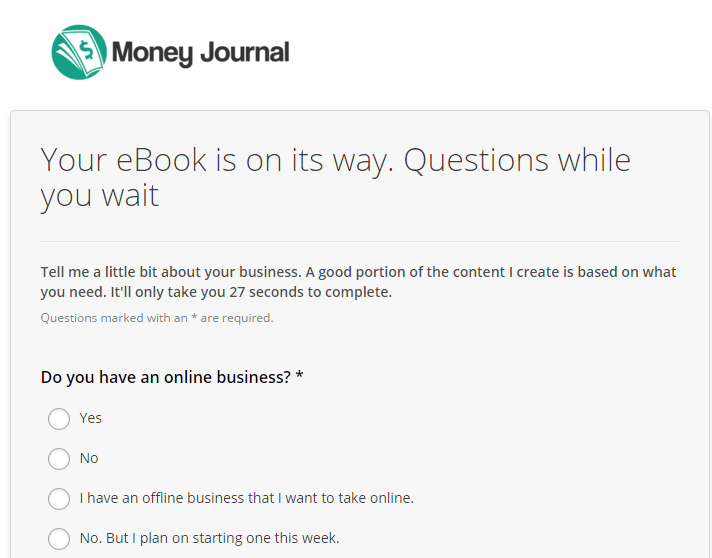 Affirmation

CTA

Instruction
Add a small questionnaire (you can create it via Google Forms) and try to learn a little more about your visitor. But be careful with the number of questions – there should not be too much of them, not to tire the visitor.
Conclusion
The thank you page is a way to continue the process of building a relationship with your customer, thus, to make your funnel more efficient.
Generally, the best thank you pages consist of 3 essential elements:
 

a gratitude message

a clear call to action
specific instructions on what to do next
Here we described 6 thank you page examples that help you to make more use from your website:
"Upsell" – to grow the average check revenue;
"Increasing the time spent on the website" – to improve SEO;
"Value proposition" – to increase the customer retention rate;
"Testimonials" – increasing the customers' loyalty;
"Subscription forms" – to make sure the client won't forget about you;
"Surveys" – to know more about customers and provide personalized offers for them.
Yet, implementing all these useful tips in your websites might become a real pain in one place of yours.
But have no fear, Weblium is here!
https://weblium.com – an AI-based website builder, which allows you to create an awesome thank you page in 5 minutes without writing a  single line of code.
BTW, here you can read 20 case studies with the best homepages of 2019.
Read also: 
Wix vs Weebly vs Squarespace vs Weblium: Which Is Better in 2019?
[Solved] "This Site Can't Be Reached" Chrome Error
How to Write a Website Design Brief?
Best Homepages: 20 of the Best Homepage Examples (2019)
Best Modern Website Design Examples (2019)
The Best 15 Family Website Examples to Follow in 2019