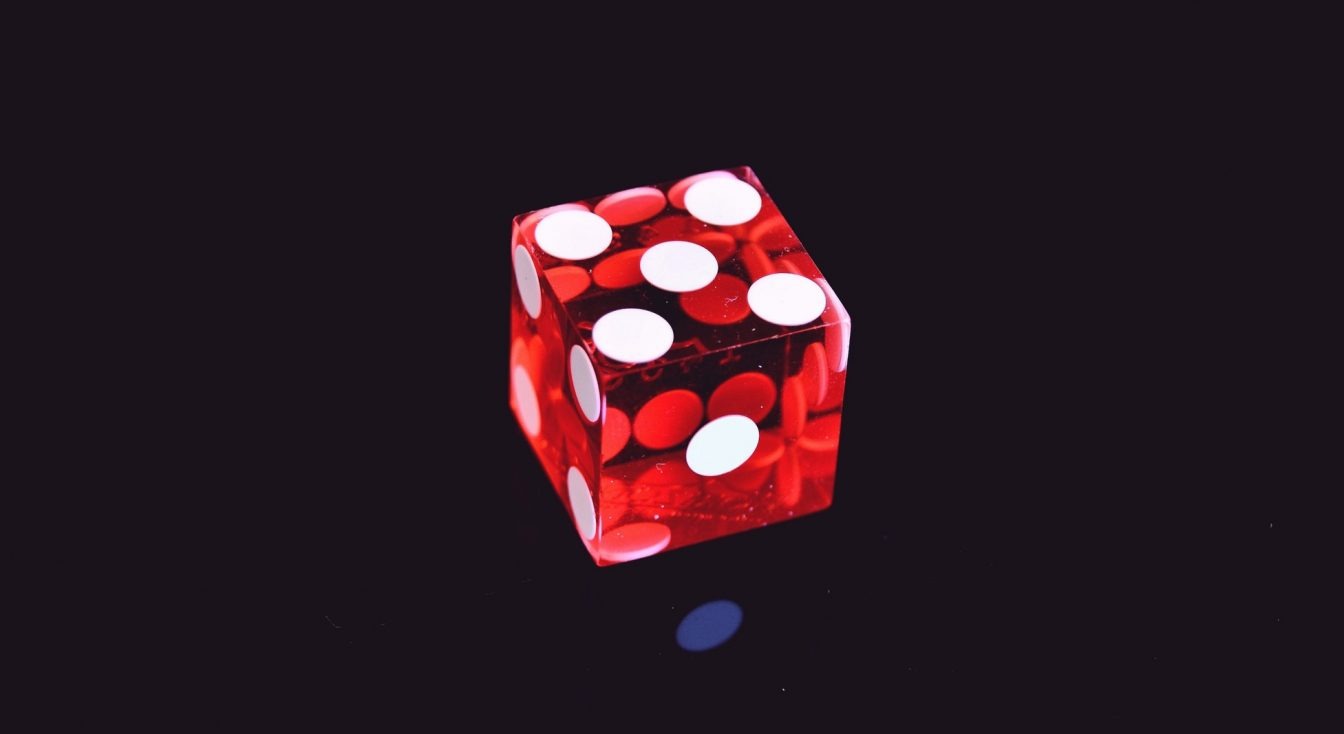 Squarespace Alternatives (Upd: 2023)
Squarespace may be one of the top website builders, but it is also one of the numerous platforms you can use.
Squarespace: key facts and features
Squarespace is an IT department for your company – that's what you'll find out after visiting their website. By signing to the services, users get a professional team that operates distantly but provides full support: unlimited hosting, proper security, 24/7 support with live chat, etc.
This is an all-in-one platform that can be used for businesses of different scales. It is suitable for both aspiring entrepreneurs and established brands. Squarespace is used by restaurants, designers, photographers, and specialists of other profiles.
The selection of templates is huge. Layouts are customizable and easy to fill. Users can choose different types of blocks and their variations, colors, and fonts, page configurations, upload photos, etc.
A mobile-optimized design version comes as a part of a package. Every site looks good on different devices. You can test the preview before publishing to production to make sure it really does.
There is a number of integrations available, including Google Maps, Getty Images, PayPal, Unsplash, and there's no need to install any plugins. The native audio player, video player, and photo galleries are among the best existing ones.
Last but not least, Squarespace offers a free version without requiring credit card details.
It would be fair also to admit some cons: difficulties with creating multilingual websites, only one sub-navigation level, and integration only with one payment processor.
Read also: 
12 Best Practices for Website Navigation.
If this site builder is so good, why are people looking for Squarespace alternatives?
A universal solution isn't always the best solution. Some website builders specialize in a particular field, like design or e-commerce. The others provide more templates. There are cheaper or more flexible platforms. A universal perfect builder suitable for all cases doesn't exist; instead, there is a particular best for each.
We've picked eight great options you should pay attention to.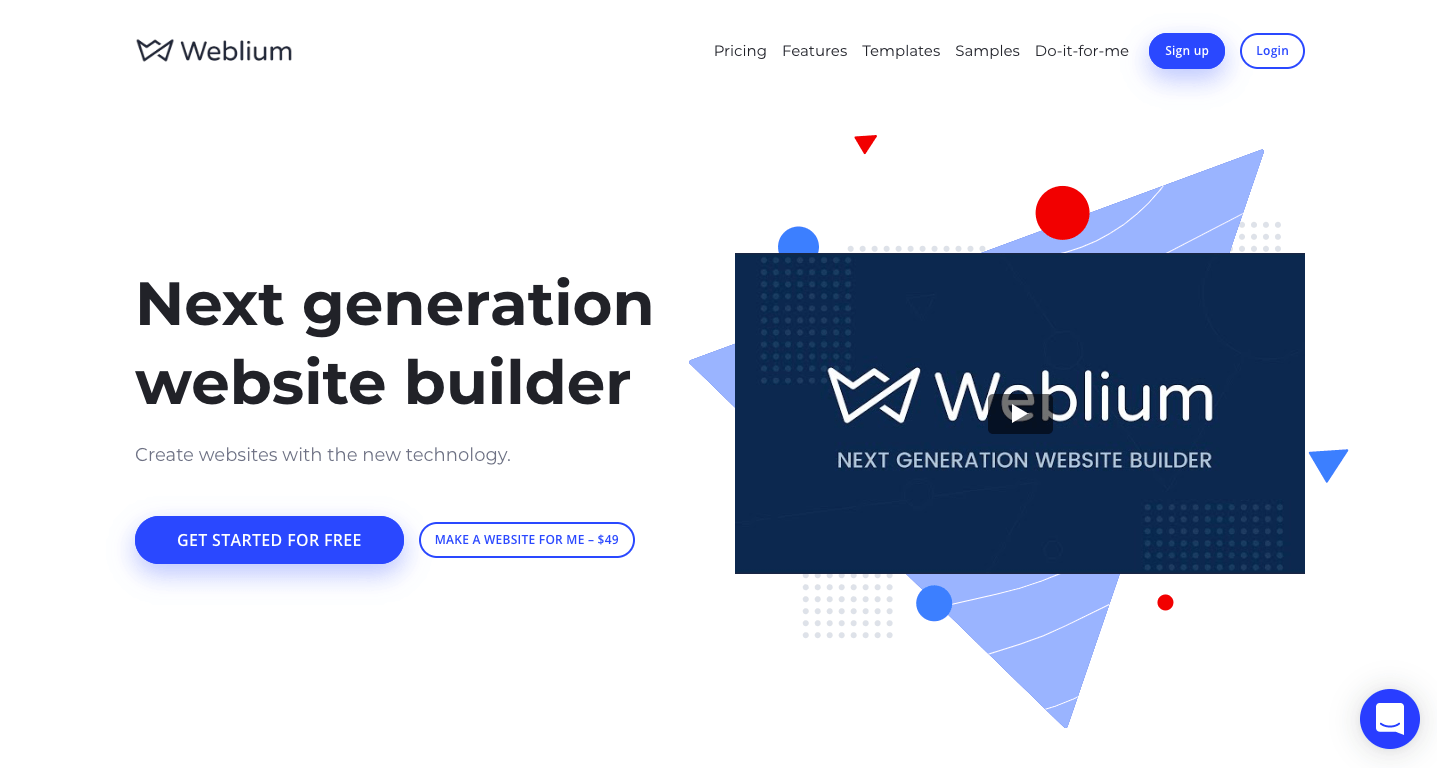 Meet the next generation website builder, the first on our list of sites like Squarespace. No need to roll your eyes, this new website builder has quite impressive functionality. For example, there is an AI design supervisor, which adjusts formatting and colors to make your site look nice.
Weblium features many ready-to-use modern and very nice templates for all occasions — from financial property to consulting websites. It may be not the best match for e-commerce or huge platforms, but maybe you aren't planning to launch one either.
Pros
The wide selection of templates designed specifically for different profiles.
Customizable content blocks with different layouts.
Opportunity to add sections that are not included in templates.
AI design supervisor for double-checking.
Integration with Unsplash.
Mobile-first designs, which is a big plus for Google ranking.
Good ranking positions in general (90-100 rank in PageSpeed results).
It is suitable for personal use, businesses, and digital agencies.
A highly professional support team guarantees 24/7 backup.
Cons
Very simple blogging functionality with only basic features available.
No pre-designed subscription form block.
Not suitable for online stores.
Pricing
Free plan with Weblium domain and branding.
Pro — $10.5/month
Agency — custom pricing for five and more sites
 Wix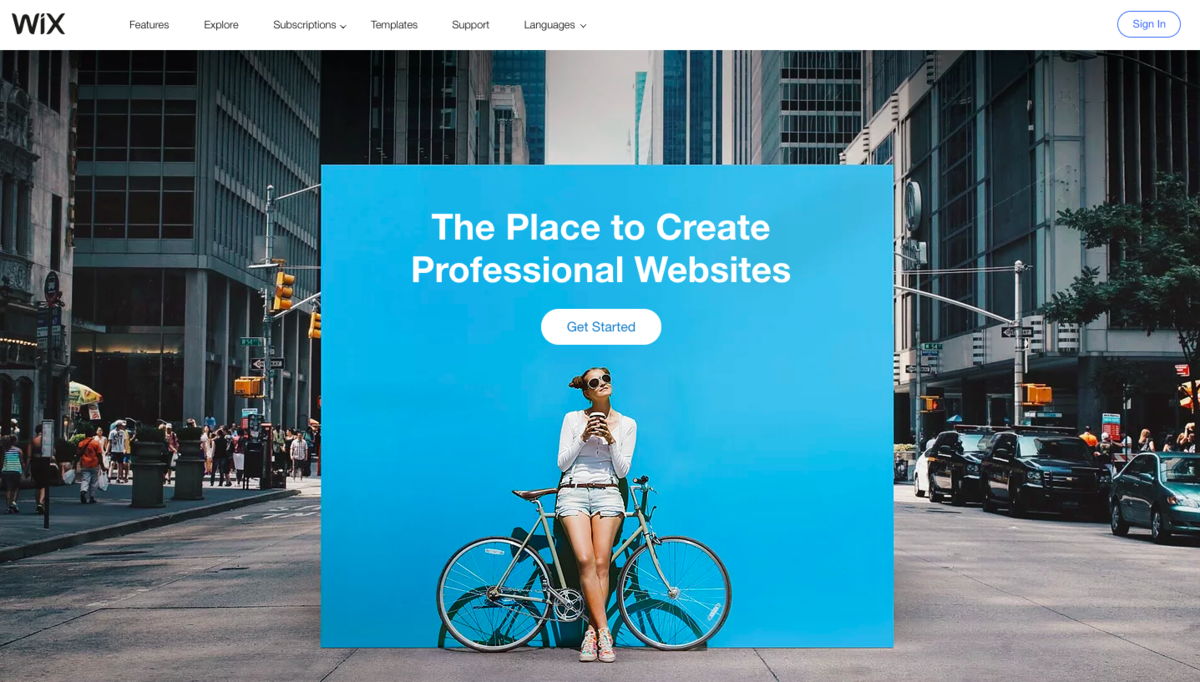 Wix is one of the main Squarespace competitors. Even if you have nothing to do with launching websites, you have probably heard about it. The promos of the service follow Internet users everywhere so some even become skeptical about the quality of services. Well, that's in vain: Wix manages to keep up with all the hype.
The intuitive interface and drag and drop editor make it easy to use and experiment with content placement. You can check out artificial design intelligence tools (ADI) for creating instant sites. Another useful feature is the Wix Turbo, which boosts website performance.
Wix Pros
Fast loading speed and good uptime.
Personalized SEO plans.
Free trial period and 30-day money-back guarantee.
One of the biggest libraries with over 500 templates.
Suitable for sites of different profiles.
Easy to use and customize.
Wix Cons
No live chat.
No built-in statistics.
Additional payments for email accounts.
Wix Pricing
from $4.50/month for domain connection to $24.50/month for VIP package; most popular — $12.50/month for bloggers and freelancers;
from $17/month to $35/month for business platforms;
long-term discounts available.
Gator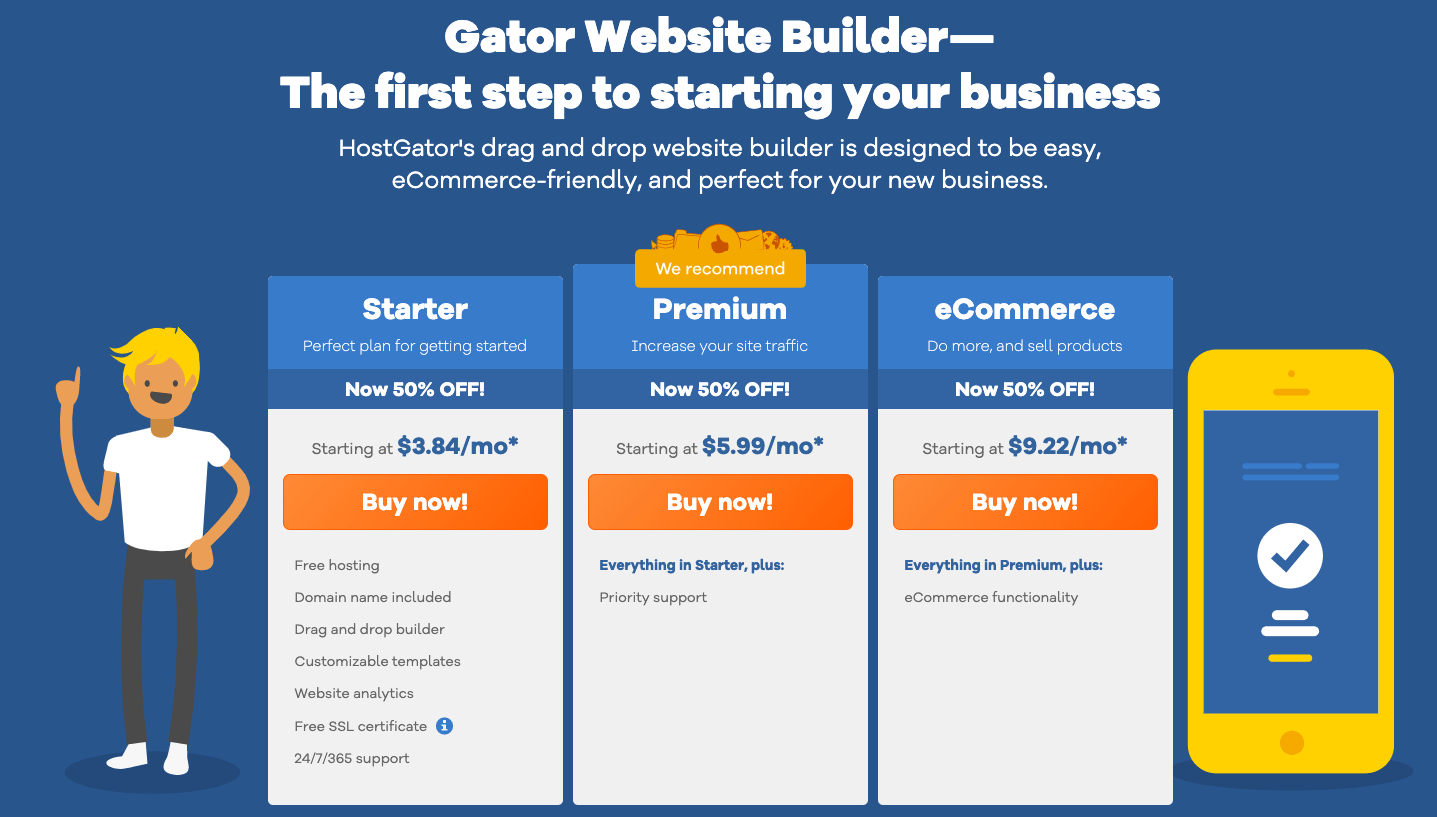 The next DIY solution is known as an easy and flexible website builder that is also cheaper than Squarespace. You can find stunning designs in the templates library. Believe it or not, but here you can create almost any design you want. Many users say this editor is similar to Wix, and that's actually a compliment.
Gator is one of the functionalities of hosting provider HostGator. It means that in addition to impressive design you'll get full reliable web host team to support your site. No need to worry about backups or updates, you've got it covered by choosing the service.
Pros
Well-designed and user-friendly interface.
One of the biggest template collections with modern designs.
Built-in photo stock library.
The custom domain name and SSL certificate included in yearly plans.
Easy integration with e-commerce platforms.
Version control system for advanced management of changes.
Cons
It doesn't offer free plans or free trial.
No scheduled posts or photo editing functions.
Limited e-commerce and blog modules.
SEO issues in a heading — the tag <h1> is not displayed in code.
Pricing
Starter — $3.84/month

Premium — $5.99/month

eCommerce — $9.22/month
Strikingly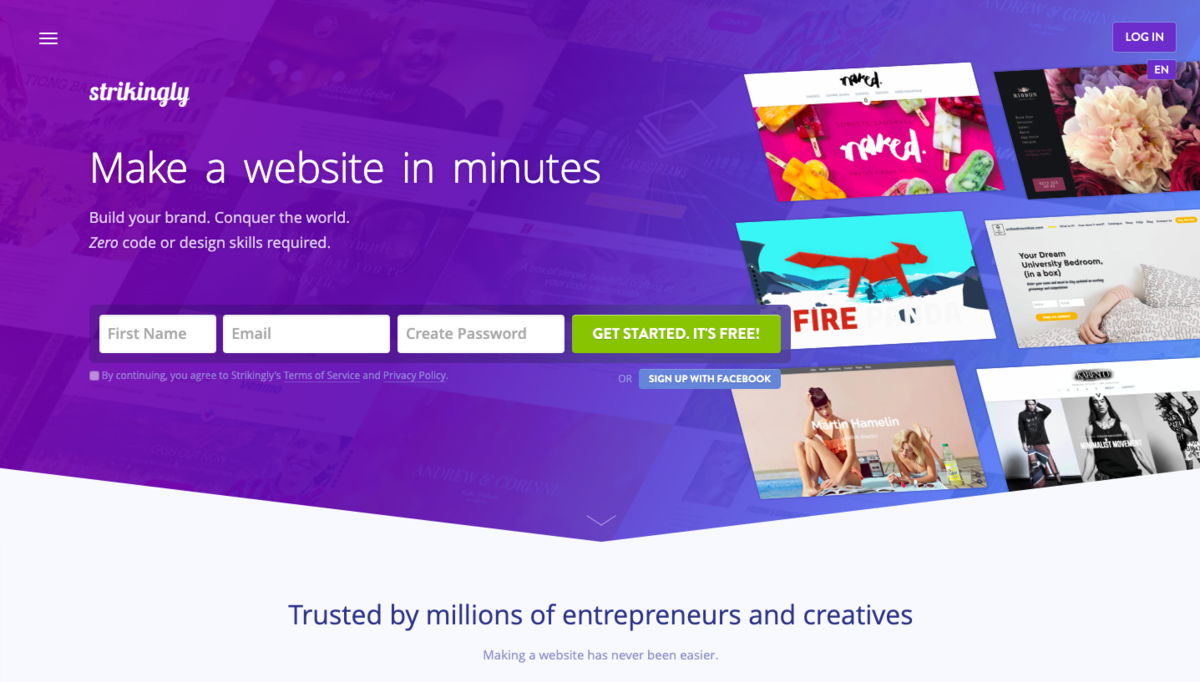 If you are launching a one-page website, consider using this Squarespace free alternative. Although customization options on Strikingly are a bit limited, you can easily create a well-designed site. A one-page website is enough for portfolios, event and landing pages, even small online stores.
The platform is positioned as "the easiest website editor possible" and suggests to build your own brand that will conquer the world. This single message with a reminder that zero code or design skills are required to attract users' attention. You can really build a website in 30 minutes or less.
Strikingly Pros
Web and mobile responsive design for different display sizes.
Preview feature available.
Easy layout editing with a drag-and-drop feature.
Advanced Customization.
Built-in e-commerce functions and seamless integration with PayPal.
Free domain for 1- and 2-year plans.
Strikingly Cons
Many standard features included in the Premium account only.
One-page sites aren't SEO-friendly.
Template selection is less diverse compared to other builders.
Strikingly Pricing
The free plan allows for creating a basic site.
Limited — $8/month;
Pro — $16/month;

VIP — $49/month.
Webflow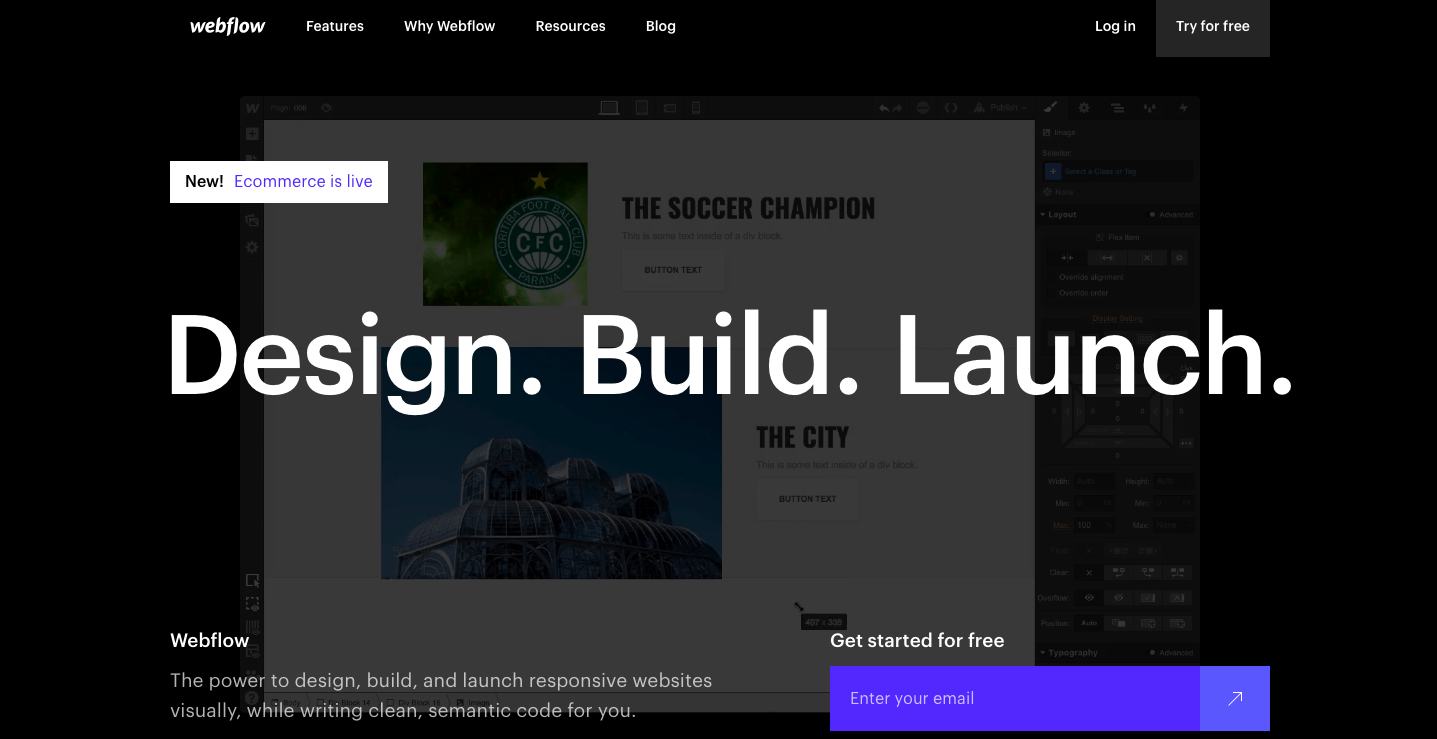 Webflow is an interesting alternative designer will enjoy. It continues the traditions of Squarespace's slick design and takes it to a new level. Some will say it is not really beginner-friendly, but it'll give you more room for creativity.
This builder reminds a Photoshop a bit. If you like working with complex tools and like advanced customization, you'll enjoy working with Webflow. Just keep in mind that the basic understanding of HTML and CSS will be helpful.
Webflow Pros
More flexible than other website builders.
Opportunity to use CSS and Javascript.
Code export feature.
Easy integration with other apps and sites.
Webflow Cons
Sophisticated and a bit complicated interface.
Requires basic technical knowledge.
A limited selection of templates, though customization is almost endless.
Webflow Pricing
Website — from $12/month to $36/month;
E-commerce — from $29/month to $212/month;
Free individual account plans, paid team plans.
Shopify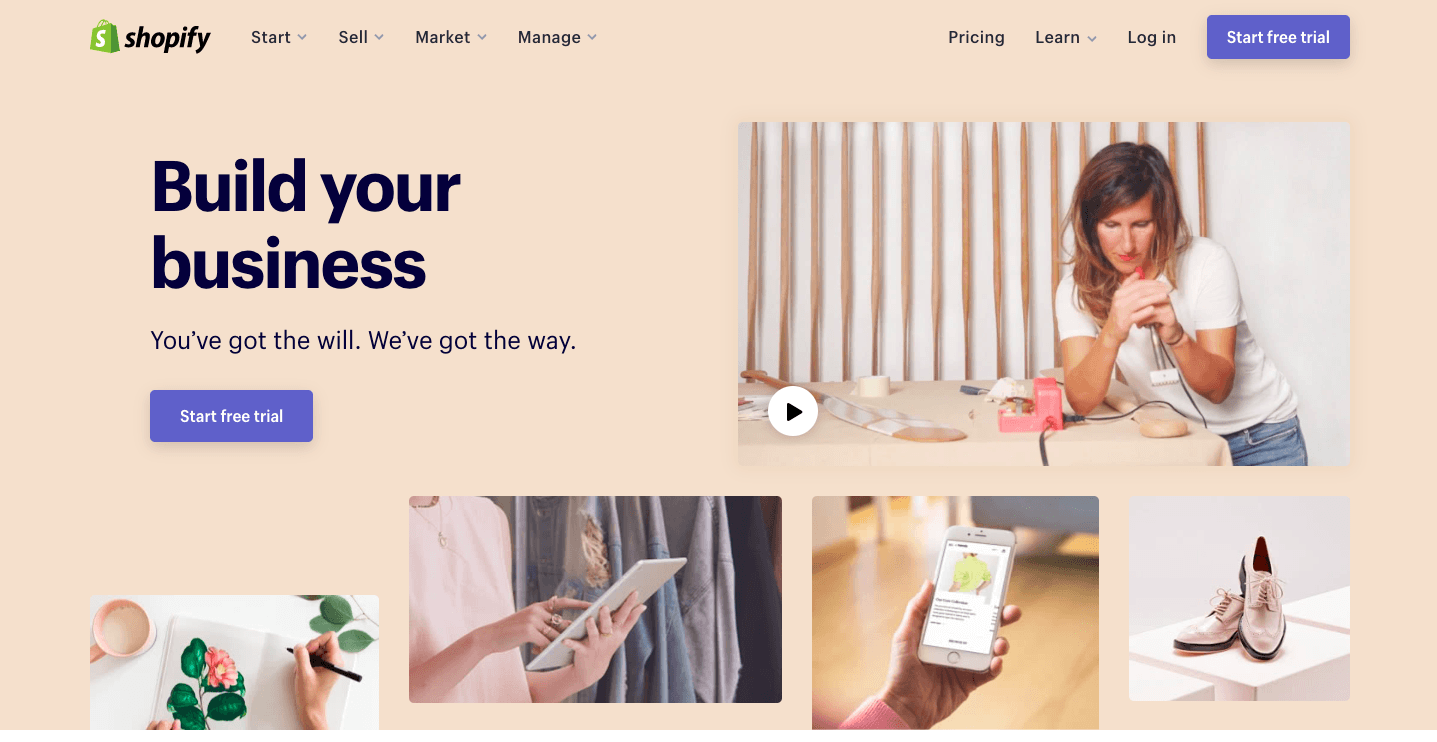 Shopify is the best solution for e-commerce platforms. Currently, it covers 80% of stores selling online. It is constantly improving while remaining easy to figure out and use. Some of the innovative features include Shopify Payments and Shopify Augmented Reality — the solutions that help to beat the competitors.
Moreover, it provides easy integration with third-party apps that extend the functionality, facilitate inventory and shipping, and assists in marketing and promotion.
Shopify Pros
Free and premium customizable templates.
Drag-and-drop features.
SEO optimizations and advanced reporting.
A wider range of payment options compared with other builders.
Full inventory management features.
In-store POS support.
Shopify Cons
Prices are a bit higher compared to most website builders.
Website transfer will be problematic.
Shopify Pricing
Basic Shopify plan — $29/month.
Shopify plan — $79/month.
Advanced Shopify plan — $299/month.
WordPress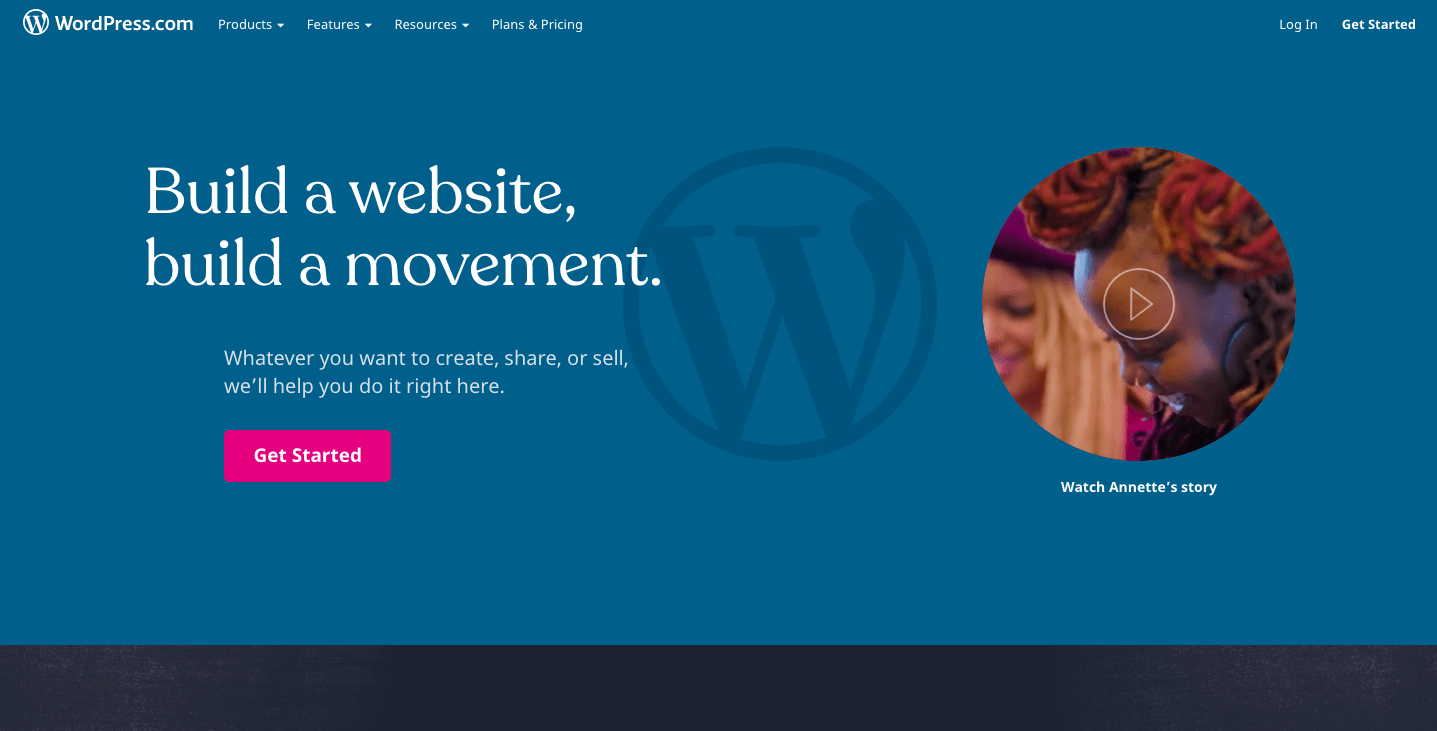 WordPress is the most popular website builder among bloggers, although this top-rated platform is not a resource to use for beginners. Advanced users, however, will enjoy the opportunity to get more control over the blog. Unlike typical website builders, where you get support and backup, there are more tasks to handle and maintenance to do. Nevertheless, it allows creating sites of different difficulty within a couple of hours.
WordPress is also known for the huge community, numerous tutorials, and resources. It is a lot more flexible in terms of customization, but you'll need to learn about plugins, design features, integrations, etc.
Pros
Opportunity to save drafts and schedule posts.
Visually attractive themes.
Available for a wide range of sites, not blogs only.
Websites can be transferred.
Open source resource with extended functionality.
Paid options provide solutions for individuals and businesses of different scales.
Support via live chat.
Cons
Learning curve: not your option if you need a simple solution.
No drag-and-drop or photo editing functions.
Limited customization.
Integration with a store isn't always seamless.
Pricing
Blogger plan — $3/month.
Personal plan — $5/month.
Premium plan — $8/month.
Business plan — $25/month.
eCommerce plan — $45/month.
Read also: 
Squarespace vs WordPress: Which Is The Best
BoldGrid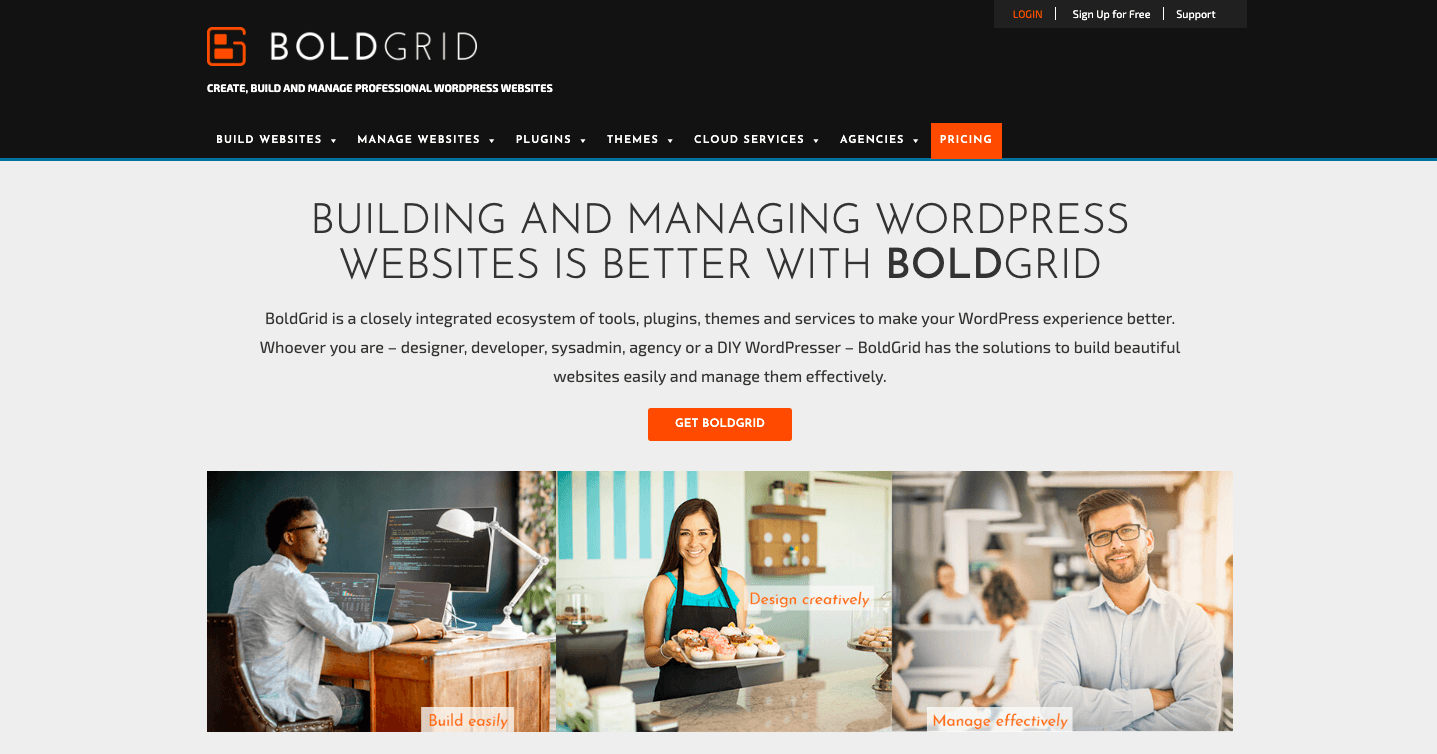 If you feel like joining the WordPress community but you don't feel skilled enough, start with BoldGrid. It is a young website builder developed on top of WP that can be used as a standalone plugin or a fully functioning site. Yes, users receive full WP functionality with a customized experience. Learning how to work with this content management system is the first step for learning WordPress.
Pros
A gallery of professionally designed themes.
Drag-and-drop interface and WYSIWYG page editor.
Advanced customization features (colors, fonts, layouts, navigation, widgets).
Free testing environment.
Easy integration with WooCommerce.
Cons
This builder works with WordPress hosted websites.
Hosting is not included in plans.
Pricing
free;
$60/year Premium package.
3dcart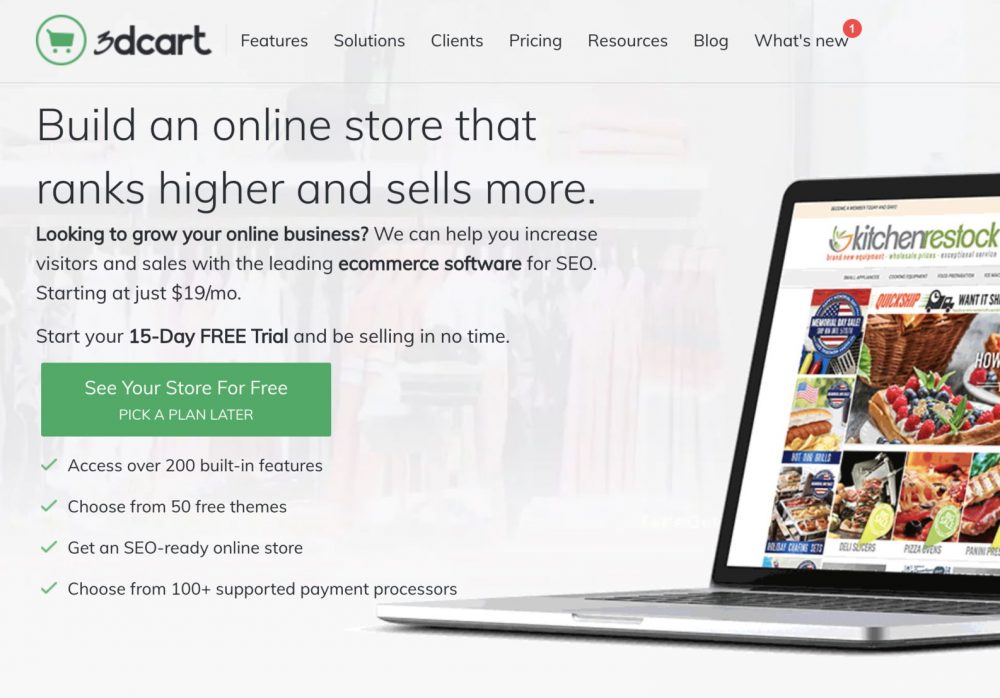 3dcart is an industry-leading e-commerce platform established in 1997. Its long history with e-commerce means it has had plenty of time to see the industry develop and to build up an impressive feature set including hundreds of online business tools. While 3dcart does have integrations with all popular business software, it has enough features built-in that use of third-party apps is mostly optional. Built-in tools cover all aspects of business management from building an online store to assign sales representatives, with more specialized features turned off by default to avoid clutter for new users.
3dcart runs on the SaaS model, so web hosting, PCI compliance, and software updates are included. A free domain name registration for 1 year is available on signup.
Pros
Complete inventory management features.

Free and premium customizable templates with drag-and-drop.

Fully scalable from startup to enterprise.

Marketing and SEO tools with advanced reporting.

The higher value for the price than other e-commerce platforms.

More payment options than any other platform (over 160).

In-store POS support.

Multichannel sales tools (eBay, Amazon, Google Shopping, Facebook, etc.).
Cons
The high number of features can mean lots of configuration.

Some site features, like Google Maps, depending on the template.
Pricing
Dropshipping plan — $9.99/month.

Startup plan — $19/month.

Basic plan — $29/month.

Plus plan — $79/month.

Pro plan — $229/month.
So which site builder is the best?
If you expect us to state that building your website on Weblium is the only right idea, we've got a surprise: it isn't actually so. Each alternative to Squarespace has its peculiarities and highlights. The ultimate choice totally depends on your budget, purpose, and plans.
If you need a personal or one-page website, no need to pay for Gator's package. In case you plan to grow your website, add new sections and elements, consider WordPress. If you plan to open an online shop, Shopify will be an obvious choice. If you want an ad-free interface, you are to pay for a premium package regardless of a website builder you choose.
Weblium is one of the newest sites, which can already compete with some key players on the market. A promising start and good reviews make it a good option to consider. Check out a library with templates and contact us after you spot something that suits perfectly for implementing your idea. If you don't find our templates or terms appropriate for you, come back the next time, we'll prepare something new for sure.