Football Website Template
Log in and select the template

Add content and edit your template

Create new pages

Configure SEO Settings

Add CTA and contact forms

Connect analytics metrics

Check your website

Create a blog

Show your football website to the world
So, check the free football club website templates: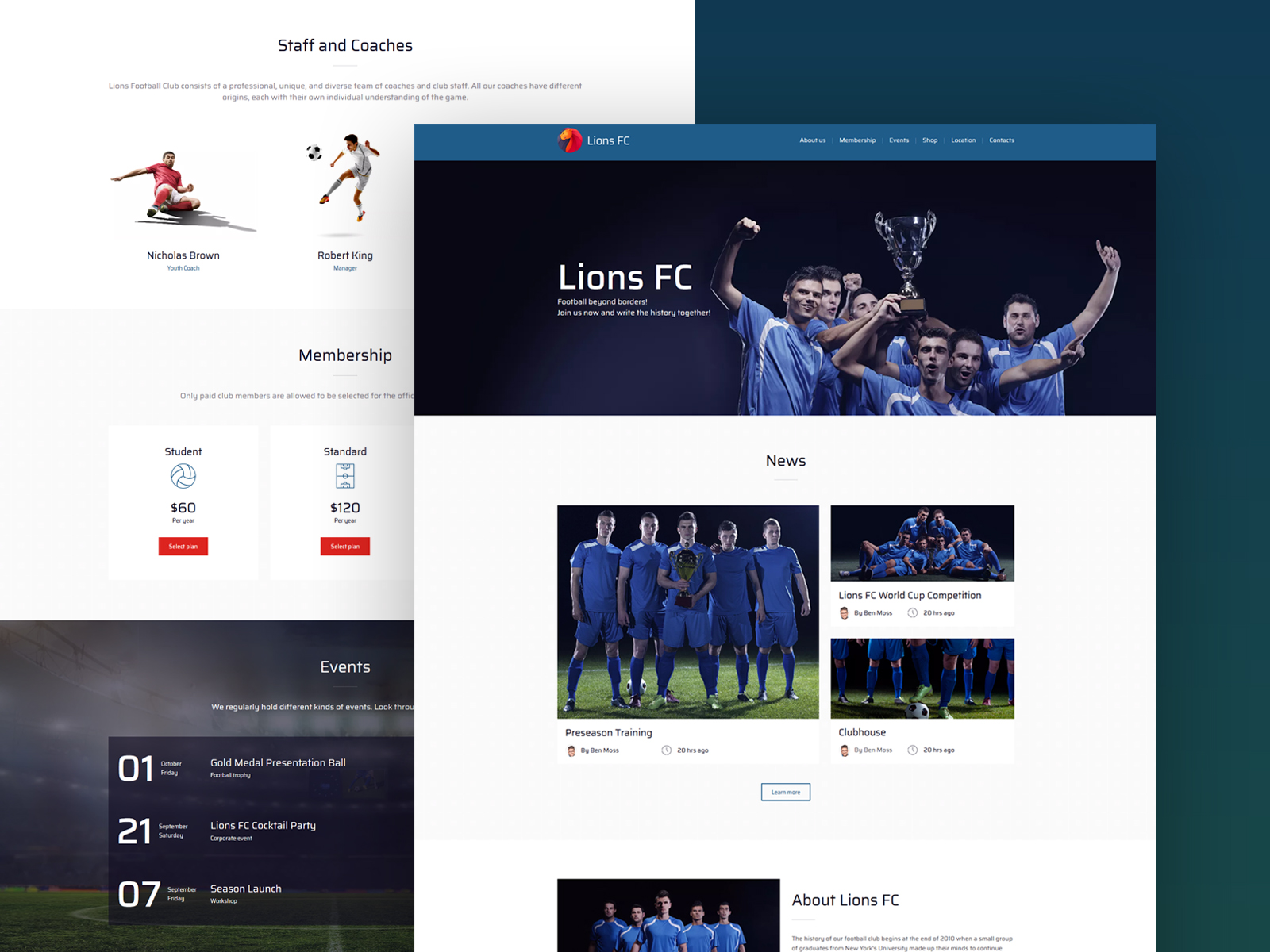 The site of the football club represents it to the whole world: the fans, the press, the partners, the sponsors, etc.
The site informs the existing visitors, attracts new ones, covers upcoming events.
But the most important thing is the design of the site that should immediately attract attention and make it simple and convenient for the user to interact with the website.
Today, creating a football site using the site builder has become a simple and fun process even for a novice. Especially if you choose Weblium – then, in addition to the must-have advantages of the website builder, you will also get a number of important bonuses (design, marketing, protection features, etc.) for absolutely free.
How to create the perfect football website?
Start by choosing a fantasy football website template. For example, you can use this template created by Weblium.
The good website design is always simple. The site should provide all the necessary information, but it should not be cluttered. Think about the content for each page and the goals that it should fulfill.
Take a look at how we thought out the text content in our football website template.
Use whitespace and simple large fonts. Content should be easy to perceive. Negative space creates space, allowing the eyes and mind to relax. Leave enough space between letters, lines, and paragraphs. And choose fonts at least 14px in size.
Preserve your team's branding. If you want your fans to feel themselves at home on your site, then make sure that the style of the site matches the style of the club. The most important branding elements for your football club are the logo and colors.
This fantasy football website template is designed in a single color scheme – no matter which website section you are at, you always know it's "Lions FC" website!
Use professional high-quality photos. The site of the football team must be personalized. Neither selfies nor stock photos are suitable here. Your fans will thank you for adding real, colorful photos of team members and photo reports from matches!
Website features for winners:
upcoming matches (that will help you to always have a full house);

contacts and social icons (make it easier to contact you);

latest news (it is important to cover both the wins/defeats of the team, as well as interesting "backstage" events for fans);

player profiles and stats (in addition to raw numbers, provide visitors with exclusive information about each player).
Check out this fantasy football website template for more ideas you can use in creating your website!