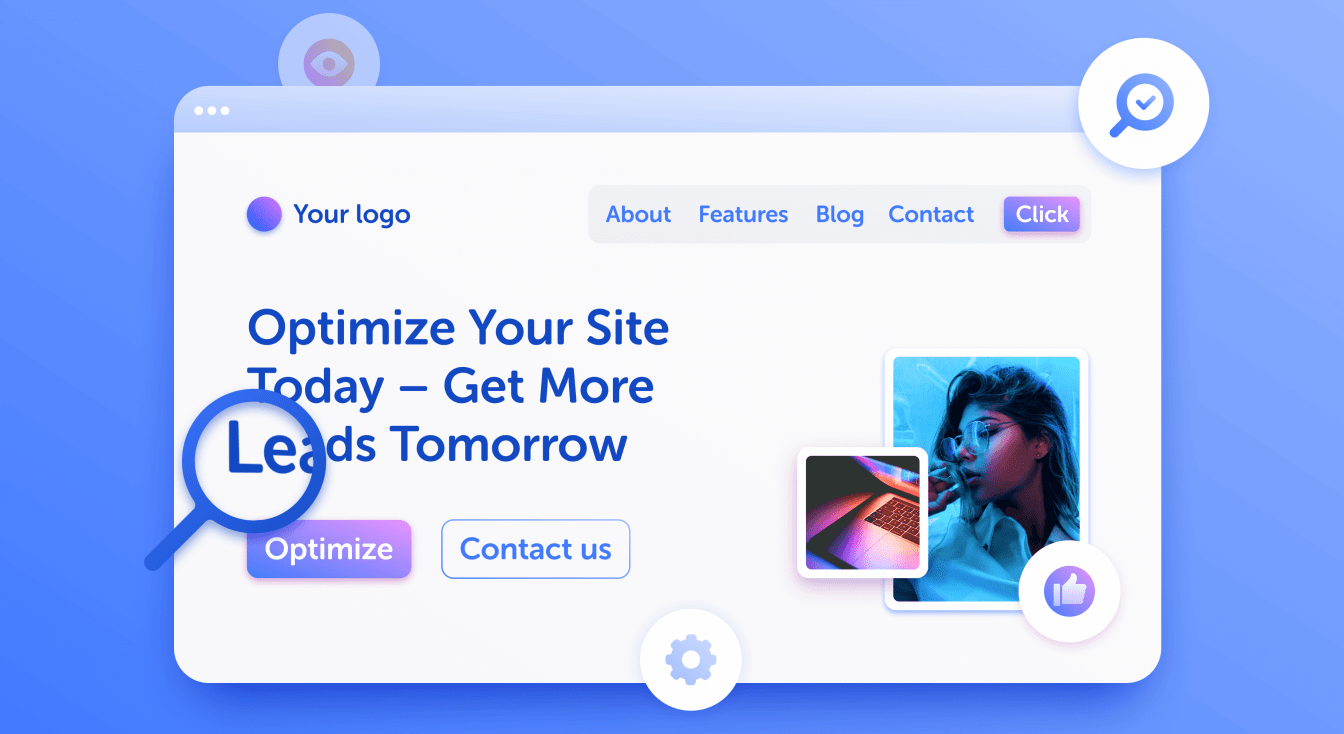 Must-Have SEO Settings for a Website on Weblium
If you are on this page, you have already created a site on Weblium; either you're still working on it, or you are only thinking about creating a site for your business.
But a beautiful and informative website is not enough for potential customers to find you. The vast majority of people are looking for information in search engines, in particular in Google. Moreover, a person usually doesn't go beyond 3-4 pages of search results. Therefore, in order for your site to get on the first page of Google, you should learn more about SEO — search engine optimization.
The first thing to know about your site on Weblium is that it has a lot of SEO settings by default. This is a big advantage since you don't have to do boring and technical work, for which companies and individuals usually hire an SEO specialist. However, the default settings are not enough to rank your site high. You are competing with hundreds and thousands of websites in search results. The more you optimize your site for SEO, the more likely it is that you will have a better ranking in search engines.

In this article, we'll tell you what needs to be done to make your site reach the first page on Google and attract real customers.

Do keyword and competitive research for your business niche
The first stage is preparatory. You should study the competitors, make a list of keywords, think over your site structure, and collect all the data in one table. It's even better to do this before you start creating a site. Then you won't need to make changes to existing pages.
Explore your business niche, find competitors with similar products and services on the first pages of Google.

Examine their websites and find out which keywords they use to promote each page. Keywords are words and phrases by which users search for products and services. Quickly evaluate the number of visitors on competitors' sites with the SimilarWeb extension.

As a result, you will get a list of all the pages of the selected competitors' sites and the keywords that are used there. Your task is to do even better than competitors did.

Expand the ready website structure, think of even more keywords, and increase the number of pages. Consequently, you will get an extensive table with page names and keywords that you will use on the pages on your site.

Competitive analysis should be used in the future repeatedly, especially when you need to create additional pages on your site.
Now, when you have the structure, the existing pages, and the list of keywords, it's time to start working directly with your Weblium website.
Add meta tags to your site
General info → Title and description | Pages → Settings → SEO → Edit page info
The first thing you should do is to add meta tags to your site. 
Meta tags are HTML tags that give search engines more information about your site. They help you promote the site to the most relevant search requests. They allow a potential visitor to see the necessary information in search results, making your site description as informative as possible. 
This information will tell search engines what your business is about. It will be displayed on the search results page on Google, Bing, etc.
To set it up, open the Settings in your account, select the General info tab and add Site title and Site description:
Write a site title, including the name of your product or services in it. Fill in the Site description field for your website.
Remember that less is more. Don't write too much in the tags. 
Frequently used title size on Google is 30-70 characters. The optimal length of the title, which allows you to effectively use key phrases and additional text, can be considered 70-80 characters.
The standard site description length for Google is 150-160 characters. The maximum length of the description tag can be up to 300 characters. As in the case with the title, the words indicated in the "tail" of the description and hidden in the results of the issue can affect the ranking results. Therefore, the description tag can exceed the recommended length of 160–170 characters. The main thing is to specify the keywords at the beginning of the description, placing information in a meta tag from the beginning to the end as it is prioritized.
We recommend adding a unique page title and description for each page you've got.
For that, go to the Page settings and switch to the SEO tab: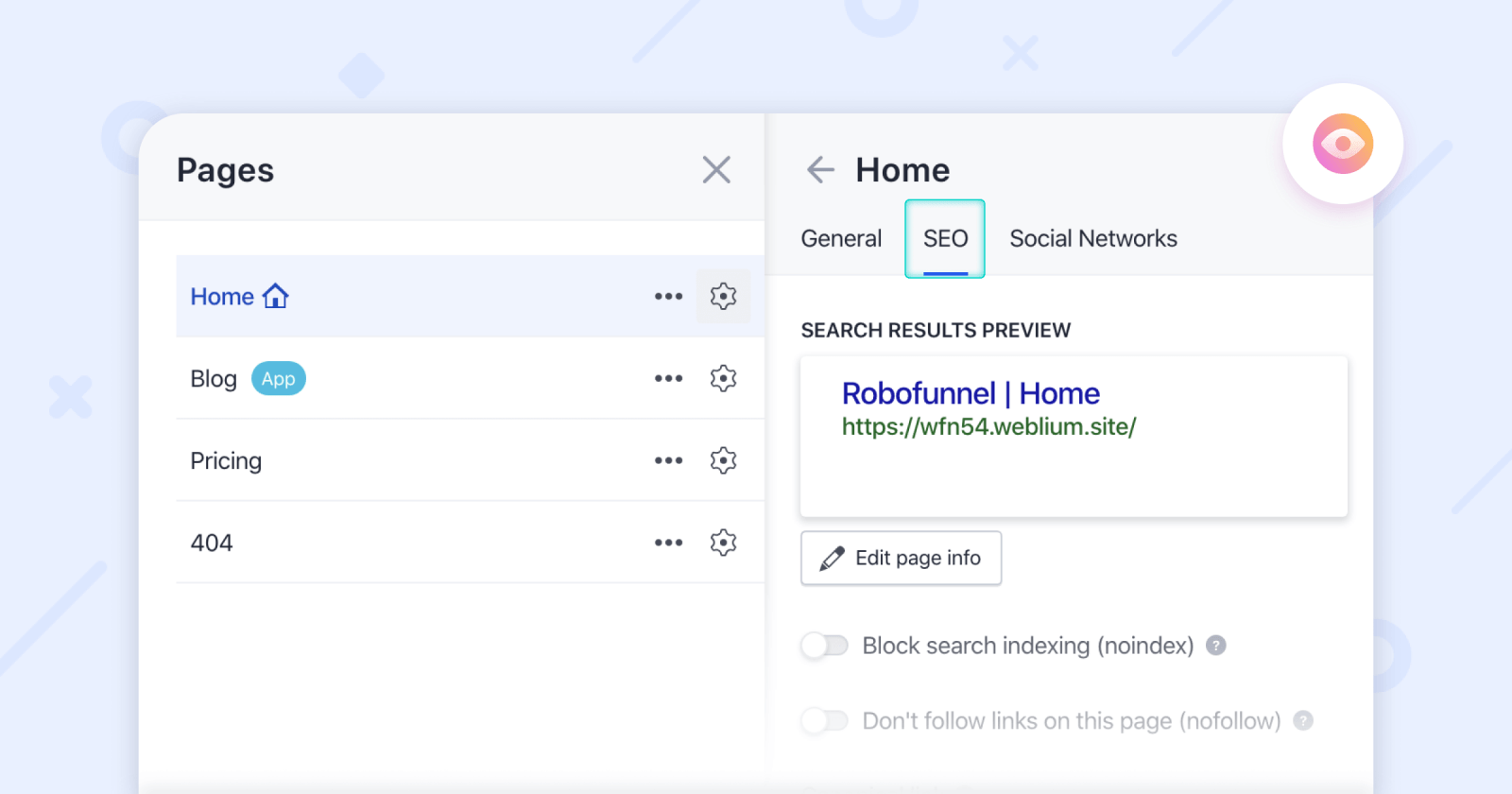 Click on the Edit page info, and add a page title, description, and keywords: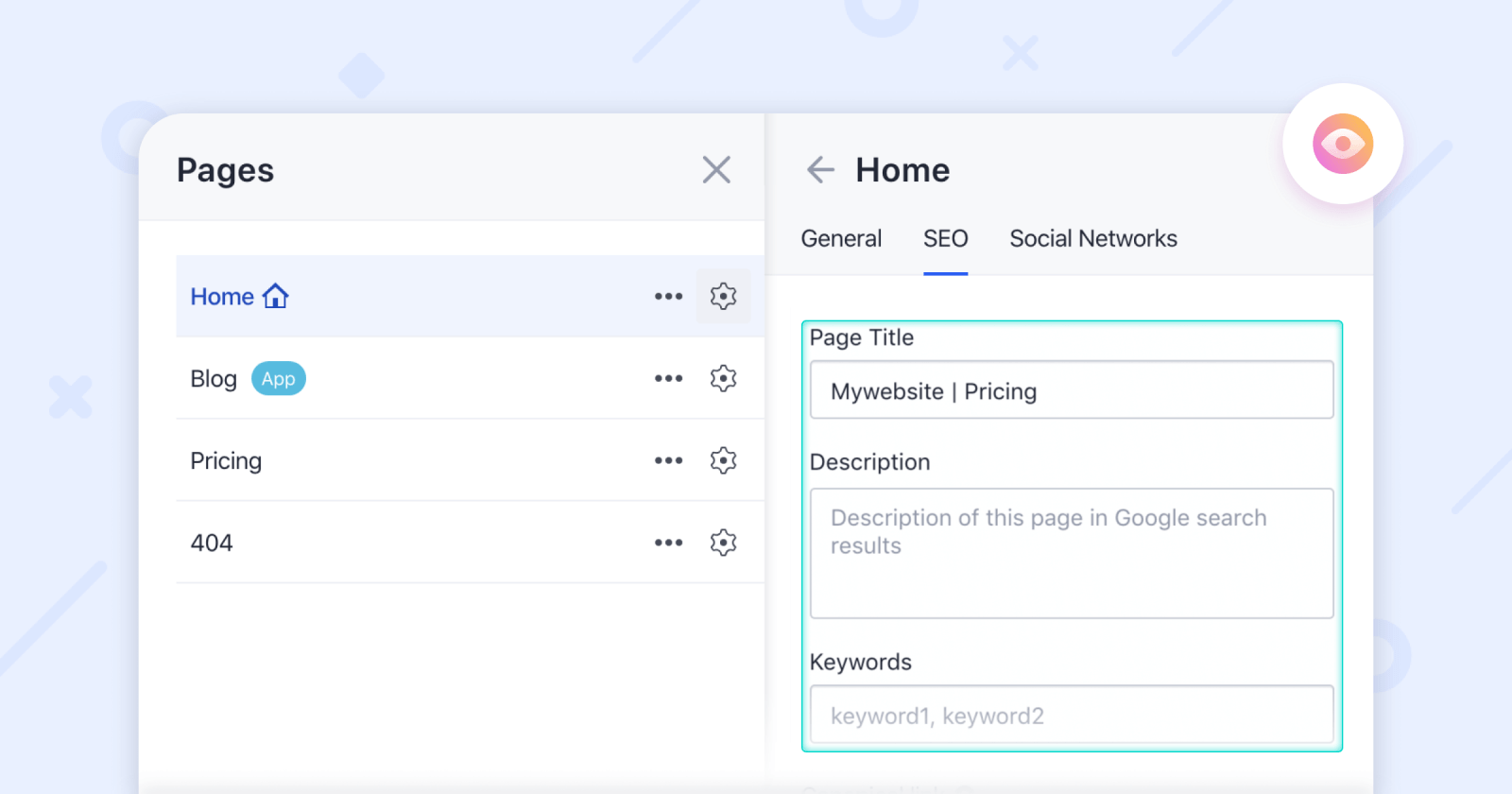 The next thing is to use keywords in H1 (post titles) and H2 (post subtitles) right in the text content of your website.
Weblium SEO tip: it doesn't matter how many H1 you have on your site. Google has recently stated that sites can have a few H1. Our SEO specialists conducted an experiment and rested assured that the number of titles doesn't affect Google ranking and can even improve it. 
Also, don't forget about meta tags on the blog.
Add the Blog feed to your site and create a new post. To optimize your blog post for SEO, go to the Post settings. Then write the title of your article, specify the keywords, and come up with a short post description.


Add relevant and unique content to your website
It should be the #1 rule to follow if you want to become a friend of Google. Don't steal copies on other sites—tell people about yourself in your own words. Keep your content unique and grammatically correct.
To be appreciated by Google's robots, each page should have a high-quality and informative copy that is tailored to a single search query and fully consistent with the purpose of the page. 
Give your site visitor all the information about your service or product, tell him how to place an order, how much it costs, why your products and services are better than the competitors' ones. Having visited your website, the user should not have any more questions. 
Also, your web copy should be structured and lead the user to the CTA (call to action). A sufficient text length on each page is 800-2,000 words.
You can order a compelling web copy from proficient copywriters, or you can write everything yourself. Weblium content team recommends using these services:
Write alt tags for images
Image title → Media Settings → Image title
Alt tag is the alternative text for the image. Google bot doesn't see images—it reads HTML code and tags. Images with alt tags rank in image search results and boost your SEO.  For example, if you have more than 1,000 images in hundreds of articles on your site, then each of them can bring additional traffic.
Use different alt tags for different images to explain to Google what is depicted in your website images. You can write relevant keywords in the alt tag. 
To add it, click on the Image settings: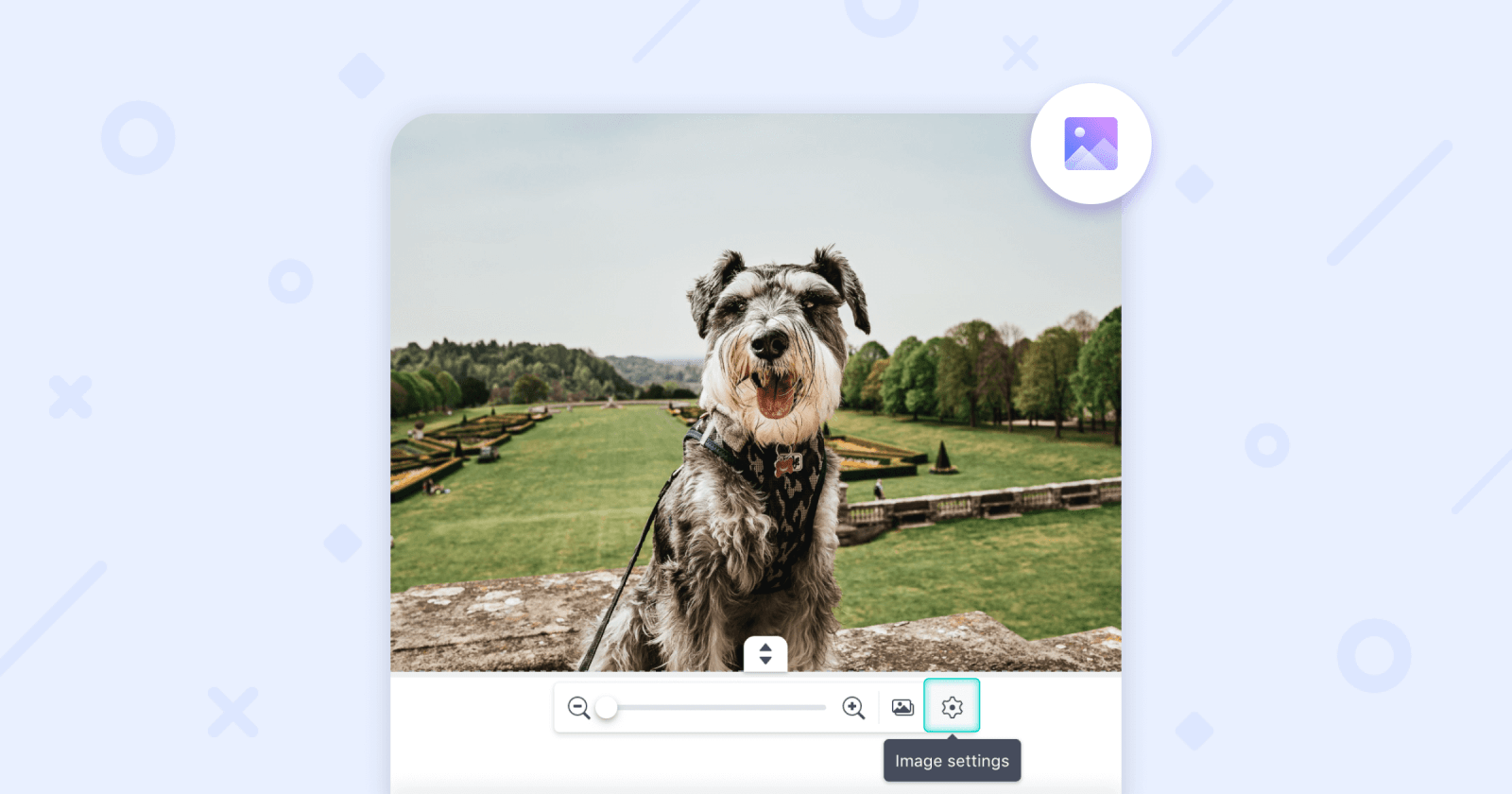 Then add a brief description in the Image title (Alt text) field: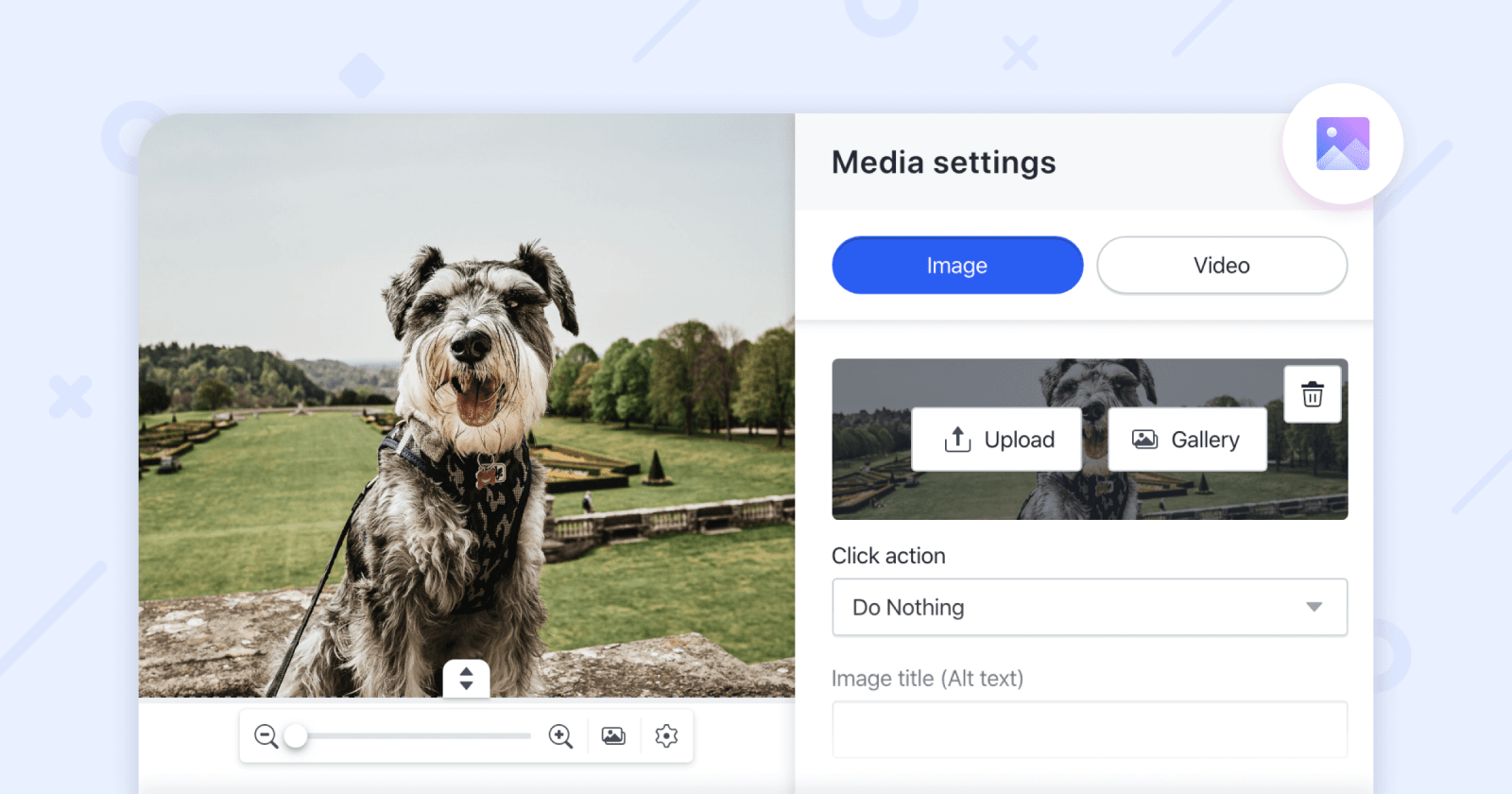 Add Alt-text only to the meaningful images on the site. For example, Alt-text shouldn't be added to the background and decorative images.
Add canonical links
Pages → Settings → SEO → Canonical link
The canonical URL tag was created to solve the problem of duplicate pages. 
If a page has several URLs, one of the page versions should be deleted.
If you clearly understand the reason for the appearance of duplicate pages on your site, and at the same time, each such page should be present and can't be deleted, you need to determine which of these pages is the main (canonical) one. Then, canonical links from all other pages should be set to this priority page.
Usually, this tag is set directly in the site code or through an XML site map, but you don't need to have special knowledge to define a canonical page on Weblium — everything can be done in a couple of clicks.
Open a duplicate page in the editor, navigate to the SEO tab in the Page Settings, and add a canonical link for the original page: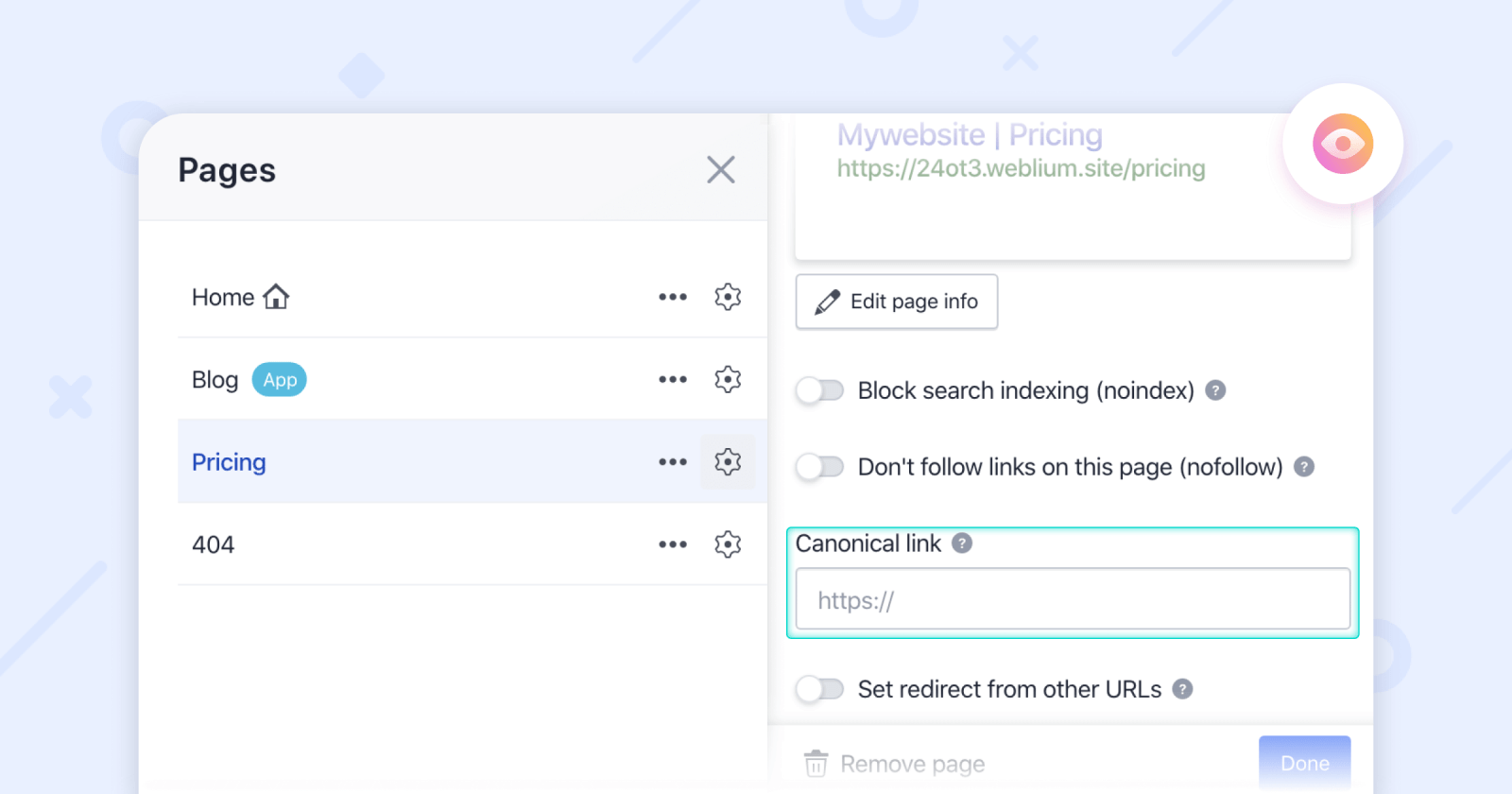 Use human-readable URLs, which describe a web page with letters.
Nofollow external links
Add link → Link settings → Don't follow this link | Pages → Settings → SEO → Don't follow links on this page

If you add links to some external resources, you may want to disallow search engines to follow them. You should add "nofollow" tags to the websites not to transfer link juice to them. 
"Nofollow" is a signal to search engines that you don't want to vouch for the content of the page you refer to. For example, if you put a link to a site of poor quality or with irrelevant content, search robots will lower your ranking as an unreliable source. In this case, be sure to put the "nofollow" tag on the link. This way, you indicate to the robots that they should not pay attention to the link.
In short, here are some of the examples when you should activate the "nofollow" tag:
If you refer to unreliable sites;

If you don't want to share the link juice with other sites;

If a website page is not ready, you're still working on it;

If a page contains copy-pasted text content from other sources;

If you add links to other pages of your website and want to distribute link juice.
To enable the "nofollow" attribute, select the page in the editor, open the SEO tab, and toggle on the relevant setting: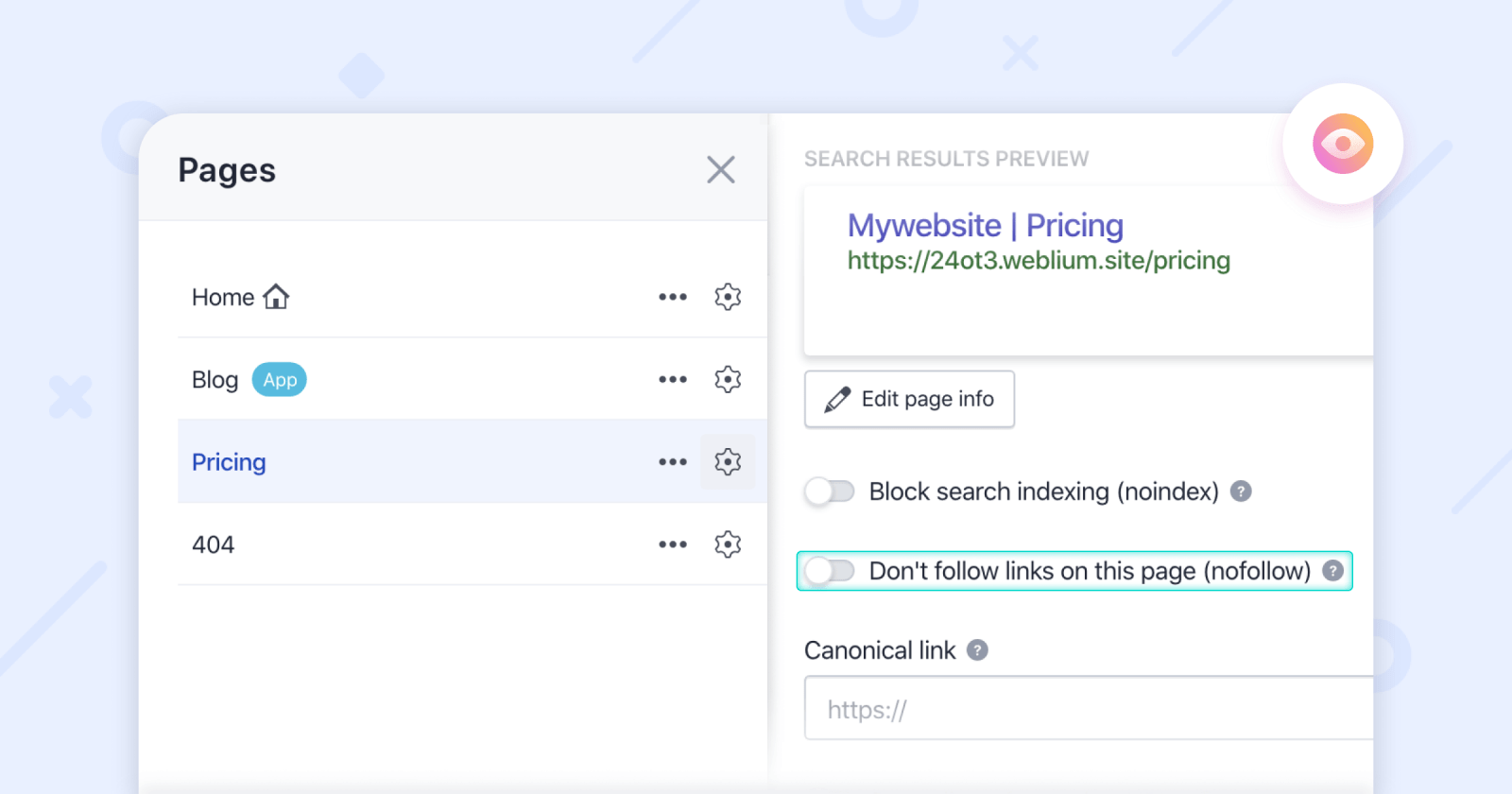 Not all external links need to be closed with the "nofollow" tag. If you refer to a well-known and reliable site (for example, Statista, Apple, NY Times, etc.), such a link will give you more promotion in search engines. Our SEO experts recommend adding links to trustworthy articles (statistics, research, etc.) because Google quickly defines their authority. 
Check duplicate pages and meta tags

Pages → Settings → SEO → Block search indexing/Canonical link

While you're working on a website, duplicate pages or meta tags may appear. This may confuse Google robots, make your website load longer, and decrease the "authority" of your site. To go up in search results, tidy up your site by removing extra pages or adding the "nofollow" tag to those pages.
You can find duplicate pages manually by using the Google operator site: yourwebsite.domain. 
In the search results, you'll see a list of all the pages of your website, thus you can visually detect duplicates and all kinds of "garbage."
If you don't want to spend time on manual research, you can use special services. Weblium team uses such tools as:
Both of the programs have free versions. By launching their own bots on your website, these programs provide a complete list of URLs, which can be sorted by the coincidence of the "Title" or "Description" tag, and thus identify possible duplicates.
If you find duplicate pages or meta tags on your website, delete them, set canonical links, or block those pages from search indexing. 
Create a custom 404 page 
Pages → Add page → Page URL → 404
When a user tries to open a page that does not exist, he sees a standard 404 page. 404 is an error code that signals that the requested page was not found. When can this happen?
If the user typed the page address manually and made a mistake;

If the page was temporary, and you deleted it;

If you've changed the page URL;

If you have hidden the page for some reason.
A well-designed 404 page should have links to other pages of the site or a home button — some kind of "exit" from the page.
When you have a lot of standard 404 pages, which don't lead users to the main page or other pages, your site's organic search position decreases.
By default, when a user encounters a 404 error on any of websites created on Weblium, he sees the following page with a home button:

It's a nice basic feature, but we recommend you to create a custom, interesting and funny 404 pages to make people at least laugh when they try to access your web page that doesn't exist. 
You can create any 404 pages you like, be it simply an image and a couple of buttons to other site pages, or a long and informative page with some extra information. 
You can change the appearance of this page any time and see how it will affect your SEO positions. You can get inspiration from the examples of nice and creative 404 pages in our blog article. 
To add a 404 page on a Weblium site, you should create this page and name it "404" in the Page settings: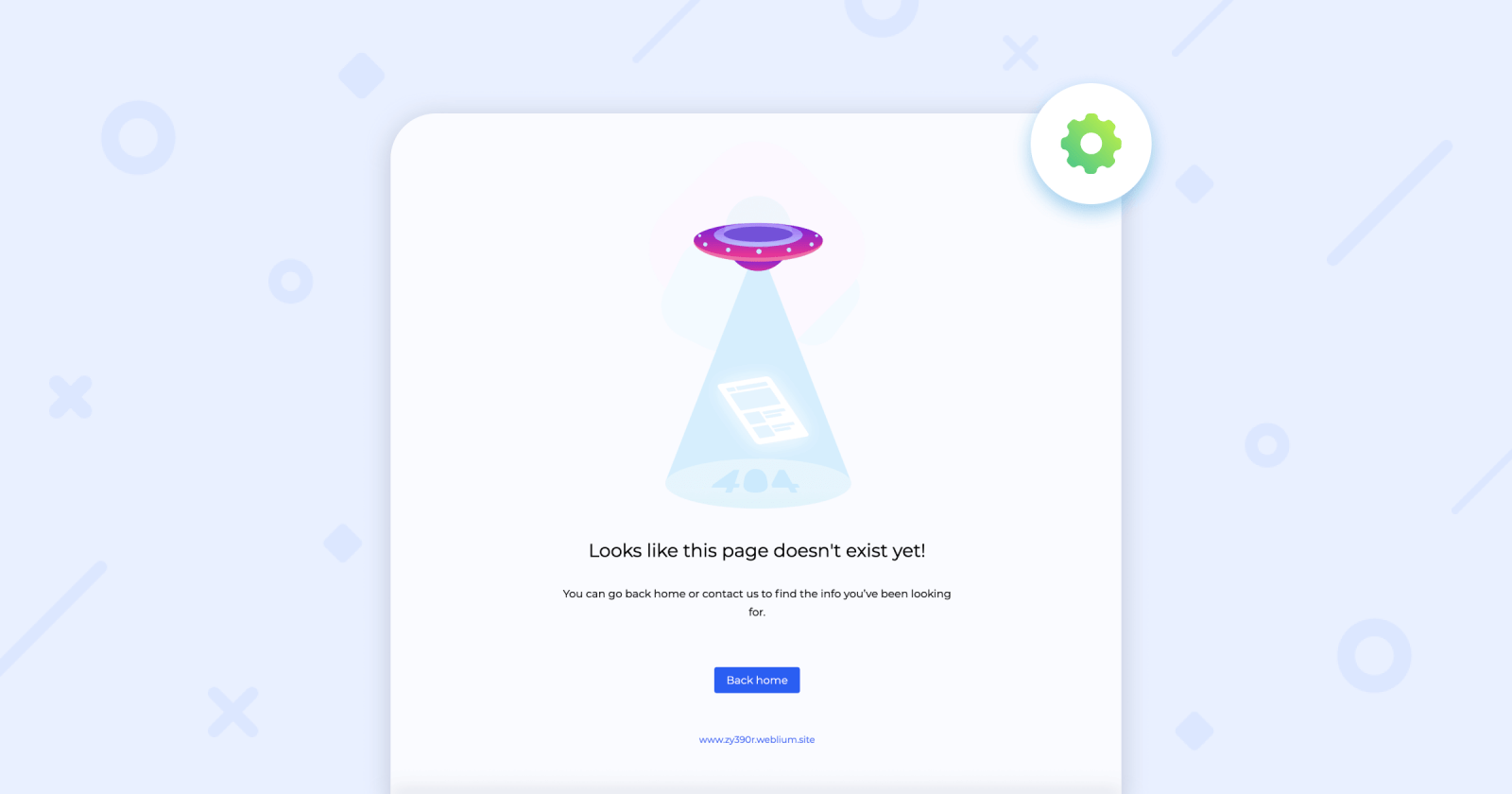 Get your website indexed in Google 
After you have followed all the steps above, there is very little left — to hint to the robots that it would be nice to have a look at your site and all the work you've done. To make your website visible in search engines, go to the General info tab in the Site settings and turn the toggle on to include your site in search results.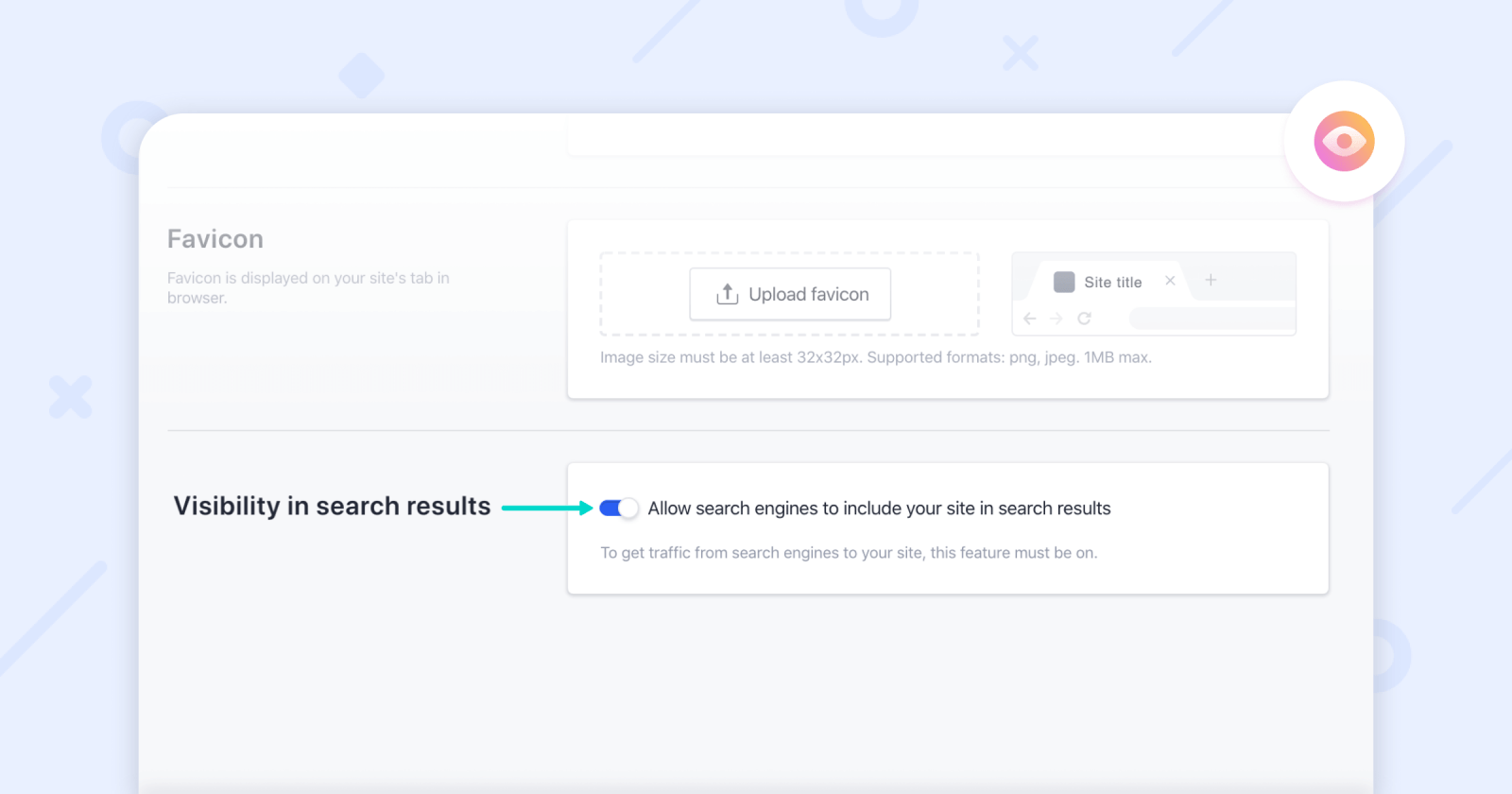 Although this setting is on by default, rest assured that it is applied to your website. 
Important: your site may not be indexed in search engines immediately. It may take up to 3-14 days for them to crawl the site and add it to their index. 
To speed up the process, take the following steps:
Add the site to the

Google Search Console

. 

Post links to your website on other sites related to your business niche. 
These two settings will be an indicator to both Google and online users that your website is ready to go live. 
If you've created your site recently, use Google operator site: yourwebsite.domain to check if your site is indexed. You'll see all the indexed pages of your website and their total quantity.
If you want to hide a particular page from the indexation, you can do so. It may be needed if the page is not ready yet, there is copy-pasted content or some technical information which you don't want to show the robots and сustomers. 
To hide a particular page from search engines, open the Page settings, select the SEO tab, and toggle on Block search indexing: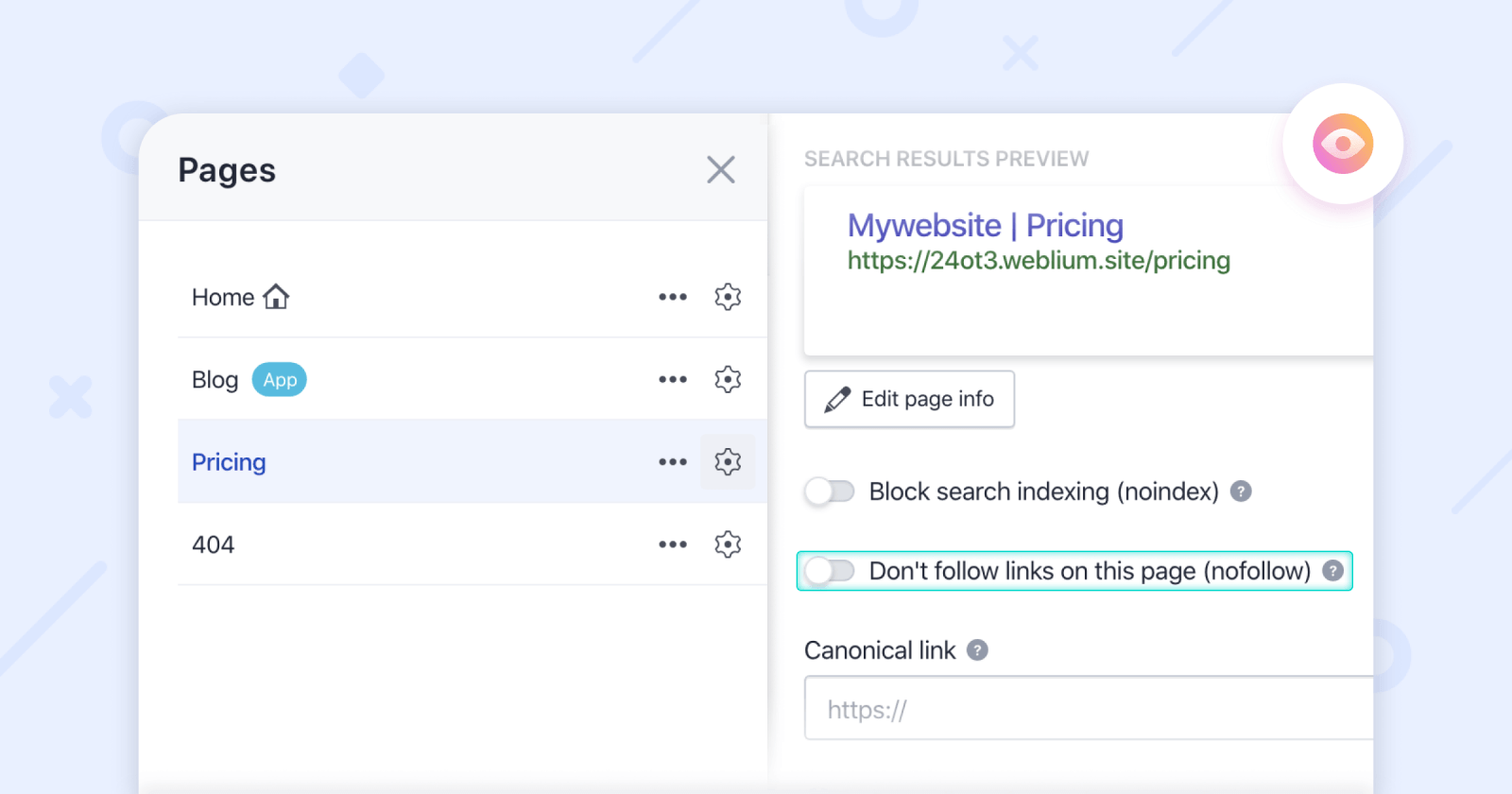 Set up your Google My Business account
Google My Business (GMB) is a free tool to add your company's information on Google Maps, Search, and other Google services.
The service is suitable for companies that have offline offices.
Weblium tip for new projects: if you don't have any Google Ads, Google Analytics or Google My Business accounts yet, create accounts with the same mailing address so that you can immediately configure statistics import between them.
To get started, you need to register with Google My Business, provide all the information about your company (phone, address, website, business hours, etc.) and verify your account. If you have several branches, you need to confirm each of them separately.

After the registration, your company will be displayed on Google Maps, and you will be able to view statistics on users: how many people saw your address or phone number, mapped the route, called, etc.
SEO maintenance
How to have your site on the first page on Google forever?
The process of optimization is not a one-time process but requires maintenance, tuning, and continuous testing and monitoring. 
The great news is that you don't need to create a robots.txt file, sitemap.xml, or connect Https instead of Http, look for technical duplicates, set redirects, and so on. You've created a website on the Weblium platform. This means that all the hard work has been done for you. You can concentrate on more interesting things, such as your business, and only maintain your Google ranking. 
These are the basic steps to continue enhancing your positions in search engines:
Create additional pages. One page, one keyword;

Guest posting. Write and publish articles on someone else's websites or blogs mentioning your business.

Link building. Obtain links to your site from other

more established

resources. The more reliable the website is, the better it is for your site's link juice.

Working on the blog. The more articles you have, the better, but they must be SEO-optimized, containing at least 800 words, keywords, images, and links. Don't hurry to write or order hundreds of weak and boring articles. It's better to post one huge and in-depth blog post per month.

Submit a website to directories (Yahoo! (paid), Business.com (paid), and DMOZ (free).
Some useful tools recommended by Weblium team
Our SEO specialists recommend using the following services to spy on competitors, evaluate your results, and improve your website:
Summary 
If you've read this article to the bottom, you're on the right track. The last and most important step remained — implement all the advice. 
It's quite easy to optimize a website created on the Weblium platform, as all the settings are available even for free sites. Note that if you add a custom domain, Google will rank your website even higher.
If you get stuck on the way, feel free to contact us at support@weblium.com.
If you don't have much time to worry about SEO, it's better to handle this task to professionals. Weblium SEO specialists can do this for you at favorable rates. Request one of the SEO packages that suits your needs most.