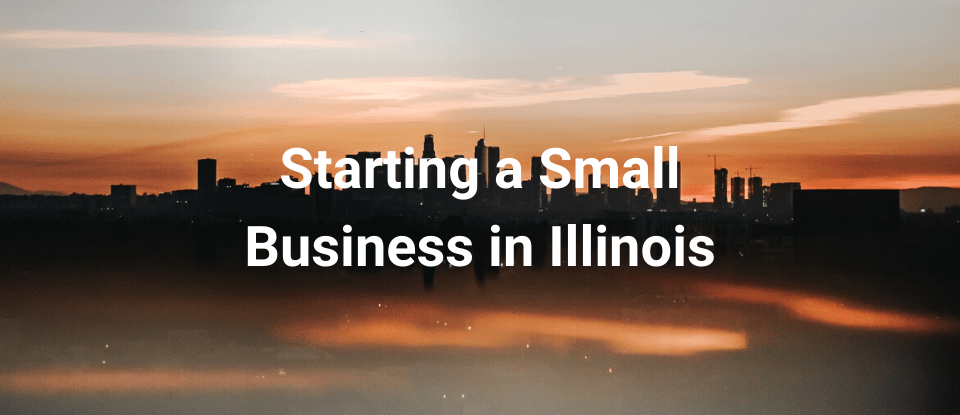 Starting a Small Business in Illinois: Your 10 Steps to Success
Many dreams of starting their own business and want to achieve success. But most of us have a lot of fears and prejudices like: "this requires a huge start-up capital", "I don't know how to beat so many competitors", "I have no experience and it is unlikely that something will work out".
In fact, opening your own business is quite simple (especially today!). The most important things you will have to do is staying a reasonable man no matter what difficulties you will face, be able to analyze, follow your intuition and have a clear plan to follow.
If you are starting a small business in Illinois, but do not have a clue where to start, we suggest you go through these 10 steps that will help you to reach new heights!
Choose the business idea to follow
When choosing an idea, pay great attention to the following:
your interests, knowledge, skills, how much time you want to/can devote to your new occupation;

location – a megalopolis, regional city or small settlement;

"gender principle" – there are male (automobile workshop, computer repair, and setup) and female (cleaning agency, manicure studio at home, custom-made confectionery) business areas;
the type of business – offline, or online?
Here are several business ideas in Illinois that are in trend today:
makeup salon;

towing services;

food truck

;

candy boutique;

virtual assistant

;

epicure popcorn store.
A useful article about 75 Extraordinary Website Ideas for Launching a Site in 2020
Conduct market analysis, start planning your business
According to statistics, 70% of companies do not survive in the first year of work. 70% of the rest go bankrupt in the second year. The main reason for that is the lack of business planning:
Think through your offer: what customer problems does your product solve? How will it differ from competitors' offers?

Think about sales and marketing: who are these people that can become your potential customers? How do you interest these people and make them purchase your product/service?

Plan your future partnerships: what employees will you need to find? What partners will be able to help you to achieve success?

Plan your finances: what number of sales will you need to make per month to achieve a break-even point of your business? Where can you get financing for developing your business?
A well-designed business plan will organize you, allow you to look at your occupation from a different perspective. But most importantly, it helps to find weaknesses of your business and correct them in advance!
Form the business
To become an individual entrepreneur, you will need a couple of free days, a stack of documents and some patience. Sometimes it's better to pay someone to do the work for you.
There are several types of business structures you can register the city, including LLC and its variations (Series LLC, L3C), partnership, corporation, sole proprietorship, and some others.
LLC is best suited for small or medium-sized businesses because:
a company can be established by several participants;

positive tax treatment;

easiness of setting up, easiness of management.
The setting up of an LLC in Illinois will cost you $500.
Pick a good business name
Choosing a company's name is a difficult and quite important process, because if you make a mistake, then you may encounter some legal and business problems.
Try doing the following:
check that the name meets all the requirements (it's unique, it's easy to understand/pronounce);

Google this name (and its variations) to find out if it already;

Search for a trademark in the USPTO (the United States Patent and Trademark Office).
Tip: look for the name variations with spelling errors, and the plural form to ensure that this name has not yet been registered.
Register for taxes
For first, you should get an EIN (tax identification number), it is needed for almost all types of companies. Only in this case will you be able to hire staff or open business bank accounts.
Also, check out the most important taxes your company will have to pay in Illinois:
Illinois Sales Tax (if you are offering a physical product on the market);

Unemployment Insurance Tax and Employee Withholding Tax (if you will hire staff).
Obtain necessary business licenses and permits
For small companies, these are simple formalities. However, the requirements can become more difficult if, for example, you decide to open a boutique of fashionable branded clothing in the central part of a metropolis.
Visit the Illinois.gov website and go to the Registration, Licenses, & Permits page.
Also, you should choose a suitable Business License Service. Here are the best of them and the cost of their business licensing services at the beginning of 2020:
Incfile – from $99;

 Incorp – from $139;

Bizfilings – from $99;

Corpnet – from $99;

Mycorporation – from $99.
Open company accounts
You should do that if you want to start building your company credit profile. Then, if your credit history allows, you can apply for large loans at these banks.
List of documents that will be needed to open a business account:
a) your submitted documents;

b) your EIN;

c) the document from the institution allowing your firm to have a bank account (permission should be signed by the senior members).
The top Illinois business banks you should pay attention to:
Bank of America;

BMO Harris Bank;

First Midwest Bank;

Associated Bank;

Woodforest National Bank.
Establish your Web presence
You better remember that: in 2020, your company just needs a website! It will help you to find the first customers tomorrow, to stay afloat in a year, and to develop your business into a larger one in three years.
Also, your company's website is a key to the world where everyone knows your company and trusts it! And, with a competent approach, you can turn this unique sales channel into a source for continuous business development.
Launching a professional site, you should also:
create and manage the company's social accounts (Facebook Twitter, etc.);

create the accounts on review sites (Google reviews, Yelp, etc.);

register a company for a local Google profile.
Find a source of financing
Financing options will vary depending on the type of business you have. Most popular options for small business are:
bank loan (business plan required);

loans from Small Business Associations (again, a business plan is needed);

personal investment – you invest in the business yourself;

help from friends and family (they can help not only financially but they can also help you with the promotion).
Decide if you need to hire employees
If you need staff, you should hurry up and post some job ads and start interviewing applicants. This will not only determine the type of insurance that you will have to pay; the availability of staff can significantly increase the cost of organizing a business or help you achieve your goals faster.
How to find low-paid employees:
ask your friends and family – they can either help you or recommend someone;

Search for candidates in your local educational institutions;

contact a recruitment agency.

Search the websites related to your industry, especially if you are looking for someone with training and a very specific skill set.
You can complete some items form this list yourself, and solve some issues with the help of special service companies. But what you definitely shouldn't do yourself is to create a website for your business, if you are not an expert in programming, web design and marketing! After all, this is a very important step, and if you do something wrong, it will cost you a lot!
"I can always order a website from a web studio," you may say. And this could be the way if you had several thousand dollars for website development, 'cause this is the price of a good website created by a web studio.
Today there is another option for creating a site for small businesses – these are modern website builders for small businesses, using which you can create a website design yourself and even launch it right away! The main thing is to find a good tool.
If you are ready to try a simple, reliable and innovative solution, then make a website using the advanced Weblium website builder! An intuitive editor and professionally created designs will help you make all your website dreams come true in a short time, and a number of special features and settings will help your website find the first customers on the Web right away!
Create your small business website