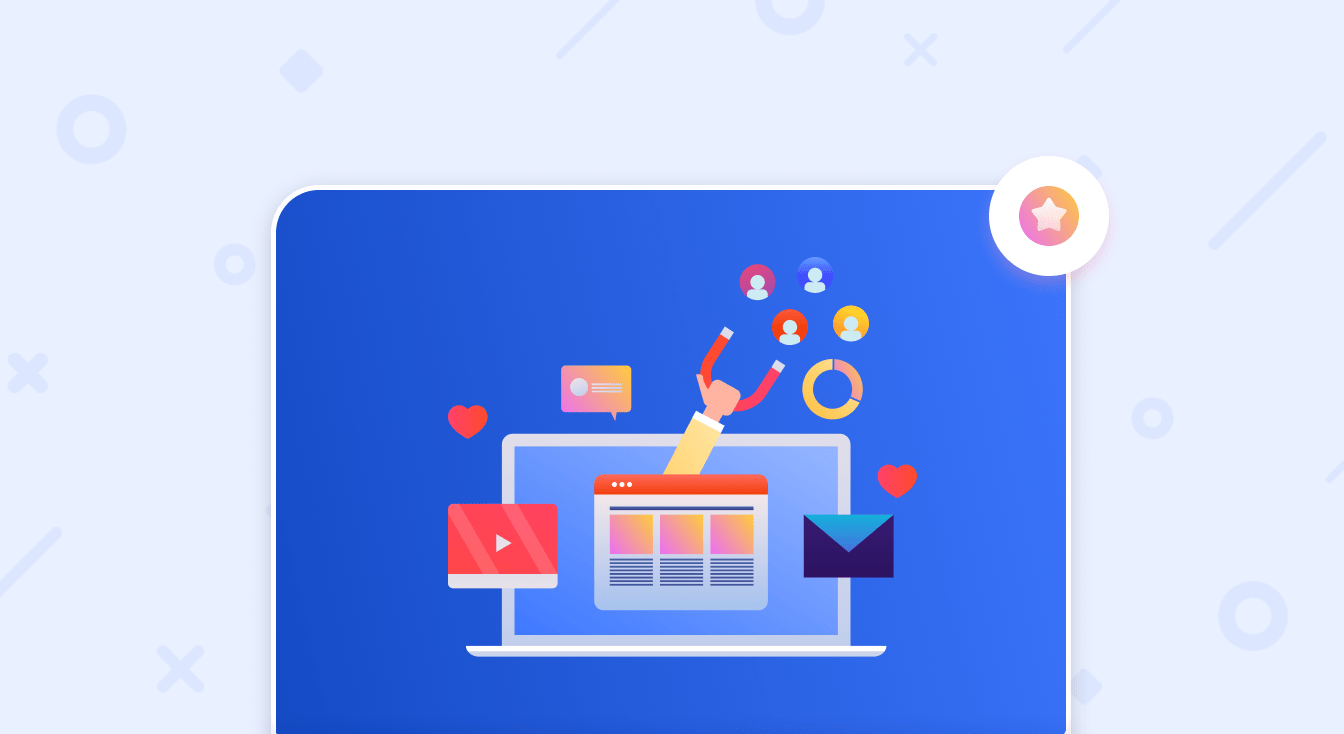 10 Effective Ways To Collect Your Website Leads
The term 'lead' is pretty self-explanatory. Metaphorically speaking, the marketer's goal is to say something like "hey guys, here is my helping hand" and lead your prospects deeper through the marketing funnel to a level where people start buying.
Lead generation strategies are mostly based on classical purchase funnel.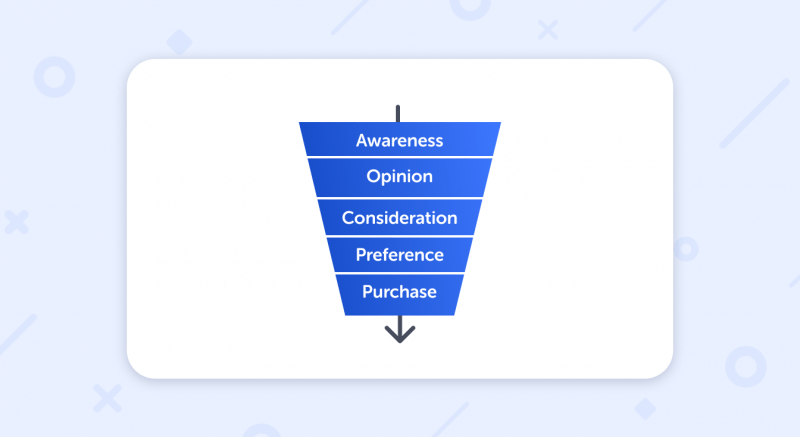 In a broad sense, lead management is a set of practices developed to generate new clients. Lead management is widely applied to all the B2C and B2B sectors. Let's skip the offline ways as this post is dedicated to digital marketing. So…
Lead Generation in Digital Marketing
In a nutshell, here is the scheme of lead generation: visitors become leads, and leads form sales.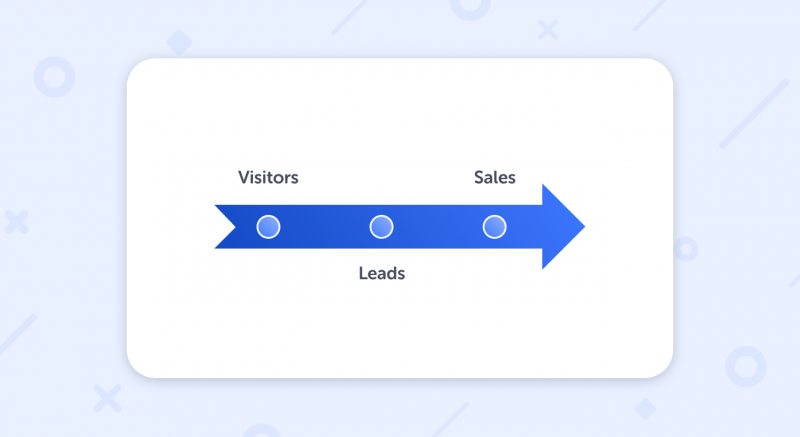 The primary objective of any commercial website promotion is to turn visitors into clients of the company that owns the site. More precisely, we should create conditions that make visitors follow offers represented on the landing pages. It sounds pretty simple, but the process is much more complex.
Everything starts when the visitor navigates to a website—no matter if he or she finds it via Google, pop-up ads or CTA button in a promo email… The bare fact is the same: a new visitor is on the landing page now. He or she gets acquainted with our commercial offer there… but may leave if not interested enough. 
Therefore, our mission is to lead the visitor to the next stage of interaction. This is when a visitor makes a call, fills out your registration form, sends emails, or even orders a product.
This first real contact is the moment of lead generation itself: visitor becomes a lead, and this turning point is called conversion.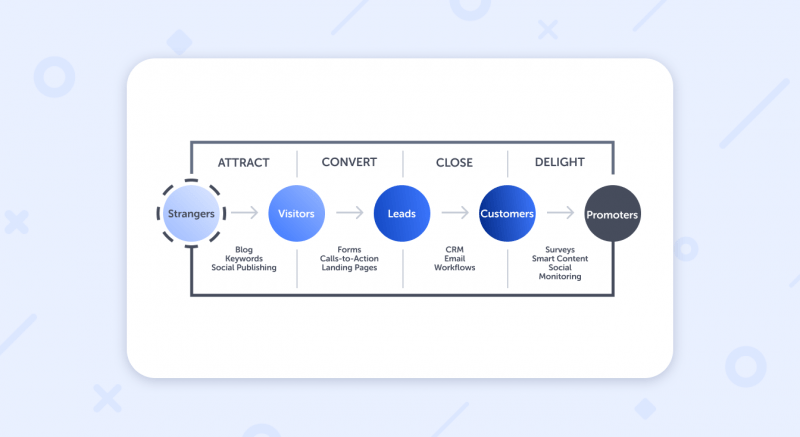 To put it simply, lead is a prospect who independently gets in contact with the company and shares the contact data being motivated by the commercial offer on the website. In turn, the company will continue interaction with a new customer trying to convert him into a loyal client.
As for lead generation examples, let's look at an online store order: the new lead is generated when a visitor adds some product in his cart. At the moment of payment, the visitor becomes a client. The percentages of visitors that become leads and visitors turned into clients are called conversion rates.

Key Factors Impacting Your Lead Generation 
There are four factors that convert your visitors into leads: 
Traffic Rate

Traffic Relevance

Commercial Offer

Landing Page Usability
So, these are the main things to bear in mind when it comes to your website optimization so that it generates more leads. 
10 High Performing Ways To Collect Leads
Once we are done with all that tedious theory, let's get straight to practice! And remember, the more of these strategies you implement, the more leads you will generate. Ready? Let's start!
Email Marketing
No doubt, email marketing is still really effective these days! Emails always feel quite personal and, in most cases, successfully appeal to your customers emotions. That's why email marketing is among the most working ways for promotion. 
So, if you are looking for the win-win ways to grow your business, email marketing is a must! Because that's how you connect and build lasting relationships with your leads.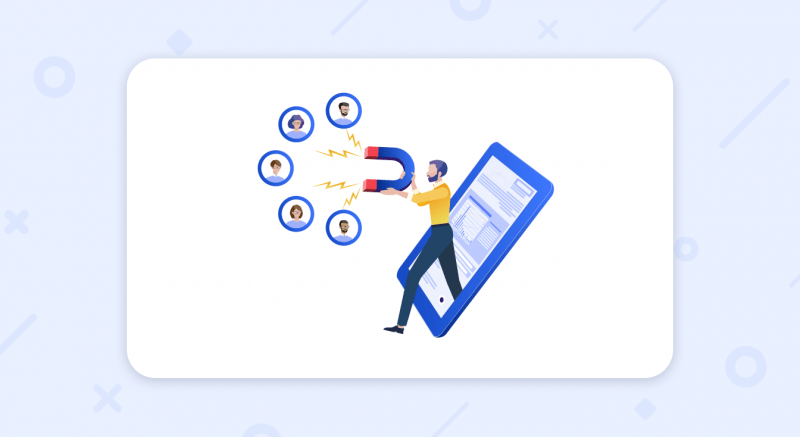 Besides, emails are easy to share and easy to manage. In fact, it's super easy to create a professional campaign, even without any special skills.
The most effective way to drive more sales to your Weblium website is to use AWeber's integrated email marketing software. Its powerfully-simple features have been specifically designed for small businesses. 
AWeber will help to boost your sales with email personalization and campaign automation. You'll also get access to over 700 professionally designed email templates. 
What's cool, every account includes the AWeber Smart Designer. It's an AI-powered assistant that automatically creates stunning branded email templates based on its analysis of your website, Facebook page, or Instagram account. 
AWeber is a truly incredible marketing solution that is integrated directly into your sign up forms so contacts are automatically added to your email lists. Once a contact is added to your email list you can trigger automated email campaigns to connect with your audience. Check out this guide to connect AWeber to your contact forms. 
For limited time, Weblium customers can try all of AWeber's awesome email marketing features RISK-FREE for 60 days — enter WEBLIUM60 at checkout. 
Diversified Pages Optimization 
A working solution for collecting leads is to determine the most traffic loaded pages of your website as they have the strongest lead generation potential. Then, apply your imagination and efforts in two directions—to optimize these most productive pages even more, and to improve other pages which gain less traffic load. 
As we can see, this task is closely connected with your entire marketing strategy. For example, you own the clothing store—and your pages are structured by gender, style, etc. Analyze what is sold better, and which goods require additional promotion.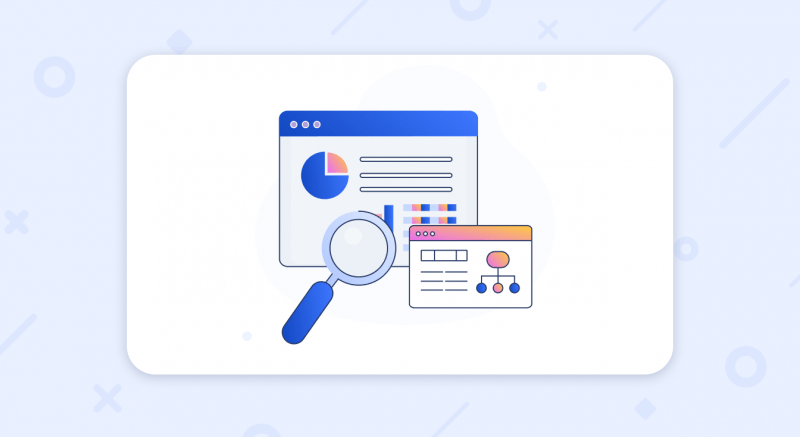 How to find the "bestseller" pages? It's all about web analytics and tools like Google Analytics to the rescue here. Go to Behavior page, then to Site Content, and then to All Pages where you will find stats on page views. Then, pay attention to other rates like average time visitors spend on your pages, etc. Comparing the various metrics rates you will see the entire picture and figure out your strong and weak content. 
This is priceless data to optimize not only the website but the whole brand strategy. Using this data you can also collect leads as an income.
Advanced Banners
Your business has so many benefits to inform your target audience about. These may include a wide products collection, advanced software features, rewards, participation in charity or environmental protection events etc. It would be good to explain all that at once… but the website banner is not infinite.
Surprise—there is enough space when it goes to modern interactive banners! An interactive changing banner may display elements, switching in rotation. So you may include in one banner the series of messages that show all your main pros or targeted to different segments of your audience… Take a look at the banners we have Weblium.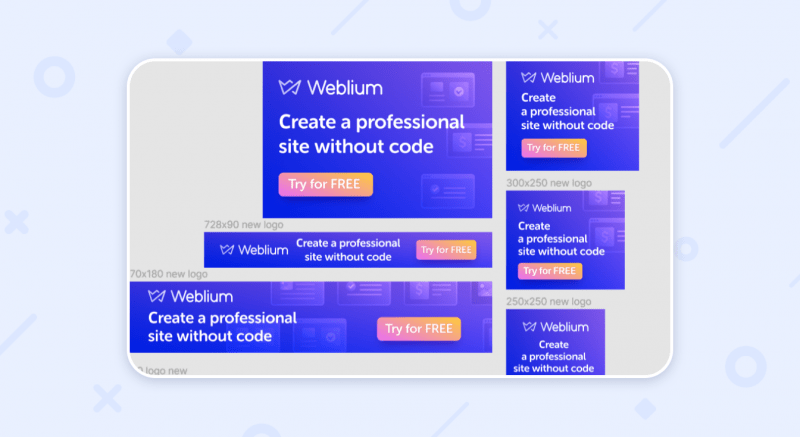 That's how we attract our customers attention. As a result, people stay to learn more—and some of them proceed deeper into the funnel. Voila, lead generation process in action!
Landing Page
What page of the website does gain higher traffic? Sure, this is a home page. This virtual "reception" is the place where you can hook people up… as well as lose their attention. 
If they find your landing page boring or even loathsome (especially when the design is an example of "madskillz" meme), they will leave… and unlikely will ever come back.
To prevent clients from bounces and collect leads, try performing solutions like a dropdown overlay that slides after a couple of seconds, with an option to dismiss. You can tell newcomers about your site and company, advise the most important pages, ask them a quick question, etc.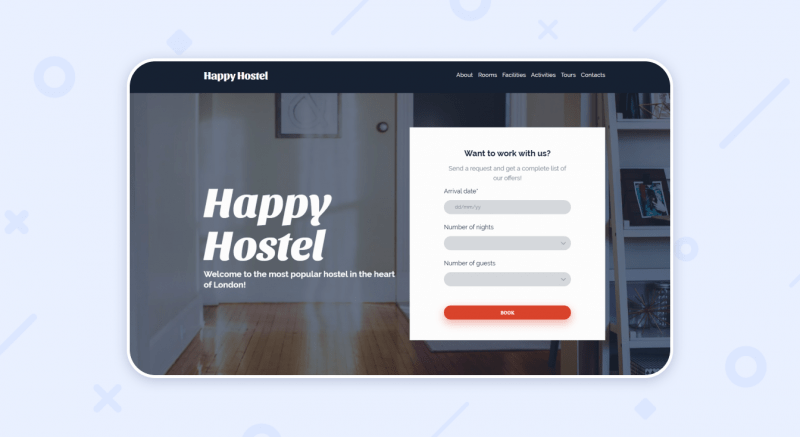 Another way is to add a video to welcome visitors, which is a cool eCommerce trend in 2021 that substantially boosts your landing page performance.
And of course, make sure to add noticeable call-to-action—sign up for the newsletter, take the special offer, etc. People often have no idea what this is all about until you point it clear, so this is the key aspect of website leads generation. Make sure your landing page has a sign up form that connects to your AWeber account.
Sign Up Form 
The next important condition for boosting website leads is a signup form location. Yes, it is often being ignored by visitors just because of the wrong placement. If you need more leads, try to find a convenient and noticeable position for the form.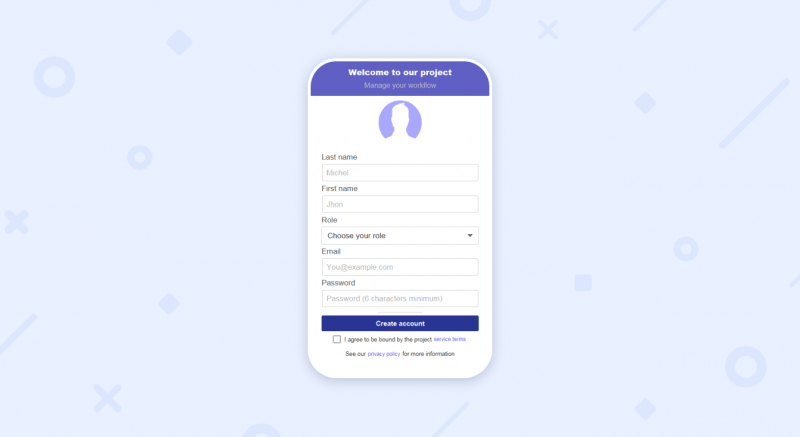 A performing solution: add the special landing page to subscribe. As for design, don't make this page complicated—it may only distract or scare visitors. You need only an image, a headline, a text description, and an opt-in form to collect the required client data.
We also recommend integrating your sign up forms directly to your AWeber account. Check out this step-by-step guide to easily automate your business.
Live Chat 
As we said above, one of the lead generation strategies baselines is to provide easy and convenient ways of contact or order. Using live chat is a good implementation of this. People like to communicate with others, so live chat is where they can talk and discuss. It's great for the site leads generation.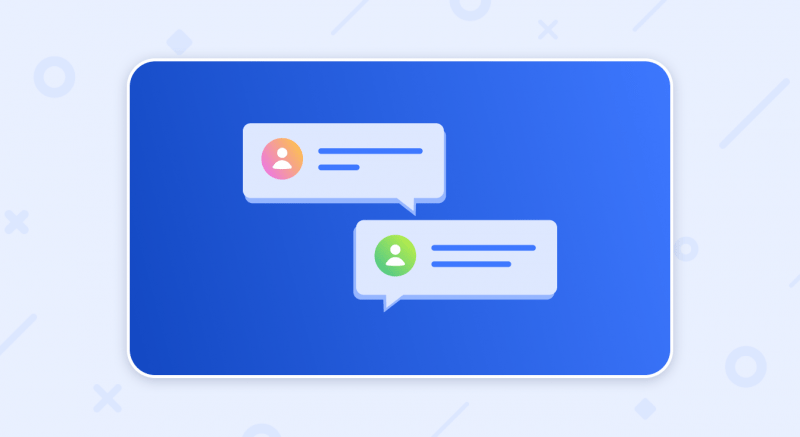 Moreover, this tool is an opportunity to talk to visitors and solve their problems before they leave. This way customers will be satisfied—and it boosts your conversion rate and brings more sales.
If you cannot be online 24/7, use chatbots that respond regularly and without delays.
Interactivity 
Interactive and dynamic content is among the hottest trends of this year, and forecasts say it will be even more important in the future. It is particularly caused by Google AMP technology which allows decreasing the number of steps from the email to the purchase.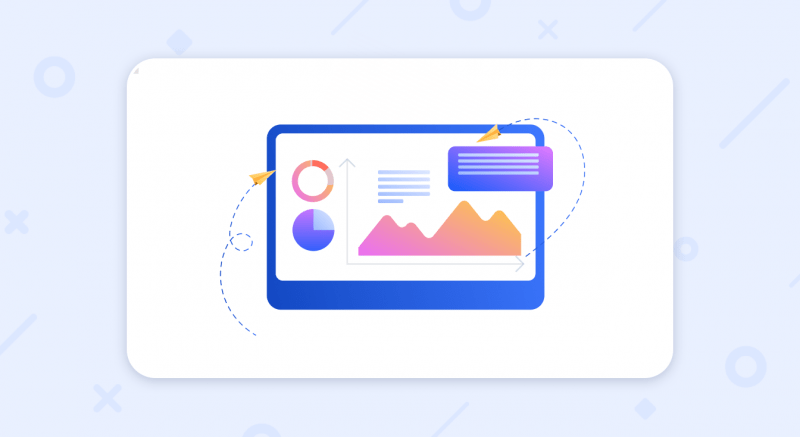 No wonder that interactivity is among top lead generation techniques today. It builds brand awareness—and generates site leads. So it's no good to skip interactive website elements to grab visitors' attention. 
Which types of interactive content are worthy to embed first?
Quizzes And Tests

Polls

Surveys
You could also add pop-ups with a single question as an alternative solution.
Strings of Urgency 
You can intensify the lead generation process on your website using a good old marketing trick: boost their sense of urgency.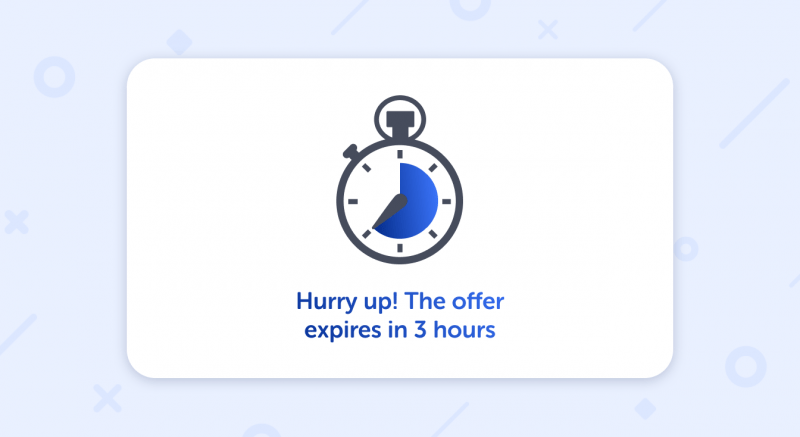 We don't like to miss and lose. This is a common feature of human nature known as loss aversion. When we know that time is ticking away, we feel the need to hurry up and get something.
How to do this? The best lead generation example is certainly a timer added at the top of the homepage. You can also use pop-ups with limited offers.
Gate Your Content 
What is the content gating? Everything is simple but performing to gain website leads—and we all met this a thousand of times. Gating is when some part of the content is available only for registered users.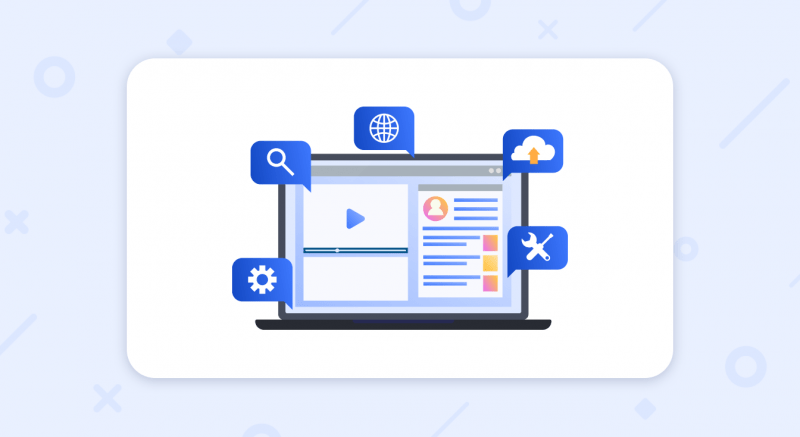 It works. So, how to do this? You can publish only the part of the blog post—while the full version is available only when people sign up. Another way is good when you offer content to download. Sign up and you'll see the "Download file" button.
As long as your content is valuable, all the ways of content gating are really effective lead generation strategies.
Grab Attention!  
Never surrender! Even when visitors are about to leave, you still have an opportunity to stop them. Try to grab their attention and keep people engaged. Use your marketing tools to add a slide-in offer. It doesn't annoy them when they are browsing—and suddenly makes them interested.
Curiosity matters, so when visitors click, offer them something they need—and you'll see the results. Offer works, it's proven.
To try this on your website, use exit-intent triggers to detect the moment when people are about to leave—and hook them up right then.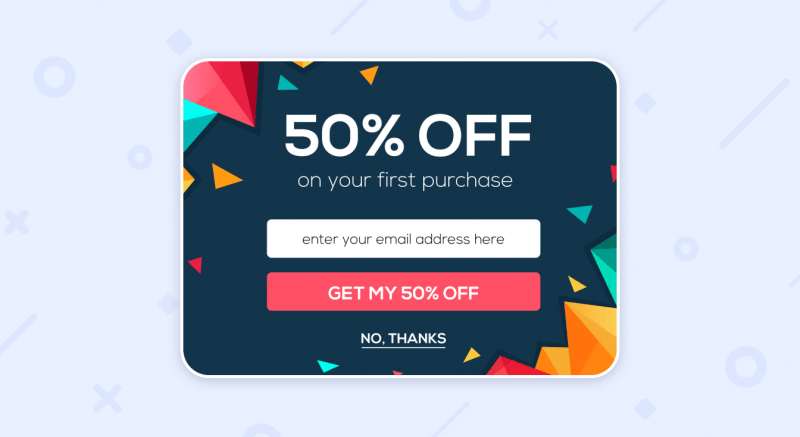 Summary
Now you're equipped with a set of performing lead generation strategies. The rest is a mission of your skills and imagination—the primary goal is to analyze everything thoroughly and craft your personal strategy of website leads generation. 
Remember that mentioned methods will unlikely win if implemented without a system approach—sales lead form conversion only when everything is arranged in a complex way.
And of course, these ten recommendations are not something 100% completed so you may invent more ways. If you have some ideas or experience to share—feel free to contact us.
We sincerely wish you the best of luck!