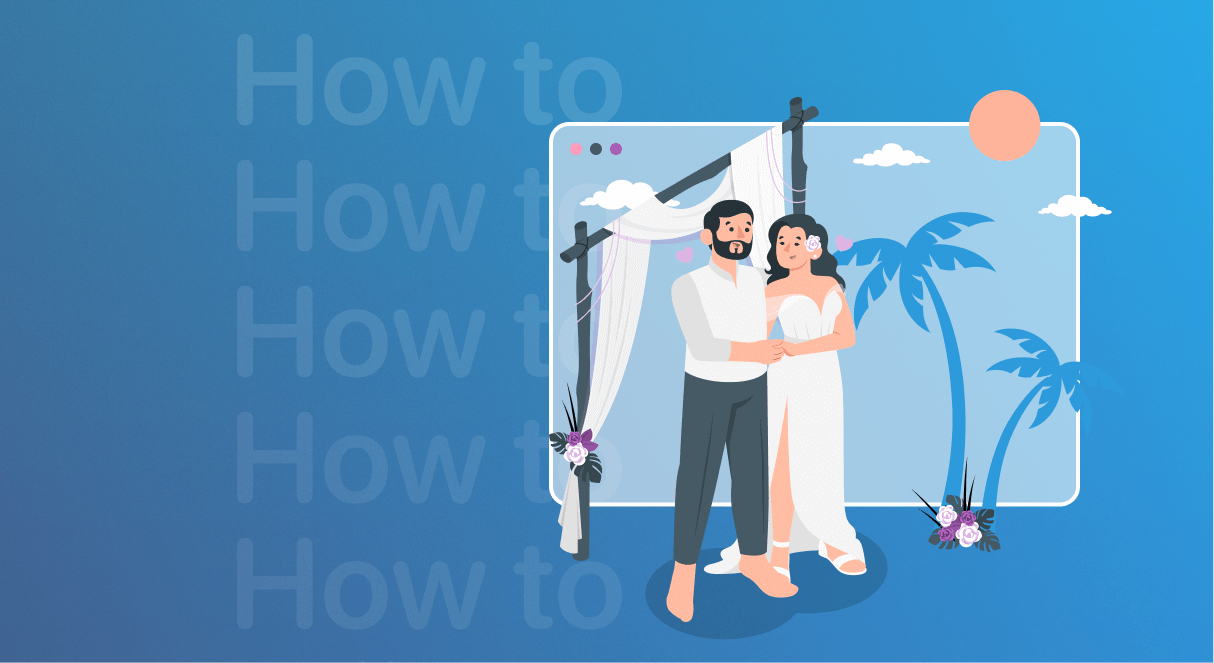 15 Best Wedding Website Examples and How to Make One in 2023
Wedding websites are designed specifically for a wedding event and adapted to their unique style, scale, and specificity of the celebration. They carry out multiple functions, from organizational to aesthetic ones.
Do you think that the creation of a wedding site is not your number one problem during the wedding preparation? Well, it may be so, but this is not completely true. The wedding site is the best way to organize the event, notify guests about all the nuances and popularize the event in a small (sometimes not so small!!) circle of friends and family!
Modern wedding websites are different from what they were yesterday! Firstly, website builders offer many beautiful wedding website examples. You can choose the best solution and make your own wedding website yourself, without learning coding and web-design. Secondly, each wedding website sample offers a bunch of special tools. They will become indispensable helpers in organizing a celebration!
In general, a wedding website is the most modern, pleasant, and effective way to make this day the best day of your life!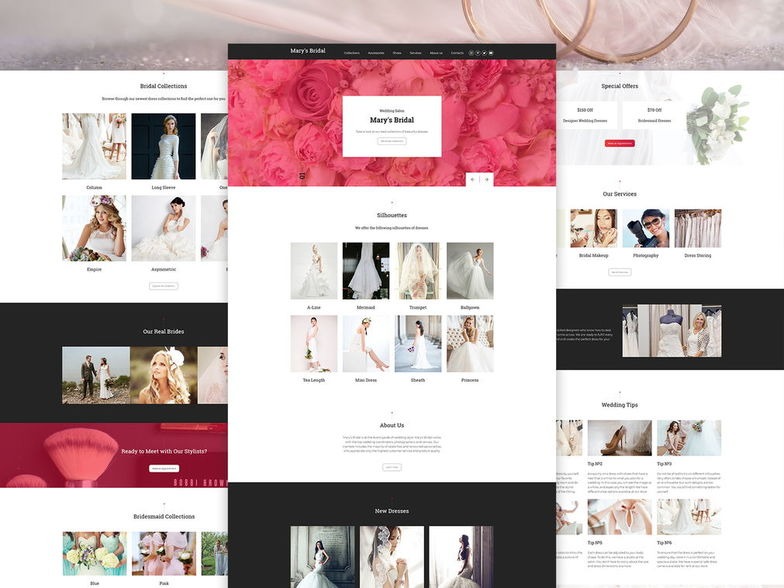 How to create a wedding website?
We will show you a fast and easy way how to put together a website using a web builder. So why you should be opting for it. It is faster to put a website up, it is cheaper than hiring a designer or a freelancer, it is quite easy to operate it, no special skills required. So without any knowledge of programming or designing, you can create a decent website. 
Currently, there are many website builders available on the market, and when it comes which one is the fastest, simplest, and better than others – Weblium that comes to our mind. 
There is a free version available to get you started;
It is quite simple to navigate and easy to create (if you do not believe my words, try it out);
Template layouts are mobile-friendly, your website will look perfect on all mobile devices (especially when you send out wedding invitations).
So, now the choice of the website builder is clear, it is time to begin. 
STEP 1: Login and choose a template 
Enter your personal details and link it with your Google or Facebook account. When registration is complete, the user gets to the admin panel. To begin, you need to press the "Create a new website" button. Choose a beautiful high-quality template from the gallery on the left. The template library offers plenty of different styles and themes templates divided into categories. If you like a template from a different category better, no problem, it is easy to match design by adding or deleting blocks.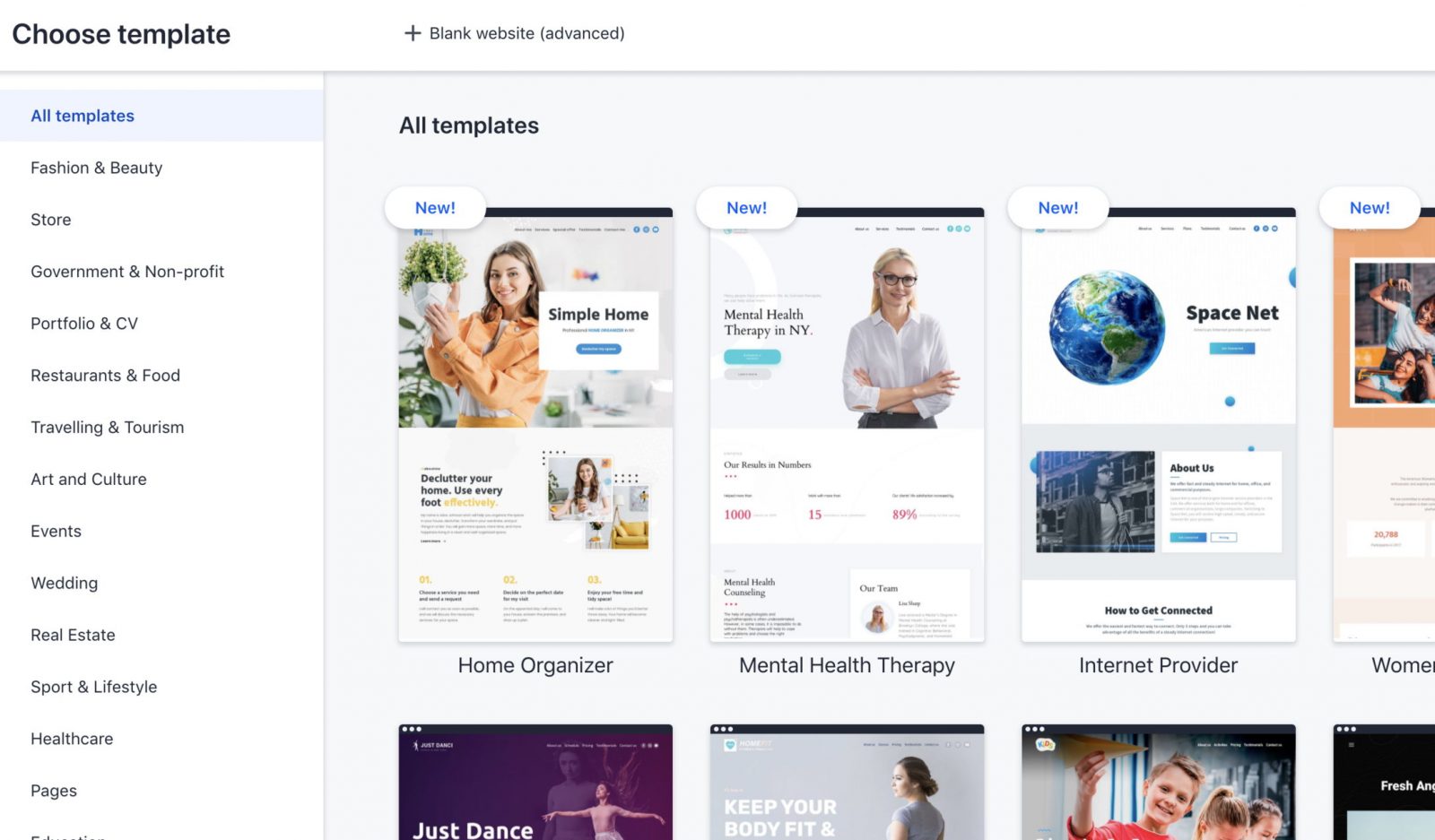 STEP 2. Personalize the design and add content
If this is a wedding invitation, do not forget to add where the wedding will take place, reception and ceremony time, guests' meeting point, and other important details. You can get creative by adding or removing blocks, changing text colors and styles, or rearranging buttons, and editing the menu. 
STEP 3. Add more pages if necessary 
Perhaps, you would like to add more personal stories from the early days of your relationship, share more photos, or add additional information for the guests to keep them up to date? No problem, you can add pretty much anything.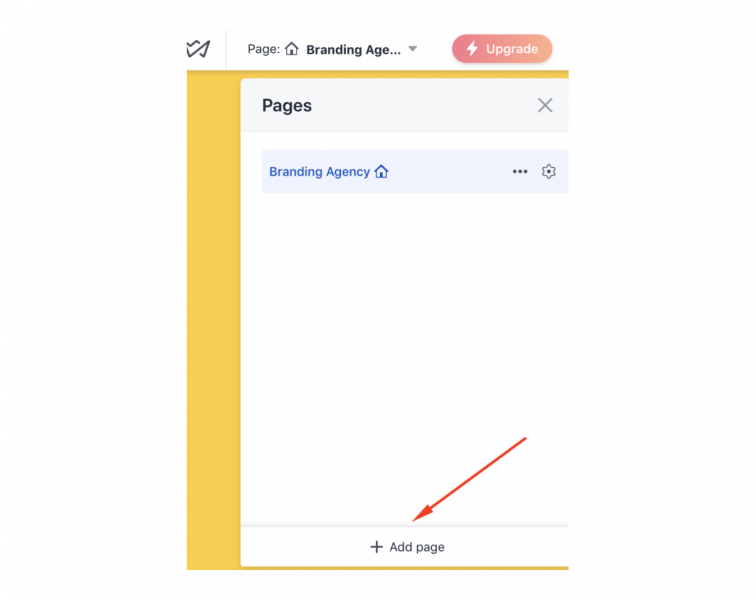 STEP 4. Add SEO tags and social network buttons
This is to ensure that your website is easily and beautifully shareable on social networks (wish you to share your website).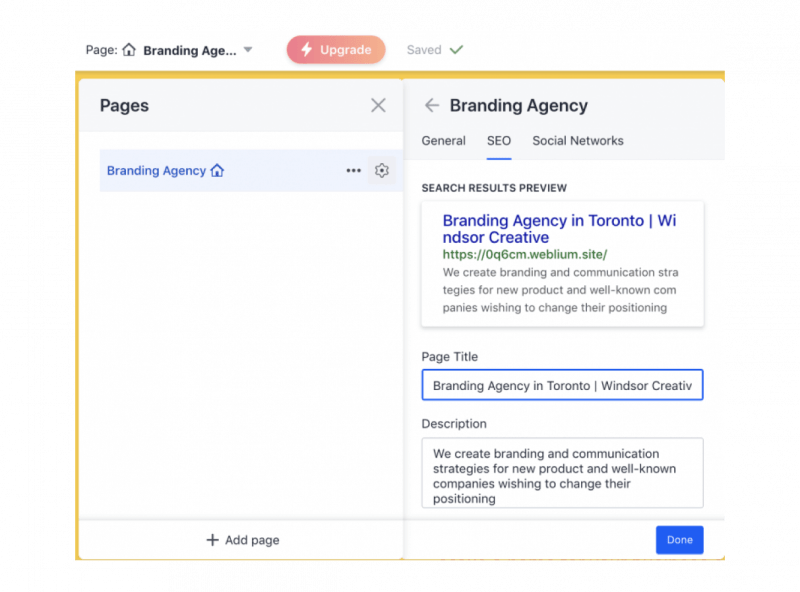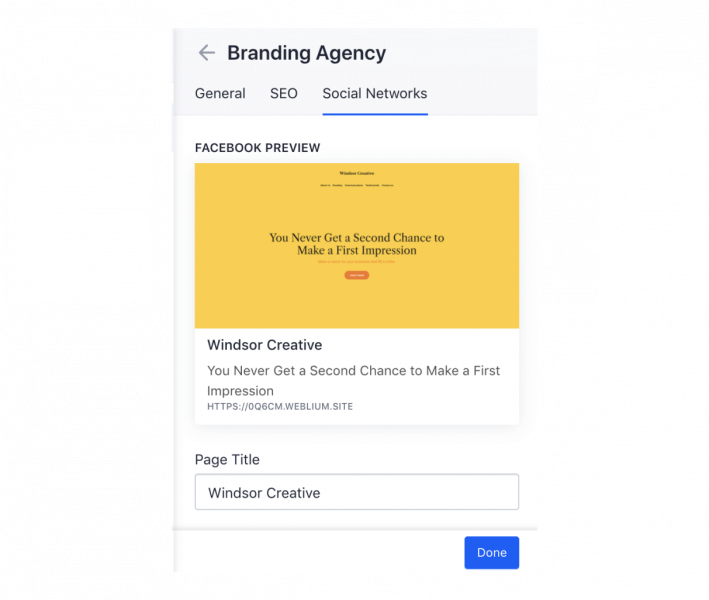 STEP 5. Add a contact form, guest list form, RSVP form
If you run a wedding salon business or offer wedding planning services, a contact form is a must to have possible clients to get in touch with you.  But if it's just an invitation to the wedding, let your guests RSVP, it is easy to keep track of who is coming and who is not.

STEP 6. Choose a personal domain
As mentioned before, most website builders are free and offer free plans. But if you want to make your website unique and stand out or use it later for business purposes, choose a personal domain.
STEP 7. Show your website to the World
Click the publish button and you're done!

Do you need a wedding website?
We bet that after reading this part you will answer this question yourself! So, the wedding site is the most effective online tool for:
organizing your wedding. Your guests will be able to find all the details of the celebration, from a clear location map to describing exciting contests for guests in one convenient place!
familiarizing guests with all the details of the celebration. All the interesting nuances of your acquaintance, photos, videos, your love story. It won't be a challenge for your dear guests to find the details they are interested in through your wedding website!
saving money and time. With the help of a wedding website and integrated tools, you will save your time and money. Believe us, you will save a lot!
being sure that everything runs smoothly. Using a wedding website you can avoid such things, as save the date

loss, situations when you don't know whether a particular guest is going to come until the last moment, whether your guests will like the menu and entertainment, etc.;

saving pleasant memories of the best day of your life!
With this Weblium's top selection of best wedding websites, we will show you the «Awwwards–winning» wedding website designs and best examples of wedding website templates offered by the leading website builders. Also, we will give you some important tips on how to create Your Perfect Wedding Website in 2-3 days!
If you aren't that good in web development and design to make a wedding website yourself, you do not have lots of money to get a website from the premium web studio, you can just create a wedding website with Weblium! Using a simple and convenient editor you will get a unique opportunity to create your best, fast, modern, and beautiful wedding website literally in a day or so!
Wedding Website Examples
Amelia & Steve: cool wedding websites (awwwards.com nominee)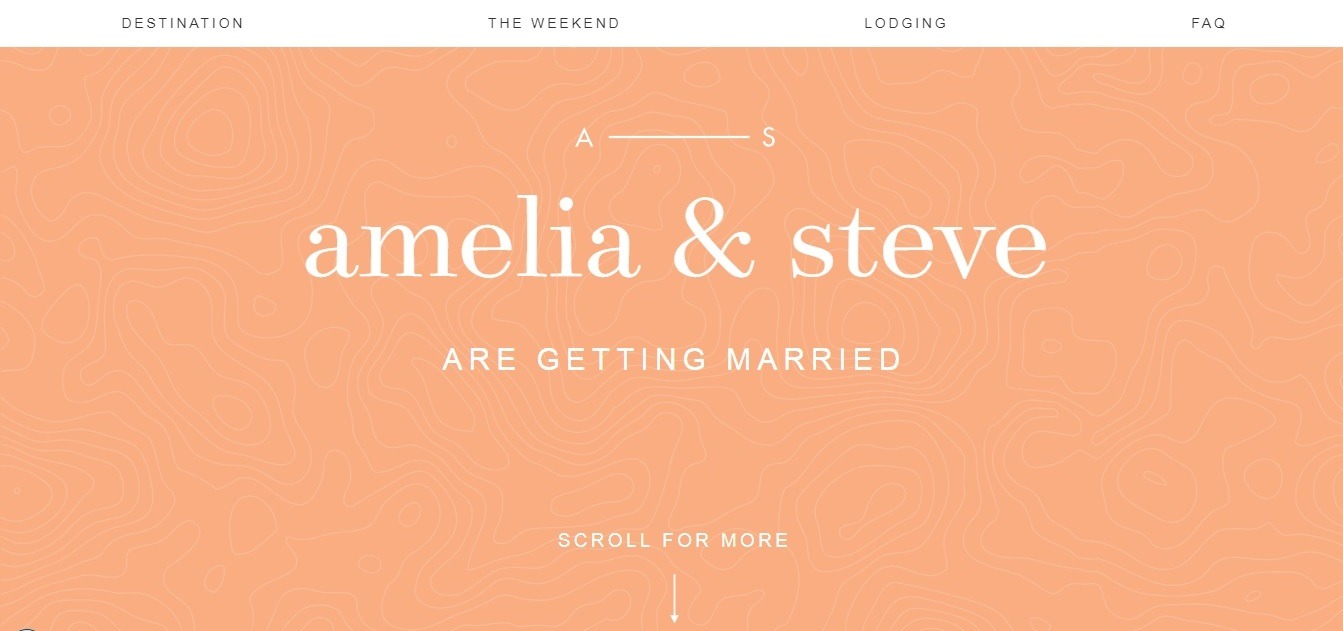 Check out the website: http://ameliaandsteve.com/
The most important thing that we like about the design of this wedding site is clarity! There is nothing superfluous here: you just scroll and find out all the interesting details of the event!
The site is designed in pleasant calm colors, that are ideal for a wedding site. The activities are described in detail, and that's very good. Also, there is comprehensive information on how to get there by plane or by car, and there is a detailed schedule of celebration.
And the most interesting thing: the photos of the main guests are made in the style of painted portraits!
Ankush & Richa: great wedding website (awwwards.com nominee)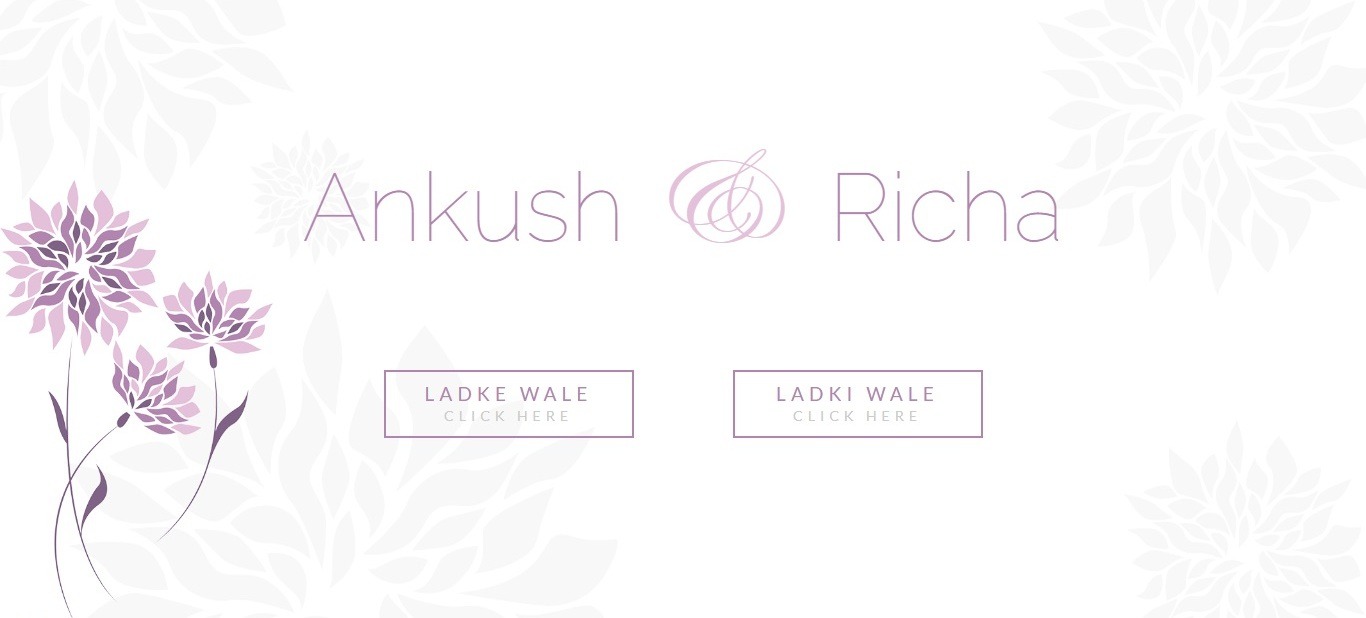 Check out the website: http://ankushandricha.com/
This single page responsive cool wedding website of an Indian couple has the separate enter buttons for the groom's as well as the bride's guests. That's a great idea!
As it should be, the first thing you see is a beautiful photo of the newlyweds and a wedding invitation made using a beautiful font.
All the necessary information about the event is very easy to find. Also, there's a cool wedding countdown timer that will remind you that the Great Day is near!
TA wedding website (awwwards.com nominees): beautiful wedding websites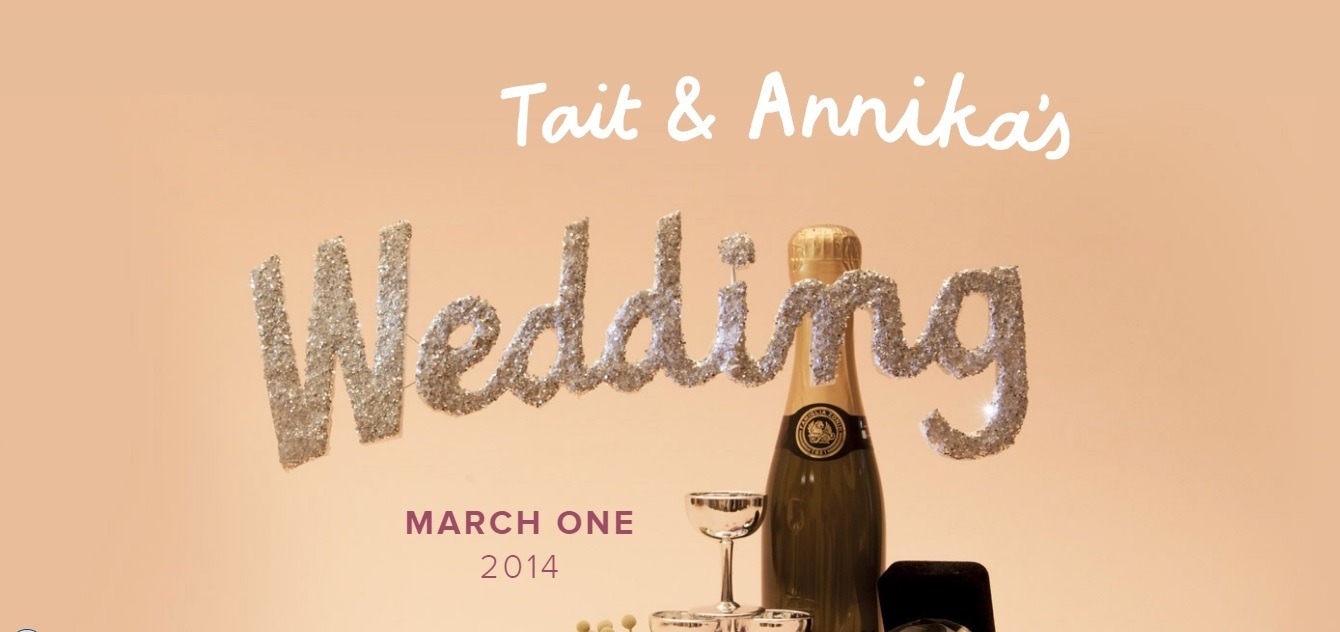 Check out the website: http://taitandannika.com/
The design style of this wedding website is somewhat cartoonish, and it looks very unusual and cool! This perfectly compensates for the brevity of copyright – here you will see only the most important information, provided as briefly as possible.
At the very bottom of the page, you will find the RSVP form.
Unique Wedding Website About Us Examples
:
Karlandgina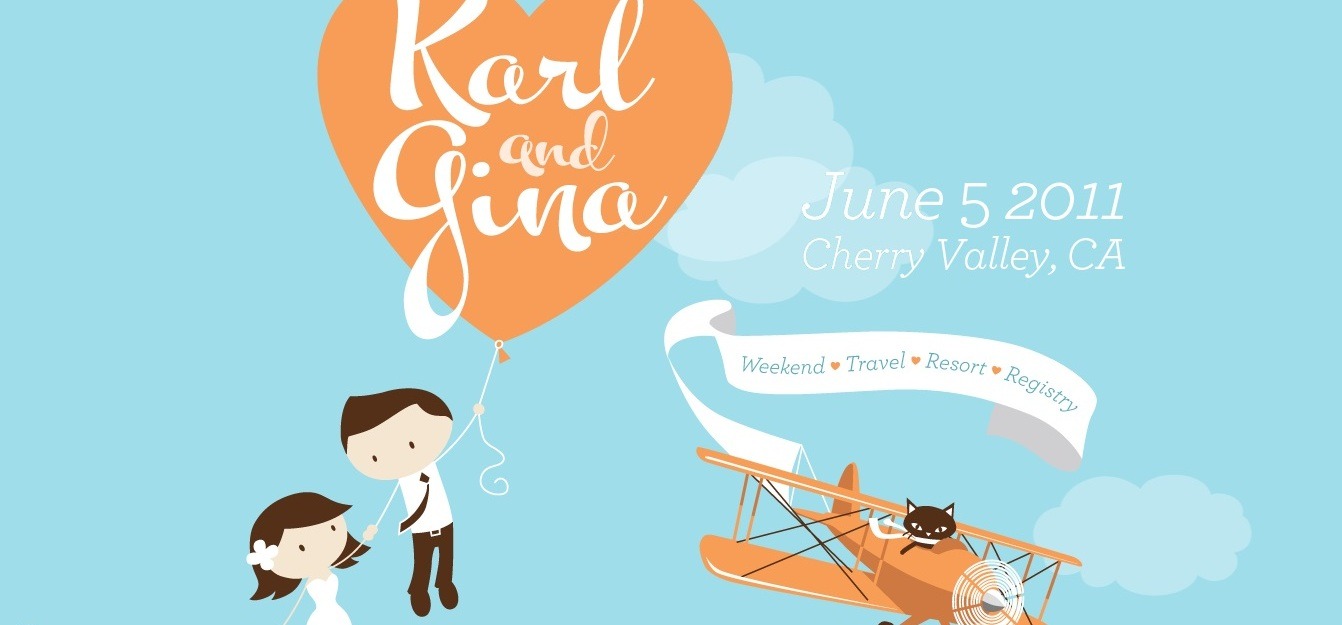 Check out the website: https://karlandgina.com/
This cool wedding website is made in a drawn style, yet it is straight to the point. The "heavenly" backdrop itself explains the idea that the marriage is like a heaven for these two guys!
The color scheme of the site is very nice and calm.
Great wedding websites: Helenandjoshsittinginatree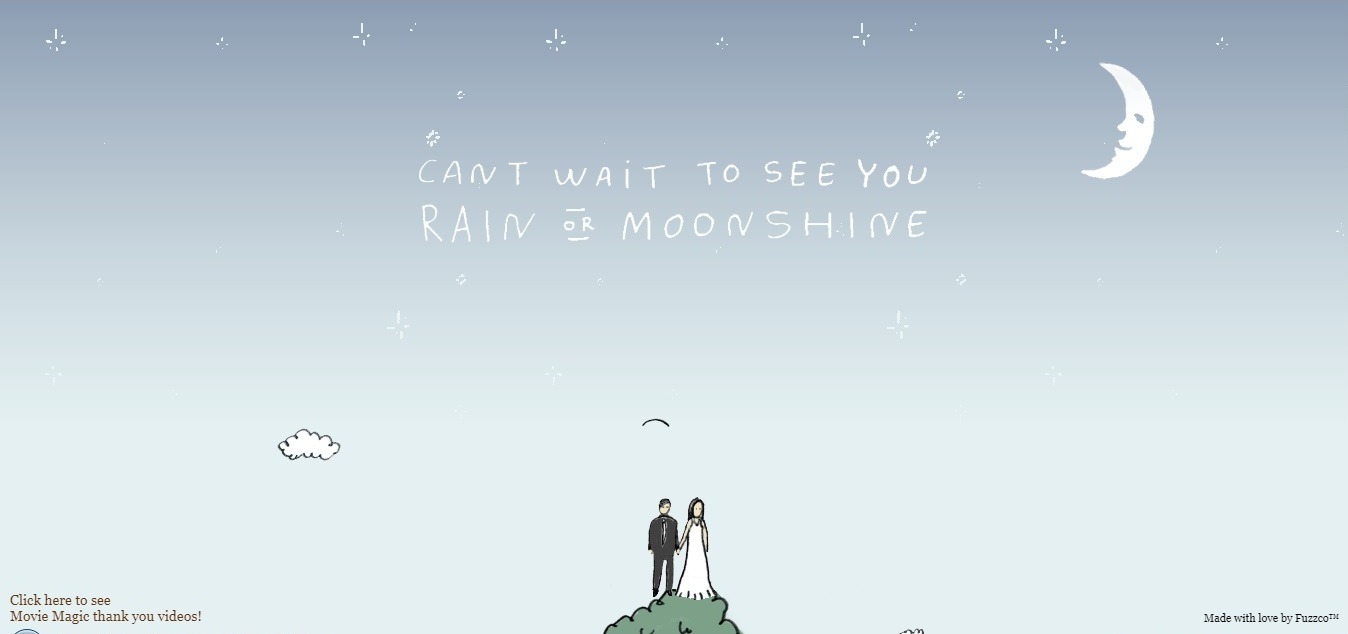 Check out the website: http://helenandjoshsittinginatree.com/
We fell in love with the idea of this great wedding website from the first sight!
Helen and Josh's wedding site shows a brief story about how they met and fell in love through a comic sketch.
To find out the end of the story, you will have to come down (and maybe climb again) from the tree (the tree is the central object of the site design).
And by clicking on the link, you can watch a fun video that the newlyweds created for the guests!
Cool Wedding Websites: Jennyandgrayden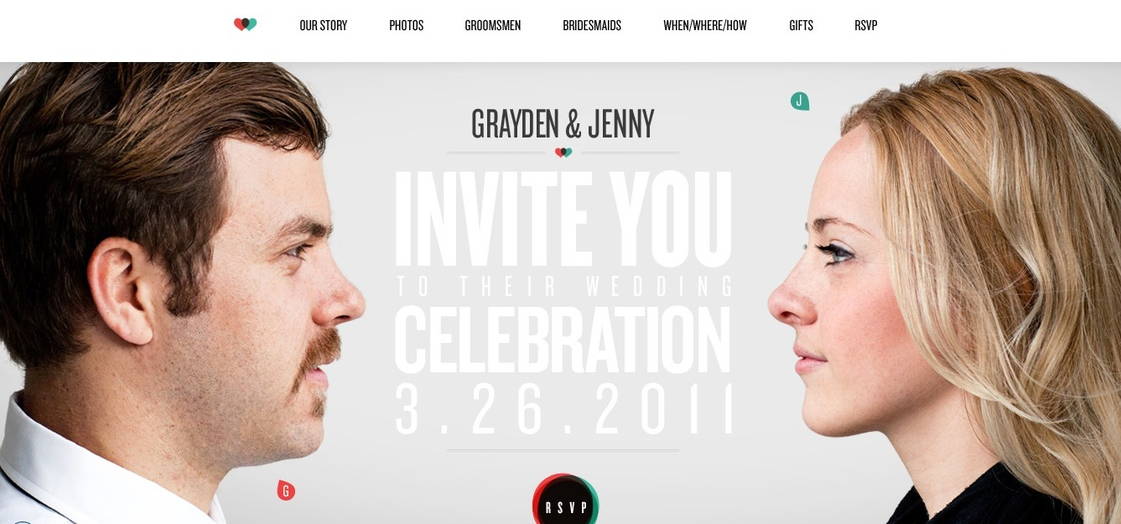 Check out the website: http://jennyandgrayden.com/
We have only three words to describe Jenny & Grayden's wedding website: clean, funny, and minimalist!
The first thing you see are the faces of the newlyweds looking at each other – and this reminds a blockbuster poster! The white space between the persons indicates the date of the event and here is the RSVP button. It is very convenient!
The website tells the story of the couple in an unusual style – in the form of the thesis that goes with the bright design element that unites Jenny & Grayden's paths together.
Best wedding websites
:
Jessandruss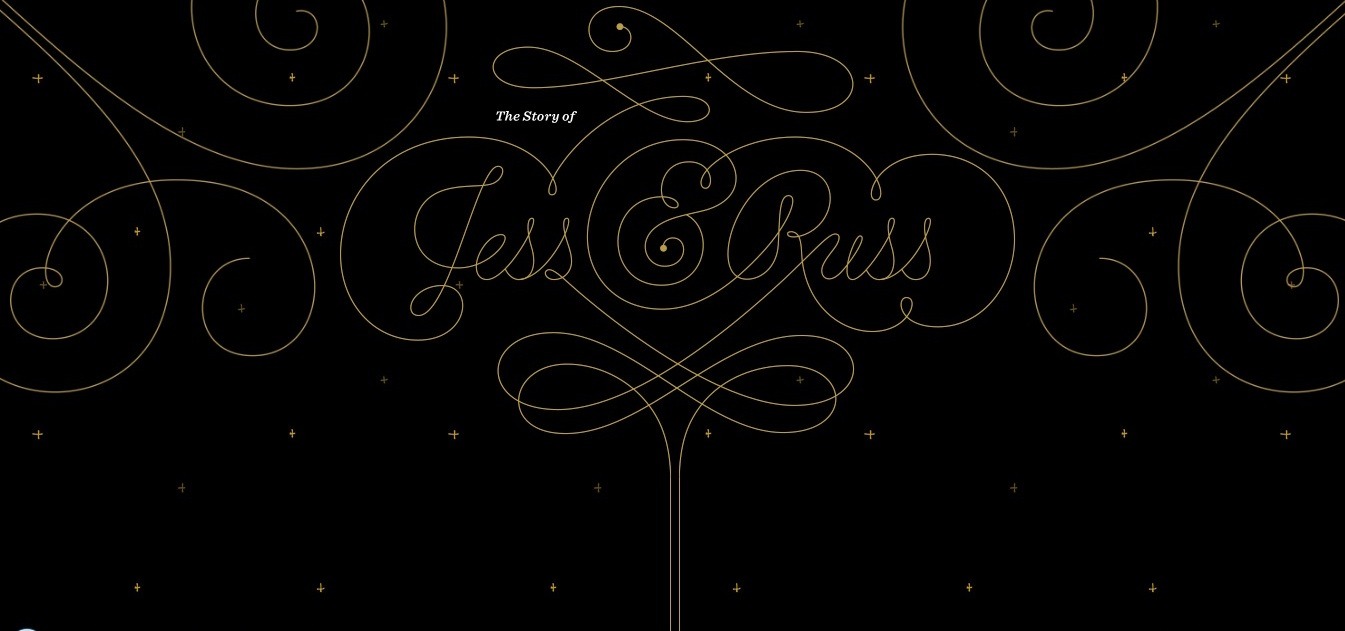 Check out the website: http://jessandruss.us/
This is one of our most unique wedding website examples.
A site using the parallax effect tells the story of a couple in a very unusual style. Despite the dark color chosen as the background, the site does not look gloomy and stern, but fabulous!
The designers had successfully chosen the shade of the golden frames: the whole design does not look vulgar!
Sarah & Nick: beautiful wedding websites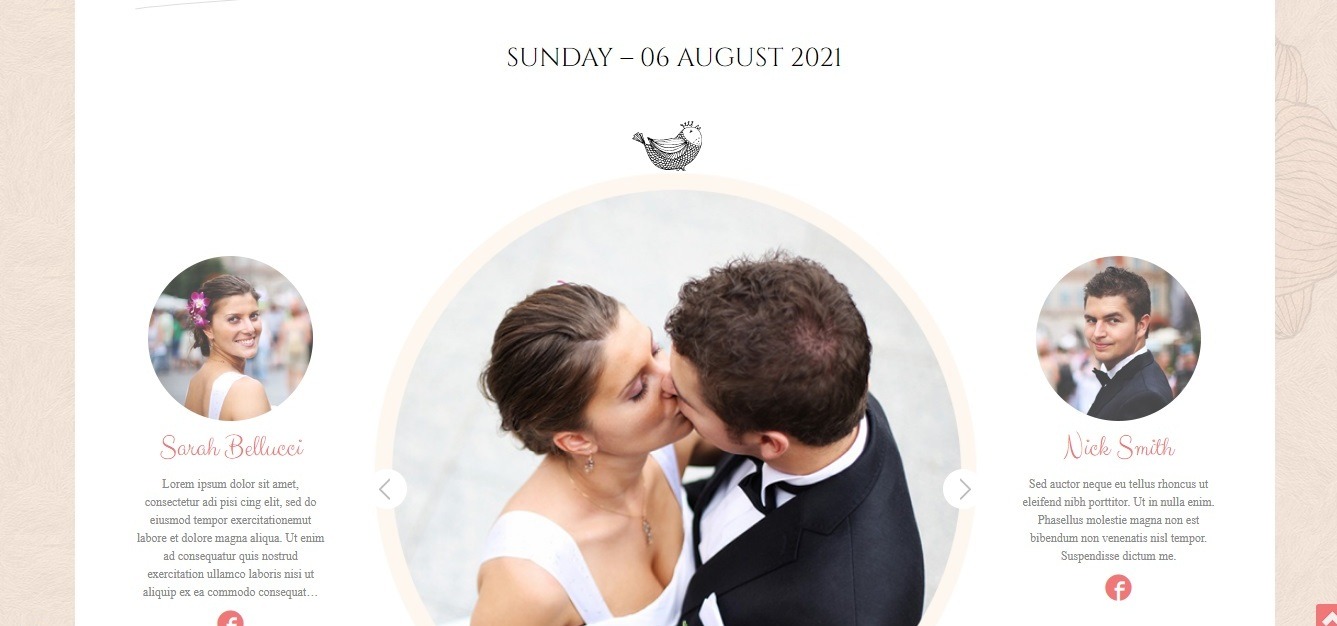 Check out the website: https://the-wedding-day.vamtam.com/
Another cool wedding website that proves that it's all about the site theme! The site is designed in pleasant, bright colors and it looks very beautiful.
The wedding countdown timer is made in the style that perfectly matches the overall style of the website.
There is a clear schedule of events of the wedding, wishlist, RSVP form, and even blog!
It is a very decent wedding site!
Great Wedding Websites: Judie & Z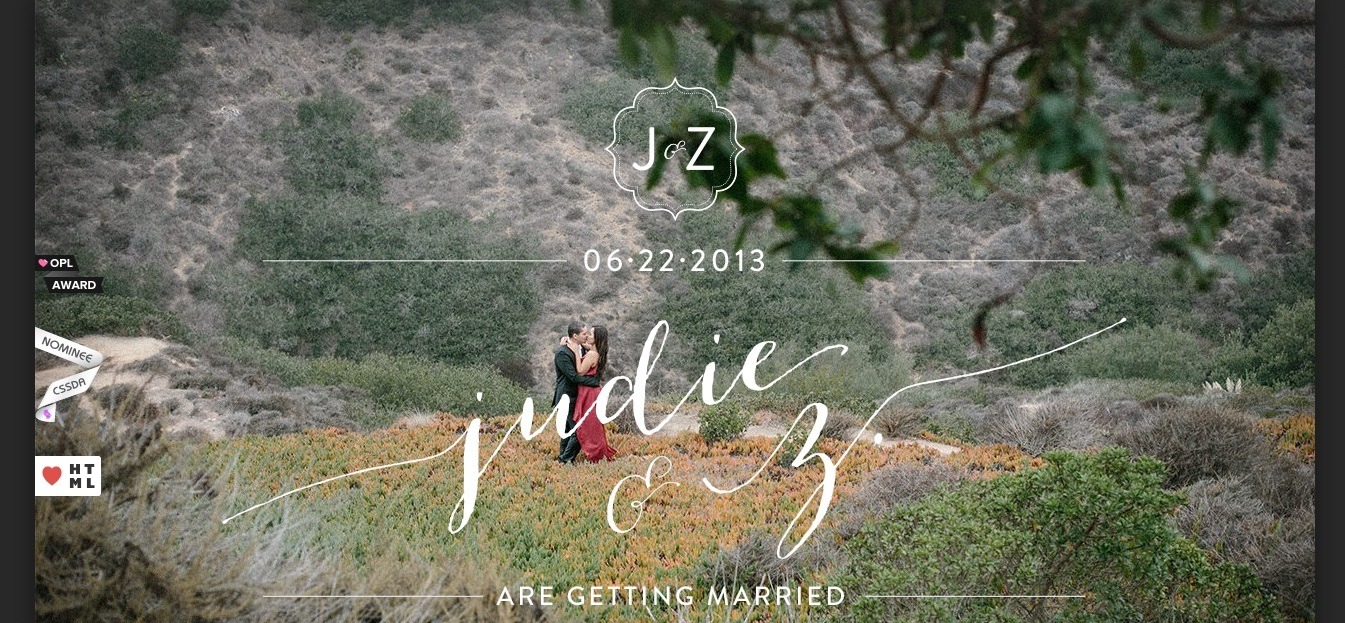 Check out the website: http://www.judieandz.com/
A huge photo of the newlyweds on a beautiful landscape is the first thing that meets you on this website.
The love story is made in a very interesting style. You just flip through slides that show different years of their life and thus you find out more about the guys!
Another elegant idea is to present the groomsmen and bridesmaids in the form of a block divided into black and white parts.
Suntina & Famico wedding website example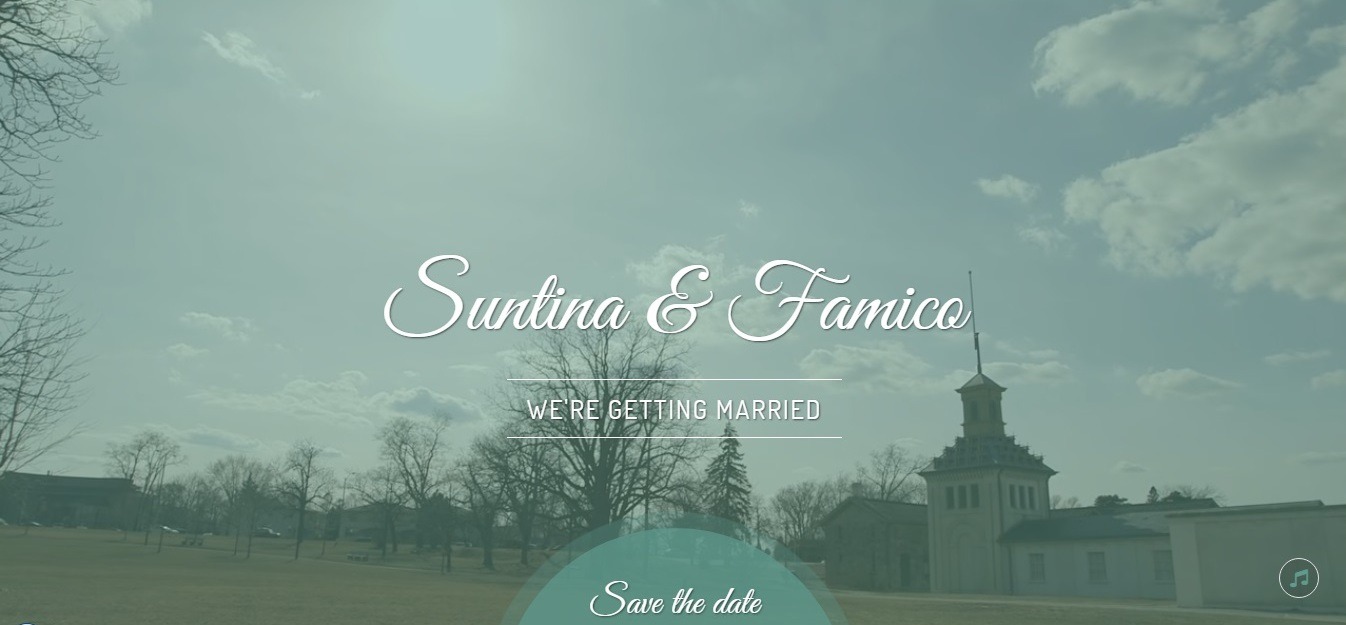 Check out the website: https://irs-soft.com/wp/bibaho/
The header of this site shows us a fragment of the video, at the bottom of which you can see the flashing Save The Date headline.
The site has everything needed for the perfect organization of the celebration and informing guests about all the nuances! Here we have a wedding countdown, a photo gallery, a love story, structured by date, and a detailed schedule of the event!
Wix Wedding Website Example: Sarah & Josh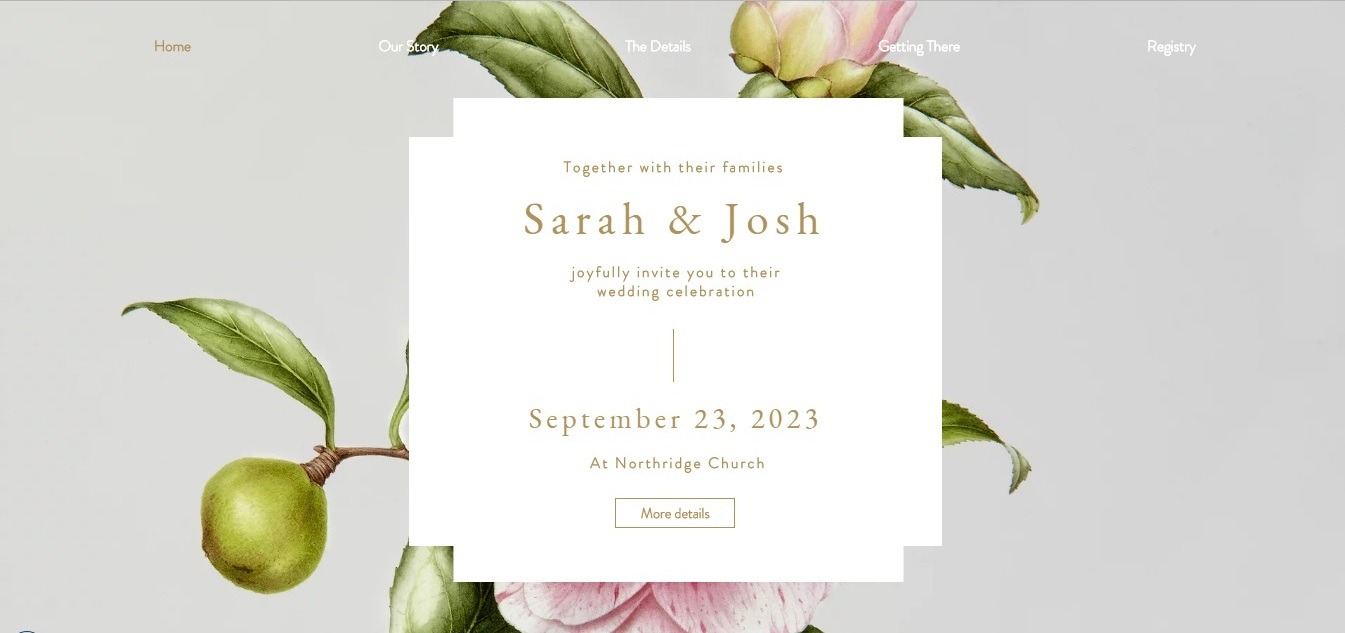 Check out the website: https://www.wix.com/demone2/romantic-wedding-inv
The website has a simple yet beautiful floral backdrop. At the very top of the page, you immediately notice an invitation with the date of the celebration.
It is followed by the love story, and then you find the location and different ways to get there.
Aubrey & Paul – Squarespace wedding website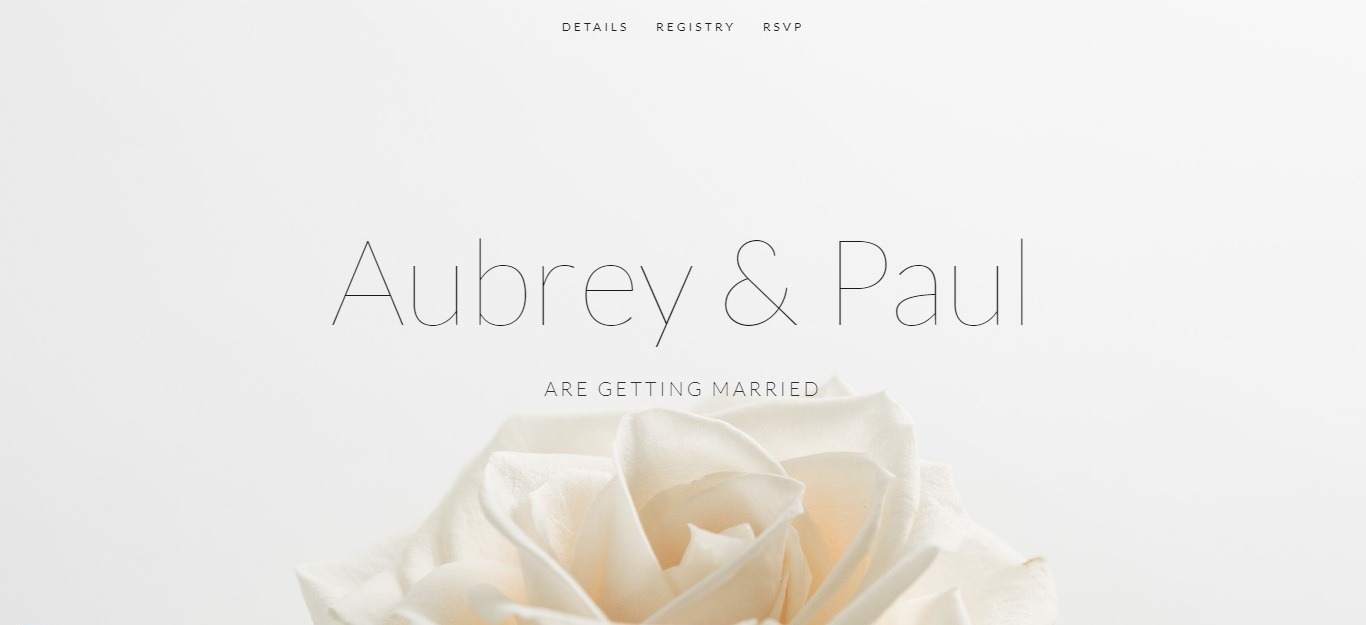 Check out the website: https://aubrey-demo.squarespace.com/
This site has a clean, calm design with a huge amount of white space that creates plenty of air and is so suitable for a wedding site!
 The site does not overload the visitor with information: guests can click on the website's menu in search of the information they need.
Francesco & Adriana Mediterranean Adventure – Wix wedding websites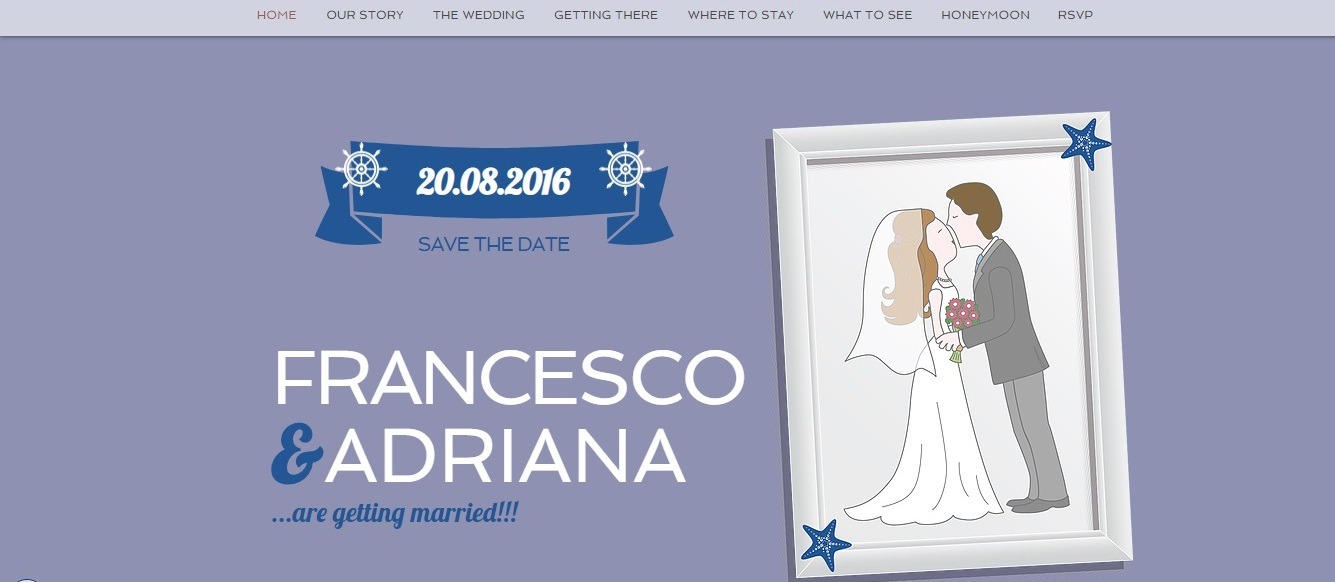 Check out the website: https://francesco-adriana.wixsite.com/wedding
The site of this Italian couple wonderfully combines maritime themes with a Mediterranean style.
This site proves that even using a simple design, but a competent approach, you can create a unique wedding website that draws the attention!
Sample wedding websites
:
Weblium wedding websites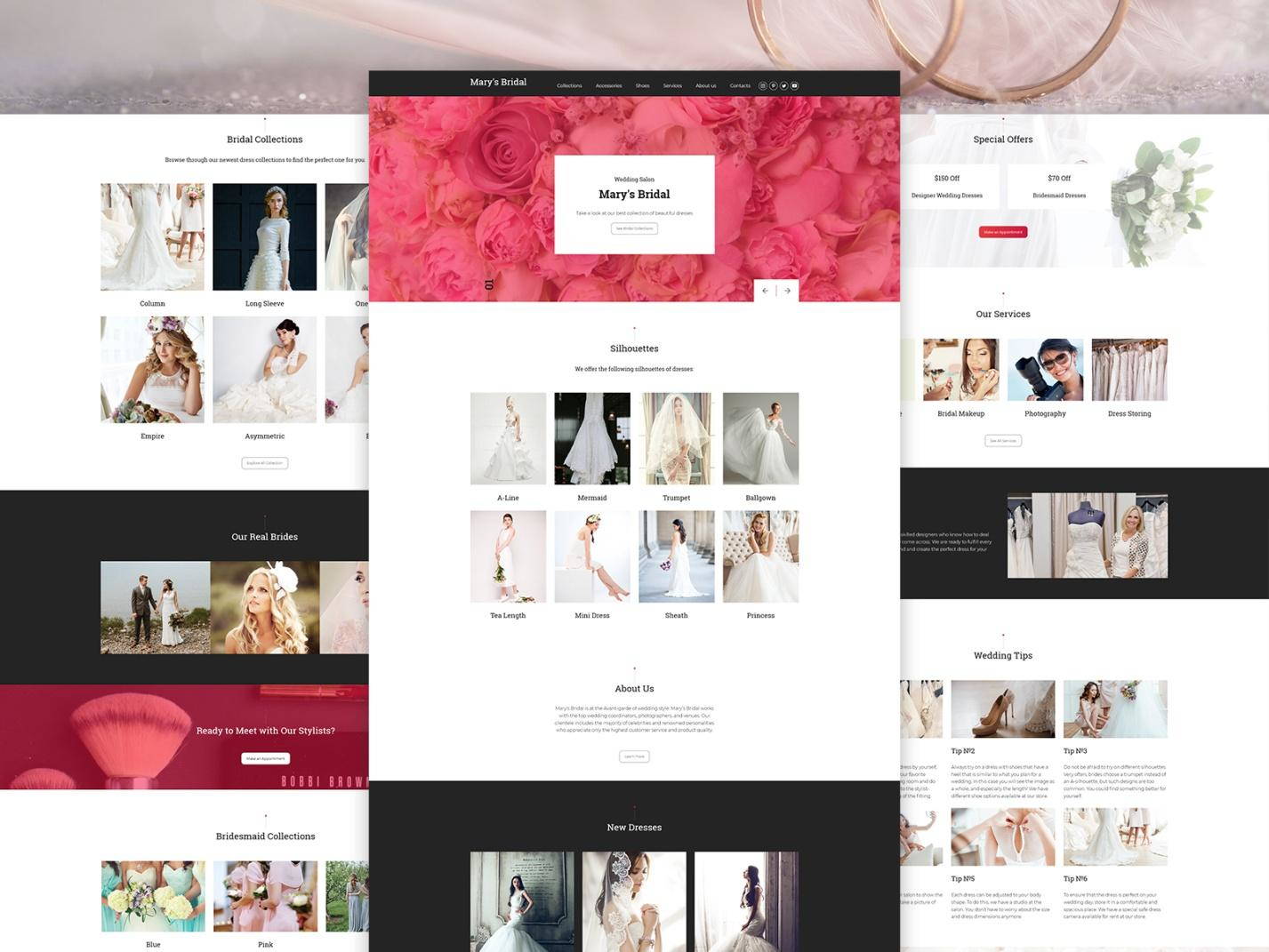 This is one of the many wedding website templates by Weblium that you and your guests will definitely like.
The site has a bright header that instantly attracts attention. A huge amount of white space creates a feeling of purity and high quality, allowing to draw the visitor's attention to the most important things.
A photo gallery allows you to publish full-size photos. You can easily share the most enjoyable moments of your personal story, the process of preparation for the wedding, and the best shots from the celebration.
A blog will become a very useful tool for sharing all the important details of your life, which are so numerous that they simply won't fit on the site!
Sarah Owens & Ryan Gentry – Weebly wedding websites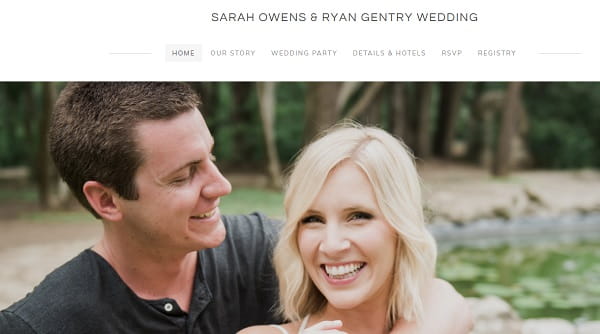 Check out the website: https://sarahowensryangentry.weebly.com/
This is a very simple wedding website. But it is also very romantic, tender and informative at a time!
The design is plain, but it clearly highlights the amazing photos of the couple that perfectly stand against the white backdrop and tell their love story.
The website menu is very informative. The sections provide all the necessary details about the wedding preparation process stages.
Also, there's the RSVP section tracking the guests count.
Wedding website tips and tricks
When should you create a wedding website?
The best time for creating a website for your wedding is when you set the date of the event and start booking your wedding venue.
The ideal time for that is 6 and 9 months before your wedding day. That will give you plenty of time for solving all the organizational questions like adding the mailing lists, registering for gifts, organizing RSVPs, and many more!
What to put on a wedding website?
The must-haves of your wedding website:
the location of the event, the date & time of each mini-event (ceremony, rehearsal dinner, reception, farewell brunch);
the recommended outfit for each of these events;
information about the nearby hotels, cafes & restaurants, sightseeing (especially in case you will invite the guests from another country or if your destination wedding in another city/country);
the place you will be registered;
your couple's wedding website stories (how you met each other, your engagement story;)
RSVP information;
photo gallery;
travel & transportation information (transport schedules, directions to the wedding location, reserved hotel rooms, parking);
any other details your guests need to know (such as handicap accessibility);
FAQs from your guests.
Nice to have:
welcome message (if your website is fast enough, you can even make a video welcome message);
fancy countdown timer;
detailed and clear wedding day schedule;
guests' menu & entertainment wishlist;
the couple's wishlist;
the map to the location;
weather forecast;
forum for guests;
playlist;
videos (video diary of preparation for the wedding and videos from the celebration).
How to write our story for a wedding website?
Tone. It is a good idea to keep this website section bright and warm-hearted. Of course, you can add a little bit of humor to keep your guests engaged!
Length. The perfect option is a length between 100 –250 words. That is usually enough for wedding website stories to give everyone a short summary of your journey together.
Formatting. Try to avoid long paragraphs – make a break after every 2-3 sentences. Make sure the story is easy to read. 
The wedding website welcomes message
Tone. Your welcome message should be just a warm-hearted intro and invitation to further exploring your website.
Style. The wedding website wording style and the language you will choose should match the other website sections or your invitations.
Contents. Usually, people use the following things in their welcome message:
a playful tagline – you can use either simple «

welcome to

our wedding website

» or something more creative like «It's finally happening!» or «He put a ring on it!»;

short and warm greeting;

your website's purpose;

website's key features;

an invitation to discover your site (some navigation tips may come in handy here);

a reminder for your «CTAs» (like RSVPs or songs requests);

great thank you!
Where to build a wedding website?
Today, as in the case of creating any other type of site, there are three options for making the best wedding websites:
1. Making a website from scratch yourself.
Pros:
your website will look exactly the way you wanted to!
Cons:
you must have good coding and web design skills (well, you can always bother a couple of your friends!);

it will take much time and effort;
2. Ordering a website from a web studio.
Pros:
you get a beautiful, modern website.
Cons:
even the experts will not always be able to understand all the website nuances as they look like in your head;

a good result will cost you a lot of money!
3. Taking advantage of one of the many website builders.
Pros:
you can quickly and easily make a wedding website yourself;

you get a beautiful, modern website;

the site looks exactly like you wanted to;

in most cases it's inexpensive, and some website builders even offer to

make a wedding website

for free!
Cons:
usually, you can experience the drawbacks only if you use free pricing plans (but, as we have said, there are certain site builders that offer very profitable full-featured web solutions for free). But in general, you can get ready for such disadvantages as:
you can get only third-level domain names for free;

on the free plans, you can experience the lacks in functionality and design;
moving the site to another hosting will also require additional investments;
the free templates may include the builder's ads;
limited opportunities for SEO promotion;
the design maybe not unique.
As we have already mentioned, there are website builders who offer decent, modern, and full-featured solutions for free. And one of them is the Weblium DIY website builder.
Namely Weblium, a young but promising website builder who has already won several prestigious awards, becomes the best solution for you to make a wedding website for many reasons:
modern, beautiful, mobile-adaptive templates with ready-made blocks, based on a deep niche analysis and created by experts in the field of web-development and web-design;

very fast sites (scoring over 90/100 in Google PageSpeed ​​Insights);

built-in SEO tools;

simple and

user-friendly

editor, AI supervisor (your personal artificial intelligence art director) and a number of special tools that will help you to

make a wedding website

quickly and with lots of pleasure;

free custom domain and hosting on Google Cloud, SSL certificate;

expert customer support – you are always covered by pros!
Conclusion
We know that your wedding day should be perfect. At least everyone wants to believe in it!
But is there a way not to lose your mind during this crazy wedding preparation routine? Oh, that's easy: you need a wedding website!
And now you know how to make a wedding website and you understand that it is not as scary as you thought!
Just check out the Weblium templates collection and select the appropriate one. Customize it to your liking, add your unique content – and voila! – your perfect wedding website is ready to invite your guests!
Start For Free With Weblium Templates