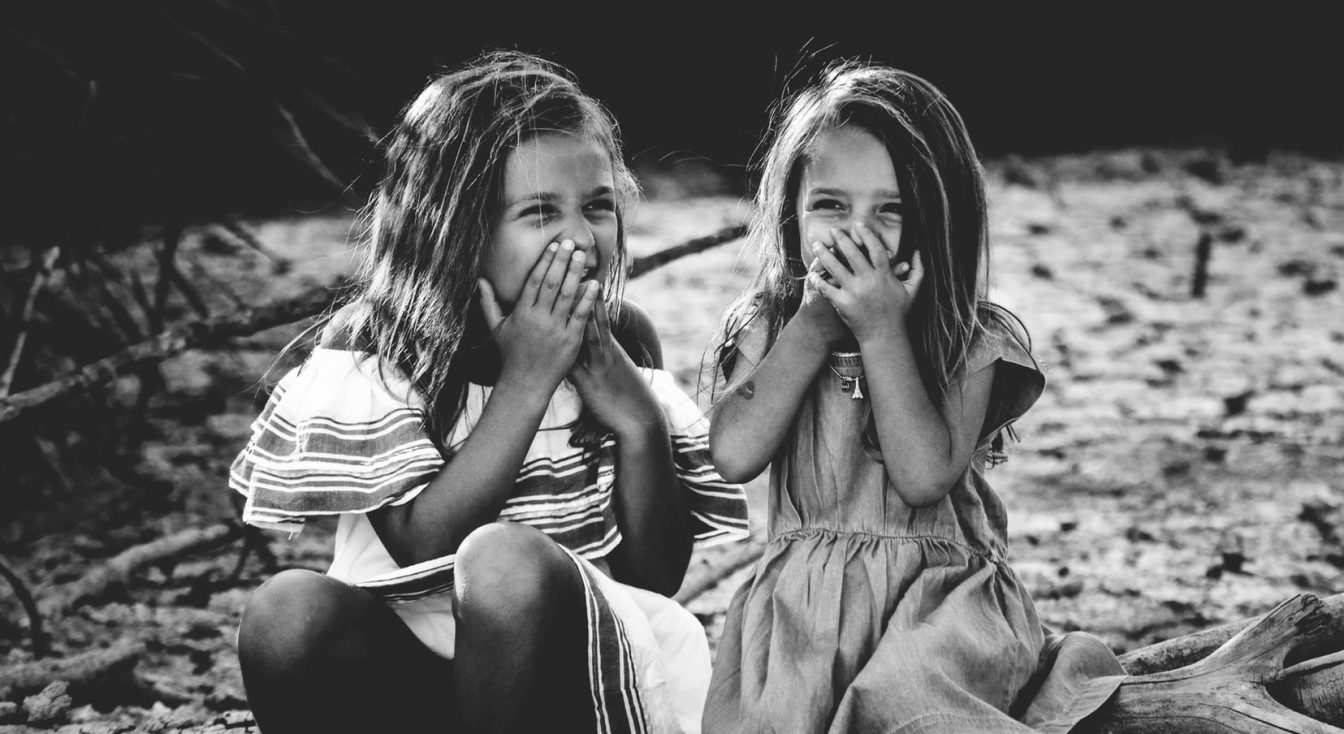 Best Testimonials Page Examples
Testimonials from happy customers are social proof of the quality of your business. The testimonials page should be on any site because this is how you can show that you have been honestly working for a long time, your customers are satisfied, your products are of high quality.
Testimonials can be placed on a separate page or on the home page of the website. Today, the Weblium team will tell you how to properly make the testimonial design, what are the options, and show examples of the best testimonial pages.
What is a testimonial
A testimonial is a message from your customer with his personal experience of buying your product or ordering a service. Usually, it is a few lines of text, where everything is clear and to the point: what are the impressions of the order, what did the client like, what did not. Often customers thank a particular employee or the company as a whole. Testimonials play a great role in the content marketing strategy.
Why testimonials pages are important 
What other people say about you is much more important and valuable than any advertising texts from your copywriter. 
Most people always look at the reviews before ordering something on the site for the first time, be it a product or a service. Besides, the presence of reviews always shows the potential customers that you work honestly and not deceive your customers.
Of course, not all customers come back to you for writing testimonials, especially if they are satisfied with everything. To still receive feedback, you can offer your customers an additional discount on the next order if they leave a testimonial, some gifts, etc. In the customer testimonial examples below, you'll see some companies that reward users for leaving feedback.
What makes a good testimonials page
A good testimonial is a review that gives other visitors of your site additional information about a product or service. Simple gratitude in the testimonial is good, of course, but not informative. It is much better when specific details are revealed in a testimonial:
What product or service was ordered;

How quickly the customer received his order;

What is the quality of the product or service;

Who served the client;

Approximate date of the order.
Also, a good review expresses the emotion of the client. The review should not be similar to that written by a copywriter. Too slick, alike reviews cause rather rejection and doubt.
How long should a testimonial be
The length of the review should depend on how you designed the page with the reviews and how many testimonials you plan to place on the page. If you have a lot of reviews, just show a few lines of each. If your customers leave large, detailed reviews – this is a very valuable material, and in this case, it is better to show them completely, having chosen a couple of the most important testimonials.
How to write a good testimonial 
Not all customers are willing to spend time to leave feedback after receiving the order. As a rule, people return with comments only if they are unhappy with something. Therefore, usually, there are reviews from real clients on the sites but processed or written by employees of the company based on speaking with the client or emails. So, how to write a testimonial for business? 
Consider the following points:
Demonstrate the benefit.

Each product or service solves a user's problem. This must be mentioned in the testimonials.

Overcome objections.

Those who come to the site, certainly have some doubts. Perhaps they think that the delivery will take a long time or that your

customer services

are too expensive. Prove the opposite in the reviews.

Be specific.

Focus on details and demonstrate the value.
If you wonder how to write a testimonial about a person (for example, about a freelancer or a particular employee), here are some specific rules:
The best

employee testimonial example

s are

personal and emotional. You should show the value of this very specialist and your feelings about your cooperation.

If there are many employees in the company but you want to thank a particular person, be sure to

specify the name

of the employee and highlight the important features of your cooperation – write about some extra things that make this employee special.
5 Testimonials page examples
Bizzabo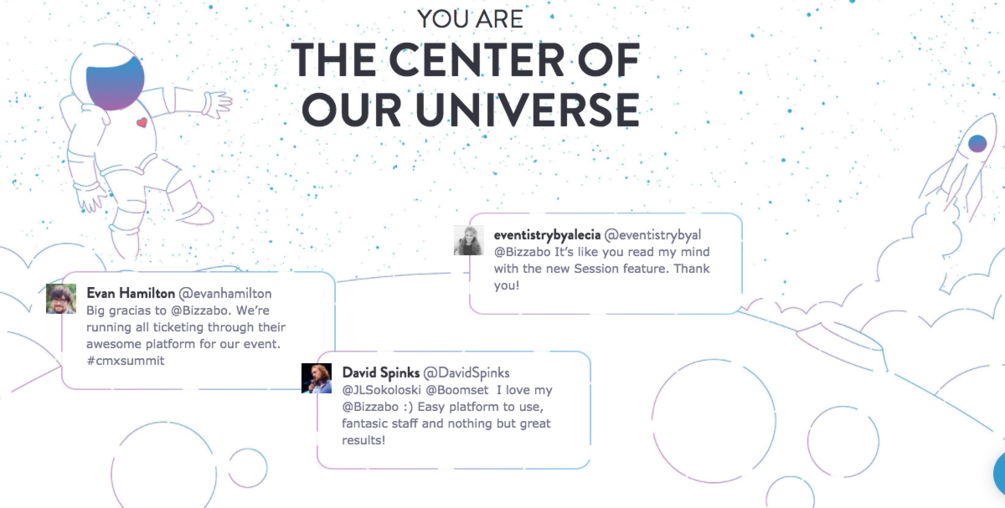 Visit the page: https://www.bizzabo.com/customers
It is a company that provides tools to help professional event planning and execution. This is quite a creative area of activity, and the testimonials page is also very original.
In addition to short testimonial examples from Twitter, you can find classic blocks with testimonials, links to customer stories, and even video testimonials. Such an amount of different information from satisfied users leads to more trust and confidence that this is a reliable and professional company.
Booker – great testimonials page example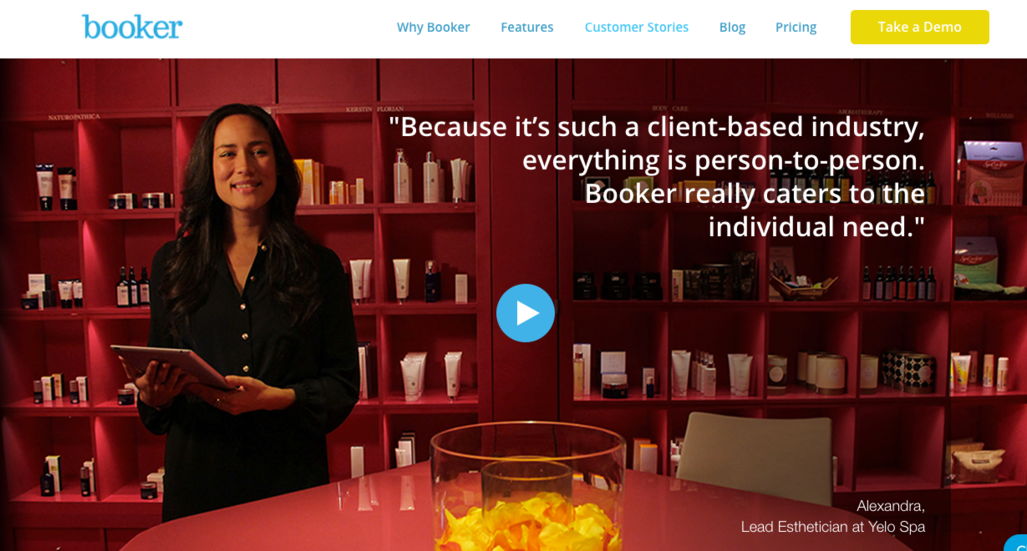 Visit the page: https://www.booker.com/customers
Booker is software for retailers for managing their stores. The testimonials page is called Customer Stories here, which already causes more positive emotions than the dry "Testimonials". On this page, everything starts with beautifully shot video reviews. Then you can find the traditional text reviews, and at the bottom of the page, there are full-fledged case studies with the full story by the link. The emphasis on video feedback shows that product users are real people who efficiently do their business with the help of Booker. People love to look at other people and see themselves in their stories.
Casper – sample testimonials page example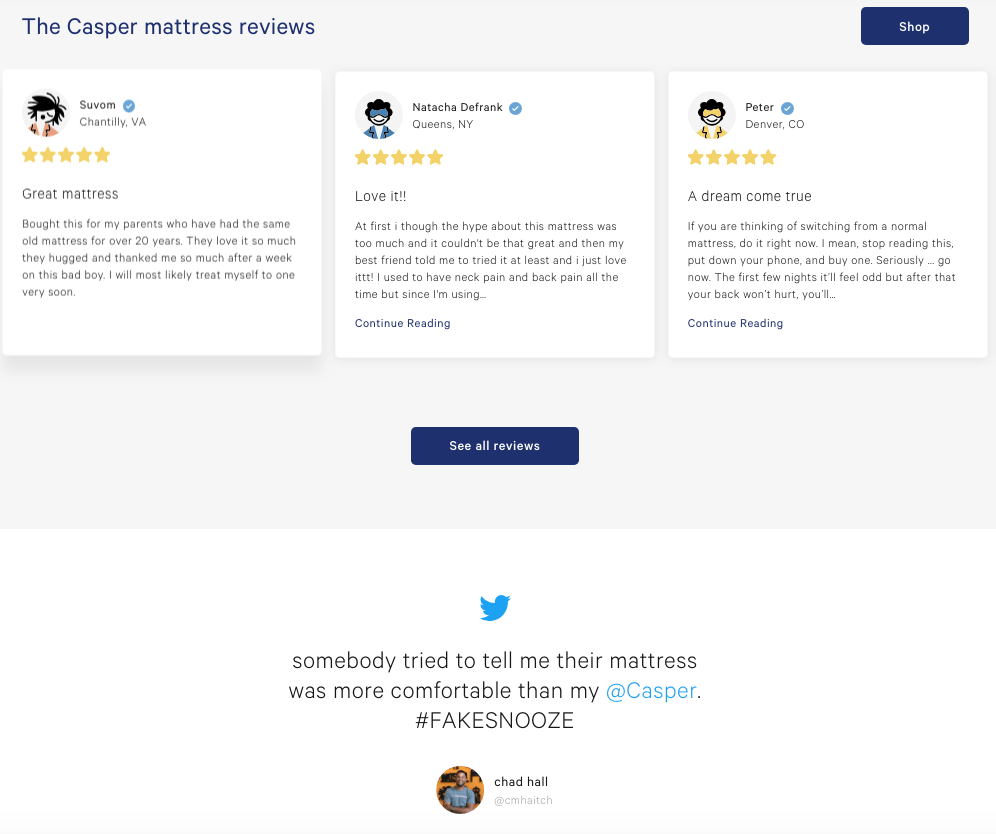 Visit the website: https://casper.com/mattresses/reviews/
We've talked about service companies above, and here is a great example of a company that offers physical products – mattresses. Testimonials on a separate page are presented in a left-to-right scrolling, card format. At the same time, you can switch between the company's products at the top and see the relevant reviews – for example, if you are specifically interested in pillows. In each testimonial, there is a client's name, a 5-star rating and several lines of the testimonial itself with the ability to open it in a pop-up window and read in full.
Weblium Studio – customer testimonial examples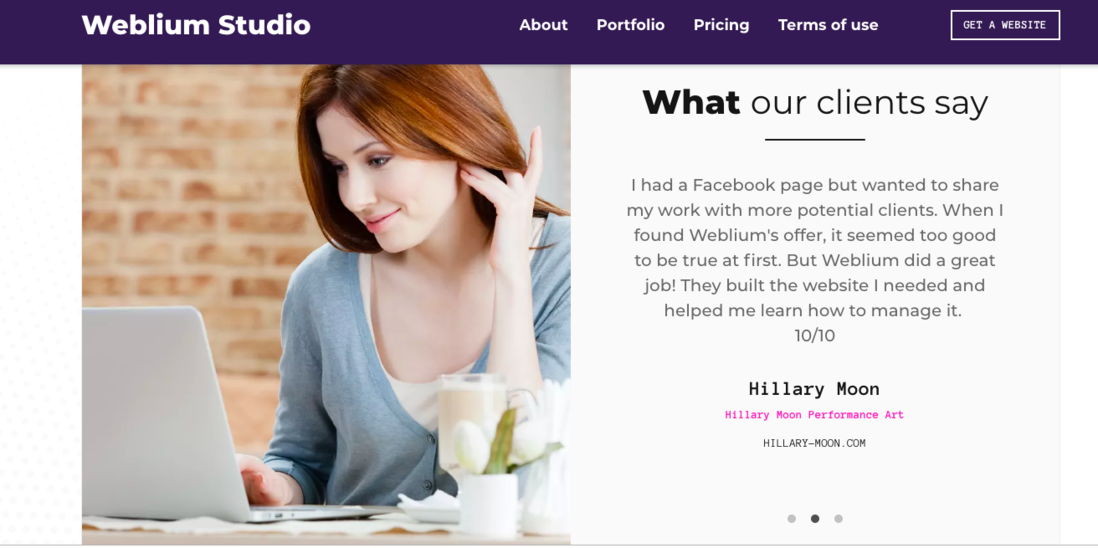 Visit the website: https://studio.weblium.com/
At our studio, we haven't made a separate page for testimonials but put them on the main page. We use high-resolution photos of our clients and their direct speech. We highlight how we've helped the customers to achieve the best results and overcome objections that creating websites that are expensive or takes much time. 
One review takes up the entire screen – so we were able to use a high-quality image, large font and leave the whole direct speech of our clients.
Dribbble – testimonial web design example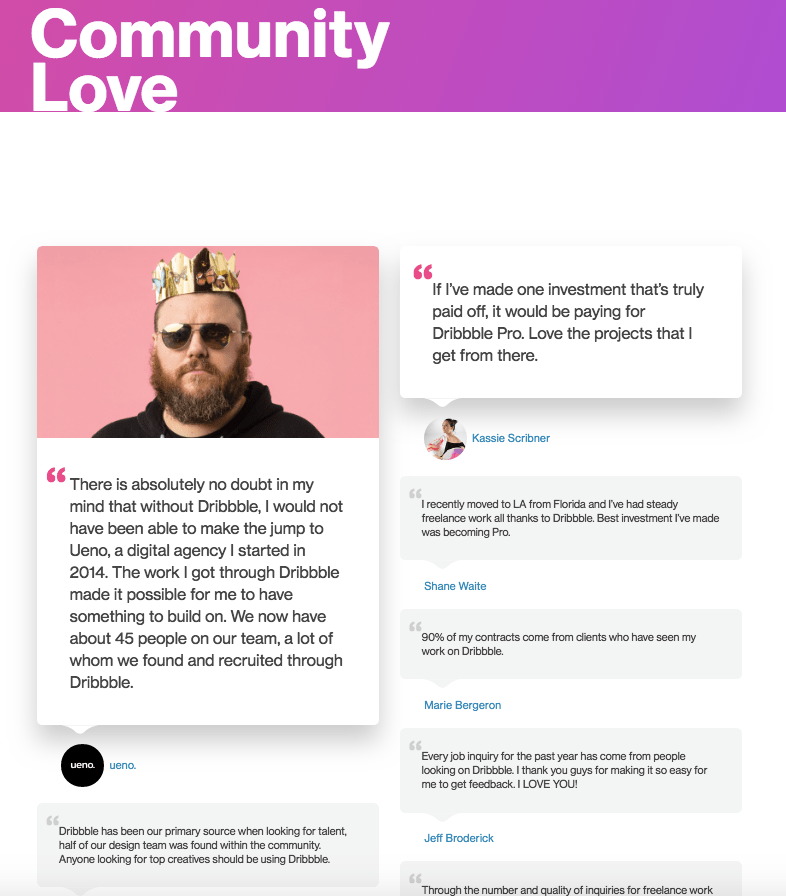 Visit the website: https://dribbble.com/testimonials
Every designer knows Dribbble – it is an online design community. The members' testimonials are presented in the style of minimalism – we see the name of the person, his/her direct speech, sometimes – photos and video reviews. With the help of such a different-sized bar, Dribbble manages to fit all the reviews on one page, without separating the video, long and short reviews. Simple design plays into the hands here, especially regarding the latest trends.
Summary
Testimonials from happy customers is an increase in your conversion. This is social proof of the high quality of your products and services. Do not disregard such a powerful tool! To make the testimonials page attractive and effective, do not forget about these basic points:
Use high-quality photos, if possible – shoot short videos with the clients speaking.
Do not use photos of your clients without their permission.
Ask customers to share specific figures and objective impressions of the order.
Allow site visitors to filter reviews by product type, by satisfaction, by date, or other criteria.
There should be an easy way to leave a review on the site.
Try different formats, display reviews from

social media

, post videos, screenshots of letters that come to your email.

Offer users some nice little things and discounts for a detailed review.

Do not overload the testimonials page with design, focus on the messages themselves.

Update your reviews promptly, add new ones so that the page does not look abandoned.
If you have enough reviews from customers, you can create a separate testimonials page. If there are only a few reviews, display customer testimonials on a single block on your website.
With the use of the Weblium site builder, you can try different options. We have several testimonial formats, you can test different forms, and also combine testimonial design templates with a gallery, contact form, etc. We wish you good luck, inspiration and positive feedback from your customers!
TRY WEBLIUM FOR YOUR OWN WEBSITE