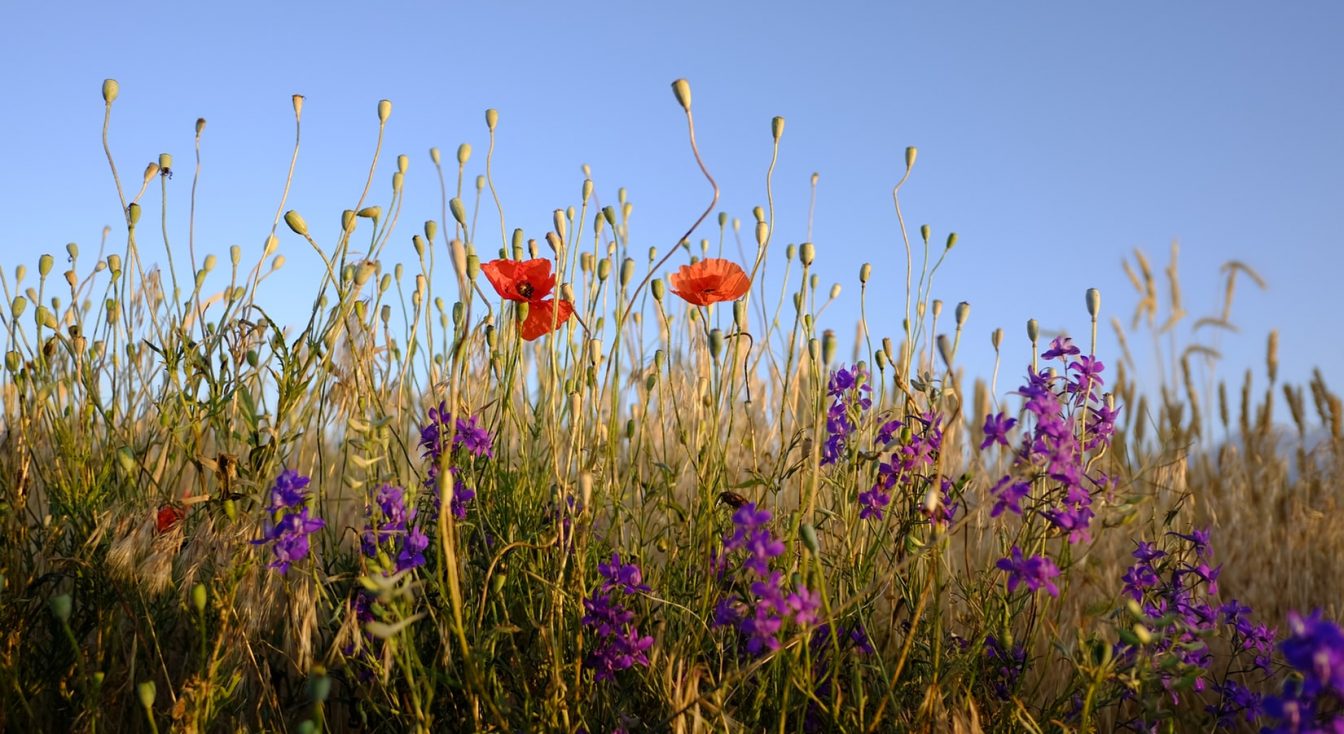 Value Propositions: What Is It and How to Create [With Examples]
The value proposition is critical if you want visitors to take notice of the product or service you offer and to conduct business with you. A good value proposition is what makes you ahead of similar projects. In this copy, we've prepared case studies about:
What is a Value Proposition?
The value proposition is NOT a slogan, positioning statement, product features or specs. While all of them focus more on your brand image, the promise of value is actually about your target audience and the advantages your product brings to them.  
How to define a value proposition correctly?
Here's what we find it to be.
A value proposition is about the specific benefits people may expect to get when going ahead with your company.
From a brand perspective — this is a distinctive value prospective customers will not receive from your rivals.
From the perspective of the offered products or services — this is what your potential customer can expect to go through when receiving them.  
When considering your business project, many of your target customers mostly focus on your value proposition at first. So, having it be clear and concise lets you keep them engaged on your web page, and encourages you to make a purchase. It's very important, especially when you actually have less than a minute to interest your prospective customers. 
But, what actually makes a unique value proposition? Let's find out next.   
What Makes a Good Value Proposition?
So, what you can do to build a competing value proposition? You can provide an explicit and exciting description of what people may get when conducting business with you. You can show the key benefits of your idea to encourage people to prefer your brand over similar companies. Just make sure to use keywords to make your unique value proposition visible to search engines.
A good value proposition sets up the promise of value in the form of CTA, explaining to the visitors where they'll be taken to when proceeding with your offer. It convinces your prospective customers that your product or service can turn their lives around. And, of course, it makes your advertising message sound different and innovative compared to others.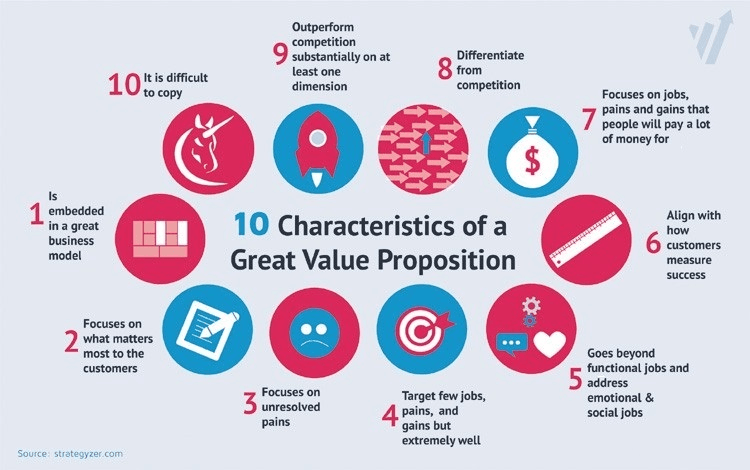 Why Should You Have a Value Proposition?
Beyond doubt, some of you may wonder if it is mandatory to have a compelling value proposition built for your brand. A strong value proposition attracts more new customers and enhances the loyalty of your current ones. It improves conversion rates, dispels the client's doubts, convinces them to take action, and makes them feel confident about your product or service. It lets you meet the customers' challenges, and solve their problems.
Great Value Proposition Examples
To get an idea of what a unique value proposition should look like, let's consider the following examples: 
#1. Canva – great value proposition example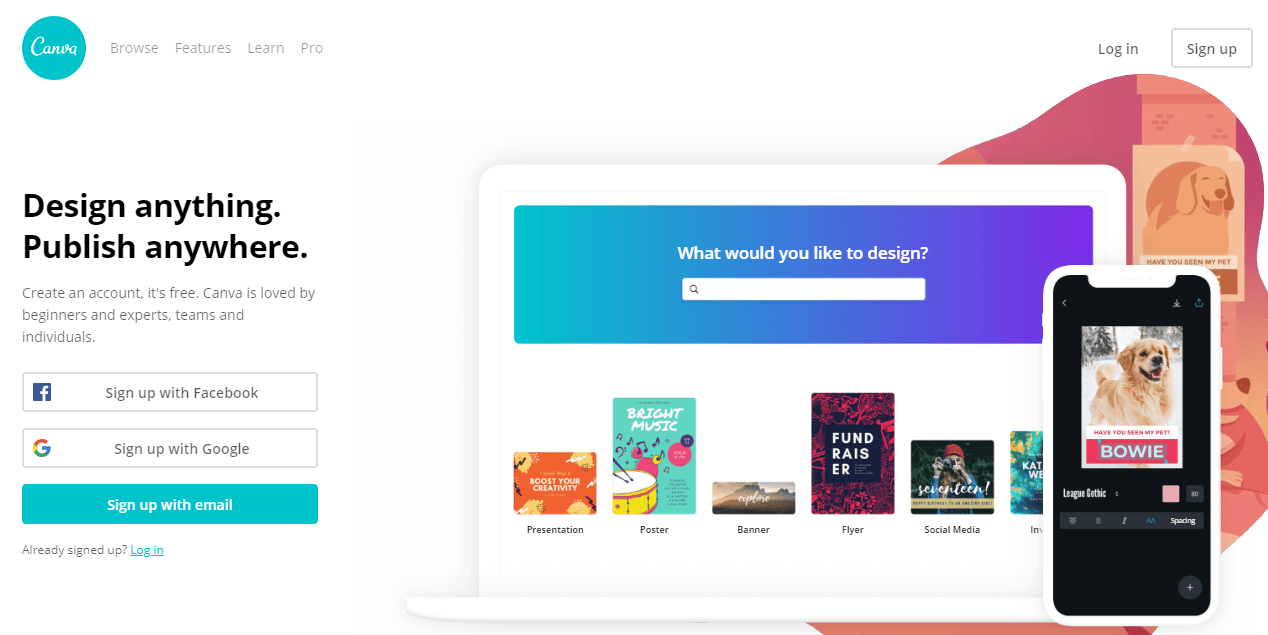 Canva is a website that features extensive toolkit for graphic design and provides access to a ton of vectors, photographs, graphics, and fonts. Because it boasts drag-n-drop functionality, both non-designers, and expert graphic artists can leverage it for work and creative projects.
Canva's strongest features include:
The simple interface makes the platform accessible for those not into design.

An array of tools and functions allows companies to create attractive and relevant content with ease. 

The drag-n-drop editor makes it easy to build a design from scratch with the help of templates, images, fonts, and other elements. 

Ability to comment on design projects to improve communication and collaboration between teams.   
#2. Weblium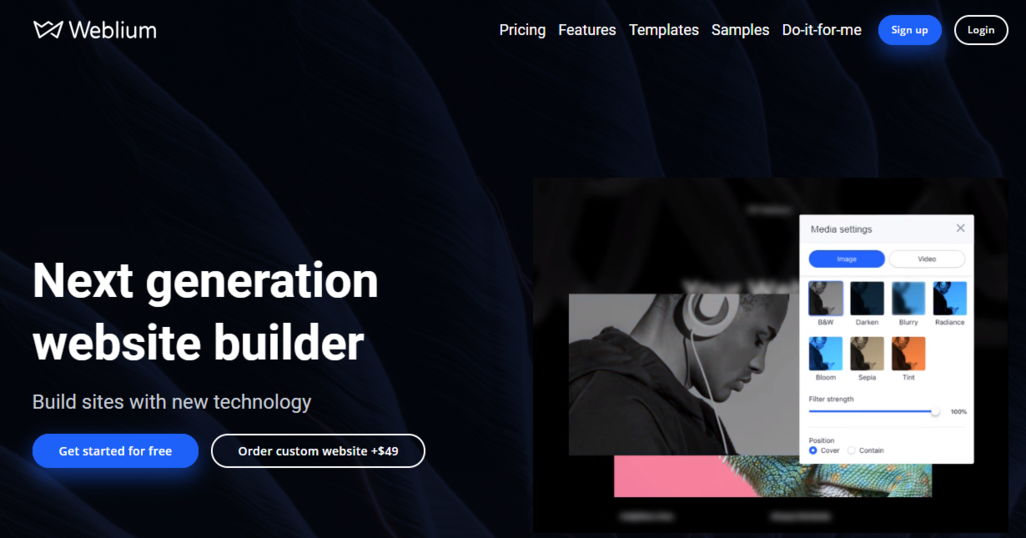 Weblium is a fast-growing AI website builder meant to facilitate the process of site establishment. With this progressive solution, users can get responsive websites and landing pages on the fly. 
Even though the website builder niche is huge, and it is hard to offer something new and unique, Weblium still finds a way. While most content editors offer drag-n-drop functionality, this platform has entered the market with the block system. All the information you need to set up a website is available in blocks, and you can even combine them from various templates. 
This kind of system lets Weblium stand out among similar companies, and lets them provide the users with a distinctive value proposition, which is hard to find with other website builders.
Apart from that, Weblium boasts more features and benefits which you can locate below: 
AI Design Supervisor along with 200+ ready-made templates and blocks speeds up the process of website building. You'll get a website done in an hour!

The mobile-friendly design makes your site adapt to any device, whether a desktop or a mobile device. 

Studio services let you have a website developed by professionals at an affordable price. Contact

Weblium

for more details. 

Back up by professional webmasters. 
#3. Slack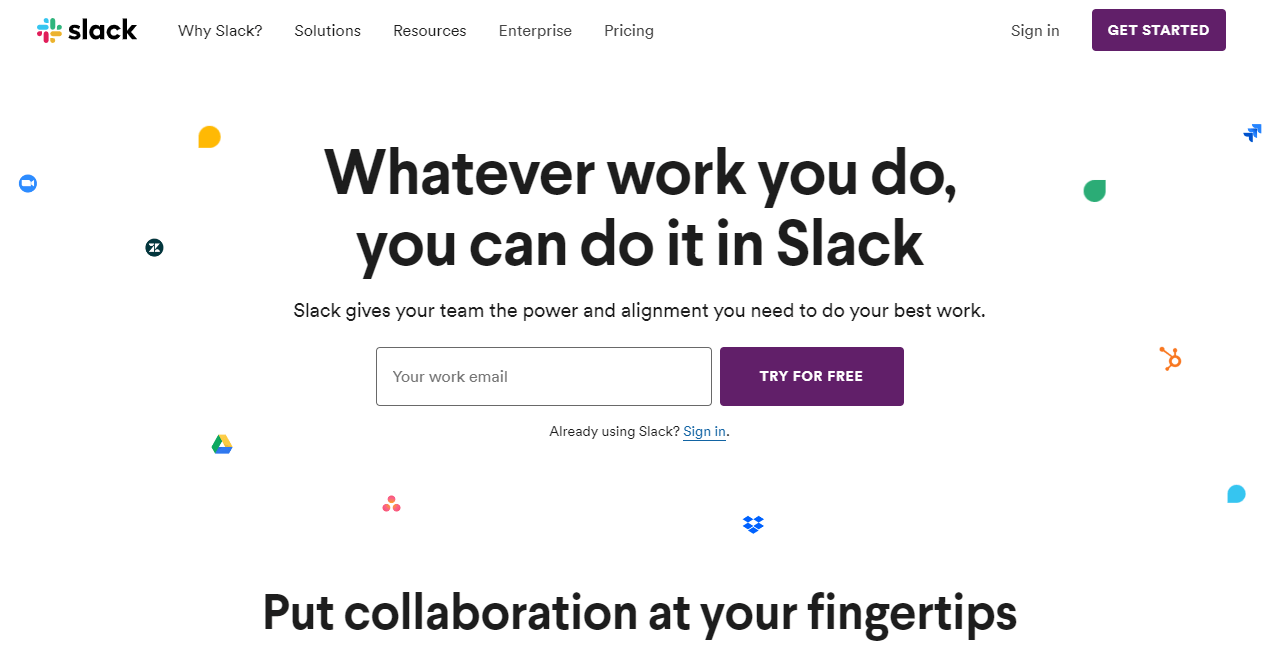 Slack is a well-known platform that ensures effective communication between teams, messaging in real-time mode, sharing documents, archiving, etc. Simply put, it's a messaging application. 
Slack features and benefits addressing user's pain points include: 
Integrations with thousands of external apps and services give users a fully-equipped platform. 

Advanced search, filters, and sorting make it easy to find the needed files.

Fully native applications for iOS and Android allow users to stay mobile. 

The cloud-hosted platform requires no complex installation, maintenance, or training.
#4. Uber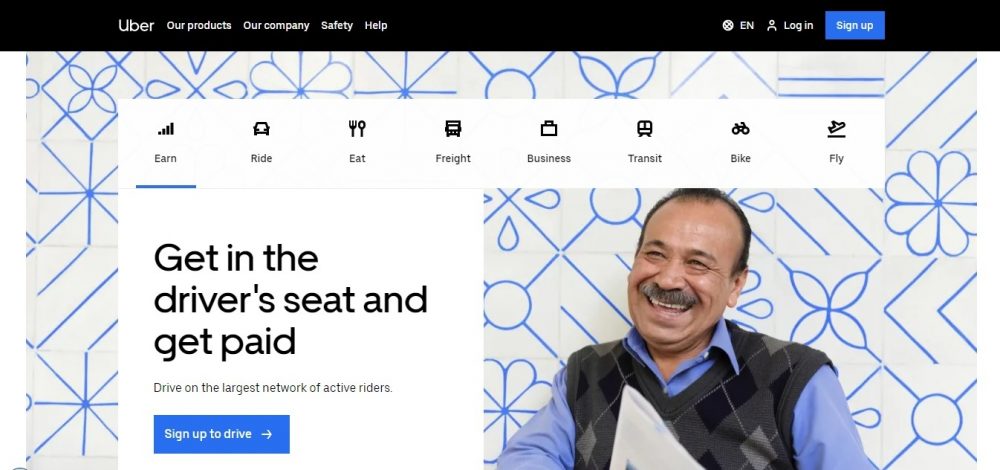 Uber is a mobile application that allows you to call a taxi, track its movement and pay for your order in cash or by credit card. Uber also provides jobs for car owners, offering them flexible working hours and the ability to control their income.
Uber offers:
benefits for passengers and drivers. Since drivers use their cars, Uber-taxi customers get the opportunity to get the affordable service, and Uber-car drivers can start earning money having a minimal capital investment, being just the owner of the car;

careful face control of drivers and their car allows clients to choose the best driver for the trip;

the ability to monitor the driver's car – see its number, track its movement on the map, information on the technical condition of the car, photo and driver's name increases the comfort of using the service;

the ability to reduce the cost of the trip by choosing several companions (UberPool service);

a system of reviews and ratings, which allows passengers to leave feedback and improve the level of Uber services.
# 5. Pinterest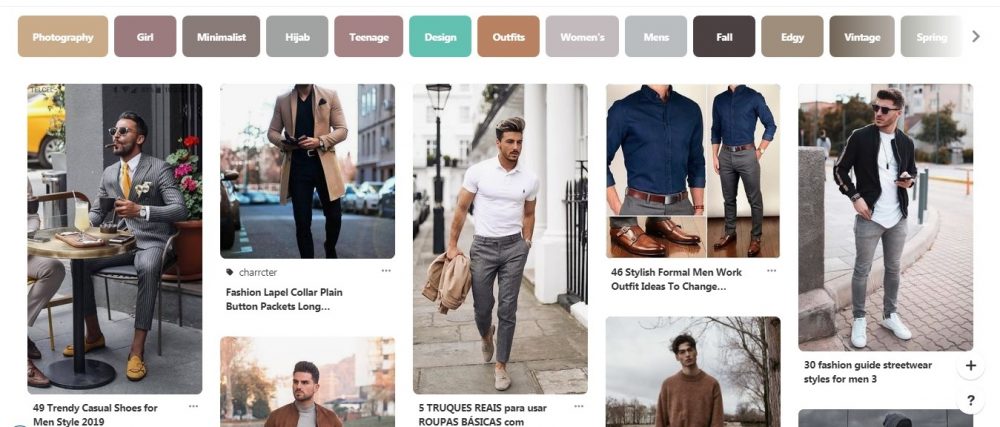 The Pinterest social network is becoming a powerful channel of referral traffic necessary for the development of online business. Pinterest's main competitive advantage is that, with its help, you can promote just anything.
How Pinterest does it:
it helps to increase the number of links to the site and attract high-quality traffic to the site;

it helps to quickly and easily share interesting content with subscribers;

it easily integrates with other services, such as Twitter and Facebook;

it makes it possible to use the tools of the automatic scheduler for sending pins, as well as the automatic collector of subscribers;

it offers unique tools such as Pinterest Lens. With its help, the user can explore the brand and manufacturer of an object, and check out its availability in the nearest stores;

it is suitable for viral advertising, as users actively like and make repins, so you can increase the audience coverage, which cannot be attracted through traditional channels of promotion;

it offers a powerful analytics tool that allows you to study the audience: its demographics, gender, geographic location, and other characteristics; also, with its help, you can find out which devices are used by subscribers.
#6. Vimeo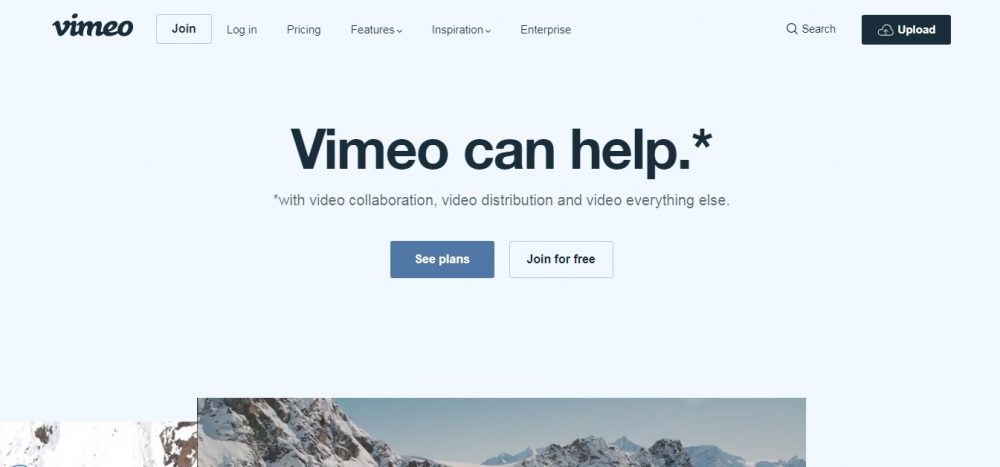 Vimeo video hosting offers great opportunities for presenting videos. According to user reviews, Vimeo's interface is more simple and intuitive than YouTube's.
In addition to zero video storage costs and an excellent social component, the service provides a whole set of benefits for both users and content authors.
Also, we want to add this video by Mat Shore about 6 simple steps the best way to write a Value Proposition.
In this video Mat Shore innovation expert explains in 6 simple steps the best way to write a Value Proposition.
Benefits for users:
user-friendly interface;

high-quality videos: for comparison, one high-quality video on YouTube accounts for a thousand low-quality ones. On Vimeo, the proportion is one to three;

content: the authors on Vimeo are mostly directors and videographers, so almost all of the content is original and useful;

search: all content is divided into 16 categories. There are specific topics created by users that provide an accurate response to the request;

no advertising: this makes users' lives easier and also provides the "natural selection" of content.
Benefits for authors:
monetization: users pay authors directly. The Vimeo on Demand program provides several opportunities to sell your content at once. At the same time, the creators of the videos receive 90% of the income: no other video service is that generous;

a global community of professionals, that share a common goal and interact with each other.
There are three plans for business:
Free Vimeo Basic plan (up to 500 MB per week, basic privacy settings and statistics tools, email Tech support);

and two paid ones: Vimeo Plus (up to 5 GB per week, prioritized email tech support and advanced privacy settings, statistics and customization) and Vimeo Pro (20 GB per week + all the features of the Plus plan and some additional privacy settings, customization, statistics tools, VIP support and advanced distribution settings).
How to Create a Unique Value Proposition?
Establishing a compelling value proposition requires not that many. As soon as you respond to the following questions and consider short tips, you'll find the unique selling points of your brand that will help to establish a competing value proposition. So, let's get on with the bullet points! 
Step 1. Know Your Customer
Explore your customer persona by answering the questions below:  
Who are your prospective clients? What are their needs?

What are their issues that require solutions?

What improvements do they expect?

What values do they have?
With a buyer persona defined, you will be able to discover a list of user's problems to associate them with your offer. 
Step 2. Know Your Product
Pick the components for your idea/product you may require, such as:   
1) A prospective client's strong desire, such as: 
A major problem to solve

A strong concern or disappointment to soothe

A desire or goal to achieve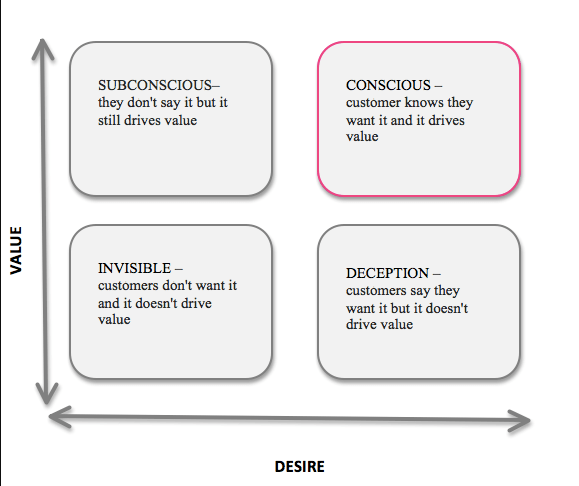 2) Exclusivity, which is characterized by: 
Awards for larger customers. 

Proprietary information, which protects a great value proposition using intellectual property rights. 

Guarantees that resolve issues your competitors generally don't want to touch. 

The methodology gives your prospective clients what they want and can't get from their competitors. 

Notable people who bring unique value to the projects they collaborate on. 

A powerful brand, which increases client and brand loyalty, lets you set a higher price, gets customers to purchase from you again and again, increases the average total of every order, and builds a reliable brand image. 

3) The credibility that can be assured by: 
Informational social influence (e.g. IMDb, LinkedIn, or iTunes store).

Trust badges (e.g. BBB, TRUSTe, Norton Security Seal, Symantec, Visa-Mastercard Seal, etc).

Fame (e.g. The New York Times Bestseller and Inc. 500).

Feedback presented in terms of reviews from happy clients.

Warranties that convince your consumers that you know what you're doing.
4) Clarity of value proposition, which is placed into a simple yet compelling sentence. 
Step 3. Know Your Competition
Ask yourself, if you were in your potential customer's shoes: why does your product, service, or idea bring more value compared to the other companies?
Step 4. Form the Client-Oriented Proposition 
Extract the client-facing value proposition by: 
Gathering different elements (desire, credibility, etc.) into a short phrase interpretation. 

Improving your value proposition with different data types, e.g. data from variations of a landing page and feedback from your prospective clients.
And of course, don't forget to test your value proposition after each step.  
Wrapping Up
When coming to your company, the prospective customer faces questions like "what am I here for?", "why do I need this brand?", "what makes this brand so special?". 
If you could give answers to these and many more queries people keep in mind when exploring your project, then congratulations: you've built a strong value proposition. This will set your brand apart from your competitors, help you reach a much larger audience, and keep your customers satisfied, making them return for repeat purchases.