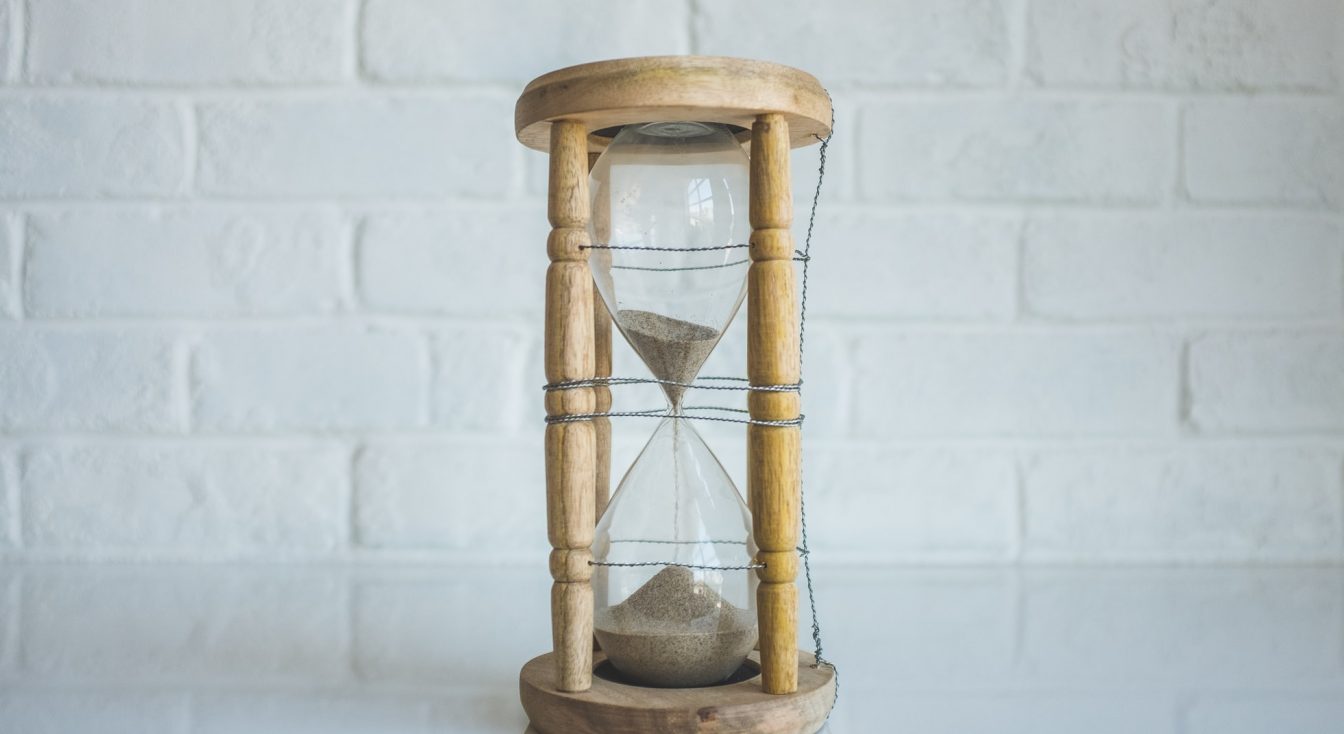 How Long Does it Take to Build a Website
Hi, my name is Inna. I am a copywriter, and I am not the most patient person you have ever met. So when I decided to make my CV look good and replace a good old PDF file with a portfolio website, I needed to do it quickly, until I had a change of heart.
How long does it take to build a website? Too long, if you are in a hurry: at least 4-6 weeks if it is a small 10- or 15-page site. A time frame depends on the structure, CMS system, design, niche, contractors, procedures, etc. I started to look for an alternative solution with a minimum effort and time required for launching.
Actually, it takes from one day to three months to create a website. It is not necessary to start from scratch. If you need a landing page, it is more efficient to use WordPress (1-2 days) or site builders (1 hour if the content is ready). I tried both options for my copywriter CV, and a website builder turned out to be more convenient. Even with zero knowledge in IT, you can create a small website in a day (if you have content to fill the pages with) and easily edit content and structure in the future.
It all started with the research and resulted in the "expectation/reality" situation, or rather "web development vs. website builders." I will focus on using the latter because of my personal positive experience.
Launching Websites in an Old-school Way: Using CMS
Time for website creation: from 2 days to 2 months. 
Usually, we think of a custom website as a long-term and time-consuming project. It is pretty much it if you choose to develop a site from scratch instead of using an online site builder. Get ready to spend around two months for the following plan.
Outlining a concept, collecting references.

Preparing content.

Designing a website.

Tech settings: buying a domain name, an SSL, a CMS, etc.

Development.

Testing. 

Opening to production.

Search engine

optimization and promotion.

Finding a support team.
Time for website creation: 1 hour. 
You are probably registered in at least one social network. You don't need any directions on how to create an account or fill in your profile, right? Using a website builder is pretty much the same. The interface is intuitive, all features/blocks/controls are easy to manage. I decided to mention the amount of time used for completing each step listed below.
Step 1. Do some research 
Find a good website builder. It takes a couple of hours to Google the most popular options, to check reviews, and to learn about functionality and pricing. I decided to go with Weblium in approximately 2 hours because of a wide selection of templates, simplicity, affordability, and first-class support. 
It takes less than a minute. Enter your name, email, and password and click on "Sign up" or login with a Facebook or Google account. 
Step 3. Choose a template
Click on the "Create New" button to open the templates. 

There is a list of categories on the left so you don't have to scroll through all the templates. I decided that Portfolio & CV is the best place to look up for a copywriter website template. Weblium allows previewing a template before choosing it. That's how I found out that a CV/Worker Portfolio is a better option than Writer. It will take half an hour at most to check out and compare the templates.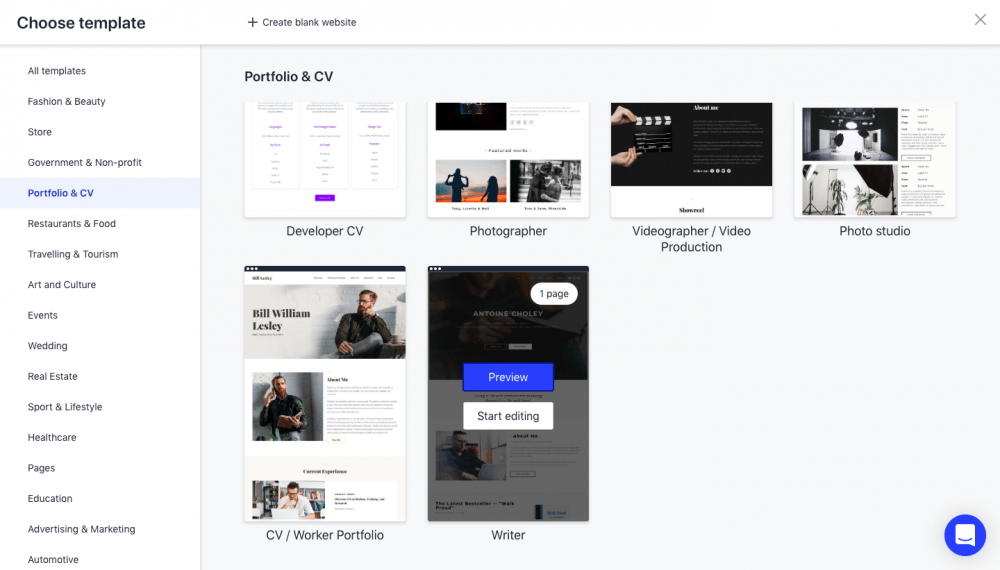 Step 4. Edit a template
So there is a suitable template and you can click on "Start editing". Users can change all the texts and images on a homepage, menu sections, click actions, text styles, add/delete blocks and pages, etc. Hovering tips will help to figure out how this works. Using a template doesn't affect your creativity: a website will look just as good as a custom–designed solution.
Step 5. Upload your images
Use personal photos or a built-in gallery. Weblium has an integrated photo stock – Unsplash that offers a huge collection of free images.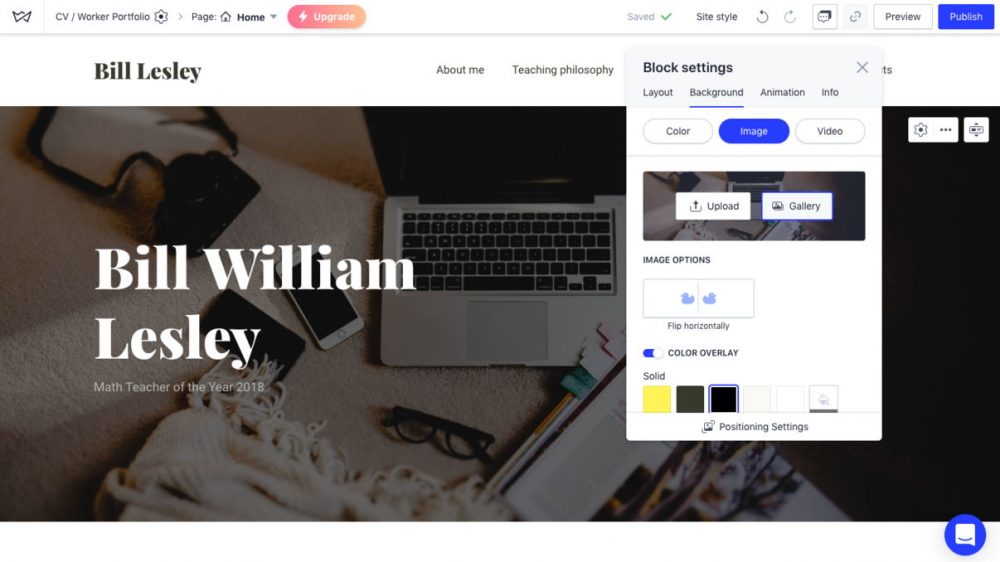 Step 6. Add content
Place a pointer in a text block to edit the content. Then enter or paste your text. This is probably the most time-consuming stage. Time estimate: a couple of hours (depends on how many blocks and pages you want to have and whether you already have the texts written).
Step 7. Publish the website
Click on "Publish the website." Don't worry, you'll be able to edit it later. Publishing takes a few seconds, I even didn't manage to catch it on a screenshot.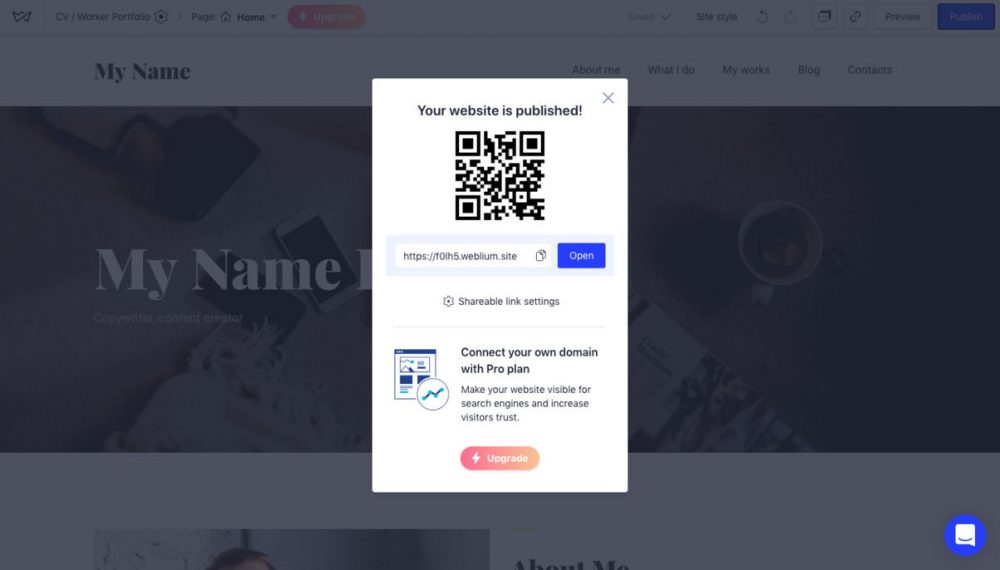 Step 8. Setup the website
Attaching a custom domain is possible only with a Pro plan that will cost you only $8.25/mo. Besides, there is a 14-day money-back guarantee. 
If you don't have purchased a domain name yet or aren't certain whether you need a custom one, you can transfer the website later. It takes several minutes. For now, leave a free weblium.com domain – it is included in all plans.

Step 9. Optimize the website
Fill in the correct SEO title and description for higher ranking in search results. I won't go into details, just Google the criteria for these texts. You can also upload a favicon, set up social links, analytics, subscriptions, etc. This will take up to an hour.
Congratulations! The website is launched in one day with a lunch break, a short walk, and two episodes of your favorite TV show.
Bonuses
There are a couple of goodies I discovered while testing Weblium and really enjoyed it.
Responsive design.

There is a preview feature that allows you to see how the website will look on different devices. And good news: it looks good on screens of different sizes. Every template comes with responsive design and doesn't need extra settings.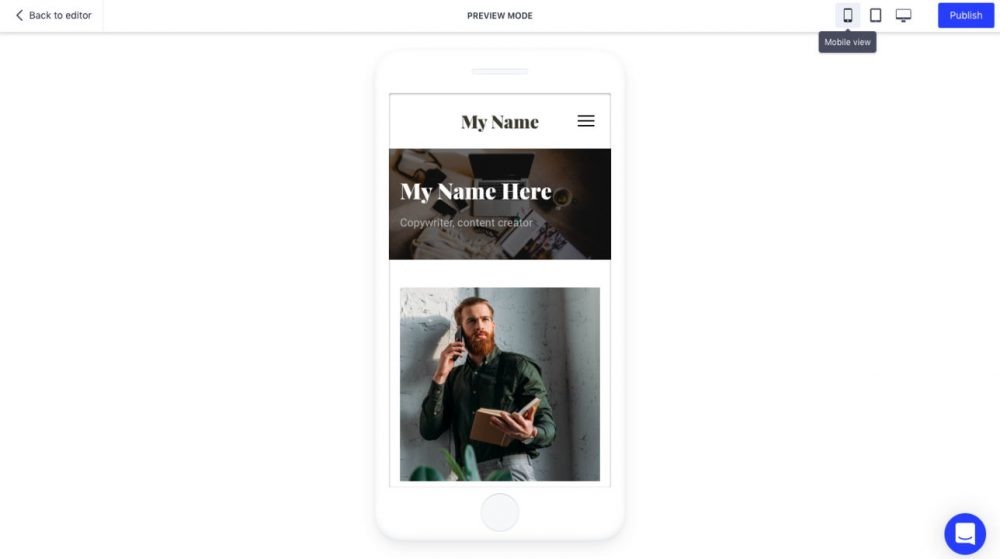 Contributors.

You can share an access link with other Weblium users, and they can participate in the designing/content creation process. 

Add custom code.

If you discover that a template doesn't provide an essential style or feature and you have a fellow developer who knows how to fix this, there is a block for your code.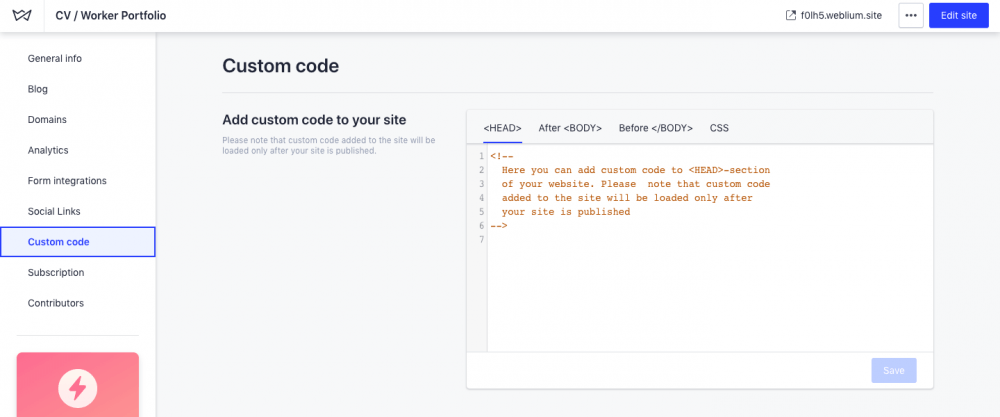 A few words about Prices
If you launch a website in an old-school way, you need to pay for hours of designer's and developer's work. It'll be at least $15-30 per hour, and they will spend much more time than you need to edit a template.
Meanwhile, Weblium's Pro plan for personal use costs $8.25/mo with annual billing or $15/mo with monthly billing. And you don't even have to use a Pro plan, a free one can be enough! I think it is obvious what option is more attractive.
Bottom line
How long does it take to create a website? It depends on how much free time and money you have, and on how lazy you are. I've just found out that you can do it in a day without spending a dollar on website development or design.