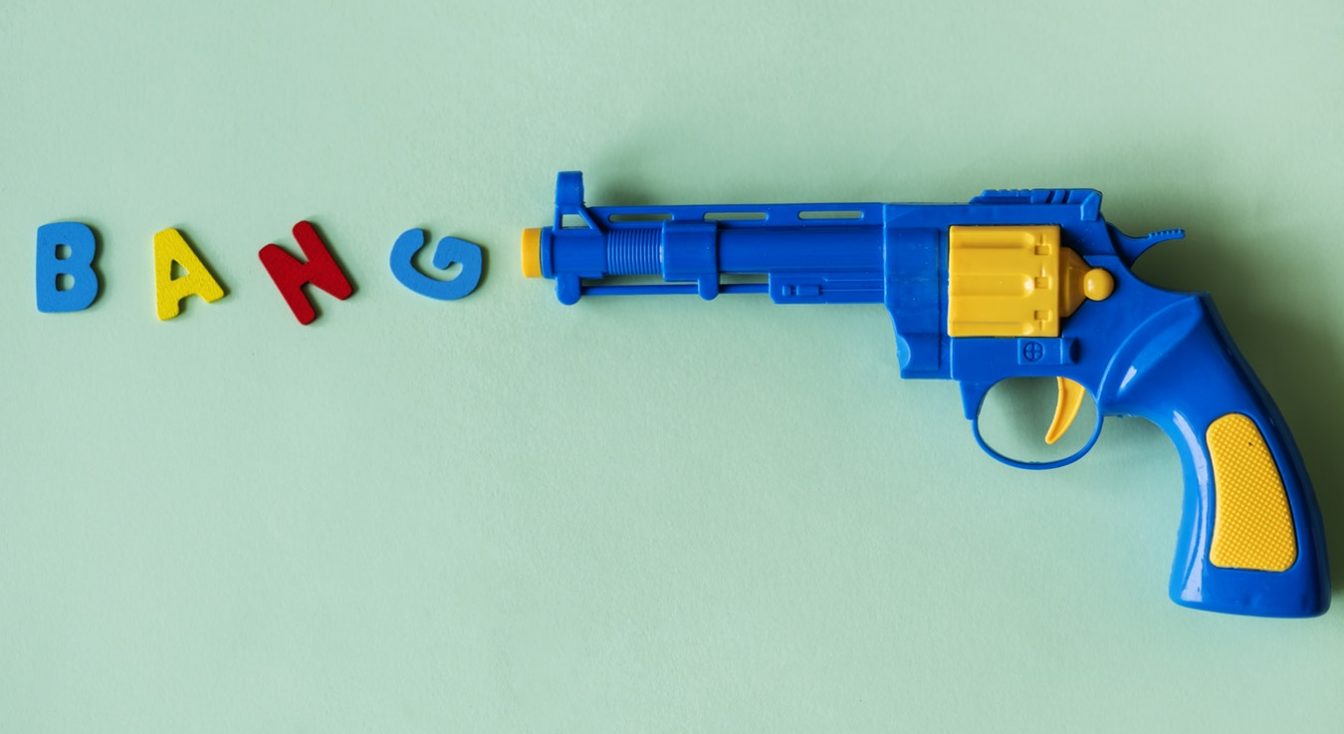 How To Write a Killer About Page: 12 Best About Me Page Examples
According to statistics, about me pages are among the ten most visited by potential customers on your site.
Surprised? The logic is simple: the first thing a site visitor gets to know is your bio/company info because he wants to know more about a person he is going to trust!
And it is definitely About me or About us page that will make your potential client decide whether he will continue to communicate with you and build the long-term cooperation.
Let's get the best of top 12 world's About us samples and learn how to write About me page, that will pull your customers like a magnet.

12 of the best About me page examples
Ash of the Middle Finger Project – creative About me page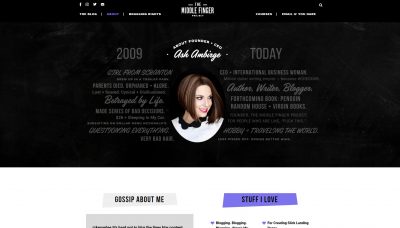 Visit the website: http://www.themiddlefingerproject.org/about/
Here's one of the most bad-ass and creative About me pages you have seen.
We really like the way Ash tells her story using these straightforward but yet witty lines around her adorable photo. She doesn't tell too much, but she tells everything you need to know about her, and she definitely gets your trust!
Dan Joe – example of the About page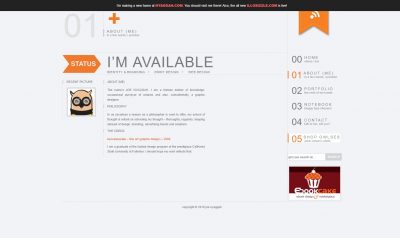 Visit the website: http://danjoedesign.com/about/
Dan Joe, being a big knowledge seeker and a graphic designer has got stunning About me page that immediately shows if he is ready for the new projects including web & print design, as well as branding.
The webpage has a pleasant color scheme: arrows and characters of orange color look cool on the lovely light gray ground, and the owl image shows his hunger for illustrations.
Joe Payton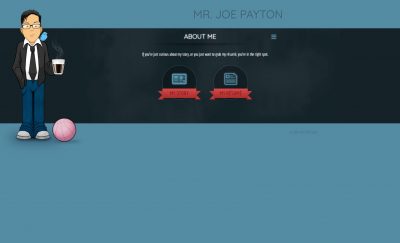 Visit the website: https://josephpayton.com/about/
This is one of the most interesting About me examples, that hits the bull's eye: It's rather creative, very confident, and quite easy to perceive.
The illuminating self-portrait of designer and animator immediately creates a brand in your mind that you will definitely remember. One more important thing: Joe clearly shows his expertise in the field he is working in. Visiting the webpage, you get a clear image of what he creates, and why he makes it this way.
Yellow Leaf Hammocks About me page example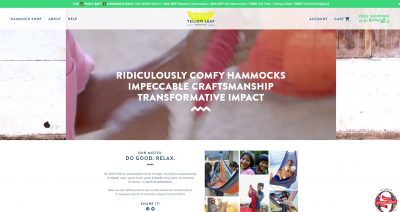 Visit the website: https://www.yellowleafhammocks.com/pages/about-us
If you have an exciting story about how your brand, product or service appeared, place it on the "About us" page – as these guys did!
Copywriters of Yellow Leaf Hammocks did an excellent job of talking about the journey of the founder of the brand to Thailand, where his "great idea" about creating a company that produces hammocks was born. The text itself sounds surprisingly poetic, drawing the memorable images like "a hammock surrounds you like a silk cocoon and gently holds you in its arms like a cloud".
Apptopia – About us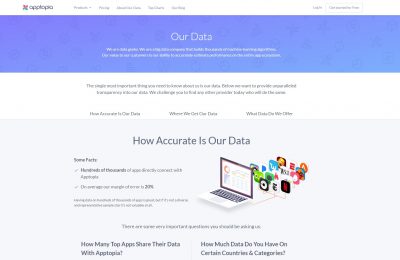 Visit the website: https://apptopia.com/our-data
We all love to seem smarter than we really are, and one of the most effective ways to achieve this effect is to use professional jargon!
A simple but carefully verified language that describes the essence of Apptopia startup easily conveys the meaning to the average person in the street.
Kero One – portfolio About me examples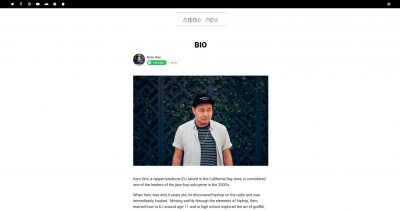 Visit the website: https://www.kero1.com/about/
We have found one of the best portfolio about me examples, that rocks, and yes – it is multilingual.
About me page of this DJ and hip-hop artist tells you his story in different languages – English, Korean, Japanese, and Chinese. Attracting these fans makes Kero One's brand more inclusive of all the markets he identifies with.
LessFilms – blog introduction About me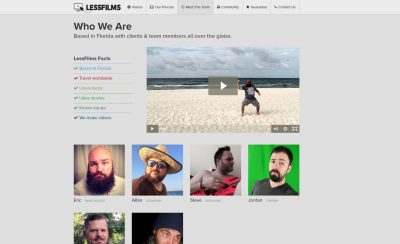 Visit the website: http://lessfilms.com/about/
This is, maybe, one of the most interesting blog introduction about me examples we have found.
LessFilms video-production team achieves a stunning personalization effect using ingenious texts and the interesting character – a giant wrestler. And even though the great fighter and the amusing headings have nothing to do with the company's business, they show that the brand owners do have the sense of humor!
Eight Hour Workday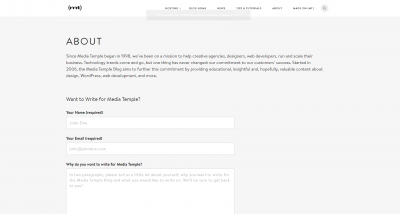 Visit the website: https://mediatemple.net/blog/about-2/
We think that his page is just wonderful for the reason it is very humane!
Eight Hour Day company specialists did an amazing job to demonstrate the true identity of the creators of the company, for which the names and real photos of the company's founders were used on the About us page. Even a photo of the owners' dog helps to humanize their brand!
Callia Media About me page example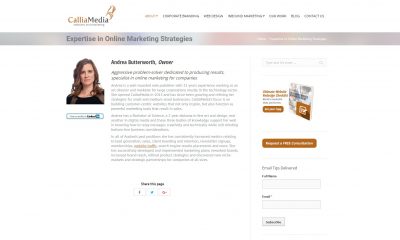 Visit the website: http://www.calliamedia.com/andrea-butterworth-online-marketing/
This webpage is very good since it directly speaks to customers.
Andrea Butterworth, the owner of Callia Media, is an experienced, highly qualified marketer, and this fact is clearly stated on her website's page. But more importantly, Andrea provided the "right to vote" to her grateful clients.
Thus, an ideal balance between personal information, a description of the company's achievements and reviews of the biggest fans of the brand and Andrea personally was reached.
I Shot Him About me page example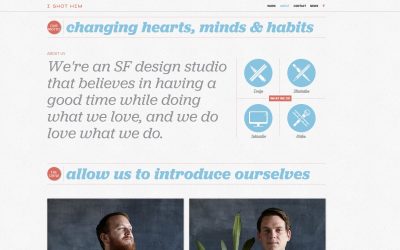 Visit the website: http://ishothim.com/about/
This page completely breaks the stereotypes of perception!
The title, sharp as a shot and the incredibly funny self-presentation of the members of this remarkable creative team set up the acquaintance with them. The page shows you the real faces of this cheerful company, which creates the right mood!
Mailchimp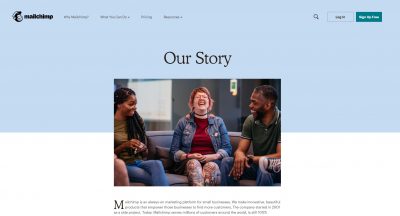 Visit the website: https://mailchimp.com/about/
Another good example of a client-oriented «About us» page is Mailchimp email newsletter webpage. In the second paragraph of the text, they say:
«Enough talking about us – let's concentrate on you! No matter if you manage your business or try to build your email newsletter campaign, you need a professional email–marketing team, that will take a good care of all the complex matters so you will get the chance to devote yourself to your job completely»!
More than that, the image of a monkey as a corporate character is a winning solution. There are some interesting replicas of a character and many amazing graphic elements on the site.
Bentley Motors – good example of the About us page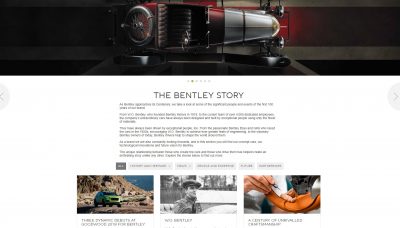 Visit the website: https://www.bentleymotors.com/en/world-of-bentley/the-bentley-story.html
Bentleys are among the most prestigious and luxurious cars on the market. Their About page demonstrates prestige through a clean and elegant design that contains stunning professional images and an interactive way of exploring the history of the brand, the factory, and the latest Bentley updates!
How to write an about me page?
1. Understand your customer needs.
Explanations: 
Your main goal is not to praise yourself, but to understand the needs of your potential clients and offer them a perfect solution.
The customer must find answers to his questions like the following:
What is your business and why can I trust you?

How can you help me to solve my problem?

What successful experience have you had?

How will I get the result? Will I get a guarantee?
2 Tip. Be professional in your field.
Explanations: 
You can use diplomas, certificates, reviews of satisfied clients, case studies, photo reports from thematic workshops and seminars to confirm your competence!
3. Be creative.
Explanations: 
Choose the creative approach when making your About me/About us page, try to completely forget all the «About me page templates» you know like «We are professionals in this field», «We have a huge experience», etc. Remember: all the cliché verbal constructions can be easily replaced by adding a little creativity.
4. You and your team.
Explanations: 
Post photos of your employees, a small set of photos from the events. It is important to show your potential client those people, who will solve his problem. This element will add confidence in the relationship between you and the client.
5. Use the benefits of statistics.
Explanations: 
Numbers are more accurate and more convincing than words – show your competence and use them:
How many customers have you got by now?

How many years have you been working?

What is the assortment of goods/services of your company.
Explanations: 
The email subscription form at the bottom of the About us page increases the number of subscribers by at least 2 times!
7. Work out the About page title.
Explanations: 
Use the headline and subtitle to show your readers the core mission of the company, maximize customer benefits and call for action.
8. Voice your positioning and mission.
Explanations: 
Try using the bold option for positioning – voice yourself as number one in your field! But will have to prove it with something convincing.
Formulating the mission, it is also crucial to indicate what exactly you are doing (or will do) to accomplish it.
9. "How do we work"?
Explanations: 
A very important block showing that you offer client-oriented business. In fact, you are deciphering the great phrase "an individual approach to each client".
10. Talk about your values.
Explanations: 
Your goal is to show the consistency of business, core values, ​​and your customer care. Punctuality, responsibility, individuality, accuracy, enthusiasm – you have to clearly explain how these qualities are applicable to your work.
11. Finish the About page text with a CTA.
Explanations: 
The visitor reads your text in order to get as close as possible to the decision making. Gently tell him what to do after reading!
Use Weblium to make the whole process much easier – get your perfect website done within just 72 hours!
Try Draftium to build your unique about me page templates (or about us page templates) in a couple of minutes using our ready-made blocks.
If you need professional help, our UX-experts will build a perfect website structure for you in 24 hours!
Related Articles:
One Page Website: What It Is and How Do I Use It For Business (November 2018)
What Is a Microsite and Why Do I Need One? (December 2018)