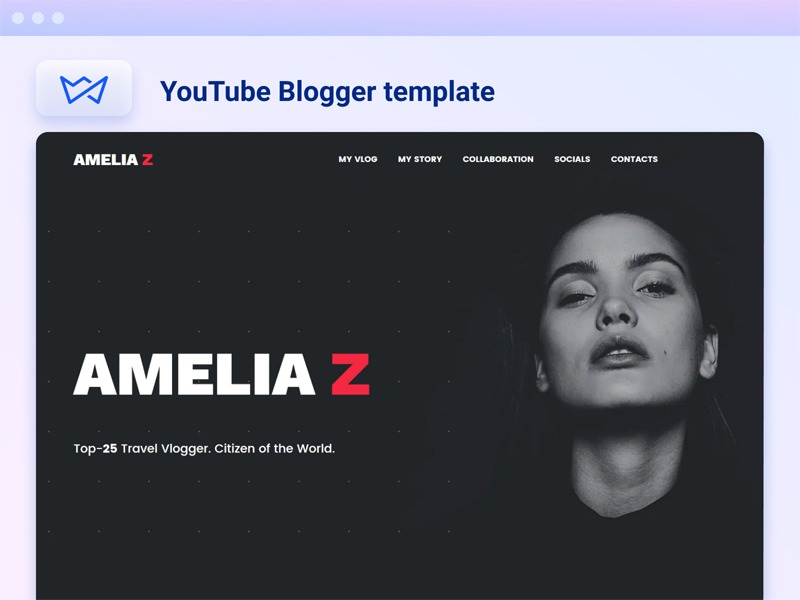 Must-have Elements of Stunning Blogger Templates
Having a business site in addition to your social media accounts isn't enough.
In the modern world, a personal website is a must-have for every influencer. Your site is your business card, CV, and influencer media kit, all rolled into one. An influencer site is a crucial component of making both advertisers and followers take action.
Fortunately, you don't need to create a blogger site from scratch—you can easily take advantage of ready-made blogger templates that are available on the web for free.
So if you still don't have a personal influencer site, go ahead and read our blog post about the must-have elements of best-in-class blogger templates. This article will give you a clear understanding of what items are crucial for your future blogger website. Moreover, there is a great perk in the blog post—a free YouTube blogger template created by Weblium web designers with the best blogger template examples in mind.
That's fine, but do I really need a site? 
If you're putting all your energy into maintaining your social media accounts, you may ask why you need to invest additional time and money in your websitе. You may say that many influencers don't have sites and still manage to be pretty successful. 
Of course, a personal site isn't the single key to success, and it won't bring an enormous number of followers and brand collaborations the day after your site launches. However, an amazing personal site certainly makes an influencer business grow better and works astonishingly well in tandem with other influencer activities.
We have some more arguments that are likely to change your mind. 
Every respectable influencer has a site. Having one indicates that being an influencer is a "real job" for you, and you're eager to invest in keeping your site.

A site can be an additional channel to funnel traffic from Google to your social media, especially with good SEO.

On the site, you can showcase all the information that you want the world to hear from you. If you don't want to craft unique content for your blogger site, just distribute the content that you've already created and published on your social media. 

A website is the perfect medium for sharing followers' reviews and your best collaborations with brands.

Sooner or later, you will come up with an idea to write a book, launch an underwear collection, or create an educational course. Where will you organize information about all these projects? A site would be a great option for that in terms of navigation and visually appealing interface.
We could go on forever, but let's consider the opinion of somebody who knows it backwards and forwards.
"Working in the online world requires being always present on social media. However, social media posts don't have long lifespans, so you should always be on the roll providing top-notch content. In contrast, a personal site can include only your best content. It will allow your site visitors to instantly get to the bottom of what you're worth. For me, my personal site is a significant communication channel that I can use to tell people about my projects and make them interested in collaborating with me."

Yuval Rechter,
Influencer, leading expert in viral content, and Chief Product Officer at First Media.
Now let's go through the must-have elements that an amazing influencer site should include.
Must-have Elements of a Superior Blogger Template
In this paragraph, we won't talk about the necessity of having header and footer blocks, making a website responsive or adding a custom domain name. These items are vital for every site, notwithstanding the website's niche. We will mention only those site elements that are the most common on influencer sites in particular. 
1. Info about you/bio
A bio paragraph is a short and juicy description of your life—your background, achievements, and values. In this copy, be as sincere and direct with your readers as possible. Who knows better than you that this is the greatest way to make people interested in your story? Mention what you're passionate about, besides blogging. Do not copy others because only your unique experience can convince site visitors to quit mindlessly scrolling and get them hooked on your content.
Their personal and very authentic bio set this couple apart from the crowd. Their "about me" description indicates that they're firm believers in living their best lives and being serial entrepreneurs at the same time.
2. Influencer Media Kit
Create an influencer media kit with detailed stats of your current social media followers and site visitors, pricing plans and audience characteristics. Be honest with advertisers and don't fudge your stats. Otherwise, the truth will reveal itself. With tools like Fohr Card and SocialBlade, advertisers will find out if you're cheating them in a few seconds.
You can use many tools for creating a powerful influencer media kit, including Adobe Photoshop, InDesign, or online services like Canva or Crello. If you still don't have an influencer media kit that you like, check out this handy article about how to create one.
We highly recommend adding a separate page called "For advertisers." It would be a great idea to set up a contact form there and gather brands' inquiries via this form. In that way, you'll be able to manage all the brands' offers in one place.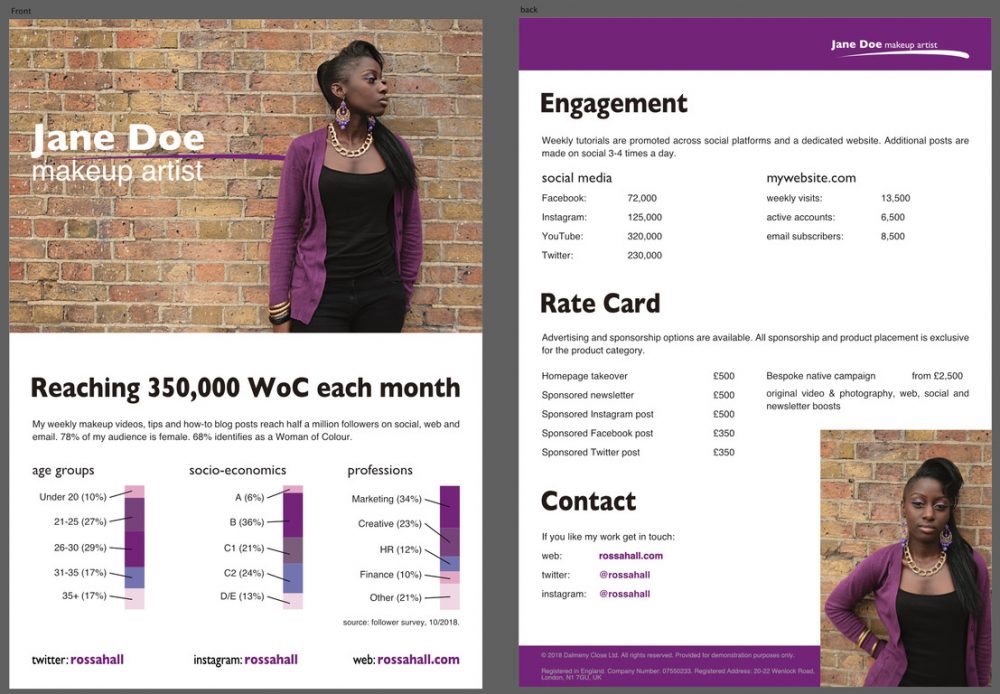 Here's an example of the highly converting influencer media kit with visually presented audience characteristics and rate card.
3. Testimonials
From testimonials, your prospective followers/customers will get an understanding of what kind of vibes you give off. 
Don't write testimonials yourself. Ask your brand adapters to write a few words about you. It would be great to have them share their personal stories. 
It's likely that your followers are your customers or will become your customers when you get started with your own business, so your testimonials can describe you as an influencer and a business owner.
You can show not only your followers' reviews but also your advertisers' reviews. The testimonials of brand representatives who you've worked with are often the main reason for your potential advertisers either deciding to work with you or passing over your site like so many others.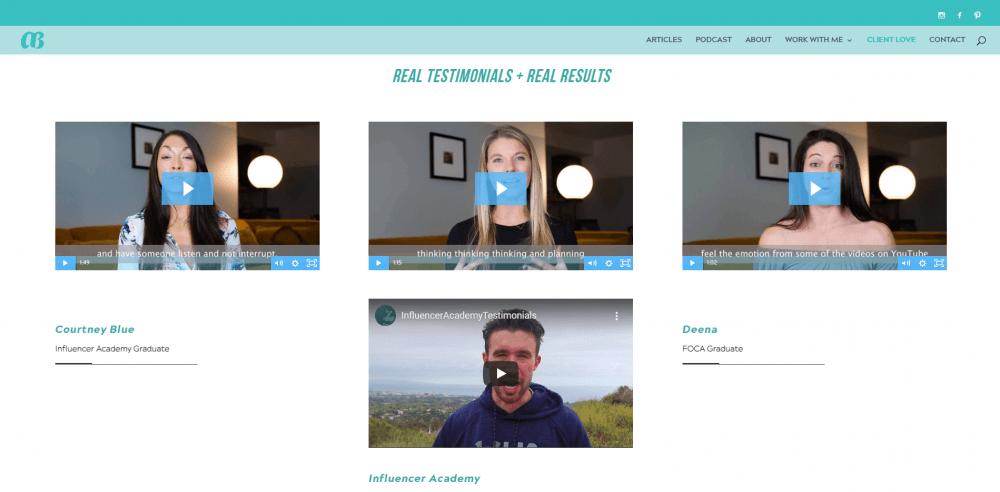 Video is the best way to showcase reviews. Instagram influencer, online business mentor, and social media strategist Amanda Bucci created a page called "Client love," where she placed customers' testimonial videos with subtitles. 
4. Blog posts
Publish your best pieces of content—social media posts, podcasts, and YouTube videos—or write new articles specifically for your blog. Do not forget about SEO research before writing your blog posts. Find keywords with low SEO difficulty and high search volume to come up with topics that are likely to get ranked on the first page of Google. Blogging with good SEO will help you attract new readers and followers from search engines.
If you want to constantly update content on your site, it makes sense to create a separate Blog page and run your blog according to all blogging rules. Structure your blog posts by categorizing them into the latest, the best, and the highest-rated ones, and it'll increase average session duration—the time that users spend on your website.
If you're serious about blogging, publishing blog posts isn't enough. Try to build a community of like-minded people around your blog by engaging with them in the comments. Set up Google Analytics on your site to track what kind of content resonates with your audience the most.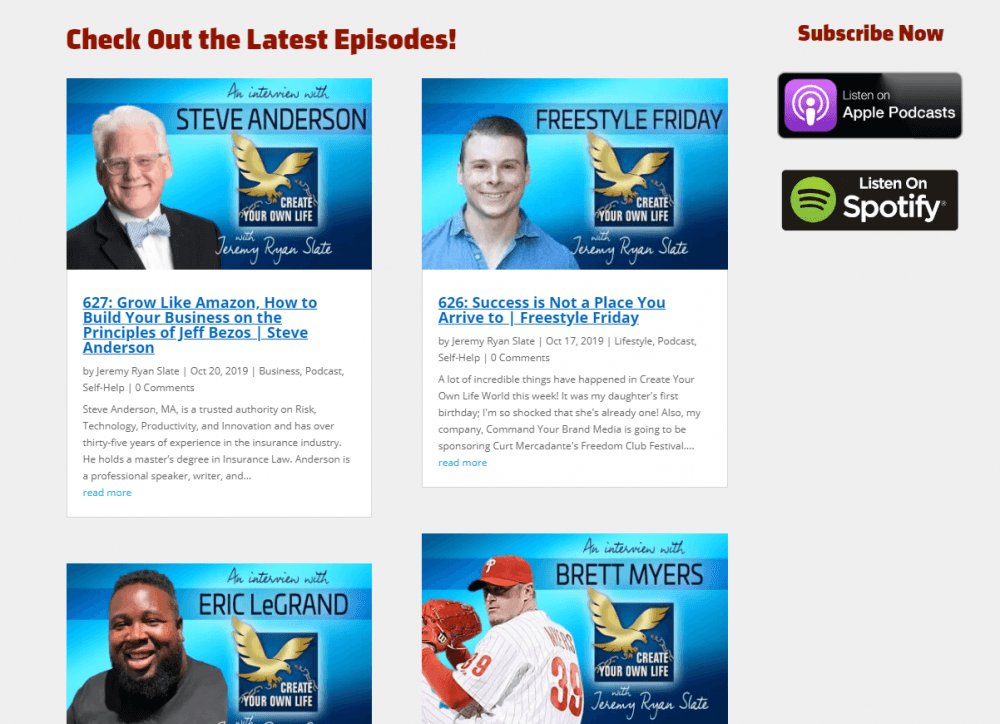 Jeremy Ryan Slate, the host of the iTunes Top 100 Podcast, displayed podcast episodes on his site and added Spotify and Apple Podcasts buttons.
5. Mentions in mass media 
Although mass media is often accused of spreading fake news, people are used to trusting them. Mentions in mass media can profoundly increase the chance that you'll capture the attention of both your potential followers and advertisers. If you've been featured in the media, take advantage of it and add links to these TV programs, podcasts, and articles on your site.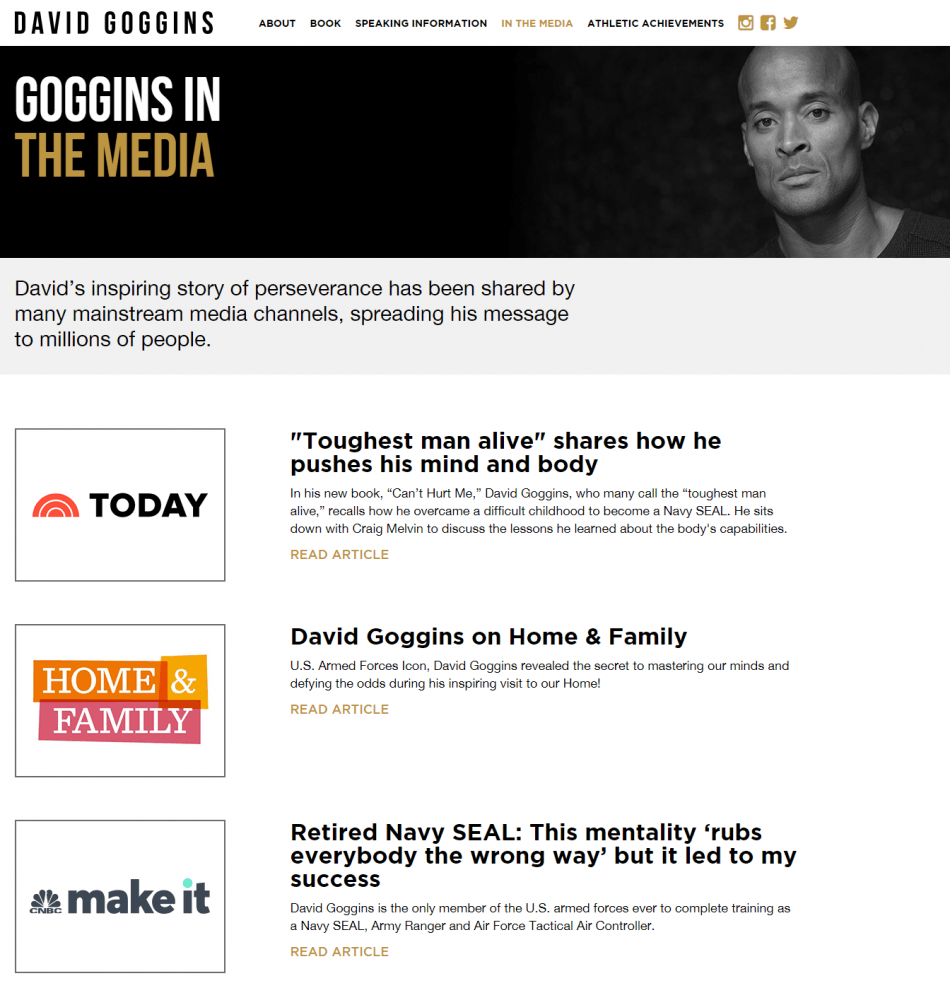 David Goggins, one of the world's best ultra-endurance athletes, has a page with mass media publications that he's been featured in. This page includes not only short summaries of publications but also David's quotes.
6. Contact information/Social profiles
You can't even imagine how many people forget to add social media buttons on their sites. It's crucial because it might help you convert random website visitors into social media followers. The first thought that pops into the mind of people who end up on your site by accident is finding you on Instagram or Twitter.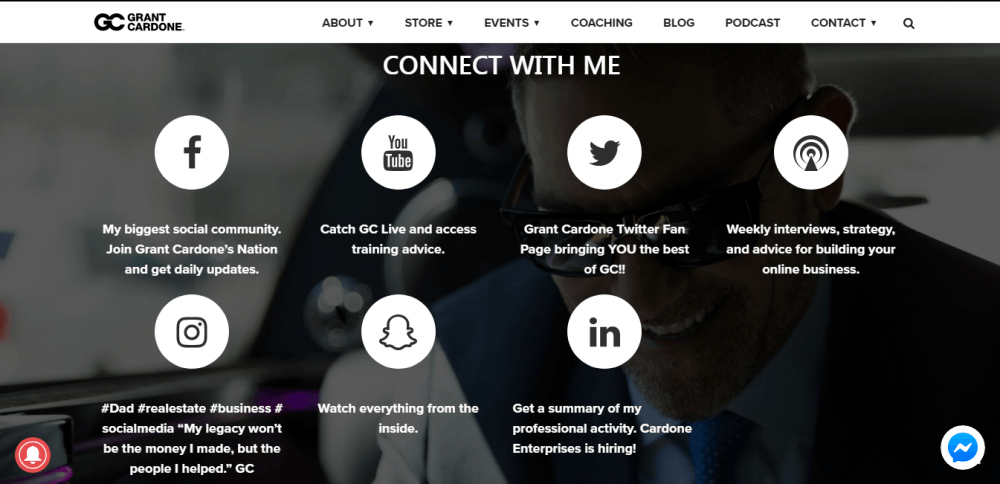 Grant Cardone, world's #1 sales and marketing trainer, added short descriptions to social buttons to guide visitors through what they can find on his social media.
How to create a blogger site
As we mentioned before, building sites with HTML is a thing of the distant past. We live in a world of ready-made solutions, and there is no need to reinvent the wheel. You can create a professional-looking and catchy influencer website yourself without any coding skills. All you need to do is choose the right blogger template and customize it to your own needs.
However, even selecting a template can be tricky. This blog post is already quite lengthy, so we won't dwell on this topic, but here is a handy article about 10 crucial tips for choosing a website template for future reference.
You don't need to look far to pick up a great blogger template—we at Weblium have something great to offer. In the Weblium editor, you can find an amazing YouTube blogger template that is based on the best influencer sites and is completely customizable—so you can include your own images, fonts, and even branded color palette. With some quick design changes, you can make the template fully represent you and your brand.
Take these steps to start building your blogger site with this free blogger template.
Go to your Weblium account → Put a Create new button → Go to the All templates tab → Navigate to the Portfolio & CV tab → Choose the YouTube Blogger template → Click on Start editing button → Add your own content and customize the template design.

If you still don't know, Weblium is an intuitive website builder powered by AI Design Supervisor. Besides this template, there are more than 168 pre-designed templates in the Weblium editor that you can use as a base for your blogger site. Moreover, you can choose relevant blocks from more than 227+ preset sections and add them to your influencer template.

If you prefer focusing on your strong suits and want to delegate site creation to the professionals, order a website from Weblium Studio. They will create the whole website in 5 days, and you'll be able to edit it yourself in the Weblium editor afterward.