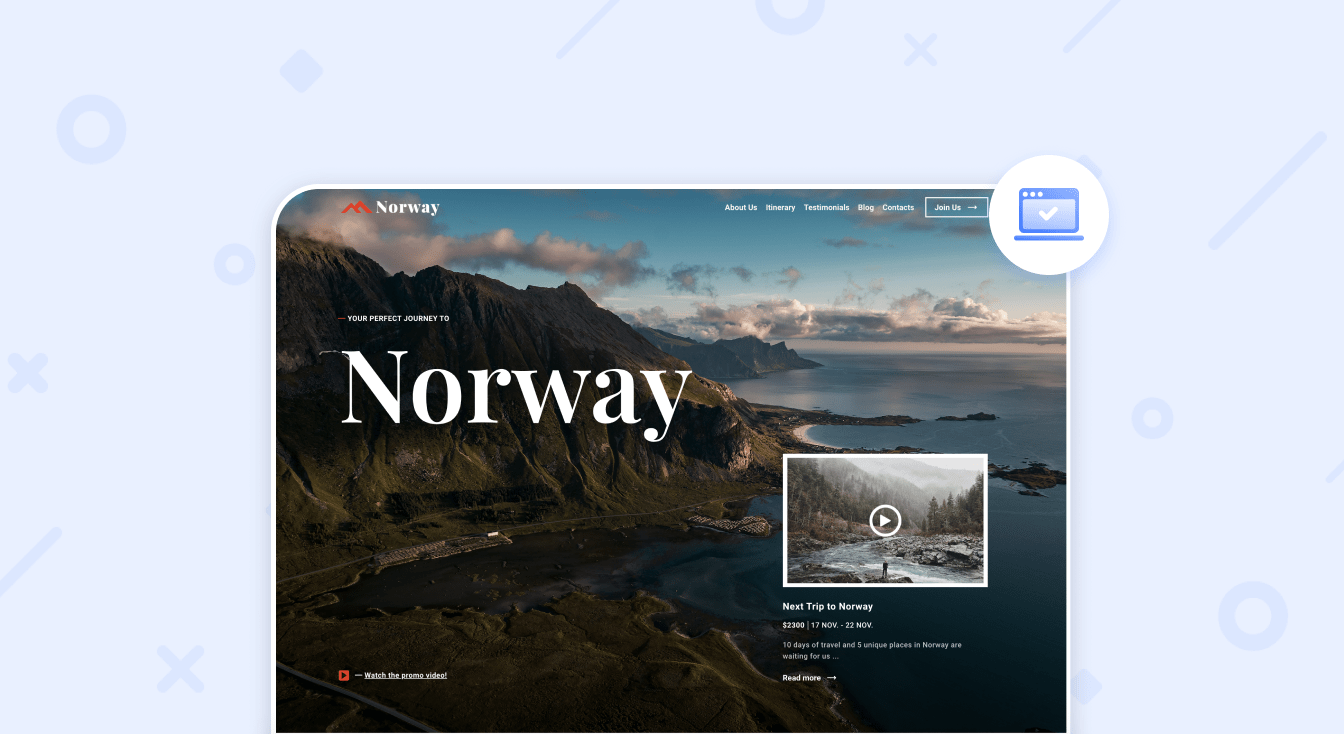 Travel Site Template Reviewed & Best Tourist Website Examples
Whether you are a private guide or run a travel agency, having your own website is a must. Because today, more than ever, people are looking for everything they need on the Internet.
Don't miss your chance to show up in search results when your potential customers are looking for tours, excursions, or an experienced guide.
Today we will talk about what travel website design should look like, share the best tourism websites, and review some stunning travel agency website templates. We'll also teach you to create your own travel website really easy and fast.
Best Tourism Websites
Before creating your own travel site, take a look at other great travel web designs of extremely popular sites all over the world.
HotelPlanner is one of the largest and most popular travel agencies in the United States with 5 million unique visitors every month. On the first screen of this multi-page site, clients can immediately use a simple form to select a tour based on their criteria.
Pay attention to the pop-up in the upper right corner that notifies about other people's recent bookings. Many other best tours websites, such as Booking.com, use the same advertising technique to look more convincing.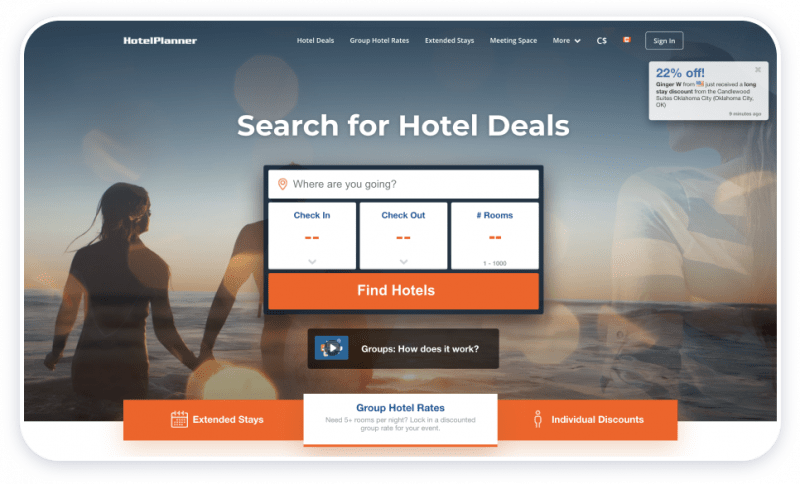 This agency offers package tours to different parts of the world. Clickable blocks with bright images of different cities look very attractive. This is also a multi-page site. So, more tourist destinations and detailed information about tours can be found on other pages.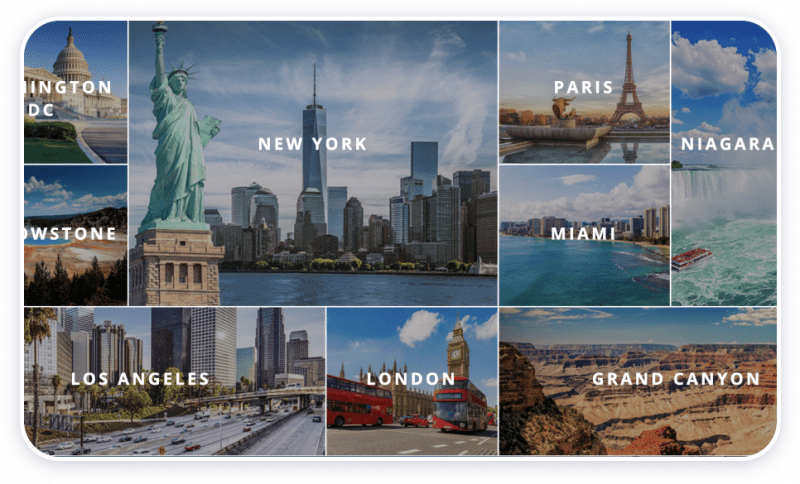 My Precious Paris offers guided tours in one of the most romantic cities in the world. The first thing you see is the inspiring panorama of Paris at night. Further, you can familiarize yourself with current tours and reviews of those who have already been on excursions. We think it can be considered as the simplest and best travel website design for its minimalism and well-placed color accents.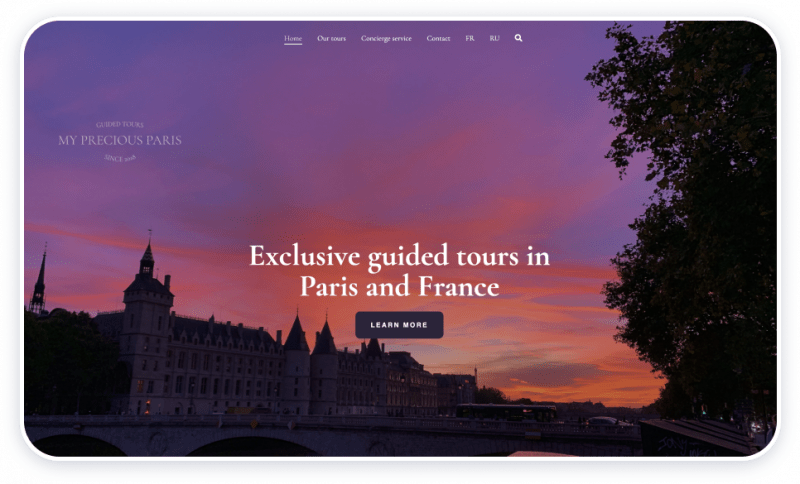 How to Create Tourism Sites?
Ready to create yours but not sure how to make a travel website? Start with the structure. Any travel template should have the following sections:
About you

. Tell your audience how long you have been working, why you should be trusted, and in which tourism sector you work.

Gallery

. Travels are always about beautiful places – so, show them to your audience.

Contacts

. Give your potential customers as many options as possible on how to contact you.

Contact form

. Many users prefer to fill out a form and describe their request, rather than call or write to you.
Of course, the structures of most travel and tourism websites are similar to each other. Therefore, if you want to engage your audience, you need to think about how you can stand out.
Make sure your tourism website design is modern, stylish, vibrant, and user-friendly to outshine competitors. Do you think that creating such a site will take months, and will be very expensive? Not if you use the Weblium travel agency website builder. 
Just choose one of our lovely travel agency website templates created by our professional designers. Building a travel website is really easy with our AI Supervisor that helps you avoid any kind of designer mistakes. All you need is to fill the template with all the info you need and add your images. That's it! 
New
Travel Site Template
by Weblium
Let us show you one of our newest tours and travels website templates. Guided Tour is designed for individual or group tours in any region. It looks very modern and stylish. Let's take a closer look at it.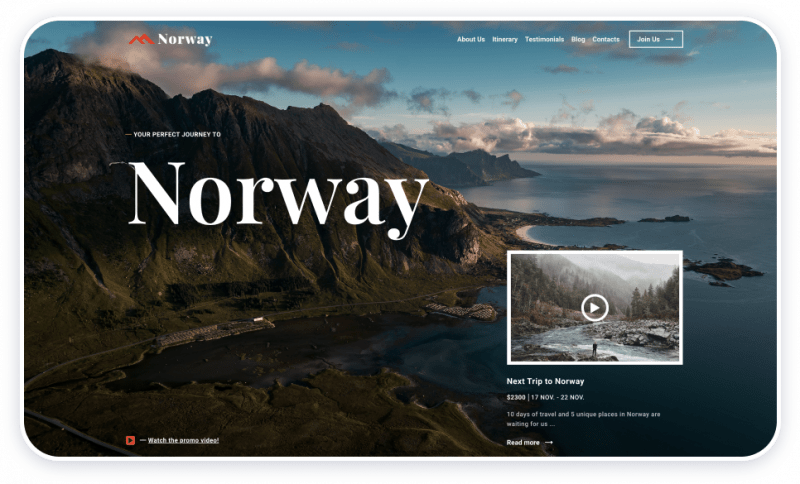 We have dedicated this travel agency landing page to group tours in Norway, a wonderful country that attracts millions of tourists every year. However, if you offer tours to other countries or regions, you can easily customize it. All images and backgrounds on this travel agency web template can be changed in a couple of clicks.
Our travel guide template begins with an inspiring cover inviting visitors to watch a video about Norway and learn more about the next tour.
About Us is the next big block. You can tell about your agency here. Show your expertise and convince clients that they can trust you. And don't forget to tell users how to book your tour.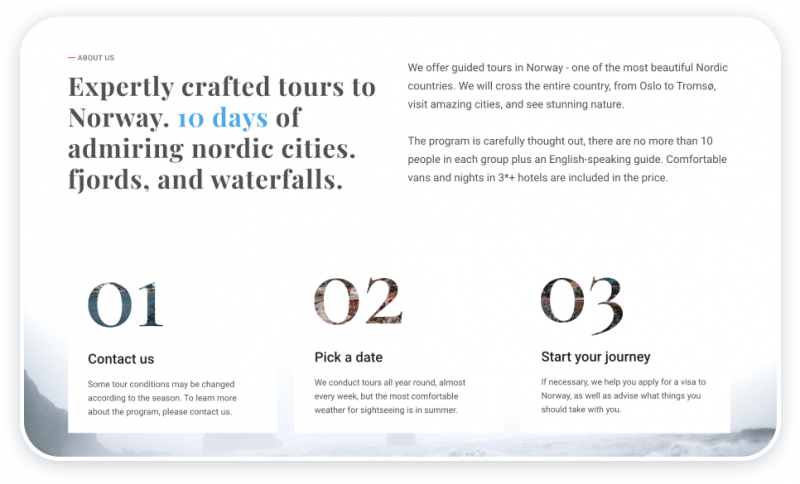 About Us is the next big block. You can tell about your agency here. Show your expertise and convince clients that they can trust you. And don't forget to tell users how to book your tour.
The About Us section is followed by a block with general data about the itinerary and the country. You can easily change all this information, too.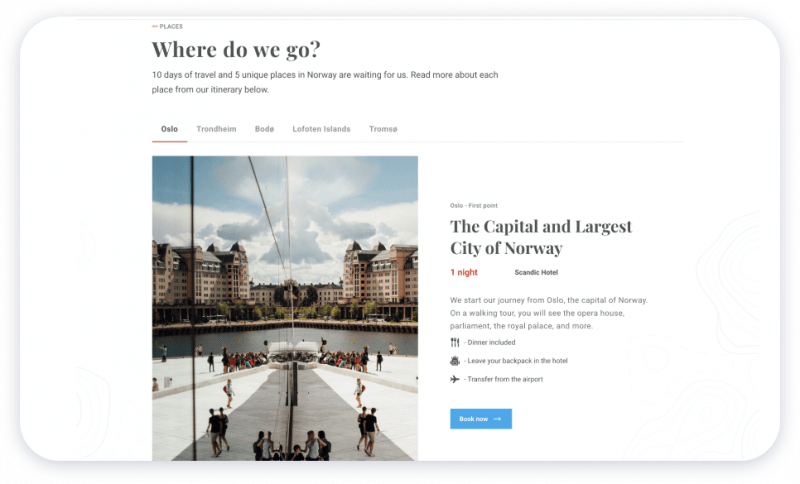 You can use a block with several tabs to tell about the points of interest or offer several tours with different dates and prices.
This free travel agency website also includes a gallery, FAQ, and blog. Users can leave their requests by filling out the contact form or by contacting you directly. We've also added a Testimonials block to this template. Sincere reviews from your customers will convince other users that they can trust you with their vacation.
Guided Tour is a really stylish, fresh, and quite versatile travel landing page template. It is a good choice for guided tours and small agencies.
Top Travel Website Templates on Weblium
In addition to our newest template described above, we have several other travel agent templates. You can customize each of these tourism website templates to create a free travel agent website or a personal travel blog in just a few hours.
It is one of our versatile travel agency templates. It is perfect for any small travel agency. It is a multi-page website that you can customize however you want. The feature of this site is that it includes a block with popular tours.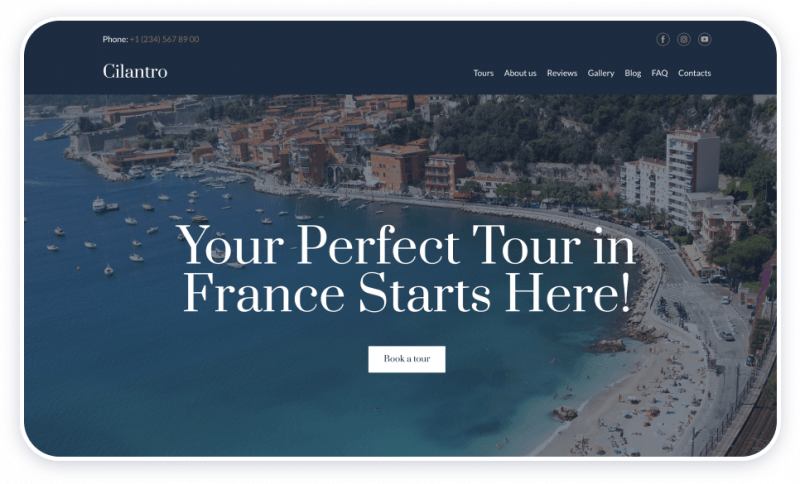 This stylish travel blog template is perfect for travel bloggers. You can create each article on a new page. There is also a separate blog functionality. Nicely accentuated subheadings and stunning photos look great. You can use this template when designing a travel blog about any country or city.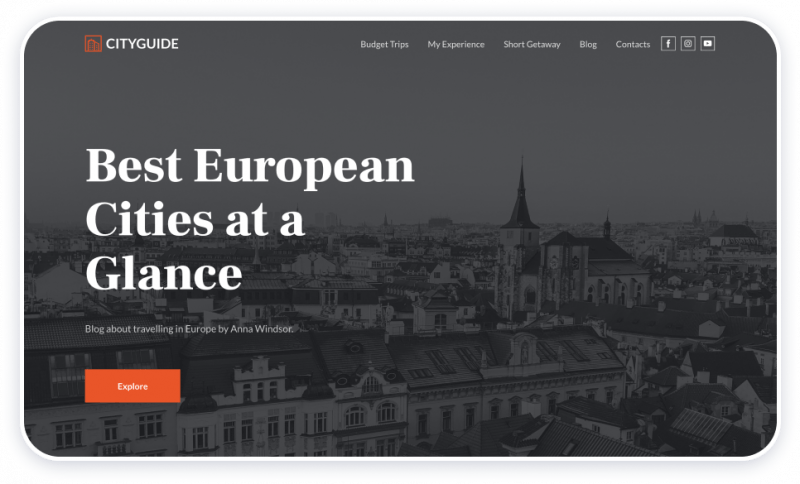 Yacht Charter Template
The main advantage of this template for website tour examples is the vibrant color scheme and well thought out structure. All you need to do is change the copy a little for your company, and your travel website is ready.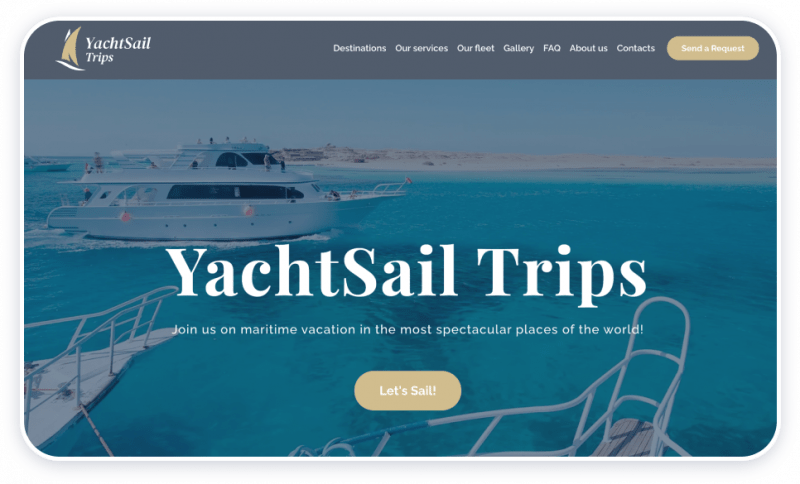 This is a template for exotic guided tours to unusual places in Africa. It is a multi-page site with a vibrant design. Your customers will definitely like it!
If you want to promote a specific tour, start with this template. It is one of the best travel landing page examples. This template has everything you need for a detailed display of important information about the trip.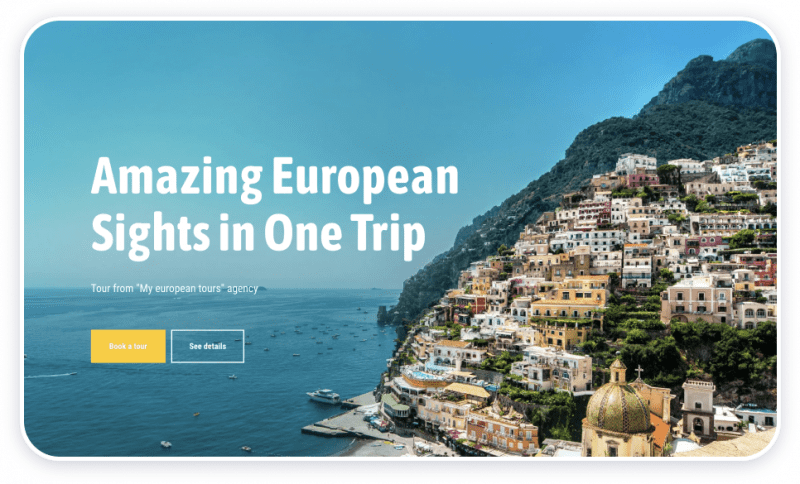 Travel Agency Advertising Samples
Once you've created your site, it's time to think about its promotion using different advertising approaches on different channels. Let's take a look at nice advertising examples of various travel agencies.
Thomas Cook & Sentido Ad Example
Despite the collapse of Thomas Cook in 2019, this travel agency used to be one of the largest and most popular in the world. Take a look at this ad. It reflects everything that people can dream about on vacation: a secluded resort, calm sea, sun loungers, and a pool.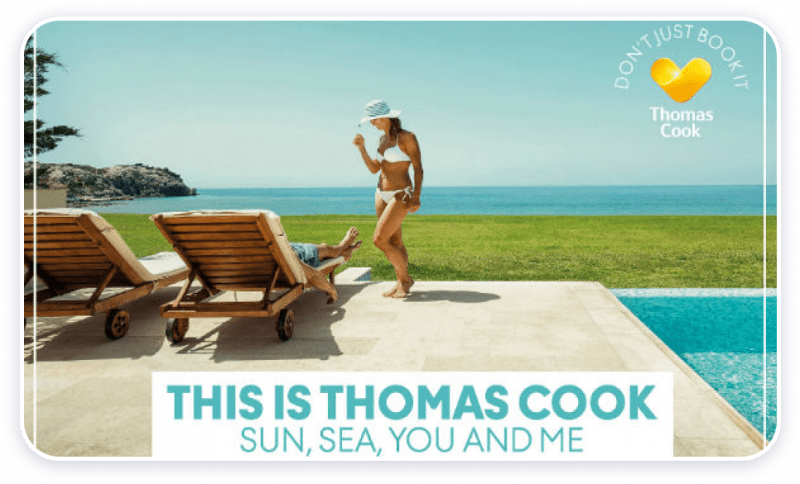 Cruises Advertisement Sample
It is a good example of printed ads (brochure or flyer). Please note that on one page, there are only beautiful large images and minimum text, while on the second page, you can read more detailed information about this cruise concept. The text includes several colors and different fonts to highlight the most important information.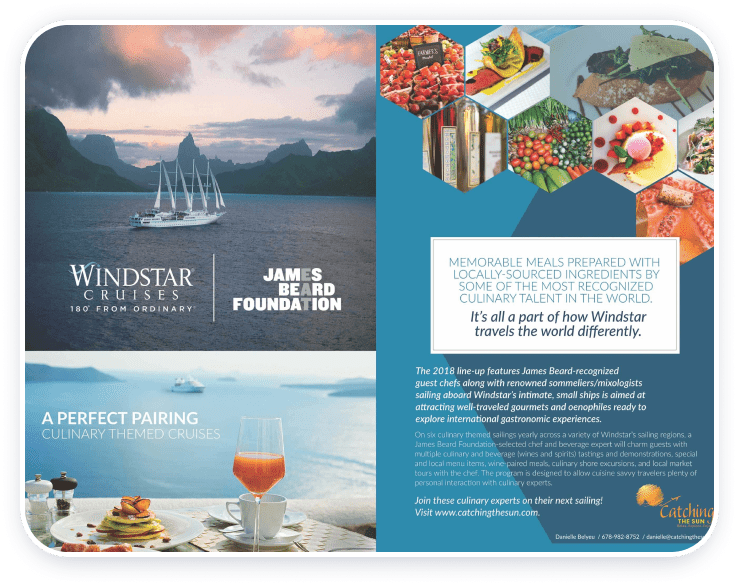 TUI Ad Example
This example of advertising is perfect both for a magazine spread and a billboard. It doesn't contain much text, the focus is on the client and hotel staff. TUI travel agency puts the client's satisfaction in the first place. All advertisements of this company are consonant with this approach. Who doesn't want to feel like a real star on vacation?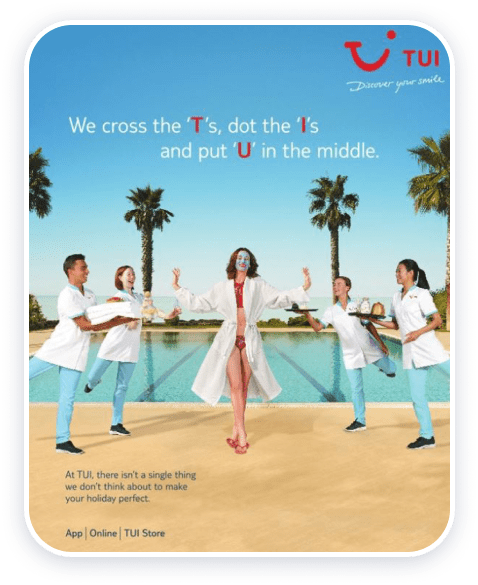 Summary
As you can see from the examples of popular travel sites and Weblium templates, the main rule of creating the best travel website design is to be bright! Remember that for many people, traveling is associated with vivid impressions and beautiful places. Show your potential clients all the beauty of the places they can visit if they contact you.
Also, remember that there are many travel agencies on the market. To stand out, think about your unique features and reflect them in your website design. Don't forget about social proof as well. Be sure to post reviews from your customers on your website.
Do not overload the main page of your website with various elements: you can hide all the details about tours in the inner pages. With our simple travel agent website builder and ready-made travel agent website templates, you can create your own website on Weblium in just a few hours.
We hope that our article will help you create an effective website and attract more tourists. We wish you success!