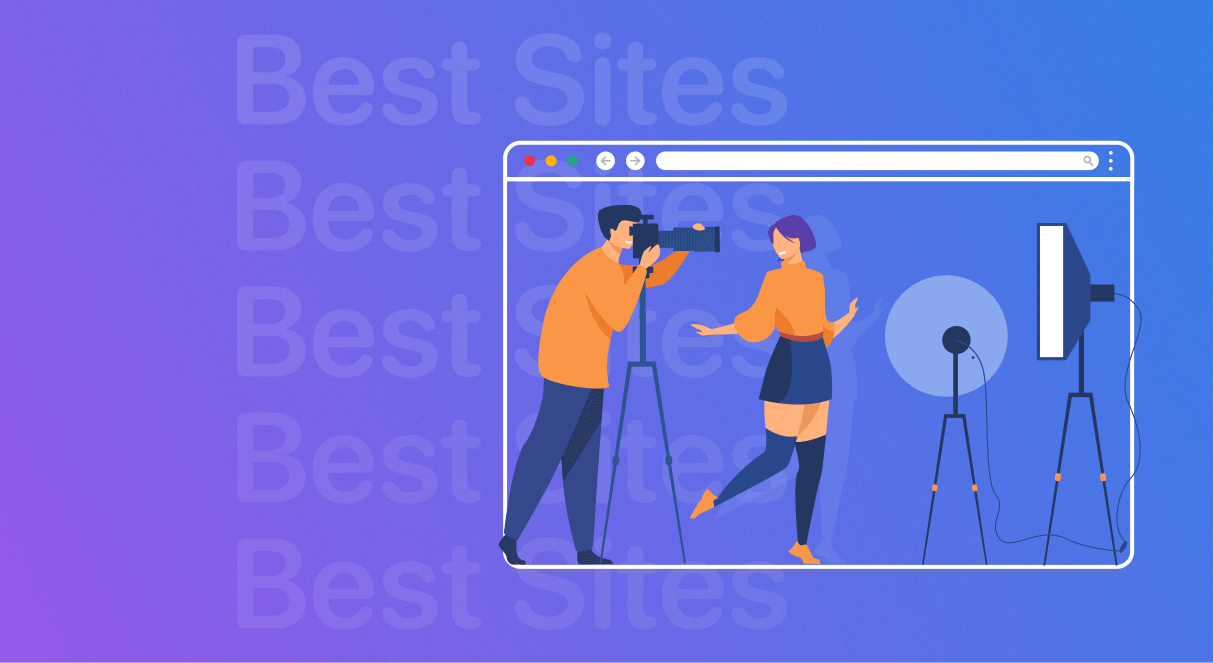 Best Photography Portfolio Websites to Inspire You
Weblium is a socially responsible company, and it attests to the fact by taking its educational function seriously. The website builder's research department constantly tries hard to explore insightful and inspiring cases to reignite within you the passion for your life's work. Photography is by all means a creative field, not to mention it is something that is really hard to do and stay positive and encouraged along the way.
Photography portfolio websites are a place where tech savviness, talent, and out-of-the-box thinking meet to help professional photographers and videographers to showcase their work. Portfolio photography requires no small amount of tenacity and a great propensity to critically evaluate one's own art pieces. The reasoning is just as smile as that. Photographer's portfolio is a tool that helps those who pursue that particular form of art to prove themselves. More importantly, photographer's websites help cameramen to reconnect with those who can appreciate their prowess and offer them a financial reward for their work accordingly.
If you already have your way around cameras, speak in images, or just do photography for the love of it, this article is intended to make combining technology, artistry, and creativity in your work a less burdensome process. Change your growth mindset for better, with Weblium by your side, evolve, and only learn from the best photographers.
Best Photography Portfolio Websites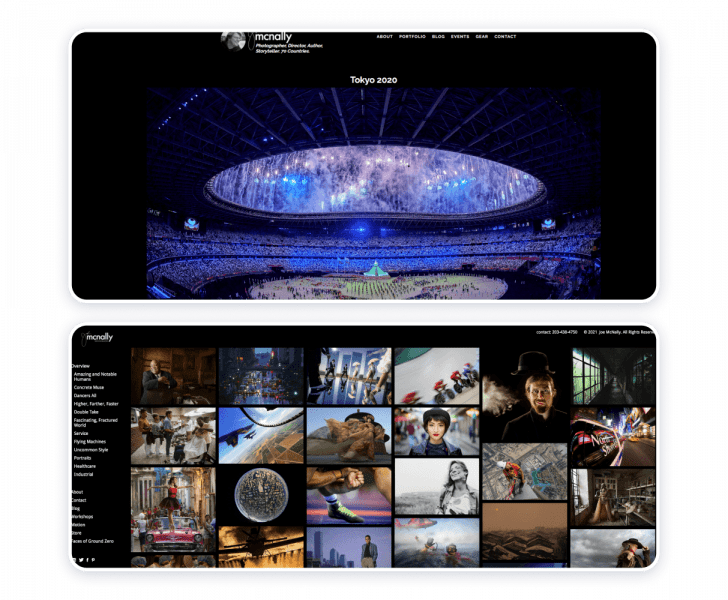 Joe McNally is a widely acclaimed photographer who most certainly has forged his own philosophy of image-making. A multidisciplinary artist's intention is to craft an image instead of merely documenting a moment. The expert's career spans decades and a variety of genres, from industrial photography to environmental portraiture and event photography. Over the years, the master has perfected creative lighting. Afterall, aside from theme and genre, light is the key to understanding the pattern that the photographer has utilised to arrange his portfolio.
Dark background contrasts with the plain, readable white font, and yet harmonizes with the low-key photographs. Hence, the creator manages to considerably improve the discernibility of his works' focal points.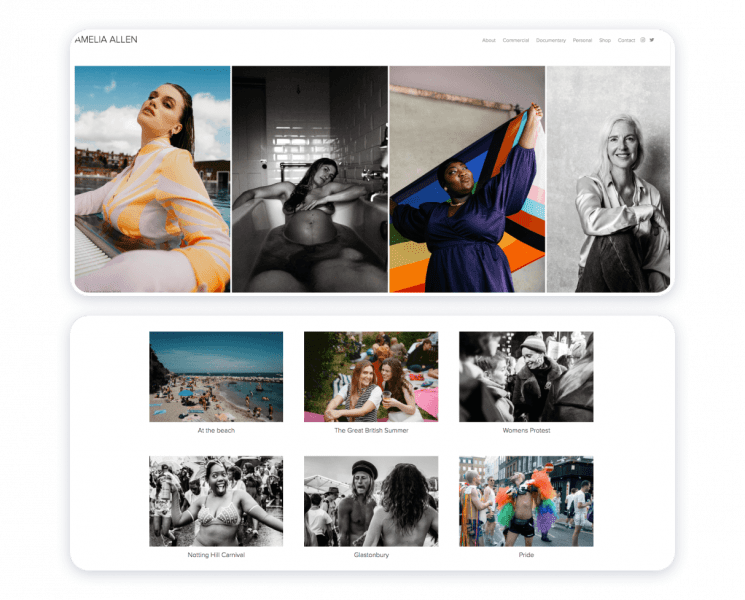 Commercial, documentary, and lifestyle photography is Amelia Allen's area of expertise. She prefers to lay out her works horizontally, rather than sticking with traditional grid structure, which makes her portfolio stand out from the rest. The attention is constantly on the images, so that a visitor of the website can form a more comprehensive view of the photographer's artistic style and creative manner. Arts and culture incrementally mirror the mindset.
Creators like Amelia Allen definitely help the contemporaries to re-evaluate the things that matter in life. The emphasis in this portfolio is on emotivity, the importance of building a harmonious identity and nurturing a healthy ego, as well as the magic of making and collecting memories.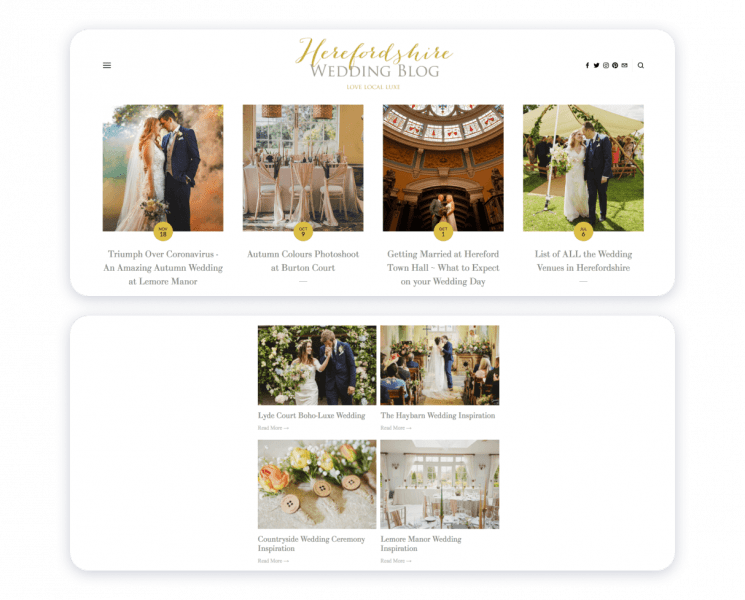 Gemma Williams specializes in wedding images, couples' portraits, and family photography. Velocity, moderate vibrance, inexplicable colorfulness and tranquillity. As a wedding photographer, Gemma Williams places the emphasis on the environment. Just as the venue serves as a frame to any event that takes place in it, white color of the background encases the images.
Pastel colors and arrangement of images in keeping with the rules of the color wheel bring even more harmony to this photographer's portfolio. The idea of blending a portfolio is a roadmap for creating a successful enterprise with a twinge of creativity in it.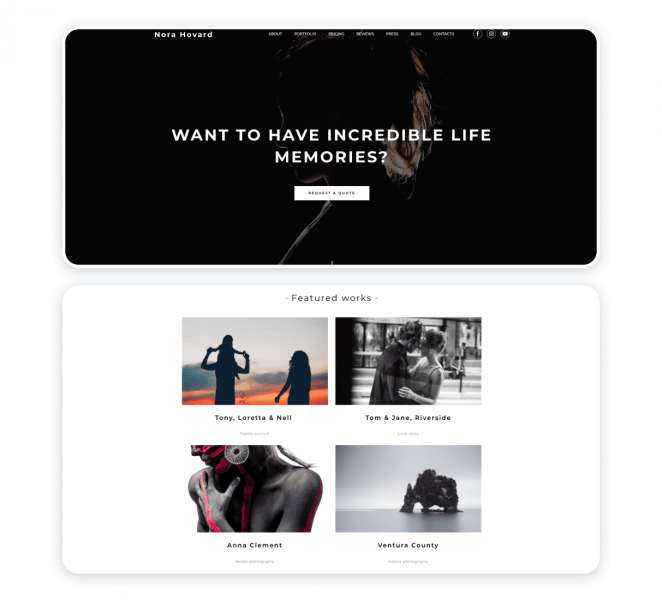 The photographer's portfolio website is the case of an expert combination of business (commercial), artistic, creative, and technological dimensions. The takeaway lesson from this example of a creator's website is that it is no bad thing to attempt to turn your skill, time, and enthusiasm into a commodity.
This artist has definitely some fresh and authentic perspective to offer. Besides, the expert gives credit to those she works with, mentioning them on her website's landing page. The artist exploits effectively the monochrome color scheme, adding just the little accents with purple, orange, pastel, and reddish tones.
Ryan Allen is a lifestyle, fashion, commercial, and portrait photographer. His portfolio website is a quintessence of a man's attitude towards and perception of the complicated world of fashion. The combination of black, white, and ochre almost golden tones looks really regal. This creator's portfolio serves at its best to render his identity.
The artist appears to be using his portfolio website not as merely an arena for communication, but also as a platform for forging his own brand and the brand's awareness. The landing page is neatly and pleasingly organized, presenting a visitor with every opportunity to experience the creator's adroitness and contact him if necessary.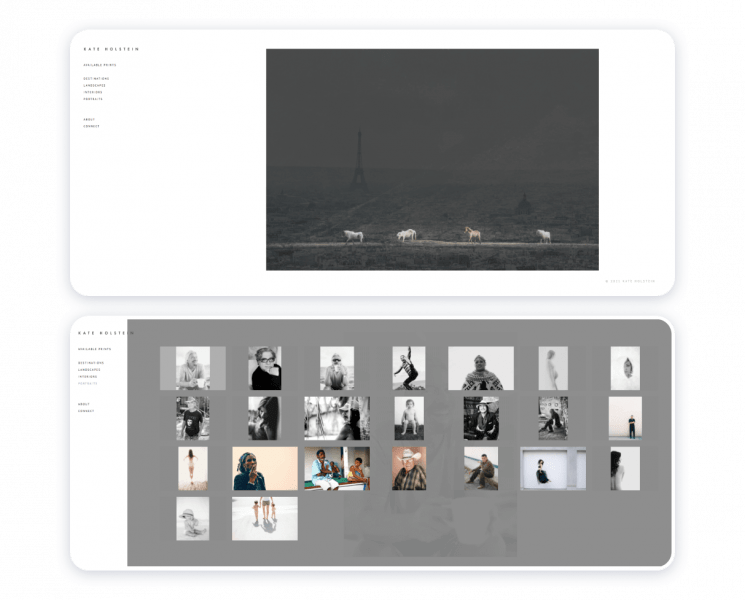 Kate Holstein is a professional landscape, interior, and portrait photographer. Her portfolio is an epitome of serenity, still it is rather impressive and powerful. Creamy, pastel, and faded almost translucent colors illustrate the style of this artist.
The creator's approach to selecting images for her portfolio can only be described as substantive. The coherent stylistic logically transforms into smart and functional design of this photographer's website. Laconicism, expression, and reasonableness make up this expert's winning strategy.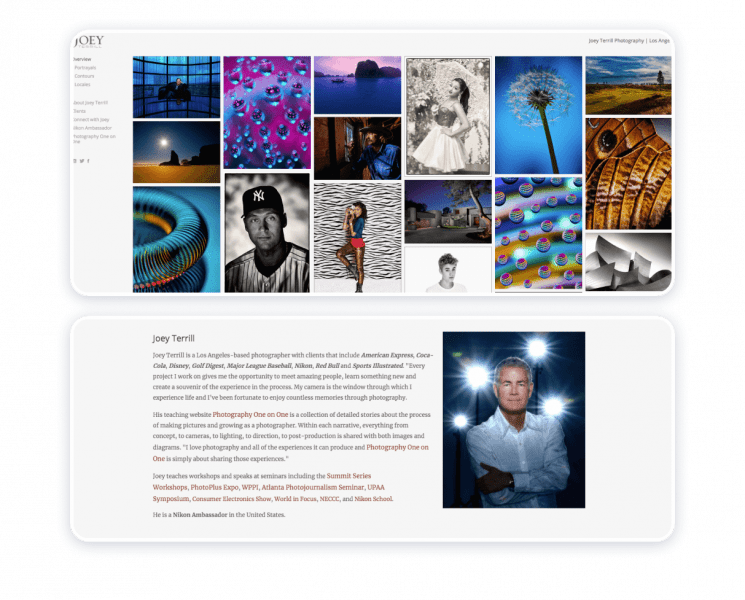 Joey Terrill is a famed environmental portraitist and macro photographer. The genres that this master has perfected over the years also include abstract, landscape, and street photography. The creator's portfolio is laconic yet magnificently expressive and it most certainly fits in with the maxim of crafting and image and encouraging the observer to look at mundane objects differently.
Different colors, textures, and shapes come together in Joey Terrill's portfolio, which may as well be the professional's secret to being a multisided and prolific artist.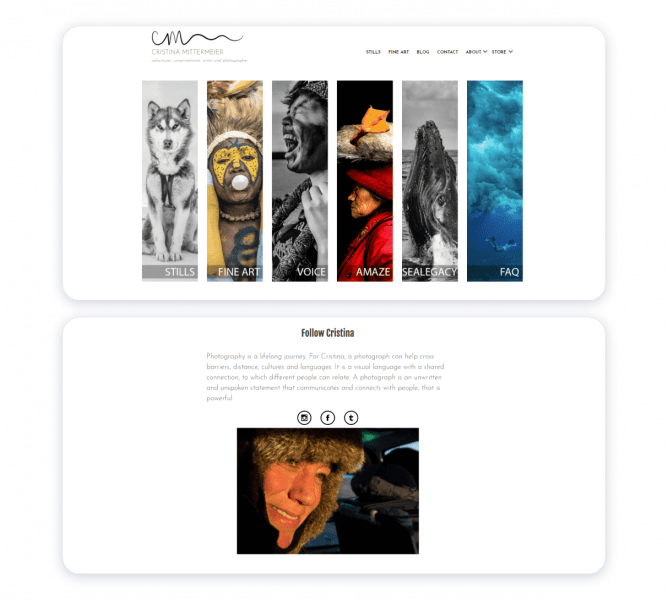 For Christina Mittermeier, pursuit if photography and joining the cohort of cinematographers was a conscious choice. Extraordinary cropping and layering of images on the landing page of the artist's portfolio accentuates the images' color palette and textures.
By showcasing her work, the creator helps to push forward a noble, righteous, and important cause of conservation of the environment and appreciation of cultural diversity and authenticity. The message on the connoisseur's website alludes to the necessity of revitalizing the notion of social responsibility of arts and culture.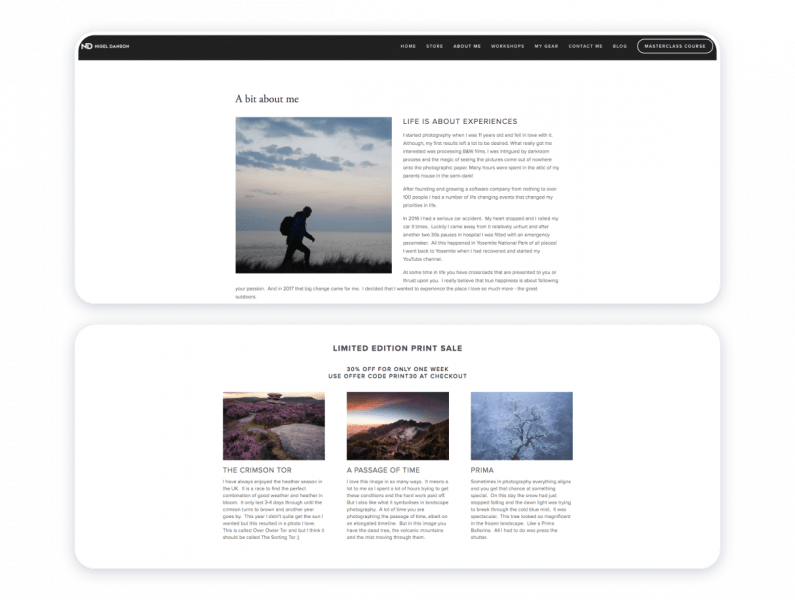 Nigel Danson is a landscape photographer based in England. His website is a vivid example of how technology can epitomize and harmonize with something that lies without the scopes of technology itself. Love of outdoors, respect for nature, and a desire to preserve the legacy of renowned masters, such as the great Ansel Adams, — all of them become reflected in the photographer's webpage.
Minimalist design, functionality, intelligible and convenient navigation are the distinctive features of this photographer's portfolio website design. Make sure to check this website to get inspired. Grab your camera, go outside, explore, and master the noble art of observing and appreciating the fleeting, fragile, pure, and ineffable beauty of the world around you.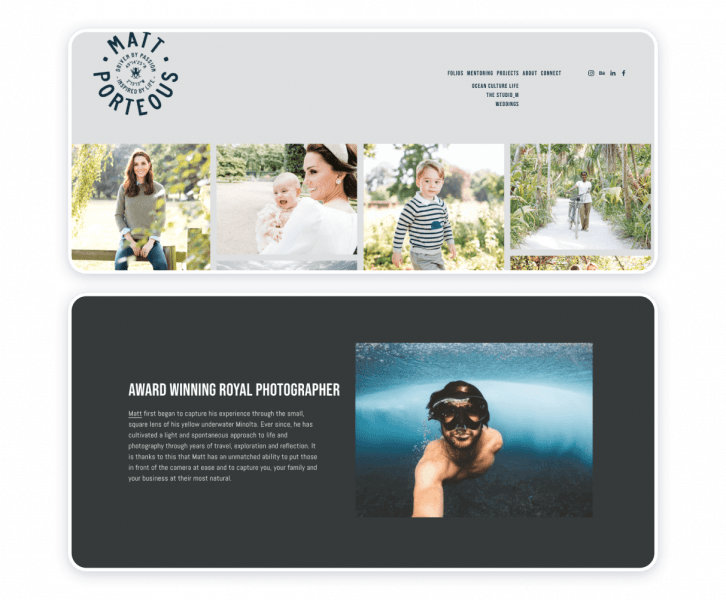 Matt Porteous is a famed portrait and environmental photographer. Doing his utmost to evolve professionally, the experts invites those who are passionate about photography to unlock their potential. His portfolio is motivational and inspiring.
The creator admits to recognize the significance of storytelling, claiming that he is also willing to embrace other media as long as they can help him to honor people that he has crossed paths with by delivering their stories fluently and effectually. The professional lets his work speak for itself and yet manages to empower the beholders of his art pieces.
What makes the best photography portfolio?
Now that you may have familiarized yourself with how masters work and had a feel of the art that they are making, the time may be right to deduce the guidelines, tips for building a successful photographer's portfolio:
Strategize. Think about the niche you may be willing to occupy and explore its mechanics.
Select. Look behind at the work you have already done. Do not be too hard on yourself, but pick only those images for your portfolio that will let others know who you are as an artist.
Think. Ponder the implications of the artistic, creative, and professional choices that you have made up to this point. Make sure you really understand what you will using your portfolio for.
Take care of auxiliary content. Photographs tell stories. Consider providing some textual information to back up your visual data.
Find a website builder. Weblium offers

over 300 prefabricated templates

, unique and developed by professional designers who are knowledgeable about the principal conventions of visual arts. No code writing skills are required to start and maintain a photographer's website if you consult a website builder for guidance.

Double-check and publish your portfolio.
Advertise, by exploiting the potential of social networking platforms.
Remember, photography is a journey. Have fun doing it and may it be a rewarding experience for you.