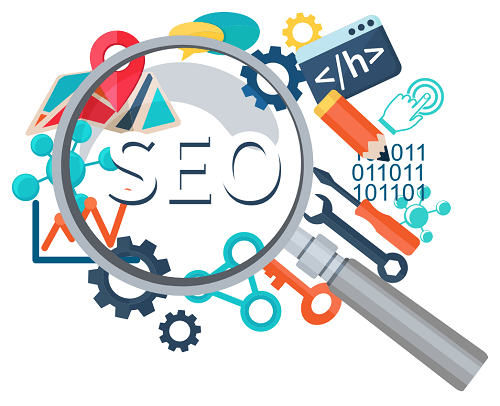 SEO for Dummies: How a Small Business Can Nail SEO and Hit the Top in 2023
Who doesn't want their website to hit the first page of search results? I guess every marketer does. But who actually reached this goal? Well, considering the fact search engines provide ten sites per one results page, only the most experienced ones can achieve it.
So, what can do small business to stand out? Having lots of other tasks to solve, being short of money and time, the business owner needs a simple and efficient strategy for how to get the desired result.
If you asked yourself: 'And where should I get this strategy?', this article will provide you with the answer.
What is SEO?
First of all, you should understand that website promotion is impossible without search engine optimization (SEO). Here's SEO explained in simple terms:
SEO is a set of methods, techniques, and strategies aimed at showing search engines your site content is worth ranking in the top search results for the relevant queries.
SEO process requires understanding how search engines work and what factors are crucial for your rankings.
3 Reasons you need to learn SEO basics
Of course, you can simply pay an SEO company, and they'll do everything for you. So, why investigating the topic? If you are still not sure whether you need to know how SEO works for your business, here are the reasons:
If you have a limited budget, and you can afford not that quality SEO company, it's better not to hire any. The success of your business is your goal, and you understand it better than some average SEO specialist.
If you're going to hire quality experts, it's worth knowing what you want them to do for you. If your success depends on it, you need to understand what is required to do to reach it.
Modern services and articles let people optimize websites not taking huge efforts, so why not trying?
What are your goals?
Before you start the process of optimization and content creation, you should determine what you want to achieve. Why do you need high rankings? Do you want to run an informational blog or you're going to sell something?
It's senseless to start not knowing what you want to reach. To be able to measure your results, you should set a clear goal(s). Don't worry if your goals you think about are still pretty abstract. You can choose one or several points from the ideas below:
Traffic generation.

Subscriptions.

Brand awareness.

Lead acquisition.

Sales revenue.

Return on investments.
What if you want to run a blog? Then before it makes some profit, your first goals should be rankings, brand awareness, and traffic. The further you'll go, the more complicated challenges you can take.
When you determine what you're going to achieve, you'll be able to devote your whole strategy to reaching your goals.
Read Also:
What is the Purpose of a Website?
Optimize for mobile users
Here's my first tip. The desktop era has passed, and half of your prospects will visit your website from mobile devices.
Mobile page speed isn't only the factor Google considers when ranking your page, it's also the first thing your visitors pay attention to. As mobile users are usually in a rush, your page loading time influences whether they'll stay on your site or not.
Moreover, BrightEdge's2 research says: '…the same query on the same search engine generated different rank in mobile and desktop 76% of the time. The variability was also visible when analyzing just the top 20 rank positions at only 47% of keywords generating different rank on different devices.' So, not optimizing for mobiles you may not only witness poor UX but also fail to rank high for specific queries.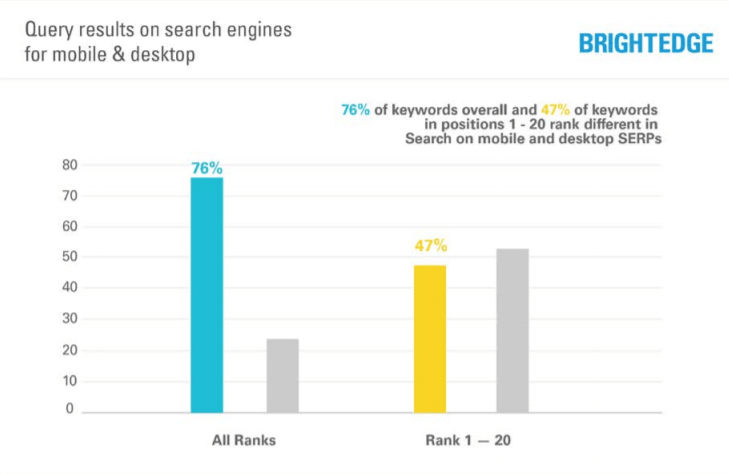 Here are some other reasons you should make your site responsive for mobile devices:
Mobile screen size is limited

compared to the desktop one. You should consider that especially when creating pop-ups: if you can't eliminate them (age verification boxes, etc.), at least, make them small so that they won't obscure the large part of the screen. Otherwise, if pop-ups don't let people get quick access to information they need, you'll lose the significant number of visitors. It'll cause poor user experience and affect your page rankings.

The size of the buttons

is even more important than the content itself. As smartphones imply touchscreen navigation, your CTA buttons should fit the size of a thumb. If you fail to do this, it'll cause visitors to accidentally tap the wrong buttons or zoom the page. It won't influence your UX and conversions positively.

Mobile users usually need

a brief answer

to their query. If you provide long-form content with no clear structure and conclusions, people will search for other websites.

Mobile users are easily distracted.

If you want people to buy your product, don't let them delay the purchase, as most of the prospects won't return. Provide such an easy purchasing process for visitors not to think: 'Well, the registration will take some time, so I'd better come back when I'm home with my laptop.' If they do, they won't even remember about it in the evening.
The easiest way to analyze your website performance for mobile devices is to use the Search Console's Mobile-Friendly Test tool: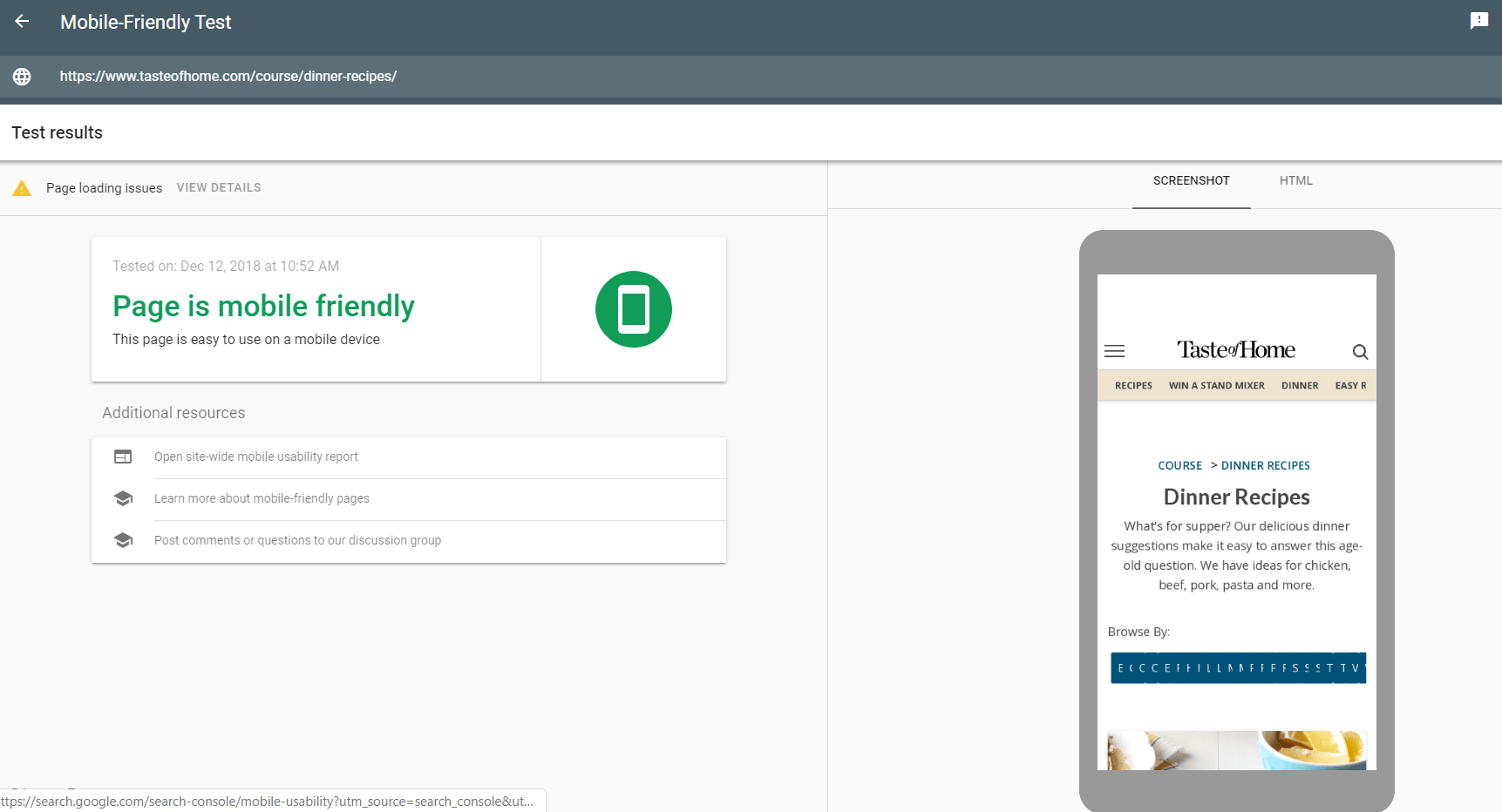 If there are some issues to solve, check them. If everything is OK, let's move on.
Get relevant links
Let search engines know they can trust your source. And links from quality websites will help you with it. But how should you know which sites are good sources for you to get links from?
First of all, pay attention to related small businesses. Why not collaborating? Try to reach them and ask to mention you in their content. You may do the same in return.
Moreover, analyze your competitors' link profiles. This step will help you understand which sources you may also consider relevant. To conduct this research, I'd recommend you using Serpstat. Enter your competitor domain in the field, and go to 'Referring Pages'. In the 'New backlinks' report you'll see the list of pages linking to some pages of your competitor's site: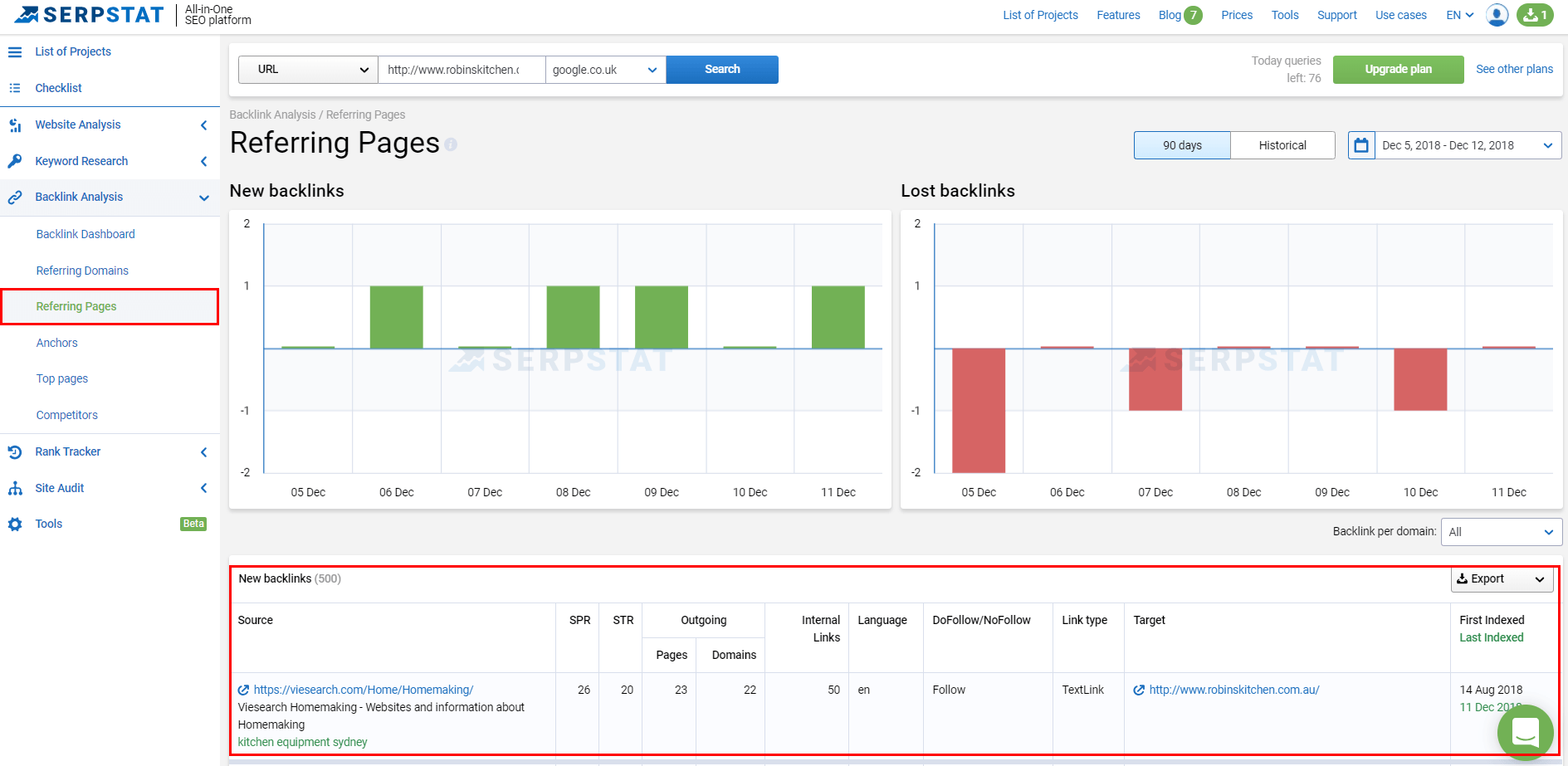 Scroll the page, click on 'Show all new backlinks', and consider the pages you'll see there as opportunities to enlarge your link profile. If you sell kitchenware, the links from cooking and designing blogs may be useful for your rankings and brand awareness.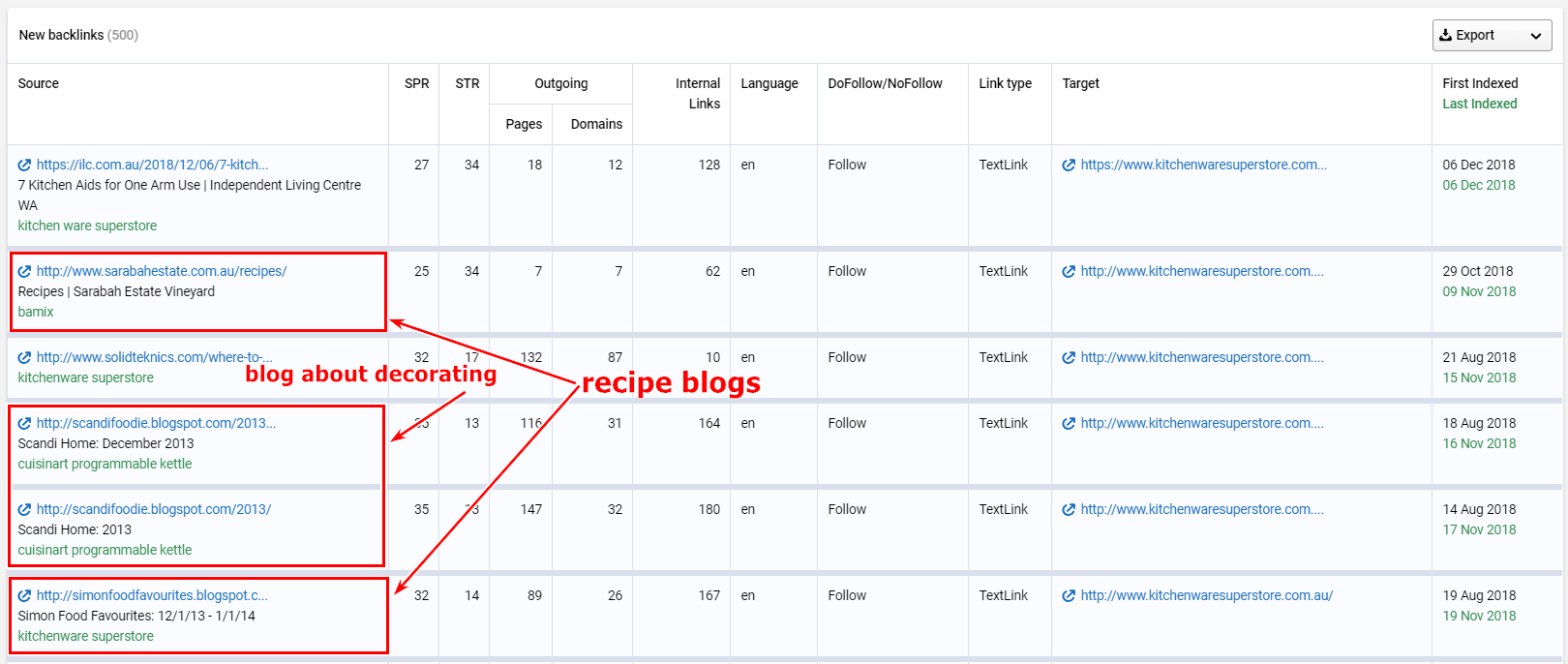 Keyword research
Remember that being a small business it'll be almost impossible for you to compete with niche giants for high-volume queries. And there's no need. Here are the words you should collect to take the maximum advantage.
Long-tail keywords
Target long-tail keywords and very specific queries to get more chances to rank high and engage prospects that are more likely to convert.
There are several tools, such as Answer The Public, Serpstat, or Moz which can help you discover the keywords you should use in your content. For instance, if your page is about cheap trips, the competition is already high for this query: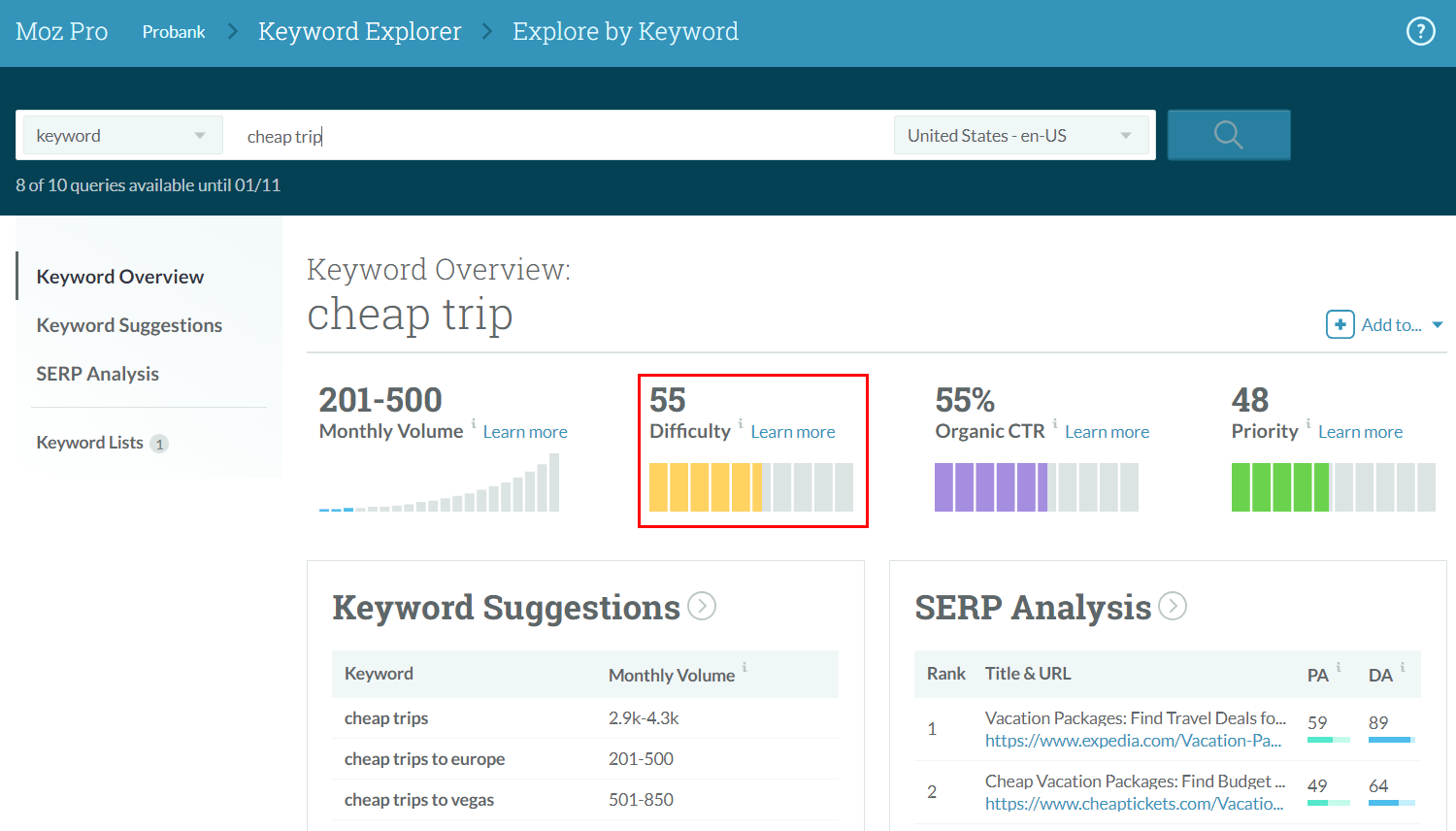 But what if you narrow things down and specify your paragraphs to 'cheap ski trips,' how to find cheap flights to Europe,' etc.? It may happen that such queries may have not only lower difficulty level but also higher monthly volume: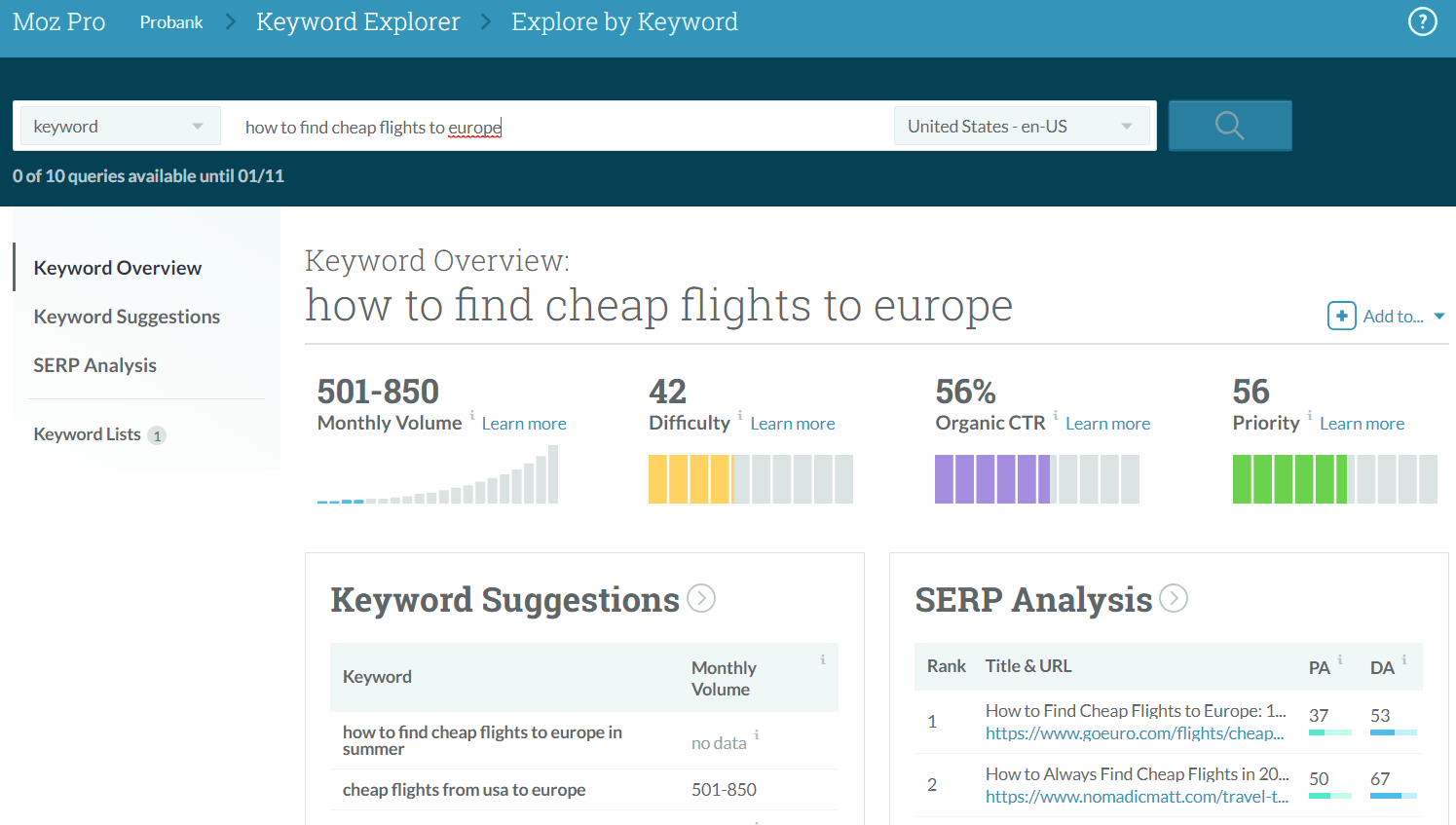 LSI keywords
These are all the words related to your subject. If the keyword is 'SEO,' the related words will be: 'keyword research,' 'SERP,' 'link profile,' etc. LSI keywords influence how relevant search robots will consider your content to be to the specific queries.
To collect them, simply search for your main keyword on Google and scroll to the bottom of the page. You'll find there 'related searches' box:

Collect the words in bold, click on one of the most relevant related queries, and repeat the same action several times.
Question-based keywords
Use questions in your subheads. It'll help Google understand the following paragraph could form an answer for the featured snippet. Answer The Public will provide you with search questions your target audience asks on the topic: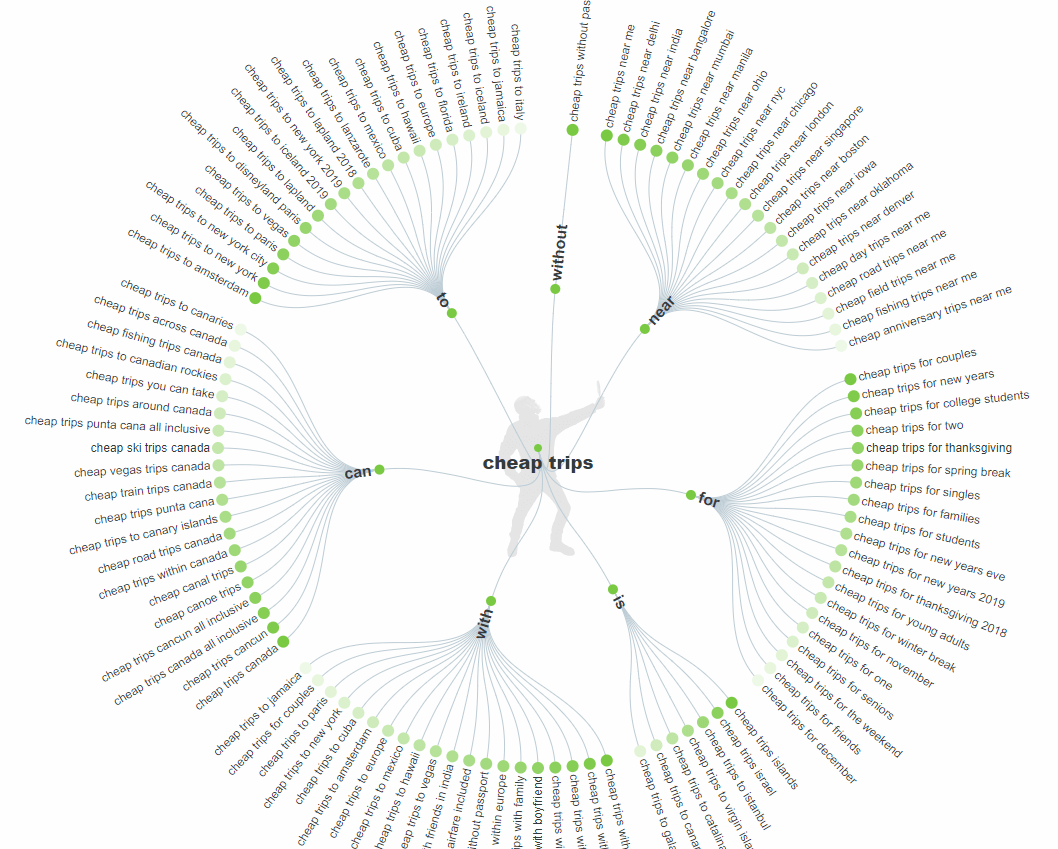 Technical issues
I won't tell you how to set redirects or fix critical issues, as you're a business owner, not a webmaster. However, it's absolutely worth knowing which basic technical issues influence your rankings (and whether there are any mistakes on your site).
If you notice your web page loads too slow or don't respond at all, you can quickly check its technical optimization with Serpstat Page Audit. With it, you can identify all the issues that hurt your page speed, mobile usability, and other aspects in one place. Just enter the URL in the Page Audit section and wait for the results. The report will show you how well your page is optimized and point out the existing technical mistakes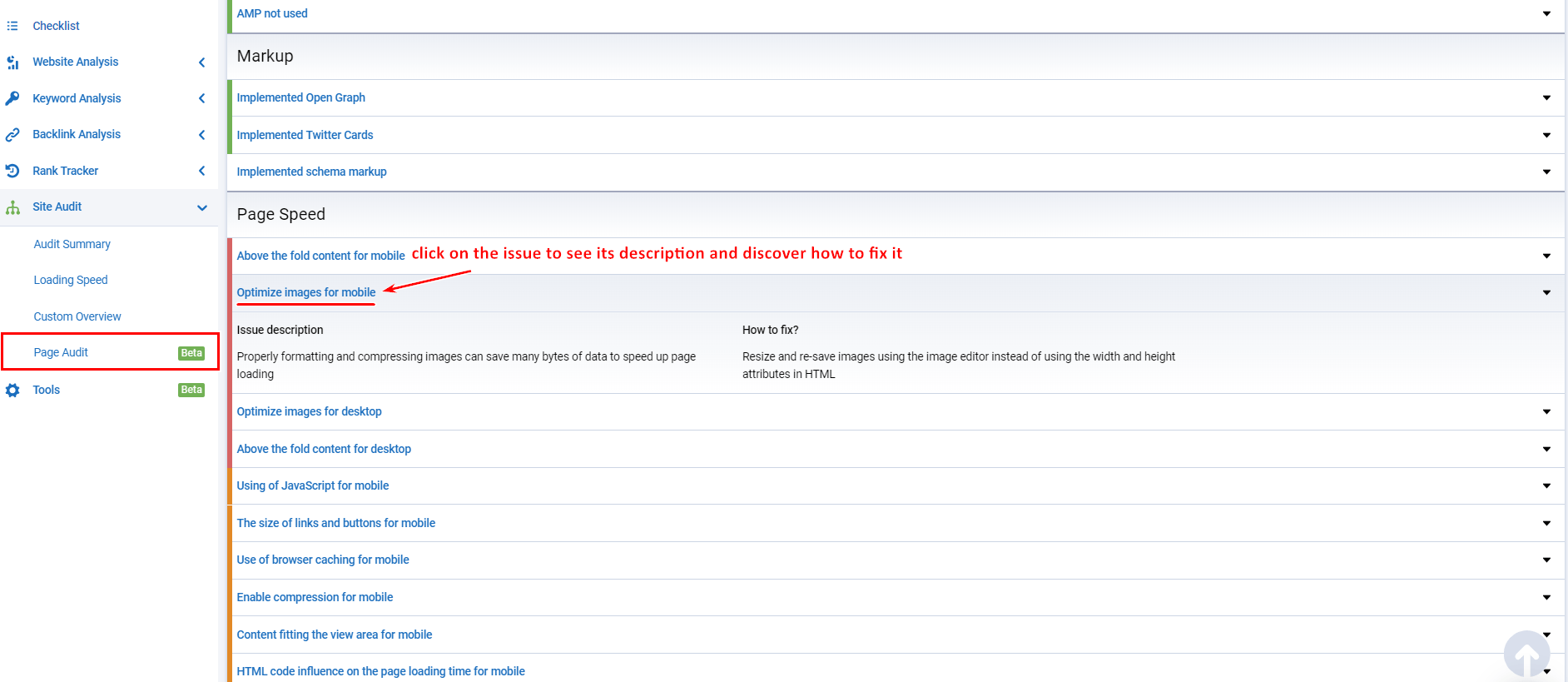 Don't forget about Google My Business
Google My Business is a free tool that lets business owners manage the way they engage with their customers and build an online presence for their companies.
The best thing is that you can create and manage your account for free. The way people see your company's information when searching for your business depends on how comprehensive details you provide there.
Add photos, open-hours, share news and update your account if some changes occur. It's also a great way to get reviews and answer your prospects' questions.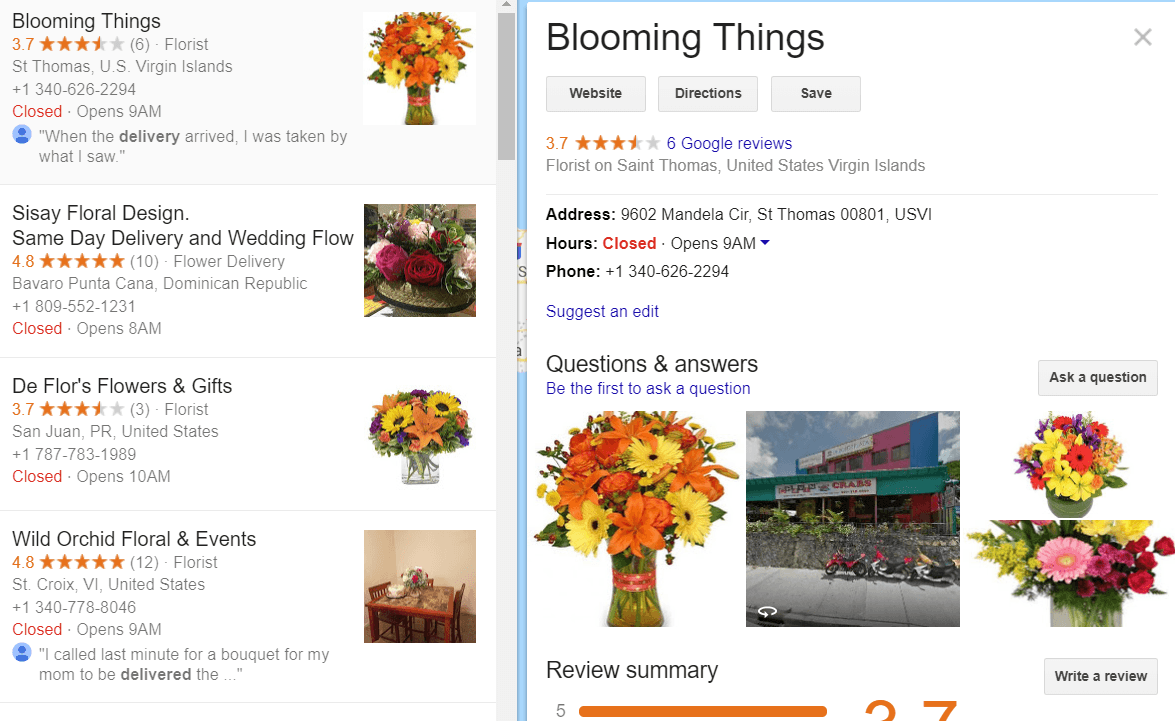 Don't focus on transactional intent only
It's most likely that your main aim is at selling some products or services. If so, don't focus on transactional intent alone. The competition is pretty tough, and you should do something to show off. You should not only advertise and sell goods but also provide your prospects with useful information on the topic.
Before I decide on buying something, I usually look for the articles on the subject to discover the opinions, reviews, and pros and cons. Sometimes my decisions may even be caused by reading one or another topic. For example, I want to decorate my house in a Scandinavian style and search for how to do it, I'll get this website in the search results: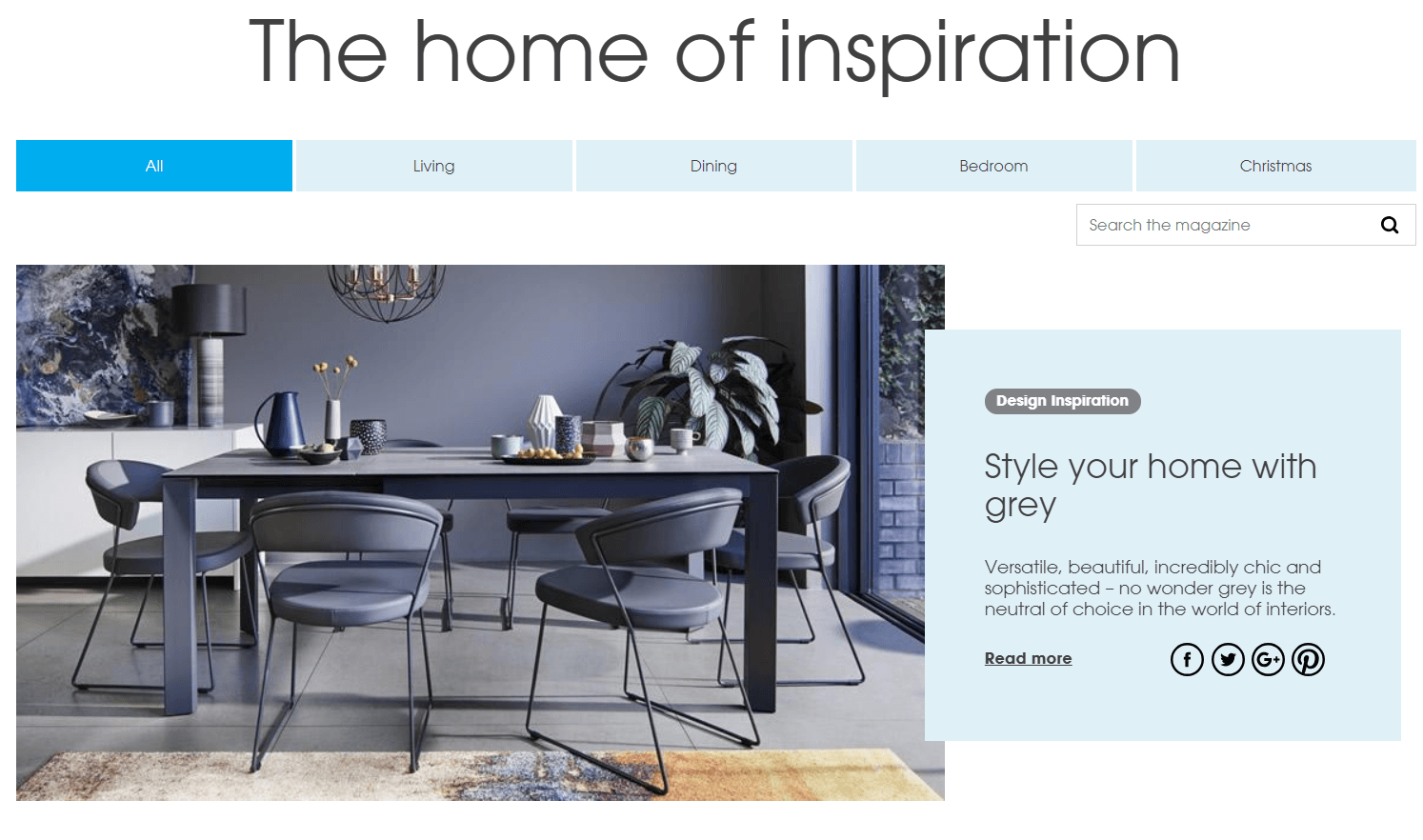 It seems it's a blog. So, after reading various articles I eventually know what I want to buy to decorate my house. The thing is that I don't even have to leave the website to search for the goods I need. While I was on the website, I discovered it's an online shop as well.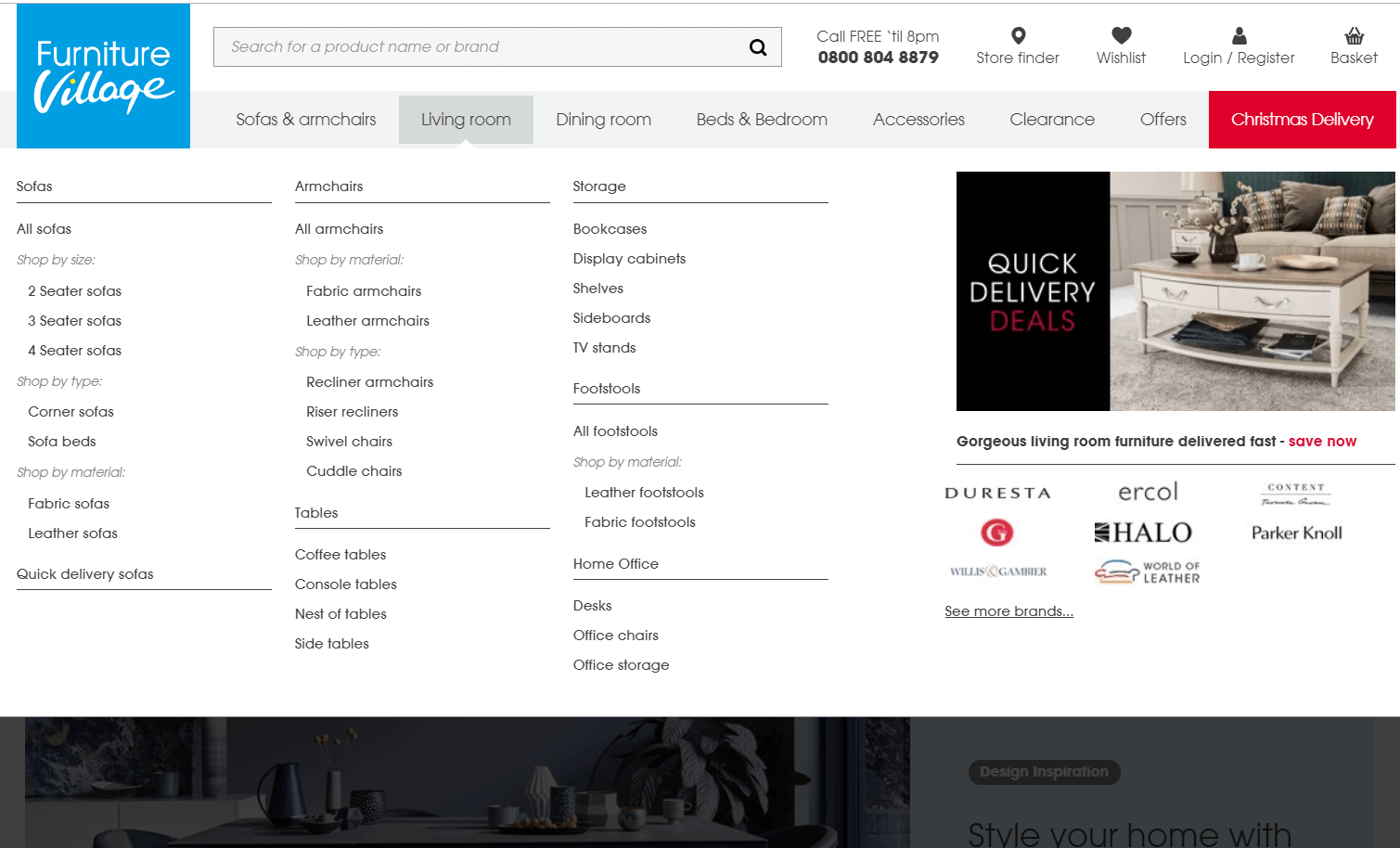 First of all, focusing on both informational and transactional intent, websites get the chance to rank for more queries. Secondly, people rarely choose brands they've never heard of. Provide valuable content on the topic, to increase your expertise and credibility.
Stay active on social media
Although social media isn't a direct ranking factor, being active on social channels will help you promote your site content and build brand awareness.
Of course, it's not that easy to gain popularity being a newbie. But there are some efficient methods such as contacting influencers and advertising on Facebook and Instagram. Once your brand becomes recognizable, your social media presence will work for you.
PRO Tip: PPC is an option
You can find lots of articles with 'PPC or SEO?' titles, and the answer is usually 'Both!'. I can't help but agree.
PPC is a good choice for companies willing to enter the market quickly. PPC, or pay-per-click, means that the advertiser pays some fee each time visitors come to his or her website. In return, the site appears in the top of search results marked as sponsored: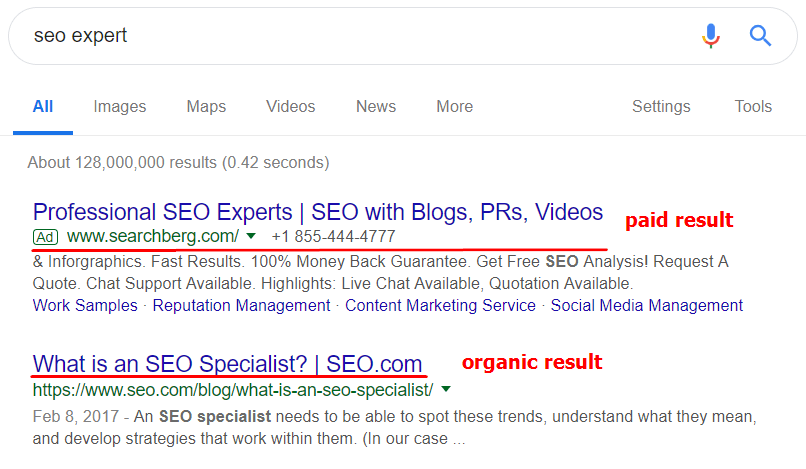 In cases, when paid results take more than one position, there are significant chances people won't even scroll to see organic results: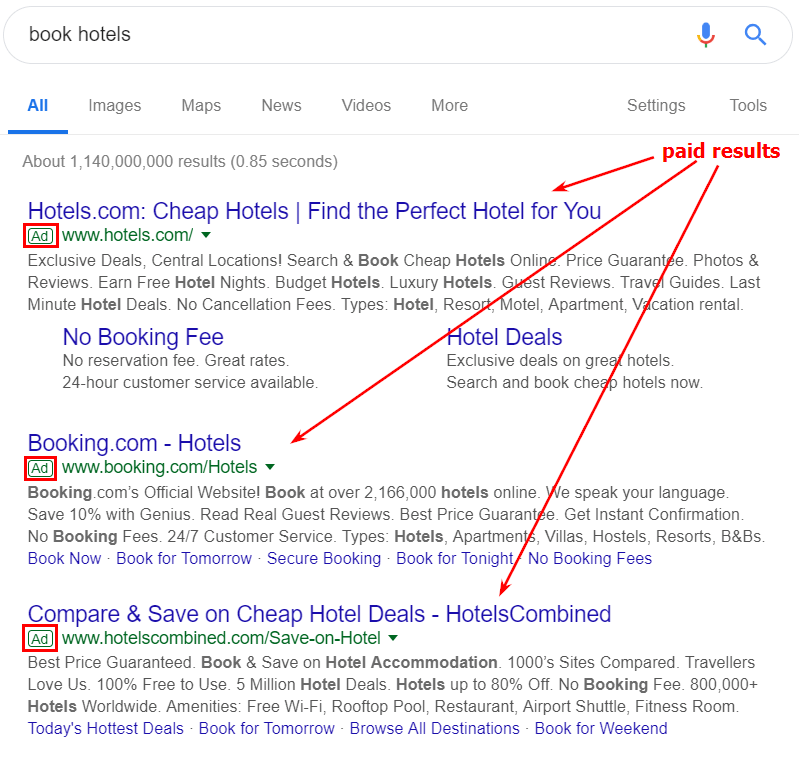 As a result, Wordstream reports that paid ads for high commercial intent queries get 65% of all clicks.
So, if you decided on starting your PPC campaign, you should undertake the following steps:
Know your budget. Before launching a campaign, decide how much you're ready to spend on it.

Conduct proper keyword research. Depending on the keywords you want to rank for, the cost per click may be different. Choose those with reasonable search volume to cost ratio.

To make sure you've selected the right keywords, analyze your competition: check, which websites rank in paid search for the phrases you've chosen.

Create a killer ad. Denote competitive advantage, provide a call to action, add keywords and related words, etc.

Create a landing page. Once users click on your ad, they should see the page relevant to their query. The better this page is designed and the higher its speed is, the more chances visitors will convert.
Conclusion
Let's summarize what you need to get the top of the search results:
Make your website mobile-friendly.

Consider local search.

Prioritize long-tail keywords and denote user intent.

Get links from similar small businesses relevant to your subject.

Build a social media presence.

Plan your advertising