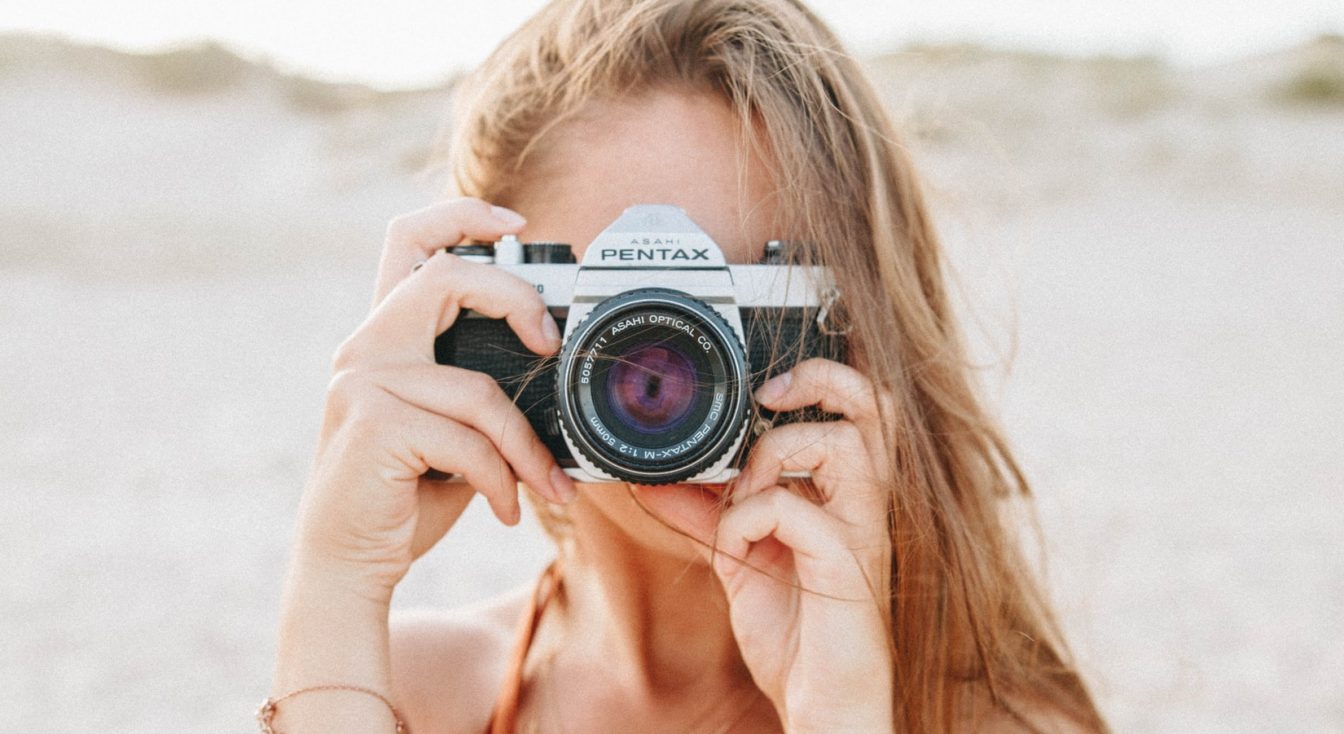 7 Best Website Builders for Photographers
If you are serious about taking photos, ready to surprise the whole world with your works, and concerned about making money on it, the first thing you should do creating an online portfolio to increase your online presence. Today, creating a modern and stylish photographer's website is as easy, as pie thanks to photography website builders.
But how to find the best website builder for photographers? And here we are to help!
Based on an in-depth analysis of the coolest website builders, and taking into consideration:
real customer reviews,

our own experience of web-development and usage of various website builders,

general criteria for choosing online tools for creating sites,

unique technical criteria (functionality) and prices,
we have selected for you the 7 best website builders for photographers. You should be aware that we won't list here all must-have features (like the availability of opportunities for social media or some simple analytics tools), all advantages and disadvantages of each of these photography websites. We will only share with you the important features that will help you to create a really attractive and profitable website!
Thus, the listing includes not just well-promoted site builders, but the ones that are just BEST for creating amazing photography websites. The options will be provided in a sequence from the best ones to the best ones.
Let's go!
Weblium – great website builder for photographers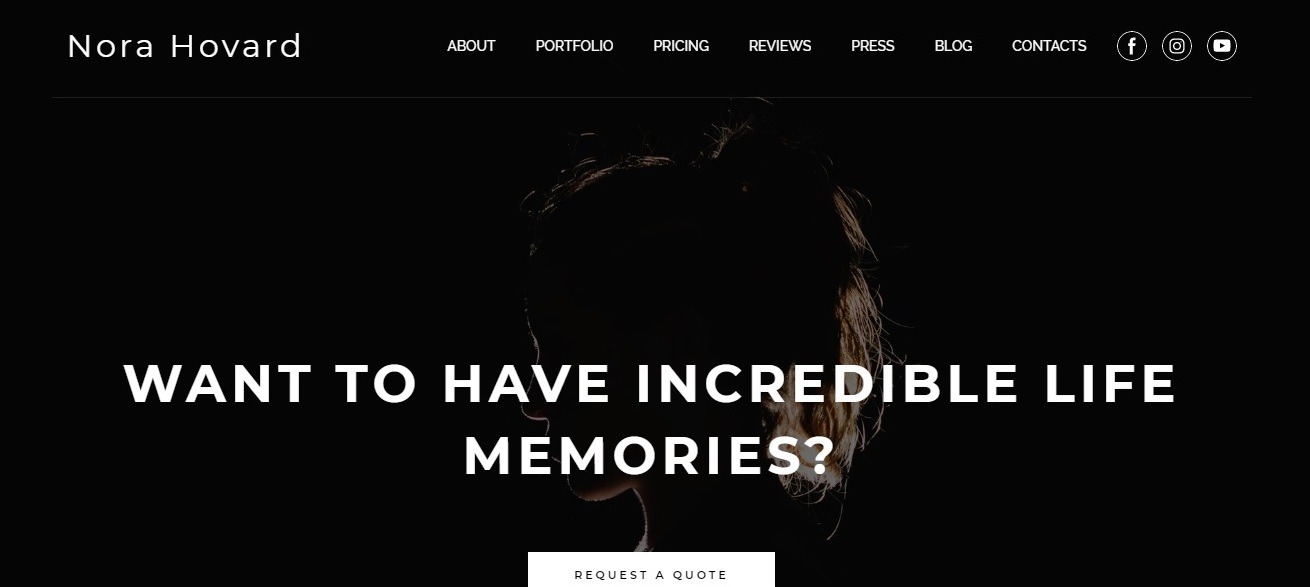 Weblium site builder is perfect for creating a high-quality, stylish online portfolio for your photography business for many reasons, among which the most important are stunning templates, created by the professional developers (check out the portfolio designs and other artist templates here, a wide range of customization options that will help you to create a truly unique portfolio and responsive 24/7 customer support!
View Demo: Photographer template
Unique site builder features, that the photographers will find useful:
About 200 high-quality, modern, and stylish

templates to choose

from. Designed according to the latest web design trends and developed based on an in-depth study of this business niche, they attract users' attention at a glance.

A unique feature – the custom blocks that you can edit and customize to suit your tastes and needs. A wide selection of customization options (the choice of block design, text or image, and a bunch of other options) help to make your website look unique and increase your online presence.
Artificial design intelligence

(AI Design Supervisor) guides you through the whole creative process and helps to avoid design mistakes.

An intuitive visual editor that even a child can handle: creating an

online portfolio

may take from 1.5 hours to 2-3 days even if you do not have any experience in web design and coding.
Prices:
Weblium offers to try the free version with which you can get an SEO-/Mobile-friendly and SSL-secured website along with the reliable

web hosting

included!

The cost of paid plans with advanced features starts at $8.25/month.
Portfoliobox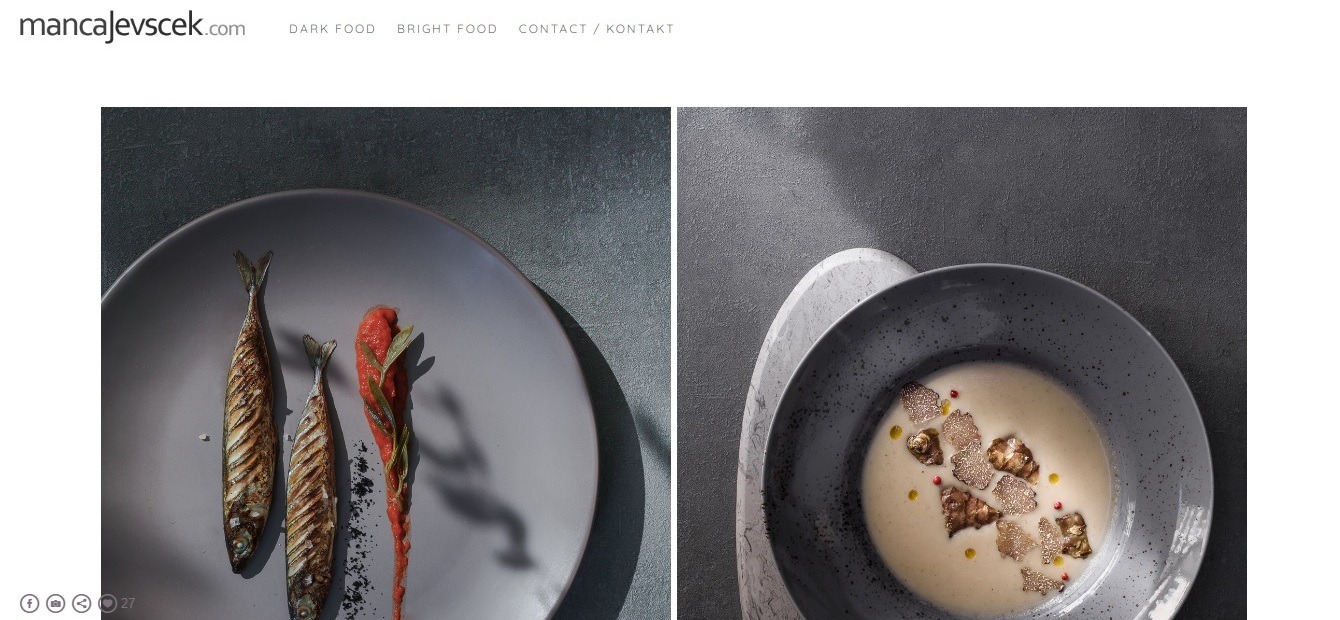 Portfoliobox is essentially an online portfolio site manager. Unlike the classic website builder for photographers, Portfoliobox does not offer to use one of its standard templates: you can apply your style to each page and create a stylish personal website for your creative works.
Using these components and your imagination, you can create your unique online portfolio right in your browser, without writing a single line of code!
Unique site builder features, that the photographers will find useful:
A wide selection of

templates to choose

from: you can combine galleries and collections, organize a perfect website structure to display your

professional photographer

projects. There are many types of templates: thumbnails, vertical, horizontal, slideshows, or full screen. The number of combinations is infinite, which makes Portfoliobox website builder extremely flexible.

The ability to create a beautiful online store, organically integrated into the website, easy to set up, and quite functional (PayPal, Stripe, and Invoices are currently available).
Prices:
Portfoliobox offers to try the free version, which allows you to create your

photography portfolio

for absolutely free.

The cost of paid plans with advanced features starts at $6.9/month.
Zenfolio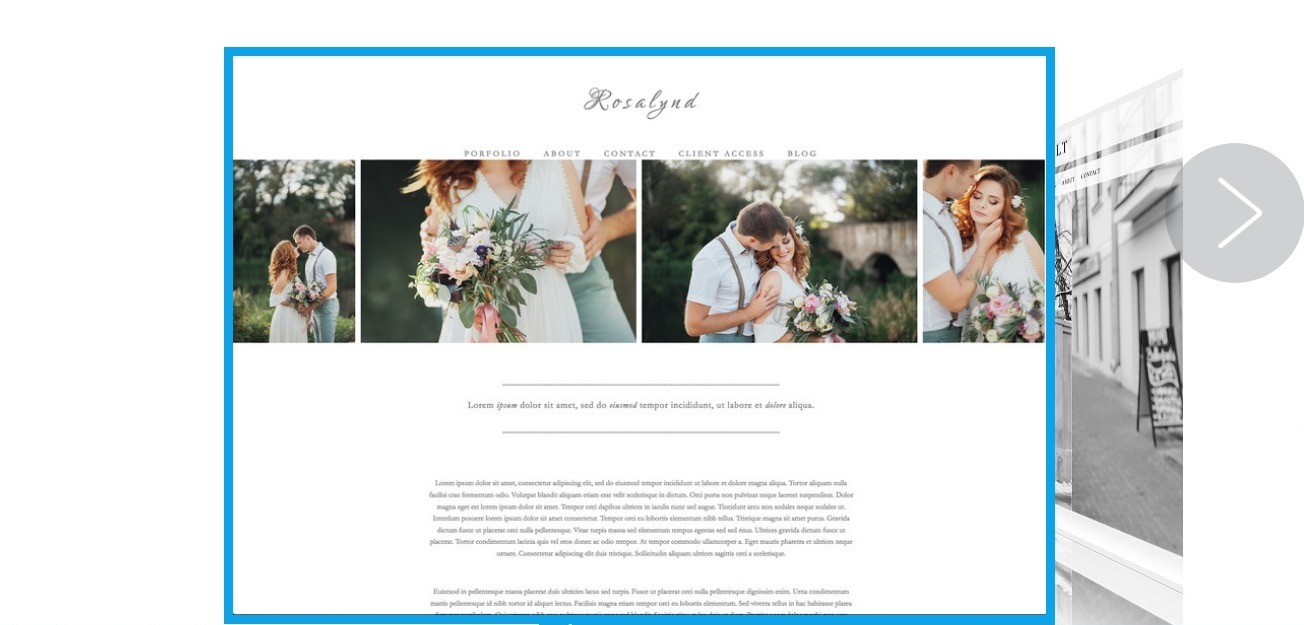 Zenfolio is a well-known all-in-one e-commerce platform that will help to improve your online presence, show your talent to the whole world, and sell your work to your target audience.
If you need a mixed website building solution that combines the stylish online portfolio of a photographer and an online store, then Zenfolio will save your day!
Unique site builder features, that the photographers will find useful:
Shareable galleries. Easily share your galleries with everyone, or use the

password protect

option to show them only to selected users.

Integrated shopping cart – you can add all items (including photoshoots) to the shopping cart on your website.

The pre-order feature lets you set up and sell custom photo packages all before snapping photos. Each order you get will be sent directly to Zenfolio's lab partners to speed up and simplify the whole process.
Prices:
Zenfolio provides a 14 days free premium account trial.

The cost of paid plans with advanced features starts at $5/month.
SmugMug photographer website builder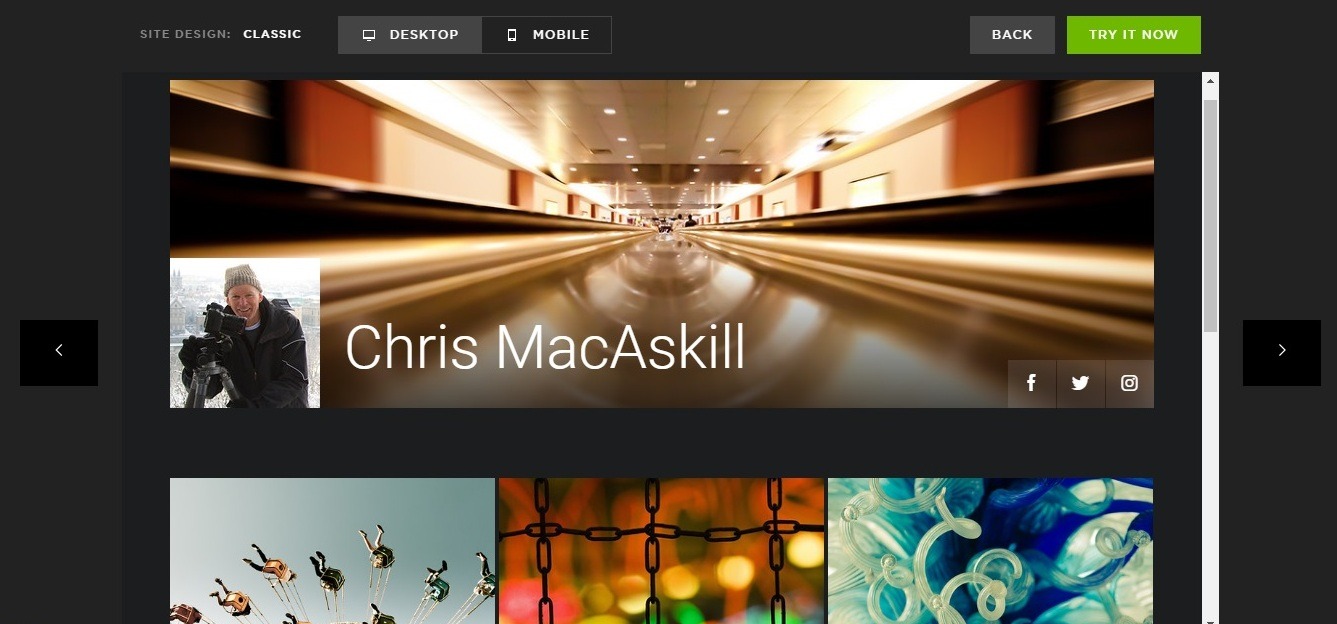 SmugMug will help you create a stylish professional online portfolio that will look no worse than the solutions of any large and famous site builder for photographers. SmugMug provides users with beautiful themes for creating a photography portfolio that looks elegant and extraordinary.
Unique site builder features, that the photographers will find useful: 
The ability to protect your photos from third-party downloads (custom watermarks,

password protect

option, that restricts access to your pages, folders, galleries, or even to the whole site).

Extensive social media integration so a

professional photographer

can easily stay connected with the audience.

The options of syncing the photo library with Lightroom.

The special Portfolio Plan that offers using a complete online store where you can sell your content in the form of custom greeting cards, gifts for photos, digital images, and videos, etc.

Partnership with professional printers: your website visitors can order prints/products directly from your website.

Selling straight out of the box! You can charge per photo download, create custom price lists for clients, and sell prints and gifts directly with no need for extra integrations.
Prices:
SmugMug offers a 14-day free trial.

The cost of paid plans with advanced features starts at $4/month.
Carbonmade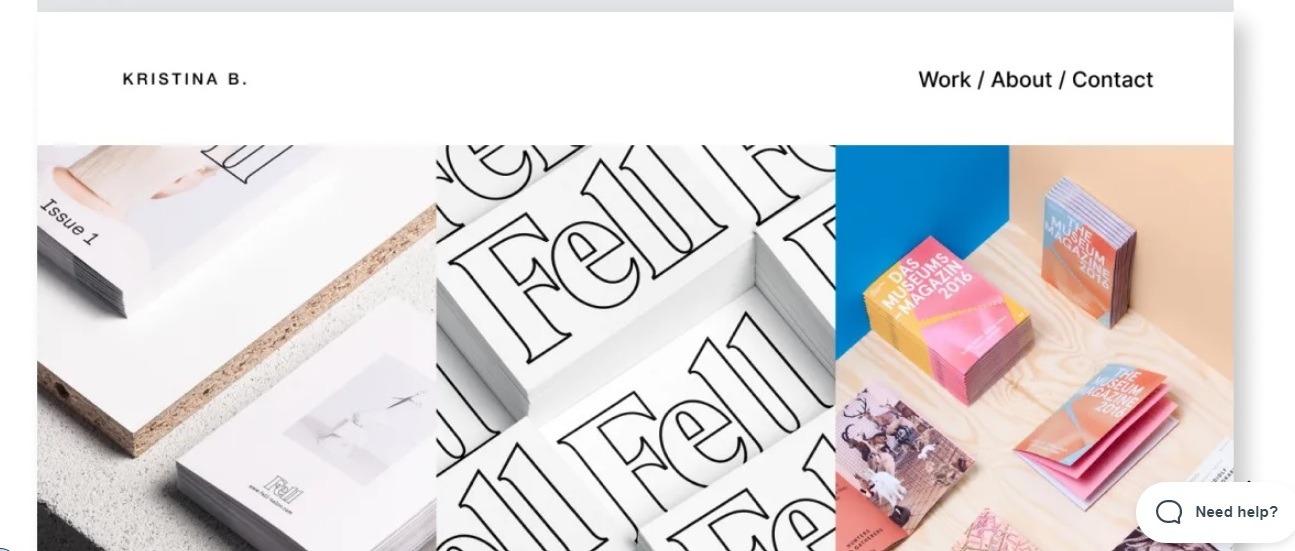 No matter if you are a professional photographer or just a novice: Carbonmade is, maybe, the perfect choice for showcasing your work. Creating a stylish online portfolio that emphasizes your work becomes extremely simple and even fun with Carbonmade!
Unique site builder features, that the photographers will find useful: 
Carbonmade offers a slightly different approach to the process of

website building

: the platform does not limit users to templates; instead, it offers several amazing layouts for each specialization. The key idea is not to provide a ready-made theme but to let users create their unique styles.

Carbonmade Message feature lets you easily interact with all the people interested in your work.

Private Portfolio feature: use a

password protect

option to generate a special access code that you may share with those who are interested in cooperation with you.

Talent Pool feature: you may also connect your portfolio with Carbonmade.com and get displayed in its pool of creative enthusiasts!
Prices:
Carbonmade offers its customers an unlimited free trial.

The cost of paid plans with advanced features starts at $8/month.
Format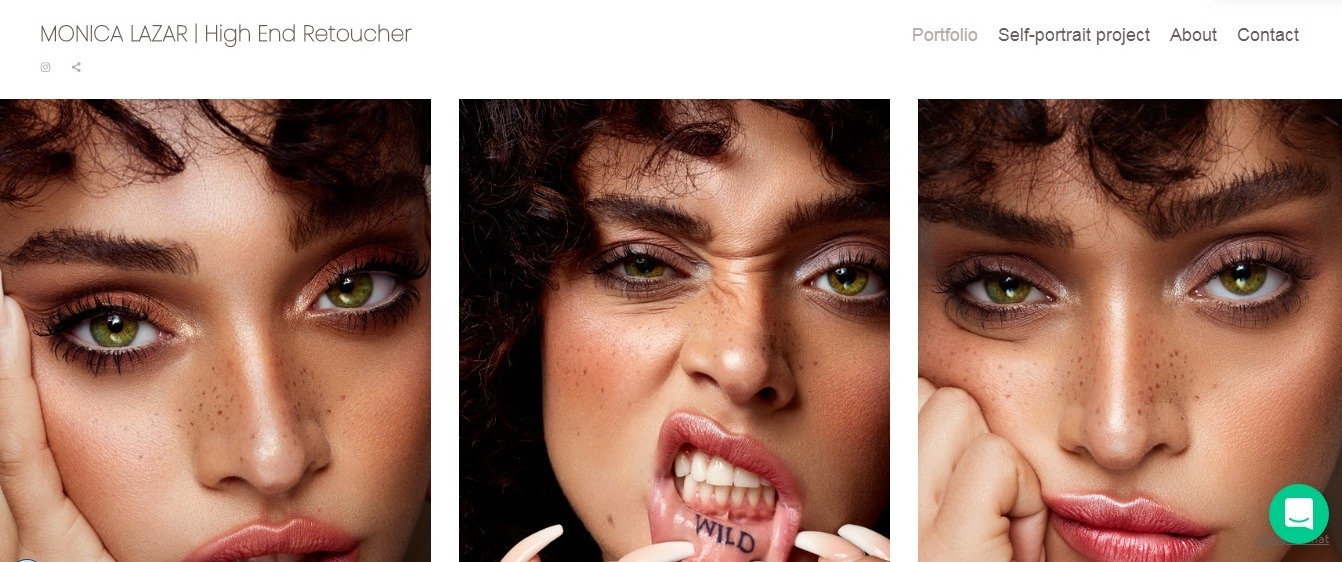 The Format site builder may not offer a huge list of advanced features, like the well-known website builders; however, on the other hand, this means that creating your stylish online portfolio will be much easier and less time-consuming. That's good news for the newbies or guys who just have no time for all those things!
Unique site builder features, that the photographers will find useful: 
Lightroom and Capture One Plugins offer you the ability to publish and update your

photography portfolio

and client proofing photo galleries directly from Lightroom and Capture One.

iPhone App allows managing your gallery pages with the free Format iPhone app. Previewing and

showcasing your work

becomes extremely easy – you can do it on the go.

Client Proofing. The ability to proof, manage and deliver the works that the client orders directly from your site. You can share private proofing galleries, review client feedback, enable downloads, watermark your images, and many more.
Prices:
The Format website builder offers its customers a 14-day free trial.

The cost of paid plans with advanced features starts at $6 /month.
Wix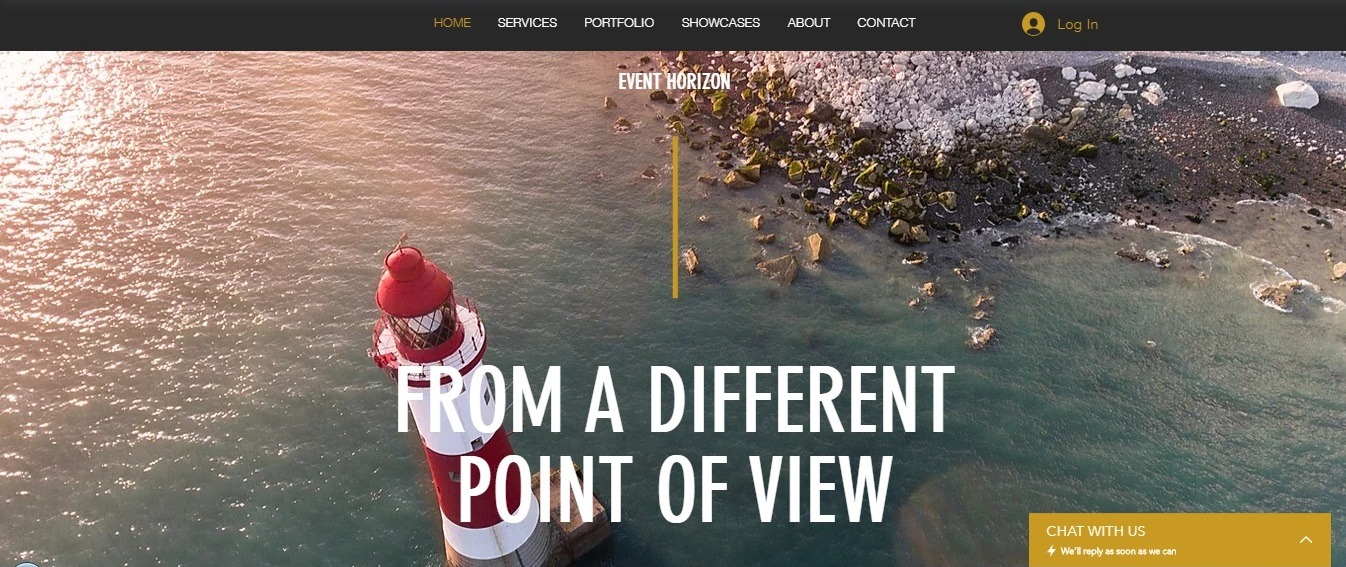 Wix is ​​a great website builder for photographers who want to set up their online portfolio in a non-standard way.
This is an old-timer, trendsetter in website building niche, that offers a convenient visual editor and a flexible system of price plans (there is even a special plan for just connecting a custom domain), which has a certain authority around the world.
Frankly, in many ways, it is significantly overrated, but still, it is a great option for creating the perfect online portfolio for the photographer!
Unique site builder features, that the photographers will find useful: 
A huge number of widgets, the variability of the layouts.

Flexible adjustment of tools for precise positioning – ruler, layout borders, element properties panel and more.

A lot of specialized applications (Image Zoom, FlipBook, and many others) for synchronizing publications, selling photos, marketing, and gallery design.

Wix's Artificial Design Intelligence (ADI) – a tool for automatically assembling thematic sites based on user-provided information. A perfect option for beginners!

Automatic rotation of photos on the site using the «Wix Code».

Built-in CRM and digital photographer store for

professional photographer

business growth.

The Page Protection feature that protects the

professional photographer

gallery from unauthorized downloading. Another application, Right Click Protect, won't allow downloading individual photos by right-clicking.
Prices:
Wix offers its customers forever free plan that displays ads on your website.

The cost of paid plans with advanced features starts at $12/month.
Ready to start your photography website?
Jut sign up and select the template!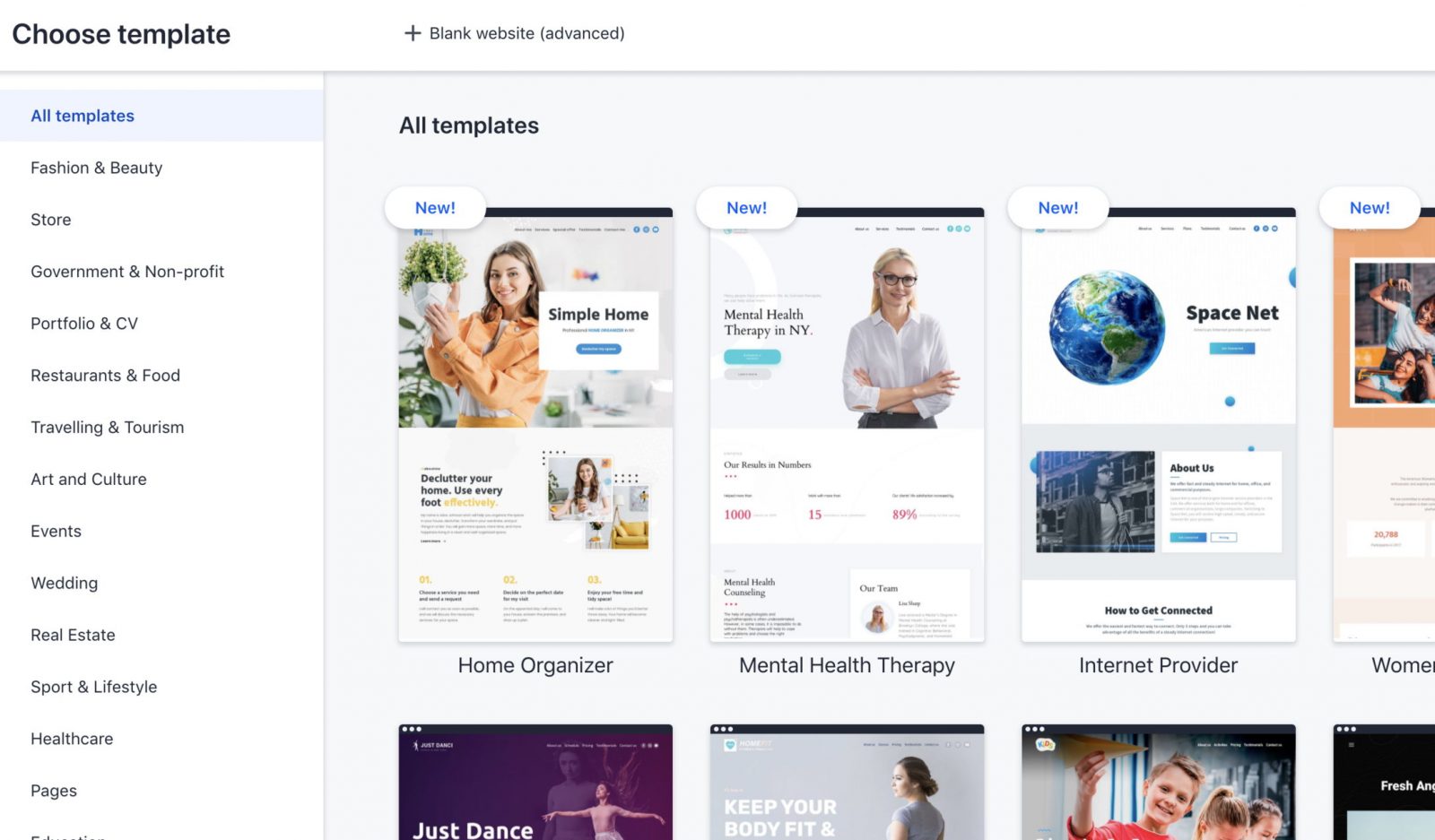 Summary
Finding the best site builder can be a really difficult task: there are a lot of them, and each of them offers multiple options!
That's the reason why we've created this listing, and now we will also give you a hand here! So remember that the best site builder is the one that:
helps you show your works in the best possible light;

provides you with the most effective modern tools for creating a

professional photographer

portfolio;

is easy and intuitive to use;

can provide unlimited storage for a constantly growing collection of your works (of course, we mean high-resolution photos!);

provides effective SEO tools;

helps you find customers and get the income you wanted!
One way or another, on a paid or free basis, all of the website builders we've listed can help you complete these tasks. But, based on the quality-price ratio, we would recommend trying Weblium – a 5th generation website builder that offers a complete set of necessary features for small businesses absolutely for free!