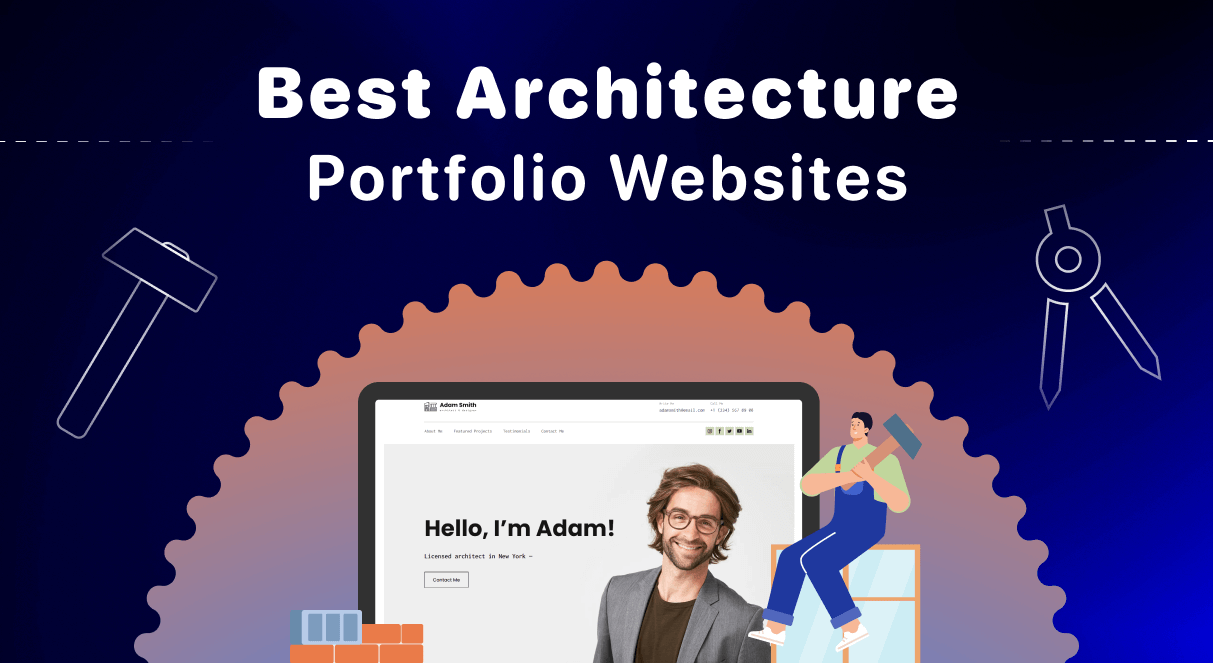 13 Best Architecture Portfolio Websites for Your Inspiration
Every seasoned architect knows that sometimes it's easier to build a skyscraper than a successful career. To stand out from the rest of the talented professionals and ensure a stable flow of orders, you need to make extra efforts. For example, create an architecture portfolio website demonstrating your future projects or finished collaborations.
Whether you're an individual architect or a professional firm, an online portfolio can make a big difference in your career. It allows you to tell about yourself, demonstrate your skills and describe in detail how to approach the art of building homes. A portfolio is a virtual spot for employers and potential clients. Thus, you should use it to show the maximum of your skills and explain what projects you are capable of implementing.
If you wish to build an architecture portfolio website and want to get inspired — Weblium presents examples of successful architecture portfolio websites further. Get inspired by these examples!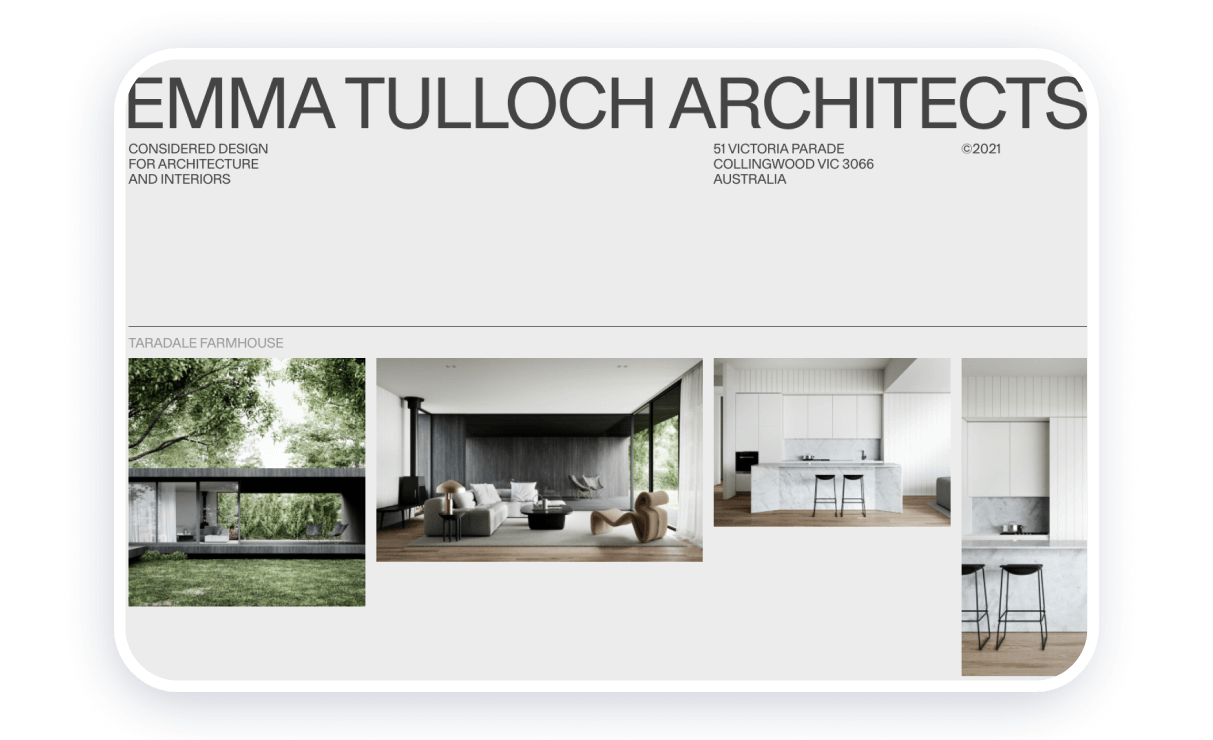 This site's author handled the challenge with smart navigation. All works are present straight on the main page: residential, commercial, institutional architecture, as well as landscape and interior design. 
Each project has a separate page and is provided with a small preview image, which helps to create a general impression about it even before going to the relevant page. Architectural portfolio websites like this are great for the start when you still don't have much social media value or are a student but want to present your works.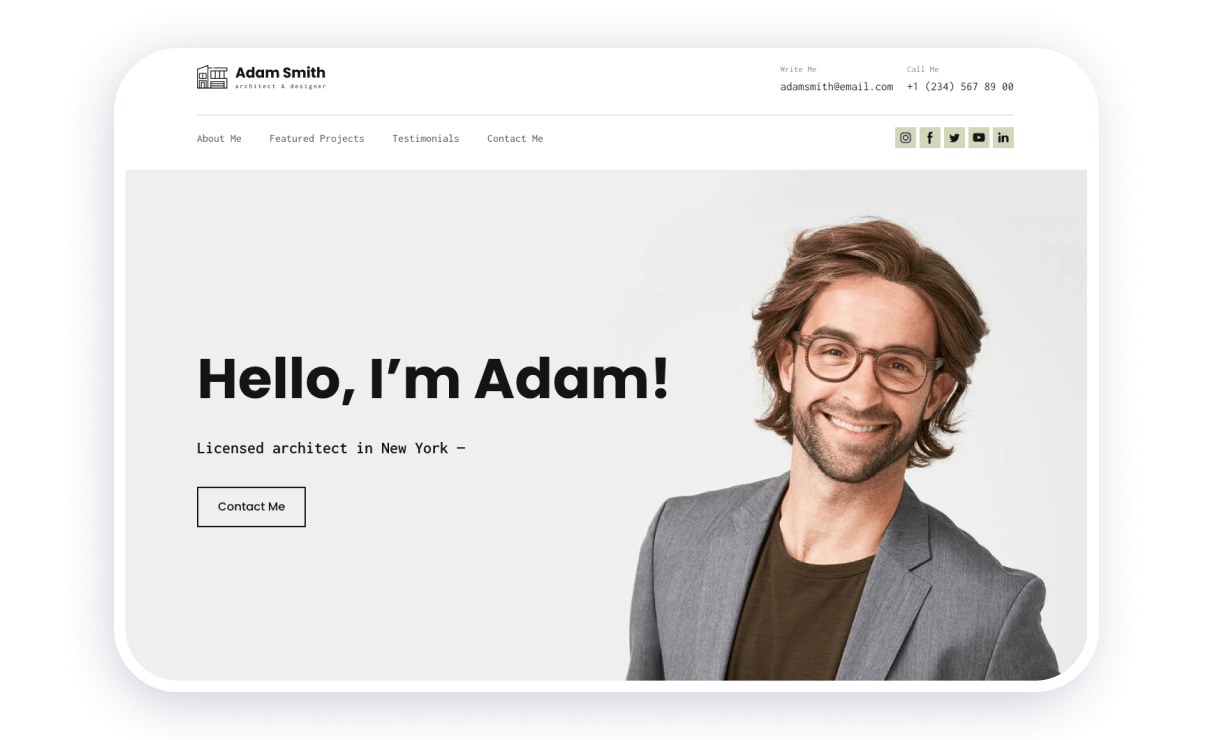 To stand out in New York, you have to be more than just a good architect, you have to be the best. Knowing this, Adam Smith emphasizes self-branding. You can see a lot of him on this architecture portfolio website. Feel the personal approach in every detail. Learn about Adam's testimonials, projects, and social media while enjoying intuitive navigation.
What is best about this website template is that it was created using Weblium. Our online platform allows you to build sites that are already optimized for the mobile version — including an adaptive gallery for showcasing projects. However, you can still improve your web design by reducing the number of elements, a customized main menu, and larger call-to-action buttons.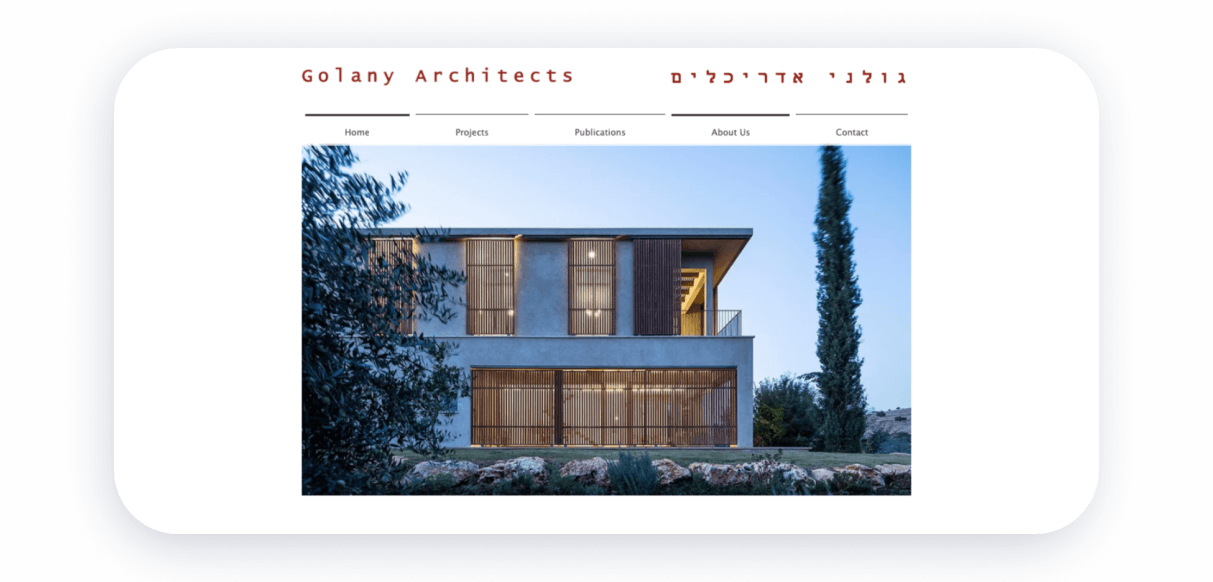 Golany Architects has been operating in Tel Aviv for almost 30 years, and during this time has accumulated a huge amount of work in the portfolio. Therefore, the company faced a difficult task: to create a concise, but at the same time comprehensive website that would demonstrate all the impressive experiences of Golany Architects. As you can see, they tackled this task perfectly.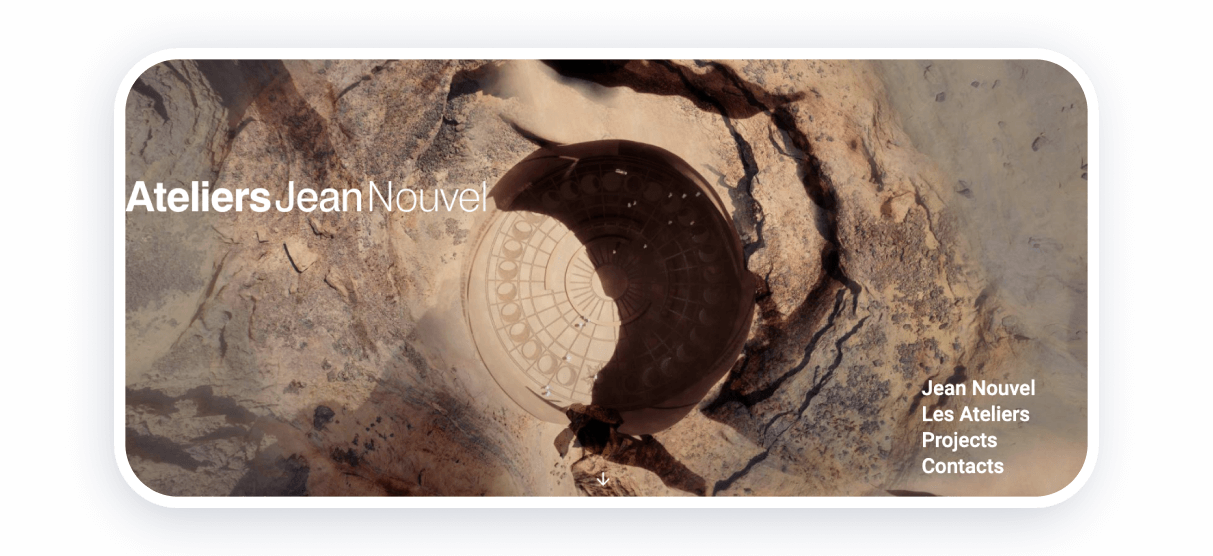 Images in high resolution are vital for any portfolio — but they play an especially important role in presenting the work of a designer and architect. Ateliers Jean Nouvel understands it. The visual design is on point. Thus, their architecture portfolio website attracts the attention of the visitor immediately and tries to keep them focused for as long as possible by presenting bright photos of their projects.
If you want to use a similar approach to theirs, we also advise you to post the whole process instead of just finished projects —plans, 3D models, and even raw sketches. This will help customers catch your style and understand what they can expect from you.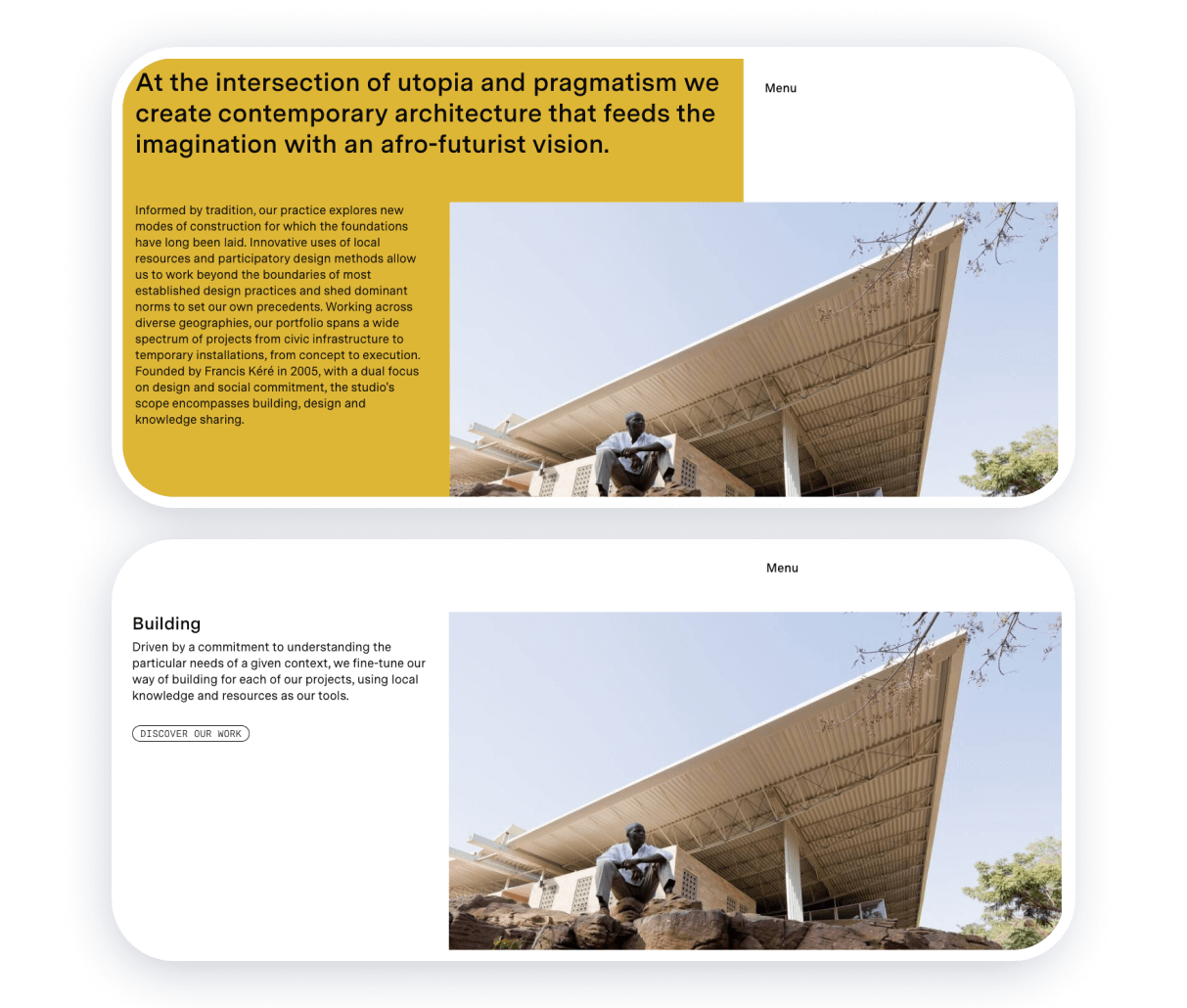 Supplement everything you show to the customer with context. Kere Architecture decided to follow each project with a description — location, title, date, and other facts that explain the methods applied made the dialogue between the agency and the client easier.
Their texts are short and understandable. Besides, they offer a news feed with the latest events concerned with the architectural world or projects that include them. This online architecture portfolio site is entertaining and smooth.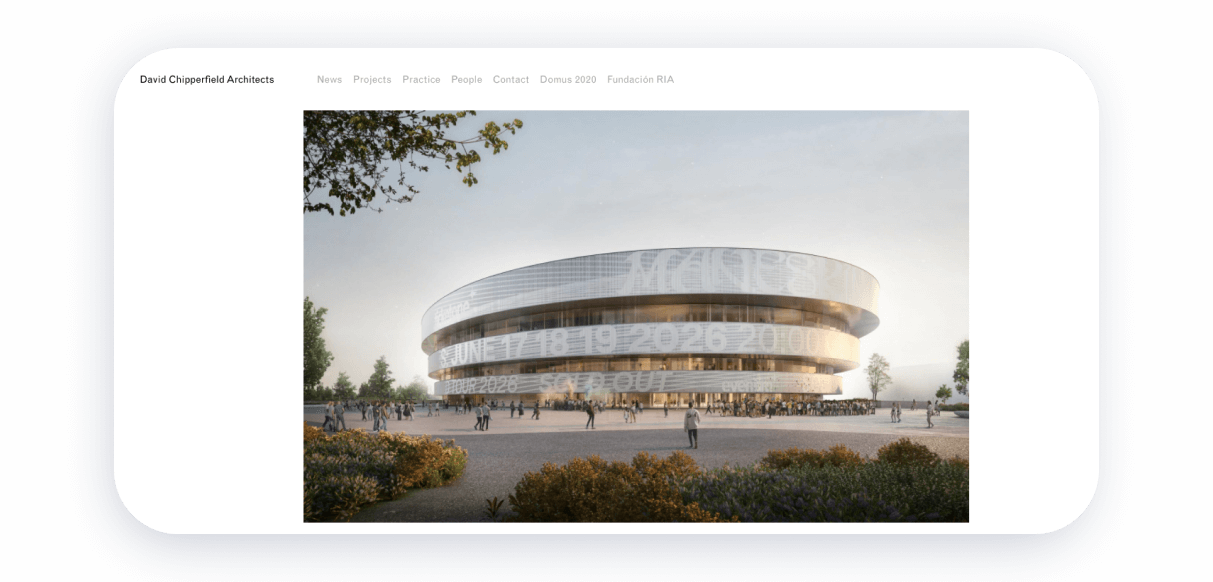 This agency's site is full of air. The architects use white margins as a frame for their work. The original horizontal bar serves as the main menu. It is easy to get to the news blog, a page with the best works, the practice section, as well as see the list of their awards and publications.
What is outstanding about this site is the 'People' section — there you can see the list of all partners who are engaged in the large project united under the name 'David Chipperfield Architects.' Read about their education, personal achievements, and professional approach to choose the architect you prefer to work with!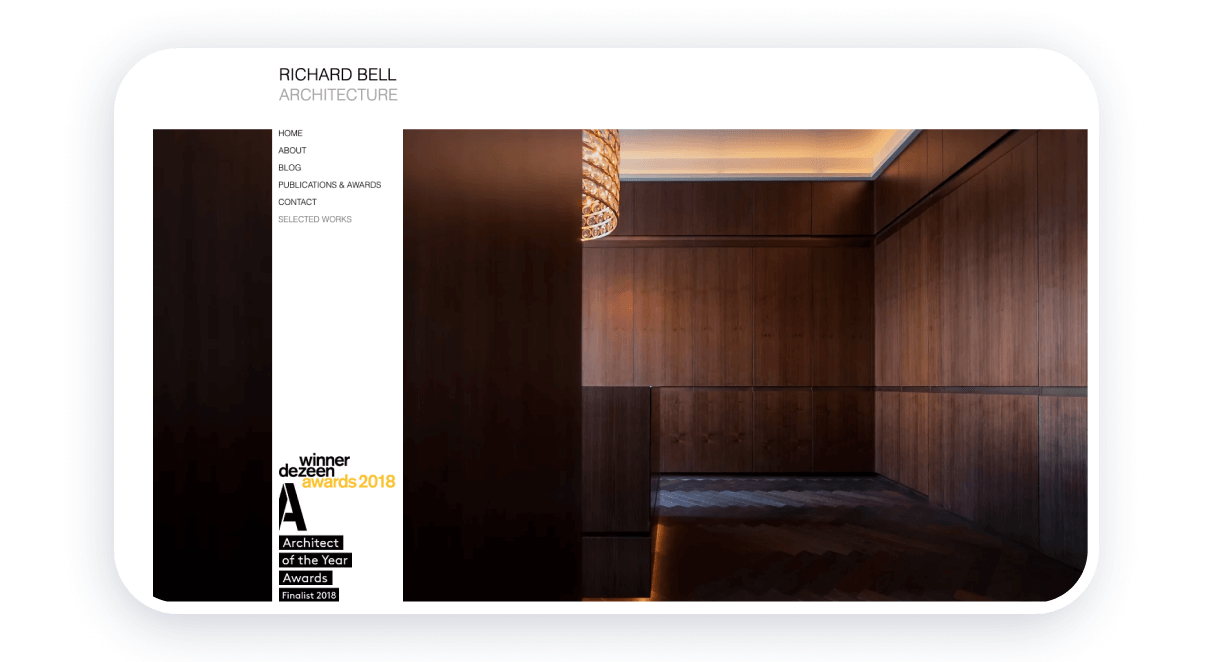 The first thing that catches your eye on the website of the British architect Richard Bell is the "Dezeen Award Winner 2018" plaque. This is a very smart move, as we understand that we are dealing with a professional architect even before we see his work.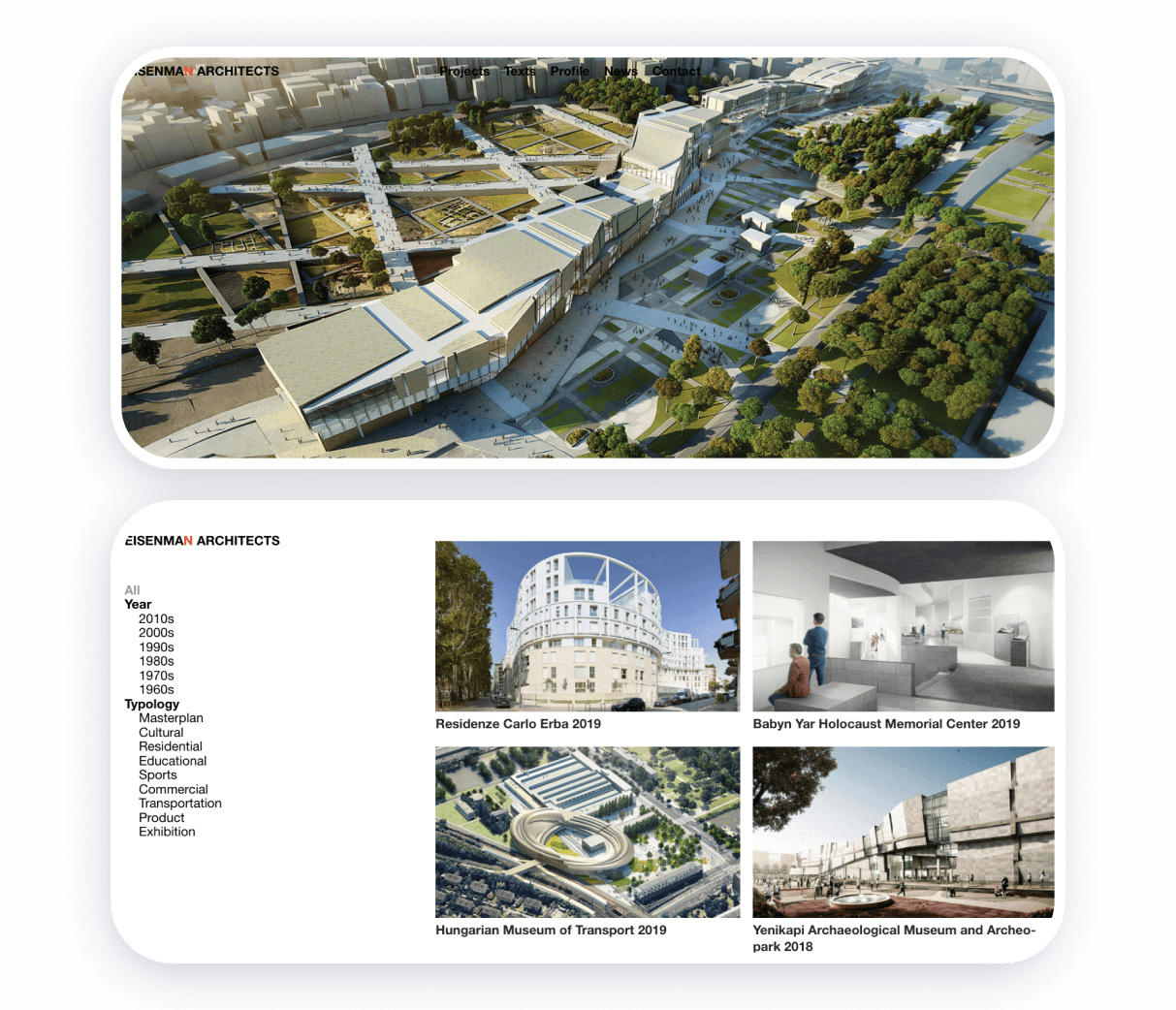 Good architect's works speak for themselves — but that doesn't mean they can't be helped a little. Eisenman Architects is the agency that has been working since 1951. This great Canadian Center of Architecture has a long history that is worth reading about. A detailed description of it awaits you on the 'Profile' page.
Everything about this architecture portfolio website shows the seriousness of the Eisenman approach. The minimalist design, smooth transitions, and lots of awards inspire trust and make you want to cooperate with this company!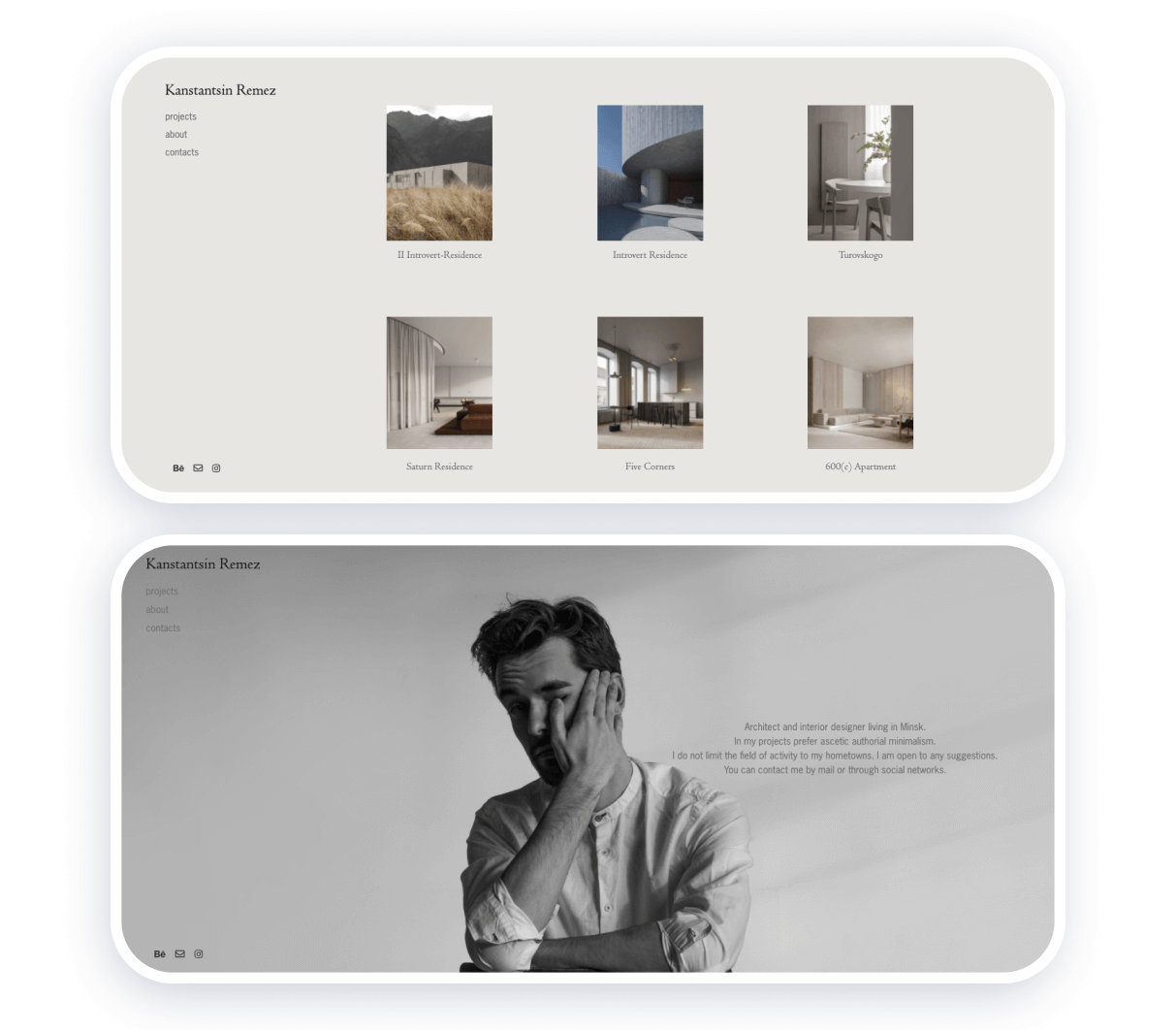 As you are browsing this site, no thought concerning the style of the architecture and his personal view arise. You can see and feel a unique approach in every detail. We have seen many architecture portfolio websites, but the simplistic design solutions and barely perceptible fonts of this introvert platform are heart-soothing.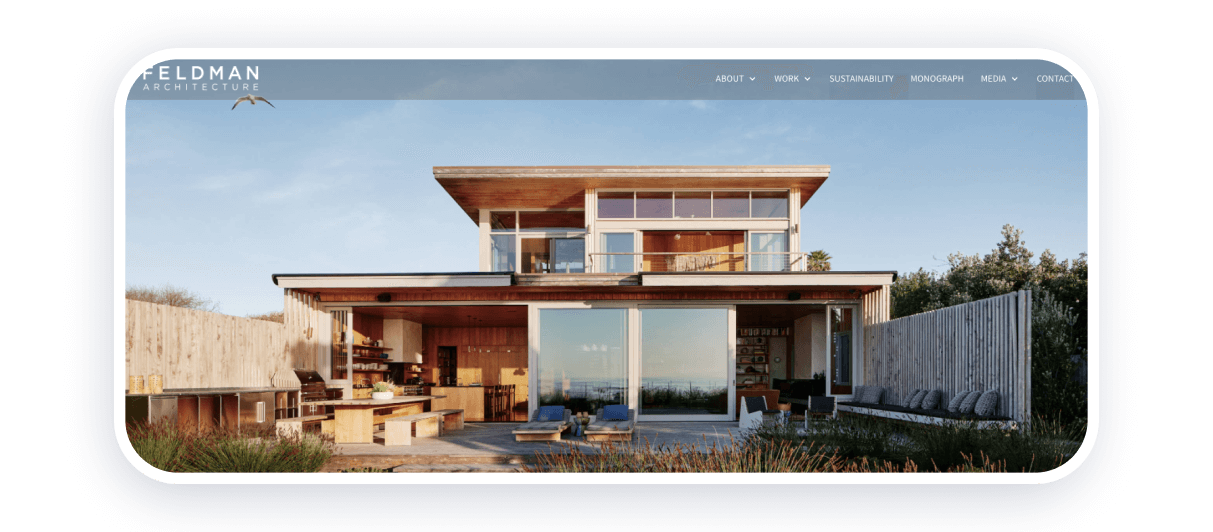 The portfolio site should help the client contact the architect quickly. Did you impress the customer? Now make sure that he needs to make a minimum of effort to contact you.
Feldman Architecture got this message and arranged their site simply and intuitively: you have the 'About me' page, the 'Work' section, a special page dedicated to sustainability, and all the necessary contacts.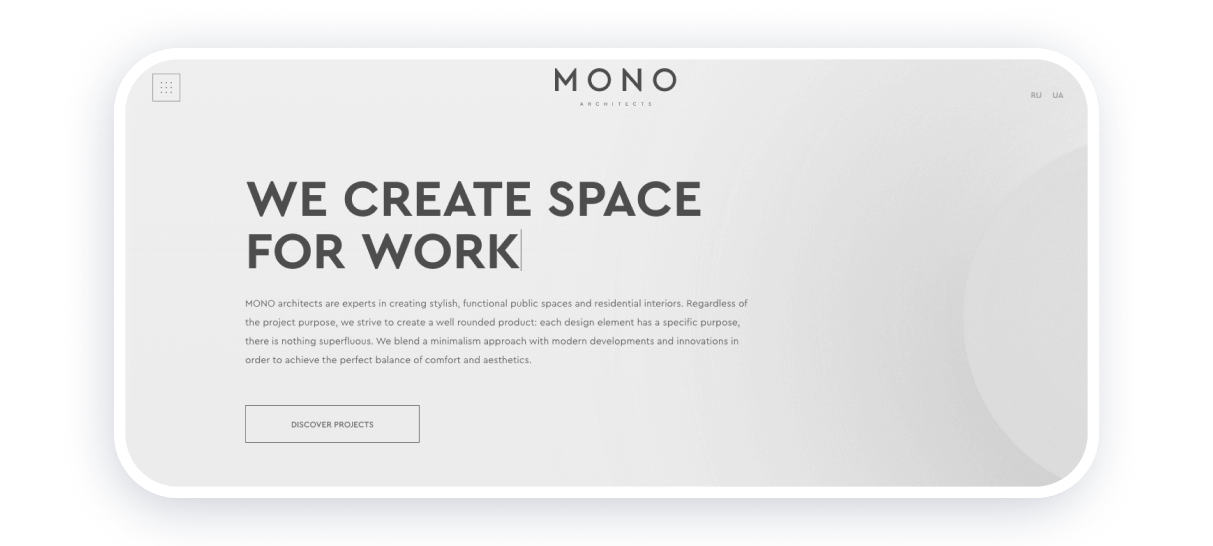 Choosing the right domain name is already half of the success. This agency has a sound name that makes it easier to build a digital architecture portfolio that will be easily searchable. However, Mono Architecture is not only about a short and bright title but about an advanced view of the product presentation.
These professionals chose a strict white design with aesthetically pleasing transitions and unusual details. The whole site feels futuristic and relaxing. This is the agency you would trust in building a perfect residential building.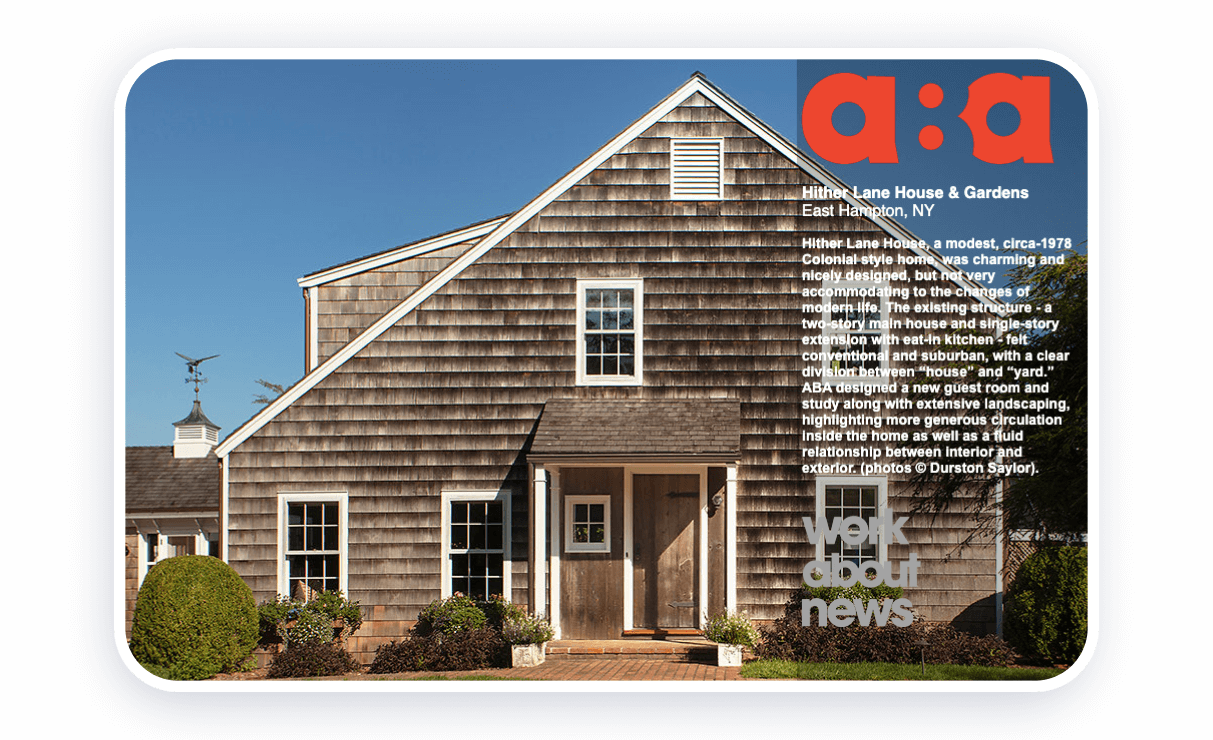 A catchy logo, a modern font, a harmonious layout, and bright high-quality images — the design of the site of this Manhattan studio looks like a page from a glossy magazine. It only takes a visitor a few seconds to get an impression of the company's work — which is always good when dealing with busy customers.
Architectural portfolio websites like this will appeal to the lovers of a modern architectural school — gray hues, sleek animation, and nothing extra.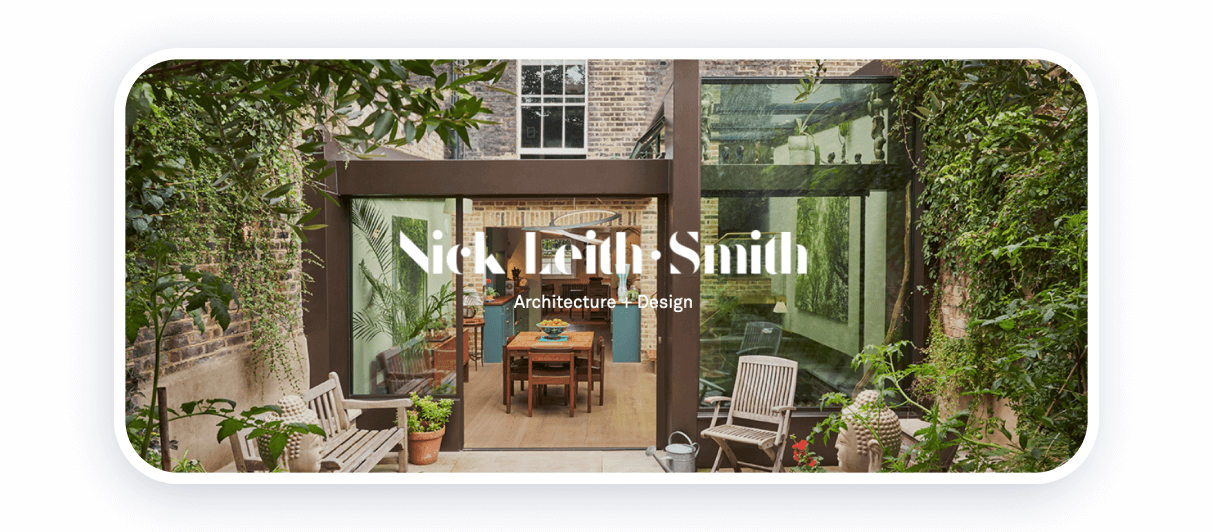 What can be catchier than making architecture portfolio websites that start with a landscape? Of course, presenting your project in its final form and natural surrounding helps the clients better understand how the building will look. This architect decided to present his main page in the form of a full-screen photo while the rest of the pages open after you click on the brand title.
Do not also remember that professionals should proudly talk about their successes to stand out from the competition. Nick Leith-Smith offers his media mentions, latest news, and links to social media directly on the website. These sections reinforce his professional image and demonstrate his level of skill.
Tips for creating a winning architecture portfolio
If an architectural project starts with a sketch, then a website starts with choosing the right

website template

. Go for something minimalist or fancy with animated elements and parallax effect. However, the final result should reflect your personality and present what architectural techniques you like to use.

After you choose a template, it's time to make it personal: select the desired images, experiment with a color palette, and mix fonts. Make sure all the details work together and present your professional approach in the best possible light.
Pick projects you're proud of and give them detailed descriptions. Thus, it will be easier for potential clients to get to know about you, navigate the works, and assess whether your tastes coincide.
Hopefully, our professional architect portfolio examples will inspire you to apply design solutions never seen before and present your projects in the best way possible!
So, it now seems a perfect time to build your architecture portfolio website using Weblium!