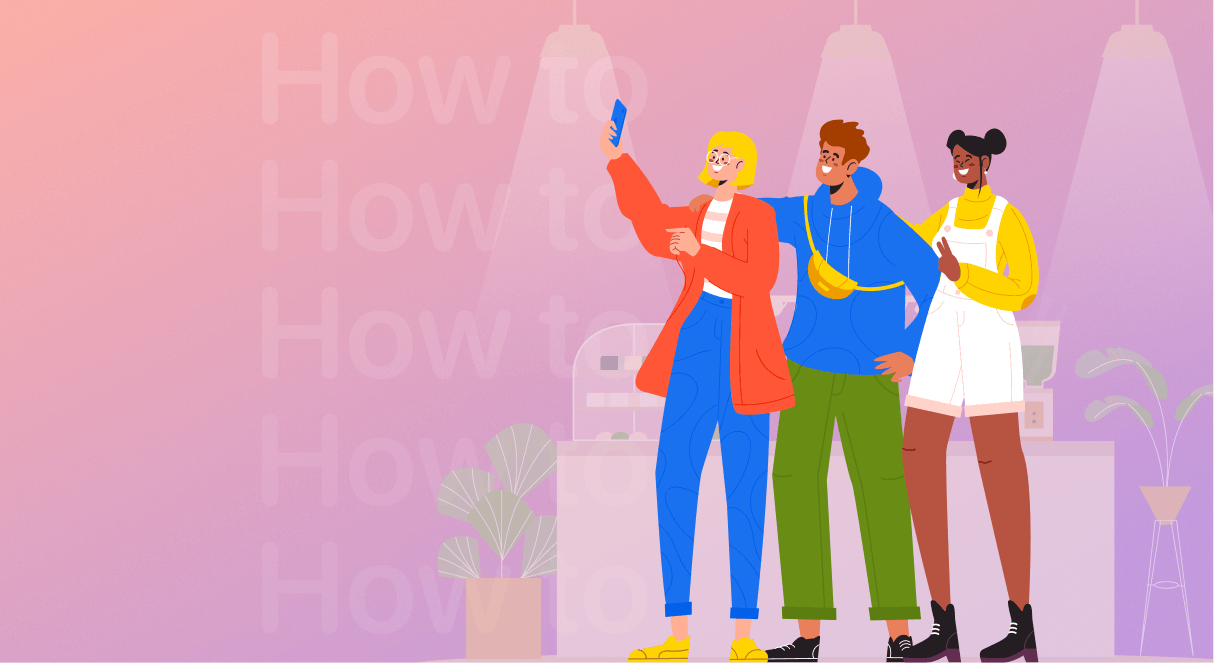 How to Promote Your Photography Business on Instagram
A network with photography at its core, Instagram is an absolute must-have for any aspiring photographer. If you've ever thought of promoting your photography business, Instagram should be the first step on your to-do list.
Read on to learn how to promote your photography business on Instagram, find followers, and get more orders for your photo sessions eventually.
What makes Instagram marketing for photographers so effective?
Instagram for photographers is one of the best additions to the portfolio website, helping you to find followers and increase your brand awareness.
The key to success lies in the notion: "The more you post, the more you get."
Try to develop a habit of posting all your best new photos on Instagram to meet your subscribers' demand for visual aesthetics. Besides, it will give an additional boost to your content, and more people are going to see your posts.
Get the most of promoting your photography business on Instagram
The competition on Instagram is so fierce that your photos might be lost among others with no chance of getting likes or shares. To a large extent, your success depends on whether you promote your Instagram account effectively. Here are the most important steps you should follow:
1. Create a business Instagram account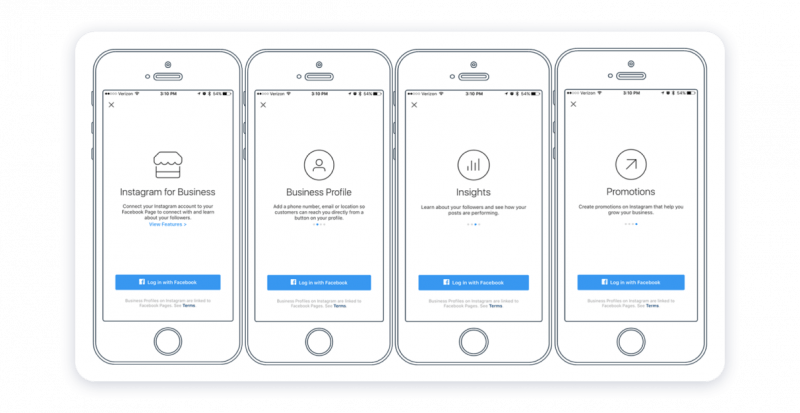 If you already have a personal account, there is no need to create a new one for business. Just convert it into a business Instagram account. This is free but essential as you'll get extra options for promoting your photography business. The best thing is that it gives you access to Insights – post analytics with various statistics to measure how successful your posts are. For instance, you'll see:
The number of times your photo has been saved – Saved
The total number of times your photo has been seen – Impressions
The number of unique people that have viewed your photo – Reach
The number of unique people that have interacted with your photo (commented, shared or liked) – Engagement
But that's not all. A business Instagram account allows you to state the type of your business below your photo. You can also add a Contact button for your visitors to get in touch with you via email, phone or using directions on the map.
TIP: Having a business account allows running promo campaigns – a good option to find followers on Instagram at the beginning. A promoted post will appear in newsfeeds of your target audience.
2. Choose the subject of your photos
Most successful photographers keep their Instagram accounts thematically consistent. This approach has several benefits:
You specialize in one or several related subjects
Your photos always look great together
You can find your target audience easily
You will get more followers as people love topic-oriented profiles
If you cover completely unrelated subjects, your Instagram account will be a hodgepodge of incompatible photos that will put its aesthetics at risk. Even your professionalism won't save the day.
Here are 3 successful Instagramers focusing on a specific topic: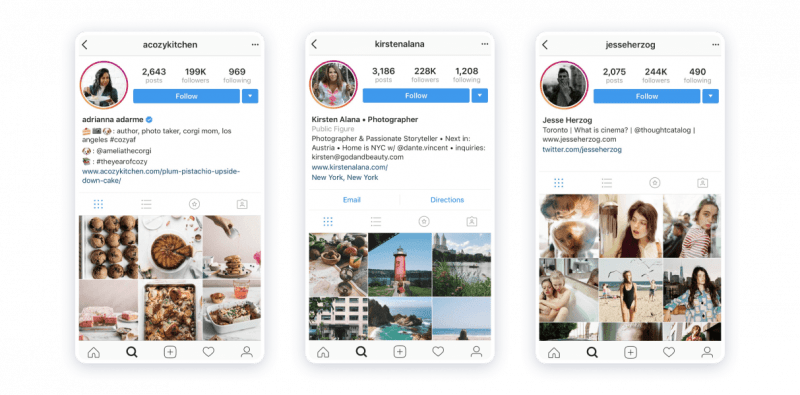 See? Their photos perfectly complement each other, following a common idea.
3. Develop an Instagram content plan
Like any other digital promotion, Instagram marketing for photographers should be data-driven. You have to set a goal of how much traffic you'd like to get from Instagram in, say, 90 days. Then, think of metrics that can be applied to track your progress towards the goal. Track your followers, growth rate, and best-performing photos weekly to see how effective your efforts are and make adjustments to your Instagram content plan accordingly.
NOTE: Growth on Instagram is exponential, meaning that the hardest thing is to get your first followers. The more followers you have, the easier it will be to acquire new ones.
In your plan, consider raw figures, assumptions and goals by the end of the period, hashtags you use, and their effectiveness. This will help you to better promote your photography business on Instagram with time.
We understand that figures and spreadsheets can bore you to death. That's why we prepared a customizable Instagram content plan for you. Just fill it with your activities and keep track of your Instagram performance.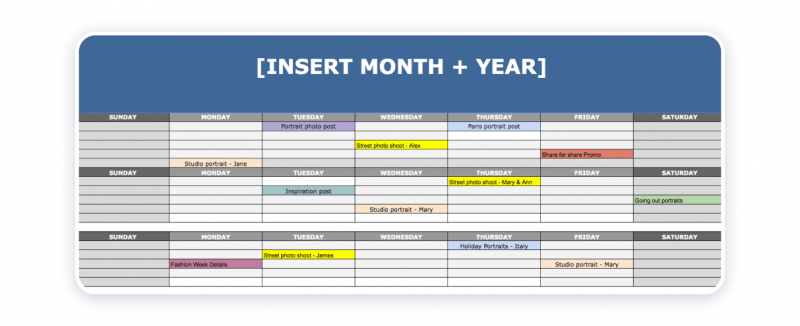 4. Choose an Instagram name that will speak for itself

Your Instagram name is the first thing people will notice in search before even looking at your photos. So make sure it gives people and idea on who you are and what you do. How to find the right Instagram username in this case?
Go for your business/brand name if your business has more than one photographer and if you have already established some brand awareness.
Choose your own name/nickname if you want to develop your personal brand or if you're a sole representative of your business.
If you have a business Instagram account, there's no need to indicate your profession right in the name. You'll have an extra line to describe your business.
5. Create the best Instagram bio for photographers

Successful Instagram marketing for photographers is based on things that distinguish you from the competitors. Your Instagram bio is one of those.
Nevertheless, try not to overuse the possibilities of this section because a bio filled with hashtags will not help you to promote your photography business. Instead, it will only distract from the most significant information.
Use the bio section to provide the information your visitors will need when searching for a photographer. For instance, include the geography of your work, equipment you use and genres of photography that you specialize in. Keep the information under 150 characters.
You can use emojis to make your bio more engaging and less official.
Don't forget about a link to your website! Use it to lead your visitors to the most important webpage. It can change with time so remember to update the link regularly. If it seems too long, use a URL shortener so that it doesn't take up most of the available characters.
The most popular URL shorteners are:
6. Find followers on Instagram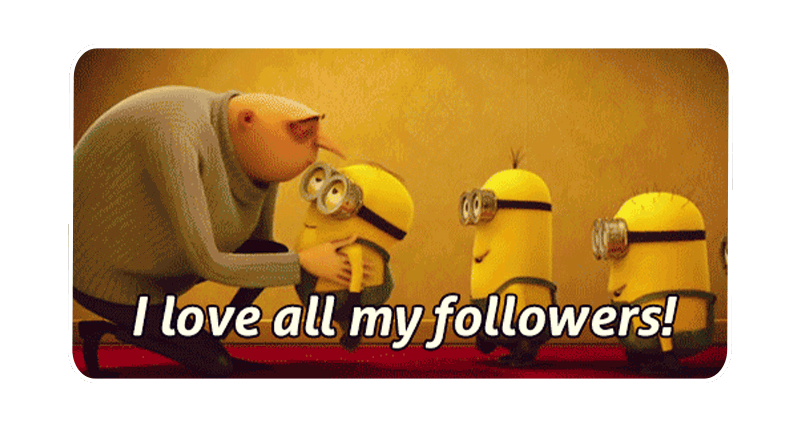 Instagram marketing for photographers is all about followers. Unless promoted, your posts will appear solely in your followers' feeds. Thus, the more followers you have, the greater reach you get. Which, in turn, leads more prospects into your waiting arms.
How to find followers on Instagram for free
Share for share (S4S)
The best way to get followers on Instagram is to follow the accounts with a similar target audience and cross-promote your photos. All you need to do is ask the other user if they want to run a cross-promo. If they are OK with that, you repost each other's photos, mentioning the other profile and inviting people to follow them. Hence, a win-win situation and you both increase the exposure.
Follow and unfollow
Though not always effective, this method works well with profiles with fewer followers. If you're not used to getting hundreds of new subscribers every day, you'll probably notice a new follower and follow them back as a thank you.
To get the most of this tactic, find a successful profile with lots of followers that match your target audience and follow them. Stats prove that about 30% of them will follow you back.
NOTE: There's a limit of 7500 accounts that you can follow at a time. But don't go MAD – its better not to follow more than 60 accounts in an hour. Otherwise, Instagram will flag you as a spammer and may even disable your account.
So as not to seem like spam, engage with accounts that you follow – like and comment on their posts, or write something pleasant in direct messages. If they don't follow you back in a couple of days, don't hesitate to unfollow them – you need to clean up the room for more followers (7500 max, once again).
Use hashtags
The best way to promote your pictures on Instagram and attract a larger audience is to use relevant hashtags (#) below them.
Why is it effective? Using hashtags is the only way for your photos to be found in the Instagram search.
People who don't know you personally won't land on your Instagram account by accident. They're more likely to come across it while searching for something. And that's where a hashtag works best.
Think of it as a label that says that your photo depicts a certain thing. People trying to find that thing on Instagram will see your photo in search results.
For example, someone looking for a wedding photographer will most likely search for #weddingphotography, #weddingceremony, #weddingday and so on. Use these hashtags to attract your target audience.
You can use up to 30 hashtags under one post. And you'd better use all of them, as a recent study by Buffer proves that the more hashtags on Instagram you use, the more output you'll get. In order not to ruin the impression from your photos, hide your hashtags either in the comments section or by adding 5 lines of 'one dot – one break' before them.
How to find relevant hashtags? Look through similar profiles to see what hashtags they use and copy them. Be selective. Don't go for over-popular ones: chances are your posts will be buried under lots of more successful posts. Use the ones with less fierce competition that will give you a chance to stand out or even appear in the top.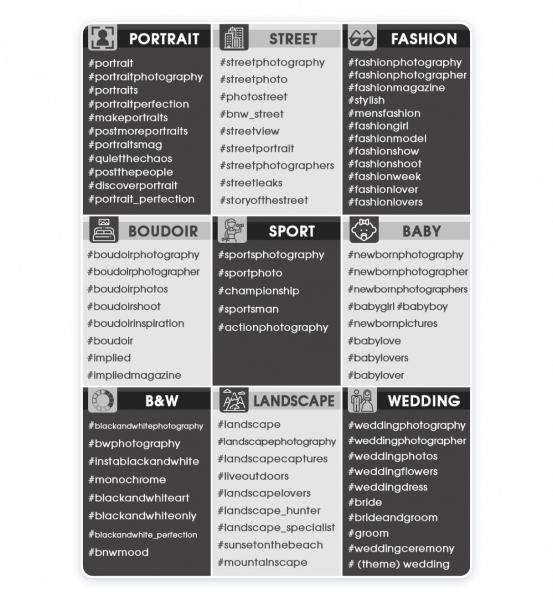 To simplify hashtag-selection a little, try to accumulate a base of around 50 relevant hashtags that you can use under most of your photos. Change a couple of them for every particular picture to increase relevance but use more general ones under most of your photos.
Use geotags
Instagram allows pinning a photo to the location where it was taken using a geotag. Users planning to visit a certain place may look through the pictures taken there to see what they can expect. This is your chance to stand out. If your photo has enough likes, it may appear among the top posts above other photos.
TIP: Sometimes it's difficult to pin a certain location to the photo if you post it after you've left the place. To mitigate the issue, turn on location services for photos on your phone. GPS will automatically determine where the photo was taken. So, when you upload a photo to Instagram, the system will prompt a possible location.
Wrap Up
It's undeniable that Instagram is one of the best channels to promote your photography business. The opportunities are huge and you just have to use them correctly. By following the above-mentioned tips, you'll be able to find and increase your target audience, find more prospects, and enhance your brand awareness.
Nevertheless, don't count solely on Instagram marketing as there are a bunch of other less apparent (yet effective) ways to get visible online. Creating a website, for instance, will help you build more trust with your online visitors.