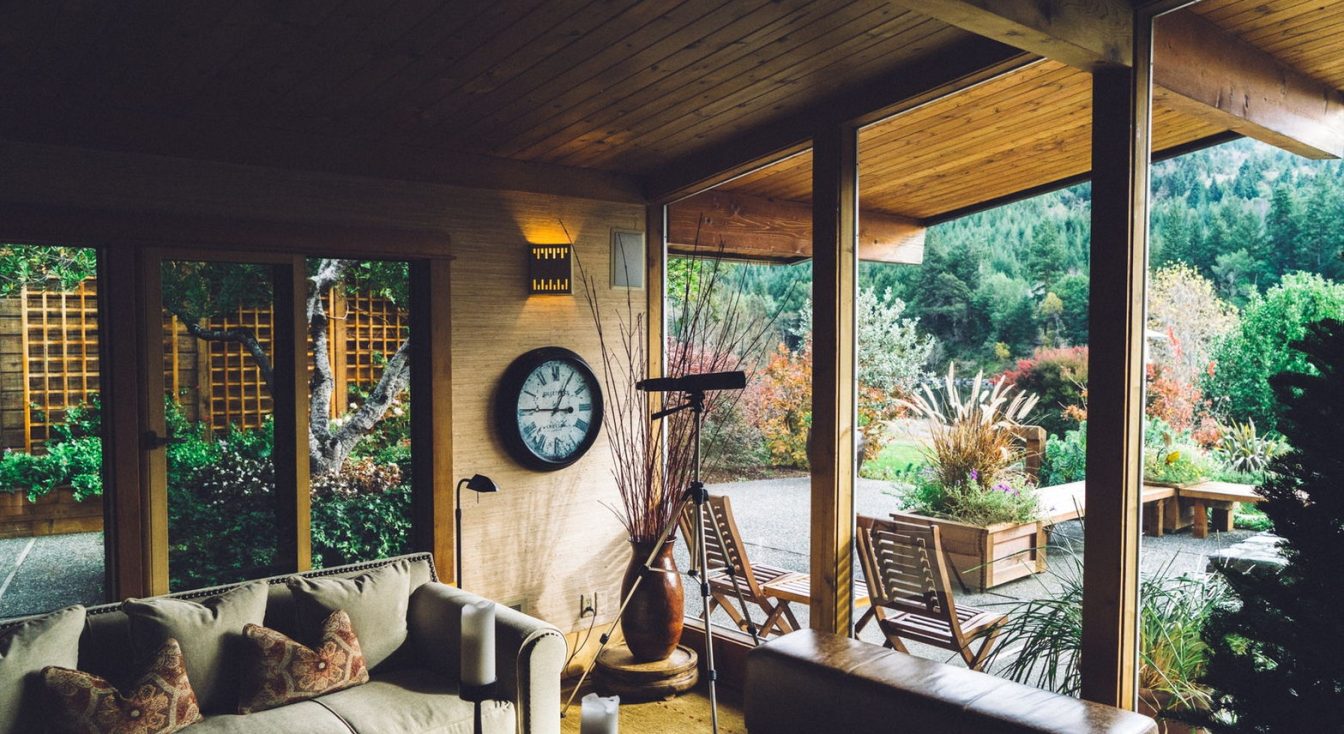 How to Make an Interior Design Portfolio with Examples
An online interior design portfolio is key to a successful design career in the 21st century. A cool unique digital portfolio will help you to find clients easily and maybe even to build a fanbase!
Weblium team works on creating original and effective templates, and our interior design portfolio examples prove it is true.
So, how to create an interior design portfolio that will be attractive for HR managers and clients? When it comes to interior design portfolio ideas, originality is only one aspect to keep in mind; the complete list of the must-have things is much longer.
Different cases require different solutions. Obviously, student interior design portfolio websites differ from interior design studio site. We leave the customization of the interior design portfolio for you. Here's a universal scenario of creating it with Weblium.
Step 1. Create the killing About section
First of all, log in and choose the best website template for your portfolio. There are more than 300 free website templates.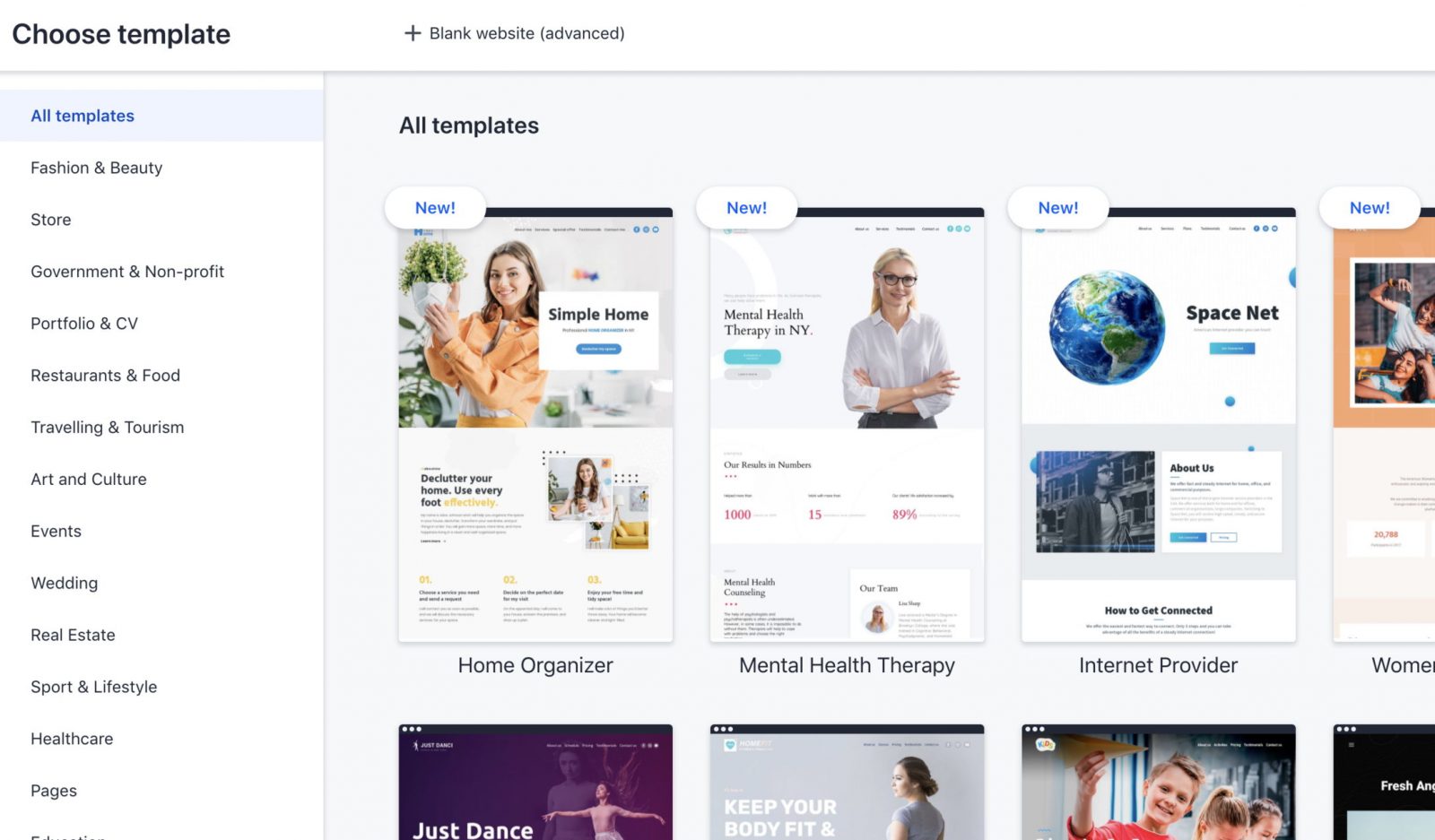 source: https://weblium.com/
Then choose the best block for your about me section or create the new page "About me"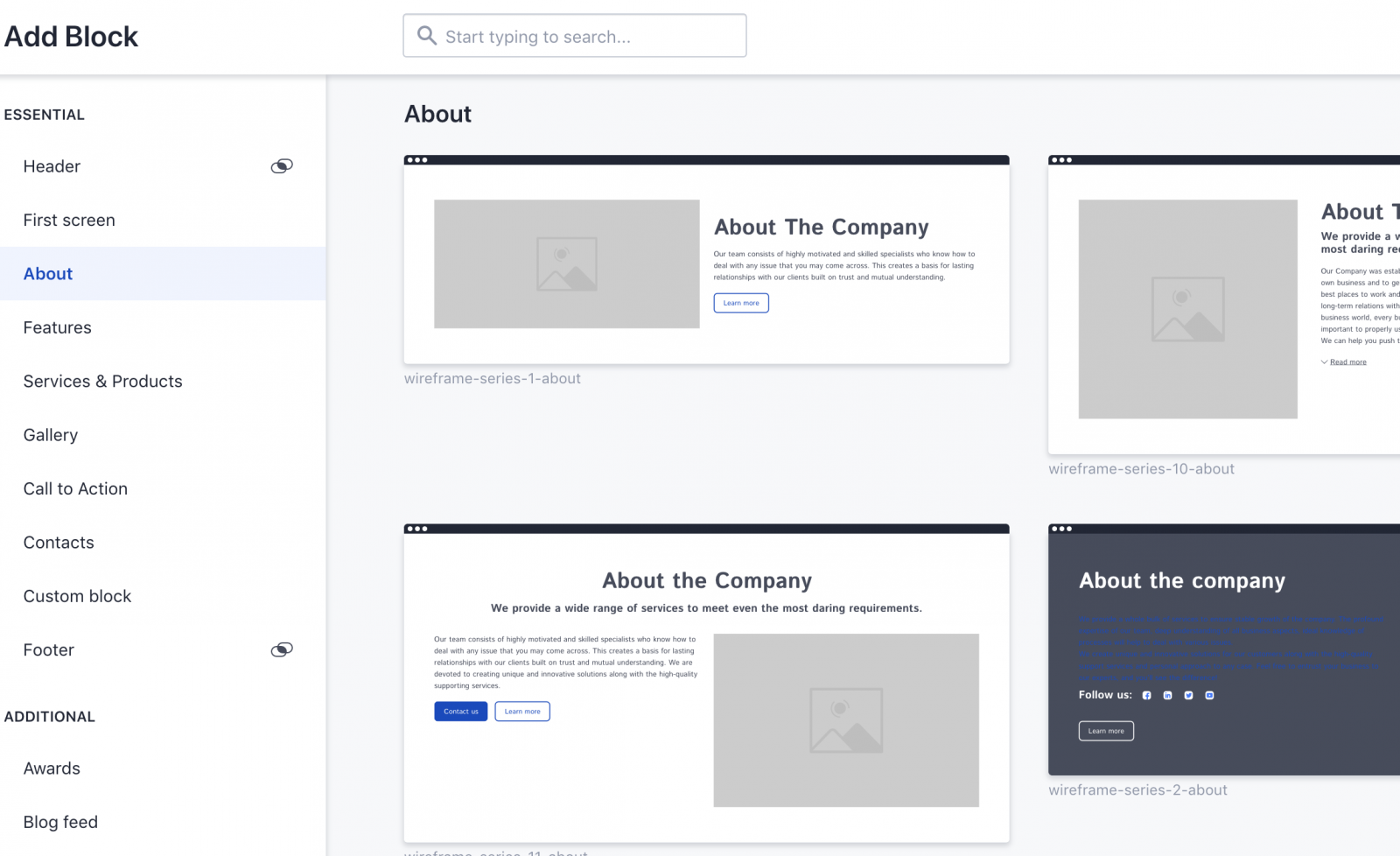 source: https://weblium.com/
Just introducing yourself is not enough. You need to catch attention and stand out. If you have chosen a template with a laconic design, work on powerful copy users won't be able to miss. Think about your target audience and how you want to talk to them. After you decide upon the tone of voice, write a text that appeals and fill it in the template. 
Related Post: 
17 Best About Me Examples for 2021: How To Write a Killer About Me Page
Step 2. Tell about your education, experience, and skills
Depending on a chosen template, this information may fit in the previous section. If you think your expertise is worth a separate description, find a template that dedicates a separate page for it. List the software you work with, techniques you apply, maybe some working strategies, etc. Here you can also tell about your values. If it is a company's portfolio, not a personal one, tell a few words about every team member.

source: https://weblium.com/
Step 3. Add a few words about services
Every Weblium interior design portfolio template gives you some flexibility with this one: it can be a simple price list or several blocks with detailed descriptions, images, and contact button at the bottom of the page. You are the one to decide, what will work more effectively for your interior design studio. 

source: https://weblium.com/ 
Step 4. Show some finished projects
Your portfolio can turn any average website templates into the best website templates. Creating this section may be almost as difficult as working on all those interior designs you are going to show. 
There is no need to list all the projects you have completed, just pick the most prominent ones. You will need to figure out what type of gallery to choose – a scroller, block structure with some text, and "Read more" button, just images zoomed as you move a mouse. The options are diverse, find the one that seems perfect for your works. 
Step 5. Tell more about the working process
This section is not obligatory. It is more important for individual designers looking for a job or a studio waiting for a big order from some corporation. Nevertheless, your work philosophy will be interesting for customers, who want to understand timing and stages. They will be grateful if you provide insight into some of the projects from the portfolio and add some drafts, notes, sketches, and photos that illustrate every stage of the project development. 
Step 6. Mention the highlights and bonuses
When sharing tips on how to make an interior design portfolio, we always mention that you should distinguish between interior design and decoration. If you can deal with the latter, devote a special section for it. Focus on design but tell about decoration as one of your highlights. 
Step 7. Leave your contacts
Some prefer to put this section at the bottom of the page. If it looks more logical for you that way, choose a template where contacts wrap up the information about your company. A standard list includes:
email;

phone number; 

location; 

working hours; 

contact form; 

social network buttons. 
If you are creating a company website, this can be a section to introduce team members briefly, maybe allow contacting each of them directly.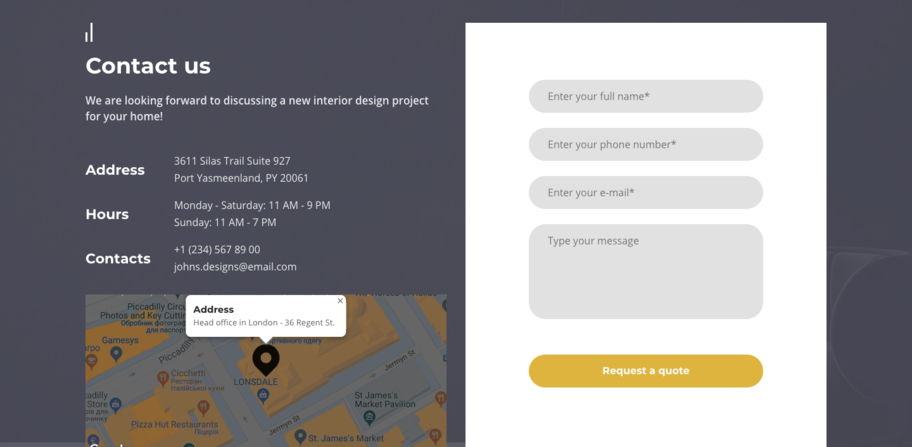 source: https://weblium.com/ 
Step 8. Include testimonials
This section consists of brief comments from former clients, maybe with the links to their cases. Always ask clients to leave the feedback and write at least a few words about you. Usually, people are willingly writing these messages. It doesn't take much time or effort, but the majority needs a reminder or request. If you have some awards and press mentions, let users know as well.
Step 9. Think about some additional sections 
Each designer and agency will have a different approach to creating their sites, based on the specifics of projects and their aesthetics. When you choose a template for a future website, look for things that are not a must but can help to understand you better. Some portfolio website examples feature: 
benefits section/page; 

some room for an inspirational quote;

before/after photos; 

separate press section; 

blog. 
Maybe we have missed something, then feel free to transform one of the available sections into yours.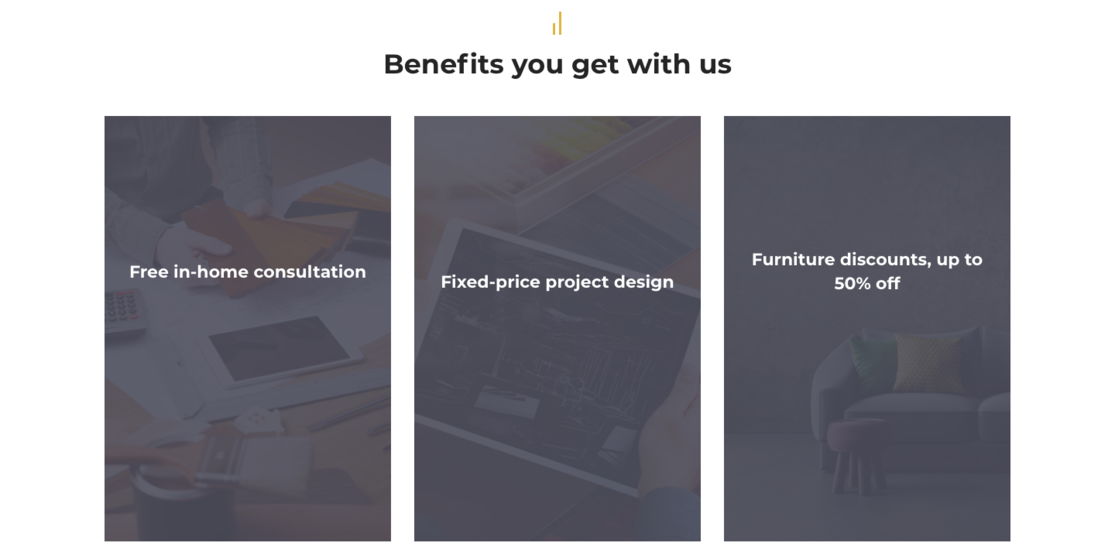 Step 10. Keep it relevant
This may seem obvious but some still forget to update the information regularly. Sometimes you'll need to update the information you prepared for filling a template just before launch as you finish an important project worth showing or some of your offers become outdated. 
Register on Weblium to create your own website. Don't hide your projects and talents — some people are looking for interior design wizards, just like you.
7 Best Interior Design Portfolio Examples
Weblium has many examples of interior design portfolio templates. If you don't know which one to pick or how to arrange information in an appealing way, check out some of the examples below for inspiration. 
#1. Wix interior design portfolio website example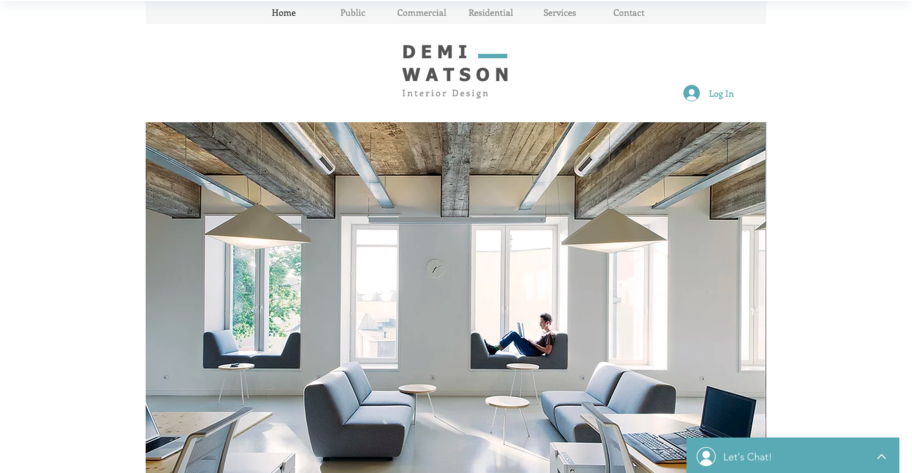 Wix suggests to use the template as a starting point and customize it according to your vision. You'll enjoy the intuitive interface, copy sample, and imagery, and also get some ideas about website structure and presentation in general. 
#2. Squarespace interior design portfolio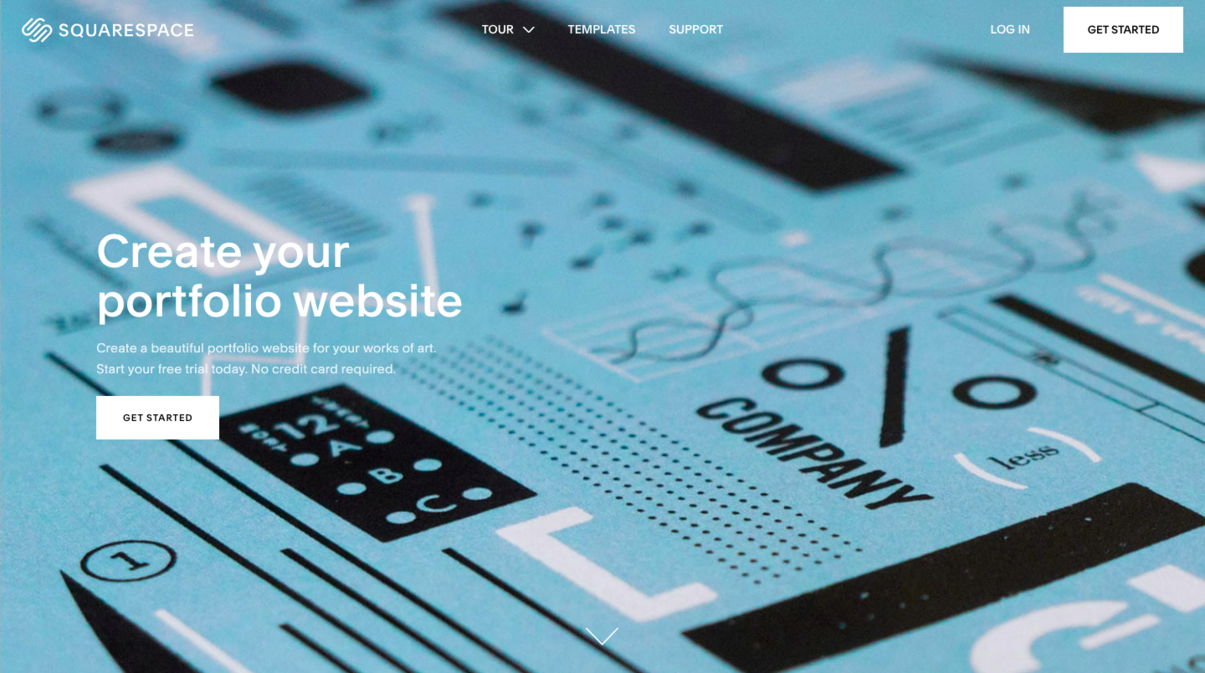 Although Squarespace offers a universal solution for different portfolio types, the extended customization features allow users to express the individuality of their approach to interior design and communicate the highlights that make them stand out. 
#3. Interior design portfolio Issuu
If you are looking for inspiration and ideas for your brand's image, the interior design portfolio on Issuu is the best place to do it. You won't find many website ideas here, but that's a good resource for those who need to come with the concept.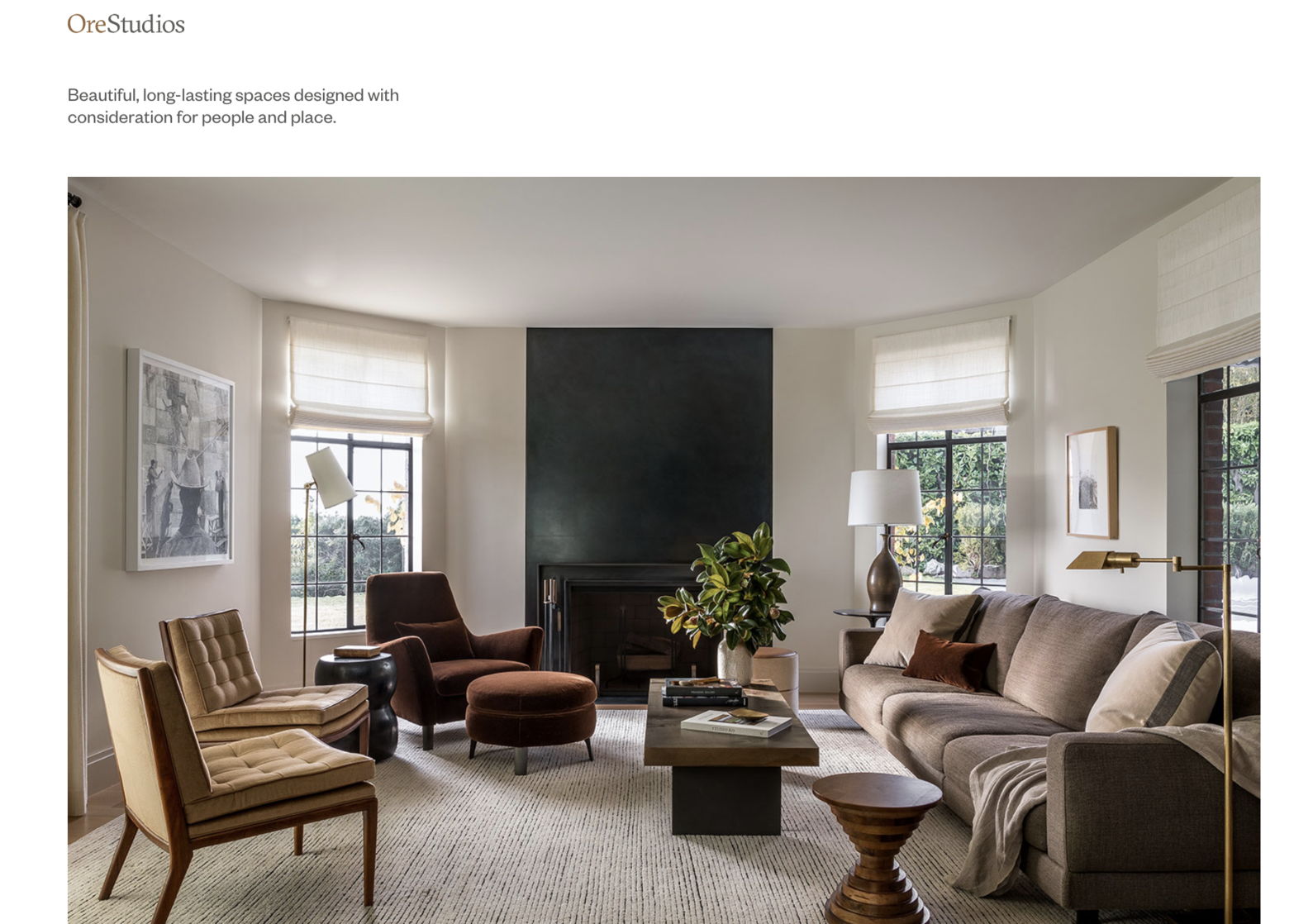 OreStudios places the accent on the visual representation of their services. In the end, a portfolio is about demonstrating the works that will impress you so that's exactly what the studio focuses on. Minimalism and photos in soft colors make the portfolio very pleasant to look at.
#4. Wadsworth Design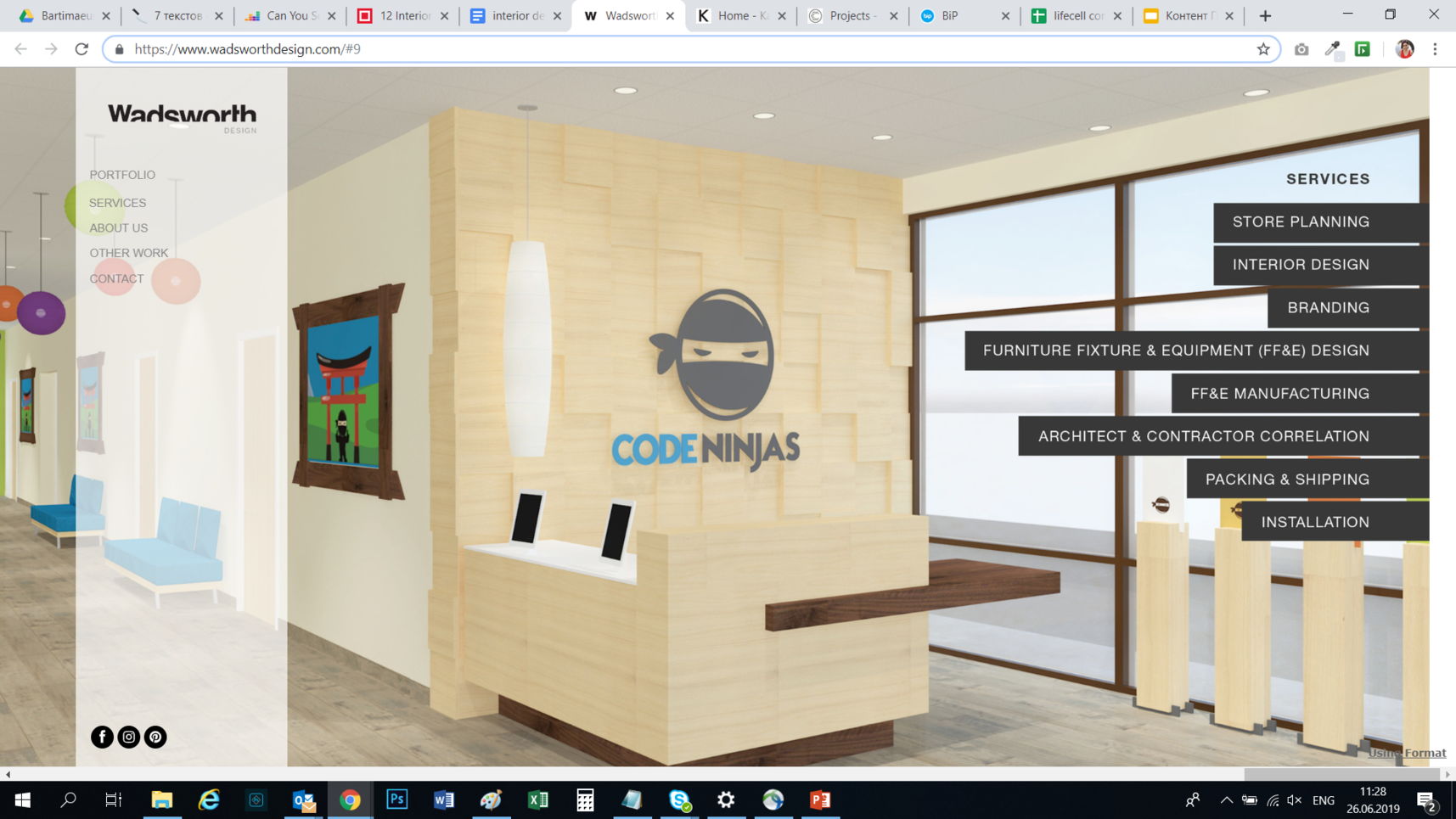 Here you'll find an example of the horizontal scroll, which is an unusual solution that encourages users to interact with the website more actively. Each slide features to text and imagery, while a minimalistic menu attached to the left side of the page lets you open a list of all projects. 
#5. Katie Uther Design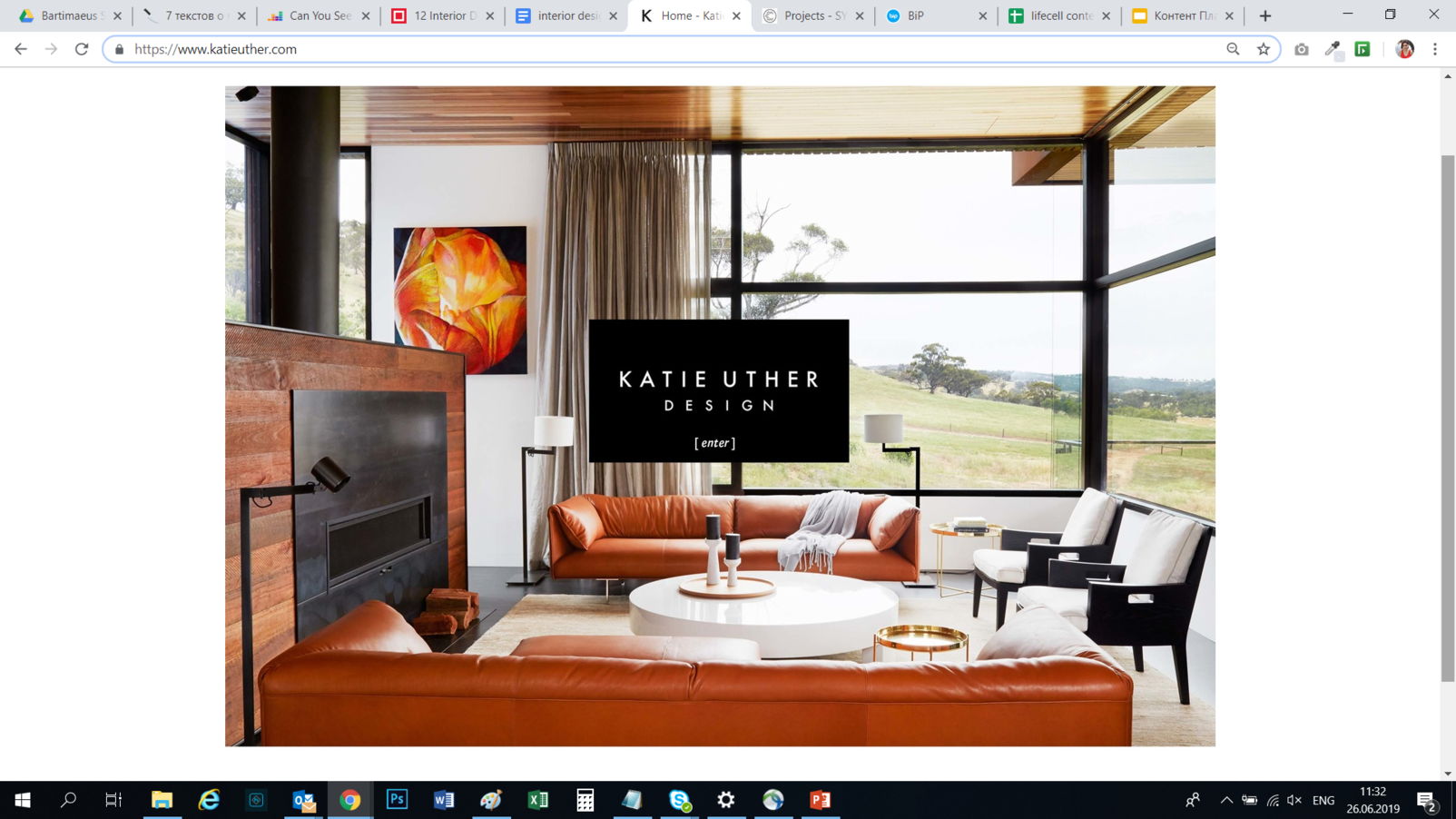 On this website, users prepare to meet a host and her works before they see them all. It seems that you knock at the door first, then see Katie Uter and find out some information about her, and then proceed to the studio with previous projects and designing process insights. By the moment customers decide to contact her, it seems that you know the designer well — a nice trick!
#6. Sybrandt Creative interior designer portfolio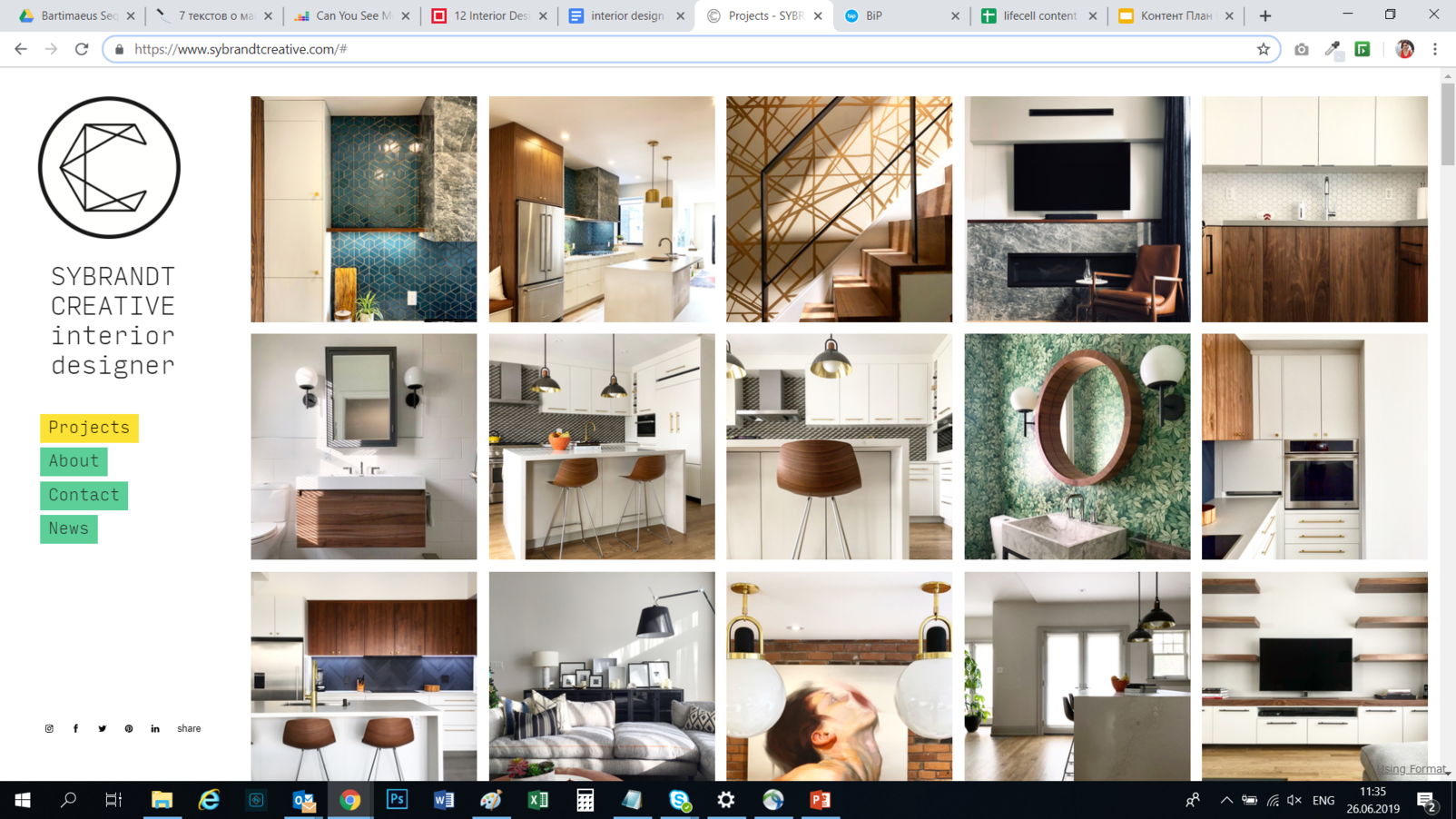 This is one more interesting interior design portfolio template by a Toronto designer visual presentation focuses on interior details. The portfolio displays the playful textures, unusual decorations, and color experiments the studio is famous for. 
Bottom line
An interior design portfolio is a necessary step in your career advancement and brand promotion, whether you are a studio owner, an independent/freelance designer, or just a student. You will get recognition only by showing your achievements and sharing ideas, and the interior design portfolio is the most effective way to do it. 
You don't need to be a web designer or have any knowledge of coding to launch the website. It is enough to pick a couple of favorite projects with impressive imagery, write a few words about yourself or your team, and fill in the blocks in a chosen template. If you need any help, the Weblium team will be glad to figure out the nuances. 
Waiting forward to seeing your interior design portfolio here!
Ready to create your own portfolio?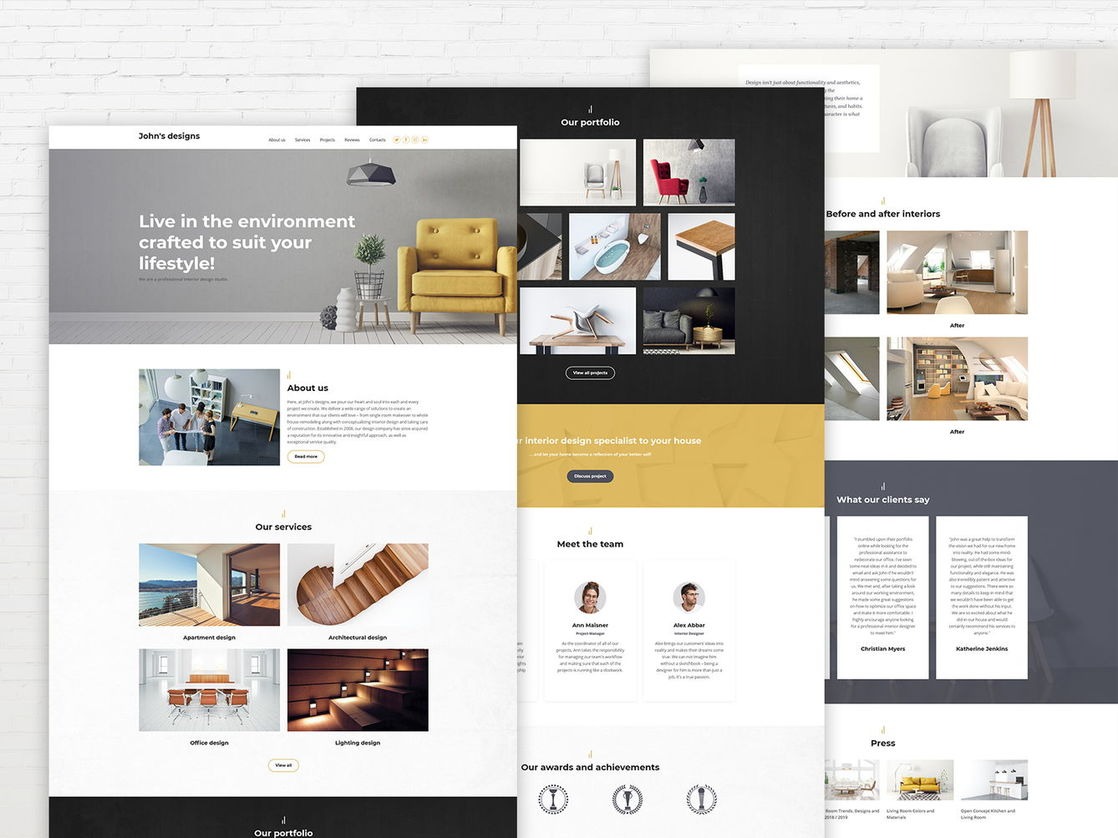 LIVE DEMO: Interior Design Portfolio Template