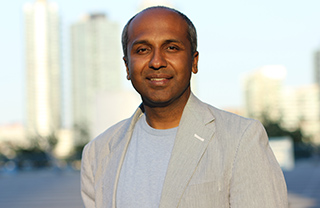 Social Media Marketing for Business: Trends and Challenges (Upd: 2023)
While 2023 has already settled, here is a wrap up of social media trends for business that you need to know. Learn how to avoid social media marketing mistakes, overcome challenges, and stay on top of your competition.
The material is based on the interview with Sree Sreenivasan, a social and digital media guru who served as Chief Digital Officer of New York City, the Metropolitan Museum of Art, and Columbia University.
How to start social media marketing for a new business? How can it help you to grow the business?
I'd always step back and talk to clients, and consider what your company is trying to achieve, what the goal is. Is it to get more followers, get more engagement, or connect with more people?
Social media does four things for a company:
It helps you get more ideas;
It helps you get more attention to the work you are already doing;
It helps you connect with customers in a deeper and a more meaningful way;
It helps you build your brand.
Most brands are not doing all four of these things. They only do one or two of them, missing out of a lot of opportunities.
What social media marketing mistakes do companies make?
The main mistake is that companies use social media to create great campaigns while neglecting the issues with the product.
However, their primary goal is to focus on the product they're developing. They should make it as high-quality as possible, because social media won't make them, or their product, better. What it does is only amplify who they are already.
Erika Anderson has a great line: "If you are good in real life, you can be great on Twitter."
So if the company is bad at customer service, it'll be worse online; if it's good at customer service, it'll be even better online.
That's why between hiring a great social media manager and a manager that will build a great product, I'll choose the second. Social media is the layer on top, it's not the main thing. Thus, companies always have to find a balance between improving their product and social media presence. That's the key goal.
What social media marketing metrics should a company analyze to see if it's doing it right?
Companies and SMM specialists are always focused on the wrong social media marketing metrics. They think that their boss needs more followers, while the followers themselves are not a key metric.
In my mind, the most significant metric is WHO follows you on social media. You want to have influential people follow you and connect with you, and that's what really matters. Everything else is not that important.
So should the company first find influencers who can spread the word about it among their audience?
Yes, that's absolutely correct. Yet, way too many people do it without understanding what that means.
There are many people online who might follow you, but who cannot help you because they're not your actual customers, or they don't have the right kind of audience for you.
Let's talk a bit about current social media trends for business. Why are Instagram Stories so big today?
Because Instagram Stories are very engaging.
However, social media trends for business are not permanent – they change all the time. Instagram Stories are big today but they might not be big tomorrow. So you've got to be careful not to invest all your energy in it.
You should be nimble, and you should be experimenting. Some things work great but some of them don't work as well for certain kinds of organizations.
Why did Stories become so popular on Instagram but failed on Facebook, Snapchat or Skype?
Well, when you say fail, you need to be talking about a certain place. Social media trends for business tend to vary from country to country.
In the Middle East, Snapchat and Stories are very successful, whereas in America or Asia – not so much.
In America, for example, Snapchat has to change some of its efforts because Instagram and Facebook have stolen or copied everything. This means adjusting its business model. That's why they are already changing the way content is created, shared and posted online.
How to succeed on social media? Is there a magic pill?
Companies should be listening a lot. Many companies are only obsessed with broadcasting, but they have to spend the same amount of time listening to their customers.
They have to listen to what their clients are saying, what their prospects are saying, and what their competitors are saying. If they don't do that, they're going to fall behind.
What about social media advertising trends? Facebook has recently launched ads in messenger. Do you think it's a fad or are they here to stay?
It's definitely not a fad. Facebook is forcing you to make ads and boost posts. It is making real money by enticing you to pay for everything.
I met a company in the Middle East that boosted every single story they wrote. They said that they were taking so much effort into making their content, why not boost it then? You don't want it to disappear after all.
Should companies still create posts aiming at organic reach on Facebook or shift to paid social media advertising?
They have to do both. If you have great organic traffic, you can boost it and have a greater impact. If you have bad organic content, no matter how much you spend on boosting, you are not going to have an impact.
What do you think about YouTube live streaming and live videos on other social media?
I am a big fan of live videos because YouTube is the second biggest search engine after Google. People are searching, which means that you have to be there if you want to be found online. The bad news for brands is that there's so much work to be done.
Do you think that companies with limited budgets should hire a professional video maker?
It depends on what you're trying to do. Before I hire somebody full-time to do video marketing, I'd rather hire a marketing specialist who knows a bunch of different things, including Snapchat, video, photography. Or I'll hire a specialist and give him or her a month to show the results. And if it doesn't work, I'll say "No, thank you."
Do you think that recent Facebook eCommerce feature is a good idea for selling goods?
I haven't used Facebook eCommerce yet, but I see a potential. Just like they're doing fundraising now on Facebook, I think the eCommerce feature may also become commonplace.
In any case, it's fascinating how it works. People are now selling goods worth thousands of dollars on Facebook Live. It's an amazing opportunity.
My cousin is married to a Thai girl, and she has just shown me hundreds of Thai people selling clothes, gold, and even cars on Facebook Live. Guess what, people are buying all these things right from Facebook!
How do they sell products on Facebook Live?
They film a video where they show their clothes or other items, describing their details and condition. Then, they start the auction-like sale:
"Who has $10 for that?"
"$20?"
"SOLD! Please DM me for the details."
I don't know why, but the Thai people are obsessed with it. They may spend the entire night watching Facebook Live and buying goods.
What's your opinion on company podcasts? Is it really worth a candle?
Podcasts are good. Thanks to such formats, it's becoming easier to create and consume content, so companies just need to embrace them to succeed on social media.
How can you create a successful company podcast when no one knows about your company?
Here's the thing. The first podcast will not be successful. It takes time to get traction and you will see more people listen to you with every new episode.
Your company podcast has to be really high-quality, as you have only one chance to impress people. As soon as they come, they will listen to you for 10 seconds. You have to hook them with good music, content, description, and that's difficult for many people.
Besides, you have to do search engine optimization (SEO) for podcasts as well.
Will chatbots still be trending in 2023?
Yes, I think chatbots are interesting. They are not going to change everything on social media but they can have an impact.
I saw a chatbot for a mall in Singapore. What happens is you say that you want to buy sunglasses and instantly get information where you need to go. The chatbot may also ask what price range you're interested in, and then give directions to the relevant store. It's way faster than asking somebody at the information desk.
What about the cost of chatbot? Do you think it's worth developing an AI chatbot or is it enough to buy a ready-made one?
Fortunately, it becomes much cheaper and easier now. I'd recommend taking an open source bot and testing it. If it's a success, it's worth investing some more money in it.
Do you think that VR or AR could be used in social media marketing?
Maybe. I'd say there's a lot of hype around these things. I'm a big believer in augmented reality, in this case. I think there's a lot of opportunity around AR in social media marketing, while VR is more difficult to apply there. In any case, I wouldn't bother with these things unless you are a very specialized AR or VR maker.
Instead, I'll try to focus on photos, text, video, content – things that will have the maximum return on investment.