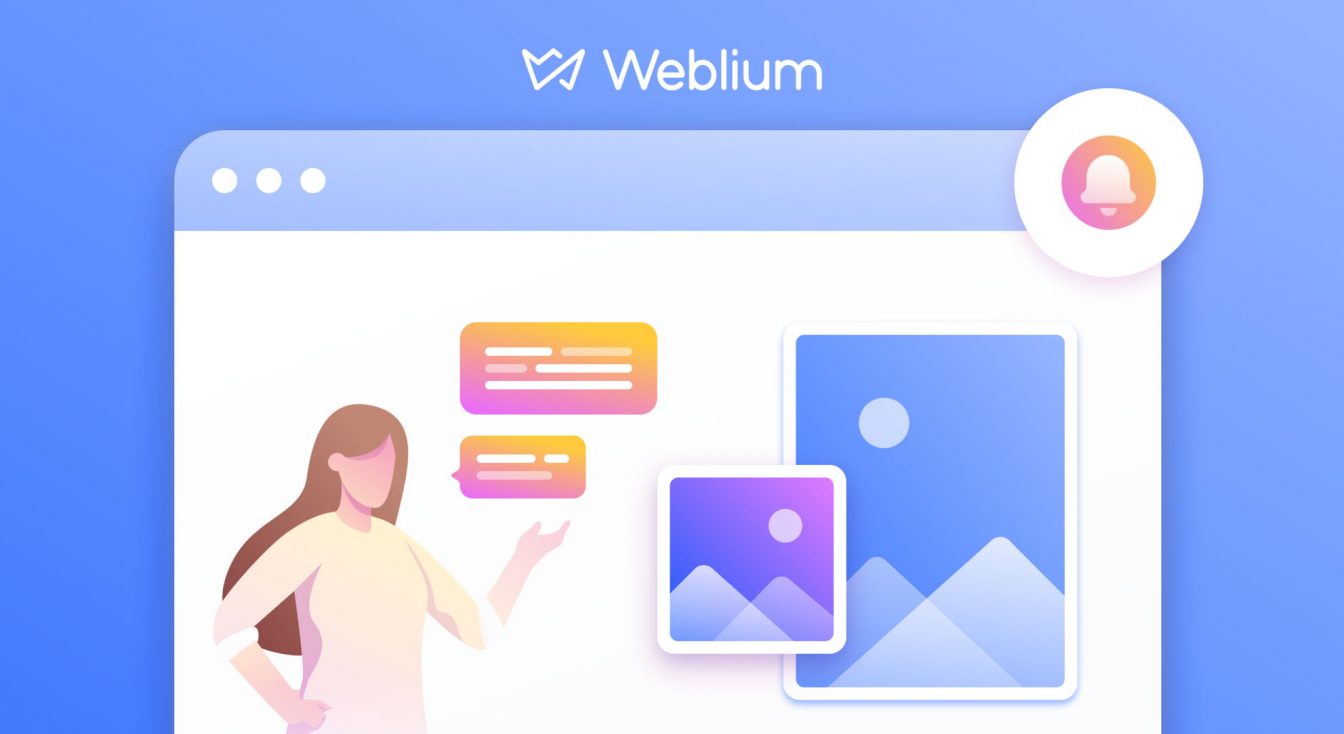 Weblium Product Updates: #September 2019
While all American journalists were writing about an impeachment inquiry against Donald Trump and kids around the world were striking for climate change, we were diligently working on Weblium product updates to enhance your Weblium experience 💪.
Check out what product updates we've made in September!
Custom social icons
Have you already tried to set up our global icons? We received many words of thanks from Weblium creators for delivering the feature, so we decided to go further and improve it a little bit more. Now you can add any custom icons on your site.
You can do it in two ways — in Site settings and Social icons settings.
1. Navigate to the Social links tab. Click on the +Add global social link and upload a custom icon in the SVG format that doesn't exceed 10Kb.
2. Go to the Social icons settings of a custom block with social media icons. Toggle on the option of custom social links and upload a custom icon to the block.
Do remember that you can't change the color of your custom icon because it's given that you upload the exact icon you need. When you activate custom social links, you automatically switch off global social icons.
By the way, you don't need to upload the same icons more than once because all icons are saved in the custom icons list.
This online service might come in handy to convert your icon from PNG or JPEG to SVG format.
Here is your full video guide.
Loop slides in slider blocks
If you have only few testimonials, partners, or awards but want to place them with a slider on your site, don't hold yourself back and use our new feature — loop slides — to create a more dynamic slider block. The feature makes your slides repeat continuously in a way that your first slide will start automatically after the last one. For website visitors, it will look like you have plenty of elements in the slider.

Take the following steps to check out the feature.
Choose a custom block and enable the Slider mode in the Collection item settings. Then, scroll down to the bottom of settings and leave a tick in the Loop slides checkbox. That's it. It can help you not only create more dynamic slider blocks but also boost visitor engagement on your site.
Besides, we added one more feature in slider blocks. From now on, you won't need to change texts under slides every time you change slides' positions. You can add any texts under slides and only then optimize their order in the Slides order section. It will illuminate the number of repetitive actions that you need to take while building a website with Weblium and save your precious time.
Here is your full video guide.
Notification about form integrations & Global Email integration
This month we have 2 great news for active users of contact forms.
Now all contact forms have a notification to set up integrations with Email, Zapier, or Telegram. We bet it's difficult not to notice the animated red circle with an exclamation mark at the right-bottom corner of all contact forms without integrations. We hope this gentle reminder will help you not to loose submitted form information. 
The second update is the most relevant to those who got used to mostly communicate via email. Now Email integration is global and has the same settings as Zapier and Telegram integrations.
Go the route to connect the Email integration with your contact form.
Click on the Form Settings and navigate to the Integrations tab.
Enable the Email integration and click on the Set up Form integrations.
Go to the Form integrations, click on the Email tab and add your email address.
Voila! Right off the but, all form requests will be sent directly to your inbox, and you'll be instantly notified when a website visitor completes the form.
Here is your full video guide.
New templates
Awesome as always—our collection has been enriched with 7 ready-made and exuberant templates made by our web designers/rocket scientists. Today you can choose a perfect template for your business niche from 163 unique and thoroughly researched templates.
Check them out to get a far better understanding of how they could help you get the most bang for your buck.
September wasn't so fruitful as some previous months because half of our team was deeply engaged in blog development.
Stay tuned to keep yourself posted about upcoming blog release. We're so excited to showcase it to you!