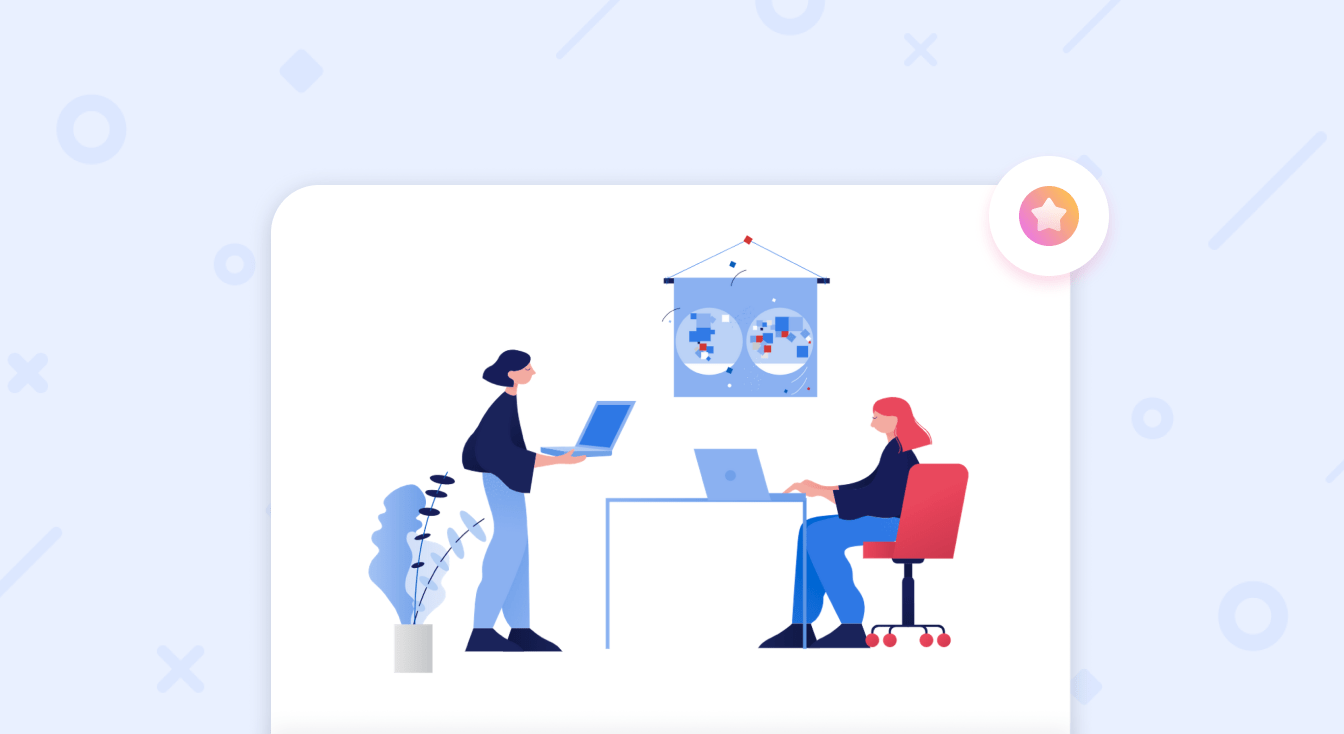 White Label Website Builders Review: Best Solutions
White Label is actually a ready-made website builder business that you can start right today without going through a long development process. You can offer a ready-made platform to other users under your own brand. 
Let's see how it works and which service to choose from all White Label website builders. You'll also find out how much it costs to set up White Label and website.
What is White Label?
With a White Label, you buy a license and resell an existing website builder under your own brand. The end-user does not even know that the service on which he creates the site is not yours but someone else's. 
In fact, White Label solution can offer you many benefits:
Fast launch of your business and cost savings.

You can focus on areas that you know best (e.g., marketing).

Your platform is updated at the same time as the original service. Your customers enjoy all the latest features of the site builder.
White Label companies offer monthly and annual pricing plans at prices affordable for any web agency. Let's take a look at the main White Label solutions on the market and calculate the price for setting up the White Label and website.
Duda White Label
— Great Solution for Professionals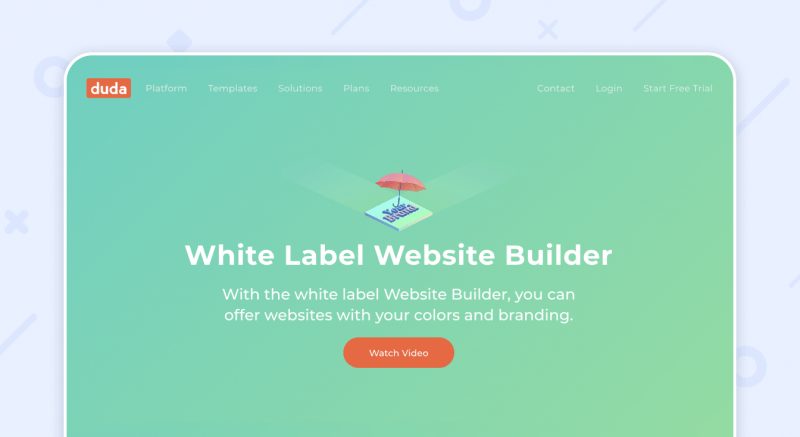 website: https://www.duda.co/website-builder/white-label
Duda can be a good option if your end users are professionals, such as designers, digital agencies, marketers, etc. This platform offers a nice website builder with various options for team collaboration and client management:
Client Login Screen

— users will log in to your branded page.

Branded Website Builder

– the builder will be provided in your corporate colors, with your logo, etc.

Website Preview Tools

— it is possible to send clients interactive website previews for approval.

Template Gallery

— your clients can use the Duda website templates without mentioning Duda on them, of course.

Email Communications

— emails with password recovery, system messages, automatic mailing are sent on behalf of your brand.
The price for Duda White Label is discussed individually after a 14-day trial.
Ucraft White Label
— High Prices and Vast Functionality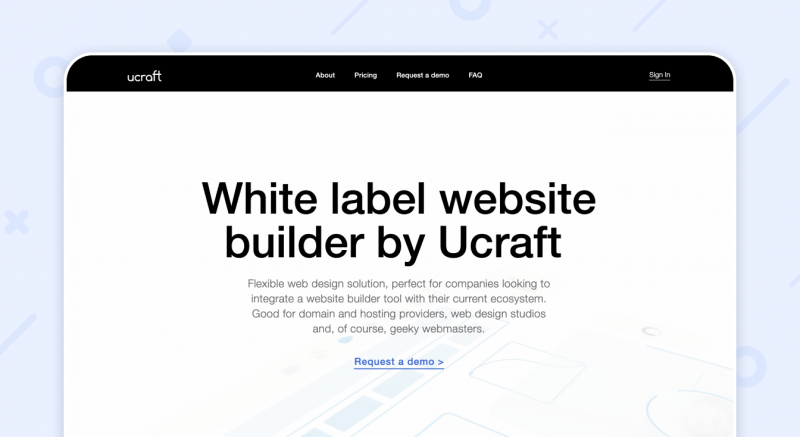 website: https://www.ucraft.com/whitelabel
Ucraft is another site builder selling its platform on a White Label basis. Ucraft offers:
Fully branded website builder.

Your own subdomain for client sites.

SEO settings.

Large selection of templates.
Ucraft has several pricing plans:
$399/mo. – Within the

Agency

plan that lets you create up to 100 websites on your platform using up to 10 Ucraft templates.

$1299/mo. – Within the

Partner

plan that lets you create up to 500 sites using up to 10 Ucraft templates.
Both pricing plans include features such as:
Personalized pricing plans for clients.

Drag and drop builder.

Ecommerce App.

Logo Maker App.

Integrations with different platforms.

Billing system. 

Admin Dashboard.

Account Manager.
The Enterprise tariff is suitable for large companies that want to give their customers maximum opportunities. This plan includes an unlimited number of Ucraft websites and templates, and, in addition to the basic features listed above, it provides:
Overriding & extending the core.

Affiliate Solution.

Referral Program.

Technical Support.
The price for the Enterprise tariff is custom. 
IM Creator White Label
— All-in-One Website Builder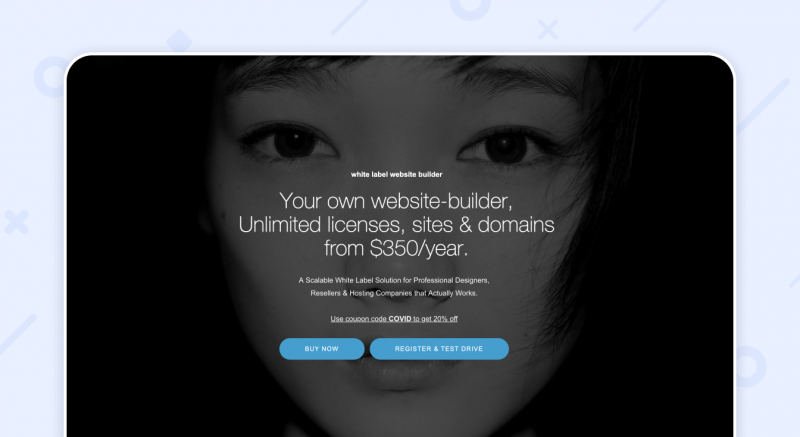 website: https://www.imcreator.com/whitelabel
IM Creator is a large platform, whose White Label solution is used by about 2500 companies. IM offers the following options:
Full branding. 

An unlimited number of sites for clients.

Custom Integrations & API.

Option to use the IM Creator billing system with a 5% fee.

Reseller's dashboard.

eCommerce & Blog solutions.

Built-in CRM system. 

Automated SSL.

Hosting on your choice.
IM Creator has three pricing plans:
$350/year –

Standard White Label

with full branding and an unlimited number of websites.

$2,500/year –

Host It Yourself

with the option to download clients' websites, host websites on your servers, and get API access.

$25,000/year –

Servers Control

with a customized copy of the builder on your server, custom API integration, login APIs, and server ownership. 
Weblium

White Label
—
Landing Page Builder
for Small and Medium Business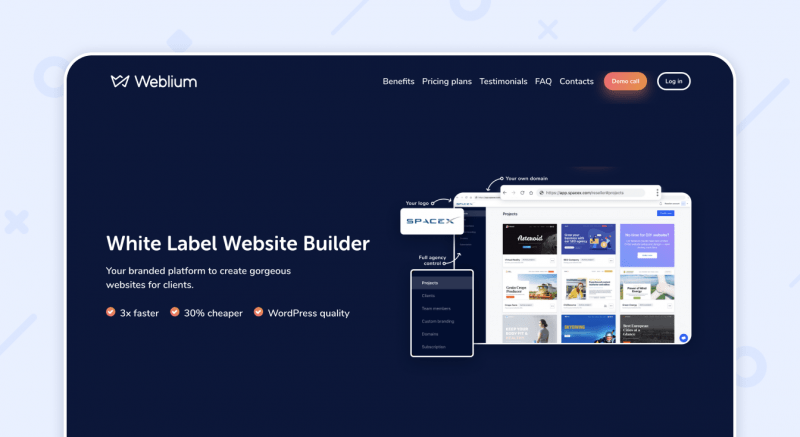 Weblium is one of the best site builders out there. It lets you create websites of WordPress quality, but three times faster (because of the intuitive interface) and 30% cheaper! Thus, it's perfect for large agencies as well as freelancers. 
It's almost impossible to make an ugly website on Weblium because you won't start from scratch. There are 250+ professional and easily customizable templates to choose from. Besides, there's an AI Supervisor that makes everything look stylish and logical as you edit the template. 
This means that a site created on this platform (but under your brand) will bring you many satisfied customers and more income from monthly or annual subscriptions.
Weblium White Label offers the following benefits: 
Simple and powerful editor fully branded for you.

3x increase in the development speed (compared to WordPress).

Effective SEO tools out of the box.

Dozens of marketing tools like Google Analytics, Hotjar, MailChimp, etc.

250+ templates of WordPress quality.

24/7 human support.

High page speed.

20–50% discount on subscription plans.

Ability to set any prices you wish.

No clients` site maintenance needed.

Easy 4-step registration for resellers.

Task outsource to Weblium Studio to make extra cash.
You can choose from 3 pricing plans according to your needs (mind that all these plans are billed annually):
Basic for $24/mo. is perfect for freelancers. It includes:


–

3 projects (websites you can work on at the same time);
– 1 team member;
– Pro subscription for your clients with a 20% discount — 79 USD;


– 10% discount on the site set up by Weblium Studio. 
Growth for $49/mo. is a great deal for web studios. You get:
– 10 projects;
– 5 team members;
– Pro subscription for your clients with a 30% discount — 69 USD;


– 20% discount on the site set up by Weblium Studio. 
Enterprise for $89/mo. is ideal for big agencies. You get:
– 30 projects;
– 15 team members;
– Pro subscription for your clients with a 50% discount — 49 USD;


– 30% discount on the site set up by Weblium Studio. 
Whatever plan you choose, you also get: 
your domain name & branding – logo and favicon;

1 Pro website;

a free domain name for 1 year;

reliable Google Cloud hosting;

unlimited clients. 
Simvoly White Label
— Bookings, Funnels, and CRM System in One Place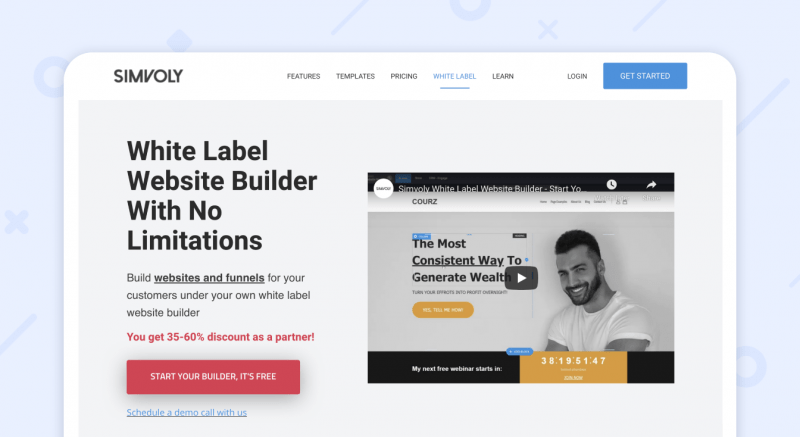 website: https://simvoly.com/whitelabel-website-builder
Simvoly is another site builder with wide functionality. Not only does it include the creation of websites and online stores, but also has a CRM system, bookings, funnels in one place. 
Simvoly offers:
The ability to manually customize the look of your builder.

One-click A/B testing.

Your own eCommerce section.

AWS hosting.

Your own affiliate program.

Lots of templates. 
There are 3 pricing plans for Simvoly White Label solution:
WL Basic costs $29/mo. if paid annually and includes:
– 1 project for free with 1 free website;


– 5 free funnels.
WL Growth costs $59/mo. and includes:
– affiliate system;
– 1 project for free with 3 free websites;


– 30 free funnels.
WL Pro. It costs $249/mo. and includes:
– affiliate system;
– platform skins;
– 1 project for free with 10 free websites;
– unlimited free funnels.
SiteGalore White Label
— Mobile-First Website Builder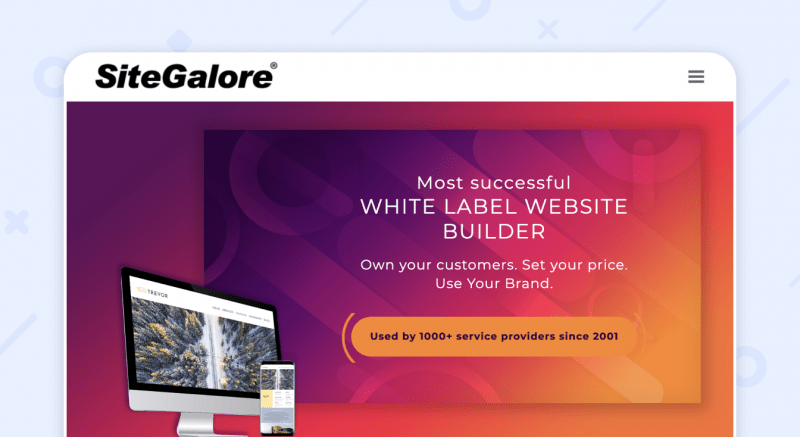 website: https://sitegalore.com/
SiteGalore is notable for the fact that every website built on this platform can be turned into a Progressive Web App. Also, all designs are mobile-first, websites show perfect scores in Google's Mobile-Friendly tests, and Google's page speed test. 
If you decide to buy SiteGalore White Label, you will receive:
A fully branded platform.

The ability to set your own pricing for clients.

The ability to have sub-resellers under you.

Access to the admin panel and APIs.

eCommerce features.

The site builder will work on your domain.
The cost of the White Label solution is not disclosed, it needs to be clarified in personal correspondence with the manager, depending on your needs.
Summary
The creation of one site takes any agency at least 2-3 weeks. Using a site builder, you can design and publish 2-3 sites a day. 
When buying White Label Solution, you get a fully branded, customized platform, on which you and your clients can create beautiful and effective websites right today.
There are many companies that offer this option and still, it's hard to say which is the best White Label website builder. 
If your clients are professionals requiring complex features, Duda is a good choice. 
If you target small businesses and want any user to be able to create a beautiful site on your platform in a matter of minutes, choose Weblium. Its AI Supervisor is beyond praise. 
We also recommend paying attention to the transparency of White Label pricing plans. Anyway, you can request a demo from any website builder and explore all the platform's features before making a purchase.