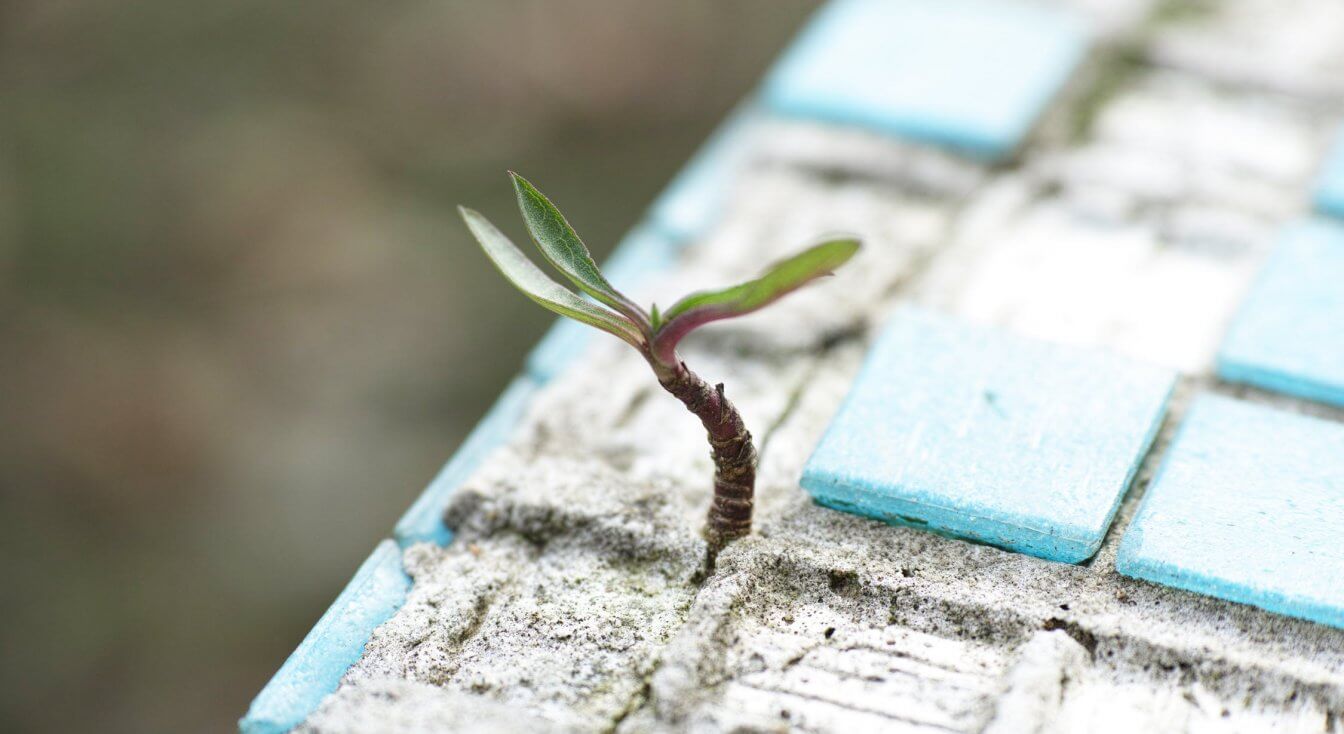 Why is My Website Not Showing Up on Google?
If you go to the Webmaster Google Forum, there's a bunch of questions on the same topic: "Why is My Website Not Showing in Google Search?"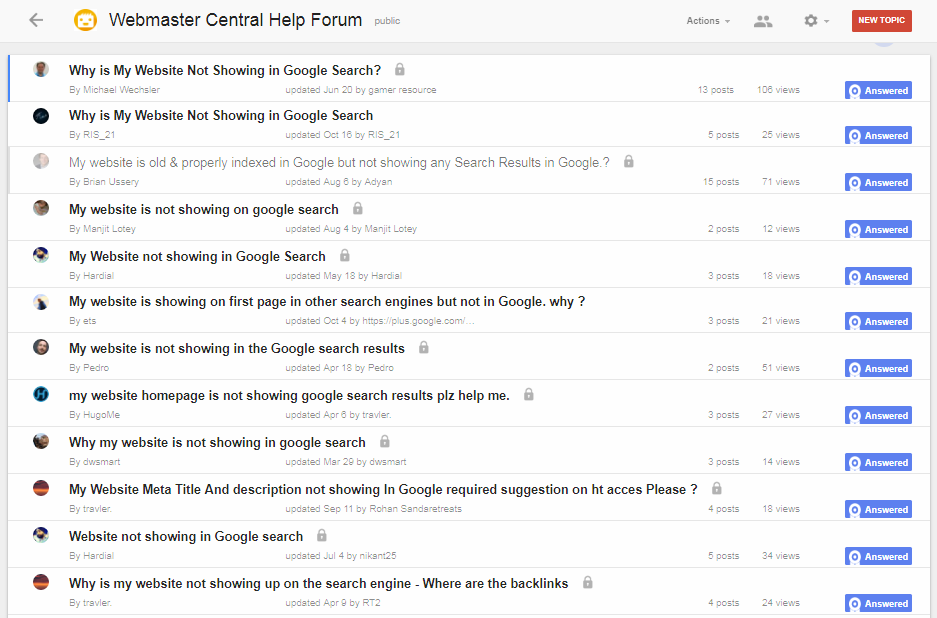 It's a very common problem, and, if you've also faced it, no worries. In this article, we'll delve into search engine optimization (or SEO) to understand the reasons behind that issue and see how to fix it without much fuss. Let's go!
Imagine either one of these situations: you are a small business that has just launched a brand new website or you are an owner of a website that has been running for a while now. In any case, for some reason, you have no visitors from Google, which seems strange.
If you want to create a really high-quality website and SEO optimized, use our new AI website builder for free.
So, my website doesn't show up on google. Why?
We'll walk you through the 8 common reasons for that problem, explain why it might have happened and how to deal with it.
1. A website isn't indexed by Google
When you try to search your website on Google, and it's not showing up in search results, that might mean it's not indexed by search machines.
Check your website for mistakes with a free website analyzer.
Check if your site is indexed to eliminate any other reasons. On the screenshot below, you can see that the website we've searched as an example clearly doesn't exist in Google search.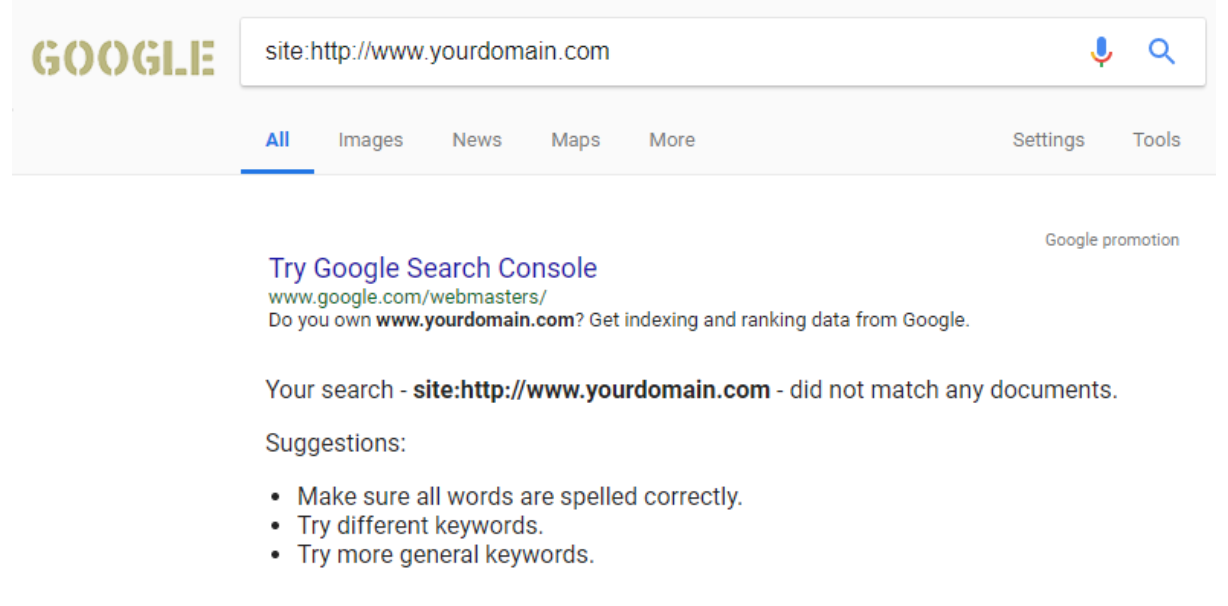 Here's what you should see if a website is indexed.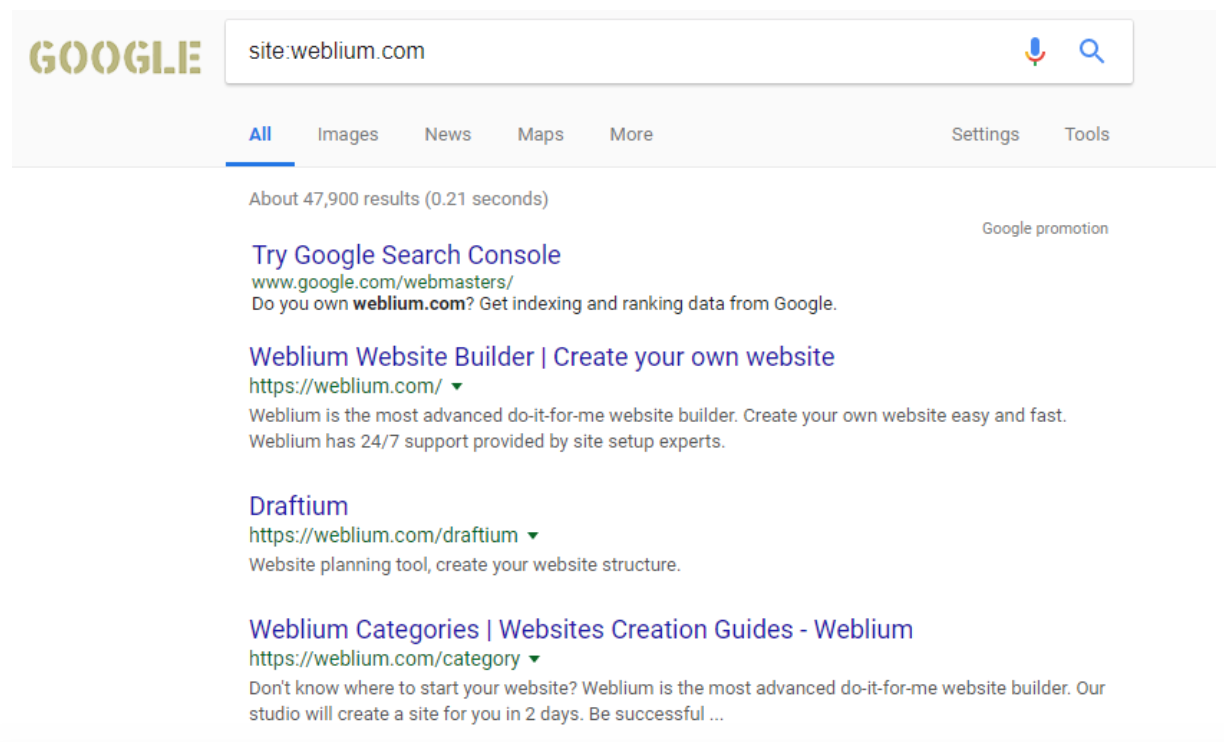 For a new website to start showing up in Google search results, it should match at least one of these three conditions:
Google "web crawlers" automatically added a website to the Google index;

There are backlinks leading to the new website from some other sources.

A website owner added a website to the

Google

Search Console

.
Usually, users don't need to submit a website to Google, but Google "spiders" can sometimes miss a site, and that's when you need to take over and register your site's URL (web address) with Google search manually.
How to fix it?
If you are wondering: "How to show my website in Google search engine if it's not indexed?" here's a quick fix:
Create a

Google webmaster

account.

Go to the

Google

Search Console

.

Complete the verification

by either submitting the sitemap.xml if you have one or using the Fetch as Google tool.

Now, wait for the website to appear in the index and

search ranking

of Google. It may take up to a couple of weeks.
2. Your website doesn't have a sitemap
An XML sitemap is a list of all pages of your website which informs Google and other search engines about your website structure. Sitemaps are able to speed up the indexation process and allow Google to crawl your site more effectively.
If you don't have a sitemap, you should definitely add it to improve the visibility of your website.
How to fix it?
Find a sitemap generator such as

xml-sitemaps.com

(or any other).

Write your website address and click "Start."

3. Wait until the sitemap is created and click "View sitemap details".
4. Download your XML sitemap file.
5. Add the sitemap to the Google Search Console.

3. There's a problem with the robots.txt file
A robots.txt file is an instruction to Google and other search engines on which web pages to crawl and display in the search results. The robots.txt file can usually be found at the following directory of a website: https://yourwebsite.com/robots.txt.
In some cases, the robots.txt blocks specific pages or a whole website from search ranking. That's how the document with a few blocked pages would look like:
User-agent: *
Allow: /
Disallow: /terms-of-use

Disallow: /privacy-policy
The "User-agent: *" addresses all robots.
The "Allow: /" gives permission to crawl your whole website.
The "Disallow: /" restricts robots from crawling the entire website in case there's no "Allow" commands assigned to a number of website pages to be indexed by search engines.
Your website may not appear on Google because of a "Disallow" command which blocks the entire site from indexation instead of blocking only particular pages as on the example above.
How to fix it?
Open your robots.txt. You can find it in the root directory in the file management or the FTP section.
Check if it contains the "Disallow" command which forbids crawlers to access your website. In this case, the document will look like this:
User-agent: *
Disallow: /
3. To allow Google to crawl all pages on your website, delete everything after the "Disallow" command. In this case, the file will contain the following:
4. There is "noindex, nofollow" meta tag in your website code
Another reason why a site added to the Google Search Console might not be showing up in Google is the "noindex, nofollow" meta tag in the code of a website. It's used to prevent some pages from indexation and give the crawlers directions on what content to index instead.
If that's your case, the meta tags would look like this:
<meta name="robots" content="noindex, nofollow">
The "noindex" tells Google not to index the page.
The "nofollow" tells Google not to discover inbound links leading from other websites to your site.
How to fix it?
Open the main page of your website.

Right click and go to the "View page source" menu.

Check if there are the "noindex" and "nofollow" tags in the very beginning of the code.

If there are, change them to "index" and "follow" tags correspondingly:
<meta name="robots" content="index, follow">
5. A website doesn't have a content
Search engines are crawling through websites to find specific keywords that help them understand what the website is about. They can't see images but they can read texts.
Sometimes, website owners decide to focus on impressive web design and graphics but miss out on content that can move a website up to the first page of Google.
How to fix it?
Go to the

Google Planner

.

Search for

targeted keywords

that correlate with the products and services you offer.

Regularly create unique content (a

blog post

each couple of days, for instance) using those keywords.
6. The content on a website isn't unique
One more answer to your "Why doesn't my website show up on Google?" question is based on how unique is the content you publish.
Google uses the Google Panda algorithm to address the problem of duplicate content, which is, basically, the content that appears on more than a single URL. If your website has triggered this filter, Google Search Console wouldn't send any notifications. The only way to deal with this problem is to do research.
How to fix it?
Copy a part of your content to the Google search. If your website isn't shown in the very first position, then, Google considers some other website as an original source and ranks it higher than your site.

Use a plagiarism detector such as

DupliChecker

,

CopyLeaks

,

PaperRater

, or any other to find which websites have the same content.

Replace every duplicated article or a

blog post

with a unique piece. It takes a lot of time and resources but the effort is worth it.
7. A website is banned for a large number of unnatural backlinks
There's another filter named Penguin which detects manipulative link schemes on websites. If a website owner has purchased backlinks from an unrelated source to build the image of a popular website, it might get banned by Google.
How to fix it?
Use services like

Google Webmaster

Tool Links

or

Ahrefs

to examine backlink profiles and evaluate them.

Export all links which you consider spammy to an Excel file.

Disavow these links via the

Google Search Console

. For Google, it would mean that you prefer those links not to be taken into account.
8. A website has been hacked
Your website might get hacked and even become dangerous to other users if it contains malware. The recovery process probably won't be as simple as it was in the previous issues, but it's curable.
How to fix it?
Sign up at the

Google

Search Console

.

Check if a hacker hadn't yet verified their ownership in the

users and owners list

.

Delete every unauthorized user or owner from the list.

Check out the data in the "Message Center" and "Security Issues" of the Google Search Console.

Follow the instructions to

assess malware damage

or

spam damage

, depending on your particular case.
Summing it up
Fortunately, many of the SEO problems above can be easily avoided, if you contact the right people at the right moment: on the planning and the website development stages.
Weblium will create a high-quality website for you and make sure that you don't face any of the problems we were talking about in this article. Contact us to learn more: