Wix vs Squarespace: Which Is Better Now?
When you need to create a website, you start looking for the best website builder to make your perfect website. And you're doing the right thing!
With the website builders, everything is quite simple: you can clearly understand what type of website (eCommerce, brochure, landing page or portfolio website, etc.) you really need, choose a ready-made design template, pick up colors and modules you need and you like. You do not have to write a single line of code, but you can quickly and easily make changes on your website to make it work better!
But still, there is one trouble: there are so many builders out there, that sometimes it is extremely difficult to choose the best one for your purposes. And before you start doing that, you'll have to find a way to compare them in detail. And now we gonna give you this opportunity.
Comparing website builders is a difficult process. You should consider both visual details and technical aspects to make sure the service suits you best.
Howard Steele, SuperbWebsiteBuilders.com
So, here we got a detailed Wix vs Weebly vs Squarespace comparison table and a review for each of these builders based on the most important features it can offer! Also, let us introduce the AI website builder – Weblium! 
Wix vs Squarespace
For more information, we decided to compare other popular website builders too 🙂
Weblium

Wix

Squarespace

Weebly

Main Advantage

•  a unique 2-in-1 solution: you can either create a website yourself or get a website done at 1/10 of the standard cost by Weblium studio

•  the high speed of creating super-fast websites backed up by experts and mobile-first results

•  the ability to bring in the blocks/sections you need from the other templates (can mix templates to create your own)

•  AI Website Builder (will not allow you to make mistakes on your website)

excellent templates Artificial Intelligence design

Wix App Market (280+ apps)

Adding animations

• amazingly designed templates

• 3rd-Party Applications & Integrations

• CSS Access & Customization

amazingly rich functionality  Simplicity – an ideal option for the beginners'

Great possibility to build a high-quality Free website

Even with a free account at Weebly,

you get a $100 coupon for Google AdWords

The best choice for (target audience)

small business entrepreneurs

Best choice for business and personal websites

creative people.

The best way to make a professional website, portfolio, or online store.

Best choice for creating a personal project, blog, portfolio or small business website

Design assistant (AI)

Yes

Yes (Wix ADI)

No

No

Ease of use

Excellent

Excellent

Average

Excellent

Design

200+ ready-made blocks&templates

510+ customizable templates, covering every industry

60+ Squarespace Templates

60+ Weebly templates

LOAD TIME

356ms

415 ms

326ms

882ms

UPTIME

99.98%

99.99%

99.82%

99.97%

Mobile Responsive Themes

Yes

Yes

Yes

Yes

Multiple Editors

No

No

Yes

Yes

Mobile Editor

Yes

Yes

No

Yes

SSL

Available on all plans (free and paid)

Available for all Wix sites (excluding domains or subdomains connected to external (non-Wix) websites)

Available on all plans

Available on all Weebly plans

Free custom domain

Available within a subscription

Free with an ad: *custom domain*.tilda.ws

Available on all plans* (only with annual purchase)

Free 1-year Weebly.com domain on all plans New domains (.org, .net, .com) available on Weebly paid plans

SEO

4 / 5

5 / 5

4 / 5

3 / 5

Export Website

Yes (O/R)

No

Yes

No

Ways to monetize a site

banners and/or Google Adsense

Google AdSense via App store. banner ads and affiliate links.

banners and/or Google Adsense

banners and/or Google Adsense

Social and site stats

• direct integration with Google Analytics, Tag Manager and Hotjar




• tracking code from any other web analytics system can be embedded in the site code

Google Analytics Google Tag Manager Facebook Pixel Yandex Metrica Verification Code Custom

• Squarespace Metrics App.




• an option to set up Google Analytics

Weebly Site Stats Google Analytics

Widgets (Connected Services)

Add links to your




• Facebook




• Twitter




• Instagram




• Pinterest




• LinkedIn




• YouTube




• and Google+

Wix App Market contains hundreds of third-party site features and 280+ apps with descriptions, user reviews, and video demos.

• gallery widgets




• social media widgets (Facebook, Twitter, Instagram, etc.)




• dropbox File Synchronization




• Amazon Associate Support




• online booking and scheduling tools




• Zola for Wedding Websites




• ChowNow Ordering for Restaurants etc.

Social buttons(Facebook, Twitter, Instagram, YouTube, LinkedIn or Pinterest etc.) Live Chat MailChimp, ActiveCampaign, Benchmark Email, Campaign Monitor, GetResponse, VerticalResponse, Mad Mimi, FreshMail and more

Restore a website

Yes

Yes

Yes

Yes

Support

• Email




• Phone




• Live Support




• Video tutorials




• Blogs and Guides

Email

Support Center 

FAQ

Knowledge Base

Wix Learning Center

• Email




• Live Chat




• Forum




• Knowledge Base

Phone

Email

Live Chat

Knowledgebase

FAQ

Videos

Space (basic plan)

Unlimited

Up to 500MB

Unlimited Storage & Bandwidth

Up to 500MB

Blog

No (under development)

Yes

Yes, 5 / 5

Yes

E-commerce

No (under development)

Yes

Yes

Yes

Form Builder

Yes

Yes – Form Builder Plus+ available in the basic plan too

Yes

Yes

Newsletter

No

Wix's own "ShoutOut" newsletter service

Yes

Yes

Design from Scratch

Yes

Yes

No

No

Restaurant Menus

Yes

Yes

Yes

Yes

Download Selling

No

Yes

Yes

Yes

Donations

No

Yes

Yes

Yes

Audio Player

No

Yes – Backtracks is the world's leading Wix audio player

Yes

No

Podcast

No

Yes

Yes

No

Membership Websites

No

Yes

Yes

Yes

NO ADS

Yes

Yes

Yes

No

Multilingual

Yes

Yes

No

Yes

Pricing/month

• Free plan: $0




• Pro plan: $10.5




• Reseller plan: Smart prices




• + Do-it-for-me websites from $49

$0

• Connect Domain $4,5 • Combo $8,5

• Unlimited $12,5

• VIP $24.5

• $12.00




• $18.00




• $26.00




• $40.00

$0

• $8

• $12

• $25

• $38

Free plan

Yes

Yes

14 Days Trial

Yes
1. Ease of Use
Wix.com
Wix main features include:
visual WYSIWYG editor functionality with the drag-n-drop feature,

general settings,

control panels,

integrated third-party applications and options that you can embed yourself using the Wix Code tool.
Any section of the editor contains tips on working with it; absolutely all options and widgets are provided with explanations and instructions. Also, you can immediately go to the Support Center (Wix knowledge base) and find the answer to your question using the search.
Also, you should pay attention to the functionality of working with photos on the Wix website. The Wix Pro Gallery application allows you to adjust the quality and sharpness of photos when they are displayed on the website, protect them from downloading or add share buttons. You can also flexibly customize the layout of the output image – the structure, the size of thumbnails, indents, a saturation of the college and orientation of the image.
Weebly.com
The Weebly toolbar provides quick and easy access to all necessary information: get useful tips, view statistics, store orders, blog comments and more.
To create a website, simply select a template and start filling it with the content. You can edit the content and change its location simply by dragging items directly to a web page without using a special editor.
There are many ready-made widgets and applications that you can integrate into your Weebly website in just a few clicks:
image galleries,

slide show,

maps,

audio,

search bar and more.
You can also go beyond ordinary widgets using the Insert Code feature.
You can add as many elements to the page as you like. The page will automatically stretch to fit the widgets and content you have added.
Weebly uses a "block model", which means all the content while dragging it onto the page, will fall into certain containers or blocks. This approach simplifies the transferring of content from one template to another.
When adding a new page, you can use one of the ready-made page layouts: there are more than 60 of them, including the homepage, contacts, about us, creative menus for catering companies and restaurants and for the provision of services.
When you select a layout, it will automatically add new elements to the new page. You can then edit, delete the existing elements or add the new ones to the selected layout.
Squarespace.com
There is always a convenient sidebar that falls out and hides when necessary. When switching from page to page there is always a thumbnail of the site just in front of you.
The site editor is quite simple – especially considering how many settings you can apply with it.
Each site on Squarespace is divided into several areas (footer, header, body, etc.). Each area has its blocks – paragraphs, pictures, galleries, forms, etc.
The gallery content block is just wonderful – you can create any type of photo gallery. Want a slideshow? No problem. Want a table of thumbnails that shows fill-sise images when you click on them? No problem!
Menu block contains various styles for creating a menu of restaurants. You can easily do it yourself.
The site also has specific settings. Want to set a specific thumbnail size? No problem. Want to crop an image? It's easy as a pie. Want to set a focal point? Not a problem either!
The style editor is well thought out (just like everything on Squarespace). All elements on the sidebar are customizable (you can click on any element on the site to change it). You can also drag the margins of the site to mark the space. Everything works very well!
Weblium.com
If you are looking for the easiest website builder, then you should opt for Weblium. You can easily choose a suitable site template, and get a couple of advantages like domain registration, hosting, copywriting, SEO promotion, etc.
The page editor is so user-friendly that you can create a website in record time. Having got your website done, you can easily manage it in the intuitive editor, replacing and adding the necessary elements.
At the same time, all templates are created to look perfect on mobile devices – the developers did everything to make it mobile-first! In this sense, the Weblium easily beats the market giants like WIX, Weebly and Webnode.
Also, Weblium is a new generation drag and drop website builder, which offers integrated artificial intelligence technology, AI Design Supervisor, which helps to choose compatible color schemes, fonts, determine perfect indents + correctly position all elements on the site so that they look equally good on any screen. In a word – it does everything possible to help you to avoid mistakes in design.
Also, there is a thing called Smart UI-Kit: it is one of the AI ​​components, and it allows you to select color schemes, fonts, styles of elements, and then apply them to the entire site in just one click instead of doing it manually.
There are video instructions and a blog available if you get stuck with something and need expert advice.
2. Flexibility
Wix flexibility
Wix offers many interesting features that immediately bring you in the game:
diverse and beautiful templates,

a large set of widgets,

very nice interface,

chic app store,

branded features like image editor and functionality for the organization of hotel business,

regular discounts,

updates and much more.
Wix is a real monster in a WYSIWYG platform environment, that is very difficult to compete with.
Site builder suits best for designing brochures, portfolios and landing pages, travel, hotel and restaurant sites (there are specific applications with the specific functionality).
Wix is also one of the best systems in the blogging and eCommerce industry – it can be used to create high-quality small online stores with all the necessary features. Price lists, tables, forms, banners, registration forms – all this will help you to create an effective site for your business.
Wix Code allows you to create databases and program the behavior of elements depending on the specified conditions (similar to the creation of scripts, but using a graphical interface, without any coding). This website builder is suitable for both newbies and web development gurus.
Also, Wix offers the Wix ADI tool based on artificial intelligence that creates the website based on the data that you provide. You can add your own HTML or JavaScript code to the site.
Wix has many applications for almost any task: ordering air tickets, booking rooms, selling music, integrating with something, and so on. Also, there is a large selection of marketing tools for organizing communication with customers.
Weebly
Weebly is a truly user-friendly and easy-to-use tool, with excellent templates that have a high potential for editing and modernizing.
In addition to colorful templates, Weebly has a powerful drag and drop editor, which greatly simplifies the process of building custom websites.
The built-in application store offers a number of different plug-ins, including convenient tables for the site, counters, picture galleries from social networks and many other useful tools.
Also, there is a great possibility of using a videophone, available at several pricing plans.
Weebly has a large selection of apps in AppMarket that allow you to almost infinitely upgrade your website. There are even some more nice options – the ability to upload your own templates and the ability to make changes to the HTML code of the site.
Unlike many other builders' free offers, Weebly's free features are quite interesting.
Weebly also offers the ability to transfer your Weebly website to another hosting and Google Ads bonus of $100 for any paid plan.
Squarespace flexibility
With Squarespace, you can create online stores, landings pages, and brochures that will work best for the freelancers, individual entrepreneurs, representatives of medium and small businesses.
Squarespace will be of great interest to photographers, musicians and creative individuals who want to show their works to the world. Also, the platform offers a variety of menu creation styles for restaurateurs.
The possibility to add HTML code will allow webmasters to edit website templates and achieve the best results. The journalists and bloggers will appreciate the availability of Google and Typekit free fonts, the ability to easily publish materials and comment.
Squarespace has many features, widgets, and integration – you can integrate Facebook, Twitter, Instagram and more.
Available eCommerce features are growing rapidly, as Squarespace focuses on the most important elements of eCommerce. Squarespace still serves small/medium enterprises but supports an unlimited number of products and transactions. Moreover, regular business and personal sites now have integration with eCommerce tools.
Weblium
Weblium is, maybe, the best free website builder for small businesses, agencies, and personal pages. The customers can easily make a modern website without spending a dime using the advanced templates, and get a set of additional bonuses like domain registration, hosting, SEO promotion, etc. With Weblium, it is very easy to get a bunch of advanced design features to create a unique style for your website!
With a paid subscription that will cost you $10.5 monthly, you can set up your own domain and use the updated SEO optimization plugin that strictly follows Google's guidelines. Also/ you can always get the individual benefits by simply calling the Weblium developers.
Weblium creates websites on its own platform that allows you to significantly reduce costs and speed up the website creation process – you can get it done by yourself within just 72 hours!
Each Weblium template includes:
the perfect site for your niche, created on the basis of its in-depth analysis,

free images;

free built-in applications;

intuitive drag-n-drop editor;

unlimited storage;

3 layouts;

SEO tool;

Google Analytics & Hotjar.

free professional website setup.

high page load time (more than 90/100 in Google PageSpeed ​​Insights),

website design, that looks perfect on any device and in any browser,

reliable Google Cloud hosting,

qualitative experts' support.
Also, you get a 100% money-back guarantee if you don't like the results.
3. eCommerce
Wix
Wix has its own eCommerce platform offering an admirable set of customizable features (multiple payment options, coupons, tax management, etc.). But keep in mind that Wix eCommerce is designed for small online stores.
The incredible design is one of the main things that set Wix apart from many other builders – and you can change the color of each element of your site! This is a perfect option to design the pages of the site, devoted to unique products or goods that have been released in limited quantities, making your offer more attractive.
Wix has two plans created specifically for the needs of eCommerce: eCommerce and VIP. Both plans provide unlimited bandwidth for your online store, and include the following features:
20 GB of disk space,

promotional voucher of $300,

Site Booster application,

Form Builder application,

No commission from sales.
The Wix App Market offers many eCommerce applications — you can install any of them depending on your needs. There are applications for specialized online stores, for example, Wix Art Store. You can add applications that integrate with the marketplaces like Amazon and Etsy, as well as applications geared towards selling digital products.
If that's not enough for you, here are some more features available in various Wix applications:
order placement and payment processing,

PayPal button,

live chat,

applications for the paid plans,

contact form,

Yelp rating,

customer reviews,

application for working with gift cards.
Weebly
The free Weebly plan comes with some eСommerce support that allows you to place up to five products, a 3% transaction fee, and a shopping cart. To be honest, it is a good way to check out what your eCommerce will look like, but we would never recommend it for serious money-making on the Web – there are amazing premium plans for that!
Business Tier plan is the only Weebly solution that gives large companies a decent opportunity to sell their products online. For only $25 per month you can:
place an unlimited number of products,

do not pay transaction fees,

place a shopping cart in your own domain,
In addition, the Business Tier plan offers:
digital products support,

inventory management,

shipping and tax calculator,

discount coupons codes,

SSL security.
You can also get some additional marketing features, such as pop-up notifications, more advanced eCommerce statistics, and a unique tool for Facebook ad integration.
Squarespace
Squarespace offers two sets of pricing plans – one for the websites and the other for online stores. The Business plan already includes integrated eCommerce features, but its functionality is limited and there is a transaction fee.
Using the Basic Online Store plan, you do not pay a transaction fee and unlock additional features such as:
powerful assessment and analysis tools,

inventory, order, tax and coupon management,

label printing with ShipStation,

сustomer accounts.
With the Advanced Online Store plan you additionally get:
abandoned shopping carts recovery,

integration of real-time delivery services

and optimized D2C delivery,

more control over the discounts,

ability to integrate with third-party software.
Squarespace provides excellent options to make your online store as functional and interactive, as it can be, with a quick review of goods, express orders, etc. You may feel a little limited in the choice of payment options, but, on the other hand, Squarespace offers a decent list of available currencies.
Weblium
Unfortunately, Weblium does not have an eCommerce module with an active shopping cart yet. But these guys can add payment buttons via PayPal and Stripe to your products so that your customers will be able to buy them directly.
4. SEO
Wix SEO
In the case of Wix, simplicity in use has a downside: the platform offers poor functionality for SEO promotion of websites. However, Wix still has some built-in tools for SEO:
domain name optimization,

meta tags, Title, Description, Keywords optimization,

texts and images optimization,

external optimization (Adding a Wix site to webmasters' panels and connecting counters).
Also, Wix has a built-in site SEO optimization tester tool.
Weebly SEO
In terms of optimization features, Weebly comes as a pleasant surprise: you can even create a unique design for your 404 page – such a rare thing for the mass-market website builders!
Weebly has a good set of settings for website optimization that provides:
SEO settings for the entire project (parameters, general, SEO) and for each web page separately (SEO settings, title, URL pages, description, keywords, header/footer code, hide from navigation option),

301 redirect,

adding the Google Analytics statistics tool,

adding meta tags to confirm the site ownership in Google Webmaster Tools.
You can easily register meta tags, optimize images and so on – all the features are available in the website's SEO settings or individual pages' settings.
Squarespace SEO
Squarespace offers ready-made SEO-settings. If you create a site using Squarespace, you can work just with basic settings (titles and descriptions). This applies to both individual pages and the website as a whole. It is also possible to change the website URL and specific pages URLs.
Squarespace automatically generates a site map that you can add to search engines using Google webmaster tools.
As for statistics counters, you can get all the necessary statistical information for an hour, a day or a month using the built-in web analytics tools. For more information on statistics, you can add Google Analytics to your website.
Weblium SEO
With Weblium, even your free website has initial built-in SEO settings so your site will get found on Google:
Most duplicated pages are automatically deleted.

Robots.txt and sitemap.xml files are automatically added.

As the website's owner, you can set meta tags in the website's main settings, and change titles or descriptions for specific webpages in the editor.

You can add the canonical link element for preventing duplication of the site's content.

As the website's owner, you administer a search index.
Also, you can easily add Google Analytics and HotJar on your website.
If you want to get higher ranks in Google, you can always use Weblium's advanced SEO tools that will allow you to:  
permit or forbid specific pages from search indexing.

Specify canonical links for webpages with the duplicate content.

Set 301 redirects from other links.

Set meta keywords for each website's page.
Creation of page slugs according to the page names on your website after you pay for the subscription. Search engine snippets will be filled with page content by default. Upon request, we can also add H1-H4 headlines to your content pages if you clearly indicate where they should be placed.
On a paid basis, Weblium team can create user-friendly URLs for your web pages, fill your website with keywords. Also, you can request so-called webmaster hours and let experts make any changes you want on your website even after it's ready and published.
5. Designs
Wix Designs
Wix has, maybe, the most interesting set of ready-made Wix templates. There are more than 500 adaptive templates available. From time to time, the developers update the templates library – about 30-60 new ones come in a year, and all of them can be used for free.
Using the editor, you can also design each page of your site from scratch. The editor allows you to completely change the design of the template by adding new sections (the "Strip" widget), widgets, images, and customizing their appearance. If necessary, you can add effects and animations everywhere, adjust the size, padding, layers, backgrounds, fonts, form elements, and more.
WixArena is another interesting feature. This is a community of designers that has evolved around the system. You can check out their portfolios and order specific services. Or you can make a request by filling out a detailed questionnaire, after which the system will give you a list of best performers to complete your goals.
Weebly Designs 
Weebly offers great templates with amazing editing and upgrading options.
Templates are categorized as Business, Portfolio, Personal, Event, and Blog, which means they cover a large part of the potential user requirements. All templates are fully responsive and of high quality.
Before creating your website, you can immediately preview it and see the website's content.
In addition to the colorful design templates, Weebly has a powerful drag-drop editor, which greatly simplifies the process of website creation.
Another nice option from Weebly is the ability to upload your own templates!
Squarespace Designs
Squarespace offers very beautiful and high-quality design templates, that are created in a modern minimalist style. Despite the fact that there are relatively few (32 pieces) of them, all of them are responsive and literally pleasing to the eye!
Each template looks great on mobile devices. Also, each of them supports large images and complex layout.
Squarespace offers you a great opportunity to customize templates in the most convenient way, and the options for customizing templates are really wide! You can even make changes to CSS, which can be very useful for experienced webmasters.
The style editor is great: it allows you to modify almost every style component of your template. For example, you can:
fit a specific size for the page header,

set the color scheme for the site,

change logo height, font shape,

configure the navigation menu and much more.
Weblium
Weblium offers about 200+ ready-made blocks & templates.
All Weblium sites are created on the basis of templates that are the result of an in-depth analysis of a business niche and all kinds of research. Thus, websites are filled with the most important pages, blocks, and elements that meet the requirements of each user. Creating your website, you can use any block from any template you like.
Although sites are created on the basis of pre-designed templates, Weblium Studio can completely upgrade any of them and make the website look absolutely unique.
The collection of Weblium templates is constantly updated with the new ones.
6. Technical Support
Wix
Wix offers several ways to get help so you can choose the most convenient:
Wix Forum,

Wix Social media pages,

Email,

Support Center,

FAQ,

Knowledge Base,

Wix Learning Center.
Weebly
All Weebly pricing plans offer customer support via chat and by e-mail, as well as by phone. In addition, each plan offers priority support, which means that the reaction of support staff will remain the same for all customers:
Also, you can use:
Knowledgebase,

FAQ,

Help videos.
Squarespace
Squarespace is quite serious about customer support:
extensive section with many articles and tutorials on solving various problems,

there is a forum,

24/7 technical support via e-mail,

and there is phone support (during working hours in the USA).
Weblium
Weblium offers various ways to solve your problem as quickly as possible:
Email,

Phone,

Live Support via live chat (usually, it takes the experts 10-15 minutes to respond),

Video tutorials with the step-by-step instructions and how to's,

Blogs and Guides – two great extra sources of useful information.
7. Pricing
Wix pricing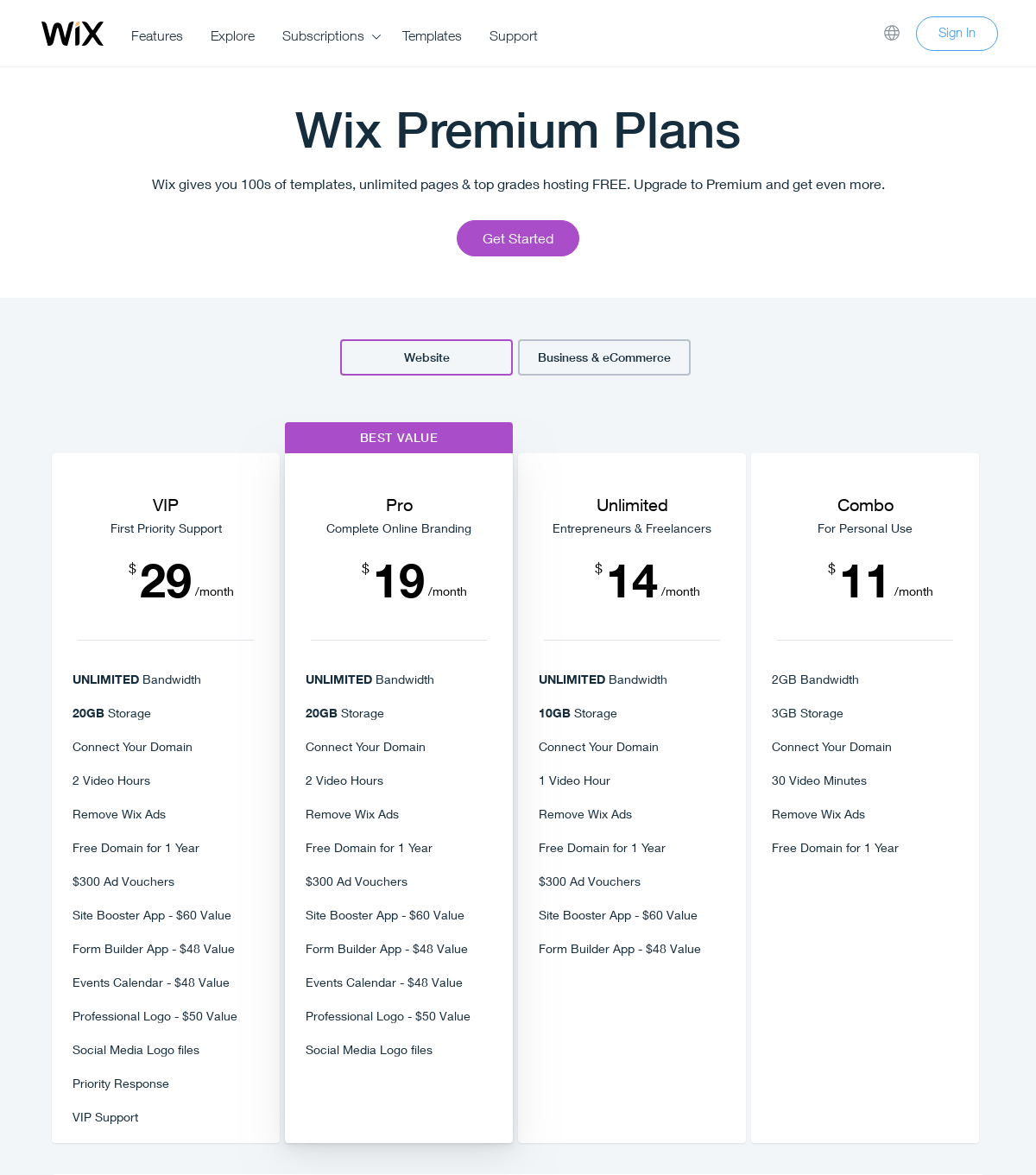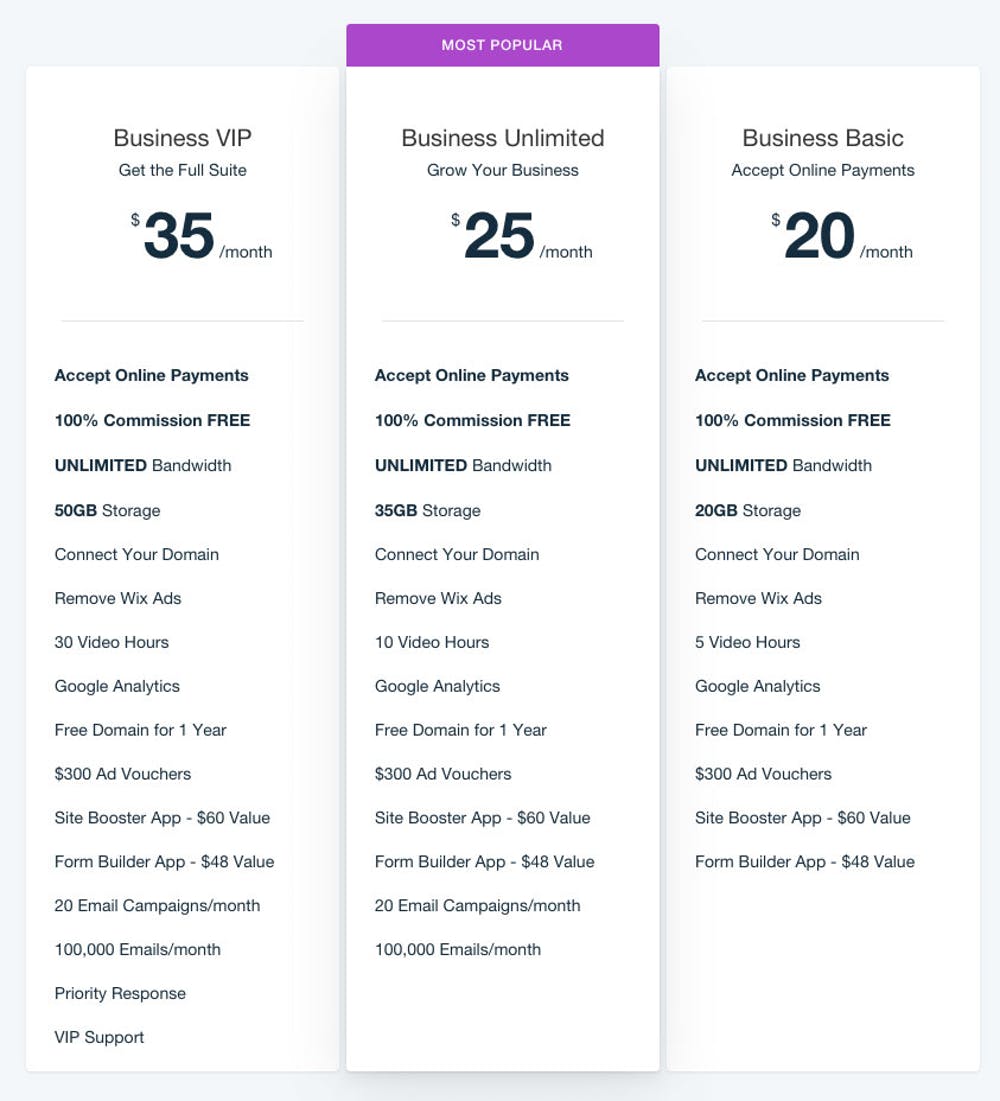 Weebly pricing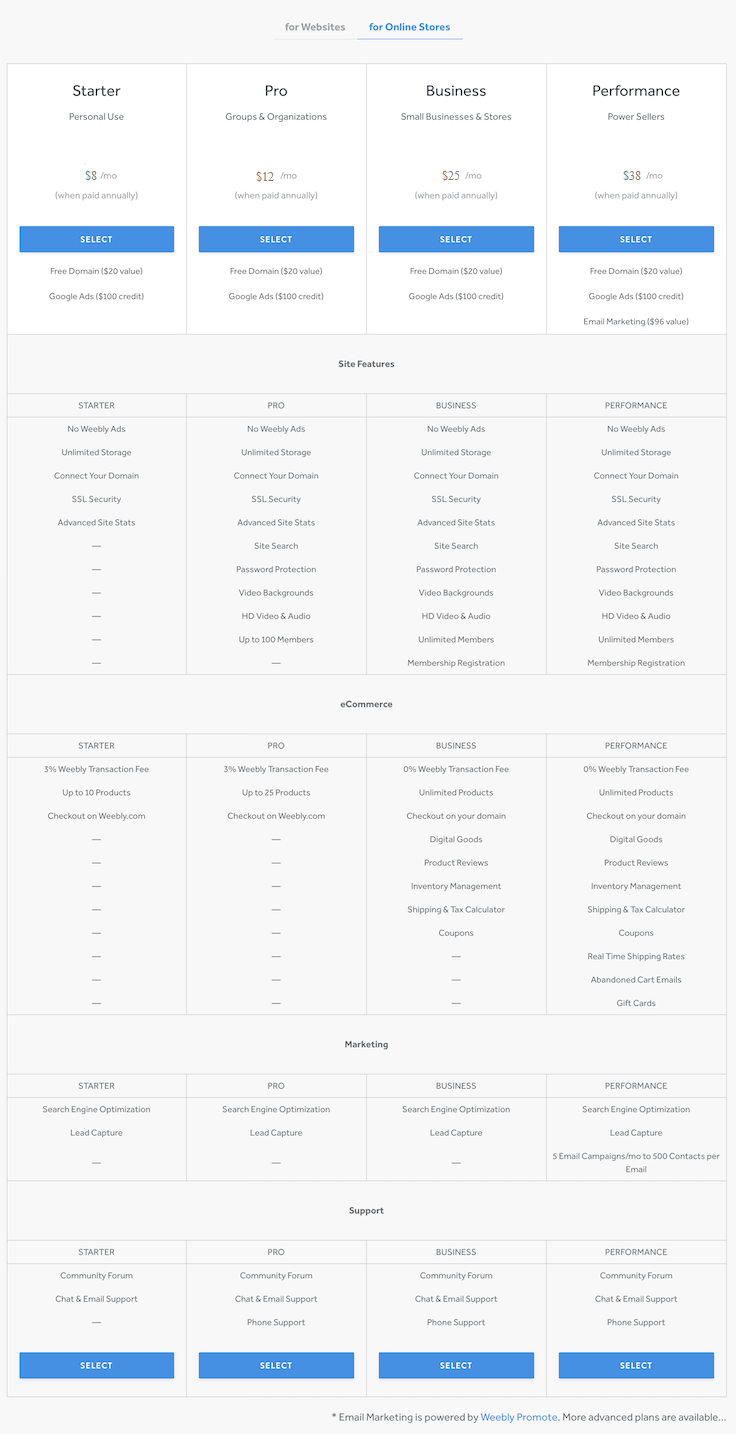 Squarespace pricing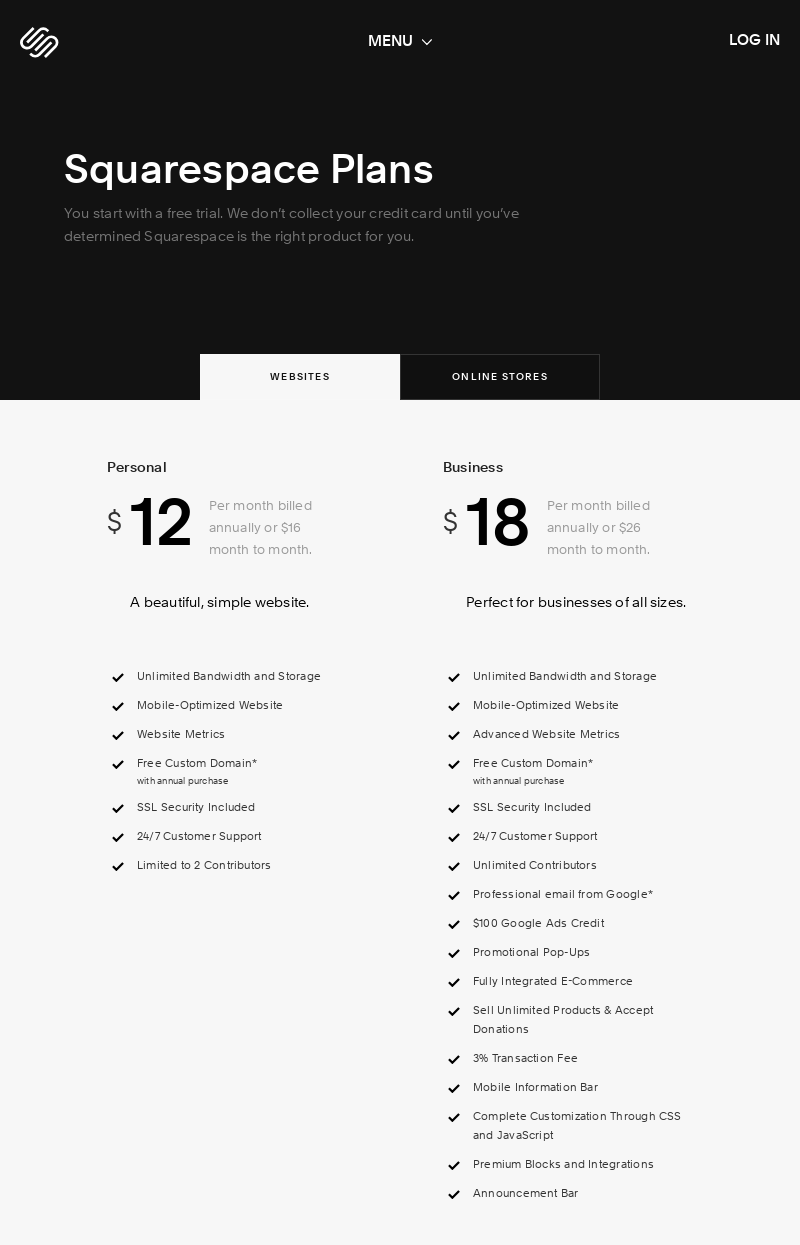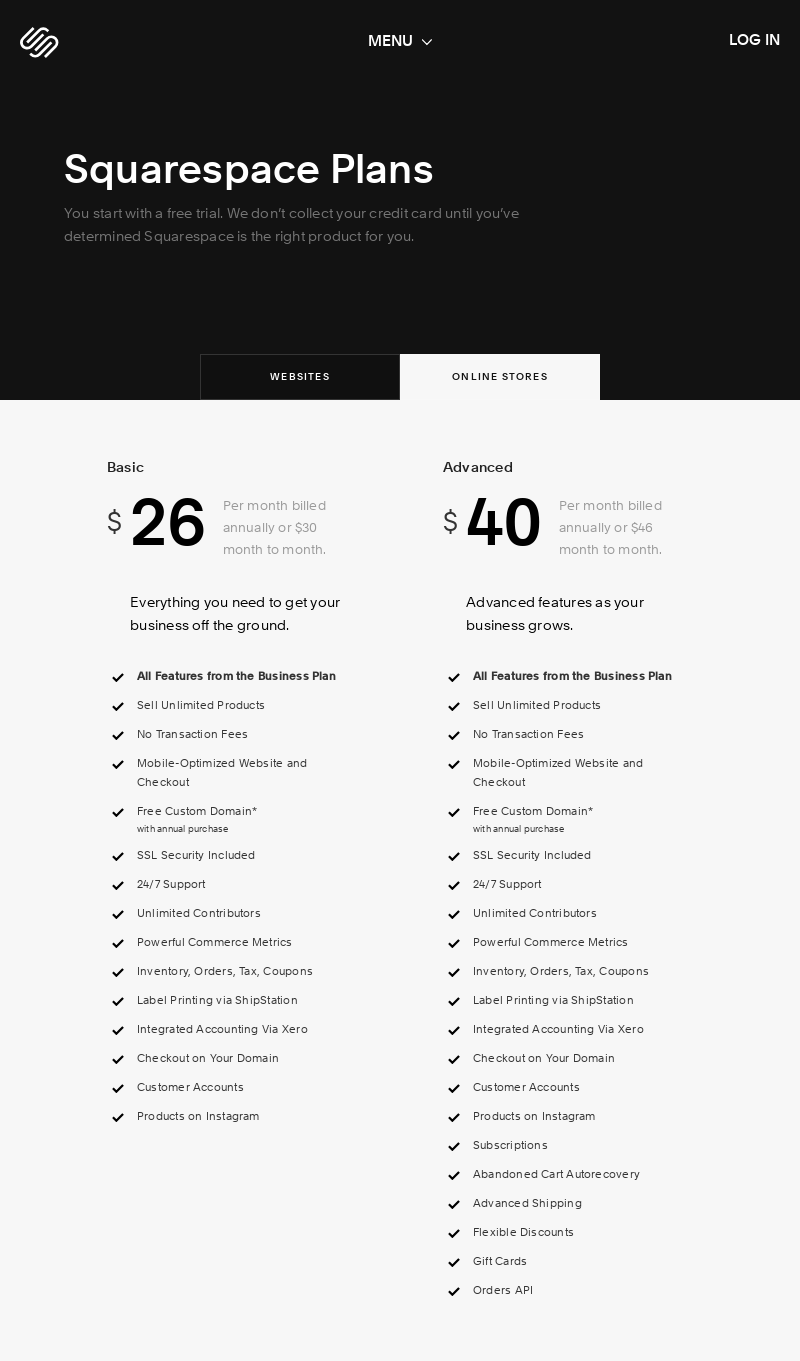 Weblium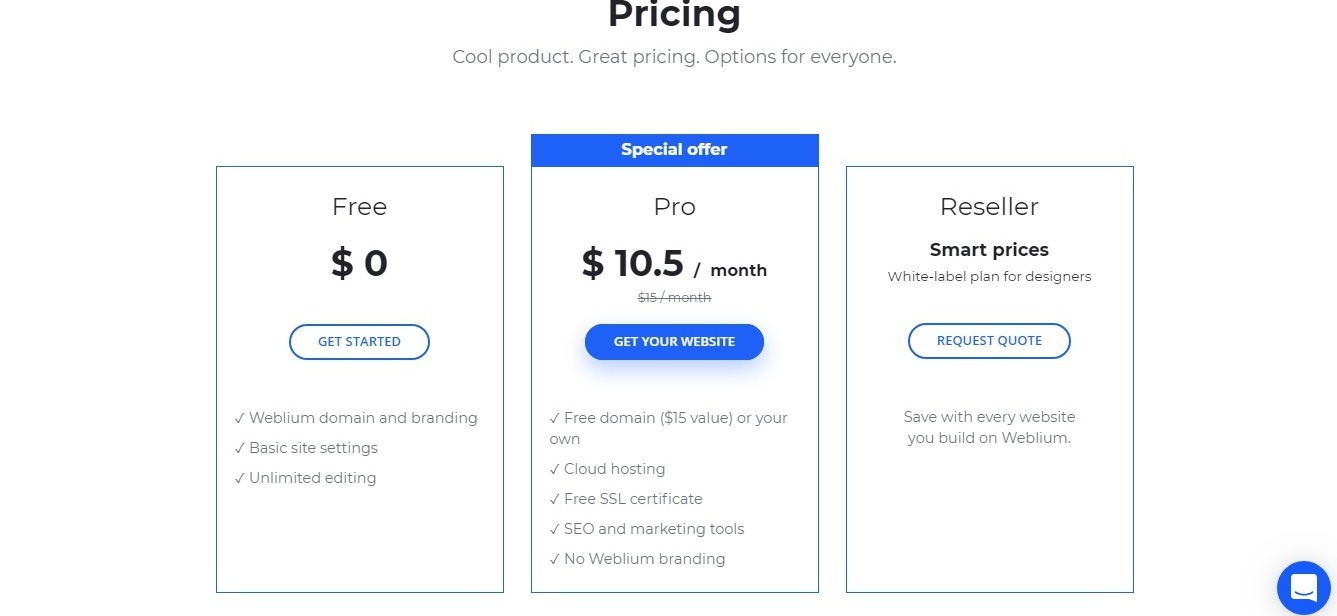 8. Testimonials
Wix testimonials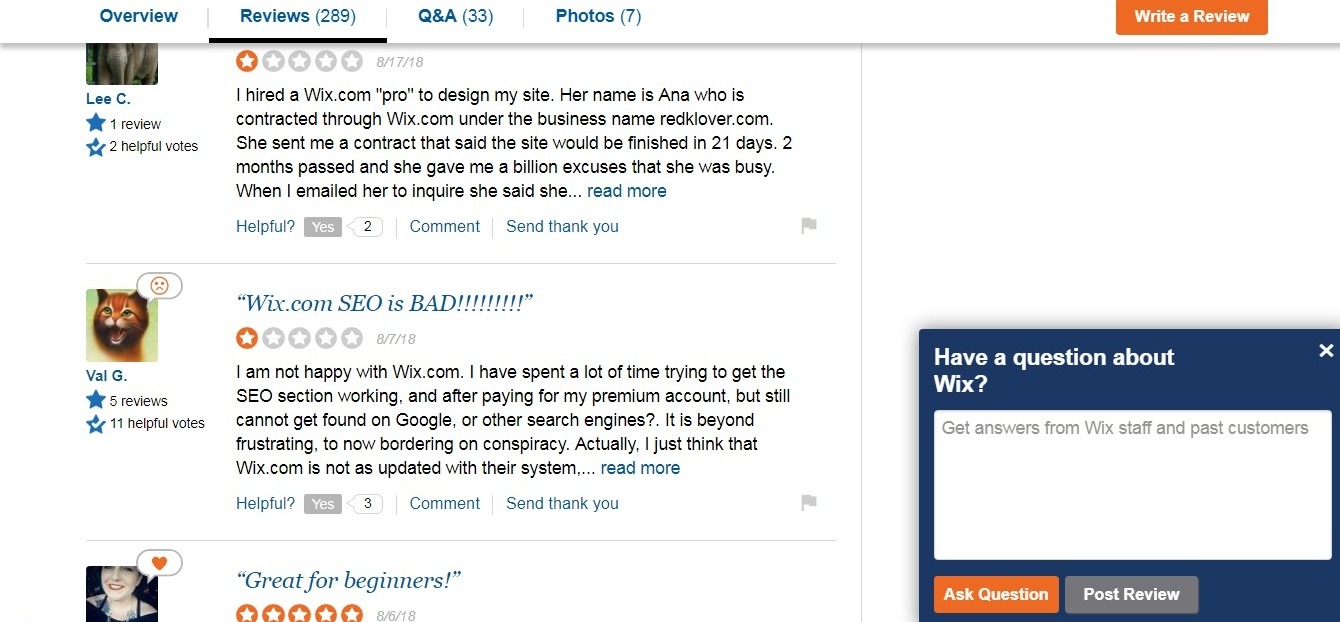 Weebly testimonials 
Squarespace testimonials 
Weblium testimonials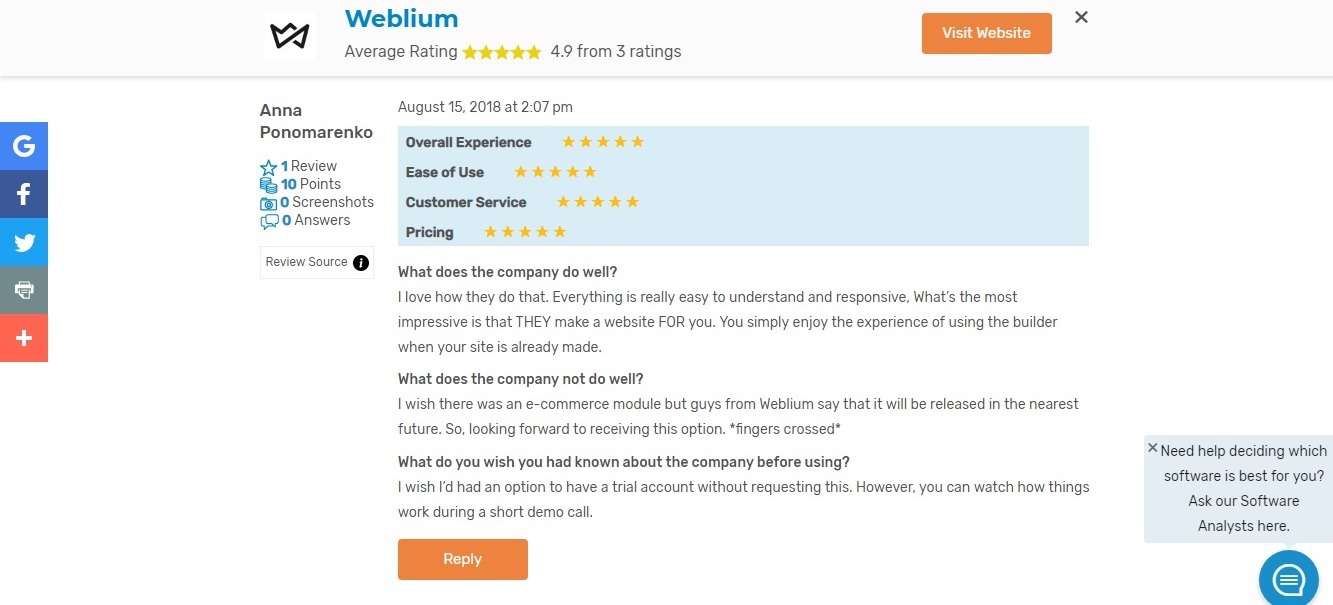 Conclusion: Wix vs Squarespace
Weebly VS Wix
Both are well-liked solutions:
Wix is a famous drag-n-drop website creator that is quite simple to work with: you can move any element, like text blocks and images, and place them anywhere on your web page. Weebly's editor is a bit more limited than Wix's.
Moreover, Wix and Weebly offer quite different additional features and plans, so check out our comparison table before you make a solution.
Wix VS Squarespace
Wix comes as more affordable and better (in various aspects) tool, offering its customers more flexible options for a wider range of sites. But Squarespace scores more points for its perfect blogging features and collection of fully-responsive website templates.
Unlike Squarespace, Wix allows you to tailor your website for small businesses (Hotels, Event-based sites or Restaurants) needs, offering various templates and apps to make them top-notch.
But Squarespace also has something excellent to offer. Dedicated bloggers, that have no big needs for SEO, will find Squarespace a simple and amazing solution for their needs.
Wix VS Weblium
If you want to create a decent website for your small business for free, both Wix and Weblium are good solutions to start with.
The same thing is with the ease of use – both website builders have an intuitive interface, but Weblium's editor turns to be much better for creating a website from scratch.
If you want to get a more advanced SEO setting, you should definitely choose Weblium, because it offers more for its customers.   
And if you want to experience full eCommerce features, you should opt for Wix, 'cause it has many options to offer.
Weebly VS Squarespace
Our comparison table shows that Weebly is a more robust solution. But, anyway, both Weebly and  Squarespace have their strengths and weaknesses. Check it out:
Weebly is a more suitable option for beginners, 'cause it wins the «ease of use» battle,

Squarespace is more suitable for creating an "artsy" portfolio or site,

Weebly's apps will let you easily scale your business in the future,

As for affordability, Weebly is a better way to go again.
Weebly VS Weblium
Weblium is a perfect solution for beginners: it is a modern turbo website creation tool powered by strong AI that will guide you through the whole process of website creation and won't let you make silly designer mistakes.
As for the templates both of the builders offer high-quality responsive templates, but, once again, Weblium offers a wider choice.
As for the ease of use, both solutions offer user0friendly editors to work with.  
Squarespace VS Weblium
Unlike Weblium, Squarespace doesn't offer a free plan, only a 14-day trial.
More than that Weblium is more suitable for beginners, offering flawless user-friendliness and the highest ease of use. Also, Weblium offers a much bigger choice of templates, than Squarespace, and has an integrated AI.
But when it comes to eCommerce features and integration options, Squarespace has much more to offer.