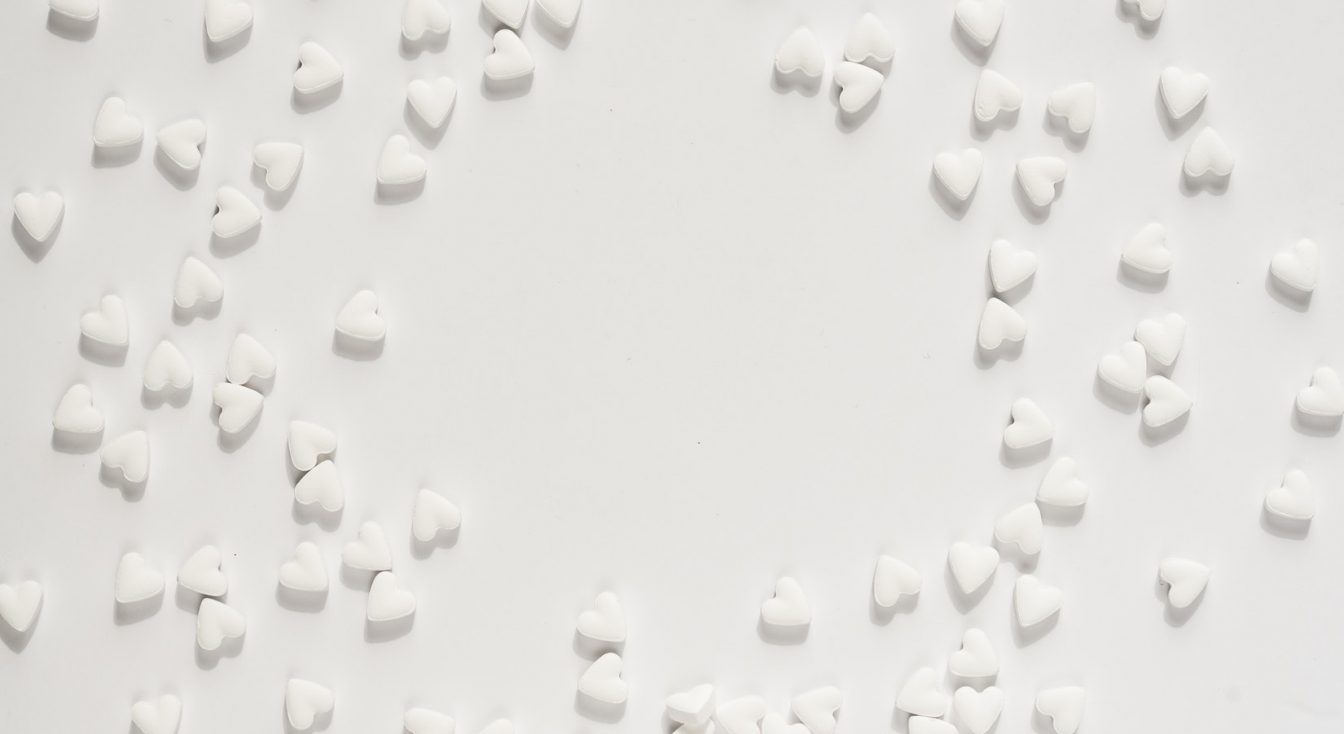 10 Best Nonprofit Websites in 2023
What are non-profit websites? These projects aren't created for increasing the profits of a certain company or organization. They are created to convince visitors to support their activity. In other words, these websites connect charity organizations with patrons. Disaster relief, assistance to needy, people and animal rescue, improvement of livelihoods – all these are the objectives of non-profit organizations.
Most often, these websites are informational and belong to the authorities, educational institutions, social institutions, partnerships, foundations. The creation of a non-profit website ensures the online presence of the organization.
Let's figure out the crucial nonprofit web design tips and check out 10 best nonprofit websites!
Create your perfect non-profit website with Weblium AI Website Builder yourself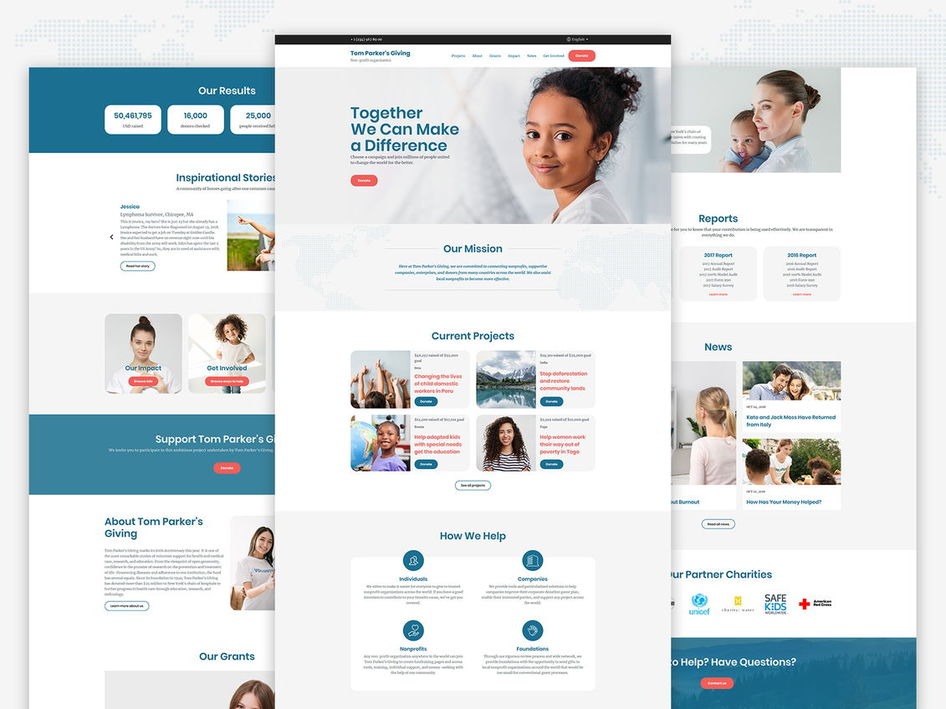 Create a Free Non-Profit Website
Non-profit website design best practices and must-have pages
The correct donation page
If a person has an overwhelming desire to make a donation, he will find your donation button anyway. But not everyone is that patient!
Therefore, the donation button is, of course, a very good idea, and you should have one on your website, but you'd better place it on a special, well-designed donation page!
On this page, nothing should distract the visitor from making a decision – no irrelevant animations, unnecessary images or extra links. The text on the page, as well as the page itself, should be humane, convincing, concise and clear!
Yes, and the high-quality images on this page should create nice, noble feelings.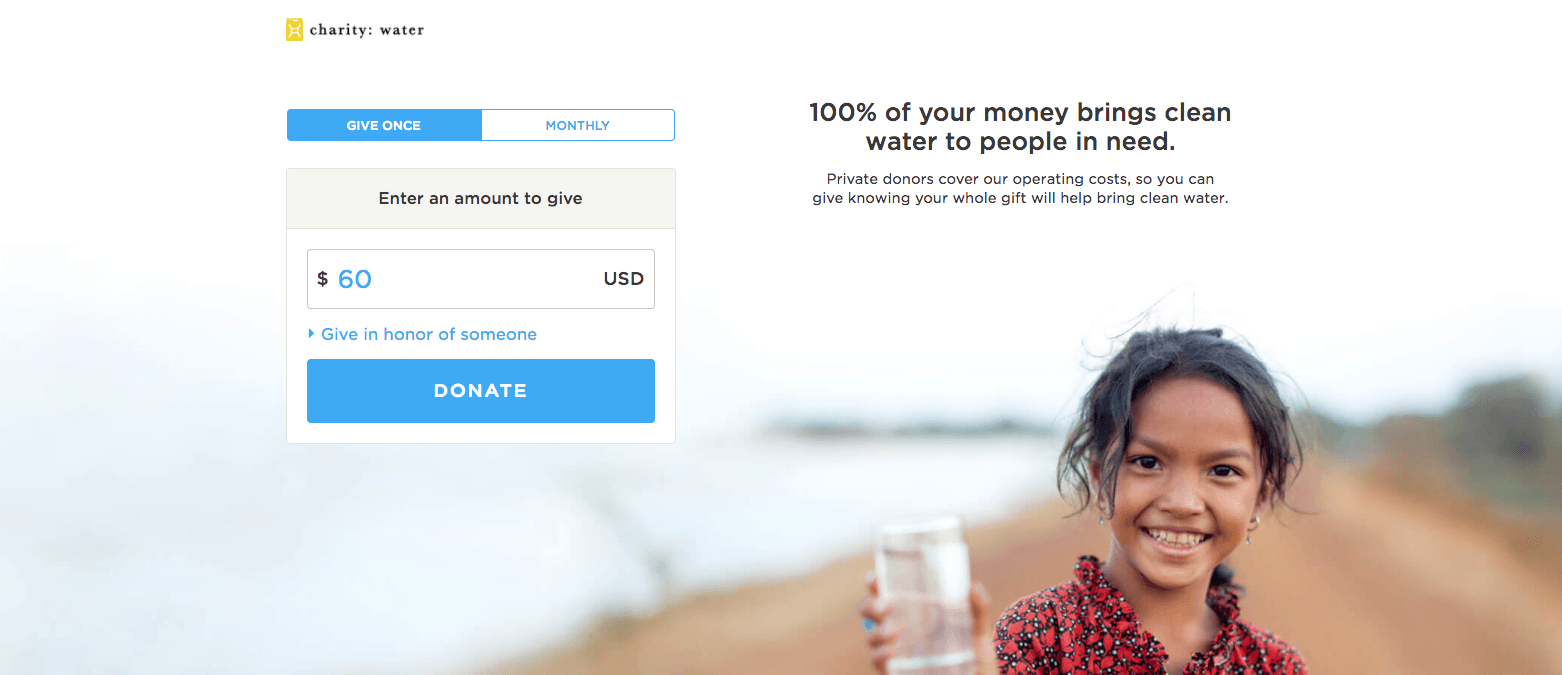 Links to social media accounts
You can place links in the website's sidebar or in the footer. And make sure to add them to your newsletter!
Blog content is the best way to build trust with your potential donors, so when you will be creating it, ensure to add social media links to texts to demonstrate the importance of your work, and improve your SEO ranking.
One more thing to do is to give the website visitors an opportunity to share their content on other social networks. You can use well-known tools like «Share This» to help them share the content they like.
Recommended Article:
Footer Design: 15+ Examples For Your Inspiration
Staff pages
People should know their heroes!
Therefore, create a personal page for each employee, where his life position, his values, career history and position in the organization will be described. This page is one of the best ways to humanize your brand and believe us, all the top nonprofits have it! Let people see how passionate and hardworking are the people working on your project.
These pages can also be used to share employee social media accounts and their personal websites, allowing visitors to keep in touch with them.
Finally, these pages can benefit the entire SEO of your site by ranking them along with your employees.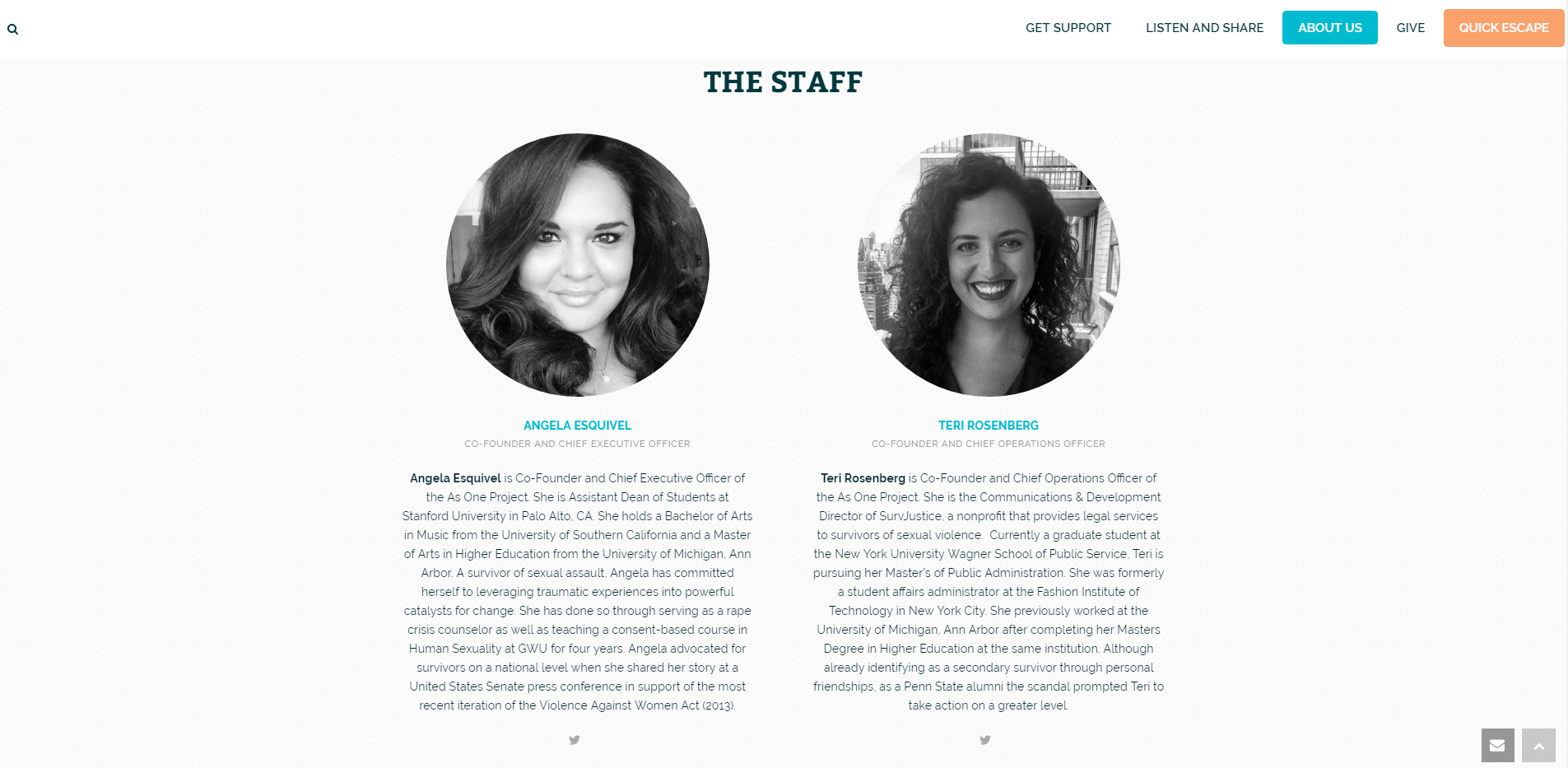 Financial transparency
This is a must-have for all the great nonprofit websites!
Donators always have to have the possibility (and they really want to) to know what their money is spent on.
Provide clear financial results to build trust with your supporters. Add the clickable and downloadable annual reports, form 990 and 501 (c) (3).
It's also a good idea to add some visual element to show the effect of donations of various sizes. Create a connection between the donations and the impact they make!
Appropriate gift tool
A gift is the easiest way to thank someone…. and to significantly boost the donations! As a result, you get two donations at once!
Many of your website visitors simply do not know that they have an opportunity to make the appropriate gift. By adding this tool to your site, you guarantee that donors are aware of this option and provide them with the resources they can follow on submitting their donations.
A website linked to donators' database
Having an effective non-profit website, you will get plenty of donator's data through your registration forms.
It is a good idea to integrate your site and CRM, saving lots of time and efforts and avoid making confusing mistakes
Using CRM all your data will get automatically filtered within each donor profile, and you will make your work much easier!
Use other communication channels
If you follow the modern online presence trends, then, apart from your website you use several ways of an online presence.
Make a wager on various digital tools like email marketing and SMM to create a consistent and integrated communications strategy.
By the way, different people get engaged in different ways, so it is a win-win solution anyway.
Best Nonprofit Websites Examples 
Charity: water
Visit the website: https://www.charitywater.org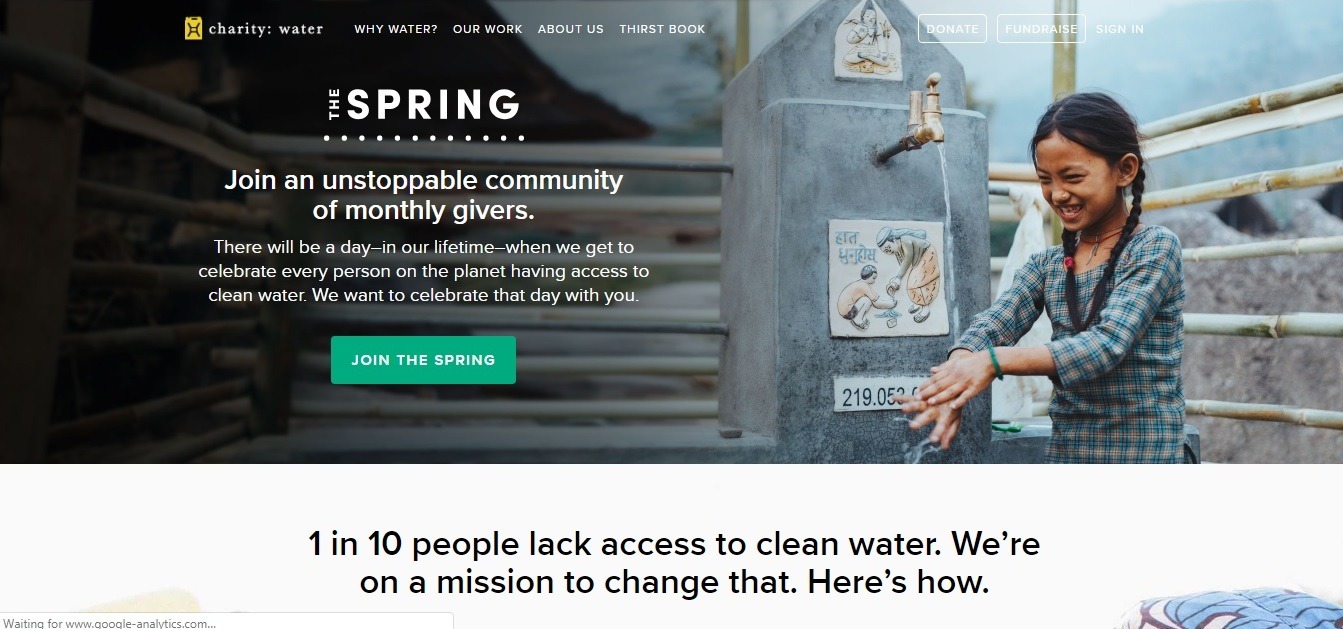 Website Features we like:
This website has one of the most correct

home pages

we have ever seen. Amazing choice and assignment of website images (for example, three vivacious pictures divide the home page into several sections.

Bright website color scheme that welcomes the visitor.
Brilliant navigation (for example the three navigation sections «About», «Why water» and «Our Work» allow the visitor to immediately find out more about the website).  

Outstanding CTAs placement (for example, not so large «Fundraise» and «Donate» buttons in the top-right corner are very easy to notice. When you scroll down? You will see the photos with short texts and other CTAs.  

Thoughtful headings and well-organized website footer add even more to your

nonprofit website inspiration

.

Responsive, mobile-friendly website design.
Royal conservancy nonprofit website 
Visit the website: https://www.rcmusic.com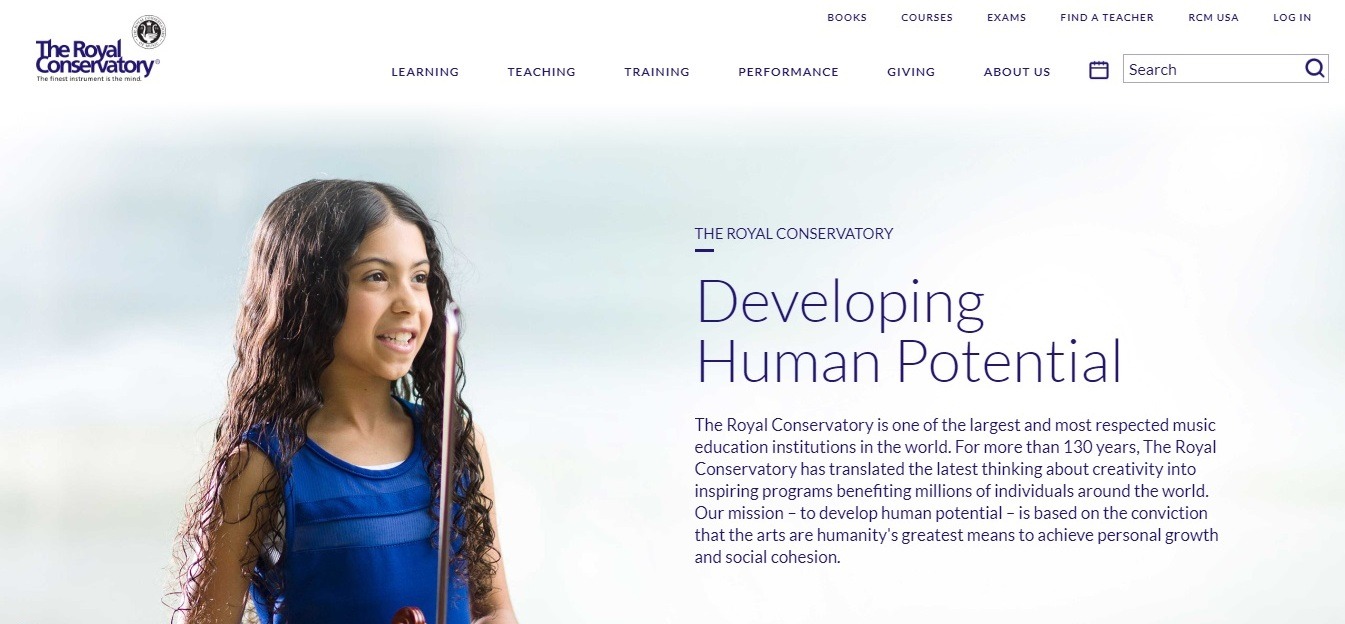 Website Features we like:
This

nonprofit web design

is

simplistic and elegant at the same time.

Strong and convincing home page images.

Clear, pleasant fonts.

Clear CTAs.

Well-thought menus.
The Future Project – nonprofit website design
Visit the website: http://www.thefutureproject.org
Website Features we like:
Thanks to the hefty typography, all the webpage titles really stand out and the statistical facts are very easy to read.

Call to actions

are highlighted with the baby blue color, gently focusing the visitor's attention.

The well-designed website forms make it super-easy for the website visitors to take action.

This mobile-friendly website creates a great user experience.

User experience is great, with a seamless transition from desktop to mobile.
Red Cross Australia
Visit the website: https://www.redcross.org.au
Website Features we like:
The website's

user-friendly

navigation bar with three sections: «Get involved», «Get help» and «Support».

The sticky navigation bar, that always stays at hand as you scroll.

Every single website's page looks elegant and modern. The color scheme is consistent throughout the whole website.

The banner image immediately shows an example of Red Cross's work, and, paired with the CTA, encourages people to make a donation.  

The site works perfectly on mobile devices. The look, the feel and the convenience of usage stay the same across the various screen sizes.
Related Article: 
12 Best Practices for Website Navigation
World Wildlife Fund
Visit the website: https://www.worldwildlife.org
Website features we like:
The design is really appealing!

The website is very informative and aimed to educate visitors.

Clear and comprehensive navigation bar («WWF Work», «Species», «Locations», «About», «How to help»), that gives you everything you need being a donor.

The

Donate button

is always here, at the top right-hand corner, and they take you to the page with many different donation options with all info you will need.  

The website looks great on mobile screens.
Galapagos non-profit website example
Visit the website: https://www.galapagos.org
Website features we like:
Strong images are displayed right on the home page.

Creative and simplistic block-shaped home page elements guide the visitors to different website areas.  

The menus are also very creative but still, have a clear hierarchy.
Thirst Relief website 
Visit the website: https://www.thirstrelief.org
Website features we like:
Less is more, and this website's design reminds us of that.

The website has multiple sections, but thoughtful links make it very

easy to navigate

.

The high-quality images and expressive icons immediately give a clue as to what you need to do next.

The powerful newsletter CTA perfectly explains the reasons why you will want to sign up.
Habitat for Humanity
Visit the website: https://www.habitat.org
Website features we like:
Elegant and simplistic website design.

Monochromatic grids with bright images perfectly and elegantly present the information.

The top bar with a neat search box, «Donate» button and social media profiles are in the right place.

The website looks great on mobile devices giving you a perfect user0exerience just like the desktop version.

Clicking the «News & Stories» section instead of the endless scrolling seems a very good idea here.
Humane rescue alliance
Visit the website: http://www.humanerescuealliance.org
Website features we like:
The website uses the cuteness factor to its fullest: the introductions video makes you smile, the adorable icons make you want to explore the website,

It is a perfect idea for a non-profit website to let the visitors find out about their impact right away.

The donate button and the menu button in the top right corner look great and are

easy to find

.
Digital women 2020
Visit the website: https://digitalwomen2020.com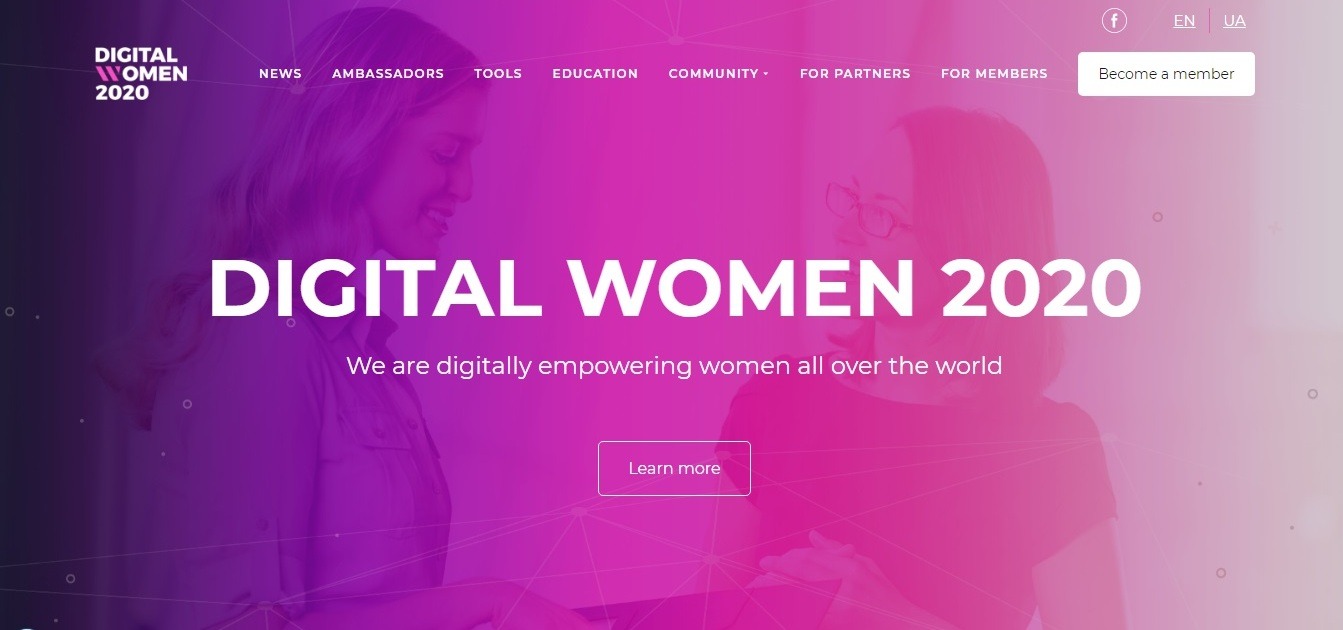 Website features we like:
The «Become a member» button is always at hand, in the top right corner on the main page.

In order to join the project, it is enough to fill in the form on the site. Then you will get an email with a link to the test. It will help to easily determine if your business is digitalized enough to meet the requirements of the contemporary market.

Digital Women 2020 website publishes stories of participants, which increases the involvement of new visitors in the project.

The site has a useful catalog of educational programs that are very convenient to use: you can complete the course in just a few clicks!

The site works as a community: here you can get the support of experienced colleagues, share contacts and knowledge, and also find business partners.
By the way, Digital women 2020 is one of 1000+ projects, created using Weblium, the website builder of the new generation!
Create Your Own Nonprofit Website
Conclusion
Non-profit web development is no less difficult than making any other website, despite it is not aimed at such tasks as online sales, increasing the volume of orders and the battle for the lead.
But it is clear that the website design for nonprofits, as well as the interface, should not be less competitive than that of any other website. It should have the same perfect features such as:
decent and modern design;

availability of necessary information and its timely updating;

list of

upcoming events

;

availability of real success stories on the site;

the hierarchy of visual elements;

strong CTAs;

fast loading pages;

internal SEO optimization;

sticky main menus;

online consultant option;

the phone number in the website's header, the option to make a call from a mobile device and so on.
Each non-profit website will have its own set of features that will make it effective; but most important is to make it work to attain its goals!