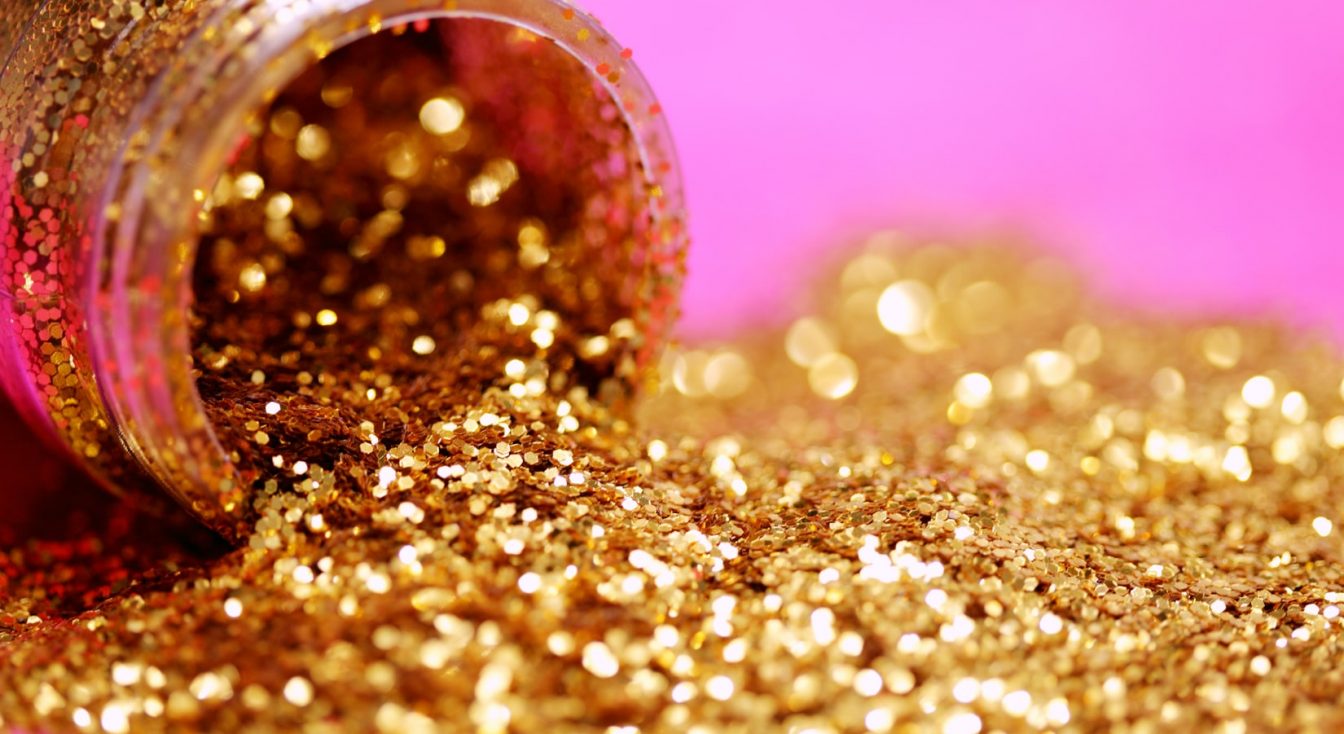 Best SaaS Affiliate Programs (Upd: 2023)
An affiliate program is a business collaboration model between the advertiser (the brand owner, the seller of products and services) and the publishers (owners of third-party websites, blogs, pages on social networks, etc).
The principle of any affiliate program (including SaaS affiliate programs) is simple: the advertiser provides the partner with a link that he publishes on his site (on the forum, on his social media page, etc.). 
Anyone who follows this link becomes a referral, and he needs to perform a specified target action (watching ads, clicking on/following links, purchasing a product/service, etc.). For such affiliate promoting, the partner receives a certain affiliate commission).
Affiliate programs can provide passive income from $1,000 per month to $10,000 per day! According to Mediakix, 20% of publishers 'annual revenue is generated through affiliate marketing.
In this article, we will show you 4 best examples of the most attractive SaaS affiliate programs in 2023 that allow you to easily get a stable and decent passive income!
What is SaaS?
SaaS (Software as a Service) is a model that allows you to work with the software under license by subscription. subscription software license model. Simply put, the SaaS company allows its clients to work with a turnkey solution online.
The simplest example of SaaS and the most widely used service is Gmail.
Among the most common reasons why companies use SaaS is that, as the client, you don't need to install and run applications on your systems/equipment. This reduces or even completely eliminates the expenses for purchasing equipment and its maintenance, as well as expenses for software and its support.
It is expected that over the course of 2020, 85% of small businesses will invest in SaaS solutions.

What are the SaaS sales?
The most popular examples of SaaS solutions are project management systems for collaboration, online organizers, document management systems. Website builders are also SaaS solutions.
In general, there are a lot of SaaS solutions available today, but the main types are as follows:
1) Infrastructure as a Service: SaaS products include highly scalable databases, virtual private networks, big data analytics, development tools, machine learning, application control. 
Examples: Amazon Web Services, Microsoft Azure, Google Cloud Platform, and IBM Cloud;
2) Platform as a Service: such SaaS companies provide access to web-resources and specific services for developers. 
Examples: Google App Engine, IBM Bluemix, Microsoft Azure, VMWare Cloud Foundry, Salesforce Heroku, and Force.com
3) Function as a Service: a category of cloud services that provides a platform for developing and running applications without any burden associated with the supporting infrastructure. 
The examples of the most famous SaaS companies working in this area are AWS Lambda, Azure Functions, Google Cloud Functions, and IBM OpenWhisk.
Today, SaaS affiliate programs are extremely popular. It is an excellent source of leads and a perfect way to make money for brand ambassadors – bloggers, webmasters, online consultants and active users of social networks who are ready to recommend products and services to other people.
Potential affiliates are attracted by such advantages, as a steady stream of passive income, scalability of business, attractive products, free trial, long cookie lifetime, and nearly endless opportunities.
Now we will show you the best examples of the most attractive SaaS affiliate programs for 2023 for web studios, marketers, and, in general, for all those people who want to learn to use their mind power to attract money and get a decent and stable passive income in the form of an affiliate commission!
SaaS affiliate programs: best examples for 2023
Before you dive into details – check out this important information regarding all affiliate programs mentioned below:
firstly, all these programs offer an affiliate commission that is higher than average (an average rate is somewhere between 5% to 30%

).

secondly, Weblium offers the longest cookie lifetime – 180 day-long cookie lifetime! By comparison, for Sephora, it's only 4 hours, a regular Amazon affiliate link cookie lifetime is 24 hours

, and the GetResponse affiliate program's 120-day cookie life is generally considered an example of great generosity. 
That is if a potential buyer does not clear the cookies, and then, if he visits the Weblium website following your link (or even somebody else's link!) after one or two months, this buyer will be considered as an affiliate client anyway (since the first transition was in your link) – and you will get your reward!
 Weblium DIY website builder affiliate program
Briefly about the product:
Weblium is an AI website builder. Created as an appropriate response to today's market requirements, it allows you to make a professional business website yourself in just a couple of days, completely free of charge.
Main features
:
more than 200 unique and stylish high-quality templates, created by experienced designers according to the latest web design trends;

an intuitive visual editor that allows you to change the templates and even every element the way you like, allowing you to create a truly unique website;

effective tools for SEO and marketing, available in the admin panel of your new website;

fast and responsive websites, that will look and work perfectly on any screen;

24/7 online support.
Weblium revenue share affiliate program offers you to start getting passive income with the help of two popular online platforms – First Promoter and ShareASale (for your information, ShareASale holds 55.7% of the market share):
First Promoter

offers you

50%

of the first sale and an additional

20%

of all subsequent and recurrent sales.

ShareASale

allows you to get

40%

from your first sale of any of available packages, also offering some

special bonuses

:
45% commission

if you make it to

more than 30 sales

per month;

50% commission

if you make it to

more than 70 sales

per month.
If you'll give preference to the Weblium affiliate program, you will also receive the additional tools you'll need for your success:
tracking your referrals and earnings stats online in your personal account;

ready to use promotional materials (you can order creating unique promos from Weblium team experts if needed);

180 days cookie window – you guaranteed to get your reward even if you will decide to stop working with the program;

coupons and interesting offers for webmasters;

a designated manager that helps you with the onboarding and payouts.
Partners who have a good target audience and are actively promoting the Weblium product earn $1,000 a month and more on average.
For instance, for one of its first affiliate partners, Tracy, Weblium created a landing page specifically for earning in an affiliate program. And this is not something extraordinary: Weblium is ready to discuss the nuances of cooperation with all its potential affiliates!
As a result, Tracy, the owner of a well-promoted social media page, received $3,600 of revenue share with a Weblium partnership program over the past year. And this not even mentioning the percentage that she receives from clicks on the referral link on her page! 
Now she can afford not even to bother herself with active affiliate promoting – her affiliate links are working for her all the time!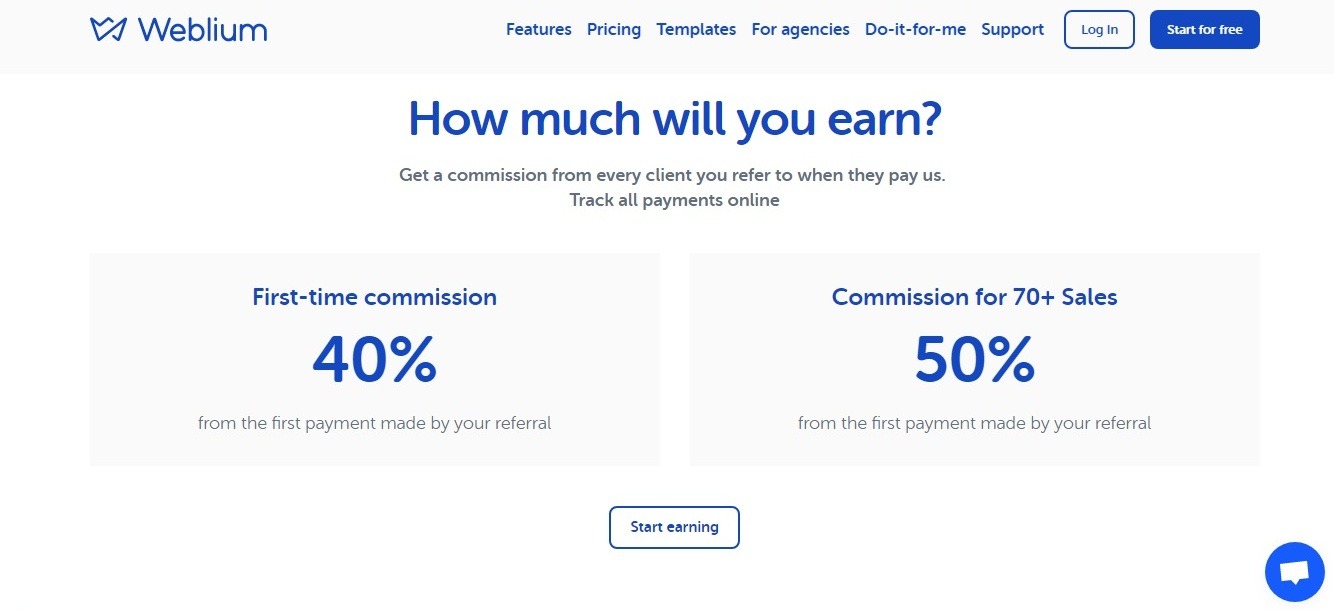 Who will benefit from this program:
Any web agency or any person, who wants to monetize his content, know where Weblium's potential customers hang out online and want to get a good affiliate commission for that!
Start earning right now with Weblium 🚀
Draftium online turbo website prototyping tool affiliate program
Briefly about the product:
Draftium is a simple and convenient online website prototyping tool. You don't need any special skills; you can simply use ready-made templates or layouts, edit them, combine and create your own perfect site prototype within 15 minutes. 
In 2018, Draftium is recognized as «#1 Product of the day» by Producthunt.com.
Main features
:
extremely easy to use: you just open and start working, with no instructions;

you can create a prototype from scratch, or you can use ready-made templates and then modify them to your taste;

a huge number of blocks and template elements: buttons, forms, text fields, galleries, etc. – this allows you to create your website prototype block by block, instead of adding each element individually;

super-convenient blocks editing – add or remove elements with one click in the editing settings menu;

there are also free pictures and icons that you can use to spice up you're the design of your layout;

adaptive templates by default. That is, you do not need to separately create different website prototypes for each device, you easily check how your future site will look like on a smartphone or a tablet screen.
With the Draftium affiliate program earn a 40% commission from each sale and +20% commission from each recurring payment.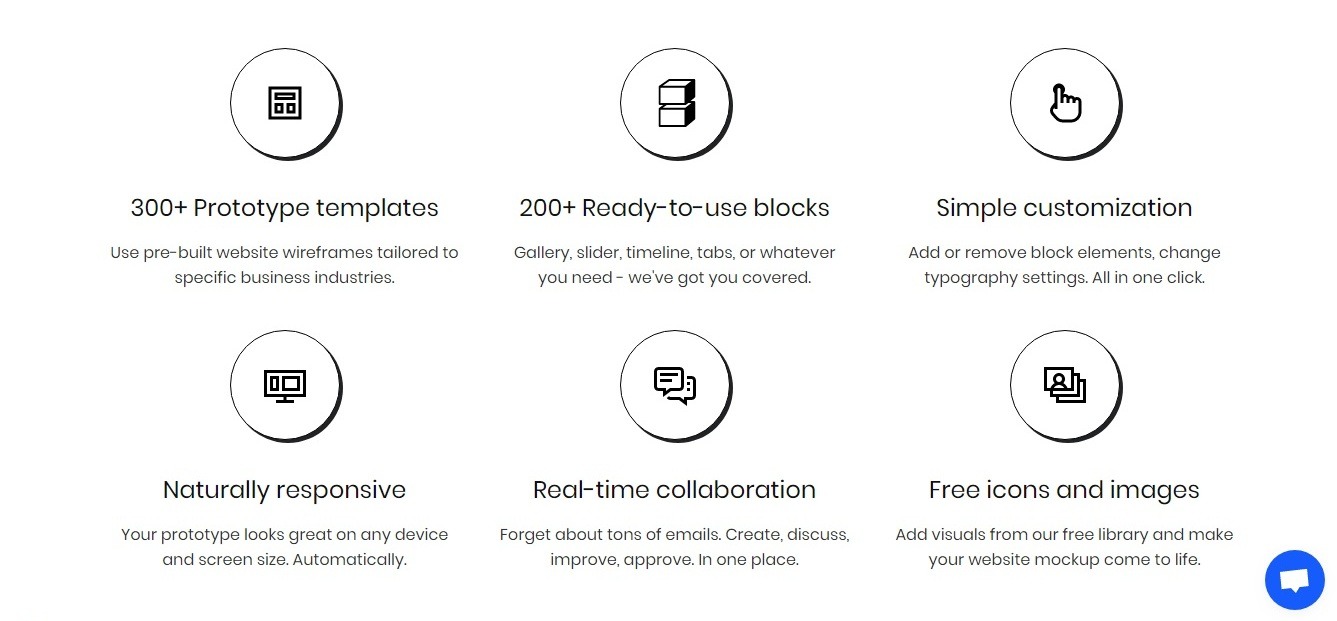 Who will benefit from this program:
Draftium online website prototyping tool is an ideal «turbo» solution for developers, web studios and marketers.
Weblium Studio partnership program
Briefly about the studio:
Weblium studio offers its customers creating modern, adaptive and beautiful sites (any type of site – from minimalist landing pages or business cards – to large corporate websites) at a ridiculous price for today – from just $250! 
The price includes Google Cloud hosting, domain name, SSL certificate, many integrations, marketing and SEO tools.
When developing your website that will be maximally tailored to the needs of your small or medium-sized business with Weblium studio, you also get:
the prototype of your future website;

personal manager 24/7;

access to your website's source code;

really fast website (from 90 to 100 points in Google PageSpeed ​​Insights);

access to intuitive admin panel;

unlimited storage;

AI Design Supervisor will help you to avoid serious design mistakes.
Join the Weblium studio partnership program and get a decent reward for each customer you've attracted!
As a partner, you will receive a 30% commission for each sale of any Weblium Studio Package you will make. You can easily earn up to $200 for each referred client!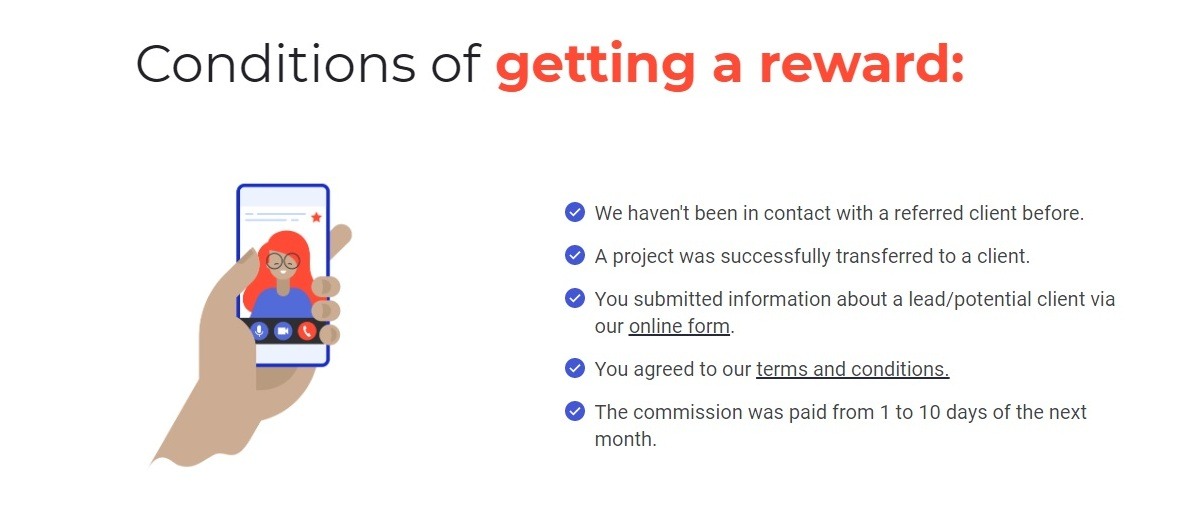 Who will benefit from this program:
owners of small businesses, that offer additional services to their customers;

development companies that don't support clients with checks under $500;

 

advertising agencies whose clients need to have a professional site for promotion;

 

independent consultants that provide some additional services in the web design sphere.
(Bonus): Weblium White Label Agency program
Briefly about the product:
As a reseller software, you will be using Weblium – intuitive platform for building modern and responsive sites. 98% of the company's partners claim that the platform is extremely convenient to use, even for non-skilled users. 
This is the main reason why they continue working with Weblium White Label Agency.
The platform works on a famous Weblium engine but has no Weblium branding. It's ready-made software that you can use to create professional sites for your clients at custom prices. 
Your customers will consider White Label Agency as your platform!
What Weblium White Label Agency program offers:
full control over your clients' sites;

custom pricing: get the discount up to 50% – pay the lowest cost for our products and charge your customers as much as you want (that's what makes it one of the most prospective

reseller programs

). 
Your clients have no idea what prices Weblium charges. Your reseller commission is defined by your agency package. If the PRO subscription price changes, your commission remains the same. 
So, you can set a good profit margin for your services when the PRO subscription price falls;
access to the partner ecosystem. You'll be granted priority access to the reseller community and will be able to contribute to Weblium platform development. You'll be the first who receives product updates and useful marketing materials.
With Weblium reseller software, you can:
use your branding within the editor;

connect your domain name;

remove Weblium chat and branding to add your business name, logo, favicon, etc.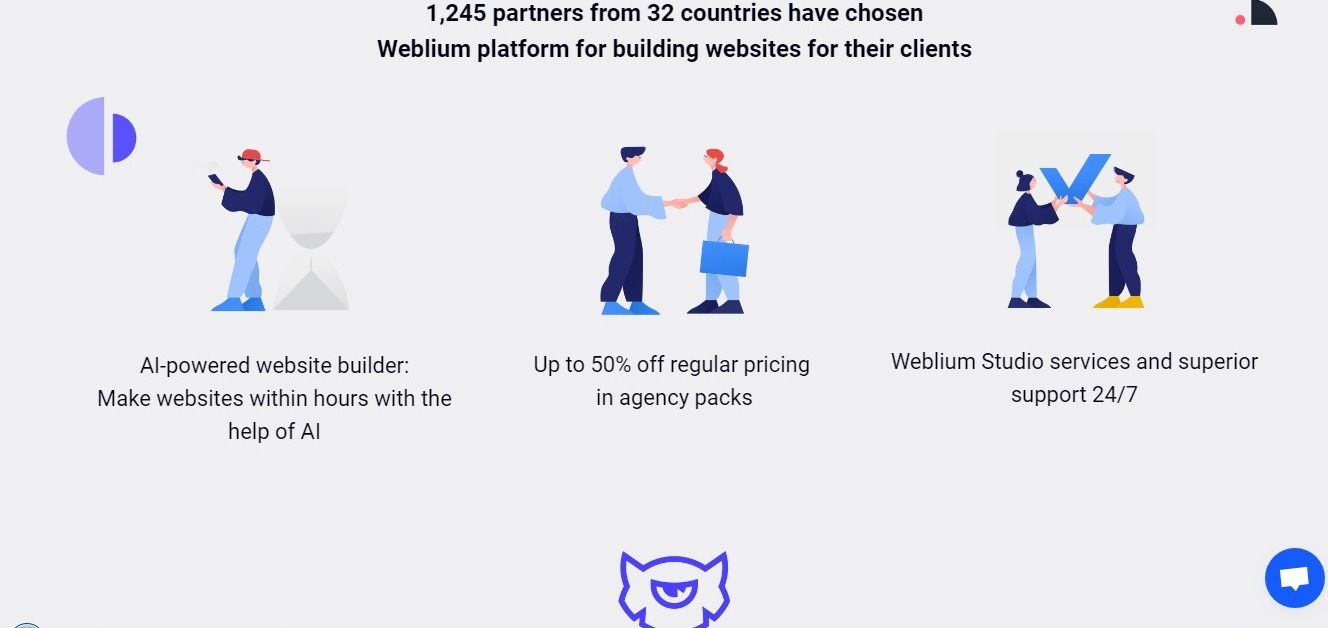 Who will benefit from this program:
freelancers;

web studios;

big agencies.
How to start an affiliate program
We have given these examples so that you understand that today companies pay a good revenue share for attracting potential buyers to their products and services. And the more popular and demanded the product is, the higher your chances of selling it!
Affiliate marketing is one of the easiest types of businesses to start. You can attract buyers by all available means – from blogging to email marketing. And it doesn't matter if you start working on your own, or immediately join a large affiliate network: all you need is a desire and, ideally, a well-promoted website/social media page with a good audience. Then, everything works automatically!
Think of your affiliate program as a serious source of income, and then it will surely become it. Explore opportunities, keep trying, learn to analyze your actions and get a passive income!