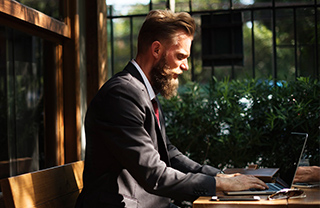 Step-by-Step Guide How to Build Law Firm Website
Online presence is equally important for a global legal corporation and a small law firm. With 3.7 billion internet users today, each second person on the Earth, it goes without saying potential customers of law companies are active online.
Every day each of us visits more than a hundred websites. However, when it comes closer to its own site making, numerous questions appear. In the end, we stuck at the very first step – how to build your own website.
We've asked more than a hundred lawyers about the barriers that prevent them from building their own law firm websites to promote services online. The answers were different, but we caught a common idea. The best lawyers do not feel like they can actually build a website without any help. The process of website creation seems too complicated.
We are going to dispel this myth! Here is our step-by-step guide on how to build best law firm websites in a quick and simple way.
And even if you are going to order a site from professionals, it will also be useful for you. Because of your participation and minimal knowledge in this question will be required to get exactly the size that you want. So let's clear everything up.
About 38% of users look for the law firm website while choosing an attorney and about 74% of visitors go to the website to take a certain action.

In fact, websites help potential clients to take a final decision which law firm to apply.
Define the goal and type of your website
The first decision you need to make is to set the goal for your website. Why do you need a website? What goal do you want to achieve by creating a website?
There are 4 main types of a website usually created by law firms depending on their goals.
Business card website
This is a very simple website containing basic information about the company.
The goal of this kind of website is to help your customers to find your company online and contact you.
Must-have elements for a business card website are:
About the company
Practice areas or services
Contacts & location
85% of users use online maps to find the location of a law firm so alongside to your webpage pay attention that information about your law firm is on Google maps and in different law firm directories like Avvo, Cornell, FindLaw, etc.
This type of website generally contains information about the firm's activity, recent cases, achievements and awards, and news in the legal sphere.
The goal of this website is to provide visitors with more information about the company's activity, to demonstrate expertise and gain credibility.
Must-have elements for an informational website are:
Practice areas
About the company
Information about attorneys and partners
Contacts
Blog / News
Case studies
More than 56% visitors concentrate on the attorney bio page. Even practice areas are less compelling to website visitors. In this page, they spend 20% less time compared to bio page.

So make sure that you included important information about attorneys, such as photos, experience, practice areas, recent cases, awards, certificates, and contacts.
Influencer website
It's a kind of informational website with an accent to insider's information and expertise. Typically, legal firms that provide new or rare services create this type of site to educate the audience.
This website will be a powerful tool for companies that are ready to share their deep insider information, comment on new principles of law and share interesting cases. Such sites usually have a plethora of content – blogs, FAQs, whitepapers, eBooks, etc.
The goal of this website is to educate visitors, provide them with maximum useful information and probably to organize a community around your company's expert area.
Must-have elements here are almost the same:
Practice areas
About us
Attorneys and partners
Blog / News / Ask us/ eBooks / etc.
Case studies
Contacts
About 45% of all law firms use their websites to educate and build legal awareness of visitors. To make your website more appealing to the visitors, share your experience and insights that can hardly be found in the free access at other law firm websites.
The site that generates leads
This website has a more complicated structure and contains mixed types of information including about the company, it's services and value-added content and of course contacts.
The goal of this website is to generate demand for the company's services and make visitors apply to the company.
Must-have elements for lead generation website:
Practice areas
About us
Attorneys and partners
Contacts
Services
CTA, lead generation blocks
Trust factors
"Trust factors" are the website elements that help to ensure a visitor in company's reliability and deep expertise.

The first "trust element" that may come into everyone's mind are testimonials of the clients. But fresh research of law firm websites demonstrated surprisin;g results.

81% of users are sure that lawyers' experience is the most important, 66% prefer to study past case results and only about 50% of visitors pay attention to testimonials.

Choose a domain name for your website
A website name selection process is usually careful and loudly discussable as it will contribute significantly to your online success in the future. The domain name helps you to build credibility, depict your professionalism, and even define your location if necessary.
Ideally, your first part of your domain name should contain your company's name.
The second part should preferably indicate the region of your activity:
if you are acting globally, it is great to pick up .com domain;
if you are acting across all the country, you'd better choose the domain name of your country .us, .au, .uk;
if you are acting just within one region, it is good to pick the subdomain of your state or region to cut off the visitors from other regions.
Useful tool: Use Domainr to check what domain name is available for you.
Content
Text content you use at the website for your law firm is the most powerful tool to attract visitors, convert them into clients and build credibility to your business. Let's consider 2 basic questions about the content: what to write and how to write.
What you write to your clients is vital both for search engines and visitors. Thus, you should stick to some rules and regulations regarding your content.
First, keep in mind that your content should be technically and conceptually unique.
Technically unique content is good for search engines. To create a technically unique content write it by yourself from the very beginning. Other sources' content re-writing will have much less value for page ranking.
Useful tool: To check whether the content is technically unique use Copyscape for plagiarism detection.
Conceptually unique content is more attractive to your visitors. If you cover some issues that have never been covered by other legal websites or blogs and answer the most intriguing questions, your traffic increases and you can expect more leads that will eventually turn into your customers.
Another point is how you write. The language of the website should help you to become closer to your clients but not to confuse them. Do remember that your visitors are not lawyers or attorneys and they hardly have basic knowledge of legal terminology. However, terminology is the only thing you need to avoid. Legalese language is difficult to perceive so make sure that you:
write in short sentences and short paragraphs;
do not use Latin;
avoid pompous words;
do not overuse clauses.
Every time you want to write something like amicus curiae or motion in limine make a pause and replace these words with simple language.
According to ilawyermarketing research, 66% of website visitors look for the past case result history on law firm websites. If you do not know what content to include to your website, share your case studies.
Define general stylistics of your website
The next thing that you will have to choose is the style for your website. Define the style for your website and try to keep it in everything – images, texts, fonts, etc.
As a rule, law website design is clear and soothing in a rather conservative style. The color scheme is natural although some legal websites try to experiment with calm but saturated colors like dark and navy blue and a dark and crimson red.
To understand how to make your website with a perfect design, follow these recommendations that we took out from niche website analysis:
choose photos with a clear focal point and the good balance of lights and shadows;
use folded corners to make the website look flawless and more smooth;
add dark shadows to emphasize website elements;
use big bold letters on the homepage;
use typography to create a sense of the hierarchy of the text. Vary tones, colors and size of the letters to reach the desired effect;
use small icons and graphics to deliver your message clearly to the visitor;
apply strong colors and simple gradients to make emphasis on certain text blocks;
add contrast between text colors and background colors;
avoid overuse of textures and gradients.
Useful tool: If you are not sure about the style to choose, do some experiments with the layouts using the Weblium law firm concept. Constantly keep in mind the goal of your website as it will determine the choice of elements and blocks that you will add to your website.
Analyzing website effectiveness
Tracking the website effectiveness is perhaps the most important part of this "website history". If you do not track the results, there is no sense to start at all. Without proper analysis, your website will be almost useless, and you risk to waste money. The analysis should be conveyed according to the goal of your website:
for business card website analyze the number of calls and emails;
for informational and influencer website analyze users and sessions;
for sites that generate leads, visits and leads and conversion rates into clients are critical.
Useful tool: The best tool for analysis is Google Analytics. However, you may use any other tool that helps you with the analysis.
Summary & Conclusion
A perfect law firm website is just a matter of your desire. Listen to yourself as you know who your clients are and what they want thus you will be able to determine how exactly your site should look. Everything you need is 5 steps to create a website which are basically "magic ingredients" for your online success:
Determine the goal and choose a proper type of your website;
Choose a domain that will speak for your business;
Write unique content in simple language for your audience;
Define the style of your website to make it suit your goals;
Analyze the results and make some improvements to the work you have made to understand how the website affects your law firm's success!
If you feel that you are ready to start this journey, go ahead. By the way, we give you a chance to get a website made by top professionals for free. This is a limited-time offer so don't miss out on the opportunity.
Useful tool: Each modern law firm website builder has even ready templates and allows them to make a flawless site without coding and expertise in online marketing. For example, on Weblium.com you can find a ready law firm concept that includes maximum elements you may need. So you can make a perfect stylish site just by clicks of the mouse.
Sources:
ilawyermarketing.com
mycase.com
natlawreview.com
imarc.com
berkshiredirect.com