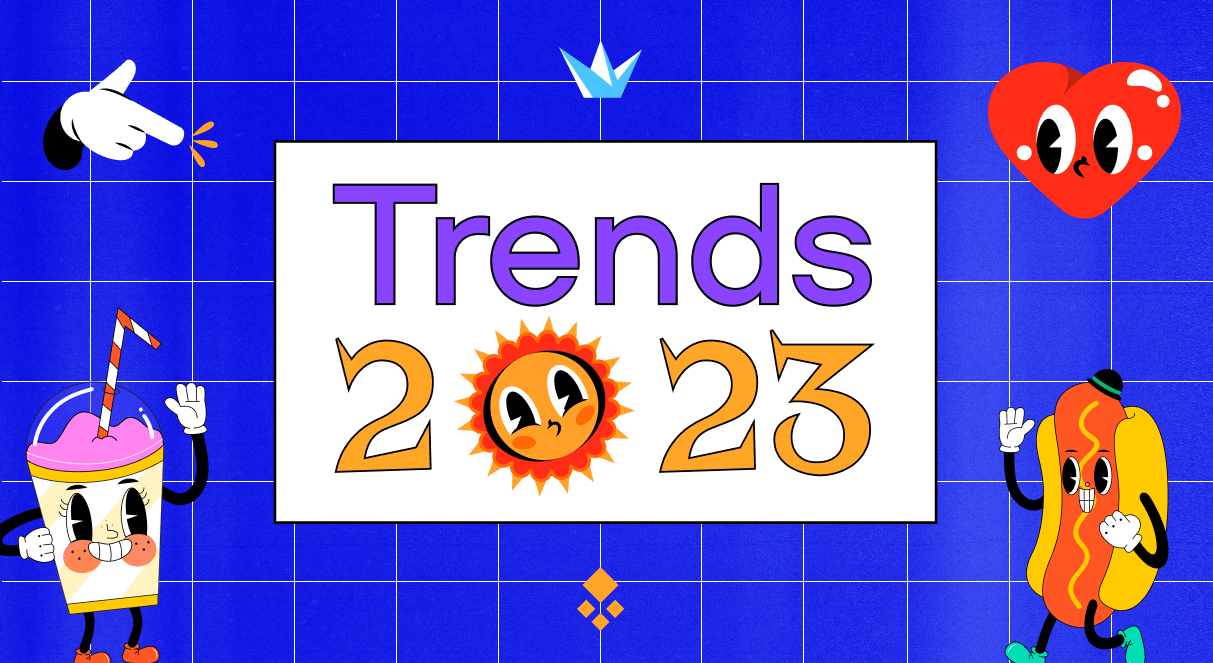 Web Design Trends in 2023
Web design trends are not only about making stylish websites. It also includes attracting and retaining users with the assistance of exciting experiences of using sites. In this article, we will analyze 2023 web design trends you can use while creating websites with Weblium. 
1. Claymorphism and 3D illustrations
If the theme of your website requires colorful illustrations and a weightless interface, you can create a bright and shaped world without too strong contrasts. Current trends in website design usually contain abstract forms and shortcuts, that add more interest from visitors. 
Claymorphism means using solid filling with internal and external shadows. Still, parts of the design will not fall out of the layout. Claymorphism is one of the most fascinating web design trends 2023 opened to us.
3D illustrations complement this style significantly. There are more and more such illustrations, so you can easily find the ones you need.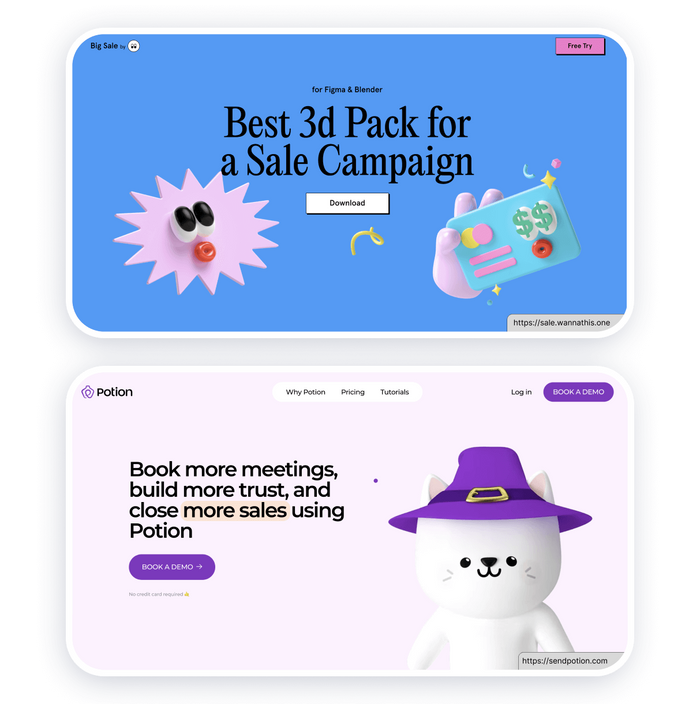 2. Overthinking the idea of the first screen
If you are used to the first screen with CTA, text, images, and buttons, you are not alone. Almost everyone got used to such first screens. But websites can be used to implement unique ideas, not the ones we always saw.
This is why now appear first screens with only text or images and videos. Such screens allow readers to focus on the website's main ideas and mood. This is one of the leading website trends 2023 gave users, and more and more companies are implementing it.
Moreover, designers can refuse to use the content on the homepage and make the first screen an informational and illustrative hub on smaller websites. New websites design trends usually focus on unobvious decisions and the implementation of website pages.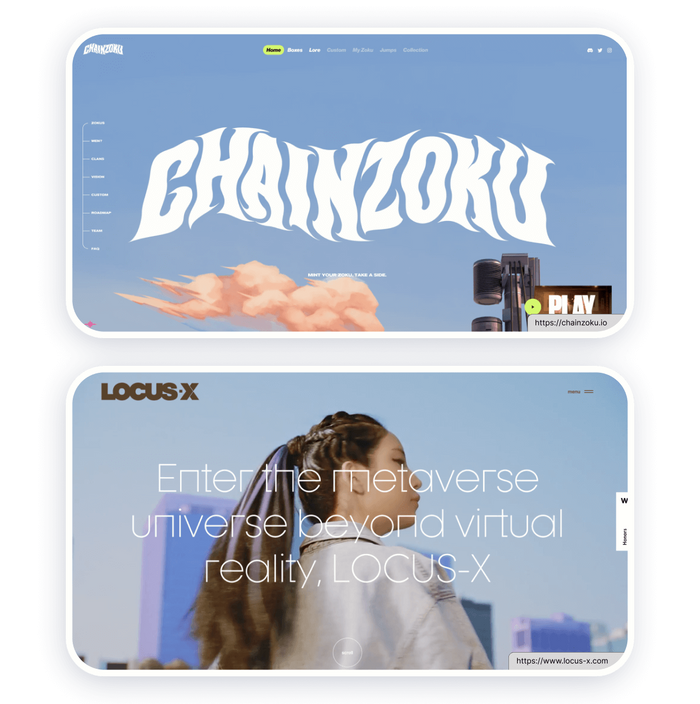 3. Content in boxes
Nowadays, more and more websites are created to be displayed on smartphones. This is why their design is being scaled to the desktop version while saving the DNA of the interface made for smartphones. Such interfaces contain boxes, containers, and cards. One of the latest current web design trends is focused on giving as many necessary details about the company as possible.
Boxes reduce the density of the information but allow the interface to be understandable and rhythmic. Moreover, you don't need to worry about different amounts of text in containers because the container height is scaled to display all the content correctly. This is an example of trends in web design that combines a remarkable appearance with practical use. 
Don't forget modular grids and use masks for your images when creating a website design oriented towards this trend. The idea of making rounded boxes will also affect the visual content.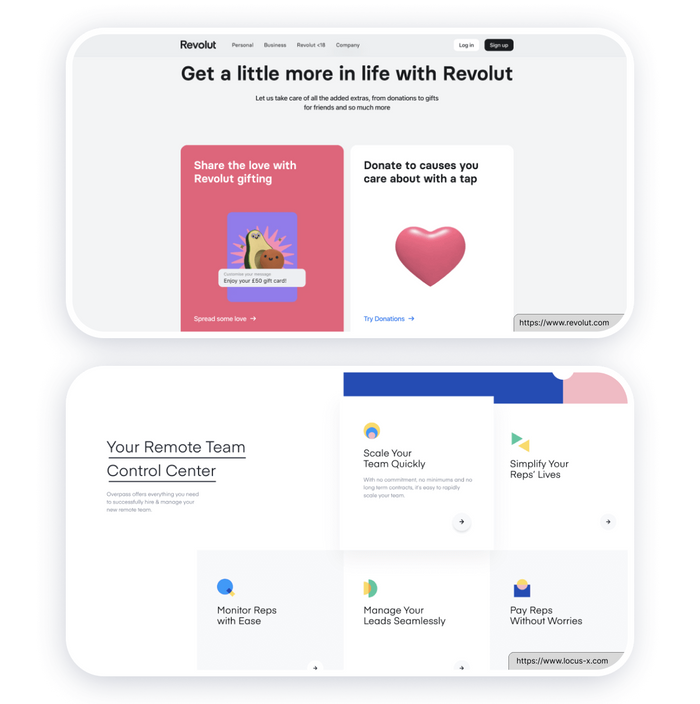 4. Vertical storytelling
There are two concepts for building narratives in the latest website design trends. 
The first concept can be called functional. It gives users a little immersion in the primary sense of the page. Each block is independent. Quick scrolling, scanning of keywords, and a compact interface allow visitors to find essential information in a few seconds. The functional approach is extremely popular in modern website trends. 
The second concept can be called narrative. It builds better personal communication with visitors and allows the brand to turn regular inspection into a conversation. Each vertical block of the page continues the idea of the following block and messages the visitor directly, making him pay attention to all the messages you send. This is a part of modern website design trends, and many users try to use narrative to enhance it with other methods. 
Storytelling allows you to create a unique website. Thanks to it, users will remember you. But keep in mind that your brand has to be interesting for the core audience.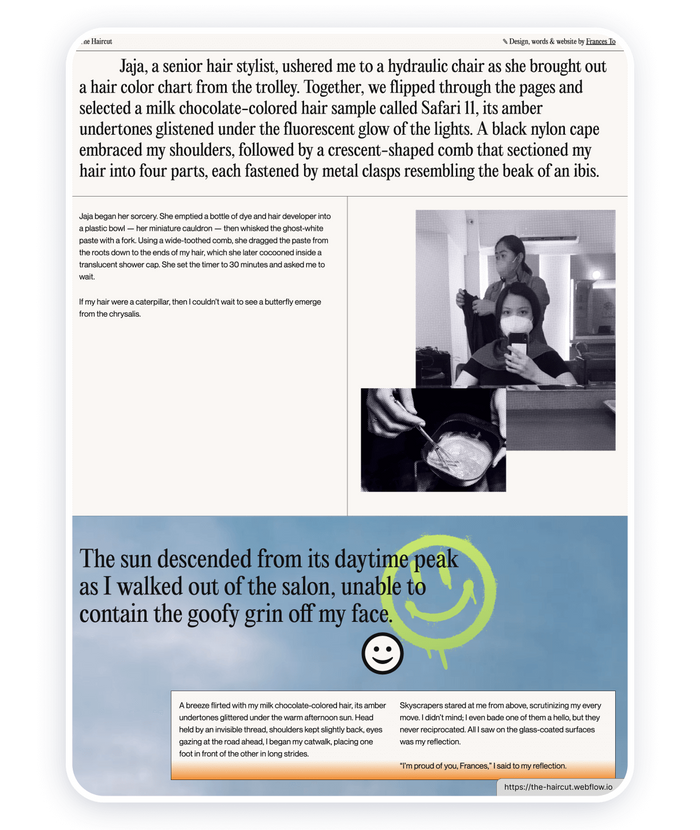 5. Simplified clear design
In the modern world, when the information creates too much pressure on users, it will be great to get back to basics and give visitors an option to focus on the main points. Full clarity is one of the best examples of trends in website design in 2023. 
Designers choose simplified color schemes or work only with monochrome tones. They refuse to use visual junk, such as shortcuts and abstract and thematic illustrations. They use well-organized typography with a lot of space. 
Such a new website design example works best with cooperative and product communications. Or, it can be used for contrapositions. This way, on such pages where customers wait for a real show, designers work with self-limitations.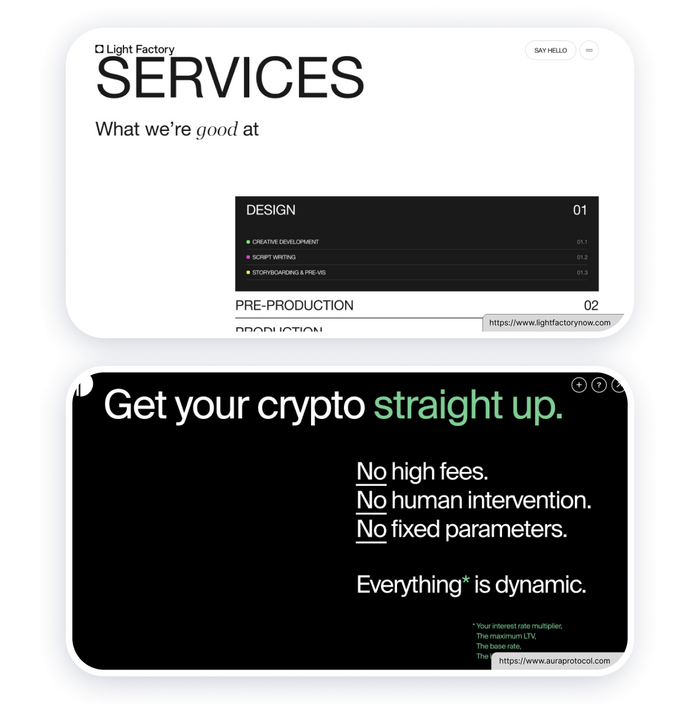 6. Creative typography
We read less, while we still can catch the main ideas and emotions of the text. And when the amount of text decreases, it is time to make it aesthetic.
To achieve it, the text is implemented in illustrations, add volumetric separators, choose vertical orientation, and spread the text the way, so users need to make more than one scroll. This is one of the newest web trends, where people will be involved more in cooperation with you but will not be overloaded with information.
The other way is to use modified fonts for headlines with the implementation of decorative elements, text doodles, and drawn fonts as supporting illustrations.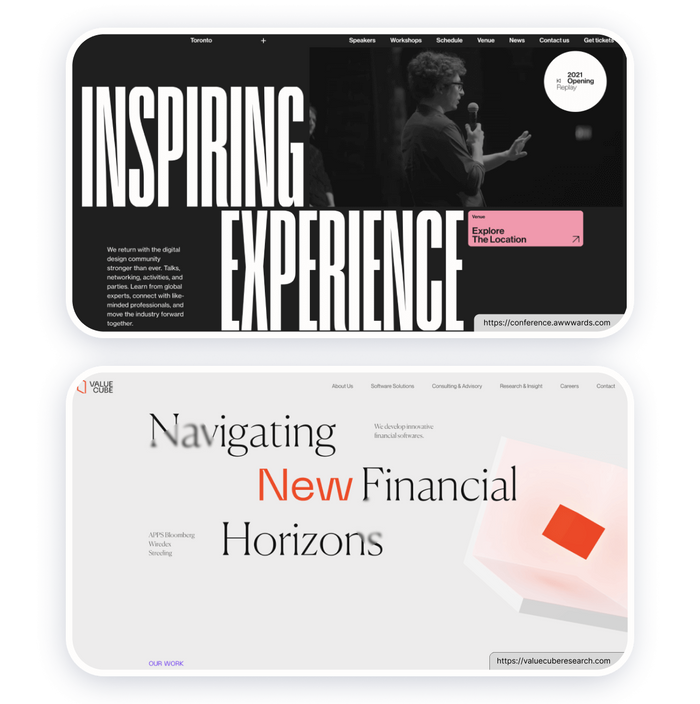 7. Fades, blurs, and translucency
Thanks to the translucency, overlaying the glass effect, and color transitions, the drafts of websites have become more modern and are full of movement. This way, users of the website can immediately understand that the brand they examine is stylish and technological. Using such an effect is not one of the latest web design trends, but only recently it became one of the most appreciated. 
This trend allows you to use fades and blurs for buttons, cards, and fonts. Fades can fill the base with the page or can turn into colorful accents of the main places for interactions. 
Translucency can be implemented without using code. To not overload the website, you can create images and backgrounds with this effect in image editors and upload them to your website.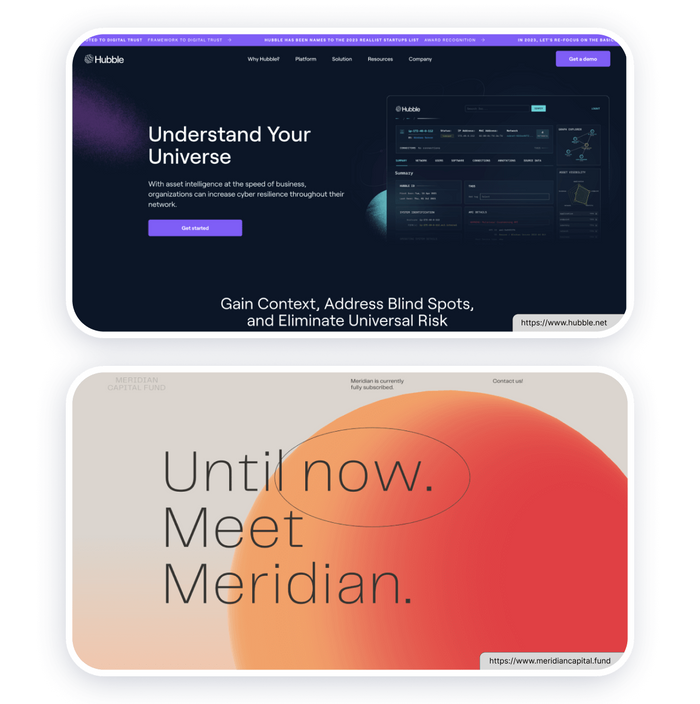 8. Organic bends without precise geometry
In the last few years, we could see a lot of websites that use different geometrical patterns and supportive primitives. By using them, the design can become denser. This relatively new trend in web designing can offer you an opportunity to implement any ideas you have.
Modern design doesn't eliminate decorative aspects but makes such aspects more humane. Solid curves near the elements and in the background make drafts full of internal harmony. 
You should consider two main categories to use this trend in your design projects. Sense blocks and text should be placed rhythmically, while curves (or patterns based on them) can be considered as movement from one block or element to another.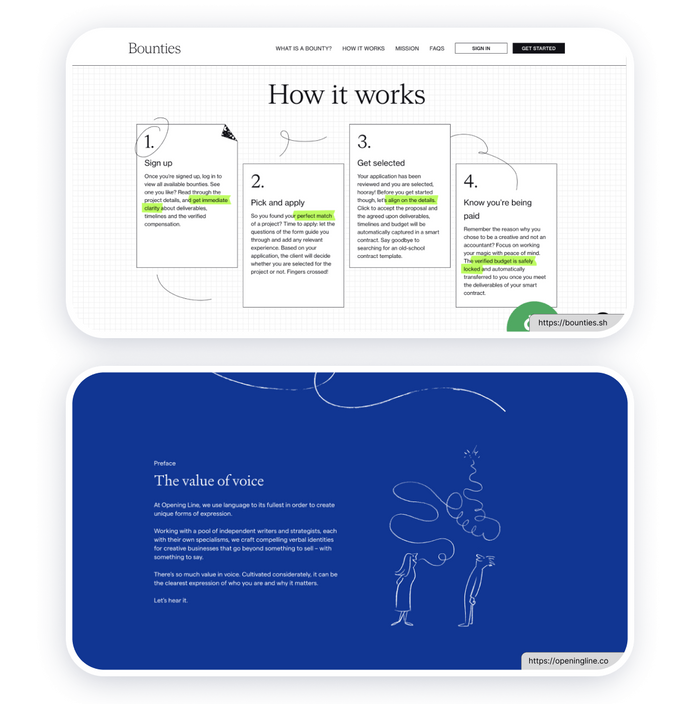 9. Cinemagraphs
Video fills drafts of the website with life. A new approach to interactive elements is called cinemagraphs. Cinemagraphs are dynamic cycled videos and GIFs in a static collage. 
Cinemagraphs can be used to attract the attention of the visitor to different parts of the page. Being one of the latest websites trends, it experienced a lot of changes but still remains a universal homepage template that can contain any demands of website owners.
The use of dynamic accents on pages also helps save traffic for the user because only a small part of drafts will use animation or a video.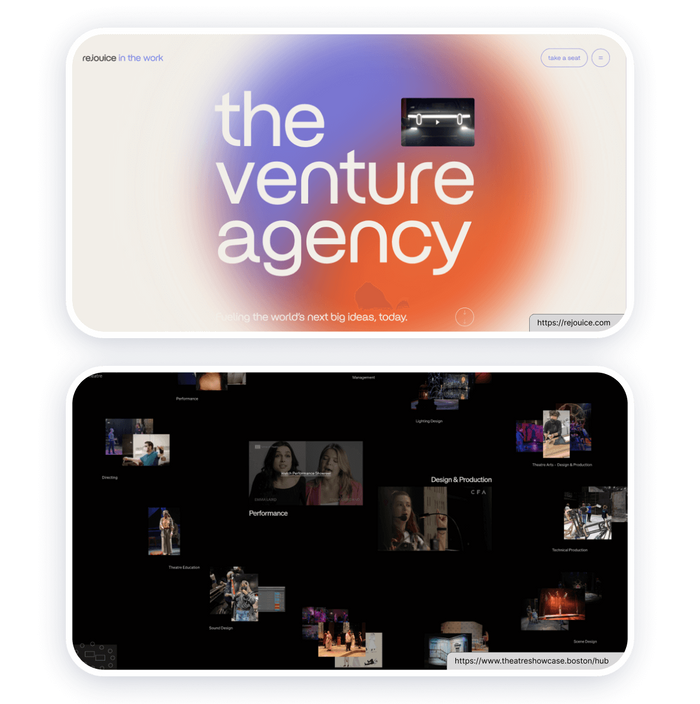 10. Aesthetics of the start of the decade
Interfaces become more stylish and correct. Art-design of websites became well-balanced and effective. But don't you think that we are losing something naive and simple? Yes, we forget the imperfection of the old Internet. It is a sort of irony that one of the latest website design trends is the implementation of older ideas. 
Designers take ideas from the start of the decade, add neo-brutal and collage elements, use overloaded or absurd navigation, and present a new vision of the old classic. It is one of the best new web designs because this is a win-win case, when users who experienced genuine old Internet websites feel warmth and nostalgia, while younger generations feel archeological interest. Even though it looks simple, this trendy website design contains a lot of elements. 
The main markers of this trend are the following:
Skeuomorphic elements;

Pixels;

Retro interface;

Collages;

Inharmonious color mix;

Classical fonts;

Realistic textures;

Sharp angles;

Rough shadows.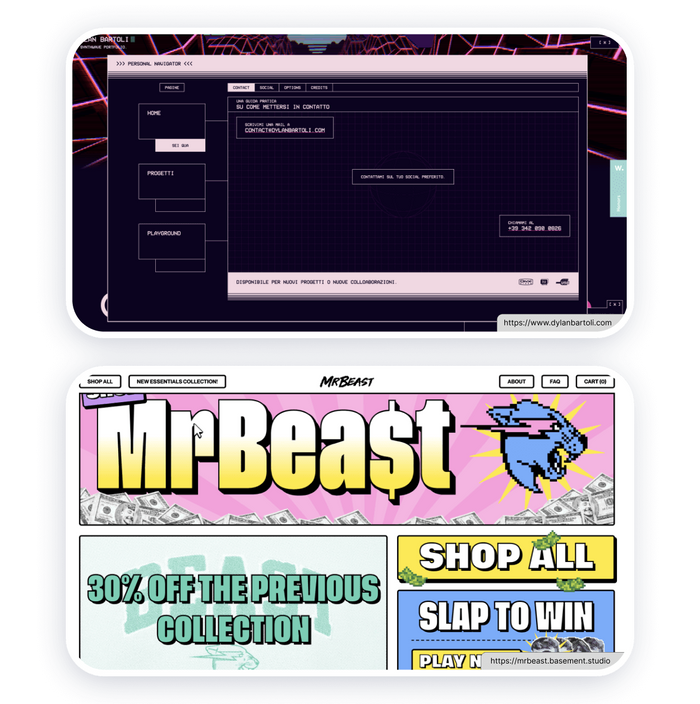 Web design trends and functionality
Even if you try all the latest trends in web designing, you still need to remember about a convenient platform for your site. Current website design trends offer a huge number of features, but don't forget that users will appreciate the efficiency of your website.
The website has to work swiftly and without any interruptions on all devices. With Weblium, you don't need to worry about technical nuances. Just choose the style you like and create your modern website.