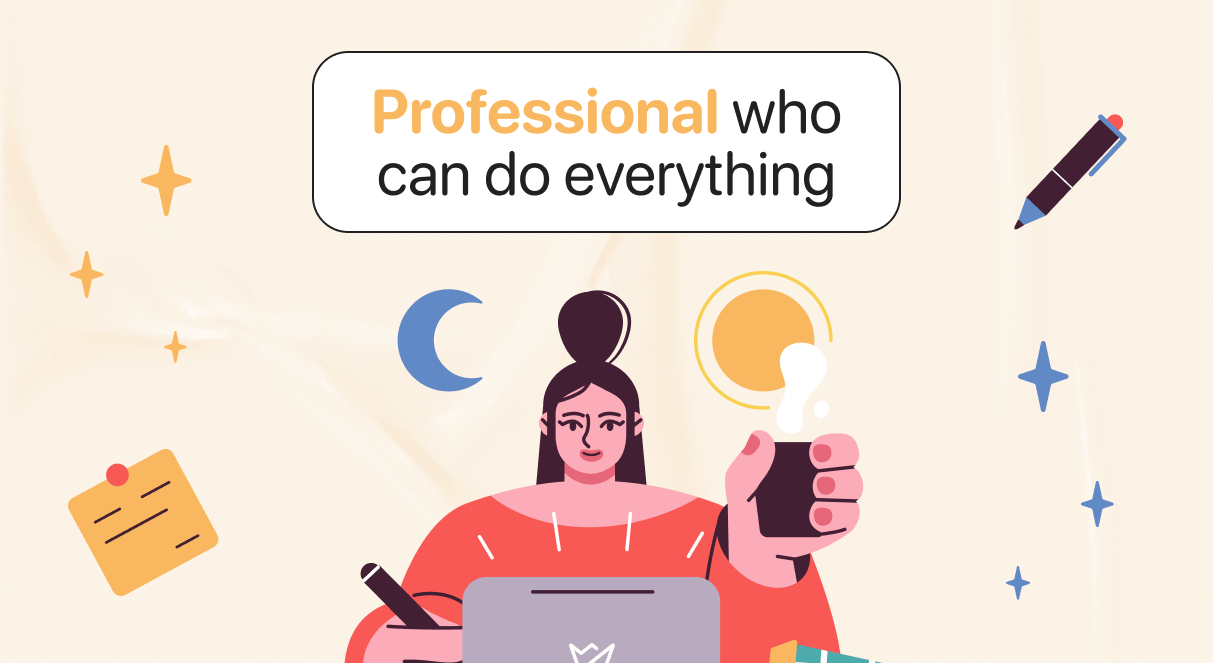 Web Designer Base Skills: What You Have to Learn
The creation of websites is not a single job. It is a combination of several sectors. The design theory and development tools, skills for content creation, interface projecting, project control, and even some marketing. If you are only starting your web design journey, this article will be a great boom of tips for your educational program. 
And using a website builder at the start of your career will be a great solution that will not require developed web design skills. You don't need to learn everything immediately. Make simple websites, improve your portfolio, and systematically learn. It will attract more customers. But many people don't know where to start their journey and have no idea. So, what skills do you need to be a web designer?
In this article, we are going to show you the skills needed to be a web designer and will give useful sources to find inspiration. 

What Do Web Designers Have to Learn from Design Theory and Practics?
Design theory. All visual systems are based on unity principles. It will be crucial to learn about composition, hierarchy, symmetry, depth, movement, balance, rhythm, visual weight, grouping, proportions, monotone, accents, textures, and patterns. After a short time, you will see that these principles will be used in your drafts.
Adaptive design. Even though aesthetics are crucial, designers also have to know about special behavior features of website drafts on different devices and displays. When working with Weblium, you don't need to worry about adaptions because they are created automatically. However, knowledge of the principles of adaptive design will not harm you.
Modular nets. A modular net is a system of a content organization on a website page (or other canvas). By using nets, the website will be visually rhythmic and balanced. The designer has to understand how to use modular nets and how to choose them for different types of websites. Also, don't forget about the vertical rhythm. 
Typography. It will be difficult for a web designer to understand all typography fundamentals, such as contrast, sizes, and combination of different attributes. But typography is one of the first things that come to mind when people ask, "What skills does a web designer need to know?"
Color theory. Colors make the design come alive. It might look like color is a sort of pure art. However, there are strict rules for color harmony, color psychology, contrast, and palette forming. Learn the color theory. It will enhance your intuition.
Layout rules. Even if you work with website builders, it would be crucial to think about HTML and CSS layouts. It will help you understand better what happens inside the builder. Moreover, HTML and CSS knowledge will help you add custom code to your website. 
Useful articles to read about this topic
How to Make a Moodboard in 7 Simple Steps
Landing Page vs Website: What's the Difference

What Do Web Designers Have to Know About User Experience?
Development idea. A web designer has to understand the core audience of the website and the main purpose of it. It is important to work on understanding of the audience and research it, research customer demands, website tasks, targeted actions, branding, and competitor analysis. Also, it is crucial to understand different types of websites. For example, the main differences between corporate websites and landings. 
User Interface. In this section, you will spend your time learning about interfaces and rules to create them. First, you need to know what elements are included in the website creation (there are more than 50 of them) and which elements would be used for specific tasks (you will have to defend your design solutions multiple times, so prepare arguments in advance).
User path. When users interact with the website, there are specific behavior patterns. You need to predict these patterns and build the structure of the website based on them. This is why you need to add navigation elements and CTA elements. It is probably one of the most important skills for web designers, but it can be developed when you examine websites and make one yourself.
Usability. If websites are simple to explore, each action on them is predictable and understandable, and the interface is remarkable and useful, you will have a huge number of orders. And if the user is satisfied with their experience on a website, it means that you are good in usability theory. 
Development stages and prototypes. Thanks to prototypes and wireframes, it is possible to see how the website will look like. Also, drafts allow removing all the potential disadvantages of the website. Also, you need to know about the stages of website development – from draft to release. A separate income source can be SEO, so learn more about search optimization. 
Useful articles to read about this topic
Main Problems With Website Usability
How to Create The Homepage of The Website: Tips, Tools, and Examples

Additional Web Designer Skills
Soft skills. A freelancer designer is a businessman himself and has to develop other important things besides web designer skills. He negotiates with clients, finds them, know about psychology and solves conflicts, separates the work from his personal life, and can organize his work and projects. It is essential to follow thematic communities and channels and layer more about the disciplined enterprise. Skills required for web designers include much more than just website creation theory.
Applications. Website builders (e.g., Weblium) can become your universal tool. However, you can gradually learn other skills and applications. As a result, you will offer your customers additional services and will increase the average check for your work. Sketch and Figma allow creating graphics, logos, and interfaces. Adobe Premiere, DaVinci Resolve, and After Effects help edit video banners. Photoshop and Lightroom help create collages and edit photos. Knowing how to use these services efficiently is at the top of the list of skills needed for web designers.

Don't Forget About References
The theory estimates your approach, but your web design experience can be received if you are working with other sources and the ideas of other people. You are the author, but you always have to find a library of references. References are design templates and solutions you can examine while seeking inspiration. 
To make your reference library grow, form a habit of working on them hard. 
Spend

some time each week

trying to find interesting works. The first part of a week or essential 15 minutes at the end of the working day. You will not even notice the moment when your folder with references grows.

Sort references

by categories

. The part of them will be used for trendy websites, others will be just minor solutions. One more additional folder will be simple but working solutions. 

Methodically examine

different web design sectors

. For example, spend some time exploring online stores, landings, and corporate websites. The diversity of your library is a guarantee of efficient work in the future. 

Also, don't forget about the

opportunity to implement solutions

in your designs. For example, if you work with

Weblium

, you can immediately check the opportunity to implement references you have. 
You can find interesting projects not only on Behance, Dribbble, or Pinterest. We found resources that have libraries of qualitative works. 
Awwwards is a platform where the best web design works are collected and nominated. Works from all over the world are present here. It will also help you find the criteria for professional website evaluation.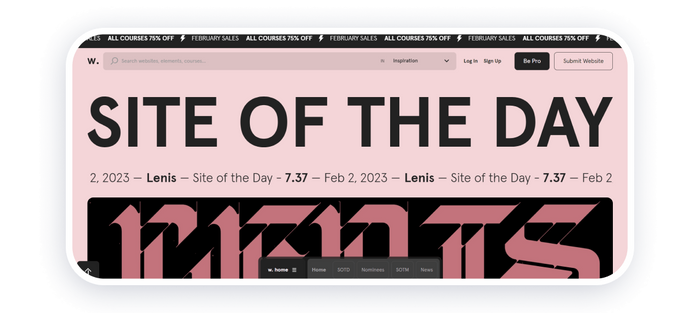 SiteInspire is a showcase of the best web design ideas from all over the Internet. You can find inspiration for your personal projects here.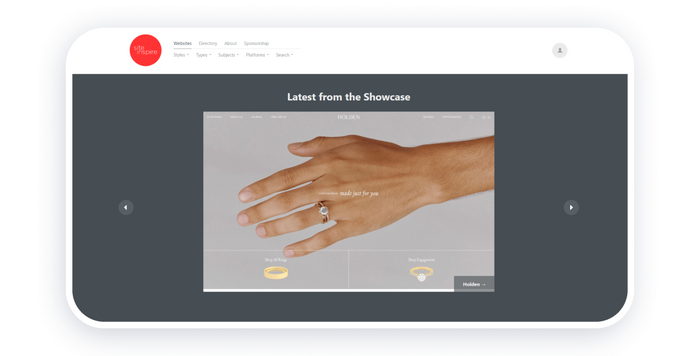 Land-book is a catalog of references for both completed websites and separate tools. You can find templates for mail or product packing here, either.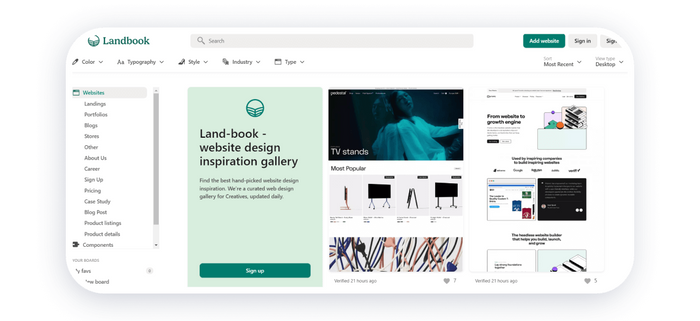 Web Design Inspiration is a compilation of websites sorted by styles and sectors. Use filters to find specific projects.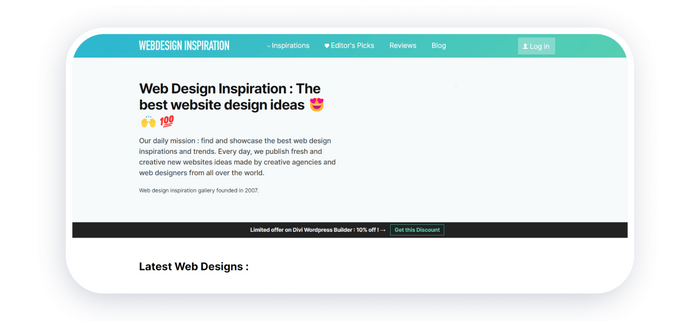 Turn Your Skills Into Websites with Weblium
Our platform simplifies the work of designers because even minor unnecessary detail will not appear on your website. Styles that can be edited, work with collections, built-in image libraries, automatic adjustments, commending mode, and coop access will make each development step more efficient. Join Weblium and use your design skills with maximum efficiency.