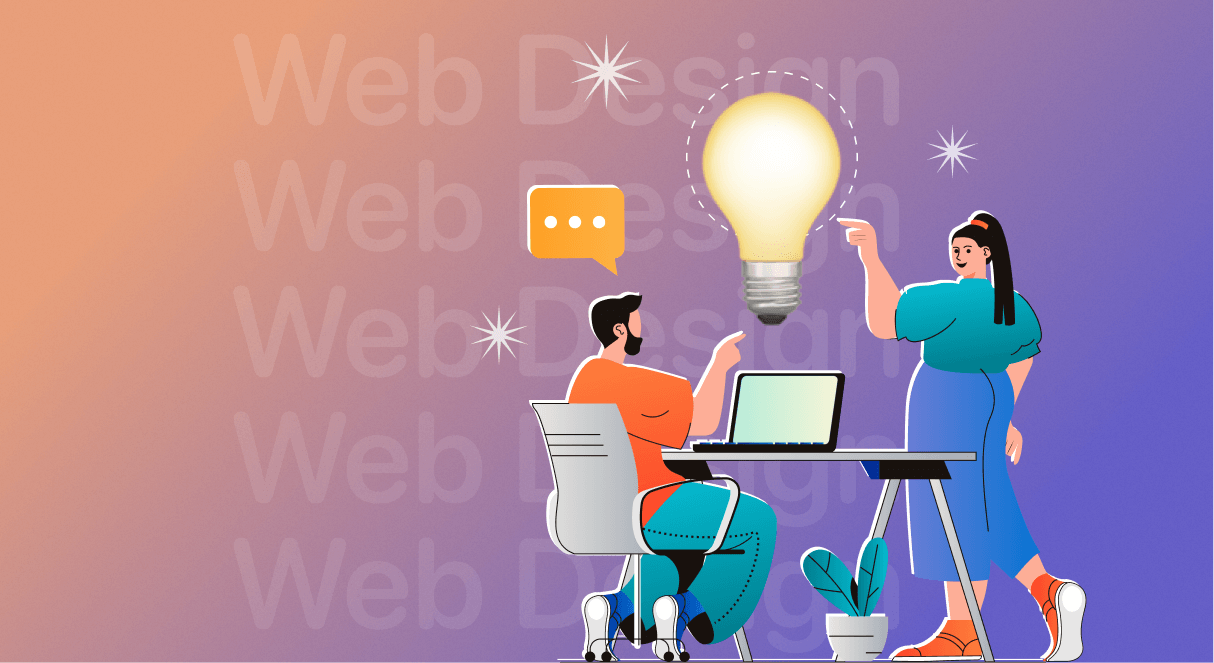 Web Design 101: 7 steps to designing a website
It seems that all goods and services can be bought on social networks now. But if such platforms are not enough to suit your business' needs, it is worth thinking about creating a website. It allows you to publish all information on your goods or services, tell consumers about the main advantages, post photos and reviews from buyers.
A complete website designing guide
The creation of a website is a labor-consuming business. We are going to list the stages you will have to go through and the nuances worth paying attention to.
So, how do you design a website? First of all, analyze your competitors, understand what they do and how they sell. Website development will not automatically increase sales. If you have a small beauty salon or a small pizzeria, social media pages are more suitable for you, which are easier to promote and less expensive.
7 steps of website design to follow
Several specialists are engaged in designing a web page: a designer, a layout designer, a programmer. Copywriters and content managers fill sites with texts, and marketers promote the page after it was made. The project manager is in charge of the entire process.
You can contact a specialist who will assemble a turnkey website for you and even find all the employees required for the project. Or you can also try to become a project manager yourself and hire a team of specialists. If you are interested in web design steps, here they are:
Step 1. Determining the purpose of creating a site and the type of site.

Step 2. Thinking over the structure of the site.

Step 3. Preparing the site content.

Step 4. Checking the usability of the site.

Step 5. Creating the design.

Step 6. Getting down to layout.

Step 7. Launching the website.
At the first glance, these website design steps seem pretty simple. Nevertheless, it is worth taking a look at each of them separately to be fully aware you understand each.
Determine the purpose of creating a website
To begin with, you should decide on the purpose of creating a website. There are usually two types of sites – commercial and non-commercial.
If you plan to attract customers with the help of the site, then your goal is definitely commercial. This means that the functionality of the site must be appropriate: an order form, a product catalog, a shopping cart, etc.
If you get most of your orders from sources other than your site, it's most likely that you have non-commercial goals. Then you can make, for example, a news portal or a blog, which will inform people about interesting events related to your product.
Then, try to identify the tasks that the site should solve. For example:
placing an order;

collecting customer contacts;

posting downloadable materials

—

for example, product catalogs;

advising clients before buying;

repeating sales.
Choose the type of site
The type of site depends on its functions — selling, introducing a product, or simply entertaining your customers, working for the company's image. In this article, we will help you to quickly and easily understand types of websites with examples. Here are some popular website types you can choose from.
Online store
Its main difference is that you can select a product, add it to the cart and buy it right on the spot. To do this, the possibilities for registration and creating an account must be provided. That way, the customers can not only pay for the order conveniently but also track it.
Each product will need a card with a photo and description. To enable payments by card, you will need to connect payment systems. You can also add the option to set discounts – for example, to arrange a sale for a holiday.
Service website
If you do not need to sell products, then you can simply design a web page with several categories. This website type is suitable for a beauty salon, a café, or a medical clinic. The main services of the company may be described on several pages.
Business card website
It is a small site, often a one-page site, that contains the most basic company information and contacts. This could be the portfolio of a specialist, such as a lawyer or a photographer. Or it may be the presentation of one understandable service: a salt room, a solarium, or even a one-time event — an exhibition or a concert.
Company or corporate website
Unlike a business card, this kind of portal consists of several pages: the menu can include pages of the second and third levels. It's suitable for posting more information. It may contain a product catalog, company news, information about completed projects and partners.
Portal, news blog
Its main goal is to give information in an engaging way. On such sites, you can usually find many articles, texts, photos, and videos.
Forum
It will be useful if customers have a lot of questions related to your products and services. Little by little, a small community may even form around your business. But actually, now forums are often replaced by groups and chats on social networks.

Let's now proceed to our website design guide itself. 
Thinking over the structure of the site
Now that you understand the site types, you can think about the structure of a future site. This is a kind of site page layout. You can even do it on paper. In order for search engines to display the site at the top of search results, follow these recommendations:
Make it possible to get to the home page from any page. For example, using the site header and logo, which you can always click on.

Don't forget about buttons with which you can go back one step from any page on the site. For example, in a

clothing store

, go from the page of a specific dress back to the general catalog.
Preparing site content
Before launching the site, it is worth preparing the content, that is, texts, photos, and videos so that the pages are not empty. You can do it yourself or delegate to specialists — copywriters and content managers.
Here's what to look out for:
The texts must be unique. Do not copy articles from competitors' sites or pages from Wikipedia.

Photos and videos shouldn't be too heavy. For example, the size of one photo should not exceed 1 MB. Some CMS will automatically compress photos or allow you to do it when loading. If there is no such option, you can optimize the photo online using various converters or with the help of graphic editors such as Adobe Photoshop.
Checking the usability of the site
Usability analysis can be carried out after the launch of the site to make it as user-friendly as possible. But even before starting, you should make sure of the following:
The site font is not too small.

There are not too many pop-ups that prevent the user from seeing the main information on the page.

There are special buttons that can be used to return to the previous page at any time. 

From the main page, the user can easily get to secondary pages, for example, with a product catalog.

The user can find all the necessary information about payment, delivery, return, and contacts.
The maximum simplicity is now a trend. It is commonly considered that the user should make no more than 2 clicks from the moment of entering the site to the target action, for example, clicking the "Add to cart" button. If the path is longer, you may lose some customers.
Creating the design
If you use systems like WordPress, or use a website builder, you can choose a design from ready-made free templates — it's as easy as changing the screensaver on your phone. If you want to add personality to your site, you'll have to dig into the basics of HTML and CSS, or just make some simple changes in case of using a website builder. Then the template can be modified to suit your needs: change the header of the site, change the colors.
Make sure to check how the site will look on different devices — regular computers, tablets, and mobile phones. If your page is inconvenient to view from a smartphone, you may lose about a half of your sales. The good news is that templated sites are usually mobile-friendly.
Layout
If you developed the site layout yourself, you will need to write a code for it. This is usually done by layout designers and programmers. When evaluating their work, check if the result matches the layout.
Launching the site
Before launching, you need to test with the help of a browser whether everything is working correctly, and only after that open access to everyone. When the domain is registered, hosting is paid, the site is checked for operability, it is transferred to the server. This is the final stage of development.
Conclusion
The creation of a selling site is a rather laborious process that requires well-coordinated work of many specialists, from programmers, designers, layout designers, SEO specialists, marketers, copywriters, etc. When starting a business on the Internet, try to combine the development process with promotion, take into account the need for adaptive design, and also lay the functionality necessary for your resource. 
How to start web designing? Before utilizing the algorithm we provided you with, make sure to find a team of professionals to help you. If you have little experience, it's better to find a reliable company experienced in this field, or simply use a website builder for creating websites in a few hours. In this case, you can save your time and effort and be sure everything will run smoothly.

With Weblium, it's all up to you: use our effortless website builder to create a website yourself or trust Weblium Studio and its professionals to do it for you. The only thing required from you is a vision — Weblium will handle the rest.