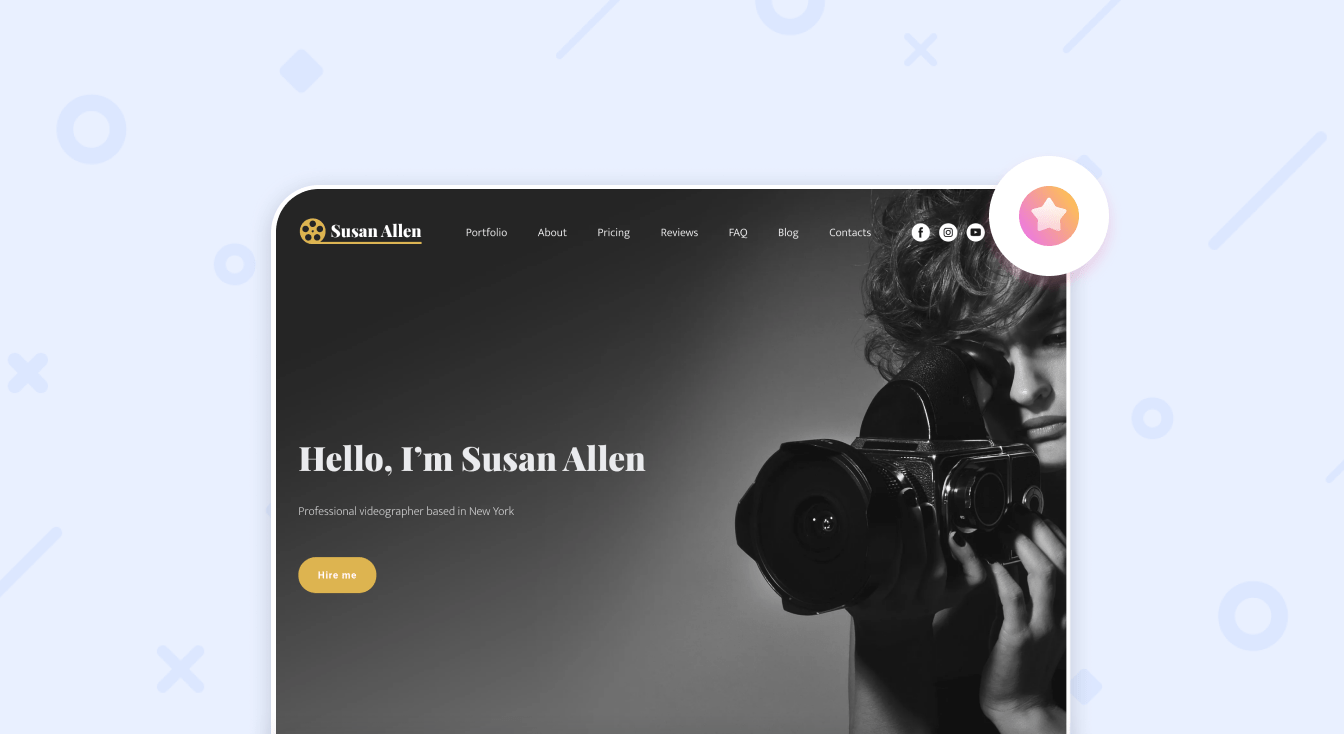 Why Do You Need a Portfolio Website and How to Create it?
Too busy to gather all your projects to show off in one place? Here's the solution!
You are willing to make money on your passions, aren't you? Then why don't you make a website portfolio?
If you're a designer, copywriter, photographer, you're one of the millions. Customers and HR specialists are looking through thousands of CVs like yours. It's important to make them linger on your information for more than five seconds. And with a portfolio website, it's much easier to succeed!
Today we're going to dive into the topic of portfolio websites. Specifically, we'll figure out why it is so important for your career and how to create a really great online portfolio. 
What Is a Portfolio Website and Why You Need It?
A portfolio website is the ultimate way to showcase your work and let others reach out for you. It is your bread and butter if you are a freelancer in whatever sphere.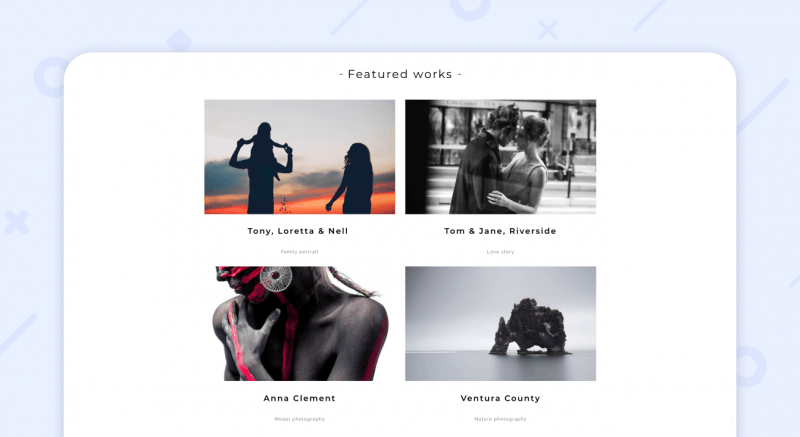 There are lots of skilled professionals around. So how can your potential client understand you are a top-notch one? The only way is to leave everything behind for a while and start developing your online presence, because:
A portfolio website presents your professionalism and dedication to the craft better and more clearly than any CV. You don't just tell, you show actual cases and examples which speak volumes. Moreover, owing to the portfolio website, you can show your mature and sophisticated approach to selling your work along with yourself.

Your portfolio is the only web-space where everything is up to you. You are able to create a never-seen-before platform with unique content and achieve a recognizable identity the way you imagine it. A private portfolio website lets your inner creator go far beyond any cliché.

An online portfolio is certain to make you available and searchable for new clients. It lets your potential employers find you the moment they get round to using a search engine or looking through candidates' applications.

A portfolio published on the web humanizes you as a master of the craft. People come to you not only for you being an outstanding web designer, marketer or copywriter, but because they like you. You know, it's a good psychological trick. Customers are more likely to choose those, who seem to be more decent, "likable", friendly-looking than others. Whereas hard skills are often considered afterward.
How to Make Your Web Portfolio?
You must feel overwhelmed with all information about website platforms, purposes, peculiarities, etc. So, just get it out of your head. There's nothing difficult, actually. 
If you are a web designer or developer, you are already on top of the world. The only thing you need to do is to gather all your experiences together and start doing what you usually do for money: develop and design.
But if you're not so lucky and didn't catch a considerable stroke of good fortune, never mind. You should not be afraid of being unaware of the basics of developing a website from scratch.
Choose a website builder that seems most convenient, carefully follow the steps mentioned in this guide, and make your online portfolio for free! Moreover, you can be sure that it is more than easy to get a high-quality portfolio using Weblium and taking advantage of its broad functionality.
There's another important thing to mention, by the way. When planning to create your own portfolio, it's crucial to begin with defining the purpose of it. What message do you want to deliver? Would you like to become closer to your clients or you just want to sell your services?
Are you ready to present the other side of your work including process, difficulties, and failures in the blog? Do you want to be hired and change your freelance existence for regular employment or plan to stay "a lone wolf"? Are you eager to introduce yourself to the entire world?
No matter, what your objectives are, always remember: it is compelling content that makes your online web portfolio remarkable and persuasive enough to make people respond.
What Should a Portfolio Website Have?
Showcase of your works. Show bright and appealing visuals that will convince visitors to look for more details. Take into account various ways to present your experience. Choose the most appropriate one and decide on your best works to add.
"About" page. Add your name, photo, and involve storytelling. Show your skills, views, and passions, but don't pretend to be someone you are not. You may add the services you deliver or highlight them in a separate section.
Testimonials. All clients are passionate about other people's reviews. That's why assure your future customers you are trustworthy by giving them relevant feedback from your existing or former clients.
Case studies. Show your progress from the beginning to the final outcome. Let your visitors grasp the concept of your best works.
Call to action. Provide your visitors with a variety of ways to get in touch with you. You may add a contact form for people to define their requests.
Blog. Write about your insights and experiences. Introduce your personality, expertise, and knowledge in posts which will add value to your web portfolio and bring new visitors to the website.
Best Portfolio Websites (Upd: 2022)
A portfolio webpage standing out from the crowd – isn't it a dream of any passionate creator? If you haven't dived into the process of making your own portfolio yet, look at the best examples of how cool it can be:
Susan Allen's portfolio seems to be an outstanding example of the best videographer's portfolio. It gives an outline of her skills, experience, and services. Each visitor will be delighted with a stylish design of the website and will be astonished to see Susan's recent works – they are really amazing!
The creator also didn't forget to mention why people should choose her and it contributes to the working outcomes for sure (just look at the number of positive reviews)!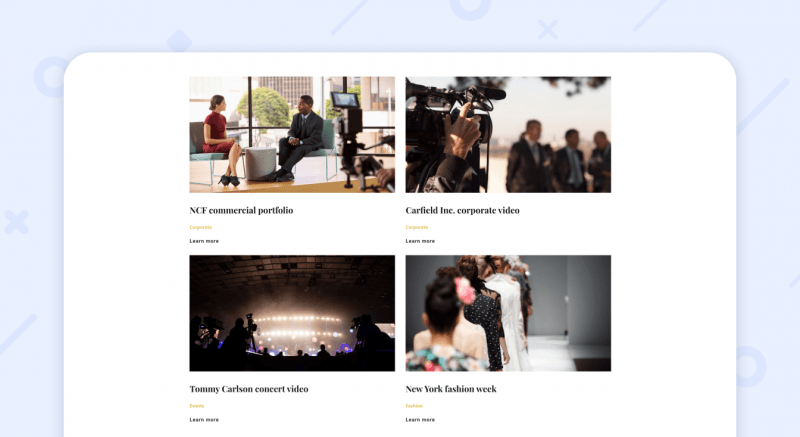 A creative web portfolio of a professional interior design studio has a cozy atmosphere and is rather functional in its design. As soon as customers visit this website, they are willing to get in touch with the interior design specialist. There is no need to write much in the sections: photos are too fascinating to be accompanied by any words.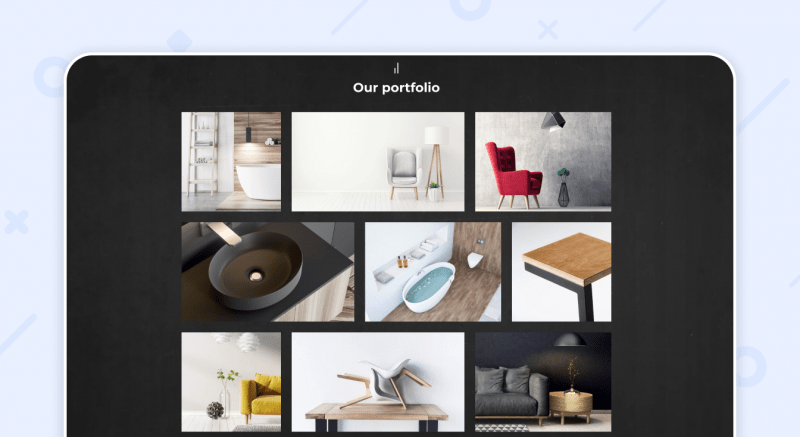 A convincing web portfolio of a real estate agent. It proves the fact that no matter in what sphere you work – you should show your best works anyway.
One of the most significant parts of this portfolio seems to be Gerald Troy's blog, where he gives an overview of his craft and gives some invaluable tips. There's also a map with the agent's address shown on it – quite a good thing to add on your own portfolio site, isn't it?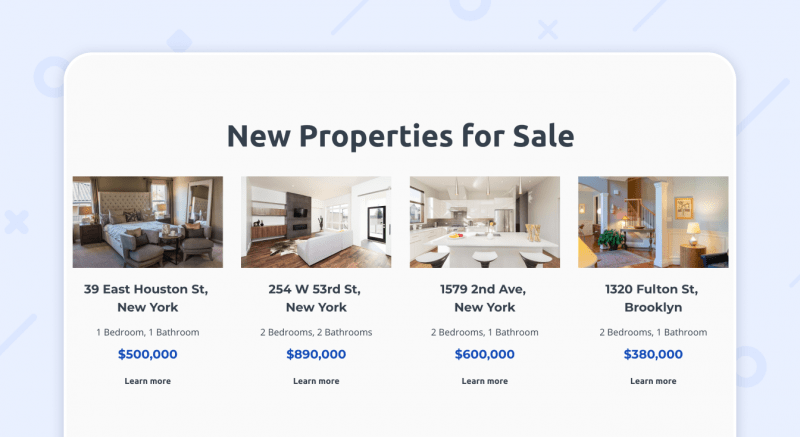 As you may see, not only copywriters or artists need websites for portfolios. That's why keep going, the world is to hear from you!
Summary
A portfolio website is an efficient and simple tool to collect all the best works you made as a professional and put it in one place to show everyone. Creating your own site may become like building your own workshop as an artisan.
It will be your own, personal place, where you can hang your trophies and show everyone what are you capable of. Start building your best online portfolio website today – it's free! – make a significant contribution to your professional growth and career development!
Express yourself, keep up with the changes, and don't stick to any rules – just follow your taste.
FAQ
How to make a portfolio website for free?
If you want to make your own portfolio website for free in a blink of an eye, the best option proves to be Weblium site builder. You don't need to have any coding skills or be a great designer. Choosing any of more than 300 ready-to-use Weblium templates, you'll manage to create your own professional space on the net intuitively. There are no additional expenses or obligations. Enjoy!
What should I put on my portfolio website?
You should put the most necessary information there: your name, what services you provide, examples of your work and contact information. If you have a team, make a section with photos and present your team to your auditory. Also, if you or your company have some awards, related to your work, you should show them to everyone and don't be shy
How to make a web design portfolio?
The first and most important step is to choose a website builder to meet all your needs and requirements. Being a web-designer, you'll be excited about the number of free templates you can use on Weblium to create your online "hall of fame".
Make sure you have defined your purpose (why do you need a portfolio?) and move on to the process itself. Follow our guidance and be specific about the information you add. It will influence your reputation in the eyes of your clients!
How to code a portfolio website?
You don't need to code a portfolio website – just use Weblium intuitive website builder instead. That's how you really enjoy the process of creating your first advanced portfolio:
smart in its design;

mobile-friendly;

easily searchable on the web.
You should not be concerned about any technical issues with Weblium! Just try its most awesome features out and promote yourself to get as many new clients as possible.
What is the best online portfolio website?
There're lots of websites offering freelancers to build their online portfolios. However, only some of them will be dedicated exclusively to your works, have clear navigation, and let you show your true professionalism.
Weblium rightfully can be considered one of the best platforms for creating portfolio sites. There are many templates that you can edit the way you want. In addition, you'll be guided through the entire process of creating a web design portfolio. So, it will be really fun.
Is Behance a good portfolio site?
Behance is a respectable and large platform for creating portfolios. You can make your portfolio there without any knowledge of coding. It's convenient to share your work there, it's easy to use. You can follow other people and check out their newest works. But bear in mind that Behance isn't a free option.
What is a portfolio web address?
It's a URL of your portfolio website or, if you don't have such, a link to your social media, where you provide examples of your works.
Is having a Google Drive portfolio bad?
A Google Drive portfolio is definitely better than nothing. But it isn't the way your potential clients want to get acquainted with you and your projects. Building your free portfolio site sets you among those great professionals who know exactly how to sell their works and themselves. Furthermore, you'll be searchable on the net, which will make you much more available for potential customers.