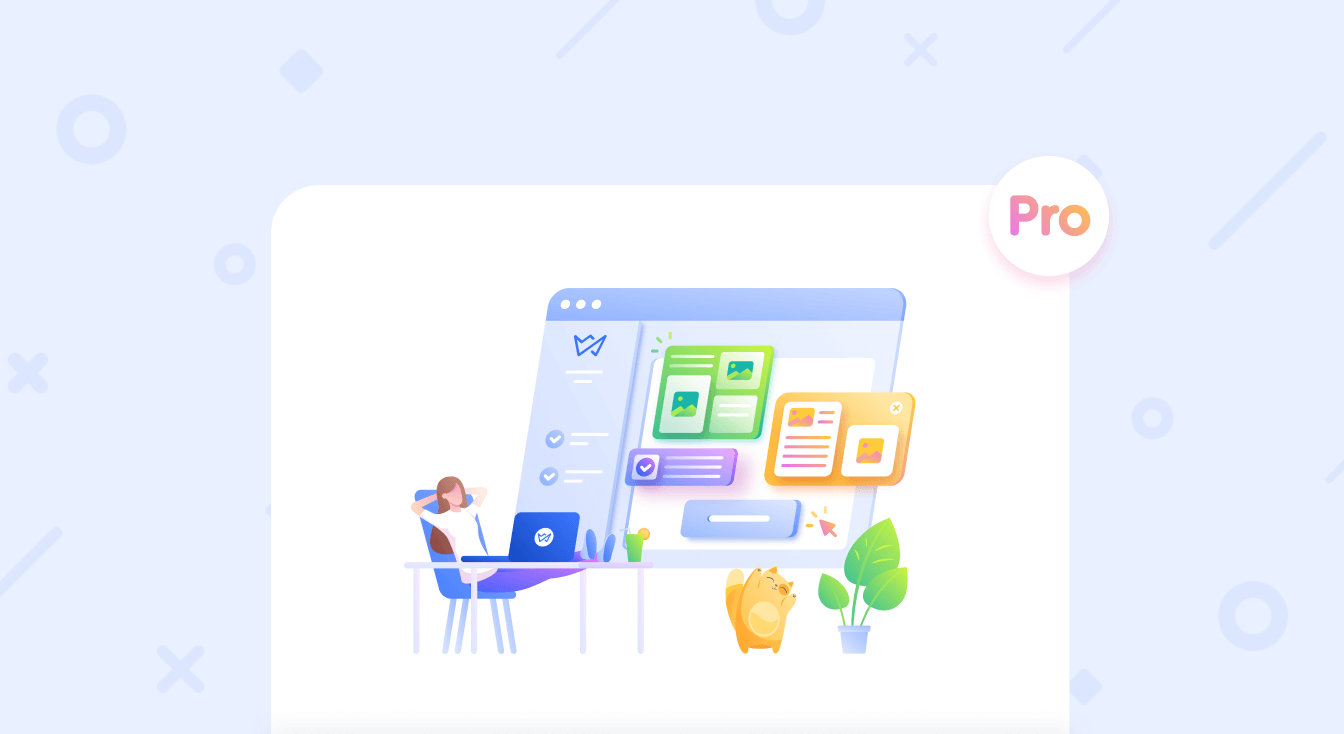 Free Website with Wide Functionality for Your Business: Trial Period on Weblium
Attract more new customers, encourage sales growth, win competitive advantage, improve customer relationships management, go for business scaling, enter new markets, promote brand awareness — everything is possible in the modern world with a website.
In 2021, every business needs a website. This is an axiom. And we have a working solution for you — not only will it save you thousands of dollars in website development costs, but will also significantly save your precious time. Any idea what kind of solution is that?
Opt for Weblium DIY website builder! It lets you create a site really easy, fast, and without any special skills at all. Just choose one of 250 ready-made templates, fill it with your own content, and publish your site on the Internet. As a result, you'll get many more clients really soon!
Spare 7 minutes of your time to learn more about all the opportunities for your business available free of charge within the 14-day trial period on Weblium. When the fortnight is over, you can still use your site for free if you are fine with the basic functionality and it's enough for your online presence.
During these 2 weeks of trial, you can either familiarize yourself with all the available functionality and see it yourself how easy it is to work with our site builder, or you can completely prepare your site for launch. Whatever you choose, it will cost you absolutely nothing!
Create a Functional Site for Free
Let's see what's available on the Weblium site and how you'll get the most out of it for your business!
Pop-Ups to Boost Your Sales
Use pop-ups to keep your visitors on the site, encourage customer loyalty, and increase conversions by an average of 20%.
Our pop-ups are so user-friendly that you will easily create them yourself without any special knowledge in less than 5 minutes! 
Thanks to their wide functionality, you can customize them for various purposes — collecting contact information, offering a discount, informing your clients, and much more!
You can set specific segments of visitors (e.g., new, from Facebook, who already made a purchase, etc.) and conditions (e.g., 15 seconds after entering the site, on leave intent, or when scrolling 75% of the page etc.) for your pop-ups to turn up.
The functionality of our pop-ups is not inferior to alternative professional and expensive tools such as GetSiteControl. However, instead of paying from $ 84 to $ 336 per year for them, you can use our pop-ups completely free of charge within the Pro plan.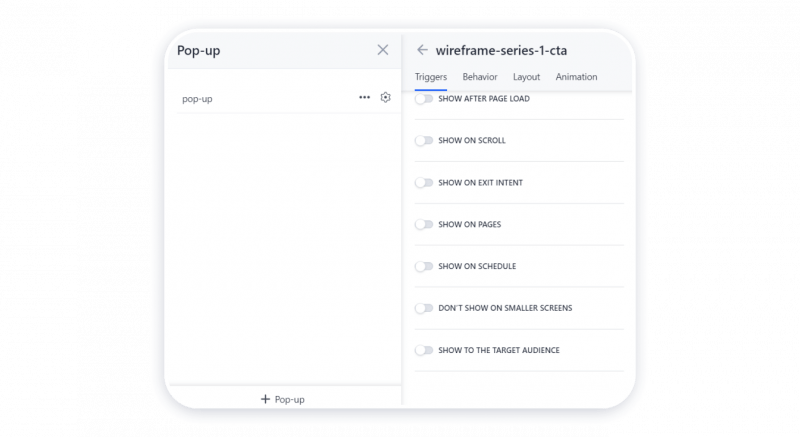 Online Shop
From now on, you can sell products online right on your site! That's possible because of our new product feature — your own online store. It's the best way to showcase the goods you sell and tell a story behind their creation. There's a chance to not only describe your products and their background, but also emphasize their value and your mission as a seller.
What's cool about Weblium online shop, it has boundless flexibility in terms of its design and product layout. Thus it perfectly suits for hand-made amateurs as well as small businesses who want to make money online. Find more info about the available functionality in our help center.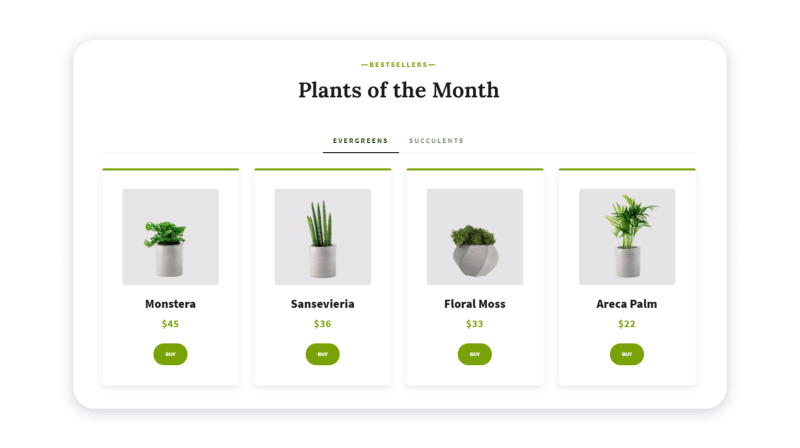 Contact Forms
What is a contact form on your website? This is a kind of request from your visitors for you to contact them so that they can place an order or clarify details.
Collect contact info (e.g., emails and phone number) for effective communication with your clients, receive and process orders, attract more audience for your webinars or courses — all this is easily achieved with contact forms.
For your convenience, all clients' contact form responses immediately come to your CRM system (we'll discuss it in detail below) or any other convenient communication channel — email, Telegram, eSputnik, Bitrix24, Mailchimp, AWeber, Snov.io, Webhooks, UniSender, amoCRM, etc.
Collect requests from contact forms, pass them on to your sales specialist, and increase your profits! After all, it's statistically proven that well-tuned right placed forms with an interesting offer guarantee rapid sales growth!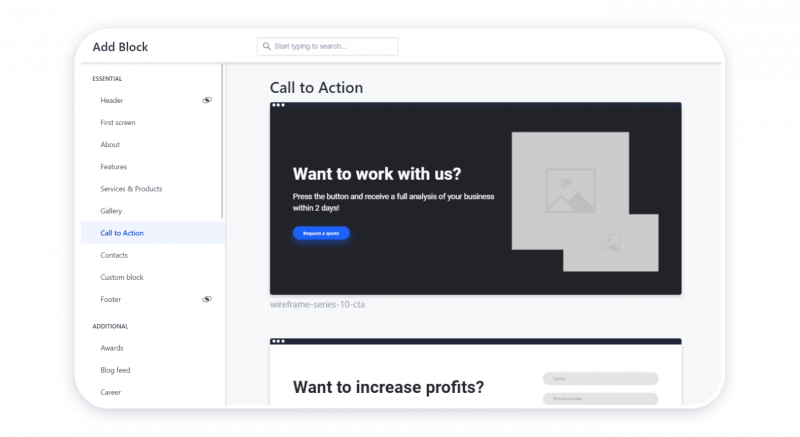 Adding Online Chats
Don't let your clients go. Add a live chat directly to your site so that customers can immediately ask all their questions or place an order.
Chat with them directly on the site when they are really interested in your product or service and are ready to pay for it! Answer their questions online, offer personal assistance, and sell your products. 
Set up an auto-reply for clients who write during non-working hours or at the weekend. That's how they can leave a request so that you can reach them later. Alternatively, consider using a mobile version. This way you can quickly respond to your customers, even while sunbathing on a beach! 🙂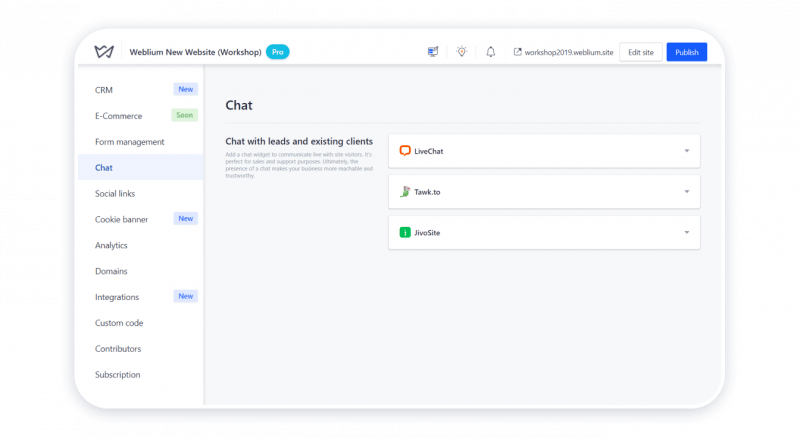 Weblium CRM
Your clients can place orders through contact forms, online chats, pop-ups, and other channels. Good news is, you can now store all your clients' requests and deals in one place — CRM system built into your Weblium account.
Create cards for each deal. When a client fills your contact forms, the card is created automatically in your CRM, and a pop-up window will notify you about that right in the browser (even if the CRM tab is closed).
And yes, our CRM is also available in a mobile version, so you can keep track of all your orders even on a smartphone. Now imagine that you still don't have access to your computer. Feel how much easier it's getting to manage your clients' requests and operatively react to them with Weblium CRM? 😉
Creating funnels for types of your deals, adding different stages for each deal, managing unlimited number of cards (deals) — all this is now available in your account. There is no need to download, install, configure, debug, fix, find specialists, draw up technical specifications for them, and overpay. Save your time, money, and resources with our CRM system. Just give it a try, and you'll find it an indispensable assistant in your daily routines!
On our part, we'll keep improving our Weblium CRM so that you can increase the efficiency of your business processes.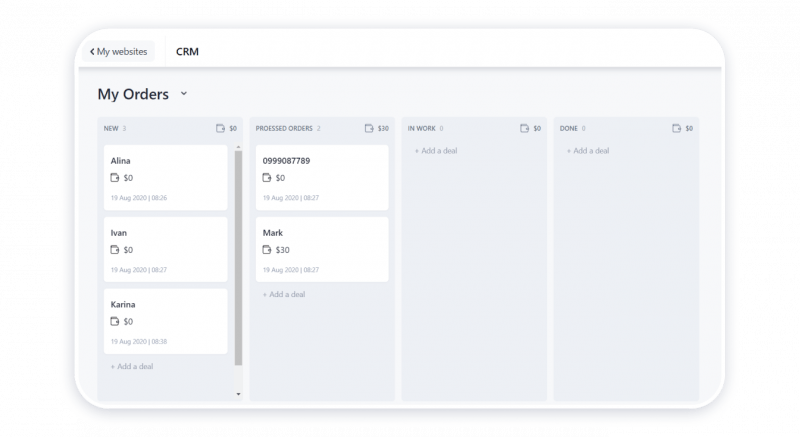 Track Website Performance with Analytics
Find out who your visitors are, when and where they come to your site, what are their actions, where they click, how much time they spend and what of all your material they actually read!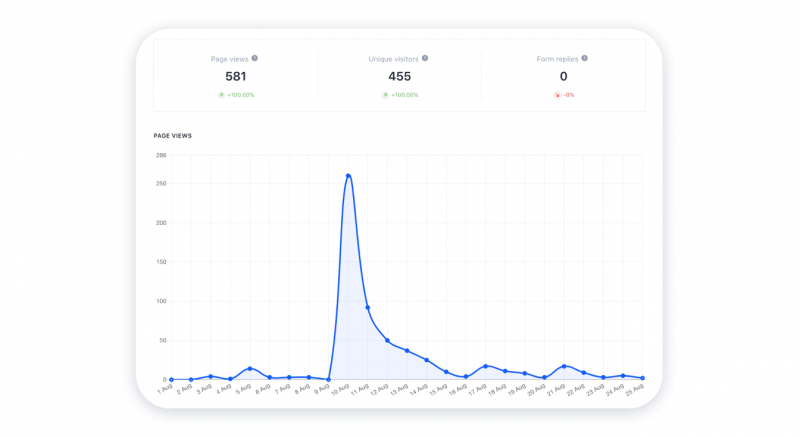 You can track your customers actions on the site using built-in analytics as well as more professional tools like Google Analytics, Hotjar, or Facebook Pixel.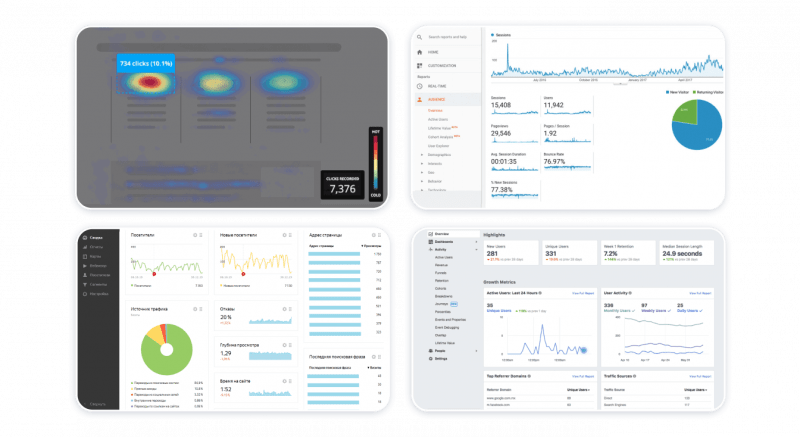 Draw conclusions based on your analytics, and launch remarketing campaigns to increase your sales, improve web pages in the most unreadable places, add pop-ups to the places where customers usually leave your site. That's how you won't miss a single client!
More Useful Services to Increase Sales
Weblium provides lots of essential tools to let you increase sales by automating your business processes, communicating more effectively with customers, and attracting a new audience:
Automate your email campaigns

using these marketing platforms —

UniSender, eSputnik, Snov.io, Mailchimp, AWeber

. These tools are mostly used on business card sites, for promotions, and special offers.

Connect CRMs for

more efficient business management

—

Bitrix24

and

amoCRM

. These services are especially useful for large companies, training centres, websites for lawyers and other specialists in various fields.

If you are a pro, then you perfectly know why you need

Zapier

. Use this intermediary service between your contact forms and third-party applications (Google Sheets, Slack, etc.) to

boost your productivity

.

Link your website to

Telegram

to

see all new contact forms replies in real time

as soon as customers fill them out on your site.

Allow your users to

sign up for your services directly from the site

using

YCLIENTS

. This service is very popular for barbershops, hairdressers, beauty salons, manicure, etc.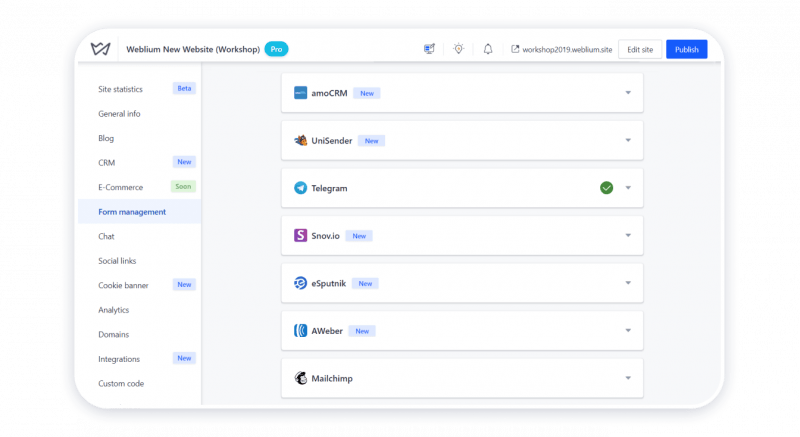 Summary
And that's just a fraction of what you can get from your Weblium website. Mind that we've outlined only those features that we believe would be the most useful for your business.
Also, we are always open to your suggestions and requests as for new features you want to have on your site to make it even more effective for your business. For instance, there was a request from our customers to add a cookie banner. So, we added it just because our clients needed it and asked for that. 
Therefore, do not hesitate to write to us right in the online chat if you are missing something. And we'll be happy to add the features you need. Because we really want your business to flourish, and we'll be over the moon to contribute to it growth.
And remember, should you have any questions you can always contact our support team. We have no robots, only friendly and helpful humans. We're always doing our best to help our clients, so don't miss this chance 😉
Create your website for free now, and may all these Pro features help you take your business to the next level really fast!