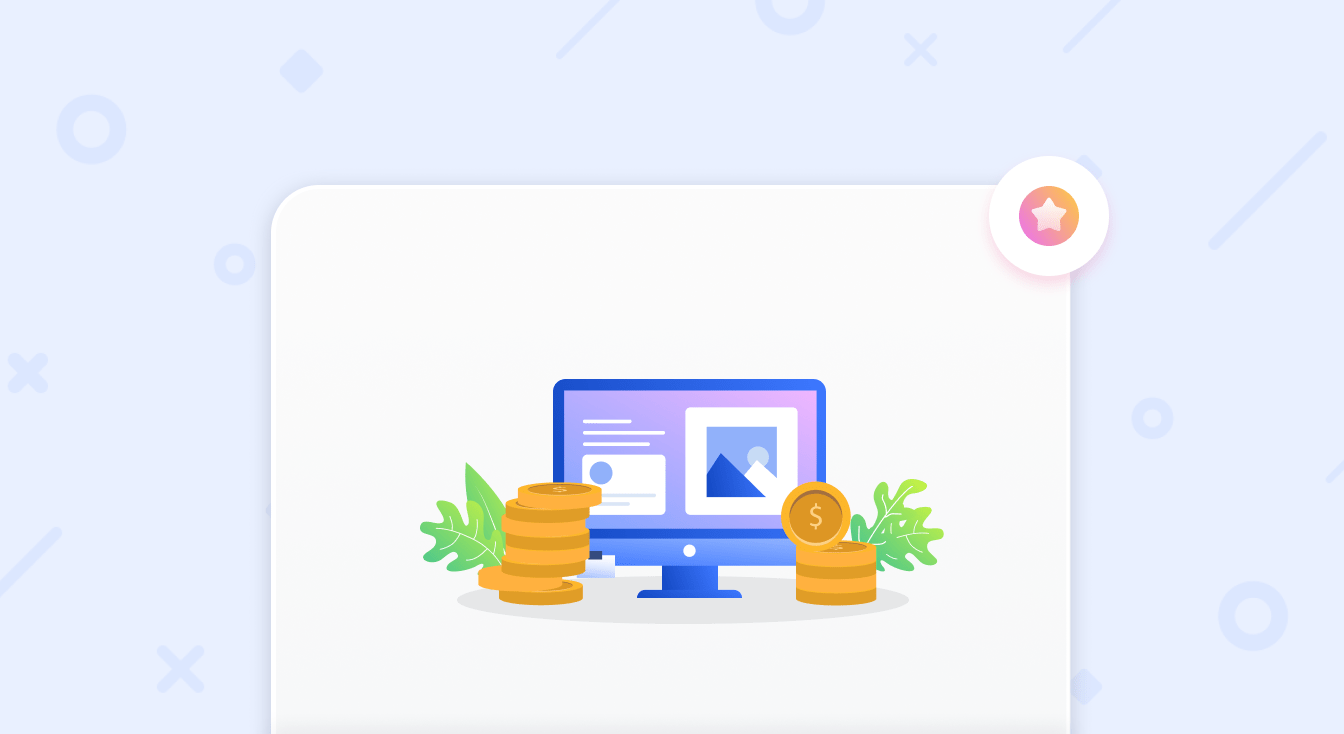 Online Entrepreneurship: 5 Easy Ways To Get Started
Though unbelievable as it may sound, 69% of entrepreneurs in the United States start their own business at home. How come? They do it online and eventually get rich! And so can you if you opt for online entrepreneurship!
In fact, there have never been as many opportunities throughout the course of history as in this digital century. The Internet lets you connect with people all over the world regardless of your social status, age, gender, and even geography. 
Not only can you communicate with folks across the world, but also share your skills or even sell something. It's so very easy with Social Media. Should you have ever dreamt of starting your own business, now is the time. 
In fact, there are quite a bunch of lucrative online businesses you can start with almost no investments and effort. We'll share with you the best ones in this article! Choose what kind of online entrepreneurship suits you best and start making cash online today!
Why Become an Online Entrepreneur?
If you are still uncertain whether online entrepreneurship is a good idea, it's time to dispel all doubts. 
The first and most important advantage of online entrepreneurship is that it requires almost no investments to get started. Usually, online entrepreneurs don't spend more than $200 or so to launch their online business. That's how low your capital can be! 
Secondly, you get full control of your time with an extremely flexible schedule since your business runs 24/7. No need to wake up early, you can work late hours instead, or vice versa. The choice is yours. What a great way to manage your time the way you want, huh?
Thirdly, as an online entrepreneur, there's no specific location to work from, so you can choose whichever you want. Be it a cafe, park, home, or whichever other places where you feel more inspired and productive. That's especially advantageous if you love traveling or diversity. 
Fourthly, online entrepreneurship has a truly impressive potential in terms of growth and income. Once you focus on the right activities, not only will you get a lot of money, but also you'll be able to generate passive income. Isn't that a dream come true? 
Finally, there's no boss in your online entrepreneurship other than you. You are the one who makes all decisions. 
Clearly, you will get most of these benefits not at once. It takes time to start your entrepreneurship and develop it to such a degree that it will bring more cash than your job. That's how eventually you can part with it and concentrate exceptionally on your own business. In fact, that's the main benefit for most entrepreneurs.  
How to Start Your Online Entrepreneurship?
Spoiler alert – it certainly takes some time. Yet, the end definitely justifies the means! Besides, we are always here to guide you through this adventurous journey to successful online entrepreneurship!
To commence a journey, one needs to clarify the final destination. Or, at least, the right direction. It's very similar in online entrepreneurship. To start your business on the web, you should find the niche. 
Take a few minutes thinking of what you are good at. It can be literally anything – your work, hobbies, interests, or even favorite house chores. No matter what niche you choose, you will definitely find the right target audience since there are over 4.57 billion active users on the web.
Besides, you should choose what kind of online entrepreneurship suits you best. To narrow down your search, we have collected the worthiest ideas of online entrepreneurship for beginners. Whichever you end up with, you'll start making money really fast! Ready?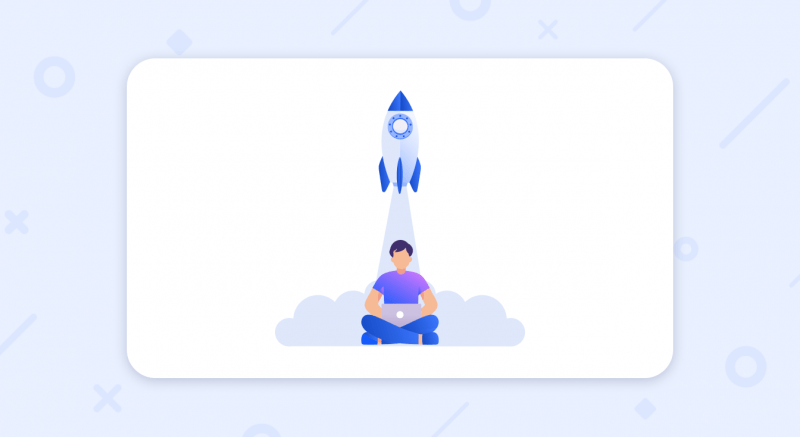 Online Entrepreneurship Idea #1 – Blogging
Though trivial as it may sound, blogging is a really great way to start your online entrepreneurship. In fact, this internet business is highly profitable. According to Glassdoor, blogging can bring you yearly from $19K to $79K. 
What's cool about blogging, all you need is a website and writing skills. Don't say you can't write or don't like it. Indeed, you can easily master content creation skills. Just invest some time into learning and practicing, and ripe fruitful results really soon.
As for the website, you don't really need any coding skills to create it. In fact, it's really easy and fast on Weblium even for beginners. Simply choose a template relevant to your blog niche and fill it with your content. Basically, it's as easy as that, just try it out yourself!
To decide what blog niche you want to choose, think of your passions and competence. The better you know what you write about, the greater your blog posts are! Also, there's a really helpful guide on choosing good topics for your blog.
Remember, the more viral blog posts you write, the more profitable your blogging entrepreneurship will be!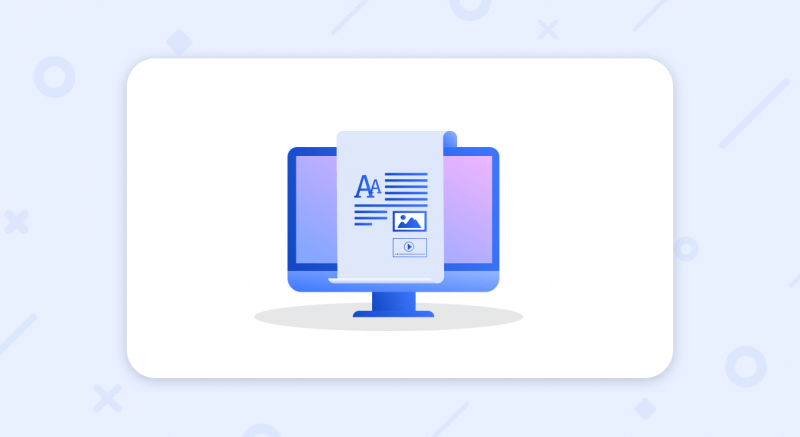 Online Entrepreneurship Idea #2 – Affiliate Marketing 
There's probably no such a lucrative entrepreneurship on the web as affiliate marketing. It can bring you up to $50K a year, or even $1K each day! Can you imagine that?
The good news is, you don't need to have any education or skills to go for affiliate marketing. Reading a few expert articles would be enough. 
So, what is affiliate marketing? Basically, it's making money for promoting other brands' products or services. In other words, you get a piece of pie for every sale you make.
The main advantage of affiliate marketing as online entrepreneurship is that you don't have any physical goods that you need to sell. Instead, you advertise specifically those that you have chosen yourself.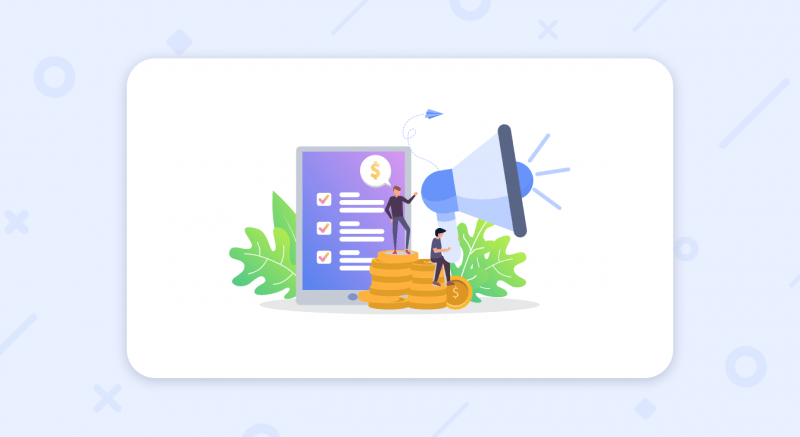 Where can you choose offers for promotion? Well, there's quite a wide range of affiliate programs to choose from. The most popular ones include Amazon Associates, MaxBounty, ShareASale, ClickBank, and so on. 
Weblium also has an affiliate program that perfectly suits beginners. Join it now to see how affiliate marketing works. This useful article will help you to get started!
You might also wonder how to promote affiliate products or services. There are many ways, in fact. The most effective ones are paid ads. No worries, it doesn't require too much money. It will cost you just a few bucks to let thousands of people see your ad on Facebook. So, it's very rewarding indeed! 
If you are after free traffic, then you need to create your own website and start attracting traffic so that more people can see your ads. Basically, it works the following way: the more traffic you get, the more commission money you earn!
Online Entrepreneurship Idea #3 – E-Coaching & Consulting
Nowadays, online coaching and consulting are highly demanded. A great thing about this kind of online entrepreneurship is that you can make cash sharing your knowledge with other people on the web.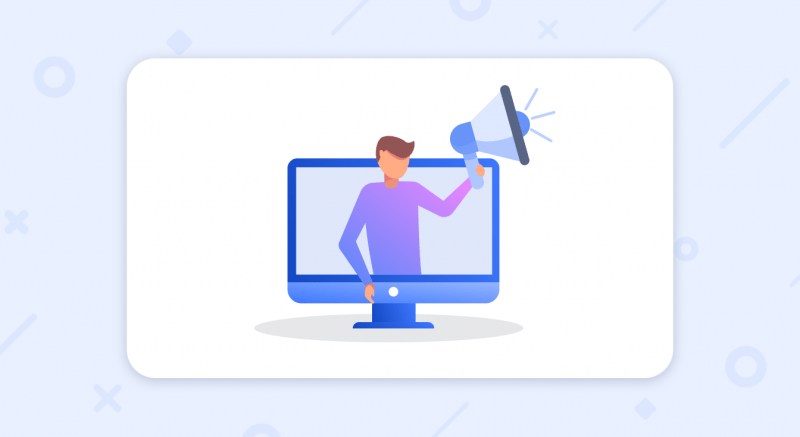 If you have ever dreamt of opening your own school or courses, it's high time to go for it online! Evidently, you need to have an expertise in what you'll be teaching or consulting. 
Even if you feel you aren't proficient enough, take up some online courses on Coursera or Udemy to get competent really fast. It doesn't require almost any investments and effort.
You can start coaching on such platforms as Tutor.com or TutorVista to decide if online tutoring is really your cup of tea.  
If so, you should start working on your personal branding as an online coach. To achieve the best results, you evidently need to create your own website. On Weblium, there are lots of worthy templates for e-coaching sites. Here is a great example.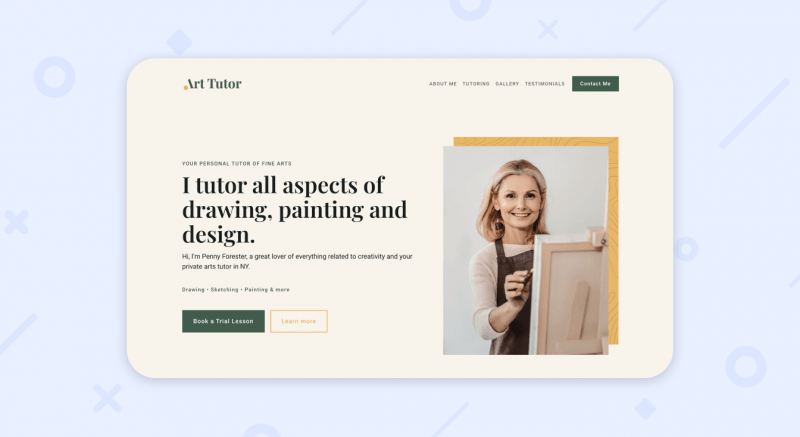 On your site, you can 
tell about yourself

explain your competence

describe your coaching and/or consulting services

showcase your latest workshops or courses

explain your teaching methods 

add your professional portfolio

display your achievements

include your students' feedback

indicate your pricing
Of course, you don't have to include all these items on your site. However, the more you tell about yourself, your competence, and achievements; the more trustworthy and proficient you'll appear to potential students. 
That's why the website is really essential for this kind of online entrepreneurship just like for many others. Fortunately, you can create your own site in a matter of a few hours without almost any effort. So, it's definitely worth a shot!
Online Entrepreneurship Idea #4 – eCommerce Store
This kind of online entrepreneurship is especially great for those who already have an offline shop. The harsh times of the pandemic caused by COVID-19 couldn't help affecting your brick-and-mortar business.
A sad thing is, no one really knows sure when this pandemic will finally end. And it's entirely in your hands to save your business. Simply go online. That's the best solution you can think of. 
Besides, it's not as hard as you may believe. Nowadays, there are so many worthy eCommerce platforms, such as Shopify, BigCommerce, Magento, WooCommerce, etc.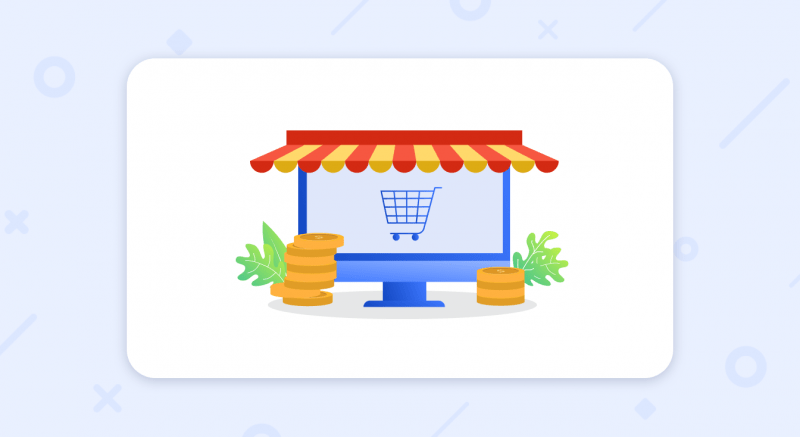 You can easily use these platforms to create a stunning online copy of your brick-and-mortar store. All you need is high-quality pictures of your goods as well as their detailed and precise descriptions. Basically, that's all. 
But what if you don't have a brick-and-mortar shop? Go for an eCommerce store anyway! That's a truly worthy online entrepreneurship. And it's so very easy to get started!
Whichever eCommerce platform you opt for, there are lots of templates you can choose for your eCommerce store. Once you've selected an appropriate template, you can start editing it and filling it with your products. 
If you have ever created websites on Weblium, you should know how to work with ready-made templates. On eCommerce platforms, it works basically the same way.
Once you're done with creating your eCommerce store, it's time to think where you can get the goods to sell. Again, there's plenty of available options, yet the most popular one is certainly Amazon. There you can find lots of well-reviewed products to order for your eCommerce store.
Alternatively, you can go for dropshipping. It's quite close to affiliate marketing as you sell other people's products and get a commission for each sale. 
If you are interested in dropshipping, join the Amazon Associates affiliate program and start advertising different Amazon products on your website. In fact, it's a sound solution if you don't want to bother with physical goods. 
Online Entrepreneurship Idea #5 – Freelancing 
While freelancing might sound not really like a business, in fact, it certainly is. That's basically the sphere in which you can achieve really high results. Besides, there's quite a plenty of high-paid and demanding jobs you can opt for as a freelancer. Check out just a few examples.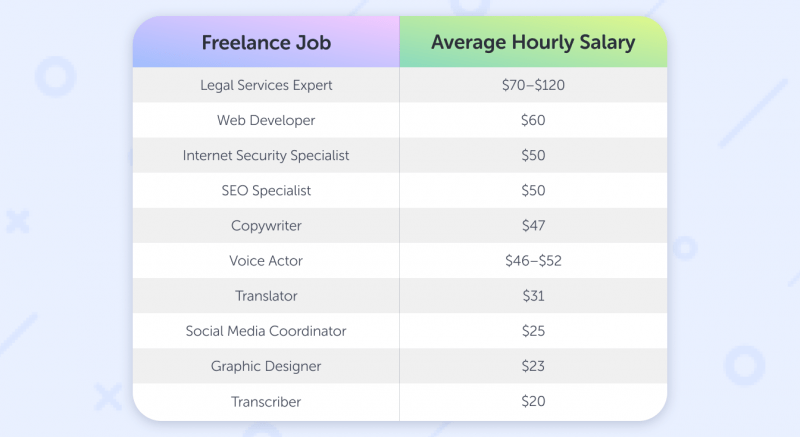 As you can see, there's quite a wide range of freelance online entrepreneurship ideas to consider. In fact, there are many more! So, you can easily find the freelance business that suits you best.
If you are rather skeptical if freelancing can be considered entrepreneurship, just recollect the main reasons why to become an online entrepreneur we've listed at the very beginning. 
Let's go through them once again to highlight the advantages of freelancing:
no investments needed

flexible schedule

no attachment to a location

no boss

impressive potential (professional growth and income increase) 
As you can see, freelancing undoubtedly can be considered online entrepreneurship. Besides, it's only up to you how to manage your schedule and workload. 
While there are many worthy freelance platforms, freelancing is only considered a business if you have your personal site where you showcase your portfolio and skills. 
Without it, your freelancing will be nothing but a remote job rather than online entrepreneurship. Fortunately, on Weblium, you can find lots of cool portfolio templates to create your professional website in no time!  
Summary
As you can see, there's quite a plenty of worthy ideas for online entrepreneurship. The ones we've shared with you are the most suitable for beginners. These online businesses are really easy to start since you don't really need neither huge investments nor mostly any kind of skills. 
We are so very excited to hear which of these online entrepreneurship ideas you like most! Do pay a favor and share it in the comments.