Create your business website in 9 steps:
Log in and select the template

Add content and edit your template

Create new pages

Configure SEO Settings

Add CTA and contact forms

Connect analytics metrics

Check your website

Create a blog

Show your business website to the world
So, check the free business website templates: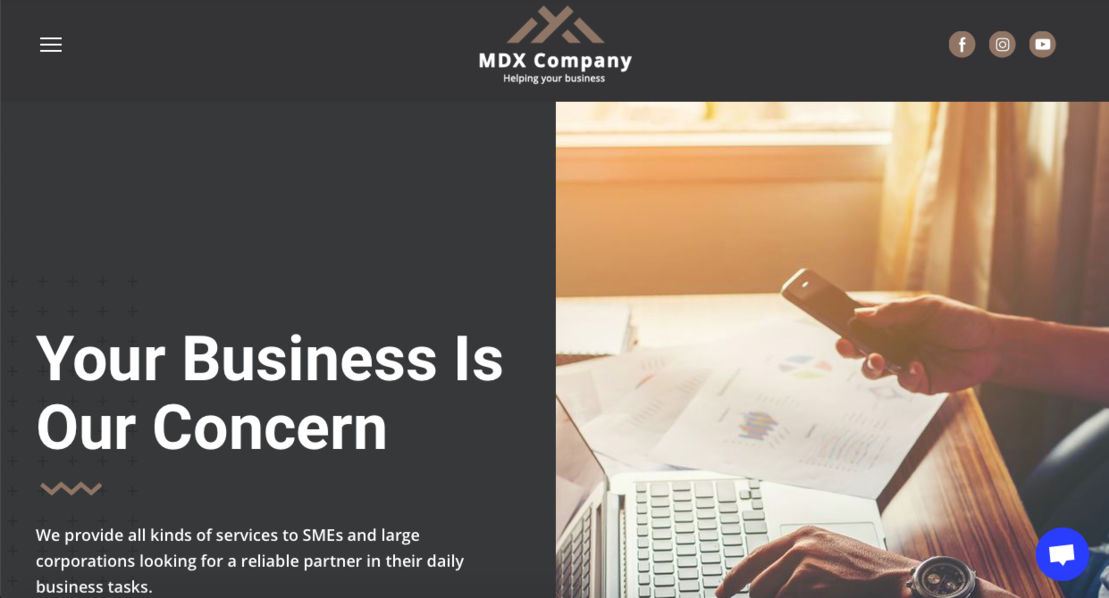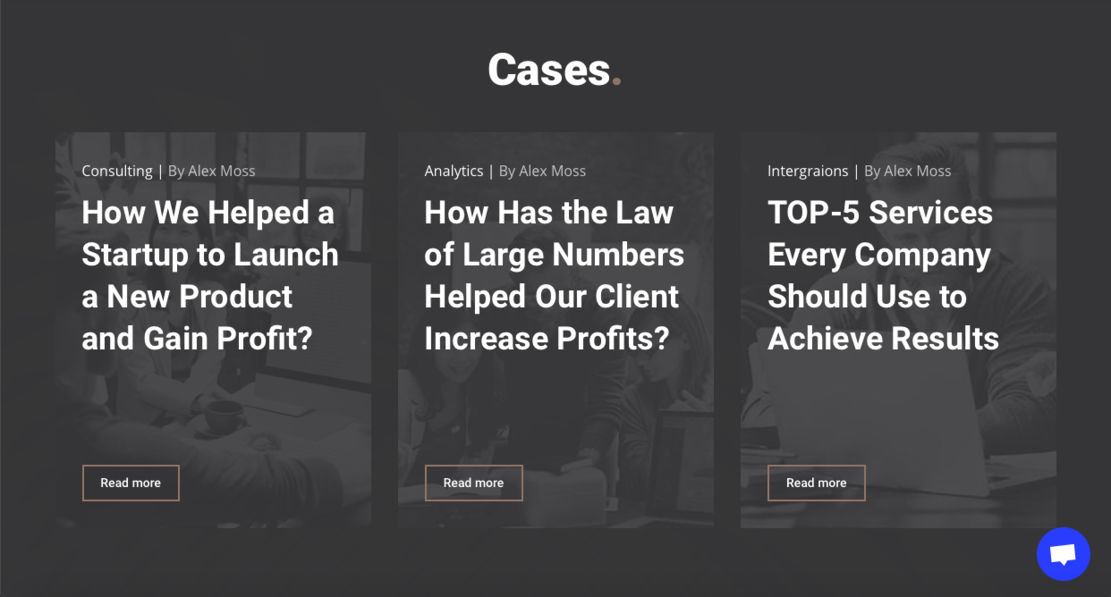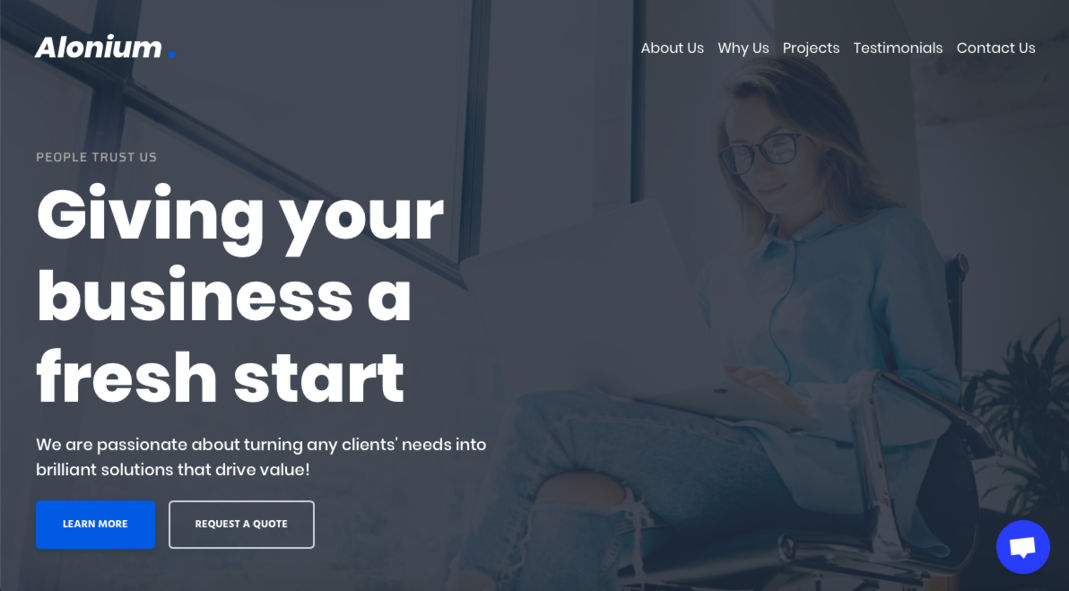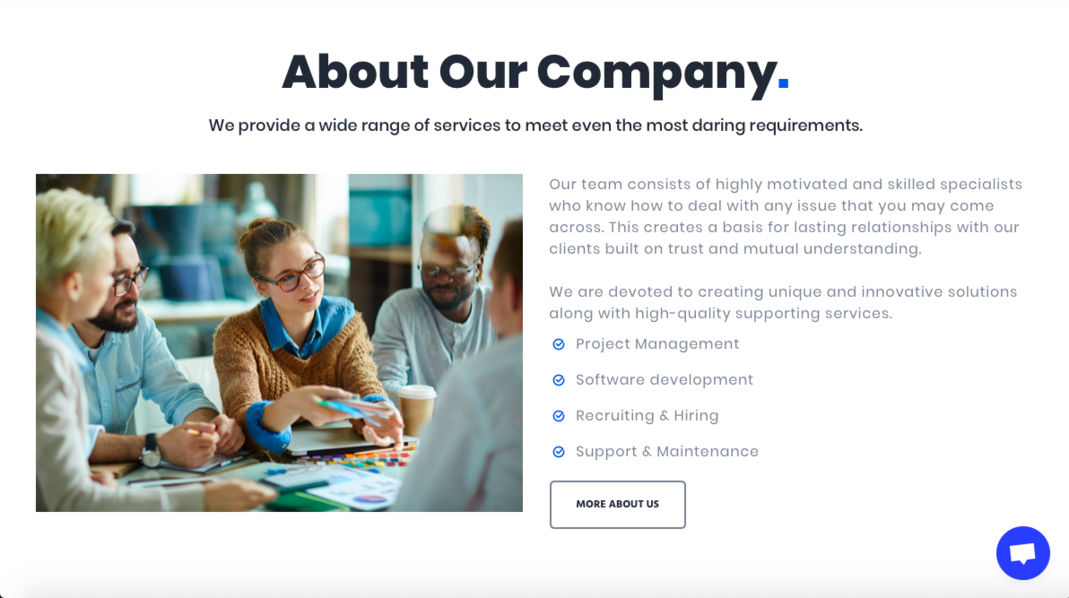 A business site can have many goals like attracting new customers or partners, developing business by revealing the advantages of a company, capturing a new niche, entering the international market, maintaining round-the-clock online communication with customers or partners…
But if you want your business site to successfully perform at least one of these tasks, it must be effective! Now we will tell you how to achieve this using the small business website template example by Weblium.
Create a catchy design. As a rule, the design of business sites complies with the corporate identity of the company, it is based on the latest web design trends, it emphasizes the merits of the company and evokes the right associations.
The design of each small business website template created by Weblium is developed by experienced professionals following the most relevant web design trends. For example, an elegant dark background, catchy icons, contrasting color combinations, geometric patterns, stunning images are guaranteed to make your website design stand out.
Think through simple, logical navigation. You should provide visitors with easy access to information, services, and products. Limit your main website menu to 5-6 items (as you see in this small business website template example). Such a menu makes it easier for the user to navigate on your website. It is also a good idea to place social icons here, on the right.
The best place for the company and logo (it's where the visitor looks for it) is the top left corner of the header. Remember that your contact information should be clearly visible – the website header is one of the most suitable places for that.
Double and triple the number of attracted customers using the mobile version of the site. OuterBox claims that more than 79% of users visit sites and make purchases from mobile devices, rather than from the desktop. To get a chance to turn these people into your customers, you need to make your website mobile-friendly.
Each small business website template (like any other type of template) created by Weblium is perfectly displayed and works flawlessly on all existing mobile devices by default.
Let your website motivate the visitor to perform an action! The effectiveness of CTAs depends not only on the text, but also on the location, shape, and color of the button or form.
Place the appropriate buttons on the home page so that the visitor does not have to look for them for a long time. Simply and clearly explain to the visitor what benefits he will get if he clicks on the CTA button.
Any small business website template by Weblium has well-thought-out (based on in-depth analysis of the world's best niche sites) CTAs: Weblium uses proven neuromarketing practices to make CTAs used in each small business website template most effective.
This comprehensive step-by-step guide will help you create a website at Weblium in a few hours. It includes all the necessary steps you need to take to build a site based on a ready-made template or from scratch.
More on Weblium: