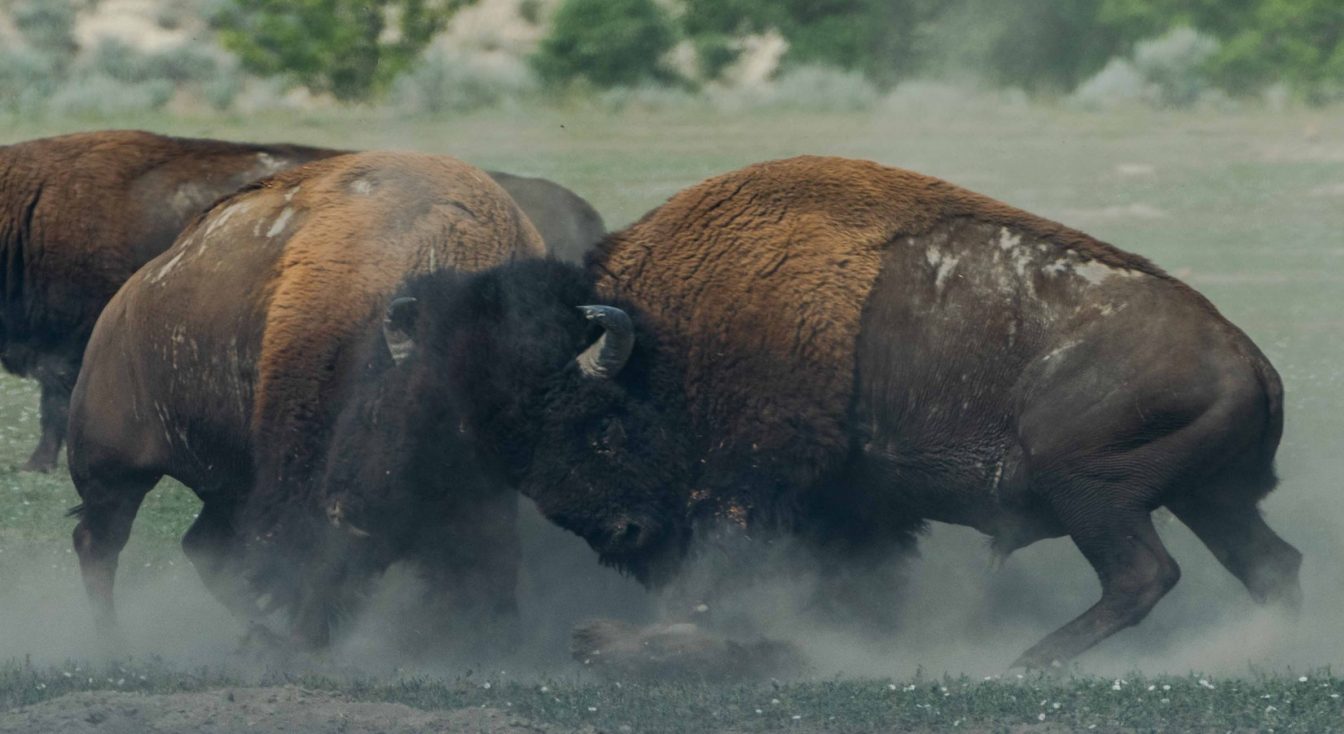 Squarespace vs GoDaddy vs Jimdo vs Weblium: Reviews & Comparison (Upd: 2023)
Website builders are literally one of the best ways to get a ready-made website. And they are definitely the best way to get the website if we talk about the fast site creation and its low cost. A large selection of free website builders allows you to build a modern website for free (or almost for free) without extra expenses.
Often, website builder's features are enough to create websites of even higher quality than the products of small web studios that create websites for small and medium-scale businesses.
Choosing a website builder, you should keep in mind your specific tasks. Some of them provide excellent opportunities for creating Landing Pages, some offer extra features for creating multi-page sites, and others offer amazing SEO-tools.
Let's compare 4 popular services in order to understand which one is better for completing different tasks. Let's get Squarespace vs GoDaddy vs Jimdo vs Weblium battle started!
Godaddy VS Squarespace VS Jimdo VS Weblium comparison table
Weblium
GoDaddy
SquareSpace
Jimdo
Main Advantage

•  a unique 2-in-1 solution: you can either create a website yourself or get a website done at 1/10 of the standard cost by Weblium studio

•  the high speed of creating super-fast websites backed up by experts and mobile-first results

•  the ability to bring in the blocks/sections you need from the other templates (can mix templates to create your own)

•  AI Website Builder (will not allow you to make mistakes on your website)

 •  fastest to build




•  wide variety of hosting solutions• affordable marketing services

• amazingly designed templates

• 3rd-Party Applications & Integrations

• CSS Access & Customization

• AI Site Builder

• flexible design

• "Jimdo Boost" analytics app

The best choice for (target audience)
small business entrepreneurs
professional users

creative people.

The best way to make a professional website, portfolio, or online store.

A perfect choice to create a business or personal website with the aims: run a small web store or blogging

Design assistant (AI)

Yes

Yes

No

Yes

Ease of use
Excellent

Average

Average

Average

Design
200+ ready-made blocks&templates
300+ Website Builder templates
60+ Squarespace Templates
100+ Jimdo templates
LOAD TIME

356ms

624ms

326ms

917ms

UPTIME

99.98%

99.99%

99.98%

99.84%

Mobile Responsive Themes

Yes

Yes

Yes

Yes

Multiple Editors

No

No

Yes

Yes

Mobile Editor

Yes

No

No

Yes

SSL

Available on all plans (free and paid)

Available on all plans except the basic Personal plan

Available on all plans

Available on all premium plans

Free custom domain

Available within a subscription

Not Available, you need to buy

Available on all plans* (only with annual purchase)

Available on all premium plans

SEO

4 / 5

4 / 5

4 / 5

4 / 5

Export Website

Yes (O/R)

No

Yes

Yes

Ways to monetize a site

banners and/or Google Adsense

banners and/or Google Adsense

banners and/or Google Adsense

banners and/or Google Adsense

Social and site stats

• direct integration with Google Analytics, Tag Manager and Hotjar




• tracking code from any other web analytics system can be embedded in the site code

integrated Google Analytics

• Squarespace Metrics App.




• an option to set up Google Analytics

integrated Google Analytics

Widgets (Connected Services)
Add links to your


• Facebook




• Twitter




• Instagram




• Pinterest




• LinkedIn




• YouTube




• and Google+

Add links to your


• Facebook




• Twitter




• Instagram




• Pinterest




• LinkedIn




• YouTube




• and Google+

• gallery widgets




• social media widgets (Facebook, Twitter, Instagram, etc.)




• dropbox File Synchronization




• Amazon Associate Support




• online booking and scheduling tools




• Zola for Wedding Websites




• ChowNow Ordering for Restaurants etc.

Embedded video, social media (but without Web-app Store)

Restore a website

Yes

Yes

Yes

No

Support

• Email




• Phone




• Live Support




• Video tutorials




• Blogs and Guides

• Phone




• Live Chat




• Forum




• Knowledge Base

• Email




• Live Chat




• Forum




• Knowledge Base

• Email




• Social Media




• Knowledge Base




• FAQ

Space (basic plan)

Unlimited

Unlimited Storage & Bandwidth

Unlimited Storage & Bandwidth

5GB Storage




10GB Bandwidth

Blog

No (under development)

Yes, 2 / 5

Yes, 5 / 5

Yes, 3/5

E-commerce

No (under development)

Yes

Yes

Yes

Form Builder

Yes

No

Yes

Yes

Newsletter

No

Yes

Yes

Yes

Design from Scratch

Yes

No

No

No

Restaurant Menus

Yes

Yes

Yes

No

Download Selling

No

No

Yes

Yes

Donations

No

No

Yes

No

Audio Player

No

Yes

Yes

No

Podcast

No

Yes

Yes

No

Membership Websites

No

No

Yes

No

NO ADS

Yes

Yes

Yes

Yes

Multilingual

Yes

No

No

No

Pricing/month
• Free plan: $0


• Pro plan: $10.5




• Reseller plan: Smart prices




• + Do-it-for-me websites from $49

• $5.99




• $9.99




• $14.99




• $29.99

• $12.00




• $18.00




• $26.00




• $40.00

• Free plan $0


• $9




• $15




• $19




• $39

Free plan
Yes

1 Month Trial

14 Days Trial

Yes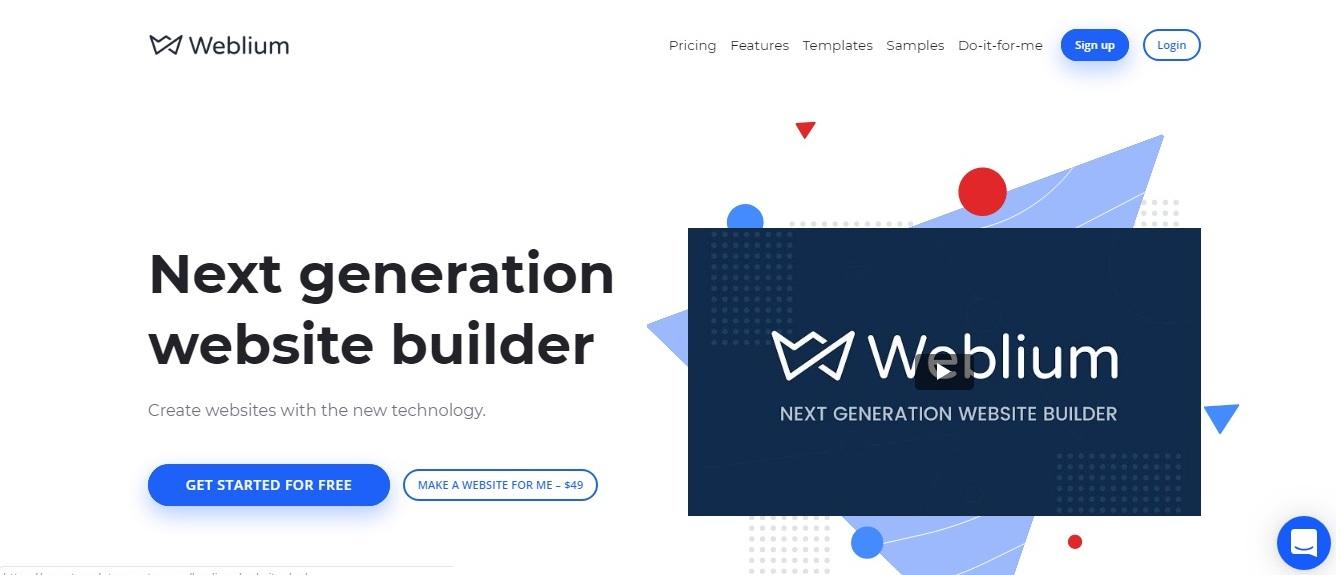 Description:
Weblium is a fifth-generation website builder, an innovative TemplateMonster's product. The users can easily create a modern website absolutely for free using the advanced templates, and get a bunch of additional services like domain registration, hosting, SEO promotion, etc.
With Weblium, you can create websites as quickly as possible, you can mix templates, customize the design for any device. AI supervisor helps to get the perfect design no matter what changes you will make to a basic template: it helps to eliminate incorrect indentations, adjust colors and correct fonts. As we have mentioned above, you can create a website for free, and you will need to pay only if you really love the website you have created using Weblium (you may want to get numerous additional options).
Weblium offers a very responsive 24/7 support service, and it offers a 100% of your money-back guarantee if you don't like the results!
Today, Weblium have created more than 2.5 million of successful sites for various industries, as well as:
Weblium became #1 Product of the Day and # 2 Product of the Week on ProductHunt.

Weblium has been reviewed by Googlefire.com.

In February, Weblium was mentioned among the top new products on BetaPage.

Weblium was awarded in the nomination of "Great User Experience 2018" and "Rising Star 2018" by financesonline.com.

Also, Weblium offers an interesting affiliate program!
What purposes this website builder is best for:
With Weblium, you can create any website that does not need a content management system (CMS). For example, informational web sites, portfolio sites, lead generation sites, brochure sites, etc.
Weblium is just great for creating websites of small companies and landing pages for special offers and it is perfect for one-page web products to be launched right away.
Possibilities and limitations
:
Weblium is quite an affordable builder that has a decent free plan and some paid plans.
The website builder's pricing offer consists of a free plan and two paid ones: Pro that is $10.50 per month) and Agency with the custom prices. These plans differ in a number of websites and the availability of advanced features such as custom branding, cloud hosting, SEO tools, and the Do-It-For-Me option.
Pros:
free plan

unique web design

fast website creation (72 hours)

200+ modern pre-built templates

AI Design Supervisor that automatically adjusts website design and corrects all the mistakes

the possibility to switch the design you don't like in one click

smart UI-kit that helps you to easily manage fonts, button styles, and color schemes

fast learning AI

excellent drag'n'drop editor for increased productivity and flawless work

the possibility to add your custom code to the site (only in a Pro model)

the super-fast Weblium engine that creates really fast websites with 90-100 Google PageSpeed Insights rank

Websites with basic SEO settings

Weblium websites are easily consumed by «Google spiders»

Weblium editor is integrated with the Unsplash free image library

Weblium websites are perfect for everyone – for personal use, landing pages, for businesses of various scales, for digital agencies

all the websites created with Weblium are located on Google Cloud, hosting, that is one of the  fastest and safest in the world

content import/export

auto-update

mobile-first results and responsiveness to all device screens

great opportunities to create a decent website, even at a free plan

websites are backed up by the pro webmasters!
Cons:
mostly good for small businesses and one-pagers

limited integration capabilities

no eCommerce modules yet.
Summary:
Weblium is rather not a classic website builder, but more a professional website builder helper. The service not only allows you to create a website yourself but also guides you through the whole process of creation so you can get the best design results.
It is very easy to use with a set of design functions to create an exceptional style for your site. To sum up, Weblium is a really good service for those who want to get a quality result without spending extra money on custom web design!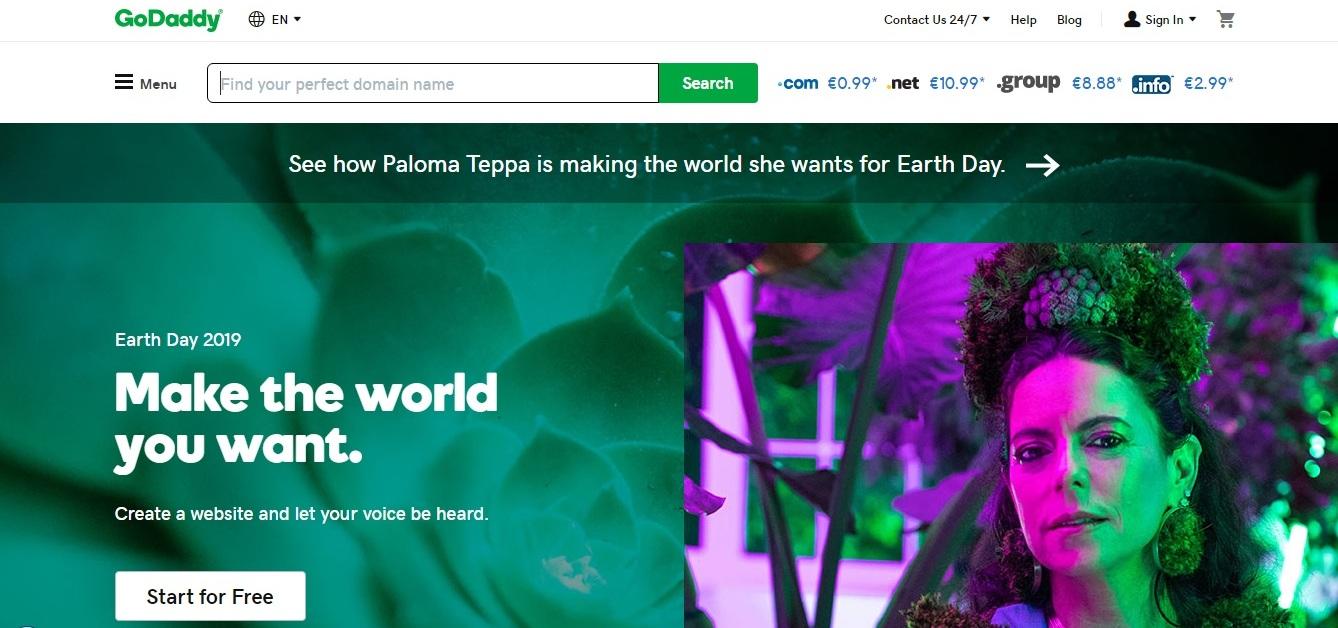 Description:
GoDaddy is a fairly popular American website builder for creating websites with the domain, hosting, and e-mail creation.
What purposes this website builder is best for:
Go Daddy is a simple website builder that helps you to create small websites and blogs. It is great for business solutions like creating online stores. You can use modern ready-made site templates, that are organized in 20 various categories.
Possibilities and limitations
:
GoDaddy is very simple to use: you can create a full-fledged website in about 1 hour. There is a trial version, but in general, GoDaddy is an inexpensive website builder: you can get access to the full version for $5.99 a month with the basic plan. There are also several other plans, that are more expensive.
The site builder has drag & drop editor, but there are few ready-made templates and it is difficult to change them. The developers have paid great attention to additional services such as mail hosting and storage, SSL-certificate, services of web designers, WordPress builders, websites of online stores. But don't expect these services to be cheap.
Various plans (Personal, Business and Business Plus) offer different features. Also, the service is known for excellent technical support, the opportunity to get a consultation 24/7 and the operators are very friendly.
Pros:
simplicity and convenience of usage

clear and simple interface

integrated image library (Getty Photography)

websites, that look good both on desktops and mobile screens

technical support, that is always in touch

many interesting features

cool marketing tools

huge storage and great bandwidth.
Cons:
no free plan

difficulties in combining with the browser

limited design/layout customization options

no photo editing

no integrated traffic reports

long installation process

website promotion and updating are quite expensive

not that rich in features as many other popular website builders are

difficulties in moving websites from GoDaddy to WordPress.
Summary:
GoDaddy is an ideal choice for those who are considering the creation of a regular website, for professionals and organizations that need to increase their online presence, for people that want to start selling goods/services online, as well as for small business owners who are comfortable with the basic functions of e-commerce.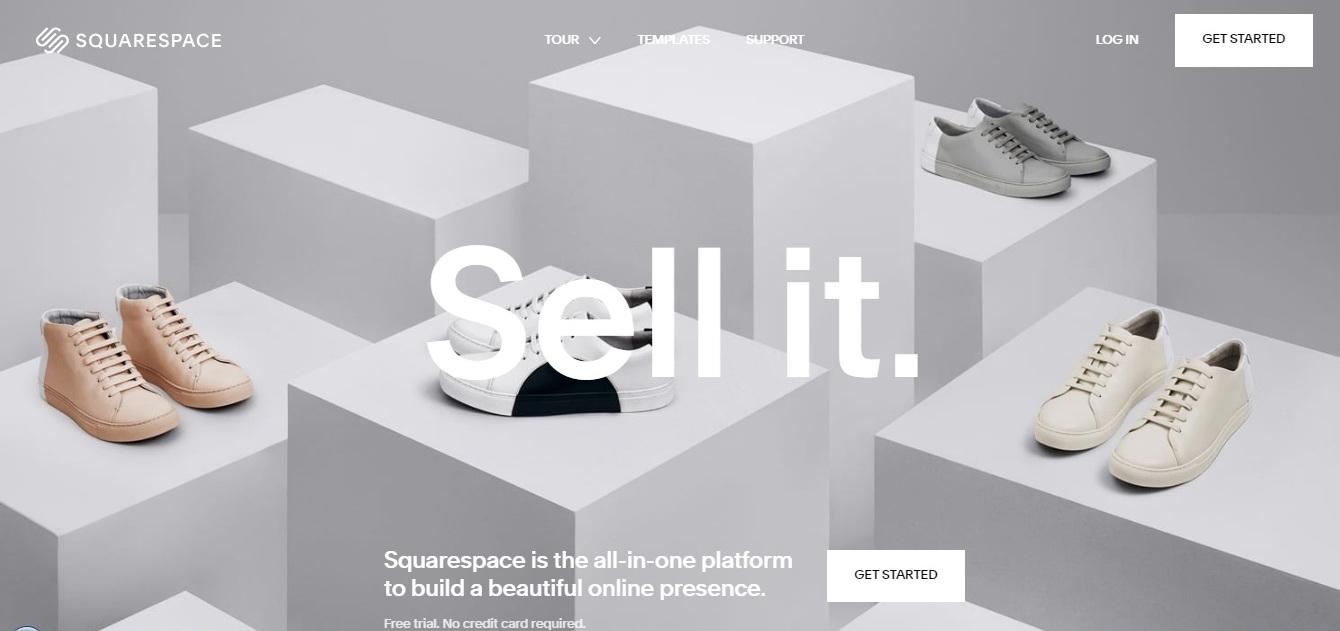 Description:
Squarespace is a paid website builder with great templates. It is one of the best from the existing site builders. The main reasons you should try it is that it has very beautiful and high-quality templates (one of the best choices among the many site builders' offers). The bad news is that there are only a few of them.
What purposes this website builder is best for:
Squarespace features are more than enough for the widest user audience. However, this service is the best solution for those who want to create an effective online store. In this regard, Squarespace is the absolute leader.
Another outstanding Squarespace feature is various integrations with third-party services. Partnership and integration seem to be the key features of Squarespace: from the image gallery (Getty Images) to accounting integration with Xero.
Possibilities and limitations
:
Squarespace services are more expensive than similar offers of competitors, but even with the cheapest plan you can see that it is completely worth it, and we mean not only the quality of the website builder itself but also the multiple features available. Squarespace has 4 plans, the cost of which is consistently increasing from one to another. There are plans for regular sites and online stores.
Pros:
maybe, the best quality of templates among the competitors

fully responsive templates

wide possibilities for editing templates

drag and drop editor

adding content is very easy

enterprise-grade infrastructure for site hosting

excellent site indexing by search engines

there is no limit on the number of added goods

the ability to make tiny changes to CSS.
Cons:
no free plan

the not that huge number of  templates (only 32 of them are available)

the editor's interface may seem complicated for novice webmasters

detailed site customization may require knowledge of HTML/CSS

limited integration options with third-party services

sales commission (3% for online stores)

eCommerce plans only offer Stripe, Apple Pay, and PayPal, and you can't add extra payment gateways.
Summary:
Squarespace is a good paid solution for developing online stores, blogs and small sites with photo and video galleries.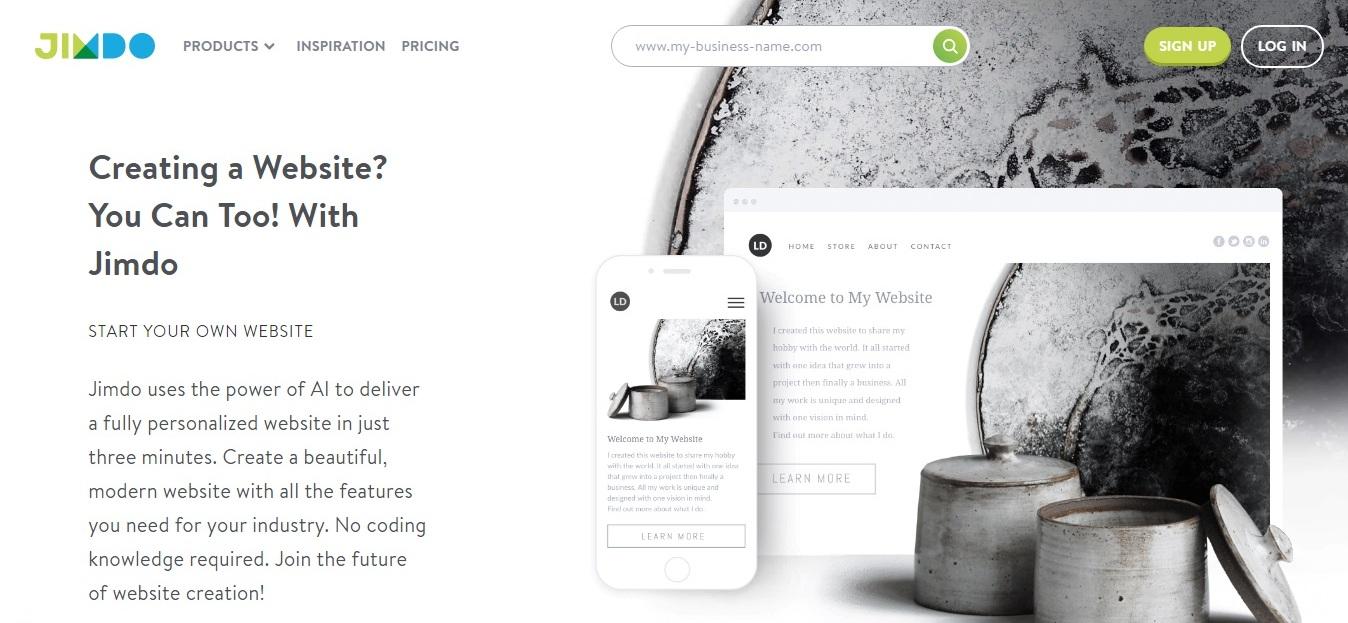 Description:
Jimdo aims at entrepreneurs who want to create effective brochures to support the business. Also, it is a perfect solution for the photographers who need to create a portfolio, for the musicians, for the makeup artists and other creative people.
What purposes this website builder is best for:
This HTML website builder allows you to create websites for various purposes – from personal sites to online stores. Despite the versatility of Jimdo, this builder works best for the creation of online stores – Jimdo's functionality, in this case, is just great.
But if you want to create an effective brochure, there are certain offers on the market that are more attractive.
Possibilities and limitations:
It is worth mentioning that the free Jimdo plan involves the creation of a simple website with reduced functionality, even without the online sales option. If you need more advanced options or you plan to create an online store, you will have to pay for it.
That is, the free features of Jimdo are not the best choice compared to other free website builders. But Jimdo's Business plan for the creation of an online store is definitely one of the best on the market.
Pros:
free plan

high-quality templates

the powerful and convenient visual editor

multi-functional and intuitive interface

drag and drop editor

excellent site indexing by search engines

affordable paid plans

availability of additional applications

ability to load your own templates

ability to load and unload goods through CSV files

many useful options for online stores.
Cons:
a small selection of templates (only 16)

free fare features are quite weak

the creation of online stores is available only with the paid plans

full access to SEO settings is available only at the maximum, Business plan.
Summary:
Jimdo is a great solution for creating online stores at reasonable prices.
Conclusion
As you can see, only 2 of the 4 website builders we have reviewed, Weblium and Jimdo, offer free website creation plans, but the options that are available on free plans are quite different. For example, Weblium offers domain and branding, basic website settings, unlimited editing, and several more features, and Jimdo limits free offers to just basic website features and subdomain.
As for the paid plans, Squarespace and GoDaddy are second to none with their offers: there are some great design templates, an advanced mobile editor, and certain SEO settings available. On the other hand, Weblium and Jimdo paid plans also offer many additional options that may be of interest to your business.
Needless to say: there is no better way to understand which website builder is better than simply trying them out! And the comparison table of comparisons at the top of this page will definitely help you to take your first steps while choosing the best website builder for your purposes!
So, you can decide what website builder is better for you: GoDaddy or Squarespace;  Jimdo or Squarespace; Weblium or GoDaddy.