Nail Salon Website Template
Log in and select the template

Add content and edit your nail salon template

Create new pages (if you need)

Configure SEO Settings

Add CTA and contact forms

Connect analytics metrics

Check your website

Create a blog

Show your nail salon website to the world
This nail salon website template is free to use!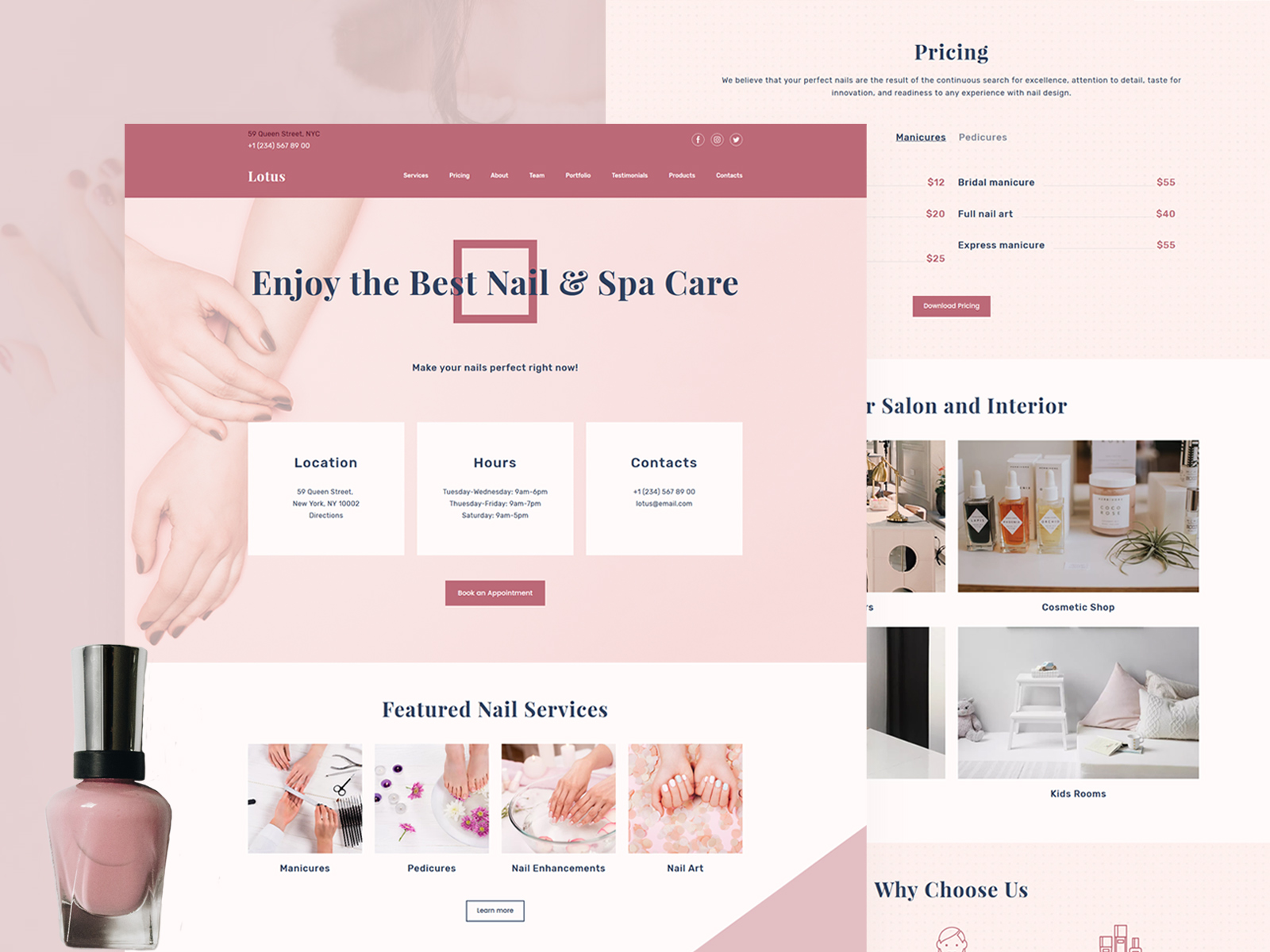 The website of the beauty salon is its business card. A good site attracts new visitors and increases the loyalty of the existing ones.
You can create your nail salon website faster and cheaper using the site builders. Try Weblium – and you will get the widest possible design editing capabilities, the latest web development technologies, and effective marketing tools for your website for free!
Now, let's check out the main tips for creating a good nail salon website.
Think through your website's  first screen
Pick a colorful background photo related to your services. Make sure that the texts on it are easy to read – add a tagline on top of the photo.
Make it possible for the visitor to find all the primary important information on the first screen.
Therefore, place here the logo and the name of your nail salon, address, and phone number, as well as social buttons. Motivate the visitor to get to know you better – add a navigation menu of 5-8 items to the header.
This Weblium nail salon website template example shows another cool idea: a CTA form with a booking button is placed right on the first screen. That is, if desired, the visitor can become your client at any time when he is on the main page!
Pick up the right color scheme
You should always remember your target audience's needs. If most of your visitors are young ladies, then you can use a light color scheme with a light background in your website design. In this nail salon website template, we chose light and dark pink tones in combination with white color to create some negative space.
 Middle-aged women prefer a more relaxed and solid design. In this case, the burgundy or light brown background color will work perfectly.
We understand that each company has its own unique concept, and each owner has its own tastes. Therefore, with the help of an intuitive Weblium editor and advanced design customization features, you can change the design of each block and every tiniest element – a font, a booking form, a button, or anything else.
Tell your visitors more about your nail salon
Describe the concept of the salon; tell something about its history.
Be sure to describe the competitive advantages – the use of natural cosmetics, innovative equipment, certified specialists, a convenient work schedule, exclusive services – you can mention even your unique interior!
A great idea is to create a special section for your competitive advantages: for example, like the "Why Choose Us" section with visual icons in our nail salon website template.
Show your offer in a positive light
Tell visitors about the services of the salon. Add cozy and beautiful photos of the interior and equipment (take a look at the "Our Salon and Interior" section in our nail salon website template).
If your company offers a large list of services, it makes sense to divide them into groups and add a beautiful visualization to each (for example, that's how we did it in our template).
Be sure to indicate the cost of each service and describe what is included. Add buttons to download pricing and book a service.