Florist Website Template
Log in and select the template

Add content and edit your template!

Publish!
Check this beautiful website template: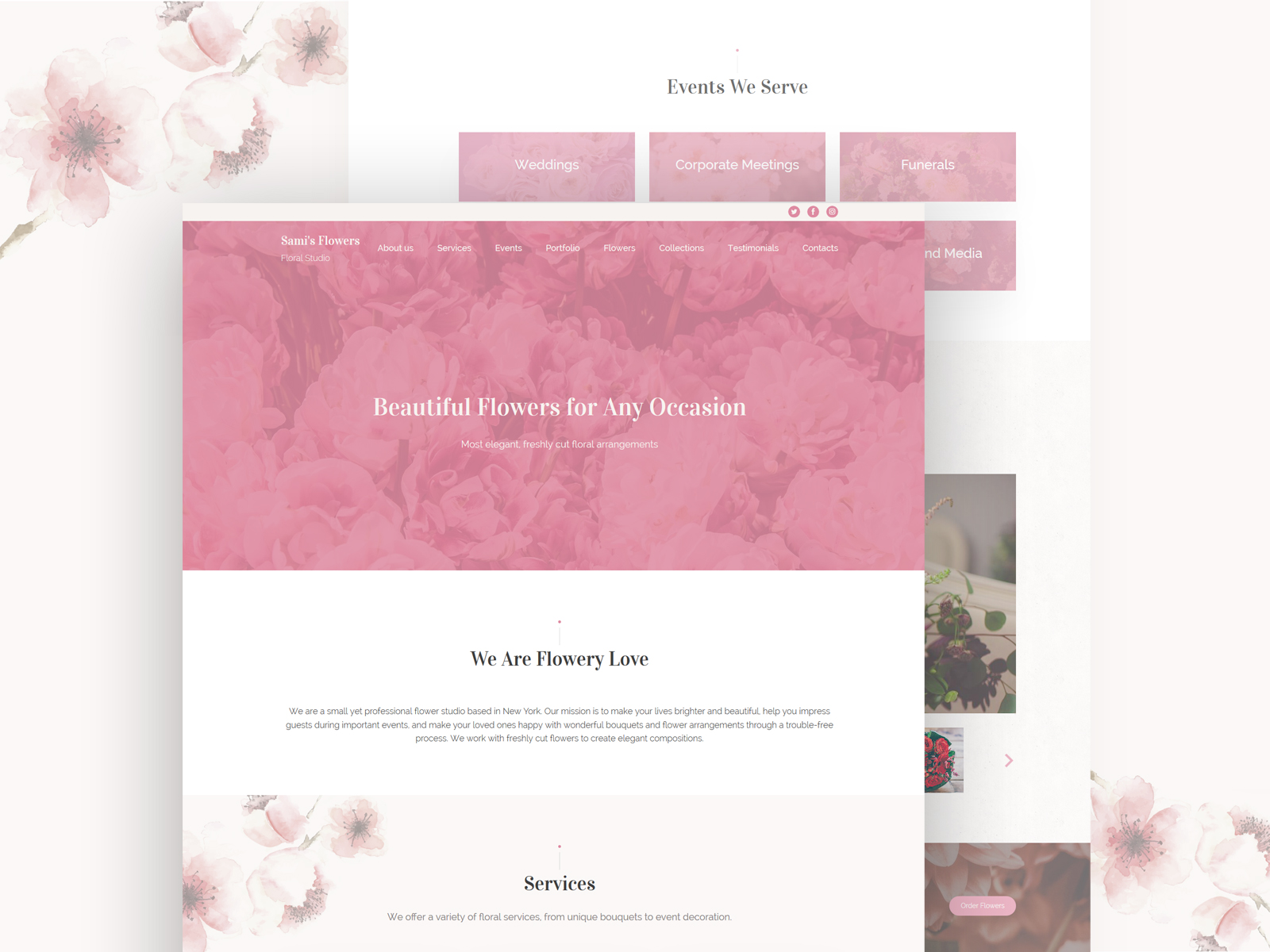 Flower and gift shops, flower shops are a niche business, and having a professionally designed website with a creative, visually appealing design is one of its basic needs. To get such a site, it is not necessary to spend weeks searching for experienced specialists, approving the design with the developers, or studying the latest web design trends.
For that, you just need to choose a reliable website builder, pick up a professional florist website template you like, and use it to build your website. 
For example, you can use the progressive website builder Weblium and get a beautiful effective website with a number of privileges for free! Take a look at this template: all the difficult work has already been done for you by a team of professional developers, designers, and marketers. The site you can build using this template is ready to get to the top of Google search results and attract customers. 
Let's go through a short must-have checklist to creating your effective florist website.
Design
All good florist websites have some common design features.
To begin with, the site should look aesthetically pleasing and artistic. Light neutral backgrounds (possibly with a floral pattern), calligraphic fonts, exclusive icons, high-quality images (they should look consistent, not overly large, or mismatched), and much more – these are the first things a visitor expects to see on your florist website.
Take a look at the uncluttered, minimalistic design of one of the florist website templates created by Weblium: a minimum of text and a maximum of beautiful, professional photographs are the keys to the attractiveness of these niche sites.
The consistency of design throughout the website is also quite important.
Examples of your work
When searching through dozens of florist sites, the user doesn't stay long on each of them. Your task is to keep a visitor on your site. And the most effective way to do this is to show the miracles you create with the help of colorful photographs.
If you offer several different types of services, create several sections in your portfolio, as we did this in our florist website template. This will show that you can do a lot of things and help visitors to quickly find the service he needs.
Mobile-friendly design
Everyone knows that there are more and more users shopping with their smartphones/tablets.
Make sure your florist website template looks perfect and runs seamlessly on mobile devices. By the way, all sites created by Weblium fully meet these requirements. 
Start creating your website using Weblium today to turn all your potential customers to buyers!
Online ordering button on the home page
The faster and easier the visitor finds your order form, the better! 
Place it along with your convincing call to action in most prominent places on the home page – and you will see the effect right away!
Marketing reminders
Reminding your customers about your florist company 10-15 days before the holidays is a win-win idea!
The application will send customers emails according to your schedule, right in time when they're looking for the best holiday ideas!
More on Weblium: