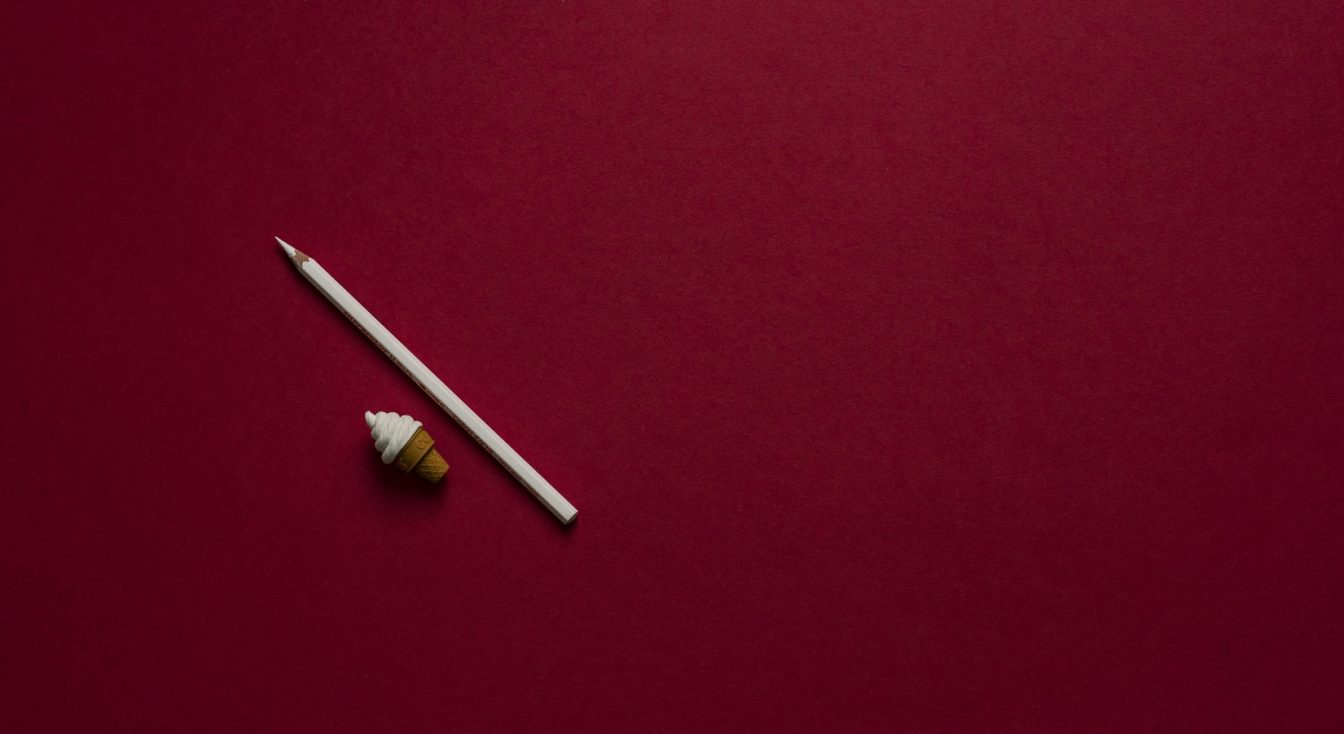 How to Write a Website Design Brief (Upd: 2023)?
What's a Website Design Brief?
A design brief is a document, which explains the scope of issues a development team needs to solve when working on a project. It focuses on the desired results and business goals, not its aesthetic side. A web design brief is a short document, which becomes a guideline for the entire process of website building until it is launched.
Every web design brief should be as detailed as possible, for it is a supporting point for all the involved parties. It helps QAs, designers, and developers to share your vision of the project, to avoid misunderstanding or expensive post-improvements.
Even in case you decide not to create a website from scratch and use a website builder like Weblium instead, writing a web design brief is a must. So why is it so significant? How to make it work effectively without wasting time for paperwork? Find all the answers below.
Step 1. Provide your contacts
Step 2. State your purpose and describe a target audience
Step 3. Indicate a website type in a design brief
Step 4. Share five examples of websites you like
Step 5. Describe the functionality of the web platform
Step 6. Share your vision of the homepage
Step 7. Tell whether you need localization
Step 8. Tell what website materials you will provide
Step 9. Outline the requirements to website design
Step 10. Set the deadlines in your web design brief
Create Your Own Website! Try for free
What are the features of writing the website brief?
To make things clear, we didn't mean to frighten you with any additional paperwork. A briefing process is much more than a conventional procedure. It organizes and structures the key information and transfers it from a client to an executive. The answers to the three most common questions will help you to understand it better.
Why is a web design brief a good idea and what if I don't have one?
A design brief guarantees that a final product will meet your expectations and perform the expected business goals. Some companies provide standard questionnaires and don't make you write everything on your own. The more detailed your answers are, the higher the probability of getting exactly what you need is. A brief is what later helps to come up with a list of requirements, estimate the time and expenses.
If you don't prepare a design brief, you entrust the development team to decide on all the controversial issues. But what is the probability that you have the identical vision of the final product? As a result, you risk to end up with a website you don't like, then request changes, and turn the development into an expensive and long-lasting process.
This is how it looks in practice. You decide to launch an e-commerce platform and don't mention an opportunity for users to create a personal account. It may seem like an easy task to deal with at any stage of development and a feature that comes in a default kit, but it is not. As a result, you delay the launch, pay more, and have a negative experience in general.
Who participates in design brief writing?
It is important to distinguish between a web design brief and technical requirements to a website. A design brief is a descriptive document that sums up your ideas and preferences. A technical task is a list of actions required for its realization. However, both are two-sided processes.
All the stakeholders can participate in its creation, but the majority of work lies on a client. Developers need to receive detailed information as possible. After seeing your briefing for the first time, they might come back with questions, detailing, or maybe recommendations that are based on the previous experience.
View it as a relationship between a patient and a doctor: you need to share information about all symptoms and activities to receive effective treatment. Never conceal important information from a designer – this is a person who is responsible for the final solution.
What information should I provide in my web design brief?
We will discuss the stages of creating a brief in details below. But before that, try to answer the following questions to make the actual briefing easier:
What is the purpose of starting this website?

What do we want to reach by launching it?

What do we need for the realization of this project?

What are our values?

Are there any specific commercial results?

What competitive qualities are we going to demonstrate?

For whom do we develop this project?

In what conditions and environment this website will be launched?

What are the expected/desired stages of development?

How much time do we have until the launch?

How much time are we ready to spend on each stage?

How much are we ready to invest?

Who will be responsible and who will approve the final solution?

What criteria are we going to use for approval?

How are we going to implement a chosen solution?
The list is quite long. Nevertheless, it will help you to understand the value of an upcoming project and outline the expectation. When you start writing a website design brief, you will deal with it quite quickly.
Creating a web design brief step by step
Everything you write in a design brief will become the result demonstrated for the outside world. The more specific you are now, the better your website will be. Every brief solves a particular task. We are discussing website development so the answers will be focused on its features.
Step 1. Provide your contacts
It doesn't sound like something crucial for starting the development, but it actually greatly influences project management. Exchanging the contacts allows keeping in touch and is a start of effective communication. The team may need to ask you something, specify details, discuss modifications. It makes an email and a phone number of a person responsible for a project so important.
Step 2. State your purpose and describe a target audience
You need to understand why you launch the site, what tasks it is expected to solve, and who will be the users. It is possible to start this with a short story about your company so a team will get familiar with you and will be able to study your competitors. The development team is going to find out how other companies work, what effective tools they use, and what will help you to become better.
Your goals and objectives should be precise: boosting the sales, raising brand awareness, increasing loyalty, introducing a new product/brand, etc. Consider the distant perspectives as well: is your goal realistic and what happens after you achieve it? Then, tell at whom your endeavors are directed. A portrait of a representative of the audience will also help to come up with a list of tasks and tools to use.
Step 3. Indicate a website type in a design brief
Tell what exactly you need: an e-commerce site, a promo site, a simple single-page site, a website for the specific business, etc. Each option differs in terms of development and implementation, which influence its price. List all the sections and pages you expect to see on this website. Mention the order, connections, and add a few words about the content that will be published there.
Step 4. Share five examples of websites you like
Show instead of describing – it always works better. This will help the development team to understand what you like and what you expect to see. Find five websites with the structure and content you like, tell what attracts you the most and what you would like to change. Sometimes if you find it difficult to provide examples, an executive will provide you some so you can pick which solutions you consider the best.
Read Also: 
Breaking Bad: 21 Bad Website Examples.
Step 5. Describe the functionality of the web platform
You have already come up with the structure, so it's time to think about modules. Tell whether you need survey forms, online chat, search and where it will be located, opportunity to pay online, newsletter form, etc. Just describe in details how the website should work. As we've already mentioned, any feature that is out of range of basic requires additional development and influences the cost. It is always easy to add features during the development than after it is completed.
Step 6. Share your vision of the homepage
While the rest of the pages are more or less similar, this one requires more attention and explanations. Tell what information you expect from the homepage. List all menu sections, banners, contacts, forms, text elements, links to social media – the content of all possible types you want to see there.
Read more about: 
Best Homepages: 20 of the Best Homepage Examples.
Step 7. Tell whether you need localization
Indicate the main language of the website. If you plan to launch a multilingual resource, the development team should be aware of this at the very beginning.
Step 8. Tell what website materials you will provide
Create a list with all the materials you want to use on the website and are ready to share: content for pages, logo, banners, photos, price lists, videos, etc. Provide all these materials in a digital form. The files should be of good quality. The team will use them to make your website project stand out of the rest.
Step 9. Outline the requirements to website design
It will take a couple of days to come up with website design. If you use Weblium or other website builders, you can choose one of the available templates and get a solution sooner. However, if you plan to launch something truly extraordinary, the process will require involving photographers, flash designers, etc. Consequently, it will be more time-consuming and expensive. Explain what you want to emphasize – attractive offers, reliability, attract the attention to the company's logo or something else. Also, tell whether you want something experimental or traditional.
Step 10. Set the deadlines in your web design brief
… and be ready to negotiate it. Complicated websites require more time. If your expectations are unrealistic, you will need to discuss a solution with a team – whether to provide more time for the work or simplify the functionality. Sometimes there are more people involved than you think, from analysts to photographers. Respect the team.
Writing a brief with web design brief template
In a perfect case, the company will send you a document or a link to an online form, where you can just answer the questions. But what if you need to do it on your own?
The steps listed and explained above don't necessarily repeat website design brief structure. They are more like a checklist for you to make provide a complete brief. You can change the order of information if some things seem to make more sense together in your story. To make it easier for you, we have picked some good examples of short and long briefs. Check out these templates, pick the one you like, and just fill in the information about your project.
Short website briefs examples:
#1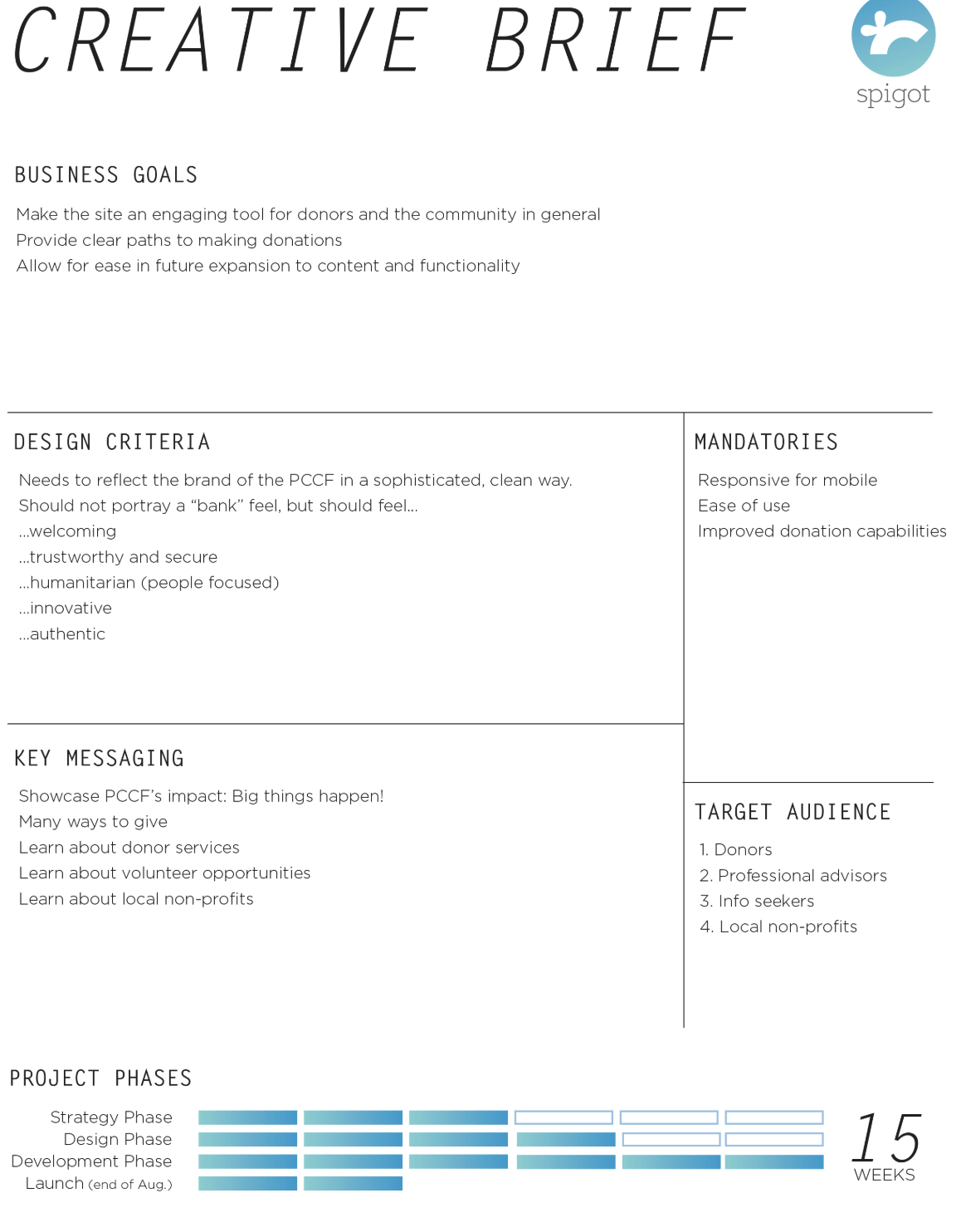 #2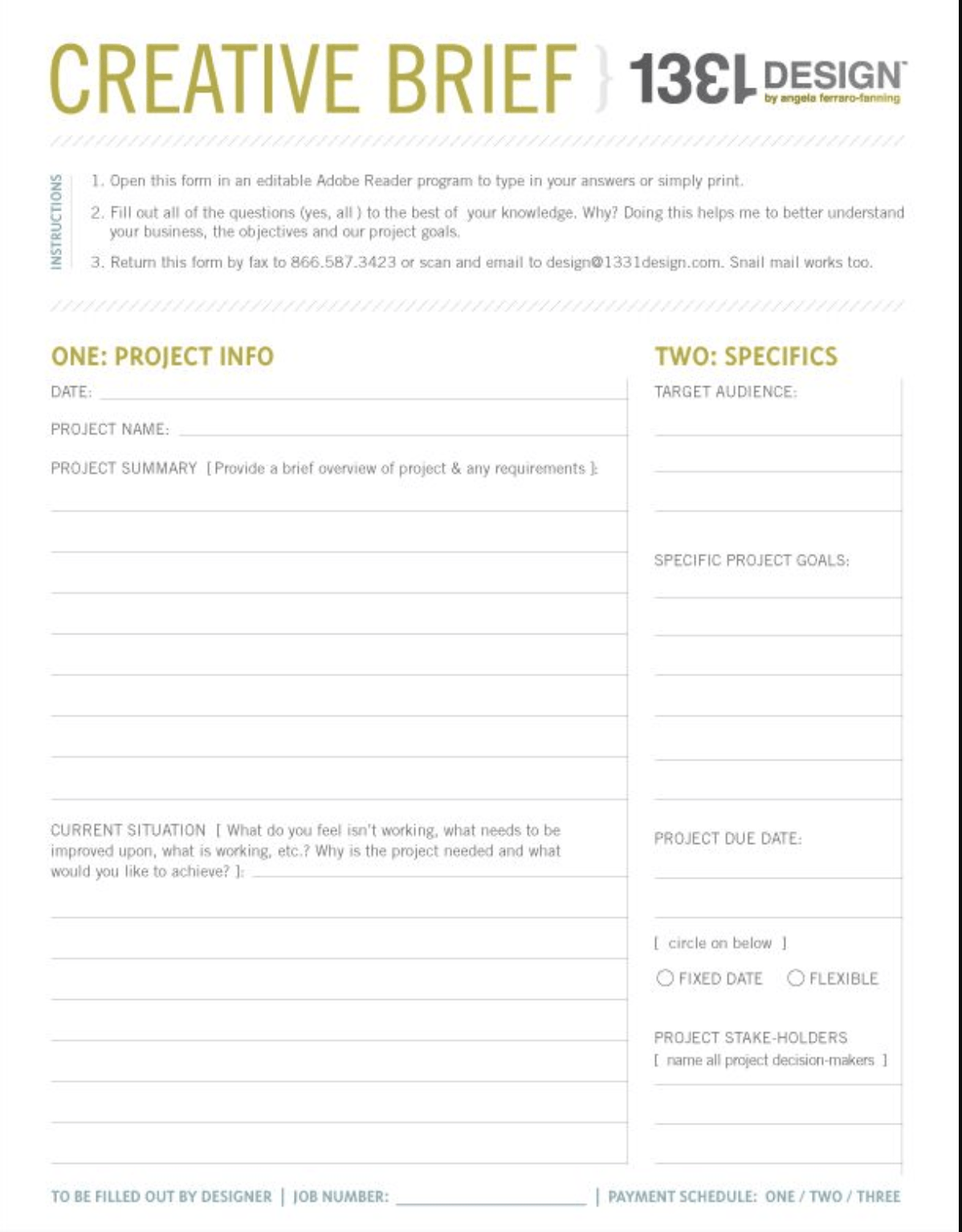 #Logo Brief – http://fliphtml5.com/bofc/mnpq
Web design brief: the bottom line
So what do we know so far? A web design brief focuses on the final results and commercial goals of the project. It doesn't have to discuss aesthetic or artistic sides in details. You should mention the preferences regarding style and colors if you want, but the rest is the work for the development team.
Creating a web design brief will help you to make some important decisions before you start working on a new website. It helps to clarify the things and shape the purpose of what you are doing more precisely. A good web design brief is a half of success: good guidelines is one of the determinants of high quality.
Last but not least, what if you have decided to use Weblium for launching a web project? Well, Weblium is a website builder, which makes the process of launching less complicated, less time-consuming, and requires fewer resources. Nevertheless, you need to provide a web design brief for the team as well. They have got some ready blocks and designs, but you are the one to tell how to arrange those parts to get what you wish.