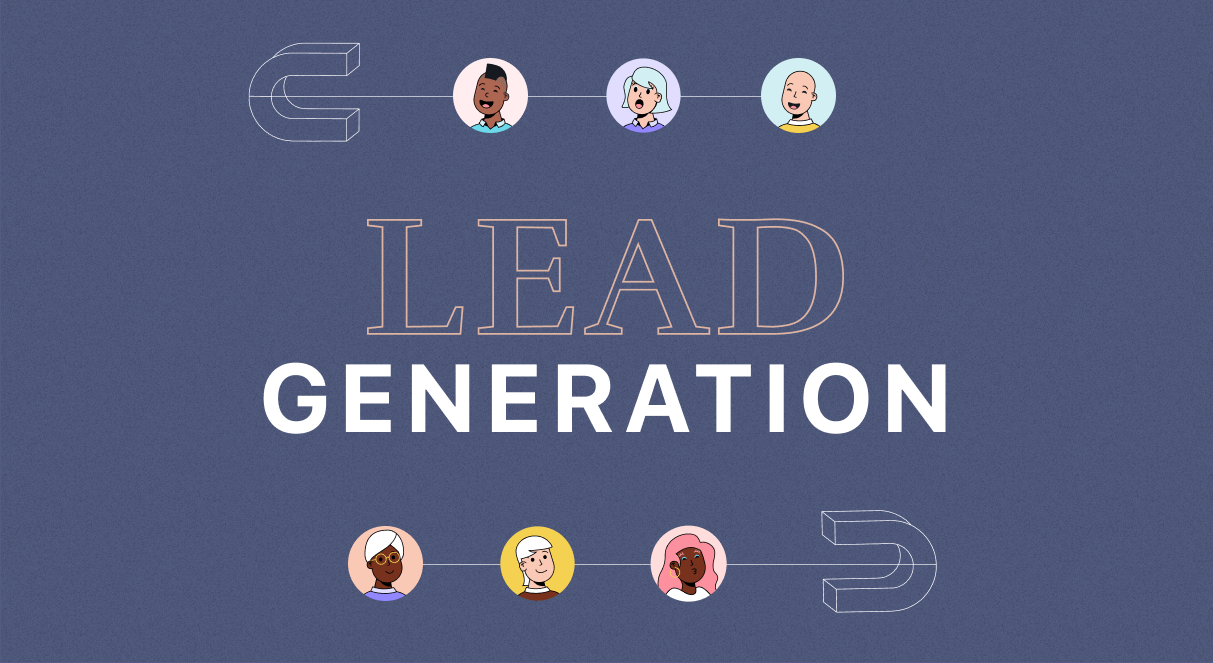 What Is Lead Generation: Complete Guide With Tips and Tricks
A lead is a person who is interested in buying your product and has left their contact details with you. This is your soon-to-be client. Thus, the lead generation process is the procedure of attracting such people to your business.
61% of marketers consider lead generation their top priority. After all, the result of it is receiving "hot" leads who are most likely to buy your product or service. Simply put, lead generation helps you attract customers to your company.
So what exactly is a lead generation and what are its key elements? Today we will talk about customer acquisition using real-life examples, so stay tuned.
What is lead generation?
Lead generation is the process of attracting people interested in buying goods or services to the site offering such goods or services, collecting their contact information, and communicating with them to increase the chance of a sale.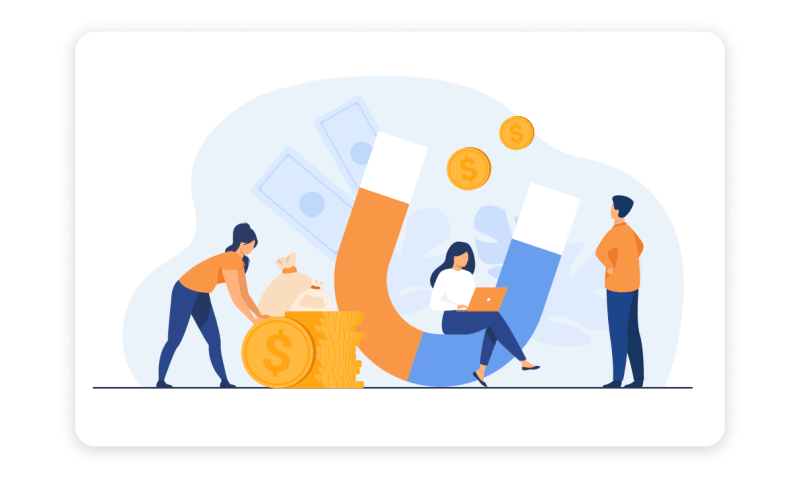 It is important to remember that the goal of the lead generation process is not to collect as many contacts as possible but to attract solvent potential customers who are interested in your product.
Why would you need a contact of a person who is vegan if you sell steaks? In the same way, marketers are not interested in attracting 20-year-olds to a site selling country houses.
Why does a business need lead generation? It's simple — the more interested users on the site, the more applications, and, consequently, sales.
Every entrepreneur is interested in profit, so we will help you deal with the lead generation process! Learn more about its types, methods, and pitfalls with Weblium.
Lead generation process
What is lead generation for marketers? It is their bread and butter, their winning strategy, and their main goal. Sales specialists and online advertisers from all over the world have developed a certain process for generating quality leads to the site by trial and error.
There is nothing complicated in it if you understand the mechanics and know your target audience. Now let's take a closer look at the methods and stages of client acquisition: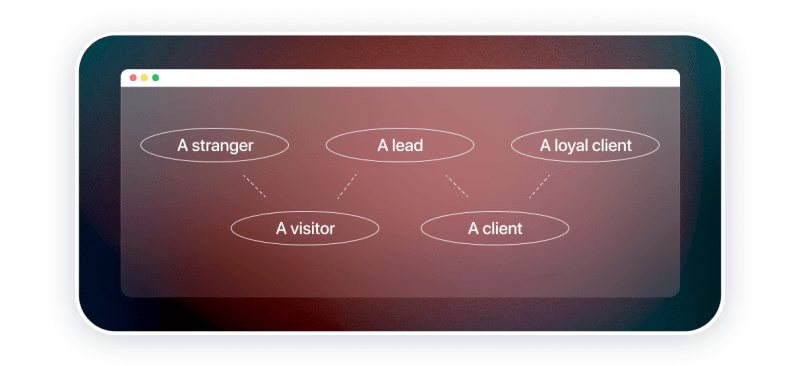 Attract
At this stage, you should attract strangers who might be interested in your product.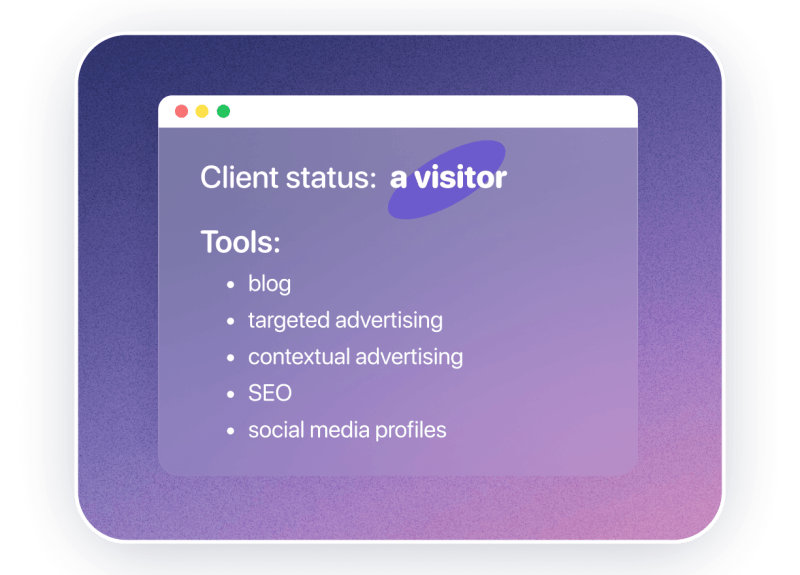 Convert
This stage implies that the visitor leaves their contact details that you will continue to work with afterward. Most often companies offer useful information or a discount in exchange for personal data — this is called a lead magnet.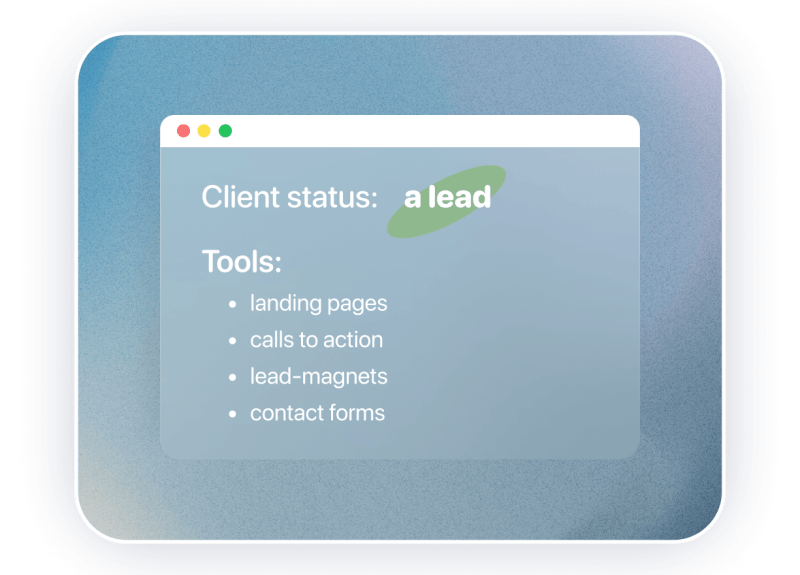 Close
At this stage, we sell the product to the lead. Do not try to earn as much as possible from the first purchase, focus on something else — you must fully satisfy the customer's need and leave them pleased by your service.
Pay due attention to this lead generation stage if you want to build a long-term relationship with the client (so that they recommend your product and come back again).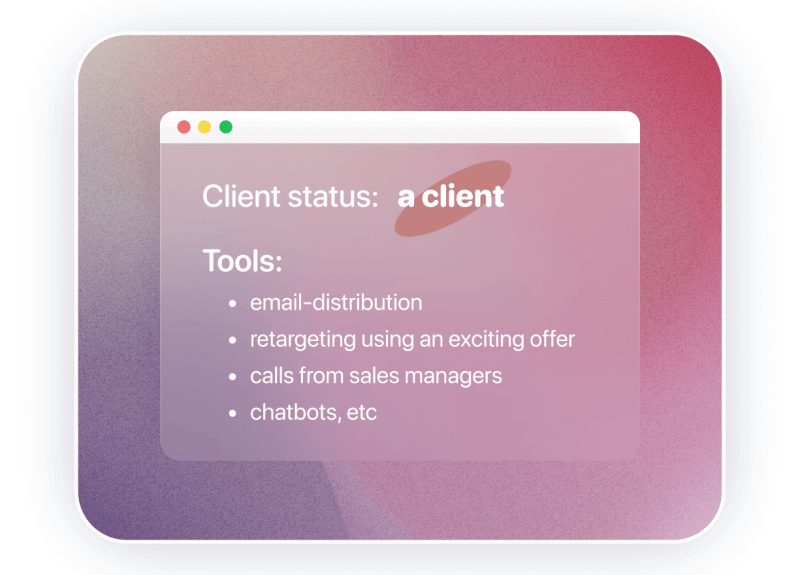 Delight
This is the treasured moment of every entrepreneur! Your customer was satisfied with your services and started recommending you to friends. Most likely, this client will come back to you and bring about more purchases.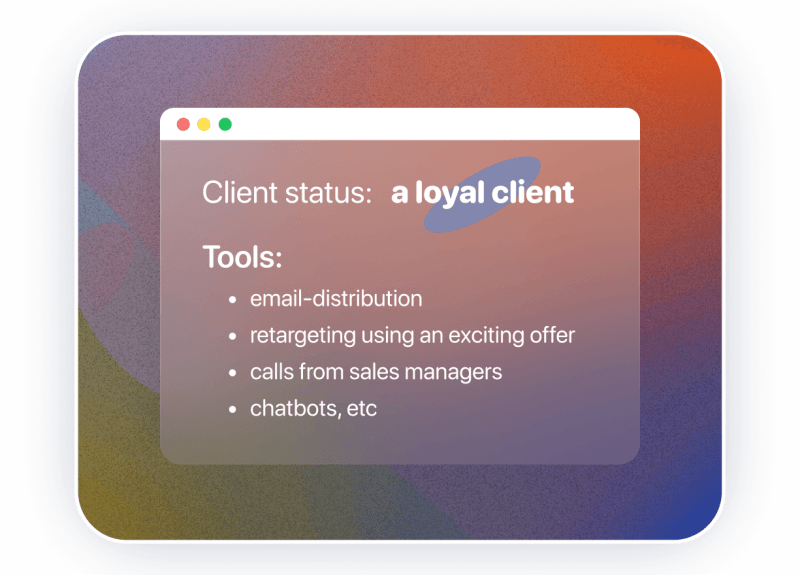 Finally, the key element of all lead generation strategies, which serves as the basis for your business success, is a quality product and excellent service.
Lead generation: training
Although there exists a clear algorithm for attracting leads, newbies can still make mistakes when starting the online promotion of their businesses. Weblium marketers share tips for successful online lead generation so that you attract only hot and high-quality leads.
Know the mechanics of lead generation
Being aware of the basics will allow you to reap the benefits of your work. You must know how to access authentic contacts of real people and how to work with them to sell your product.
Create a proper selling landing page
By attracting visitors to a regular corporate website, you will never get their contacts. If you haven't had this experience, start with Weblium. You do not have to puzzle over creating a selling structure, creating a form, and collecting contacts — our website builder offers ready-made solutions.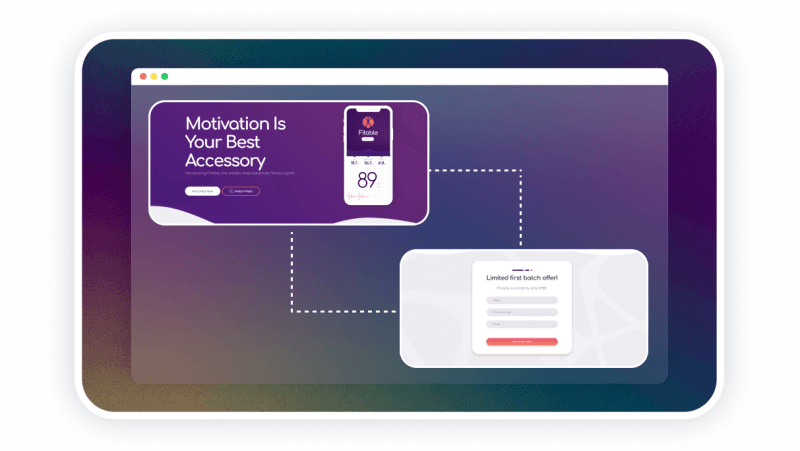 Connect with leads immediately
Remember that leads are people who are thinking about buying your product or service. You should contact them before they find another similar option of your product from competitors.
Don't forget about former customers and leads who never made a purchase
Buying from a company that you have contacted at least once always seems safer for people. Stay in sight of your audience with emails and retargeted ads containing promotions that will encourage leads to purchase.
Don't copy competitors
Now that you lead generation meaning, it seems that all client acquisition strategies are the same. Yes, the process of lead generation is pre-defined in most cases, but the tools and their use should be different. Write unique texts for the landing page, come up with an original email design, and create your own recognizable approach.
Do you remember what is the final step in the online lead generation process? The client must become loyal — they must become your unspoken ambassador, advise you to their friends, and purchase your products regularly. To achieve this, think over communications with your audience, encourage their purchases, and regularly mention new stuff on social networks.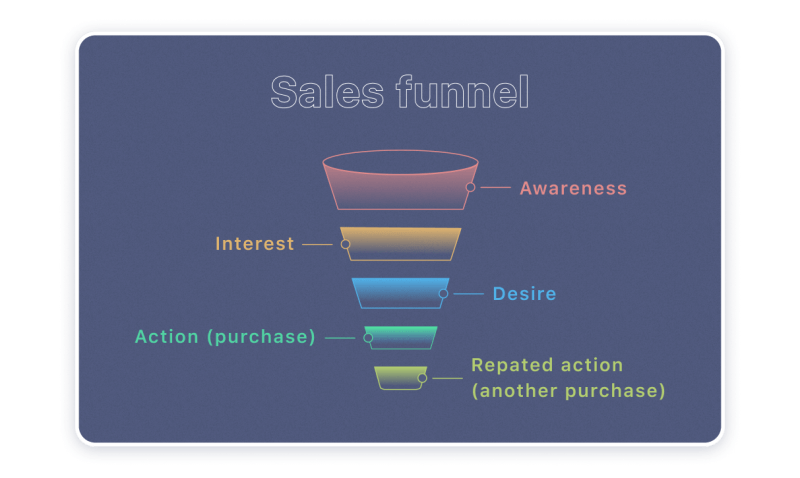 Be mindful of mobile users
52.2% of users access sites from a phone, and many entrepreneurs still have not adapted their pages for mobile users! By the way, all templates offered by Weblium, are already adapted for mobile devices so that customers do not bother to build several versions of their site.
Test and update the approach
The work does not stop as soon as you find a few lead generation strategies that work for your business. The needs of your audience or market trends are constantly changing. If there are few leads, the customer acquisition cost is high, so you are doing something wrong. Try changing your approach and analyze the result again.
Lead generation — examples of how to effectively collect leads
In this section, we will deal with each tool for attracting visitors step by step. Weblium explains to you how you can convert any strangers browsing the web into leads and buyers.
Landing
This is the basis of everything. It is a properly designed landing that convinces the visitor to leave their contact in the application form and stay interested in your products.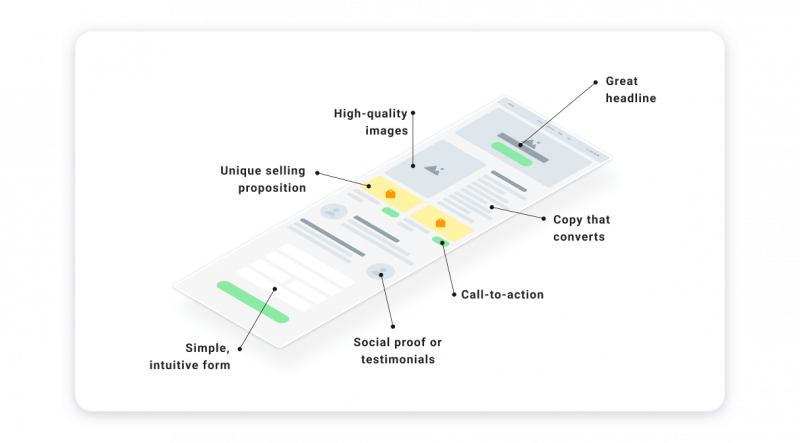 How to create a selling landing page for online lead generation?
Make advertising banners and website designs in a single style.

Place a relevant exciting offer, a call to action, and a button that opens a form for collecting contacts on the first screen.

Add product images or photos of satisfied customers.

Answer all the visitor's questions in the text form.

Do not forget about the reviews from customers.

The offer and the button with a call to action should be repeated several times on the site.
What is the best tool to use?
If you have no experience in creating websites but want to make a beautiful landing page quickly and inexpensively, pay attention to Weblium. This is a platform for creating websites with built-in wide functionality, integrations, and templates with a selling structure for generating and converting leads.
Landing on Weblium will be a great start for lead generation!
Create a landing page for free 🚀
Email Marketing
The average email conversion rate is between 15% and 18%, while 1-3% is considered a good conversion rate. If you have been ignoring this one of the lead generation examples, we recommend that you fix it now!
It is best to create two different databases — with former customers and leads who never placed an order. Work with the first base to create loyalty and encourage repeat purchases, and work with the second base to make people place the first order.
How to write conversion letters?
Make up a catchy subject line.

Add a good quality image.

Briefly and clearly state the essence of the letter.

Add an interesting offer and a compelling call to action.
Example of Black Friday email
What are the best tools to use?
AWeber

— an incredibly simple email marketing automation service.

MailChimp

— a comprehensive email marketing automation platform.

Snow.io

— a cold outreach automation platform that allows you to send complex email campaigns.
How to generate leads in sales if you build a site on Weblium? The good news is our platform allows you to receive all the email addresses of your leads collected in the feedback forms with zero effort. They will automatically be translated into your database because lead generation services are already integrated into our website builder.
Online chats
Sites with online chats are 40% more converting than web pages without them! Do you understand that you can miss out on almost half of your customers unless you introduce online chats into your site? Thus, online chats are just irreplaceable elements of many lead generation strategies.
How to make a high conversion online chat?
Make the first post icon bigger than usual.

Write a comprehensive and catchy chatbot script 

Immediately show the first message sent by the bot and offer the field for the answer, or better, provide buttons with answers.

Give the option to talk to a real person (the chat operator).

Add an avatar and operator name to raise trust in your team.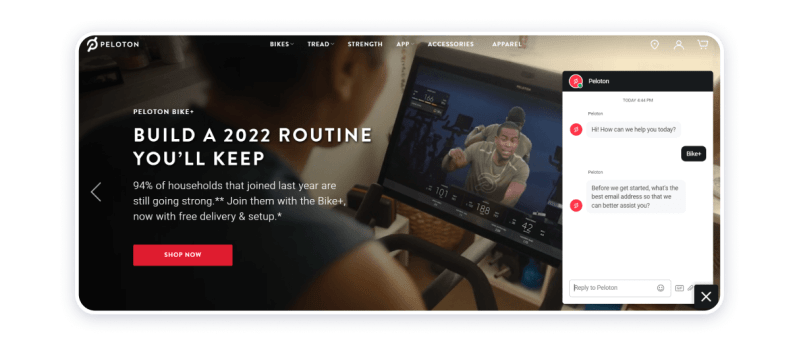 Online chat example for retail
What are the best tools to use?
LiveChat

is an online chat for providing real-time services and information support directly on the site.

Tawk.to

is an online chat that helps you to provide personalized services to customers in real-time.
If you make your site on Weblium, you can add the widget of any of these services since these lead generation examples are generated in our templates.
Telephony
A site with telephony shows a higher conversion than without it. 53.96% of the site registrants usually come from calls. This is important for those who prefer personal communication. It's much easier to get a person's contact during live communication. Besides, you already have their phone number🙂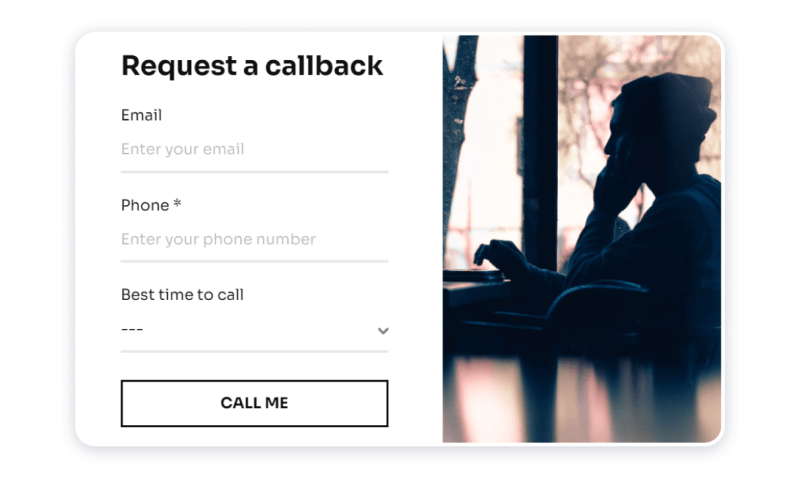 How to make conversion telephony?
The call-back window should be visible, and the number entry field should be open instantly.

There should be an interesting call to action that would encourage the visitors to contact the managers.

The sales manager must have a written script they will follow to communicate with leads. 
Online appointment
What is the role of online appointments for the lead generation process? The ability to sign up for the service directly on the site simplifies the process of interaction between the company and its customers.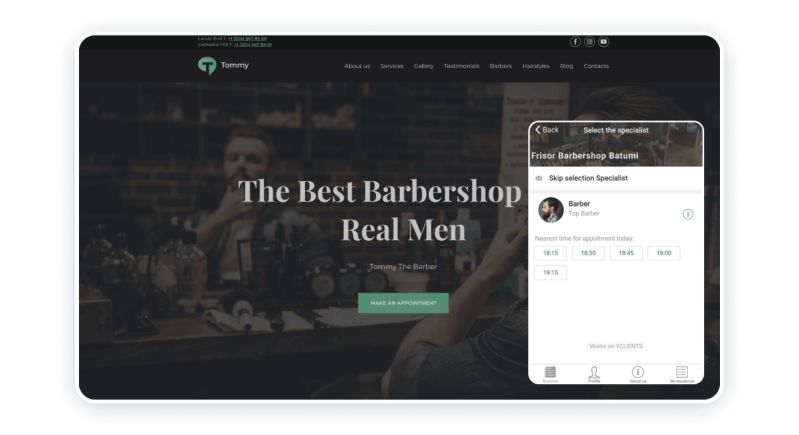 How to make an online conversion record?
Make the online booking window clearly visible for everyone who visits the site.

Add a

pop-up

that will offer to sign up for a service at a discount.

Do not forget to update information about free time periods.

Set up the message thread to confirm the appointment for the service and remind the person of it the day before the appointment.
Advertising pixels
Visitors do not leave contact details and your leads do not buy? Remind them of yourself with retargeting!
How to do conversion retargeting?
Create ad banners styled as your website and add your company logo.

Provide a unique offer or remind potential customers of a pending order.

One of the

lead generation examples

is to redirect interested people to the site where the order form pops up encouraging them the purchase.
What is the best tool to use?
Facebook Pixel is a service for launching effective advertising on Facebook and Instagram to convert your website visitors into clients.
CRM
Leads leave their data in the feedback forms. However, analyzing these details without CRM is extremely difficult, because you have to upload every contact manually, create a list of clients yourself, and enter information. Luckily, it's 2022 and almost everything can be automated!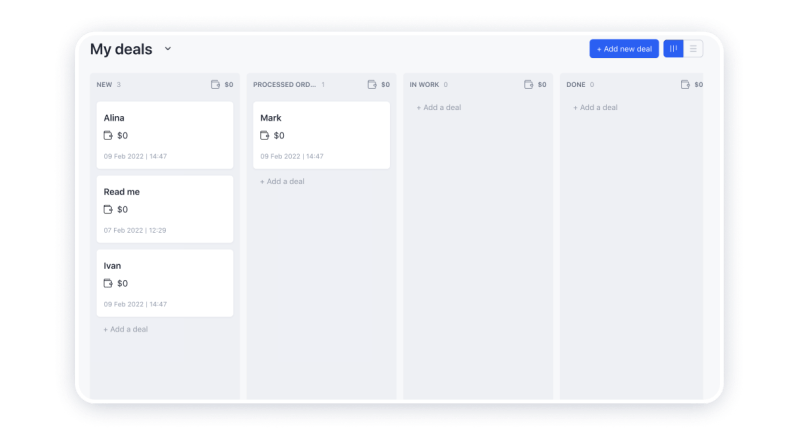 How to work with CRM?
As soon as a new order arrives in CRM, immediately contact the client to clarify the details.

Add all the order details to CRM not to forget anything and leave the client completely satisfied with your service.

If you have received an order made not through the site, add it to CRM anyway not to forget about the client.
What are the best tools to use?
Weblium CRM is built into the website designer and  is one of the most convenient and easy-to-operate CRM systems and arrange an

online generation process

.

Bitrix24 is another popular service for optimizing business processes and advanced communication with clients.
Do you know why Weblium users are so lucky? They have access to free CRM! You don't need to configure anything on your own because all responses from the feedback forms automatically enter the system and notify the company owner about a new order.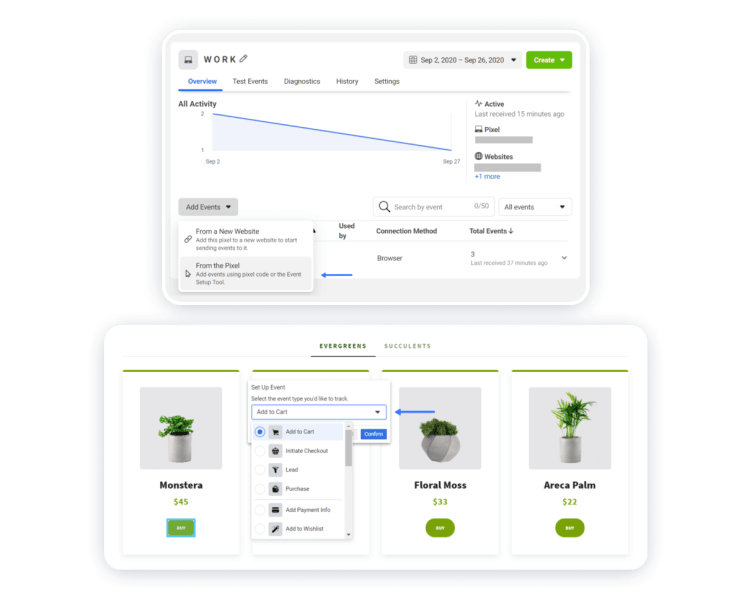 FAQ
Lead generation — what is it?
Lead generation is a marketing process of attracting visitors interested in buying, collecting their contact information, and then working with them to sell your product.
What are leads?
A lead is a website visitor interested in your product who has left their contact information in a feedback form or online chat.
What is a lead magnet?
A lead magnet is an advantageous offer for a consumer in exchange for their contact information. Free useful content or a discount are examples of lead magnets.
How to effectively collect leads?
For effective lead generation, you need to clearly know the mechanics of this process, your target audience, and how to properly use the tools provided by different marketing services. Online lead generation tools mean landing, email distribution, introducing online chats, and others.