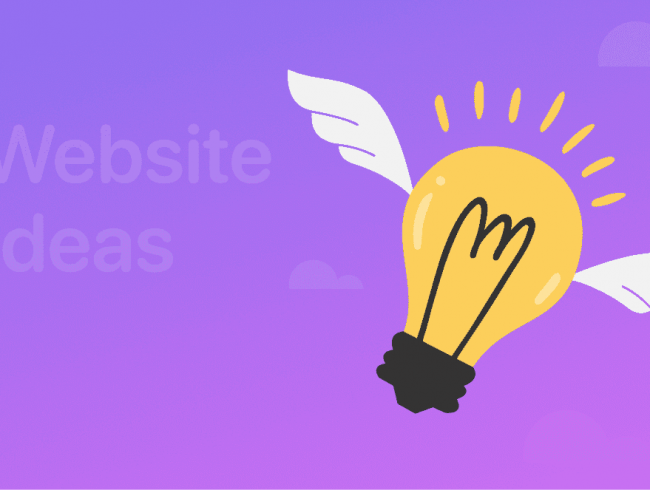 75 Extraordinary Website Ideas for Launching a Website in 2023
In the early 2000s, launching a website was a semi-exotic hobby. Every kid with a computer connected to the Internet created a personal site with personal images in glittering photo frames, animated lettering, crawling text, and acid background. Luckily, a real breakthrough in design happened in the 2010s, and our eyes don't have to suffer looking at something like that. The opportunities have got more diverse, as well as the new website ideas.
If you plan to launch a site, deciding upon which exactly site it will be might become the biggest problem in this process.
Extraordinary website ideas
What niche should you occupy with your first website? Here's a pretty long list of 75 interesting topics for creating a website you can consider. Each comes with a short explanation – why it is good and what you need to start. Pick the one that suits you perfectly and move on.
1. Personal blog – website ideas for beginners
Let's start with some easy website ideas. If you lead an interesting life, have some tips and ideas to share, or you are simply a good writer, launch a blog. People love personalized content and reading about real-life experiences.
Below we have added the screen of the Weblium blog 🙂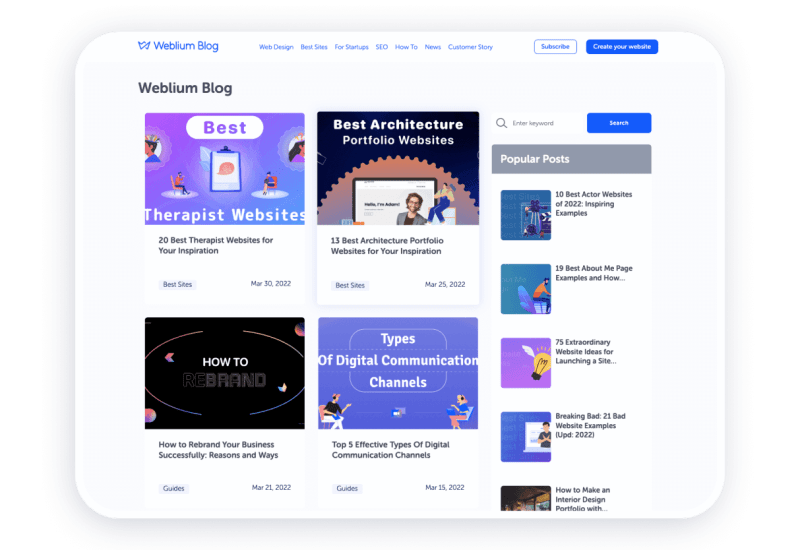 2. Corporate blog
Some blog posts are more suitable for specialized business sites and have more chances to be noticed when published on trusted platforms or blogs hosted by corporations. You can get in touch with some companies and exchange your expertise and writing skills for loyal customers and readers.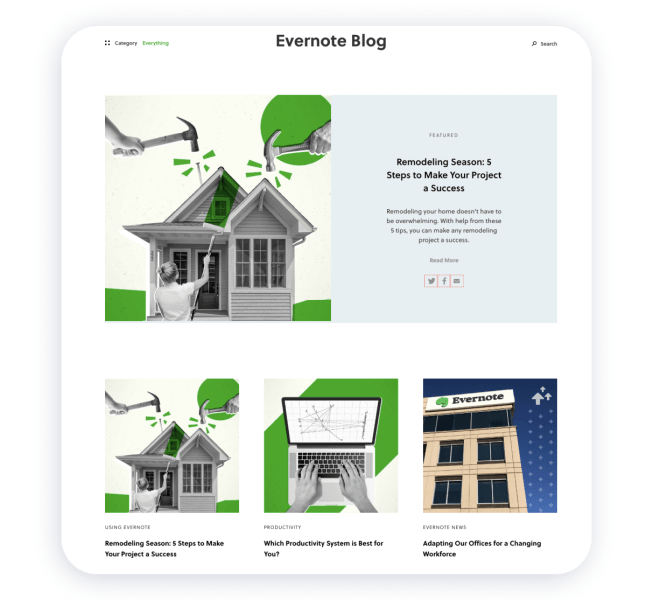 3. Dropshipping platform
If you are looking for money-making website ideas and prefer to move to the part where you start earning, consider some kind of selling activity. Dropshipping is probably the most profitable one: all you need to do is order goods from China (maybe treats from Japan or cosmetics from Korea) and sell at home.
4. Selling handmade items: great website idea
This one will take a bit more time – you need to make something to sell it, but maybe some of your friends or family members can provide a collection for the start. Find DIY masters and start selling products their products with the commission.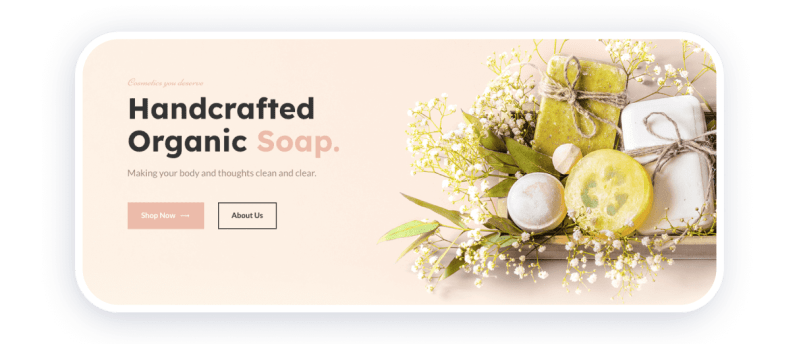 View demo for your website idea
5. Product reviews site
If you like to try and test new things, this is the best idea ever. Write about your new smartphone, about a new chair you've got last week, about anything you have bought or received as a present, used for a while, and come up with a conclusion about it.
6. Online courses
If you are an expert at something, whether it is finance management, creating Instastories, or finding awesome website ideas, don't keep that knowledge only for yourself forever. Your experiences can be helpful for others and bring fair income.
Free website template for this idea
7. Cooking website idea for beginners
Some consider cooking a hobby, the others – an annoying chore, and there are so many people that cannot cook at all! Open your collection of recipes and share some – make posts with photos, record videos, share practical tips, etc.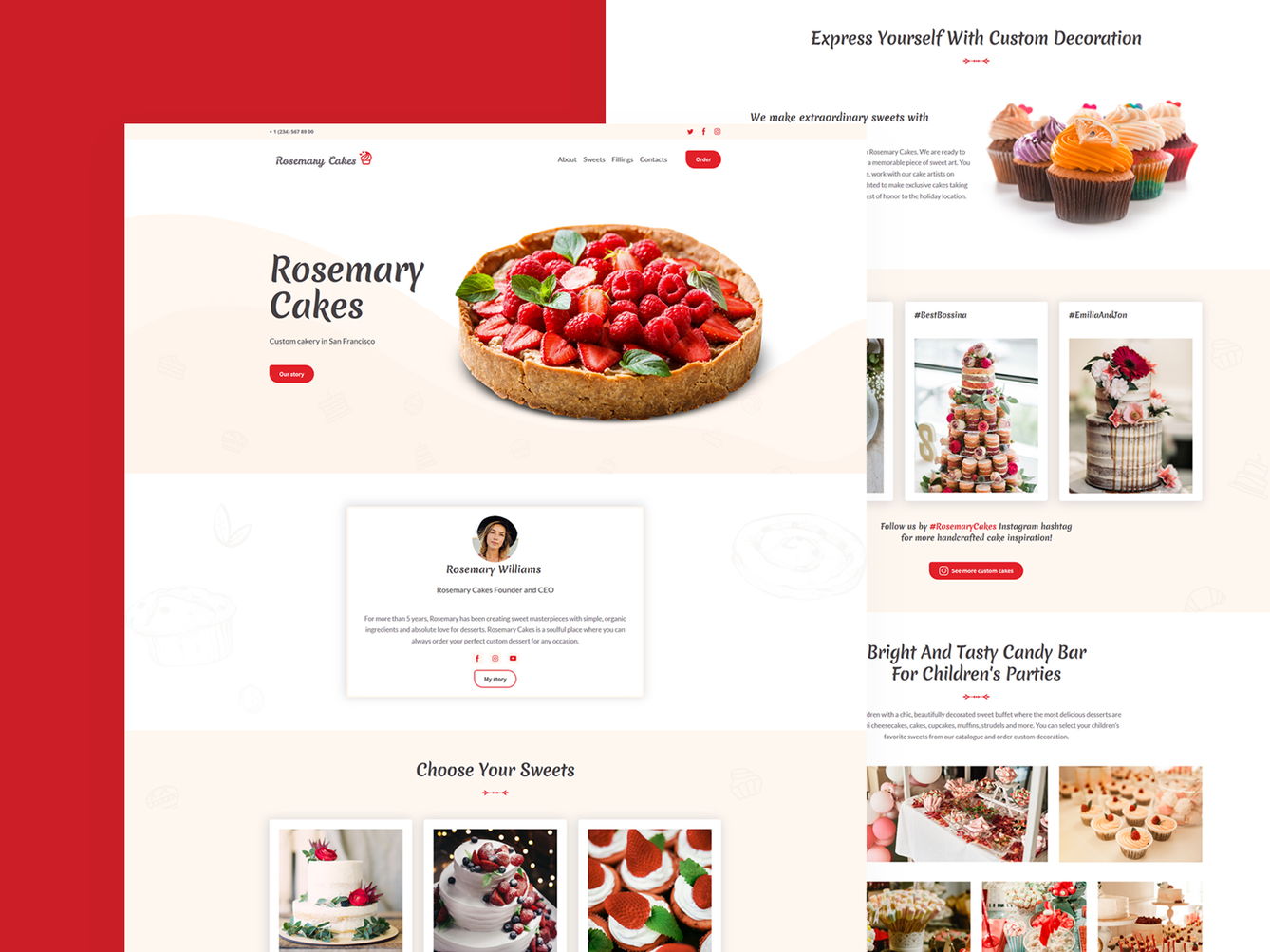 Start your cooking website for free 😉
8. DIY website idea
If you know 10 ways to turn old jeans into a skirt, how to create awesome wedding decorations, how to make cool accessories or something like that, you don't need to worry about an idea for the website. Teach people to do some of those things.
9. Travel website idea
Don't make it "traveling in general," change the format. Decide what is your personal highlight – hiking or bike routes, gastro traveling, interviews with locals, extreme traveling, crazy challenges, traveling with kids, etc.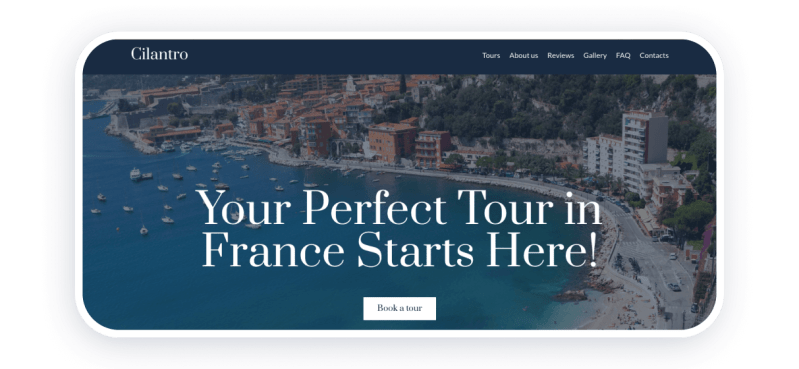 Free website template for this idea
10. Local tours
If you don't have an opportunity to travel, welcome people from other countries. You can come up with several themes to offer walking tours or drive guests around the city for sightseeing and local experiences.
11. City tourist website ideas
Some tourists prefer to discover everything on their own without much help. Especially for them, you can share the touring information online, with maps, routes, tips, and cool locations.
Look at this beautiful city tourist website template!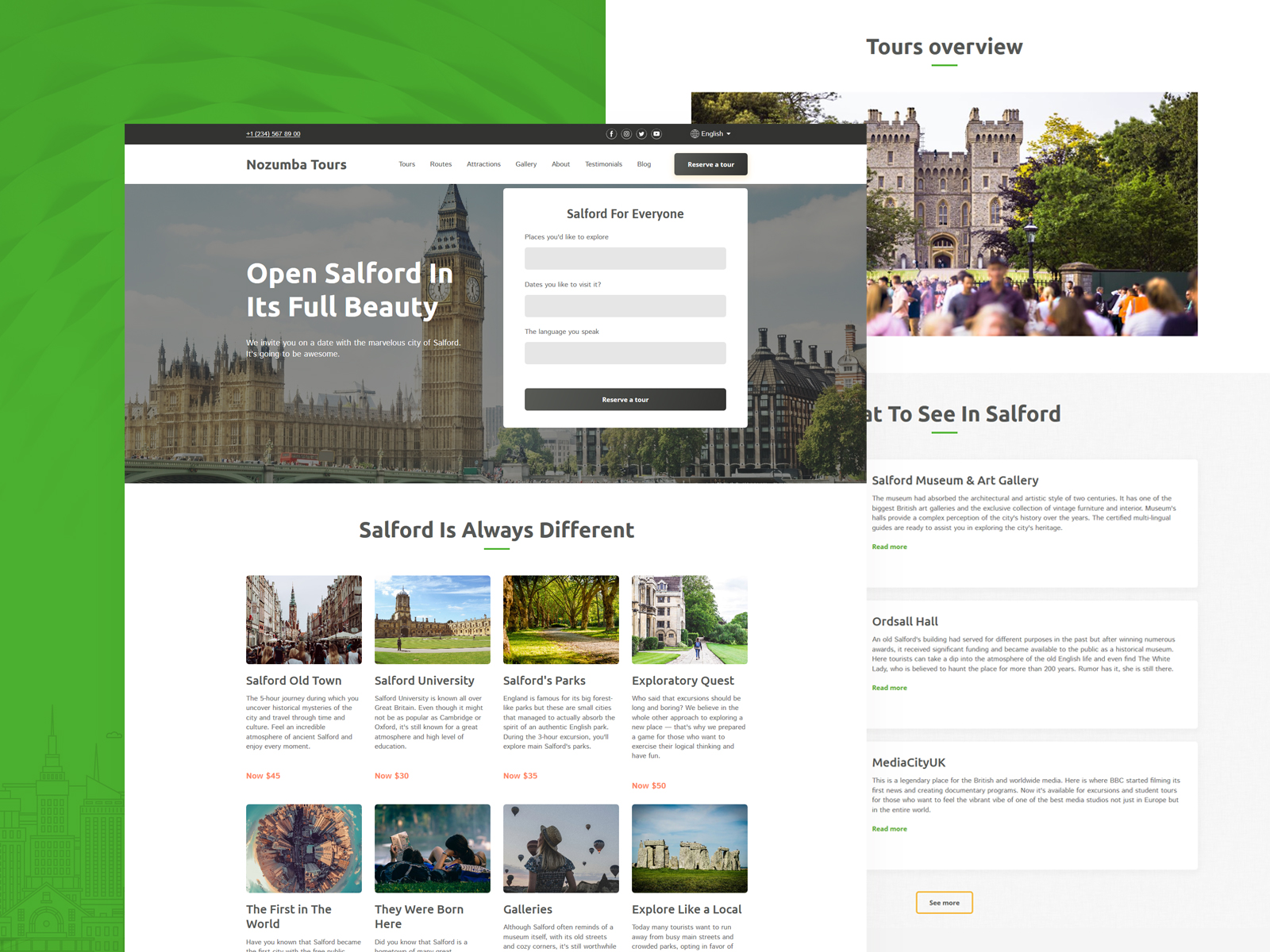 12. Local history website
This website will be interesting for the educated audience, who is interested in the past of the place they live, and probably for students. You can publish stories, old photos, documents that are in open access, and similar educative stuff, interesting and easy to read.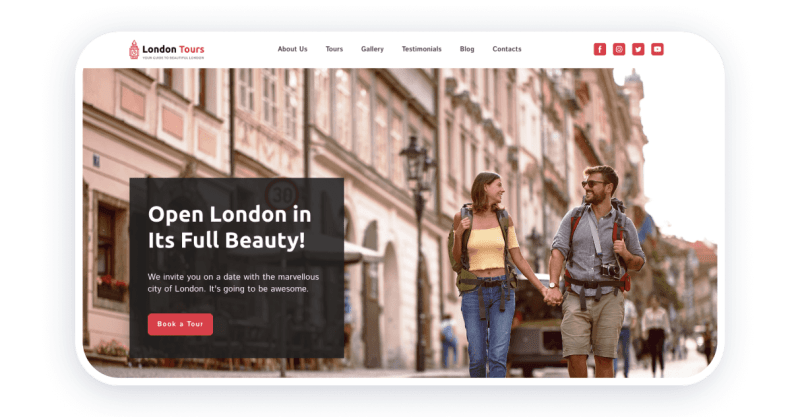 13. City media magazine
It doesn't matter how many websites covering the life of your city already exist, there is always a way to create a better one. You will need to write about everyday life, events, new places, and everything the local community will find interesting.
14. Photography website
You don't have to be a professional photographer, people will like a website for its unique theme. Let it be everyday photo challenge, where you post images taken on your smartphone, a collection of black and white sunrises, or ugly statues of lions from all around the world.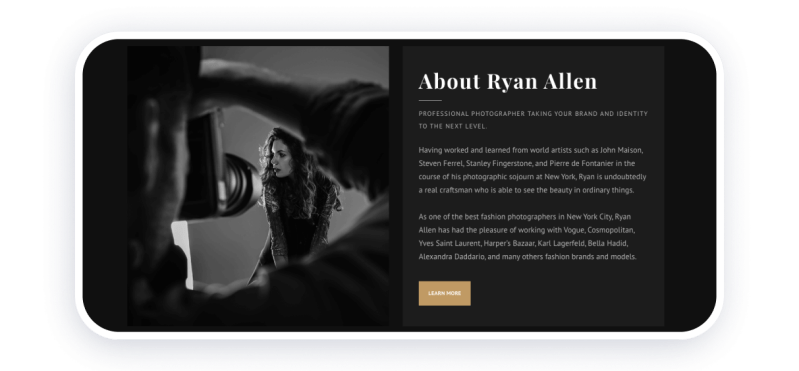 Use this website template
15. Photo retouching website idea for beginners
Don't be surprised, there are too many people who don't know how to use Photoshop or any graphics editor at all. You can deal with tilted horizons, white balance, and odd objects on the background.
16. Party decorations website idea
You can sell accessories for decoration, teach hot to make them, or come before a party and make the location beautiful. People order decorations for weddings, birthdays, bachelor parties – actually, for any occasion you can think about.
17. Sewing clothes
Again, you can sell clothes you make, teach people how to do it, or you can even do both! Maybe it will be the first step for the serious designer career. In any case, everyone needs clothes, and people like to get high quality and original design.
18. Car website idea
You will be surprised how many Formula-1 and Top Gear fans are wondering about (some of them still waiting for Xzibit to come and pimp their rides). If you know a lot about cars, try to start writing about them and gather a cool community.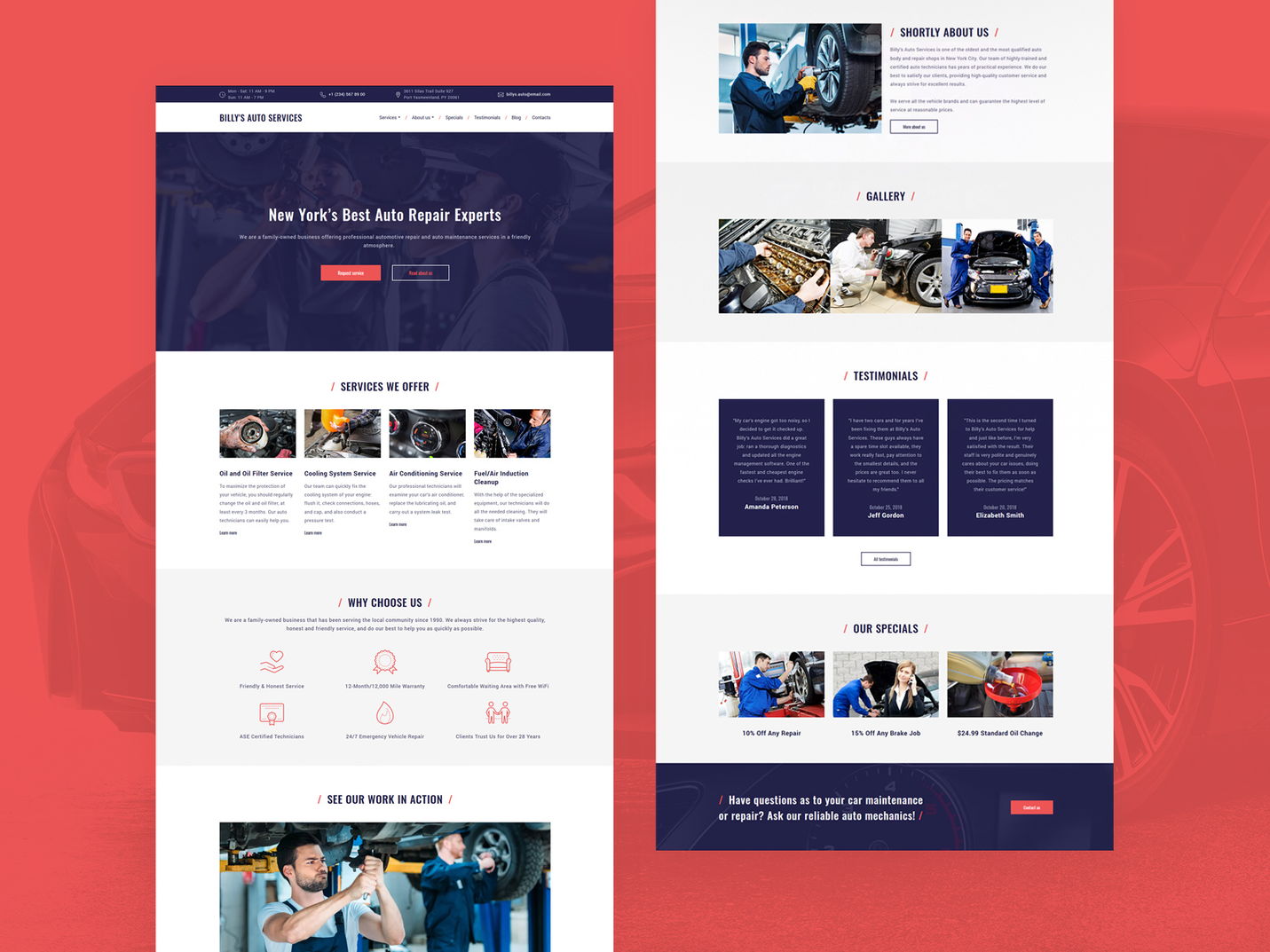 View demo for your website idea
19. Vehicle reviews
While the previous website is on the verge of education and entertainment, this one is more for practical application. Not every driver knows a lot about different technical nuances and specs. You know what to do.
20. Property rent website idea
This is one of those ideas that will never be outdated: every person needs a place to live in, not everyone can afford an apartment or a house, and not everyone needs it. Gather the ads with property lease and help the seekers.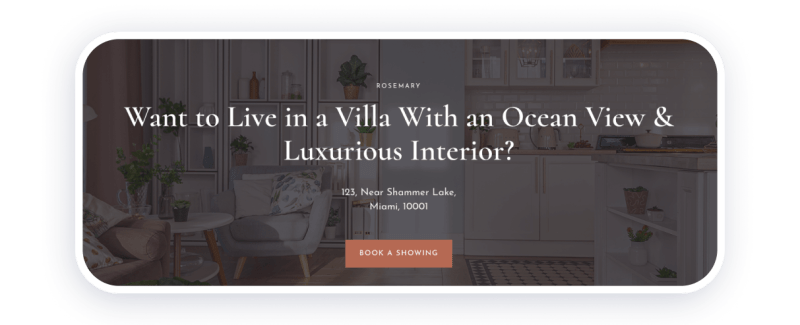 21. Gastro website
This is an opportunity to stay aware of what restaurants and cafes appear in your region, what new dishes are invented, to visit master classes, and have a lot of tasty meals. You'll be glad to share it all with readers.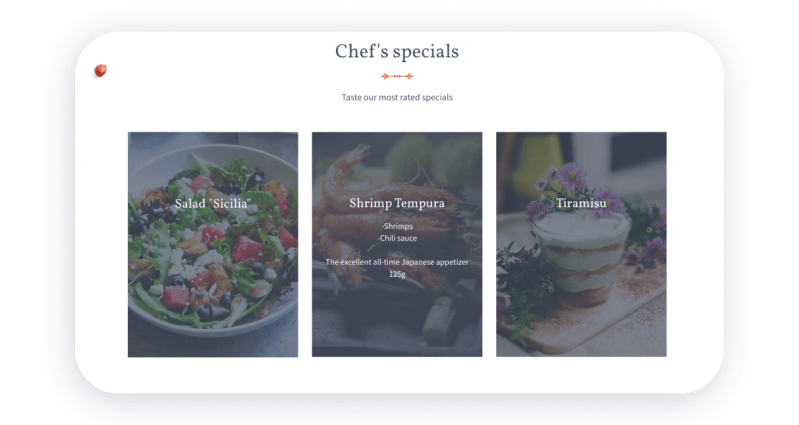 22. Interviews website ideas
Contact interesting people, talk with them, post it all online. If you discuss interesting topics, this format will attract readers. You don't necessarily have to communicate with celebrities – just find people of extraordinary professions or hobbies.
23. Stories website ideas
This is an opportunity for a young writer to present some short stories or chapters from an upcoming novel. It is the best way to test if people will like your writing or now, certainly cheaper and less risky than publishing a book.
24. Poetry website
If you write poems but aren't ready to publish a book, start a website. You can also create an anthology and publish poems by other authors (if it is allowed by the copyright, of course).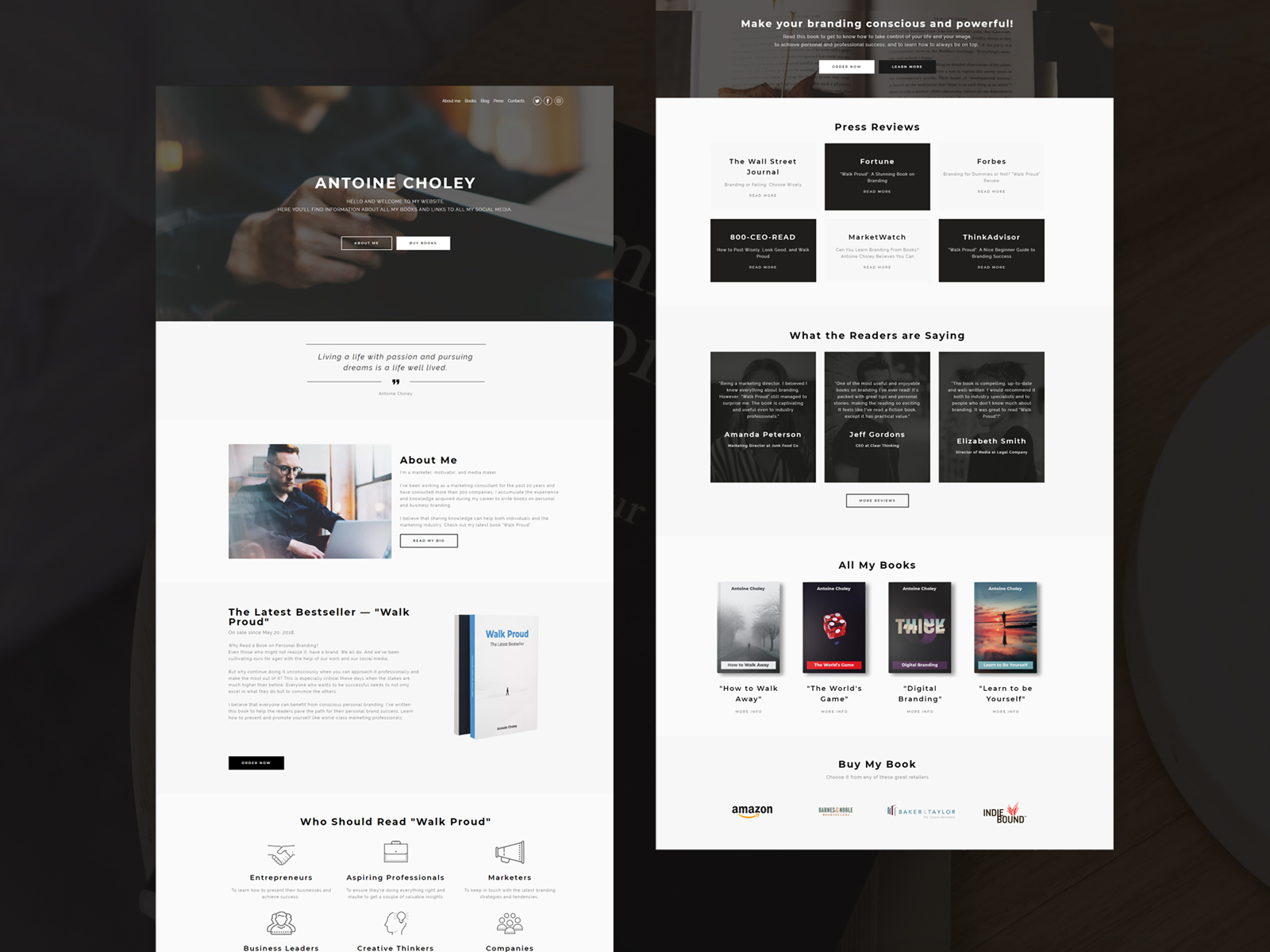 Free website template for this idea
25. Film reviews website idea
You need a new movie and an opinion about it, so go to the cinema, watch something popular, and express your ideas. People check reviews both before and after going to a movie so you have high chances to be noticed.
26. Book reviews website
The audience of this website will not be smaller compared to a movie site, it will be just different. Every book is an investment of time and money, people want to know the overall impression before they buy a book or pick it from a shelf.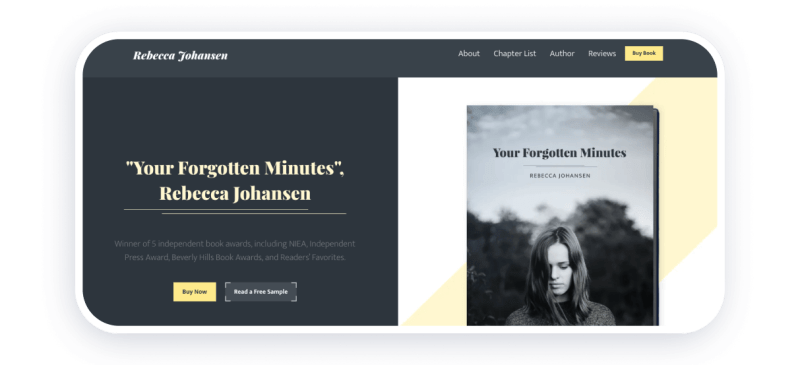 27. Online Oracle
Users who take astrology seriously may fill a website with prophecies or some meaningful lines from spiritual books. If you want to have fun, write cool stuff on your own and let people make decisions with this site instead of the magic 8 balls.
28. Fan club website idea
Whether you are a fan of the Harry Potter book series, Game of Thrones, or Jonas Brothers, creating a community for like-minded individuals is a great idea. Fill your website with awesome photos, memes, latest news, interviews, and different kinds of discussions.
29. SMM services – great website idea 🙂
Social media marketing is an essential part of the digital presence, just as a website itself. If you know how to manage communities and create promotional strategies, make a website to sell your services. You can share some helpful tips here, too.
Free website template for this idea
30. Analytics website
This is a cool website idea for Google Analytics experts, Business Analysts, Program Analysts, and all the other people who like to work with data. This site will help you to become a part of a remote team or just educate readers about analytics.
31. IT development site
Create your own online platform to show you can help other people handle this task. Besides, Weblium's  approach allows you to create different types of websites for yourself. Your website might look like the example below: a discreet and corporate style always goes well with business goals.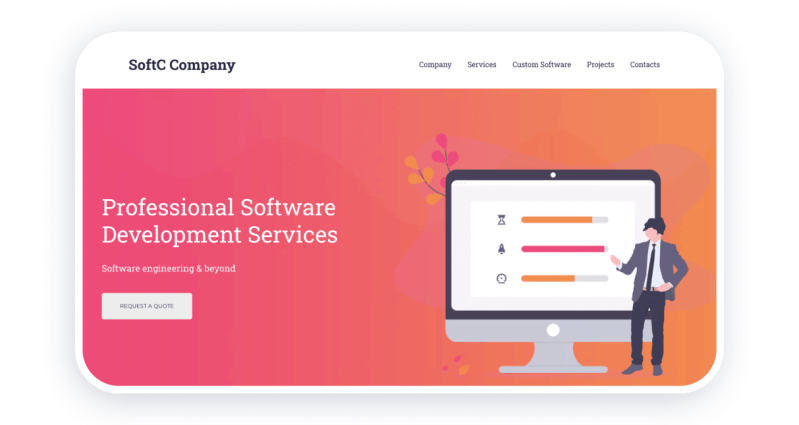 32. Branding and marketing strategy
This is a different kind of strategy, probably the most important strategy for the company. If you know something about positioning, tone of voice, SWOT and communication channels, time to use your website service idea to help brands to decide who they are.


33. Copywriting platform
There are three ways to start a copywriting website:
1) to tell about yourself, show a list of services, and some text examples;
2) to collect some texts by other writers and offer users to buy them;
3) to take orders and find writers to complete them. Choose what appeals to you.
Here is one of the Weblium copywriter portfolio website templates. It is cute, and concise, but at the same time contains all the necessary information.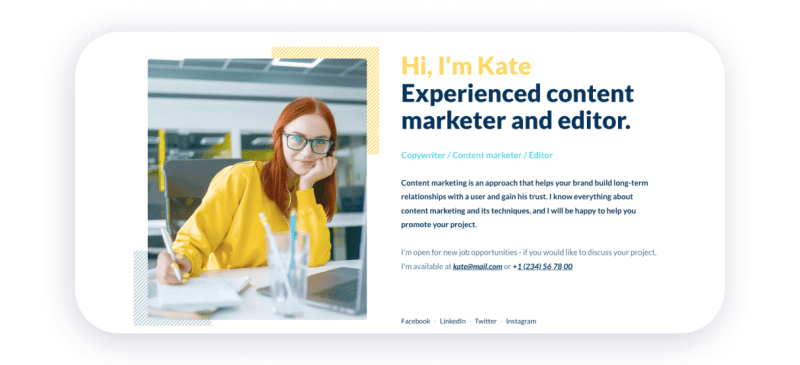 34. Translation website
You can create a website that connects translators and customers for easy direct communication or a professional community, where members will be able to share insights, tips, and maybe memes.

35. Design website
Write about interior design, graphics, and web design, designing clothes, about trends, about things all kinds of design have in common… The ideas are almost limitless here.
Why does this website idea seem relevant? Real stories and experiences of real people are now worth a lot of money. If you can monetize this on your website, good luck.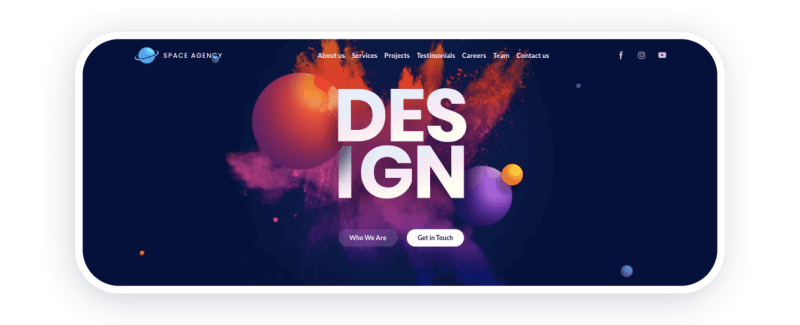 Use this website template
36. Personalized gifts
How about this: a user indicates the interest of a person who will receive a gift, sets the budget, and you create a gift box with some cool stuff and send it with a cool tag and an original greeting?
37. Tips and howtos ideas
From "how to make your kid eat vegetables" to "how to survive the zombie apocalypse," there are so many things people don't know and cannot figure on their own. The ideas for content will never end.
38. Real-time illustration: cool website idea
It sounds like something a bit crazy, but all unique websites ideas do. And this is definitely fun. You can challenge users to draw pictures on the screen within the given time and compete who does it better, or you can play "Guess the movie" online, that'll be cool, too.
39. Animal care website idea
Think about how many of your friends have pets. Each of them wants to take good care of their cats, dogs, parrots, chinchillas, and whatever they may keep. They will be grateful for a trusted website with the basics of animal care and some important moment explained.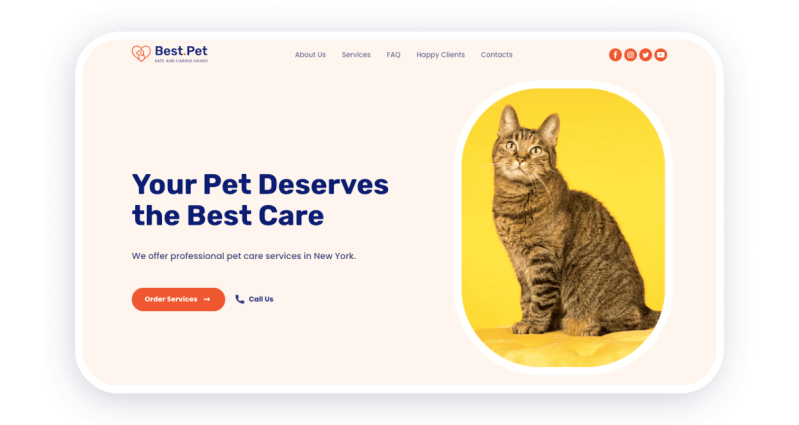 40. Homemade pastry and candies
Bake cupcakes, make the caramel and send it all. If you have some ideas for a candy bar, it will be even cooler. Homemade sweets and cakes are tastier than ones you can find in a supermarket, and they are trendy.
Realize your website idea into reality
41. CV & jobs database
Don't launch another website for job ads, find a highlight for it. This can be a platform of a narrow specialization – for creative or for service jobs only. You can also come up with an original logic, like Djinni, where recruiters don't see names and photos before they estimate the qualification.
42. Makeup website
Some say that feminism and body-positive attitude has affected the beauty industry, but that's not true. Feminism is about freedom – to wear makeup when you want it and feeling good without it. So there are still many ladies searching for makeup guidelines and tips on picking products.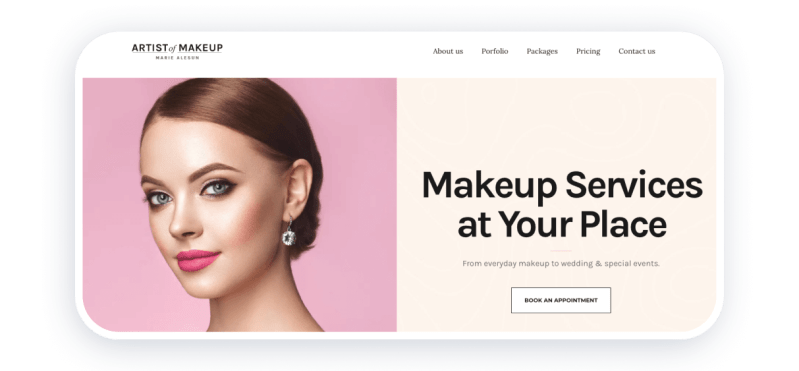 43. Kids and family life website
Ironically, bloggers are more influential than doctors. You have a chance to explain why vaccination is important and persuade some worried mommies to take their kids to a doctor. Maybe sharing some secrets of married life will save some couples from the breakup.
44. Fashion and style website idea
Start with explaining the difference between these two words, they help readers to stay stylish and aware of what is going on in the fashion industry. Both Met Gala outfits and your looks will be interesting for your audience.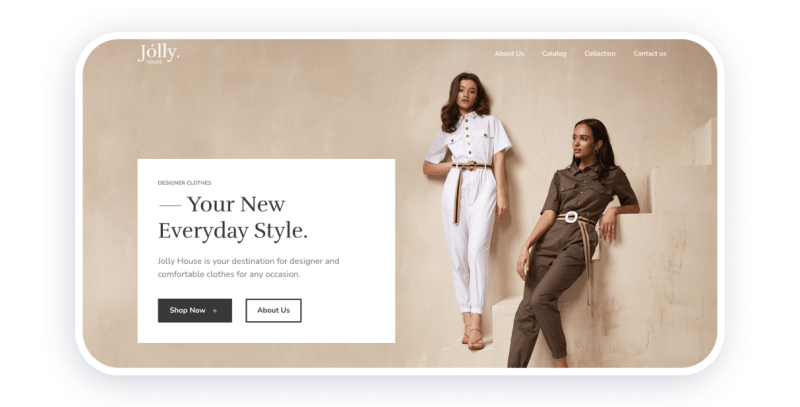 45. Self-help website
Digitalization brings people together and makes them feel very lonely at the same time. More people are diagnosed with depression than ever before, the suicide level grows, online abuse gets more serious, and there are so many people who aren't ready to start the therapy. The self-help website will be a platform with an amazing purpose.
46. Love and romance website
How to keep the romance alive? Where to take a girl on the first date? Is it okay if we don't agree on some important things? People look for a piece of advice online before asking friends. Maybe you have some answers?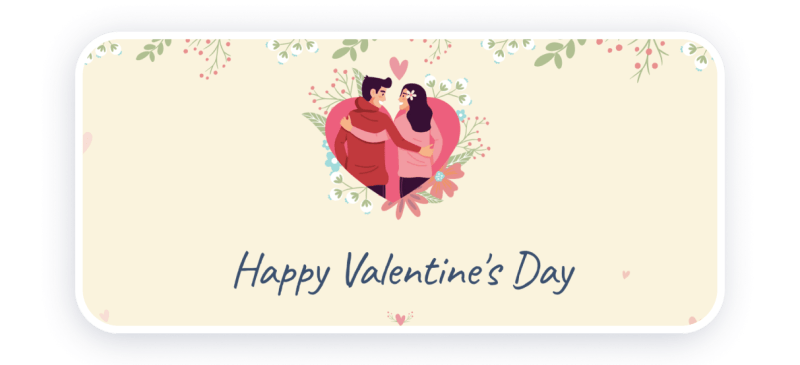 47. Celebrity website ideas
There is nothing better (at least for some internet users) than to find out some Kardashian rumors, take a sneak peek at someone's new luxurious house, make sure that your favorite couple hasn't split up, and find signs that One Direction can get back together. All you need to do is monitor their social media and report on your newly created site.
48. Humor website
Even your grandma loves memes with the heroes she knows. You have a chance to gather them all and create the biggest library that ever existed, or maybe post anecdotes and other fun stuff.
49. Viral content
It would be hard to beat BuzzFeed, but that's an ambitious goal. If you are the first to notice the mind-blowing content, you should accept the challenge and create your own version of the hottest videos, images, etc.
50. Trending things
Open Twitter and look at what hashtags are at the top. Click to discover more. Write a short article with screenshots, explaining what is going on. It may be funny for web users today and valuable for historians in a thousand years.
51. Tech guide
You need to like gadgets and to like testing gadgets, that's it. If you can explain why they are worth using or not, people will rush to listen. There is too much stuff we can buy, and no one wants to waste their money.
52. Fanfiction / cosplay website
A favorite movie, some celebrities you like, rich imagination – and you've got a plot for your own story. Actually, it could have happened somewhere in a parallel universe, and maybe you are a superhero there. Feel free to share your vision of these events.
53. Resource website
If you can easily create a list of literature for someone's thesis, a selection of the craziest Game of Thrones theories, or something even search engines find hard to find, don't conceal the potential.
54. Blockchain literacy website
Start by explaining to people what it is, why it is important, and how it is going to influence different spheres in the future. Maybe someone will approach you with a cool web startup idea and ask to join a team.
55. Video games website
To start this one, you need to believe that cybersport is also a sport. That isn't difficult taking into account the prizes gamers win and the time they spend for the preparation of tournaments. Video game reviews and cybersport news are a good idea for content.
56. Exercising website
Right, the site for those, who want to be fit and healthy but don't have a lot of time for the gym. You'll need to have some expertise here, don't just find exercises on the web and repost. Users expect that you will help them to keep healthy, focus on this.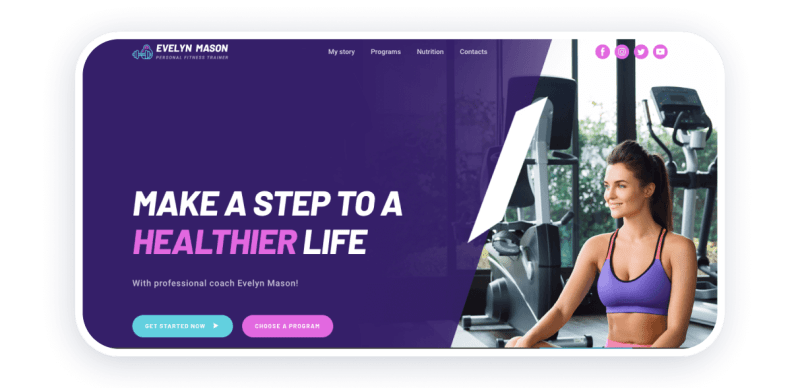 57. Weight loss website
In addition to sharing exercises, explain that weight loss depends on both food habits and activities, and provide relevant information. Just like in the previous case, you don't want to harm anyone.
58. Sports website
It is enough to be a sports fan to cover and explain important events. You can write about the sports industry in general or focus on a particular aspect – basketball, gear, records, news, etc.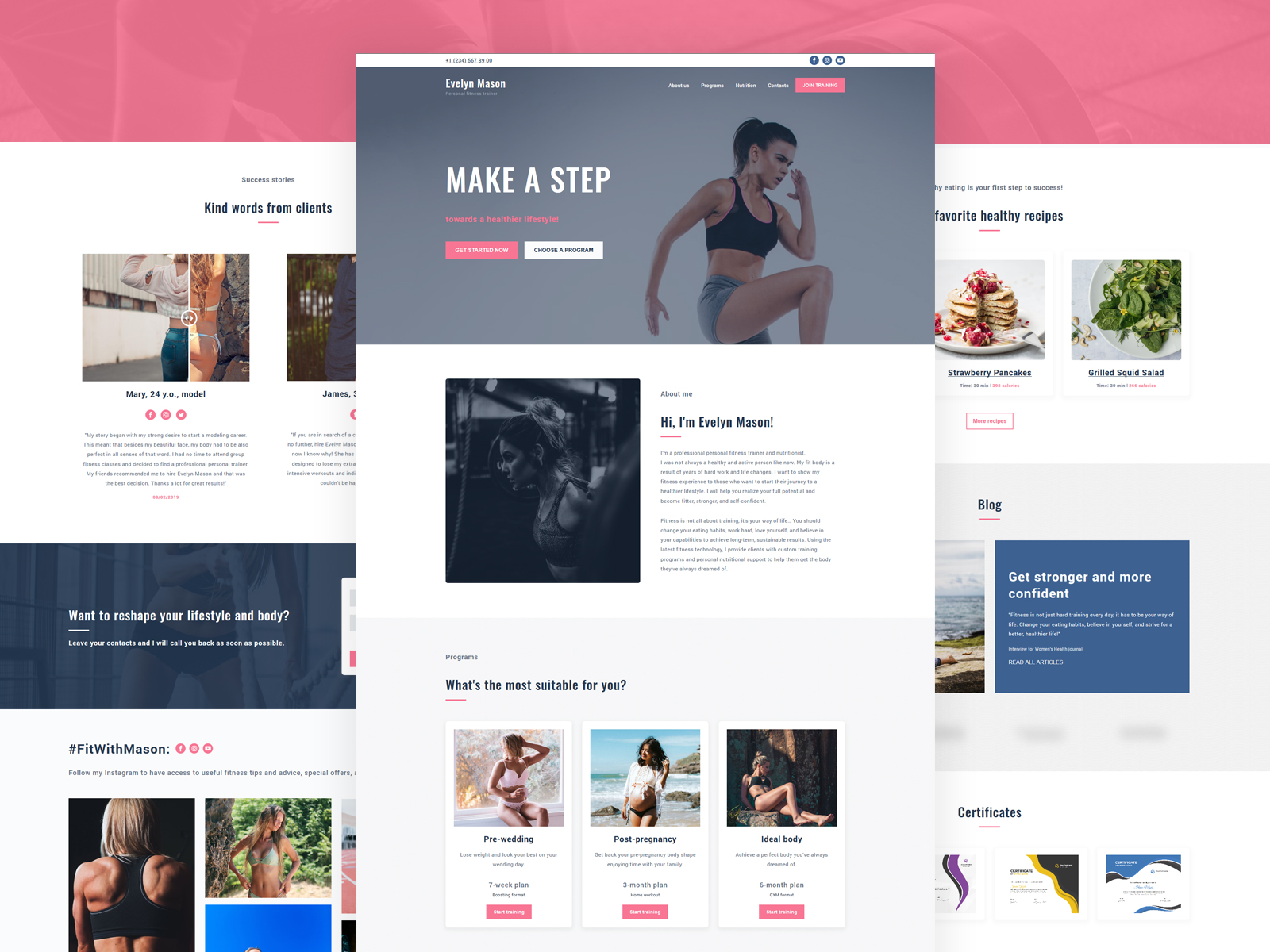 59. Online scrapbook
If you want to start a blog but also to be original, this is a perfect idea. All you need is an interesting life, some cool photos, and preferably a basic understanding of graphic design and website designing principles – you'll need to work a lot on composition and visualization.
60. Biking website
This is a chance to occupy a specific niche and find many loyal readers if you are well-versed in biking. From choosing a first bike to the peculiarities of off-road rides, from safety tips to bikeathons, you have many topics to cover.
61. Website for walkers
If you like to walk more than a gym or biking, you can share some interesting locations in different cities, maybe hiking trails or historical routes. All you need is some free time, a walk, and photos to illustrate a route.
62. Wedding website ideas
Maybe you know how troublesome wedding preparation can be and have some helpful tips to share, then don't hesitate to find a template on Weblium and start your rescue mission. If you don't want a site based on personal experiences only, create a platform to bring couples and wedding planners together.
Weblium has a lot of great wedding website templates. Just check and inspire!
Wedding planner website template
Wedding salon website template
More templates you will find after login 🙂
63. Answers website
You don't have to become an expert in everything, although there is a challenging task to handle – to find those experts. Anyway, if you like how Quora works, take a look at it and find something you can improve.
64. Meditation website idea
Learn some popular and effective techniques (in case you haven't yet), upload relaxing music (something like sounds of nature), add some videos (probably with forest trails and ocean trails) – and you've got a perfect spot for meditation. You can post tips and explanations for those, who want to clarify some things.
65. "What If" website
Stephen King starts writing every novel with the "What if…?" question. You don't need to write a novel, but you can create an original platform for discussing some of the extraordinary questions about alternative realities. And maybe you'll discover the next world-famous writer.
Let's go! Get your website idea for free
66. Quizzes website
Entertainment is good, but leave some room for education and brain exercises. If you like education and believe that intellect needs workouts, create an intellectual playground for like-minded individuals. You can find quizzes in books, online, or make on your own.
67. Case studies website idea
Explain how marketing, sales, IT, software testing, or some other field works based on real examples. Tell about success stories or failures of big companies and startups to educate and motivate the audience.
68. On this day website
Facebook reminds what happened to you, and you can tell readers what was going on in the world five or two hundred years ago. People like to discover interesting historical facts, especially when it comes to controversial events and the days of their birth.
69. Surveys website
Some people still need to stop strangers on the streets and fill questionnaires, maybe even you do. No need to remind how suspicious and annoying it feels. Create a website where users can upload their surveys for other users to answer.
70. Adventure blog
Unlike a travel blog, it can describe any adventures – something extraordinary that happens on the way to work or something unusual you decide to do on the weekend. If feeling bored is not for you, teach the others how you manage to deal with the routine.
71. Truth or dare website idea
If website ideas for fun are what you are focused on, recollect all the crazy things you needed to do or say while playing the game and invite users from all over the globe to share their stories. You can also start the game online.
72. Extreme sports website
You need to be a little bit reckless and open to new experiences. Tell what a parachute jump and diving feel like, how to prepare for such activities, how to overcome fears, where to look for new experiences, and how it all affects your life.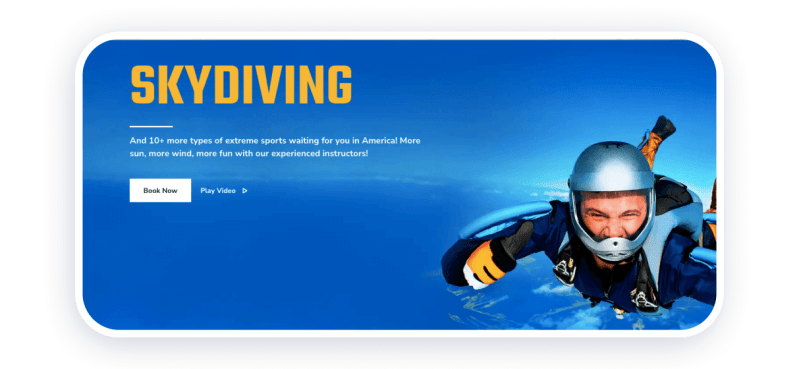 73. Dream interpretation website
Whether you have a Freud's book lying on the table, plan to Google some dream dictionary, or just want to have fun, try discussing dreams. Just let users know how seriously they should treat your messages.
74. Foreign languages website
If you know several foreign languages, tell people how you managed to learn them. Share tips and materials you used. You can also help users to create personalized education plans and create a community where users can communicate with locals.
75. Motivation website
If you manage to stay positive regardless of what is happening around and you are ready to support the others, cheer up the strangers. Post motivational quotes, images, stories, encourage users to support each other.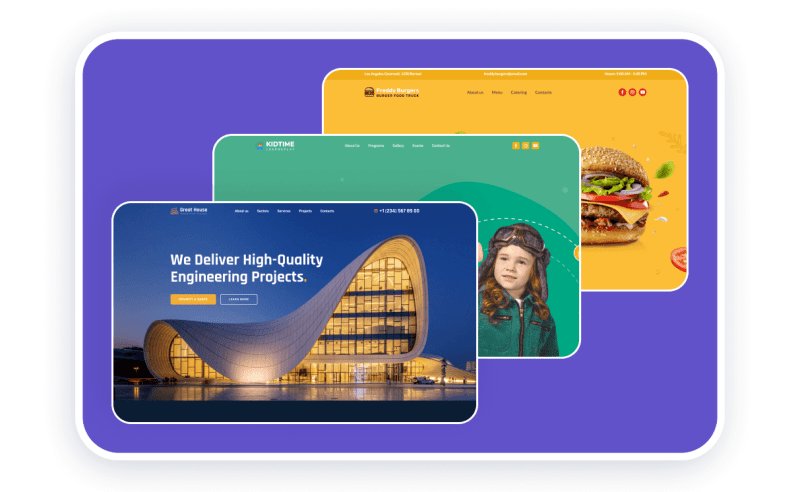 Start Your Own Website Idea with Us
What are the first steps to launching a site?
When you decide to start a website, there are several things to handle at the very beginning.
Firstly, decide what resources you are able to spend, both in terms of money and time.

Secondly, make a list of ideas for websites and pick something you will like working with.

Thirdly, find a good website builder, like

Weblium

,

Wix or Squarespace

, to make it all easy. Check the templates and cool website designs they offer and move to the launch.
How to know you've got a great website idea?
You cannot answer with 100% certainty what idea will be the best and bring money. You should decide what will make your website different from the rest – content, strategy, prices (if it is a webshop), design, or something else. As a rule, a project created to solve a particular problem or fill the gap on the market have higher chances for success.
The key concept should be interesting for you. If you show discrimination in the subjects you are going to cover well, it is a huge bonus. It is important to estimate the opportunities for development and the audience reasonably to make sure you have potential readers. The rest depends on your team, strategy, and proper investment.